Introduction:
If you're working with multiple digital documents and need to convert files from one format to another, you should have your e-filing system, which a pdf converter can provide. Managing PDF files and organizing all digital documents isn't an easy task. In this light, an online PDF converter comes to the rescue. You can convert files to PDF or vice versa with zero hassle. Further, an online PDF tool needs no installation, registration, or sometimes even no sign-in.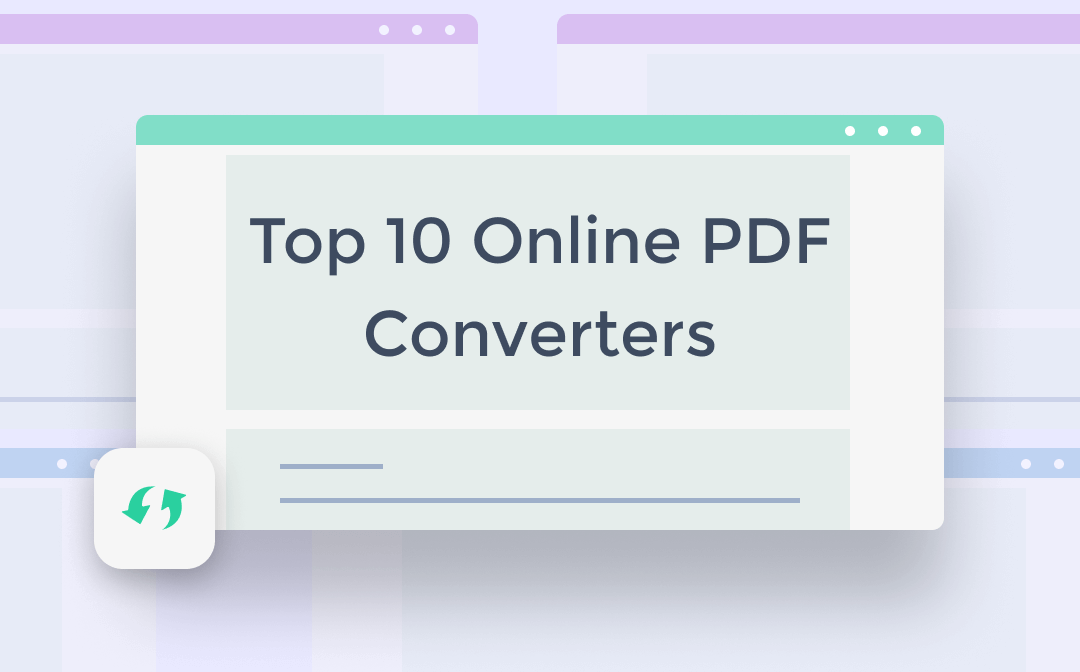 Various online tools can provide you with similar functions, but online vulnerability could be a severe threat you must measure before working with an online PDF converter. To keep the safety measures of your essential files here, we present the top 10 online PDF converters you can try in your dire need. To ensure the security of your vital files here:
SwifDoo PDF Online Converter
Free PDF Converter
Soda PDF
iLovePDF
Online2PDF
Adobe Acrobat
Smallpdf
PDF24 Tools
XODO PDF.Online
DocFly PDF
SwifDoo PDF Online Converter
SwifDoo Online PDF Converter is an innovative tool that can serve you better while you are on your way to converting files to pdf or pdf to another format. For example, you can convert your pdf to Word, PPT, Excel, CAD, HTML, and Image. Similarly, it can convert Word, CAD, PPT, Excel, and images to PDF. Such an advanced online PDF converter provides SSL encryption to secure your files during the process. It's an entirely free tool.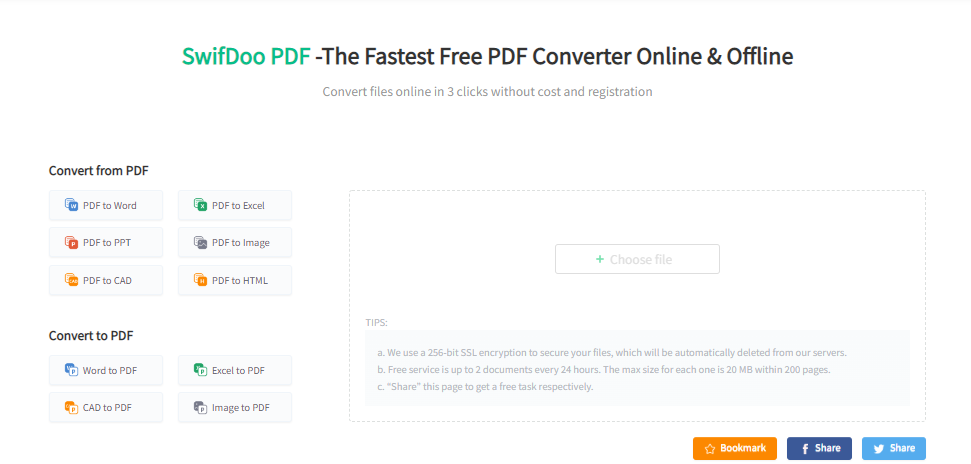 Besides its online features, SwifDoo PDF can work offline as well. For example, you could install the software on your PC and utilize its inventive functions if you prefer installed software to work with.
Pros
You can convert Word, Excel, and many other files into PDF
PDF to Word, Excel, PPT, and many more file conversions you can do
It offers 256-bit SSL Encryption for advanced security
The tool supports batch conversion and saves your precious time
Cons
File conversion size limit of up to 20MB
Free PDF Converter
The Free PDF Converter is another dynamic online PDF converter software that can sort out all your pdf requirements. The tool supports a wide range of conversions, including Word to PDF, Excel to PDF, PPT to PDF, JPG to PDF, Ebooks to PDF, iWork to PDF, and many more. For example, the free PDF to Word converter online tool can merge and split your pdf files. Furthermore, you can convert unlimited file sizes with SSL encryption that protects you from online spying.

Pros
The software supports a vivid range of pdf conversion
You can encrypt your pdf files if required
It supports Windows, Mac, and Linux platforms
The software provides 256-bit256- bit SSL Encryption to secure the process
Cons
Without fast internet, it cannot run
Not all the services are free
Soda PDF Online Converter
You can try Soda PDF Converter if you prefer to work with an online PPT to PDF converter. The online tool offers a good range of conversions, including text document conversion, image file conversion, e-sign, password protection, and many other functions. For instance, its virtual printer can turn any file into a PDF copy to view and share information. Over 300+ formats you can convert from any to PDF Or vice versa.

Pros
The tool offers files to PDF and PDF to files, both online
It's a free tool
Soda PDF virtual printer is available
The output files will be saved in cloud storage
Cons
Premium features cannot be accessed for free
Online safety vulnerabilities will be there
iLovePDF Online Converter
All PDF tools are under one banner, and this is the tagline of another good online PDF tool, iLovePDF Converter. The iLovePDF converter supports all kinds of pdf conversions, including Word, PowerPoint, Excel, and vice versa. You can avail of password protection and unlocking facilities. The online tool supports PDF to PDF/A, an ISO-standardized version for PDF archiving that you can preserve your essential files for the long term.

Pros
The tool supports all kinds of pdf conversion with good speed
You can place your personalized watermark while converting
It provides desktop, mobile, and MG versions
It supports the PDF to PDF/A facility for preserving essential files
Cons
It cannot run on slow internet
Not suitable for the beginners
Online2PDF Converter
With a few limited features, the Online2PDF Converter is at your service. If you're looking for a simple PDF converter that can only convert your files to PDF, you can select the Online2PDF converter. The online PDF converter supports JPEG 2000, AVIF, RAW image files, EMF, and many other formats. It can convert a maximum of 100MB of file size at a time. Furthermore, the web-based tool can rotate your PDF pages, reorder pages, and many more options.

Pros
Can convert any file to PDF, PDF to any file
You can opt for a protective shield during the conversion
It's a free tool
It can convert multiple files simultaneously
Cons
Only 20 files can be converted at a time
Going slow if you opt for batch conversion
Adobe Acrobat Online Converter
Adobe Acrobat, the PDF to Word converter online free tool, is widely known for the invention of the PDF Format. It supports all kinds of Microsoft text, 365, and image files, including DOCX, DOC, XLSX, XLS, PPTX, PPT, TXT, RTF, JPG, PNG, and many more. Its Pro version provides Pro functions like HTML to PDF, editing scans with OCR, merging, splitting, reducing file size, etc. The tool is compatible with desktops, laptops, tablets, phones, etc., and provides Adobe Cloud storage to save your files.

Pros
Its conversion range is wide
It supports all kinds of Microsoft files for PDF conversion
You can also password protect output files
Various devices friendly tool
Cons
Not all the features are available for free
You need high-speed internet to complete the task
Smallpdf Online Converter
Drag and drop your file to convert it into PDF on SmallPDF PDF to Word Converter online. The PDF converter perfectly works with all devices and browsers, including Internet Explorer, Firefox, Chrome, and Opera. In addition, it partnered with Solid Documents to provide you with quality conversion files. SSL is also available during Smallpdf Word to PDF conversion.

Pros
It's a simple tool with all the PDF conversion facilities
It's compatible with all major devices/ browsers
It's accessible from anywhere with a strong internet connection
SSL encryption is available to give you advanced security
Cons
Cannot manage multiple PDF files at a time
Only one file is available for free
PDF24 Tools Online Converter
The PDF24 converter tool provides unlimited file conversion from other files to PDFs and other formats. The free PDF converter software is compatible with Windows, Linux, Mac, iPhone, and Android. The browser-supportive tool offers SSL encryption to provide advanced security during the conversion process. The online PPT to PDF converter tool is easy to operate because of its conventional user interface.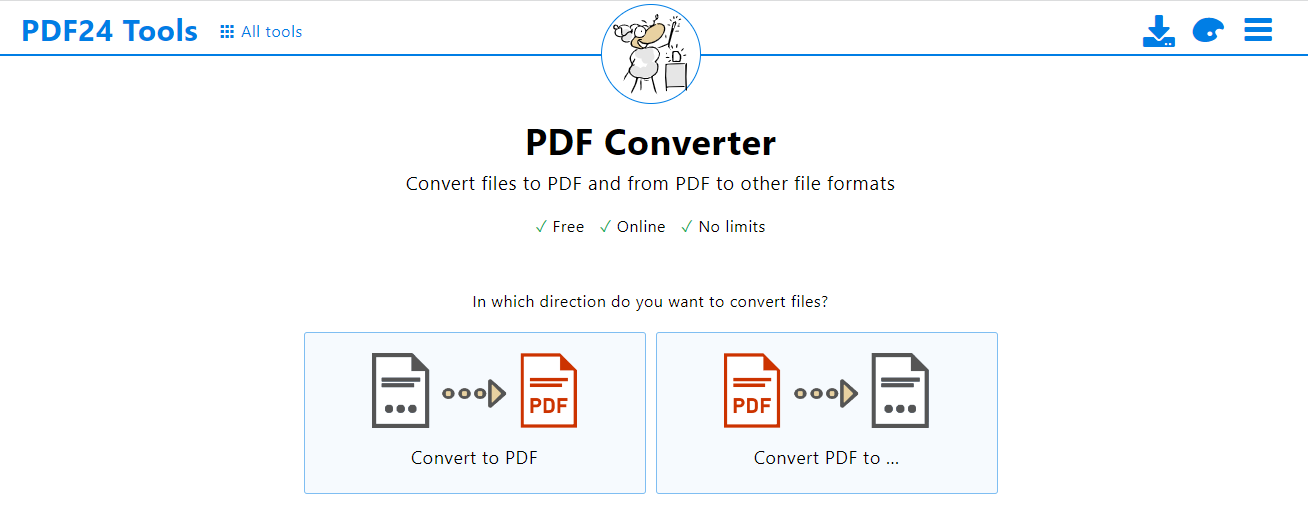 Pros
The tool is compatible with all devices
It supports significant files to convert
SSL security is available
You can convert unlimited files
Cons
The user interface is a bit old
The editing options, especially font size, need to improve
XODO PDF.Online
If you're hunting for a solution to convert your pdf files through an online PDF converter quickly and easily, here is PDF. Online tool for you. You can convert any file into a PDF and share it with whomever you want. It supports PDF/A, Document Reader, and PDF Compare to view and share PDF files. Its PDF Splitter and Merger can provide an excellent editing option.

Pros
The tool supports all significant files for conversion
It's a platform-friendly tool
The software doesn't store any of your files
It's a beginner-friendly
Cons
There's no SSL encryption
Premium features are paid access, not free access
DocFly Online PDF Converter
If you want to convert, create, review, and edit your PDF files at a time, you can choose DocFly PDF Editor. You can convert your pdf files and edit and review them simultaneously if you have the requirements. Even if it supports E-sign for your converted files. The online PDF converter is best known for its wide range of online editing options, which you can avail of if required.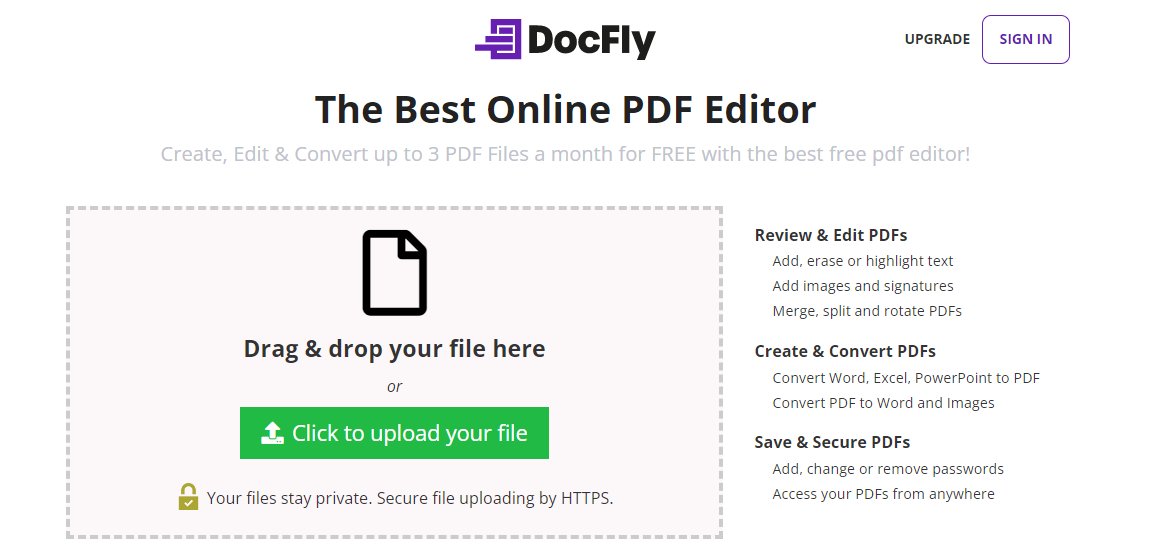 Pros
It supports all primary files for conversion
SSL encryption is available
You can convert, create, and edit 3 files at a time
It has a comprehensive editing option
Cons
Free mode is restricted to converting 3 files
Limited storage option
Concluded Part
Nowadays, working professionals and business people need to exchange files that contain confidential information. PDF files are more secure in terms of online spying or hacking measures. In this term, the role of the PDF converter is undeniable and you can avail maximum benefits. Similarly, SwifDoo online PDF converter can provide you with online functions, and you can use all its advanced features to get the best user experience. Use the best online PDF converter, SwifDoo PDF, to avail the high-end benefits.
The above products are well-versed in their functions and provide good service whenever required. Check out our FAQ session to learn more about PDF and its safety measures.
Frequently Asked Questions
Are online PDF converters safe to use?
Now almost all major branded online PDF converter tools provide SSL encryption for advanced-level security. In this term, there's no security threat.
Can I use the online PDF converters on Linux and macOS?
Yes, you can use these online PDF converters on any operating system that has a web browser. They work online and require no software installation.
Do these online PDF converters support all PDF file sizes?
No! Mostly, you can upload a PDF file up to 20MB in size to convert to other formats. If your file exceeds the size limit, you can compress PDF to reduce its size before converting it with the converters. To get the most out of the tools, we recommend that you use them at least once.