Introduction:
Traditional singing process is time-wasting and inefficient, and sometimes a simple mistake will result in re-signing the document. As a consequence, electronic signature gradually replaces wet signature to simplify and streamline the suffering signing process. A new question emerges: how do I electronically sign a PDF?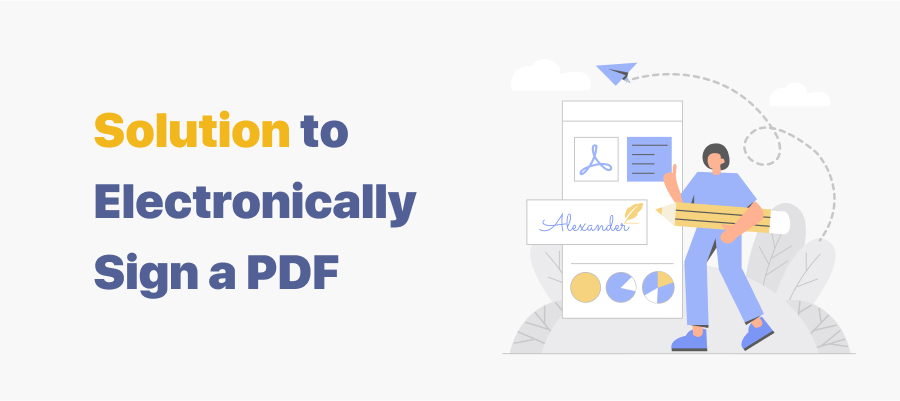 The established signing process is quite torturing and low efficient. That's why we have made the switch to electronic signatures. Don't have any clue about how to electronically sign a PDF? Never mind, this post will explain how to electronically sign a PDF.
What Is an Electronic Signature?
An electronic signature, also known as eSignature, is an electronic form of the traditional wet ink signature. It is originally created to provide secure authentication of a digital file with a recognizable mark. The process of signing a document is identical to the conventional approach. With e-signatures, we can save a lot of time and substantially enhance working efficiency.
How to Electronically Sign a PDF on Windows
This section provides corresponding solutions for electronically signing a PDF document on Windows 11, 10, 8, and 7.
SwifDoo PDF
While SwifDoo PDF is not the biggest name in this industry, its lightweight and easy-to-use feature has earned it millions of active users globally. To electronically sign a document with an e-signature, follow the steps below:
Step.1 Launch SwifDoo PDF and open a PDF within the software;
Step.2 Click the Advanced button on the menu bar and choose Signature;
Step.3 Choose the Create New Signature to add an e-signature to the PDF.

Once you have obtained a signature, you need to upload it to the clipboard. Click the "OK" button to finalize the uploading process. The next step is to position your e-signature where you need it. Don't forget to save the changes made on the current document.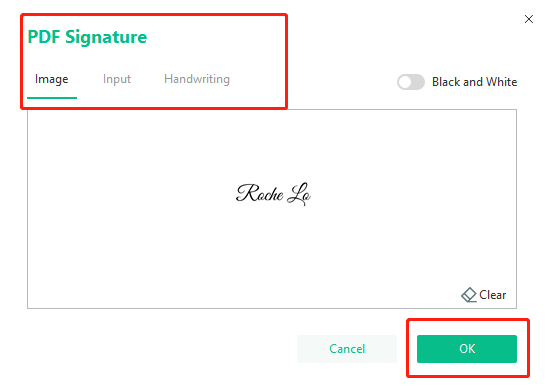 How to Electronically Sign a PDF on Mac
From another perspective, Mac users are lucky enough. That's because they can electronically sign a PDF document with a built-in Preview application. What's more, the app Preview on macOS has incorporated signing features.
To sign a PDF document electronically, you can utilize your trackpad, the built-in camera on Mac, iPhone, or iPad. Follow the instructions to learn how to electronically sign a PDF on Mac:
Using trackpad:
Step 1. Click Trackpad;
Step 2. Click the text as instructed;
Step 3. Sign your name on the trackpad using your hand;
Step 4. Tap the Done button to sign this PDF document.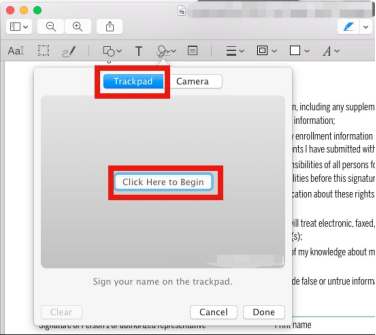 Tips:
If your Mac has been equipped with a Force Touch trackpad, you can optionally press your finger firmly on the pad to create a heavier and darker signature
Using a built-in camera: Write your signature on a piece of paper. Hold the paper to face the camera. Please make sure your signature is within the box in the window. When your signature shows up in the window, click "Done" to finish the process;
Using iPhone or iPad: Click iPhone and iPad. Sign your name with your finger or Apple Pencil on the screen. Hit the "Done" button when you see the signature within the window.
After you have already created your signature, open the PDF document in the Preview app on your Mac if the "Markup" toolbar isn't showing, click the "Show Markup Toolbar" button, then click the Sign button.

The signing process is relatively easy: choose the signature you want to add, drag it to where it needs, and then use the handle to adjust its size. For more information, please visit this website.
How to Electronically Sign a PDF Online
If you find it troublesome to download a desktop PDF application, there are other PDF tool options available online to electronically sign a PDF, such as iLovePDF and AltoSignPDF.
iLovePDF
If you're a regular PDF user, the name iLovePDF won't be a stranger to you. This is a prevalent online PDF program, with abilities to edit, annotate, and sign a PDF document readily. For those who'd like to try the online way to electronically a PDF, this presents a good option:
Step 1: Navigate to the official website, and click on the ALL PDF TOOLS;
Step 2: Choose Sign PDF under the PDF SECURITY option;
Step 3: Upload a PDF document via Google Drive, Dropbox, or local folders. After uploading the file, you are allowed to customize your signature by changing color and font;
Step 4: When you finish designing your signature, click Apply to add the signature to the place you want.
The whole process of electronically signing a PDF document only requires several minutes, but this platform only allows you to make ANY changes to a document or process two tasks twice a day.
Tips:
iLovePDF provides two different signatures: simple signature and digital signature. The latter, a digital signature, actually differs from an electronic signature. However, for a non-paid user, you only have two free tasks per day.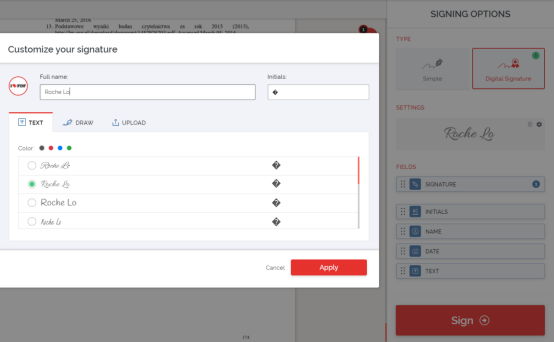 DigiSigner
Our next way out is a professional PDF signer - DigiSigner. It can help sign a PDF and create an electronic signature as well. In addition, you can also create electronic signatures in Word, Excel files, and scanned documents in PNG and JPEG format, as well as TXT and RTF files. If needed, you can directly send a document to others for signing. Check out how to electronically sign a PDF:
Step 1: Enter the URL on the search bar and click to upload a PDF;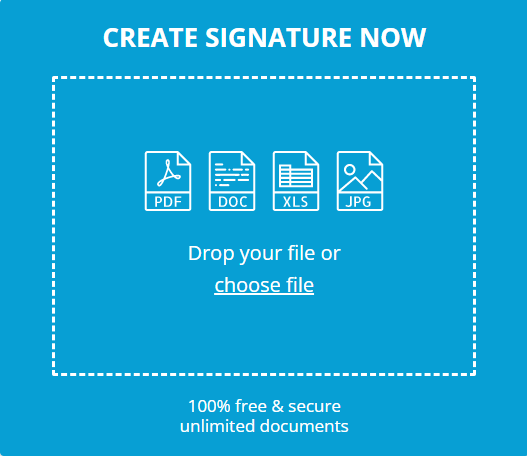 Step 2: Create an electronic signature by handwriting, uploading, or typing;
Step 3: When finished, just add this signature to any place you need. Hit the Sign button then and download the signed PDF.
DigiSigner is not only a good free PDF signer, but it also enables users to add a signed date as well as a checkmark to the PDF page. The only drawback is that this platform allows users to electronically sign a PDF three times a month. Once in need of more opportunities, you can only upgrade the plan. Anyway, it is worth a shot.
Conclusion
Whatever software or methods you choose to electronically sign a PDF, the ultimate purpose is to simplify traditional signing workflow and improve efficiency, and that's why we embrace electronic signatures. Hopefully, when you read here, you already find answers about how to electronically sign a PDF.