Introduction:
Over the past three decades and now, it's always vital to be able to handle PDF files. Due to the fixed layout and formatting of PDFs, many software tools have been rolled out to modify them. If you are working to organize PDFs with a given number of pages, page order or orientation, it's better to find a way to do that quickly and easily.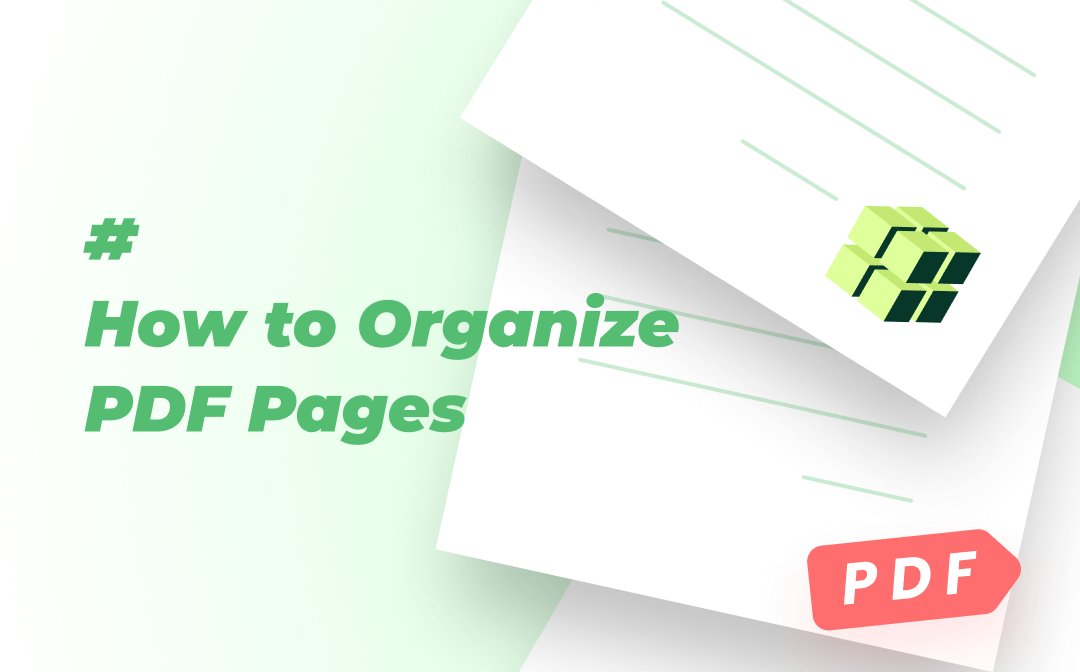 No more worries and this post is going to run you through 4 efficient ways to organize PDF pages with offline and online PDF page organizers.
Your Best Software to Organize PDF: SwifDoo PDF
The fast, tiny, and versatile SwifDoo PDF software provides a diverse range of tools to manage and change PDF documents. It is a free PDF editor, a PDF annotator, and a converter. You can also use it to compress, merge, and split PDFs. The software has features to organize PDFs in many ways, so you can add, delete, rotate, and reorder pages as needed. Many of the features allow you to manually process or offer the page numbers for automatic operation.
See how you can organize PDF pages using the following steps.
Step 1: Open PDF with Free Downloaded Program
You can get the software for free on the official website. After launching it, click "Open" on its home screen to open a PDF file. Alternatively, drag and drop the PDF from your file folder or desktop to the program.
Step 2: Navigate to Page on the Top
Once the file is opened, click "Page" on the top menu bar to unfold all the page-organizing tools in the drop-down list.

Step 3: Start to Organize Pages in PDF
There are tools for replacing, deleting, rotating, adding PDF pages, and more. You can insert a blank page or pages from another file on your computer to the specific position in the opened PDF. To rearrange the PDF pages' order, click a page and drag it to move it to your preferred location. Hover your cursor over a page and click the clockwise/counterclockwise icon to rotate it, or use the rotation options on the top.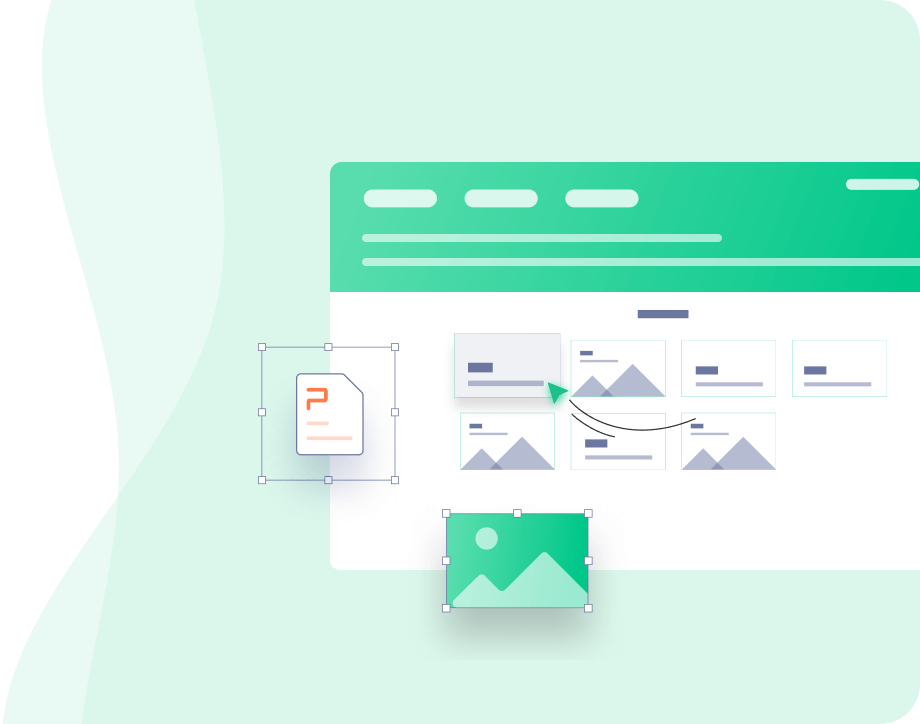 SwifDoo PDF - All-in-One PDF Software
Organize PDF pages with a set of tools, edit, and compress PDFs
Annotate, convert, sign, watermark, and protect PDF files
15-day free
Free Download
Windows 11/10/8.1/7/XP
When you're done, you can make further edits to the organized PDF with SwifDoo PDF's series of editing tools. The program allows you to insert or delete text, images, links, and backgrounds, and organize existing text and images in PDFs. Using it to edit and organize PDF files on Windows will make you productive.
Organize PDFs in Preview
The Preview application coming included with macOS can be leveraged for tackling lots of PDF tasks. It offers users a free and simple way to view, annotate, protect, merge, and split PDF files. The ability to insert, delete, and rearrange PDF pages makes it one of the best PDF organizers.
To organize PDF files on Mac, follow the guide below.
Step 1: Right-click on a PDF and select the Open with option from the context menu, then choose Preview to open it;
Step 2: To add pages, go to View, pick Thumbnails, hit Add in the sidebar, and select Insert Page from File or Insert Blank Page;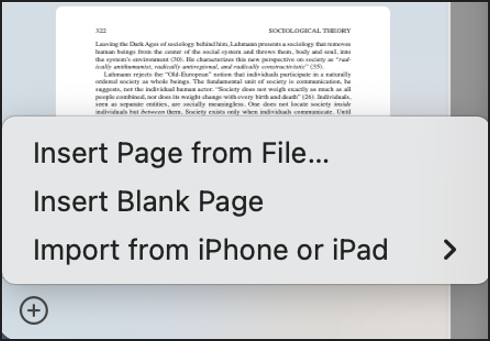 Step 3: Go to View on the top, choose Thumbnails or View, click Contact Sheet, then move the pages displayed as small boxes to reorder them. Select unwanted pages and press the Delete key on your keyboard to remove them.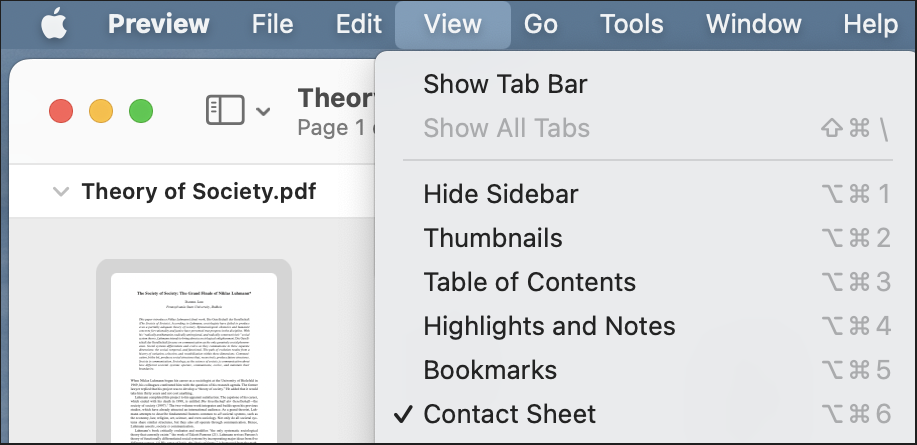 Tips:
To merge and organize PDFs, use the page inserting feature to insert a PDF into another and choose the page arranging options to get your work done. Or, select and right-click on these PDF files in the macOS Finder to choose "Quick Actions" > "Create PDF", then open the combined PDF in Preview to reorganize the pages.
Organize PDF Pages with PDF Expert
PDF organizing is a highlight of PDF Expert, a PDF editor available on Mac, iPad, and iPhone. The software allows you to remove, insert, extract, or reorder pages in PDFs. It is also equipped with tools for users to comment, fill out, combine, and sign PDF files.
Here is how you can organize pages in PDF on Mac.
Step 1: Open your PDF file with the PDF arranger and tap on the Thumbnails icon in the top left corner;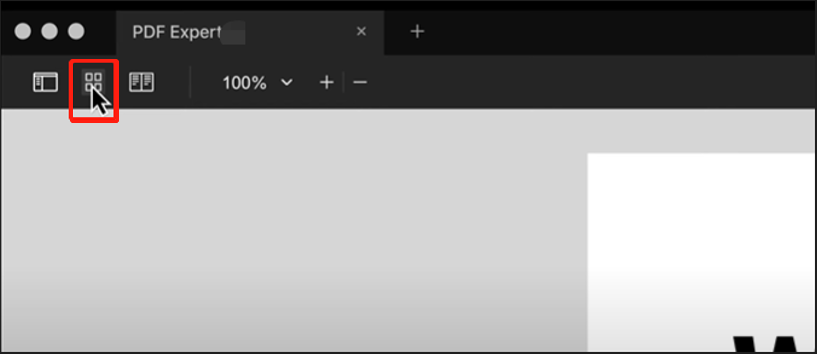 Step 2: Use the tools appearing above the page thumbnails, such as PDF page remover and PDF rotator to organize pages of the PDF;

Step 3: Arrange the PDF pages in your desired order by dragging and moving them, then save the changes.
If you are looking for an alternative to the native Preview or the expensive Adobe Acrobat to reorganize your PDF, this application is an excellent option.
Organize PDF with iLovePDF
iLovePDF is a free online service with the most essential tools for manipulating PDF files. It helps you compress, convert, watermark, split, and recover PDFs. The web software allows you to organize PDFs by deleting, rotating, and adding pages. You can utilize it to combine PDFs and reorder pages in a browser from nearly any device (Windows/Mac/Linux PC, iOS, and Android Phone).
You will learn how to organize PDF pages online for free in a flash with iLovePDF. Take a quick look at the following instruction.
Step 1: Scroll down the home page of the PDF sorting software's website to choose the Organize PDF tool;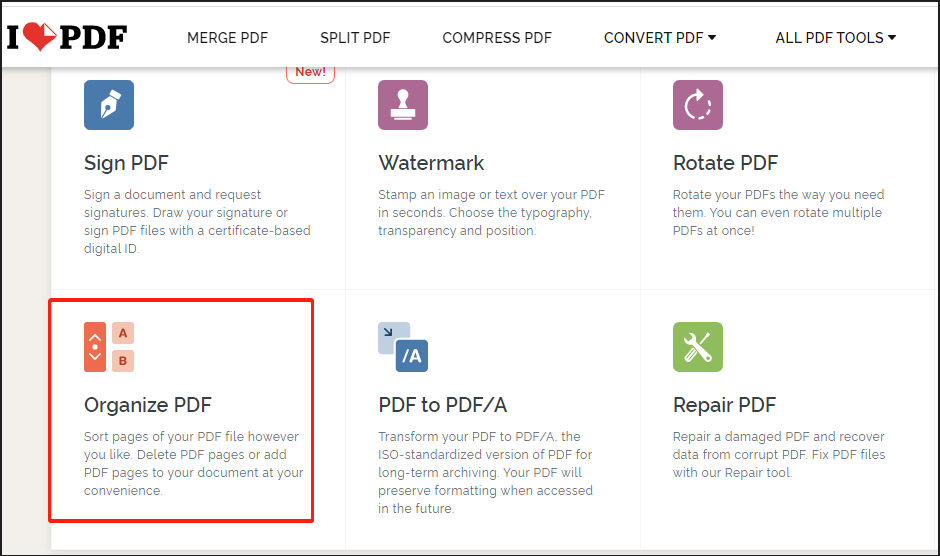 Step 2: Drag and drop a PDF file onto the page that appears to upload it. Or, select your file from Google Drive or Dropbox;
Step 3: Drag a page to a proper location to sort the PDF pages, place your mouse cursor over a page and tap an icon to delete or rotate it, or add a new blank page before or after it;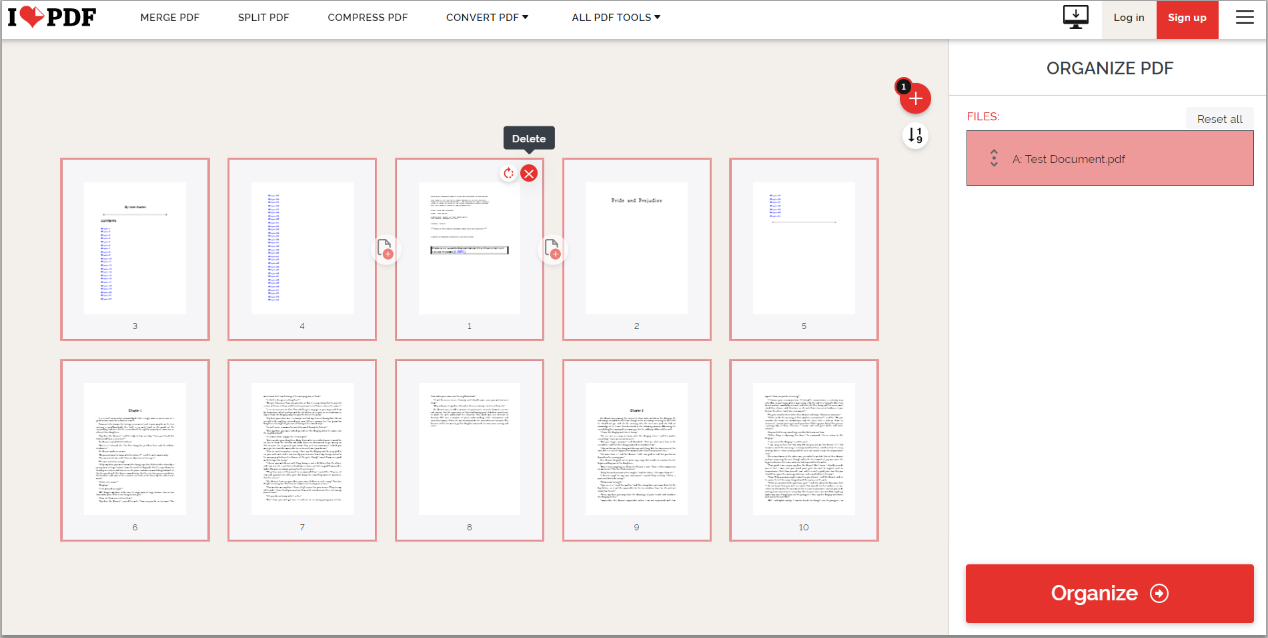 Step 4: When you finish the page organizing, press the Organize button at the bottom to save and download the modified PDF.
iLovePDF is a stellar tool to organize PDF pages for free, but you can only perform limited tasks with it. The files' size in total cannot exceed 100 MB per task. It also lacks many PDF editing options, such as organizing images and replacing existing text. To edit a PDF as easily as a text file, a more professional software application is required.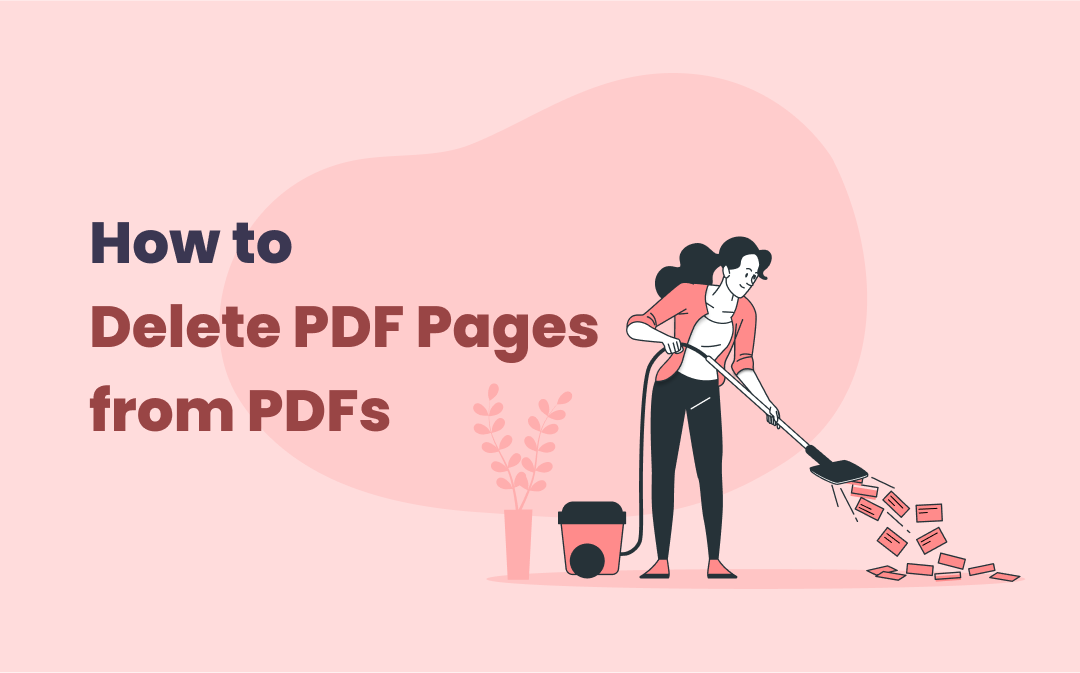 Easiest Methods to Delete Pages from PDF for Free
It's necessary to delete pages from a PDF when the file contains too much irrelevant content. See how to remove PDF pages for better file management.
READ MORE >
Final Words
This post introduced 4 PDF page organizers to help organize PDF pages on Windows, Mac, and online. As everyone may need to multitask during busy work, this handy software cuts down the time it takes to optimize or rework PDF files. So, you can focus more on completing more important tasks. With SwifDoo PDF, you can change your PDF's orientation to portrait or landscape, edit, combine PDFs, and reorder pages, etc. Get it for free.