Introduction:
The last decade has witnessed a flourishing development of cloud computing technology. Overall, cloud computing has matured into a relatively comprehensive ecosystem consisting of technologies, products, and services. Do you know how to edit a PDF in Google Drive? In this post, we will explain how to use Google Drive to rotate PDF files for free.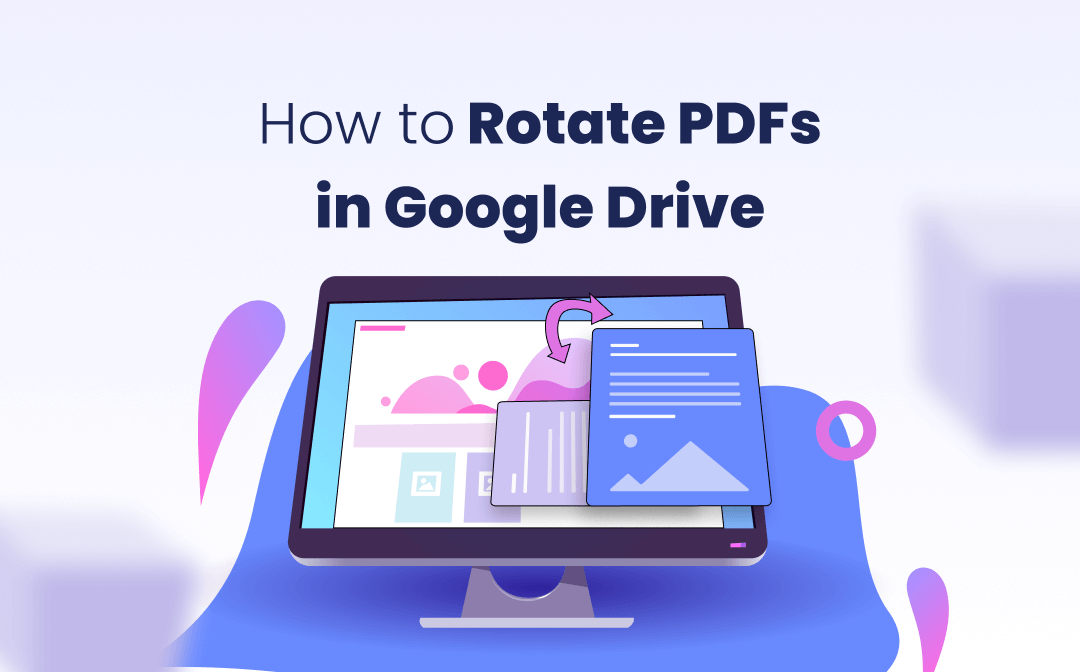 Before the advent of cloud storage services, many businesses had to rely on their own in-house IT department for such needs. With the rise of new technology, this conventional method is overshadowed and gradually replaced by new and emerging cloud computing.
Today, an increasing number of businesses are using cloud services more frequently, making the workflow simpler and more convenient for users. Among a couple of mainstream cloud computing platforms, Google is a shining star and has the lion's share. Google Drive, rolled out in 2012, was developed as file storage and synchronization service provider.
With the capacity to store PDF files on Drive's servers and synchronize files across multiple platforms, Google Drive has accumulated a total number of 1 billion users, with a reason! Google Drive stands out from the crowd because it enables users to connect with other apps in Google Workspace Marketplace. Therefore, users can make changes to PDF files stored in the space.
For instance, when users need to edit a PDF in Google Drive, and the PDF pages happen to be in the wrong orientation in some cases. Then it is essential to know how to rotate a PDF in Google Drive to ensure all pages are correctly presented.
Please check out the next section to rotate a PDF document in Google Drive easily.
How to Rotate PDFs in Google Drive
Generally speaking, PDF isn't a brand new file format for most. In particular, for those whose work involves frequent file transmission, PDF is completely unavoidable. Users may need to store unfinished PDF documents into the cloud to function independently of locations, platforms, and operating systems for improved efficiency.
Thus, multiple problems may come to the surface due to using the cloud service. A typical and common question is how to rotate PDF files on your PC easily.
For example, as seen in the below picture, the first page of the PDF document is placed horizontally. This type of situation can occur to anybody on occasion, affecting the overall reading experience. Therefore, it is recommended to correct the orientation of the first page, that is, to filp the PDF page. Have a look at how to edit the PDF with the wrong orientation:
Here's how to rotate a PDF in Google Drive:
Step 1. Enter google.com/drive/ in the search bar and click Go to Drive. Then, log in to Google Drive with a Google account. Open the file that needs to be rotated. Please note that Google Drive only supports adding annotations to the current PDF.
Rotation should be completed with the help of third-party PDF tools or connected apps. Therefore, the connection requires the users to go to another page to complete the rotation.

Step 2. Find Open with and then click DocHub below the Connected apps or Lumin PDF located just beneath suggested third-party apps. Following such, users will be redirected to a different page.
If you choose to flip the PDF pages in DocHub, then your PDF will be presented like the image below: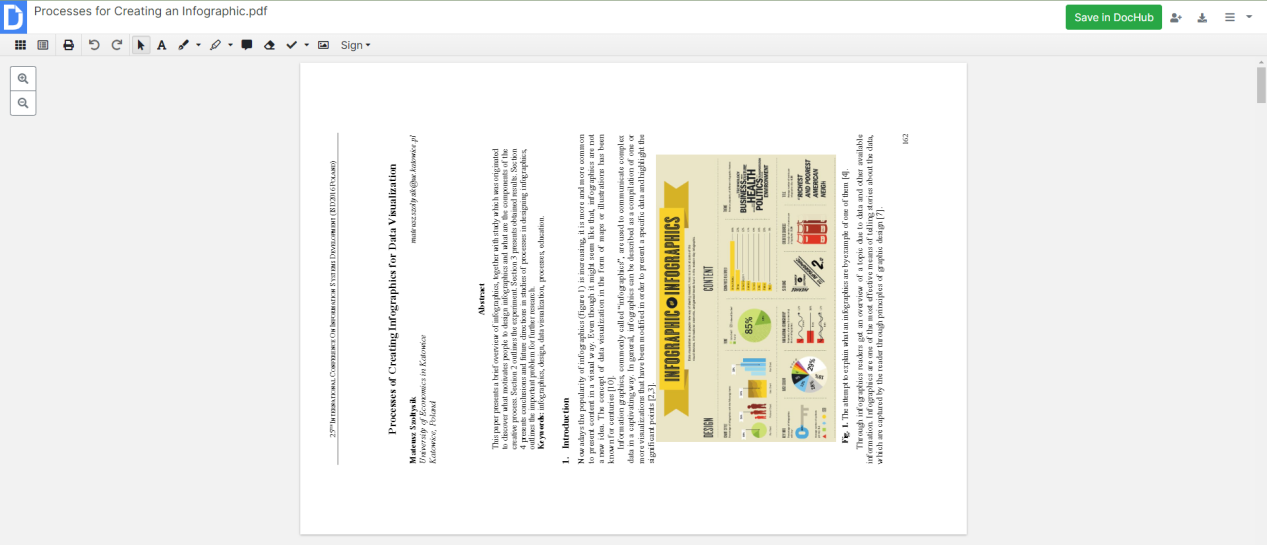 Step 3. If you have successfully arrived on the page, you're already halfway there. Click the Page Control button on the top left side of the page.
Then, place your cursor on the wrongly set page and click through the different rotation settings. If one wants to rotate all pages of a PDF document, such is possible by clicking the bottom left arrow.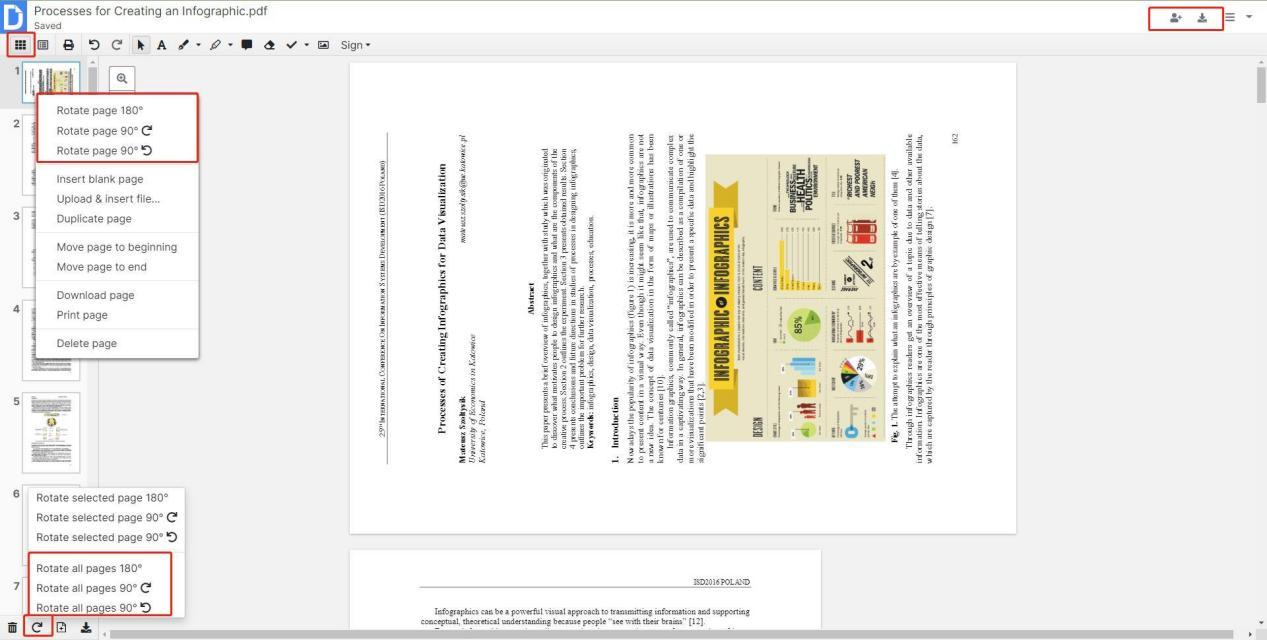 Step 4. Once you've made the changes to the PDF's orientation, the changes made to the current file will be automatically saved. You can download and export the PDF by clicking Download and Export located at the top right, to the local device, Google Drive, Google Classroom, Dropbox, and Microsoft OneDrive.
Besides, users can edit a PDF (referring to standard PDFs) in Google Drive, which is similar to editing an MS Word document. When finished editing, feel free to share the file with others as an attachment or a shareable link.
Final Words
As an ideal collaboration platform, Google Drive allows users to edit a PDF in its workplace, encrypts or sets certain access limits during file distribution if the PDF contains sensitive or confidential information. You can see clearly that rotating a PDF in Google Drive is relatively simple and free of cost once you know how it's done. Feel free to share your personal experience about how to rotate PDFs on any other similar cloud service platforms!