Introduction:
What makes a PDF hyperlink useful is that such a link can point to different content on the same web page, such as images, text, files, or email addresses. This may pique your interest in how to add a hyperlink to your PDF documents, for instance, by inserting an external hyperlink into a PDF file. Find out how to link to a PDF by reading the rest of this article!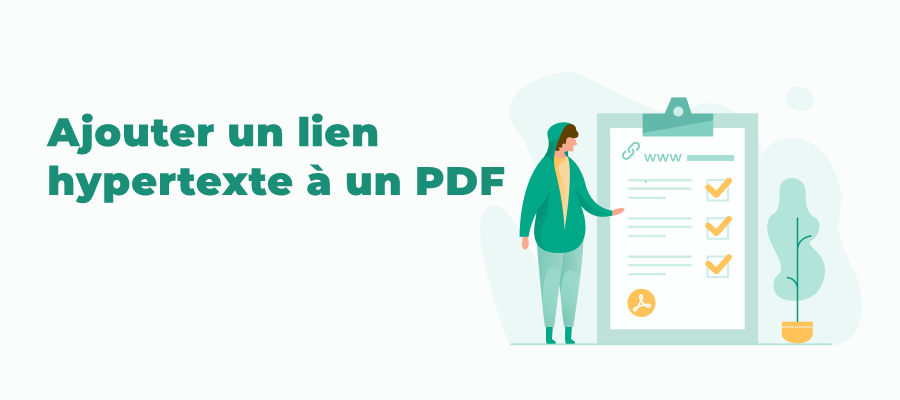 What Is a PDF Hyperlink?
A hyperlink is a URL that allows users to jump to a new location when clicking or tapping it. With the help of hyperlinks in a PDF, users can easily navigate between pages and websites for expanded information. This post revolves around how to add hyperlinks to PDFs.
How to Add a Hyperlink to PDF on Windows
Though PDFs are difficult to modify, many technology companies, such as Adobe, have recognized the digitalization trend and broken the ice. Adobe Acrobat, the flagship product of Adobe, enables users to easily make direct edits to PDFs, including creating a clickable hyperlink in a PDF.
Aside from this well-known name in the document management industry, other PDF software alternatives to Adobe can add a link to a PDF on Windows as well, such as SwifDoo PDF.
SwifDoo PDF
SwifDoo PDF is a lightweight PDF editor with both minimal RAM and CPU utilization; however, its various features can meet daily user needs, including converting, editing, annotating, signing, and password-protecting PDF. Let's look at how to create a clickable URL that links to a PDF or a specific section of your document.
Step 1: Download SwifDoo PDF from the official website and install the program on your PC;
Step 2: Open the software, click Edit > Link > Add or edit link;

Step 3: Go to the location and draw an area thereon;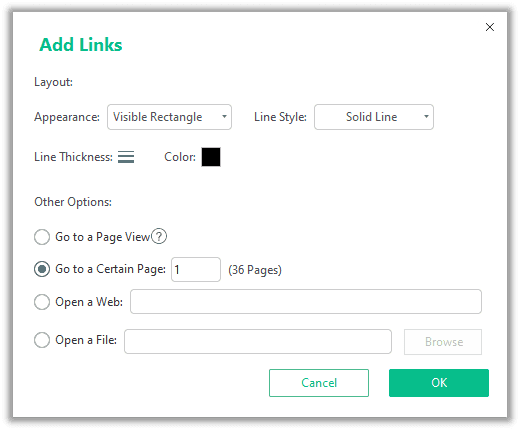 Step 4: Choose what you want your PDF link to do: open a file, open a website, jump to a special position, or go to a different page view. If you place the link in the wrong place, don't worry, right-click on the link and choose Delete Link to remove it.
Go to a page view: link a button to a certain page view in your PDF;
Go to a certain page: jump directly to a specific page by clicking the link;
Open a web: click the link and redirect you to a specified web page;
Open a file: open an external file (it can be an image, a PDF attachment, or any supported file format).
Tips:

Even more so, the SwifDoo PDF editor lets you change the link layout by providing options such as line style, thickness, color, and appearance. For example, if you want the hyperlinks in an invisible rectangle, simply change the link's appearance.
Foxit PDF
Foxit PDF is a reliable solution if you need a fast, affordable, and secure PDF program. As a versatile PDF product, Foxit is equipped with complete toolsets that comprise converting, editing, page organizing, commenting, and form filling. Check out how you can readily add a hyperlink to a PDF below:
Step 1: Download the software and install it on your computer;
Step 2: Launch the tool and upload the PDF document;
Step 3: Click on the Link button in the Edit tab;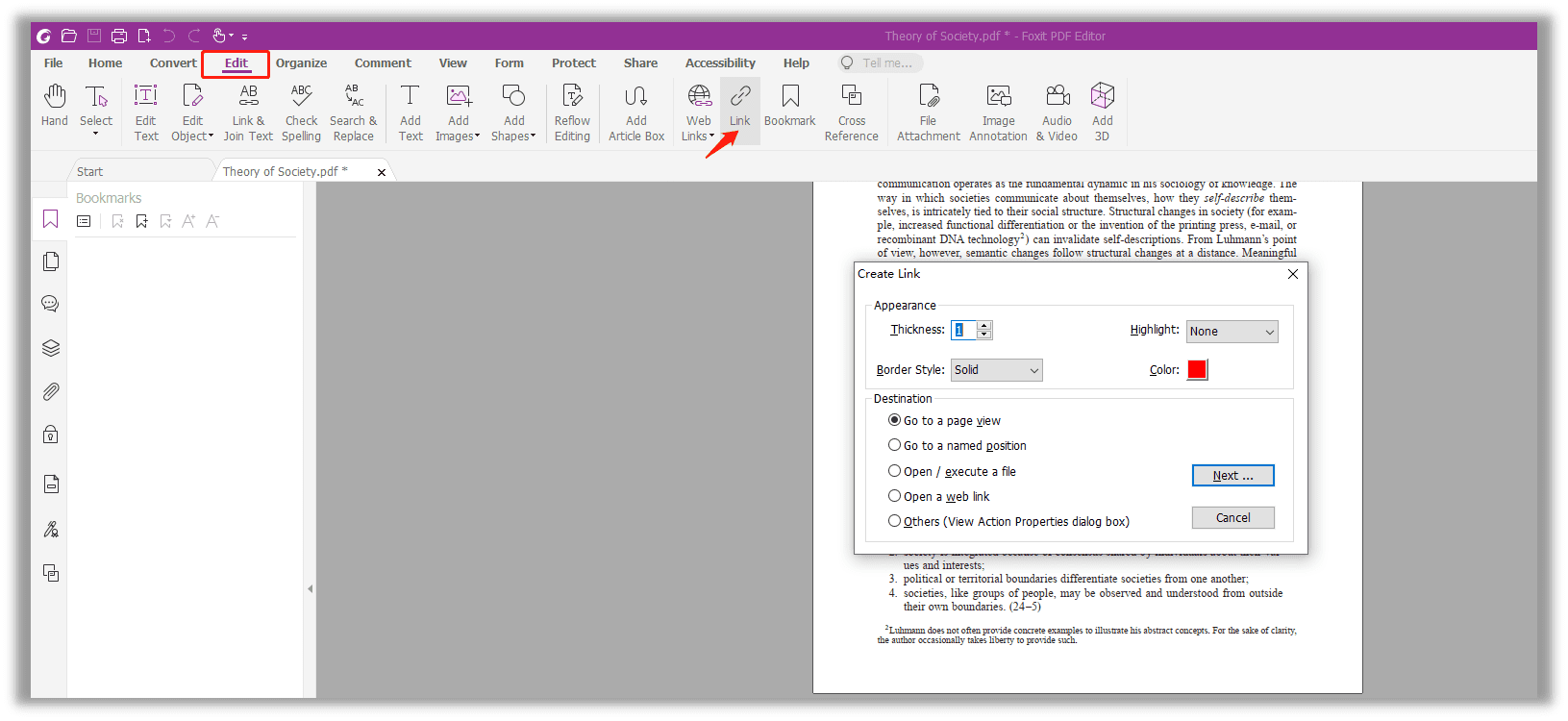 Step 4: Place your cursor on the area that needs a hyperlink, and draw a shape with your mouse;
Step 5: Choose what kind of link you need: Go to a page view; Go to a named position; Open/execute a file; Open a web link, or Other.
When compared to SwifDoo PDF, Foxit enables users to add an action to trigger the link. When finished, remember to press the "Next" button to finalize the operation. Now you can link external sources to a PDF via this clickable hyperlink.
How to Add a Hyperlink to PDF on Mac
Mac users should feel lucky to own a built-in PDF editor known as Preview. This image and PDF viewer allows Mac users to easily make changes to this hard-to-edit file format.
Preview
In terms of PDF files, Preview enables you to make PDF comments or modify the content within the document. Here, we are going to briefly introduce how to add a hyperlink to a PDF document using Preview.
Step 1: Open a PDF file with Preview;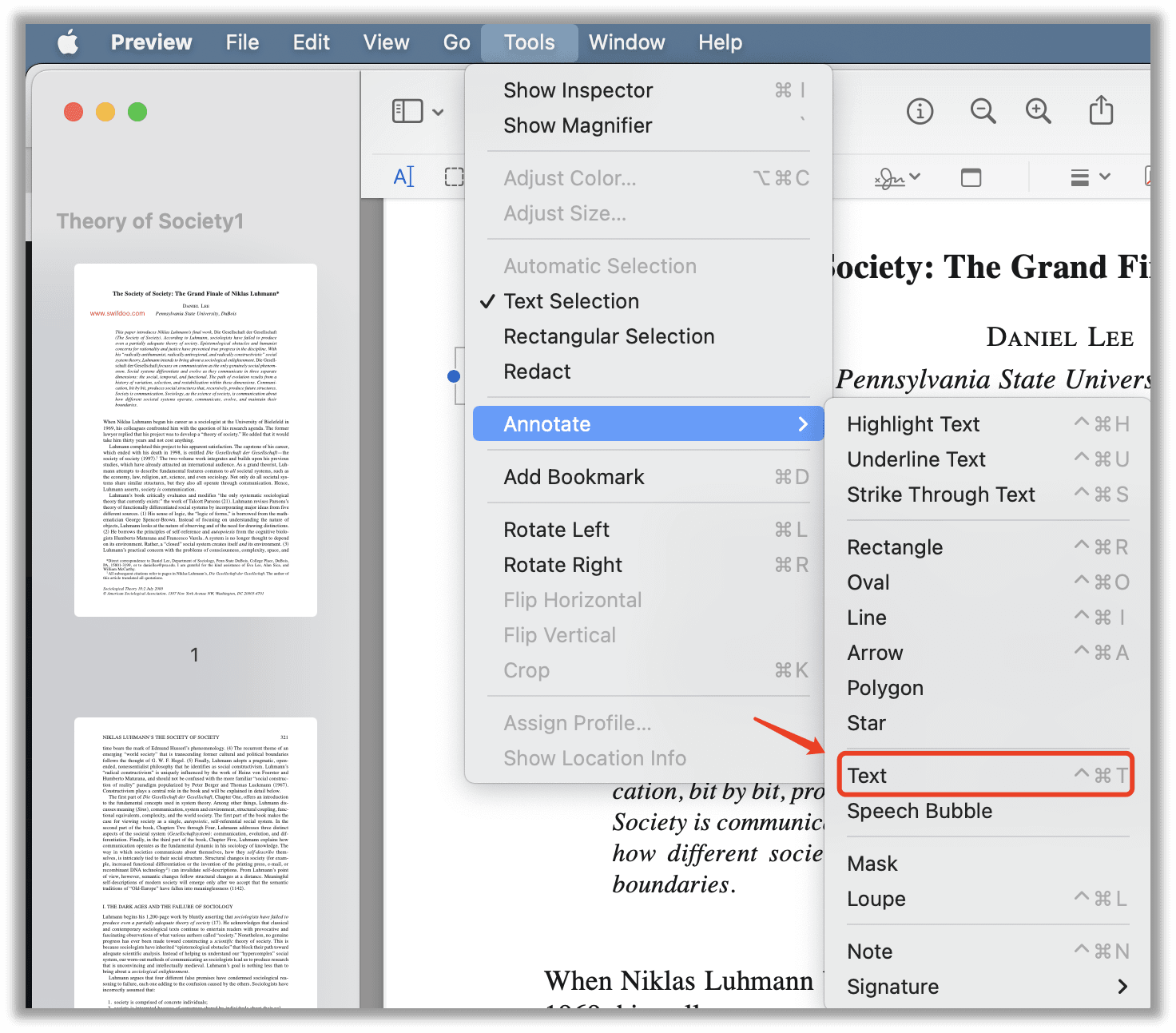 Step 2: Click Tools > Annotate > Text. After this, you will see a text box popping up. Just type the hyperlink into the box;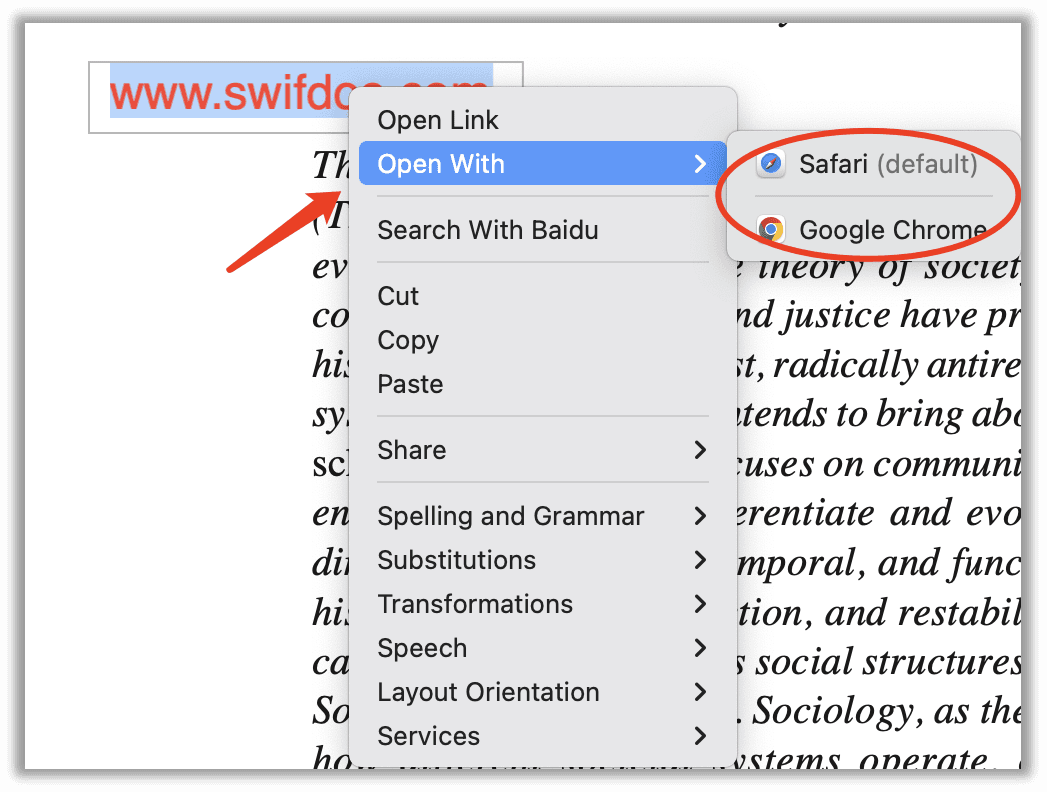 Step 3: When finished, right-click on the text box to select Open Link, and then the link will be opened in Safari. Optionally, if you'd like to open a hyperlink in other browsers than default Safari, hit the Open with to choose your preferred browser.
Tips: If you need to change the style of the hyperlink in Preview, this free PDF editor on Mac enables you to modify the color, size, font style, and alignment; strikethrough; as well as underline the clickable link.
Aside from adding a link, Preview can also quickly remove or open a hyperlink simply by pressing "Ctrl" and clicking the link, where your options will appear. However, Preview is unable to add an internal hyperlink. That means you cannot go to a page view or a certain page by clicking the link.
If the Mac's Preview fails to meet your needs, try the following free programs to see how to create and add hyperlinks to PDFs online.
Adding a Hyperlink to a PDF Online
Online tools are usually free to use without registration or download. That's why many non-regular users want to add a link to a PDF online, all for convenience without any fuss. In this section, we will recommend two online methods to explain how to add links to PDFs:
Google Docs
As an online word editing platform, Google Docs aims to help users easily format text and paragraphs. Since it is more of a collaborative tool for cooperative editing of documents in real-time, users can access its free online service on different operating systems like Android, iOS, Windows, and Mac. See how to add hyperlinks to a PDF for free:
Step 1: Access your Google Drive space and open a PDF via the connected apps. Google Docs is your first choice;
Step 2: Navigate to the word or sentence you want to hyperlink;
Step 3: Choose Insert > Link on the menu bar, or right-click the selected part in order to select Link, then type the URL as a link and hit OK to create a clickable link for the specified part. Alternatively, when you have selected the part that needs a hyperlink, just press the Crtl + K;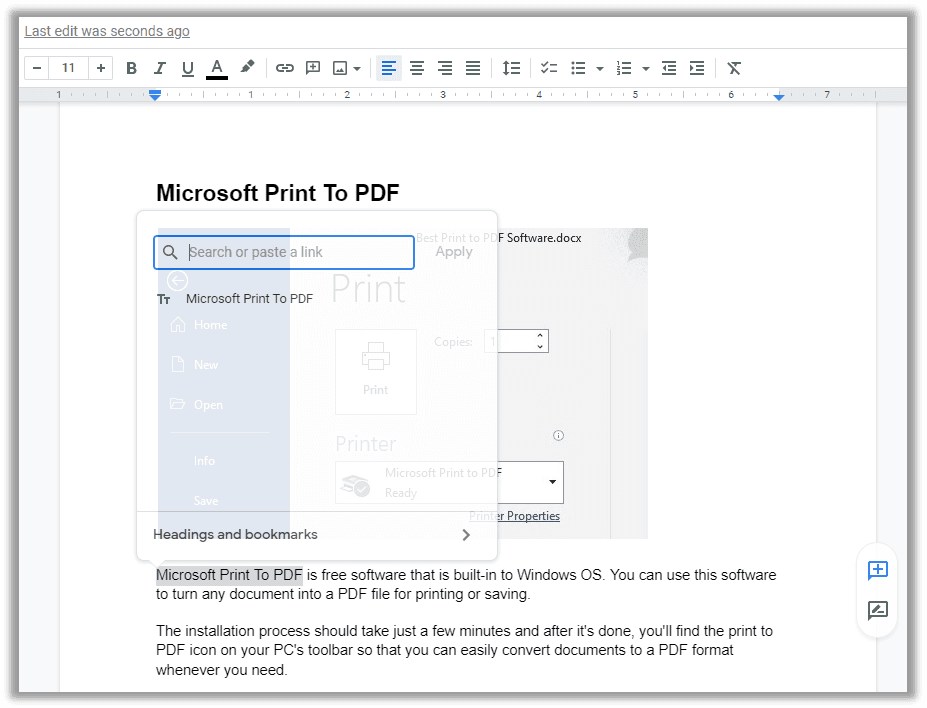 Step 4: Once finished, select Download as in the File tab to export the current Word document to PDF.
Google Docs is a trustworthy online word processor and can automatically convert your PDF to an editable Word document, which is conducive to adding hyperlinks to PDFs. Nevertheless, Google Docs cannot process non-standard PDFs. That being so, if you need to add a hyperlink to an image-only PDF or scanned PDF, you get off on the wrong foot.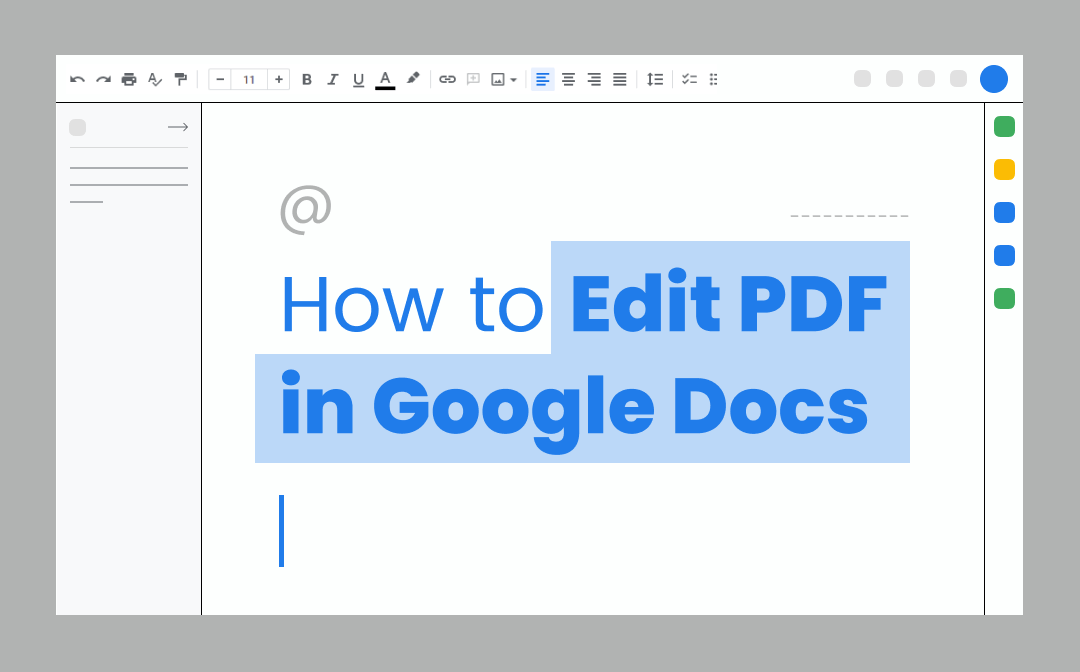 How to Edit a PDF in Google Drive [November 2022]
How do you edit a PDF in Google Drive? Are you looking for the answer? The article demonstrates a freeway and advanced PDF editing option.
READ MORE >
pdfFiller
pdfFiller is an online expert in dealing with PDF problems, from creating, converting, and editing, to reviewing. If you bother to download a desktop PDF program, pdfFiller is a nice web-based editor to insert a clickable hyperlink. Here come the steps:
Step 1: Visit the official website;
Step 2: Upload the PDF from a local computer, Google Drive, Box, One Drive, email, or Dropbox;
Step 3: Navigate to the location that needs a link, and left-click your mouse on any blank area to trigger the text box;

Step 4: Enter anything you want within the box, and then click Attach a Link to type the URL.
During our test, we looked at more than 10 online PDF editors and pdfFiller proved to be a trustworthy PDF editor when it comes to adding a REAL clickable link online.
Conclusion
Many Internet-based PDF tools do not provide an online editing tool for adding a hyperlink, but desktop PDF programs enable such action with ease.
Regardless of its desktop programs or online PDF editors, adding a hyperlink to a PDF document can be completed within just a few clicks. Yes, it is feasible for someone to utilize Microsoft Word for adding an external link, however, the layout of the PDF has the chance of being altered. In other words, this method shouldn't be prioritized.
Online PDF programs usually offer two free tasks per day, while desktop software requires payment when the free trial expires. That said though, desktop PDF tools, like SwifDoo PDF, outperform online PDF tools, such as how the hyperlink is displayed and where to insert the link.