Introduction:
A hyperlink is a URL that allows users to jump to a new location when clicking or tapping it. With the help of links, users can easily navigate between pages and websites for expanded information. What makes inserting a link useful is that a link can point to different content on the same web page, such as images, text, files or email addresses.
This may peak your interest around adding a link to your digital documents, for instance, inserting an external link to a PDF file. Find out how by reading the rest of this article!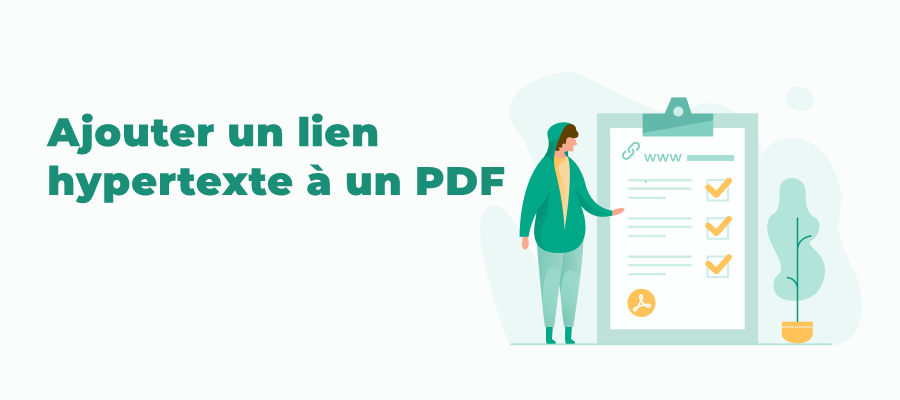 Adding a Link to a PDF with Desktop Software
How to Insert a Link on Windows
Though PDFs are difficult to edit, many technology companies have noticed the digitization trend and broken the ice, such as Adobe. Adobe Acrobat, the flagship product of Adobe, enables users to easily make changes to PDFs, including inserting a clickable link to a PDF.
Aside from this big name in the document management industry, there are other available PDF softwares with the ability to add a link to a PDF on Windows, like Foxit PDF and SwifDoo PDF.
SwifDoo PDF
SwifDoo PDF is a lightweight PDF editor with both a small RAM and low CPU usage, however, its various features can meet daily user needs, including converting, editing, annotating, signing, and protecting. Let's take a look at how to create a clickable link leading to a certain part of your document.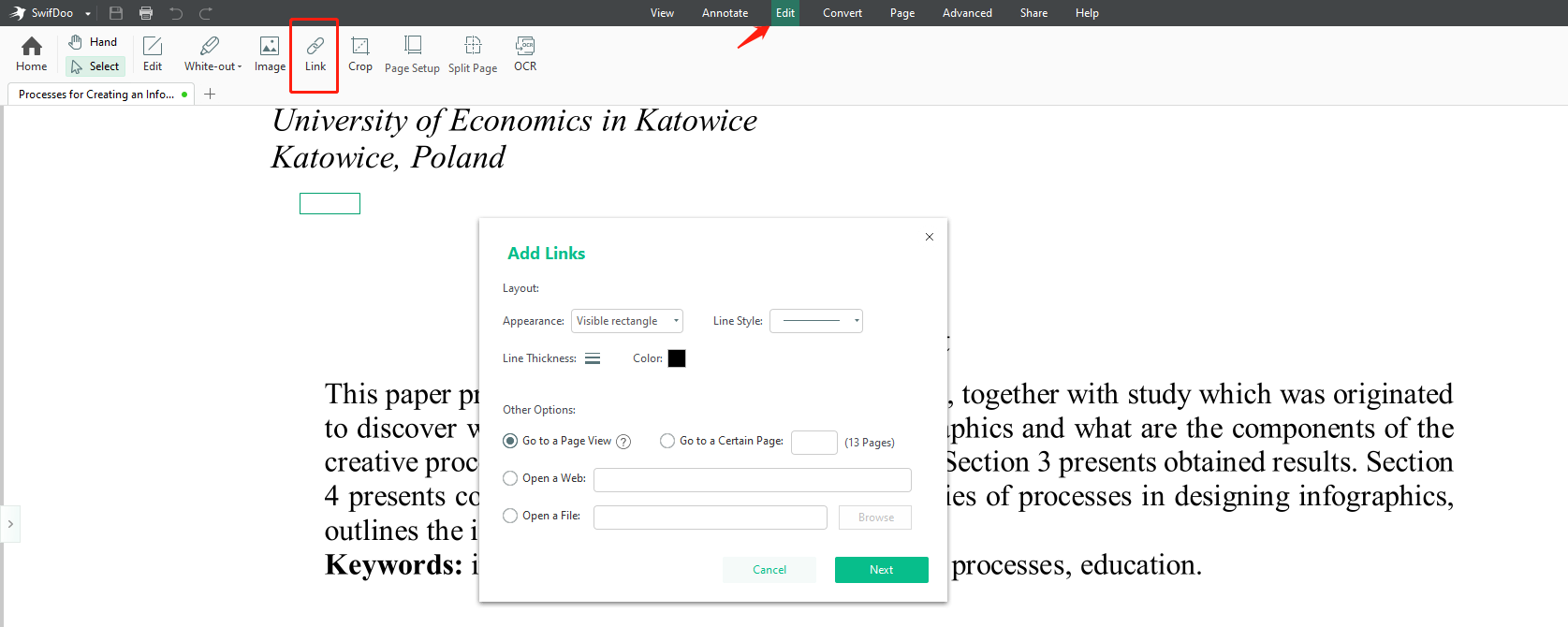 Step 1: Download SwifDoo PDF from the official website and install the program on your PC;
Step 2: Open the software, click Edit, and select Link;
Step 3: Navigate to the place you want to add the link;
Step 4: Choose what you want your link to do: open a file; open a website; jump to a special position; or go to a different page view;
Step 5: If you want people who tap the link to be redirected to a website, tick Open a Web and enter the URL.
Tips:
Even more so,
SwifDoo PDF editor
lets you change the link layout by providing options such as line style, thickness, color, and appearance.
Foxit PDF
Foxit PDF is a reliable solution for fast, affordable, and secure PDF programs. As a versatile PDF software, Foxit provides a number of useful features for users which comprise converting, editing, page organizing, commenting, and form filling.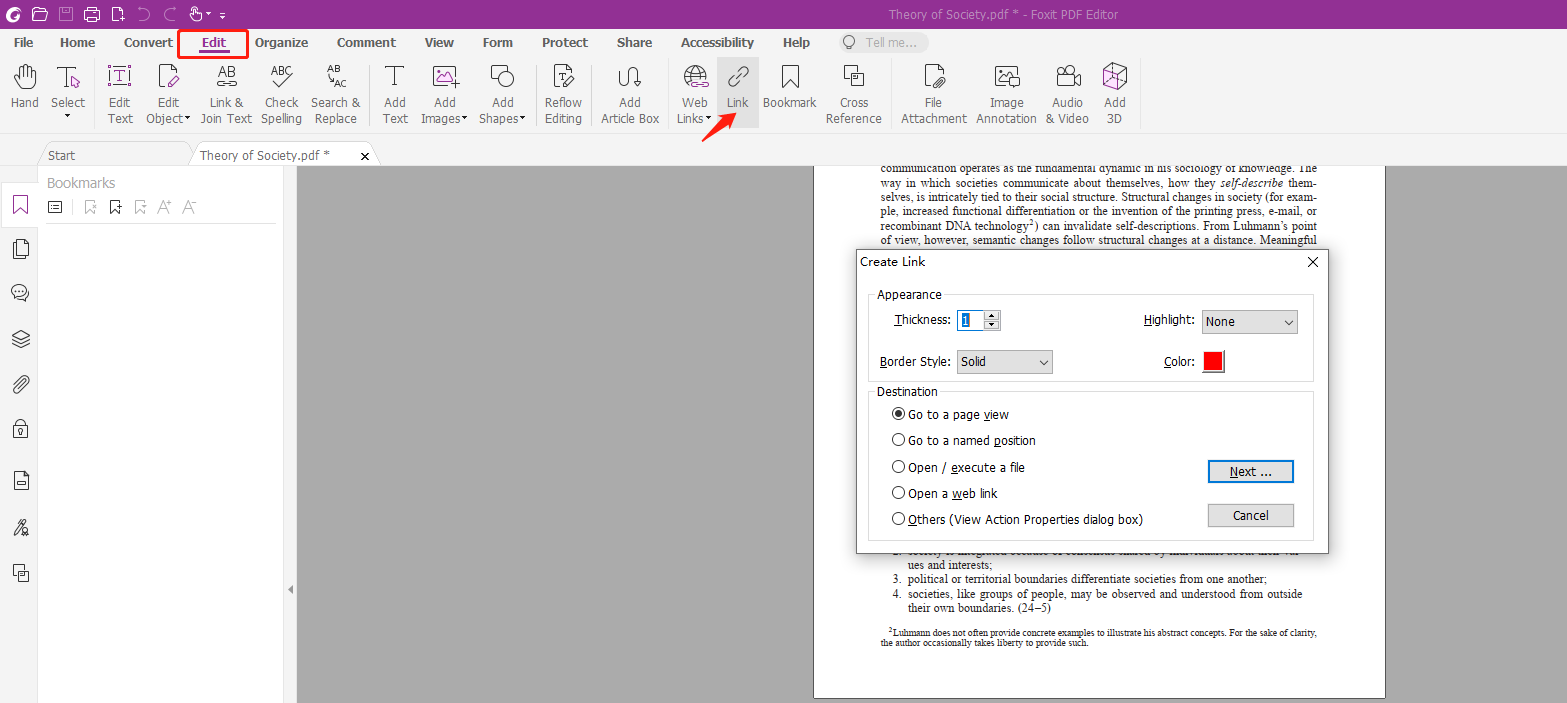 Step 1: Download the software and install it in your computer;
Step 2: Launch the tool and upload the PDF document;
Step 3: Click Link in the Edit tab;
Step 4: Place your cursoron the area that needs a link, and draw a shape with your mouse;
Step 5: Choose what kind of link you need: Go to a page view; Go to a named position; Open/execute a file; Open a web link; or Other.
When compared to SwifDoo PDF, Foxit equally enables you to highlight the link and change its border style. When finished, remember to press the "Next" button to finalize the operation.
How to Insert a Link on Mac
Mac users should feel lucky to own a built-in editor known as Preview. This image and PDF viewer allows Mac users to easily edit the latter file formats. In terms of PDF files, Preview enables you to make comments or modify the content within the document. Here, we are going to briefly introduce how to add a link to a document using Preview.
Step 1: Open a PDF file with Preview;
Step 2: Choose Substitutions in the Edit taband click Smart Links;
Step 3: Type a URL - it will automatically become a link.
If in need of changing the text to a link, choose "Edit" and click "Add Link" or "Format", and then select "Add Link" where you can either type or paste the URL. Aside from adding a link, Preview can also quickly remove or open a link simply by pressing Ctrl and clicking the link where your options will appear.
Adding a Link to a PDF with Online PDF Programs
Google Docs
As an online word editing platform, Google Docs aims to help users easily format text and paragraphs. Since it is more of a collaborative tool for cooperative editing of documents in real-time, users can access its free online service on different operating systems like Android, iOS, Windows, and Mac.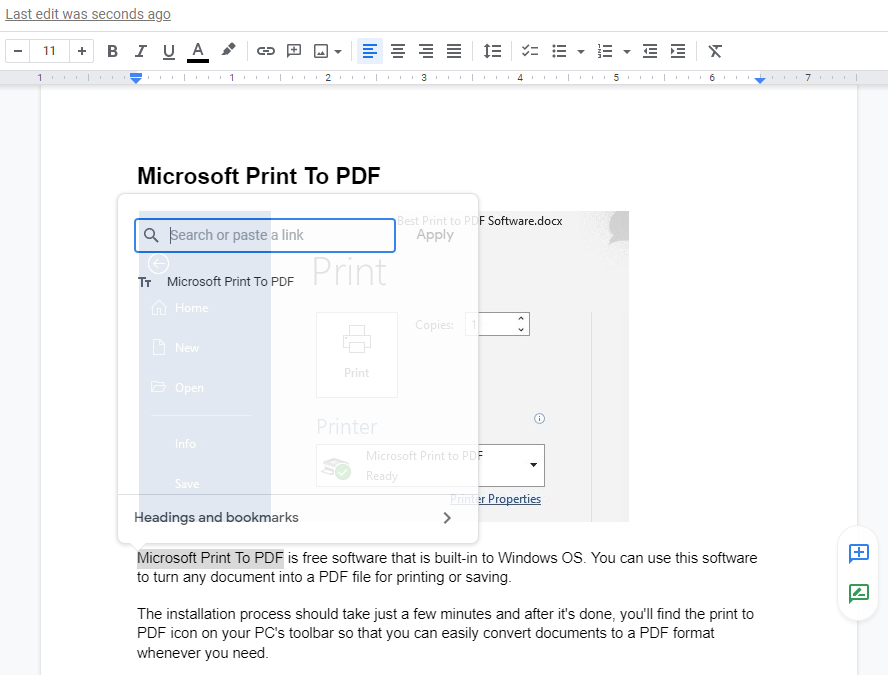 Step 1: Open a Word document in Google Docs;
Step 2: Navigate to the word or sentence you want to hyperlink;
Step 3: Choose Insert on the menu bar, or right click the selected partin order to select Insert, then type the URL as a link and hit OK to create a clickable link for the specified part;
Step 4: Select Download as in the File tab to export the current Word document to PDF.
pdfFiller
pdfFiller is an online expert in dealing with PDF problems, from creating, converting, editing, to reviewing. If you bother to download a desktop PDF program, pdfFiller is a nice web-based editor for inserting a link. Here come the steps:
Step 1: Visit the official website;
Step 2: Upload the PDF from alocal computer, Google Drive, Box, One Drive, email or Dropbox;
Step 3: Navigate to the location that needs a link, and left click your mouse on any blank area to trigger the text box;
Step 4: Enter anything you want within the box, and then click Attach a Link to type the URL.

During our test, more than 10 online PDF editors were used and pdfFiller proves to be a trustworthy PDF editor when it comes to inserting a REAL clickable link online.
Conclusion
Many Internet-based PDF tools do not provide an online editing tool for adding a link, but desktop PDF programs enable such a process with ease.
Regardless if it's desktop programs or online PDF editors, adding a hyperlink to a PDF document can be completed within just a few clicks. Yes, it is feasible for someone to utilize Microsoft Word for adding an external link, however the layout of the PDF has chances of being altered. In other words, this method shouldn't be prioritized.
Online PDF programs usually offer two free tasks per day, while desktop softwares require payment when the free trial expires. That said though, desktop PDF tools outperform online PDF tools because offline PDF programs can provide many more options, such as how the link is displayed and where to insert the link.