Introduction:
A PDF printer can help create, save and print a document as a PDF, however, it is hard to find a good PDF printer with built-in print to PDF option. That's why we wrote this article to recommend some PDF printers that you don't want to ignore.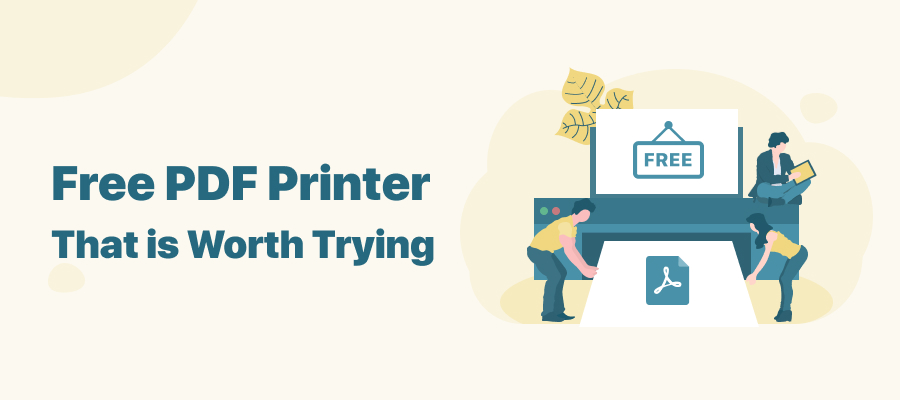 Desktop PDF Printers
SwifDoo PDF
SwifDoo PDF is a professional PDF editing program which integrates more than 30 features to address PDF-related tasks, including but not limited to view, create, comment, converter, print, and protect PDFs.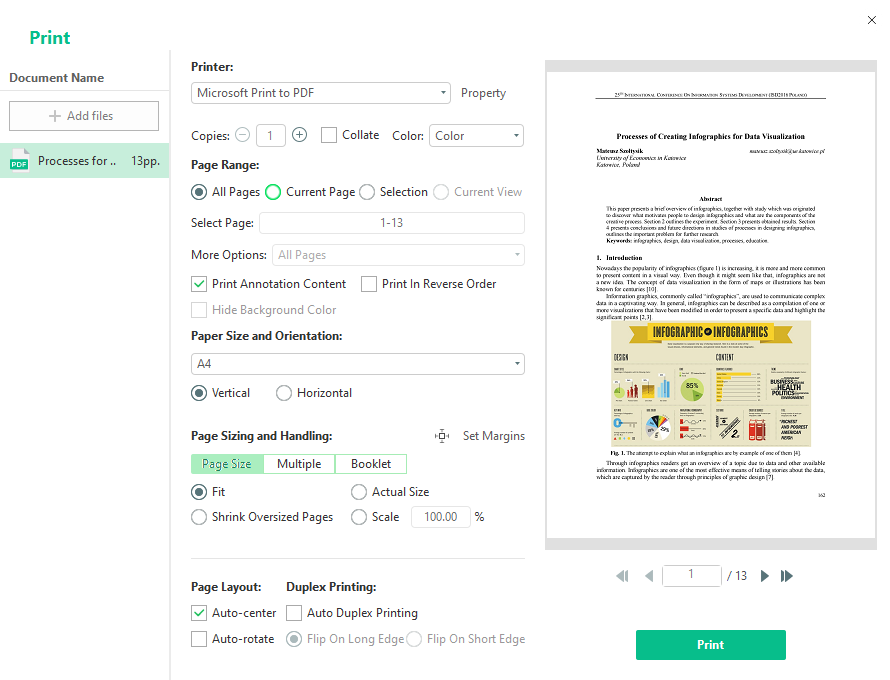 With regard to printing images (BMP, JPG, PNG, and TIF) or PDF documents, you can drag the file to the workplace. But if you need to print to PDF from a Microsoft Office document, such as Word, Excel, or PowerPoint, these files need to be converted into PDFs before printing. SwifDoo PDF converter can also help export an Office file to PDF or vice versa.
In the Print setting, SwifDoo PDF enables you to
Change the page size and orientation by clicking Page Size and Orientation;
Specify which pages to print by clicking Page Range;
Select a default PDF printer by clicking Printer;
Change how you need to print the PDF by clicking Duplex Printing;
Perform batch printing by clicking Add Files on the left side;
Note:
SwifDoo PDF is compatible with Windows 7, 8, and 10, so you can print to PDF without worrying about compatibility.
Microsoft Print to PDF
For Windows 10 users, using the native Print to PDF feature sounds like a good option if you don't want any third-party PDF printers. This free printer works well with different files including MS Office files, images and etc.
If you need to print a file with Microsoft Printer, click Print in the File tab or press Ctrl + P to trigger shortcut keys. When you see the Microsoft Print to PDF window pop up, you can adjust the settings as required.
In situations where you may need to print a file to PDF, Microsoft's "Save As" feature comes in handy. Windows 10 users can take advantage of this free method to create PDF files and achieve file conversion from MS Office files to PDFs.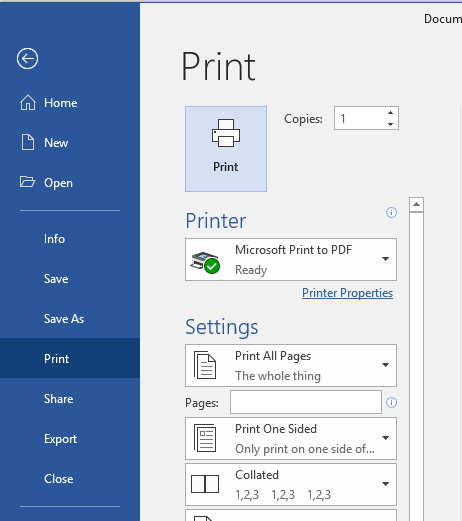 Adobe Acrobat
Adobe Acrobat is considered to be a leader in the PDF this industry. This popular PDF program is still the top choice due to its multiple features. Adobe's printer makes it easy to create and print to PDF from any other formats.
Specify what pages to print by selecting Pages to Print;
Change the page sizing and handling;
Maintain all annotations and forms in printing by clicking Comments & Forms;
Alter the orientation of a page or image by clicking Orientation;
Customize paper size, and paper source by clicking Page Setup;
Adobe Acrobat can work well with secured PDFs, which means you can even print an encrypted document both on Windows and Mac. If you need to print to PDF from other formats like images or MS office files, you can convert them into a PDF format before printing with Adobe.
Preview
If you are looking for a PDF printing solution for Mac users, this part may help. Preview is not only an image viewer, PDF creator, but a good printer. By clicking the "File" button , you can print PDFs on Mac.
With Apple's built-in Preview, you can print specific or all pages of a PDF, print selected images, and choose whether to include annotations made on the pages. Preview's printer has the following printing settings:
Scale an image or page by choosing Scale;
print comments on the PDF by clicking Show Notes;
Change the orientations of an image file or PDF automatically by choosing Auto Rotate;
Allow batch printingfor multiple documents or images by choosing Copies per page;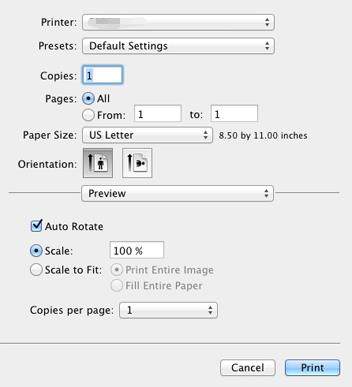 For more information, please visit Apple's official website to get more information.
Online PDF Printers
The rapid development in the document management industry enables us to print to PDF online. Web-based PDF printers usually do not require registration or downloading when it comes to printing to PDF. This part will focus on two online PDF printers:
DocFly
DocFly is an Internet-based PDF application which specializes in different kinds of PDF-related questions, from creating, viewing, converting, to annotating PDFs. To print to PDF, DocFly can only support opening PDF documents. If you want to print to PDF from other formats, try file conversion first.
Printing to PDF only requires a few steps with DocFly. Users need to upload PDF documents from their local computer, Google Drive, or Dropbox, make changes on the current document if needed then save the document and click "Print".
DocFly enables users to change the following printing settings:
Select default printer;
Decide which pages to print;
Specify how many pages per sheet;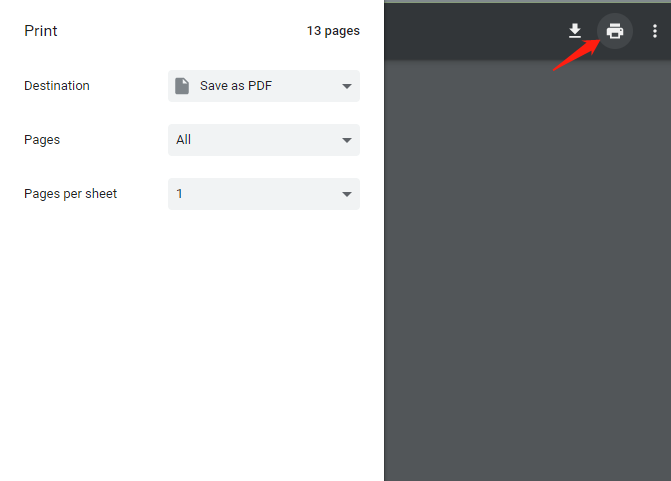 As an online PDF printer, DocFly has two free file limits, which means a user can convert or print two documents for free.
Google Drive
This free cloud service provider is widely accepted and more popular as it is made to work seamlessly with Google, all Google-based services and relevant applications. While most people treat Google Drive as a file storage and synchronization platform, it is actually a free PDF printer that can convert images or MS Office files to PDFs and print the PDF document.
The printing process is relatively easy. Users just need to upload the file to Drive and click Print, and that's it! Images, PDFs, and Microsoft Office files formats are supported; therefore, it is a web-based printer that is worth a shot. Conveniently, users can access Google Drive on Android, iOS, Mac, or any operating systems.
In the Print page, Drive lets users to make the following changes: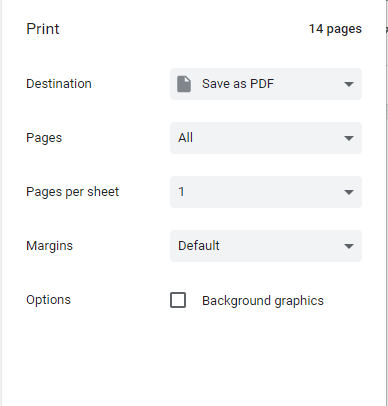 Change the default printer;
Select pages to print and to custom page range;
Specify pages per sheet;
Adjust margins.