Introduction:
The most common name that springs to mind when it comes to editing a PDF is Adobe Acrobat. Every software product, however, has its pros and cons. For example, Adobe Acrobat has been praised for its robust features and document management capabilities. At the same time, it is criticized for its high membership costs and clumsy navigation. Therefore, this post explains how to edit a PDF without Adobe.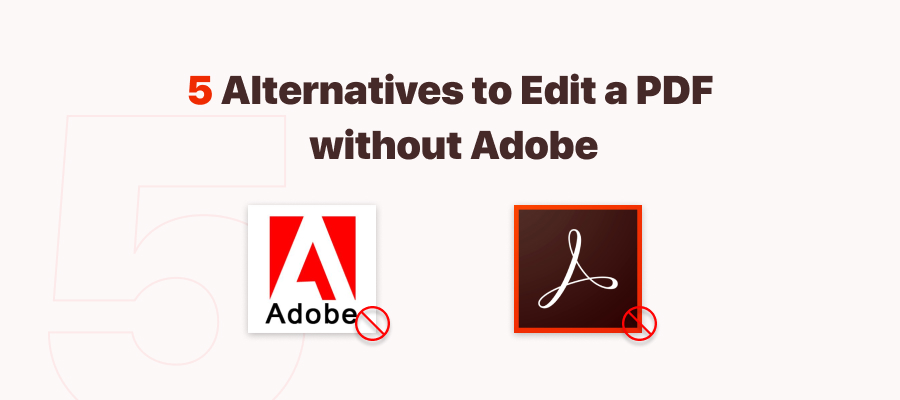 Many software developers have created and released Adobe alternatives, allowing users to easily access editing features at a much lower cost. We've compiled a list of 5 free and easy-to-use PDF editors. If you are scouting for how to edit a PDF file for free, just check out the list of Adobe Acrobat alternatives.
SwifDoo PDF (Windows)
Foxit PDF (Windows and Mac)
Wondershare PDFelement (Windows, Mac, iOS, and Android)
Soda PDF (Windows)
iLovePDF (Online, Windows)
SwifDoo PDF
SwifDoo PDF is a lightweight and functional PDF editor that works similarly to Adobe Acrobat. This free PDF editing program stands out from the crowd thanks to its 30 MB file size and multiple features, which have earned it millions of users worldwide in just four years.
SwifDoo PDF editor features a more user-friendly interface, so users can quickly locate what they need. When it comes to how to edit a PDF file by changing the text, this free PDF editor makes the procedure as simple as it is in Adobe:
Step 1: Download and install SwifDoo PDF on your computer;
Step 2: Launch the software and upload the PDF by clicking Open;
Step 3: When the PDF file is loaded, click Edit to start modifying the current document with the help of useful features provided by the SwifDoo PDF editor.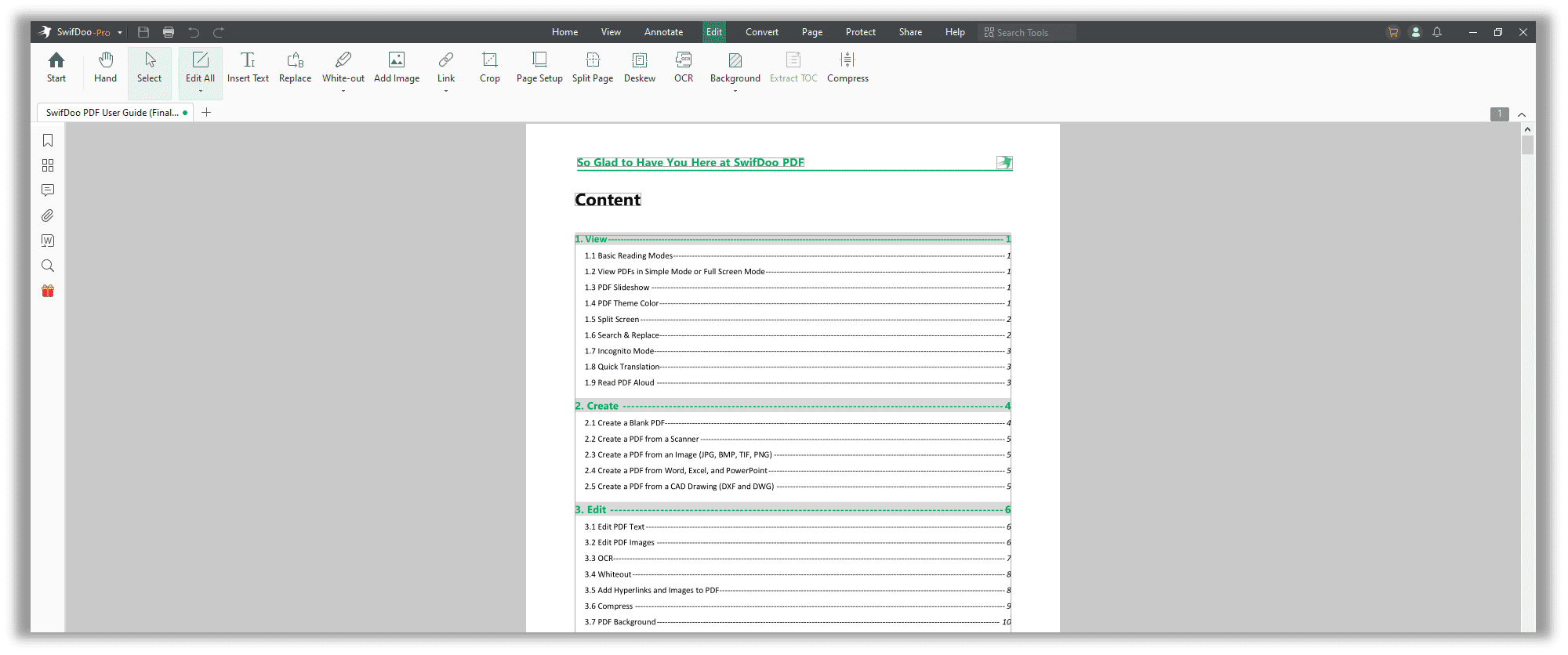 SwifDoo PDF allows you to edit text, add images and links, redact the content with a whiteout, and crop pages in the "Edit" tab. If you need to revise the content, you need to hit the "Edit" button to change the font, color, and page size in PDF documents without Adobe Acrobat.
For scanned copies or documents, OCR is a must-have feature to make a PDF editable. Users can access the feature provided by SwifDoo PDF to recognize characters and edit the text within image-only PDFs.
SwifDoo PDF is a PDF editor that only has functions in the "Edit" sector that are more relevant to editing. Tools are classified into several main tabs, with buttons offering access to specific features.
The 30 MB file size and rapid response will come in handy when you need free PDF editing. Furthermore, if you're still unsure whether this new PDF editor for Windows is right for you, a 15-day free trial will suffice to see if it fits all of your PDF editing demands. To summarize, if you're looking for a way to edit a PDF without Adobe Acrobat, SwifDoo PDF is well worth your time.
Foxit PDF
Foxit PDF is not a new name in the document management industry. This brand enjoys a good reputation in this field. In comparison to Adobe Acrobat, the Foxit PDF editor achieves a superior mix of features, usability, and cost. Without further ado, let's see how to edit a PDF with Foxit PDF:
Step 1: Download Foxit PDF Editor. Since Foxit has a different version of the PDF editor, please check for details and make comparisons before payment. (The picture below is from Foxit PDF Editor Pro 11);
Step 2: Open the program and upload the PDF document to the panel by hitting Open File; If your PDF is in PDF/A, which is created for archival purposes and cannot be edited, Foxit will open a window to notify you if you need to make changes to the current file. Otherwise, this file is displayed in read-only mode (it cannot be edited);
Step 3: Click the Edit tab and then select Edit Text to start making changes to the current file.
You are allowed to change the text, style, size, color, and alignment by clicking the status bar hidden on the right side of the screen. Additionally, this PDF editor can also create a numbered or bulleted list if needed.
As the following screenshot shows, Foxit's navigation bar accommodates many more features, such as "Edit Object", "Search & Replace", "Image Annotation", and "Audio & Video". But if you are required to edit or add an e-signature within a PDF, click "Fill & Sign" in the "Protect" tab.
"Search & Replace" is another pleasant surprise from Foxit. You can now easily repair typos and make edits to PDFs using Foxit, which is convenient and time-saving for users.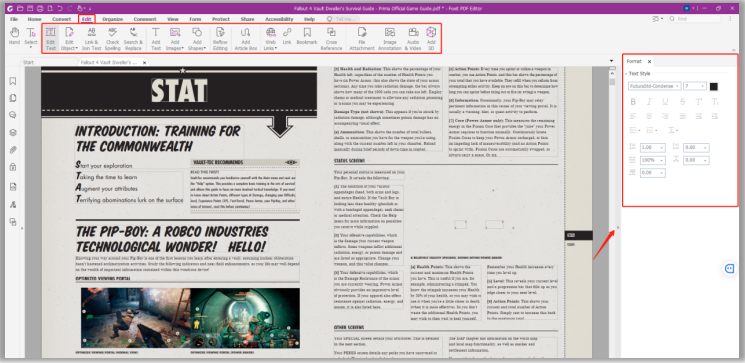 Foxit's user interface is admittedly complex, and some users may find it bewildering. It seems like Foxit has considered this question and prepared video tutorials on the software interface. In summary, this is a comprehensive PDF editor to edit PDF documents without Adobe, especially suitable for active and regular PDF users who have various demands for a PDF editor.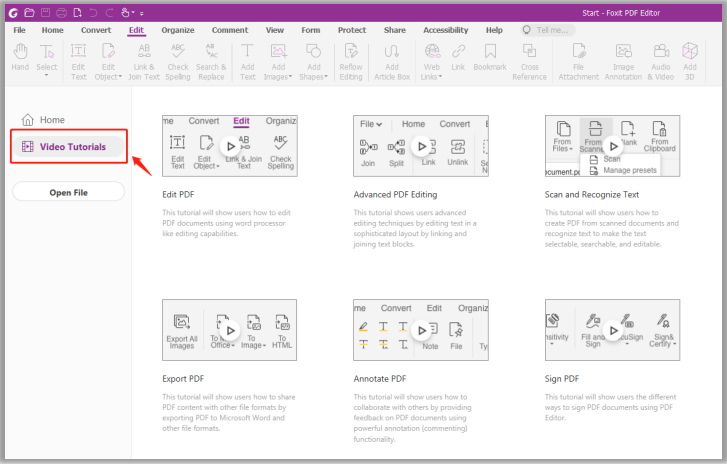 Wondershare PDFelement
Wondershare PDFelement is a powerful yet easy-to-use PDF editor where you can edit, organize, manage, and secure your PDF documents. This is a platform that has introduced some beneficial features and toolsets regarding how to edit a PDF with Adobe.
With PDFelement, users have complete control over files and can change PDF fonts and styles while maintaining the layout of the document. Let's explore how to edit a PDF without Acrobat:
Step 1: Install Wondershare PDFelement on your computer after downloading it from the official website;
Step 2: Launch the program and click Open files to start editing;
Step 3: In the Edit tab, you are allowed to add text, images, links, watermarks, headers & footers, and Bates numbers. If you'd like to change the background color, just hit the Background to add or edit the background color.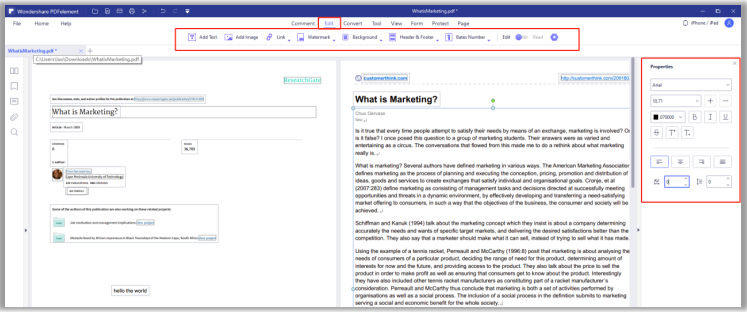 If you need to modify the properties of the newly added text, just right-click on the mouse and select "Properties" to change the font style, size, color, and alignment.
Soda PDF
Among the PDF editors listed, Soda PDF is the only completely functioning PDF solution that is available as a desktop and web-based application. Users have the freedom to access features on any device with a web browser, including desktops, laptops, smartphones, and tablets.
It comes equipped with innovative features specifically designed to increase productivity, including PDF conversion, editing, reviewing, and security tools, a reputable e-signature solution, Bates' numbering, cloud integration, and much more. Here's how Soda PDF helps edit a PDF file without Adobe:
Step 1: Enter Soda PDF's website on the search bar, and click Start Free Trial; when the download page shows up, Soda PDF will be downloaded automatically. If not, restart the download process by hitting Click here;
Step 2: Launch the Soda PDF Installer. When finished, users will be asked to create a new PDF or open an existing document to start work;
Step 3: Upload your PDF file by clicking Open PDF. Next, choose the Edit tab to freely make any changes to the current file. In the editing tool, you can change the font style, size, color, and alignment. What's more, you are allowed to insert images into the PDF, add hyperlinks to it, and annotate the file with various page marks.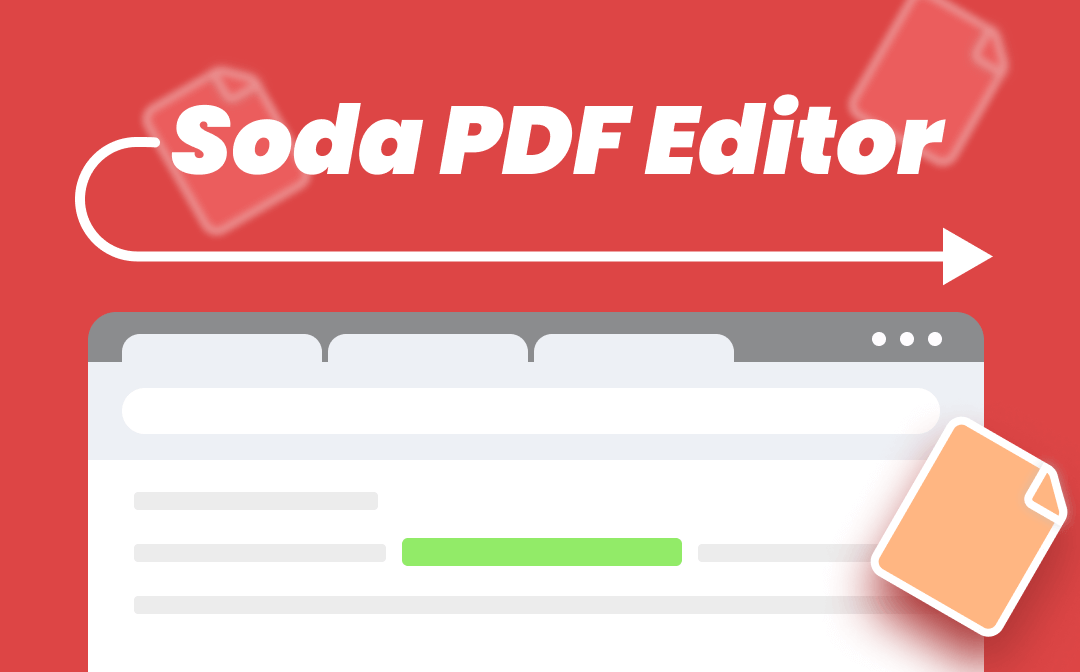 As a qualified PDF editor alternative to Adobe Acrobat, Soda PDF's spell check (similar to MS Word) is incredibly useful. It helps you locate annoying typos that require further checking.
If you need to itemize the selected paragraph, you can choose "More Adjustments" to add a bullet list or numbered list to the selected paragraph if applicable.
iLovePDF
When it comes to editing a PDF online for free, Adobe's online PDF editor may be the first choice. However, we have too many online Adobe Acrobat editors out there. One of them is iLovePDF.
iLovePDF is a good replacement for Adobe. It features a clear and typical user interface, making it easy to navigate. To simplify PDF-related tasks, iLovePDF has integrated nearly 30 features, including online PDF editing. If you're looking for a free way to edit PDFs online not in Adobe, the online PDF editor is highly recommended. The steps for modifying a PDF are listed below:
Step 1: Navigate to the official website and select Edit PDF;
Step 2: Add a PDF file from a local folder, Google Drive, or Dropbox;
Step 3: When your PDF document is successfully added to this platform, you can start editing by clicking on the navigation bar. Users can add text, images, shapes, and draw on to the current PDF file using iLovePDF;
Step 4: When adding text, you can change the font, color, font size, alignment, and opacity. The background color of the text box can be altered based on your preference.
In some cases, when you need to make a lot of changes to a PDF file, the scattered newly added text boxes can be annoying. You can click on the "New Text X" box to locate each item on the right side of the window. The whole editing process can be done online and requires no download or registration.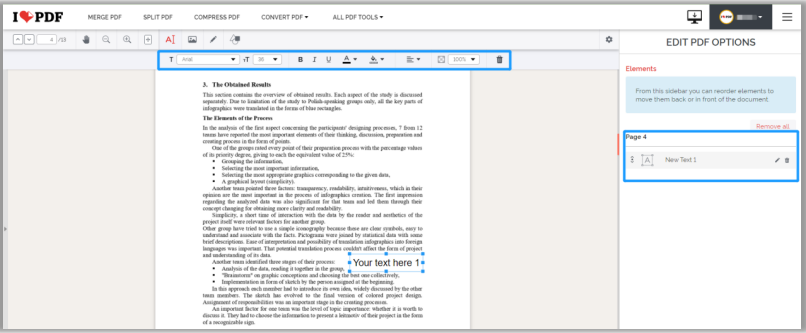 Not long ago, iLovePDF only provided online services, but now it has released its desktop version to reach a wider audience. However, editing features are still unavailable in its desktop version. That is to say, if you need to edit a PDF for free, the online version is your solution.
Note:
As to file security, iLovePDF promises to employ HTTPS/SSL and end-to-end encryption for enhanced security. Users can, meanwhile, edit an e-signature or set passwords to better protect information. What's more, files uploaded to this platform will be automatically removed or deleted from its server within 2 hours. These additional steps will make it a reliable online PDF platform.
Conclusion
The PDF editors described above are solid alternatives to Adobe Acrobat, and most of them provide a free trial period of one week or more, allowing you to test them out before committing to a full membership.
It is strongly suggested that if your job involves the frequent demand for editing PDFs, you ought to invest in a professional PDF editor to improve productivity and better manage digital documents. If you are looking for how to edit a PDF without Adobe, the provided PDF editors may fit the bill.
Frequently Asked Questions (FAQ)
Q: Are there any free PDF editors?
A: Yes, there are many free PDF editors in the industry, and most PDF tools have seven-day free trials for registered users.
For non-registered users, service providers will limit the usage or access of all features, such as twice a day or five tasks a day. Registered users can access all features during the free trial. Once the free trial expires, users need to pay a subscription fee.
Q: How do I edit a PDF with A

dobe online PDF editor?
A: Adobe does provide free online editing services to enable creating and converting PDFs, editing text, making comments, and compressing PDF sizes. Concerning how to edit a PDF file for free, Adobe's online PDF editor allows users to insert text and add text boxes; attach notes and add highlights; and draw on PDFs. However, Adobe's online service requires registration and login, which is not so user-friendly.