Introduction:
When it comes to editing PDF text, the biggest name most people would think of would be Adobe Acrobat. However, every software product has its pros and cons. For example, Adobe Acrobat has been praised for its powerful features and document management capacity. At the same time, it is criticized due to expensive subscription fee and cumbersome navigation.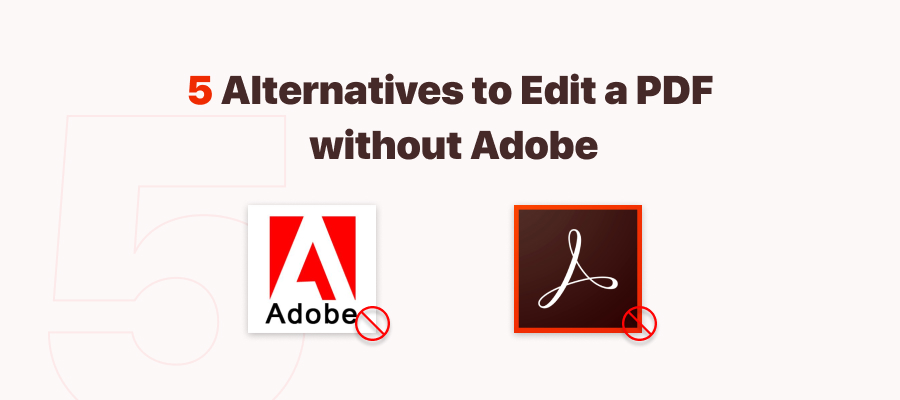 As a result, many software producers have developed and released Adobe alternatives so users can access the same features while enjoying a much more reasonable price. We have prepared 5 alternatives to help you edit a PDF document without Adobe Acrobat.
SwifDoo PDF (Windows)
Foxit PDF (Windows and Mac)
Wondershare PDFelement (Windows, Mac, iOS, and Android)
Soda PDF (Windows)
iLovePDF (Online, Windows)
SwifDoo PDF
SwifDoo PDF is a lightweight and useful PDF editor. Its 11 MB file size and powerful features make this free PDF editing program stand out from the fierce competition, and has won it millions of users in just a short 4 years globally.
SwifDoo PDF editor has a more intuitive interface design so that users can easily find what they need. As for modifying the text within a PDF document, it is easy to make your PDFs editable:
Step 1: Download SwifDoo PDF and install it on your computer;
Step 2: Launch the software and upload the PDF by clicking Open;
Step 3: When the PDF file is loaded, and it's time to start modifying the current document.

SwifDoo PDF allows you to edit text, add image and links, remove the content by whiteout, and crop pages in the "Edit" tab. If you need to revise the content, you need to hit the "Edit" button to change the font, color, and edit the page sizes in PDF documents without Adobe Acrobat.
SwifDoo PDF only integrated features with more relevance to editing in the "Edit" sector. Many features with less relevance to editing are integrated and classified into other functional sectors. When you need to edit a PDF urgently, SwifDoo PDF's 11 MB file size and quick response will be of huge help.
Foxit PDF
Foxit PDF is not a new name to the document management industry. This brand enjoys a good reputation in this field. Compared to Adobe Acrobat, Foxit PDF strikes a better balance between functionality, usability and price. Without further description, let's see how it goes with Foxit PDF:
Step 1: Download Foxit PDF Editor. Since Foxit has different version for the same product, please check for details and make comparisons before payment. (The picture below is from Foxit PDF Editor Pro 11);
Step 2: Open thePDF program, and upload the PDF document to the panel by hitting Open File; If your PDF is in PDF/A which is created for archival and cannot be edited, Foxit will open a window to notify if you need to modify the current file. Otherwise, this file is displayed in read-only mode.
Step 3: Click Edit tab and then select Edit Text to start making changes to the current file.
You are allowed to change the text, style, size, color, and alignment by clicking the status bar hidden on the right side of the screen. You can also create a numbered or bullet list if needed.
As the following screenshot shows, Foxit's navigation bar can accommodate many more features, such as "Edit Object", "Search & Replace", "Image Annotation", and "Audio & Video". But if you are required to edit an e-signature within a PDF, click "Fill & Sign" in the "Protect" tab.
However, this feature is scarcely accessible when it comes to other PDF tools. Another surprise Foxit brings us is "Search & Replace". Now with Foxit, you can correct typos and then replace them with ease, which is practical and time-saving for users.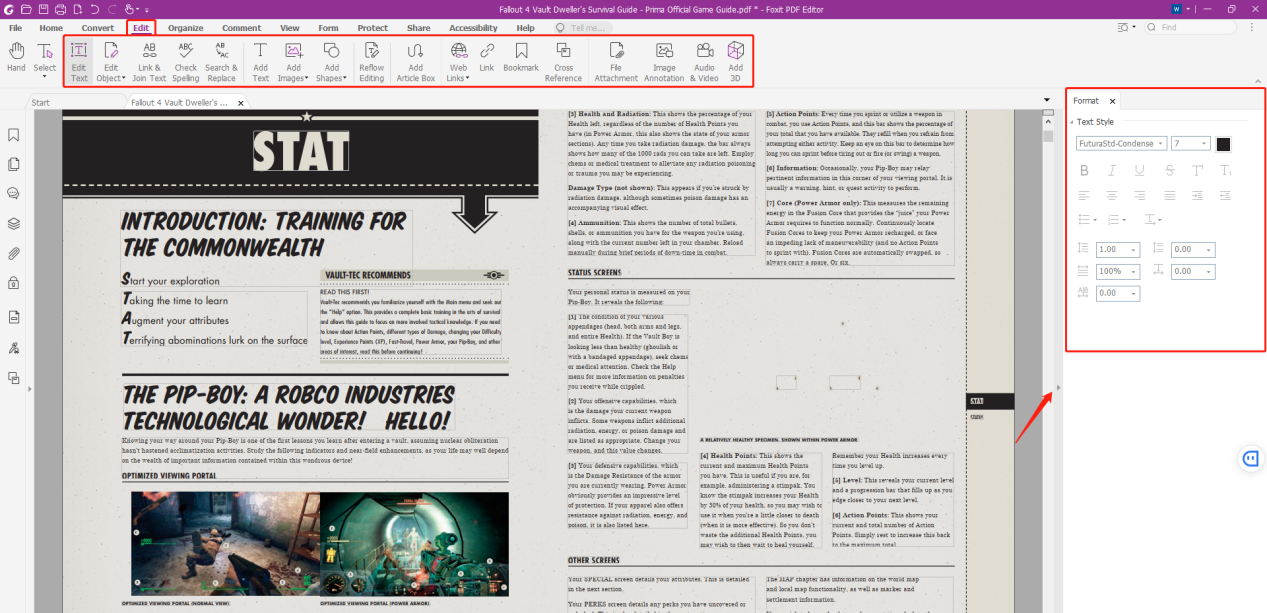 Admittedly, Foxit's user interface is complicated and thus confusing to some users. It seems like Foxit has taken this issue into consideration and prepared video tutorials on its homepage. In summary, this is a comprehensive PDF tool, which is especially suitable for active and regular PDF users who have multiple and various demands for a PDF application.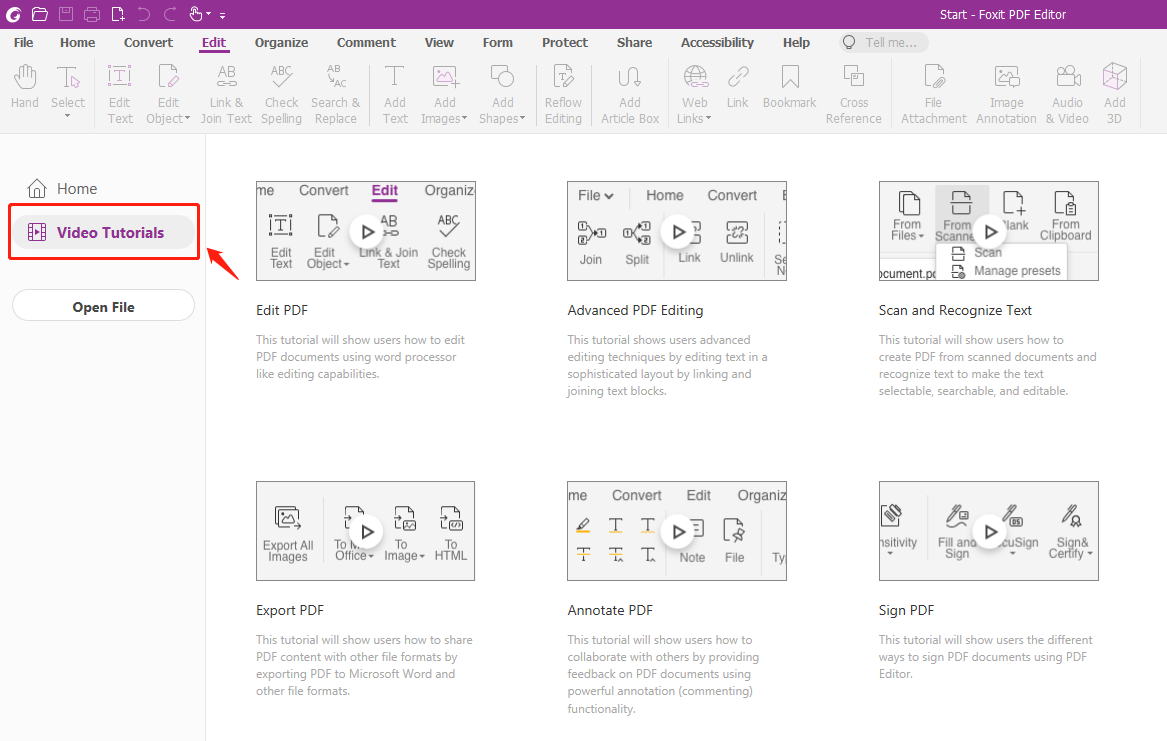 Wondershare PDFelement
Wondershare PDFelement is a powerful, yet easy to use PDF editor where you can edit, organize, manage and secure your personal PDF documents. This is a platform that has introduced some useful features and toolset when it comes to editing a PDF file with ease.
With PDFelement, users have complete control over PDF files, and can change fonts and styles while maintaining the layout of the document. Let's explore how to edit a PDF with PDFelement:
Step 1: Download Wondershare PDFelement on the official website andinstall it on your computer;
Step 2: Launch the program and click Open files to start editing;
Step 3: In the Edit tab, you are allowed to add text, image, link, watermark, header & footer, and Bates number. If you'd like to change the background color, just hit the Background to add or edit background color.
If you need to check for the properties of the newly added text, just right-click on the mouse and select "Properties" to change the font style, size, color, and alignment.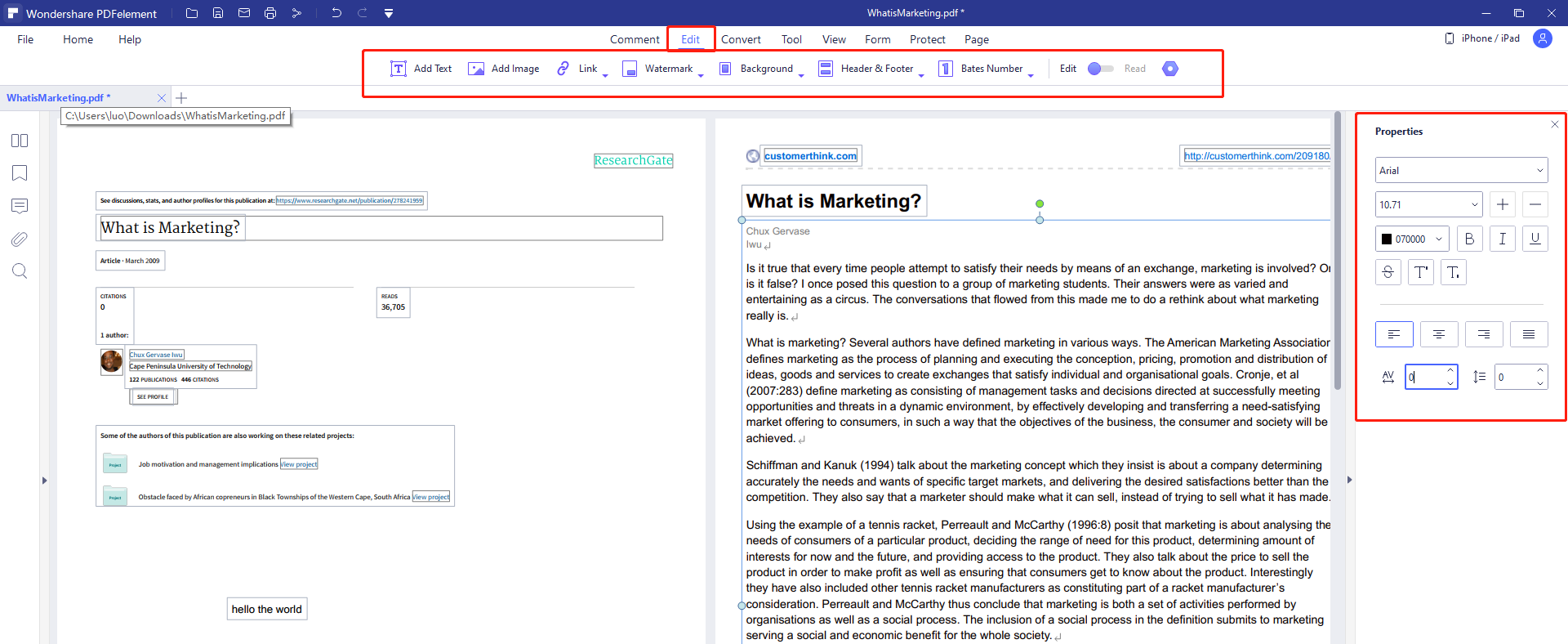 Soda PDF
Soda PDF is the only fully functional PDF solution available both as a desktop and a web-based application among the listed software. Users have the freedom to access features on any device with a web browser, including desktops, laptops, smartphones and tablets.
It comes equipped with innovative features specifically designed to increase productivity, including PDF conversion, editing, reviewing and security tools, a reputable e-signature solution, Bates' numbering, cloud integration, and much more. Here's how to edit a PDF file with Soda PDF:
Step 1: Enter Soda PDF's website on the search bar, and click Start Free Trial; when the download page shows up, Soda PDF will be downloaded automatically. If not, restart the download process by hitting Click here;
Step 2: Launch the Soda PDF Installer. When finished, users will be asked to create new PDF or open an existing document to start work;
Step 3: Upload your PDF file by clicking Open PDF. Next, choose the Edit tab to freely make any changes to the current file. In the editing tool, you are able to change the font style, size, color, and alignment. What's more, you are allowed to insert images, links, and page marks to the current document.

As a qualified editor, Soda PDF's spell check (similar to MS Word) is an incredible feature . It helps you locate annoying typos, which require further checks.
If you need to itemize the selected paragraph, you can choose "More Adjustments" to add a bullet list or numbered list to the selected paragraph if applicable.
iLovePDF
Not long ago, iLovePDF was only an online PDF program, but iLovePDF has now released its desktop version to meet more diversified needs. However, editing features are still unavailable in its desktop version. To revise the content of a PDF, it is still recommended to use the online version instead. The process of editing a PDF is provided:
Step 1: Navigate to the official website and select Edit PDF;
Step 2: Upload a PDF from local folders, Google Drive, or Dropbox;
Step 3: When your PDF document is successfully added to this platform, you can start editing by clicking on the navigation bar. iLovePDF enables users to add text, image, shape, and draw on the current file;
Step 4: When adding text, you are able to change the font, font size, alignment and opacity. Background color of the text box can be altered based on your preference.
In some instances, you need to make a lot of changes to a PDF file, and the scattered newly added text box can be confusing. In this case, you can click on the "New Text X" box to locate each item on the right side of the window. The whole editing processing can be done online and requires no download.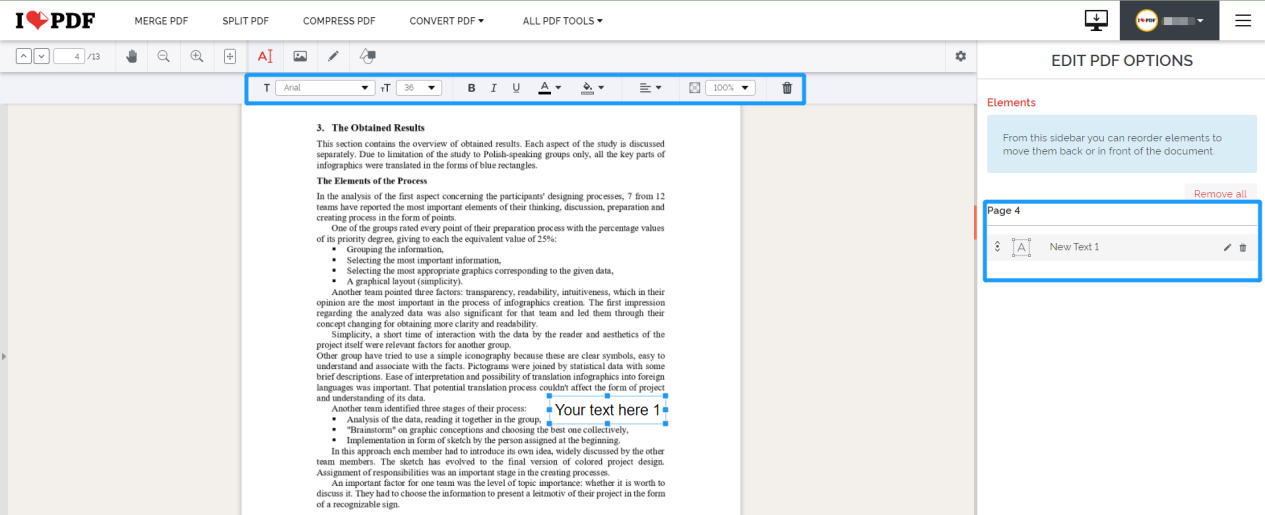 Note:
As to the file security, iLovePDF promises to employ https/SSL and include end-to-end encryption for enhanced security. Users can meanwhile edit an e-signature or set passwords to better protect information. What's more important, files uploaded to this platform will be automatically removed or deleted from its server within 2 hours. These additional steps will make it a reliable online PDF platform.
Conclusion
The above listed PDF programs are trustworthy PDF editors in the market, and most of them provide a one-week or longer free trial, meaning you can try first before purchasing a full subscription. If your job involves frequent process of digital documents, it is strongly suggested to invest in a professional PDF editor to help you improve productivity and better manage digital documents.
title: Does Adobe provide a free PDF editing service?
content: Adobe does provide
free online service
to enable creating and converting PDFs, editing the text, making comments, and compressing PDF sizes. Users can access Adobe's service online. However, Adobe's online service is limited and cannot cover all your needs.