Introduction:
A
watermark
logo is typically used to specify the nature of the current document as well as to personalize or label the PDF. It is a good way to protect confidential information, but it may bother users when reading as a watermark may distract them. Is it possible to delete watermarks from PDFs with ease? Keep reading to figure out
how to remove watermarks from PDFs
.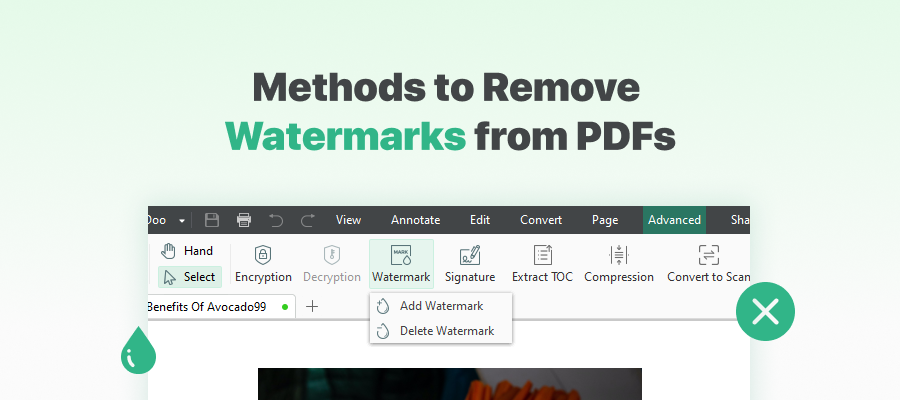 What Is a Watermark?
A watermark is usually an identifiable image or pattern placed on a paper document or image file. The purpose of a watermark is to prevent the document from being tempered. It is widely used by those who need to protect content and claim ownership of the asset.
This post narrows down some easy-to-use PDF watermark removers. Follow the guide to readily remove watermarks from a PDF document.
Remove Watermarks from PDFs Offline
In this section, we'll showcase how to utilize watermark removers to delete watermarks from PDFs on Windows.
SwifDoo PDF
SwifDoo PDF is an all-in-one desktop PDF program. Even though it is not the biggest name in the document management industry, it offers more than 30 features to meet diversified needs. To eliminate watermarks from PDFs for a better reading experience, SwifDoo PDF has improved the workflow so that users can readily delete PDF watermarks with one click. Here are the steps to remove watermarks from PDFs:
Step 1: Get SwifDoo PDF and install it on your computer;
Step 2: Open the software and import the watermarked PDF to the workstation;
Step 3: Click Watermark in the Advanced tab, and then select Delete Watermark to remove all the watermarks from your PDF.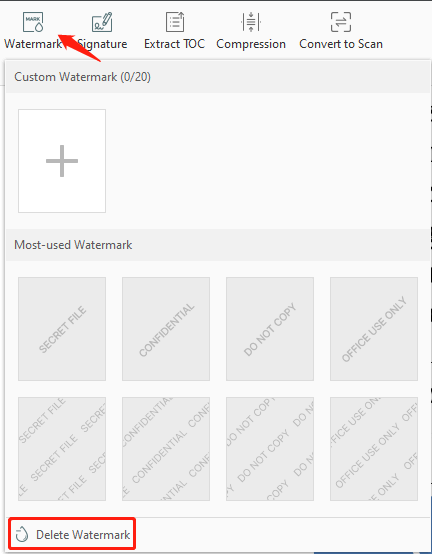 This PDF watermark remover can delete both text watermarks and image watermarks from a PDF. On the occasion that you want to know how to remove a CamScanner watermark, open the watermarked PDF with SwifDoo PDF, and right-click on the watermark to choose "Delete Image". That's all that is needed to deal with a watermark created by CamScanner.
Apart from removing watermarks from PDF documents, this rising star is a watermark maker which enables users to add commonly-used watermarks to PDFs, such as "Confidential", "Office Use Only", and "Do Not Copy".
Soda PDF
As a powerful PDF product, Soda PDF allows you to edit PDF, annotate PDF, protect PDF, and sign PDF. When it comes to removing watermarks from PDFs, Soda provides an easy solution as well, to quickly erase all marks from your PDF documents. Here's how to delete watermarks from PDFs:
Step 1: Download and install Soda PDF on your computer from the official website;
Step 2: Upload the watermark-protected PDF document to the workstation;
Step 3: Click Remove Page Marks in the tab Edit;
Step 4: Choose Watermark to delete all watermarks made on the PDF.

Different from SwifDoo PDF, Soda PDF allows its users to customize what to delete, meaning users can decide which pages to remove watermarks from. In addition to the desktop version, Soda PDF released an online version as a web-based counterpart, with the intention of reaching a broader market. With that said, when you need help with a PDF watermark remover online, try Soda PDF Online and repeat the same steps above to erase the PDF watermarks.
Nitro PDF
Nitro PDF is a suitable alternative to Adobe Acrobat. With a similar user interface to Microsoft Office, Nitro PDF is a qualified PDF viewer, creator, editor, signer, and watermark remover. In terms of how to remove PDF watermarks, Nitro PDF allows users to edit, manage, and remove all marks within several clicks:
Step 1: Download Nitro PDF and install the program on your device;
Step 2: Launch the application and import your watermarked PDF into the workspace;
Step 3: In the Page Layout, select Watermark;
Step 4: Select Delete Watermark in the drop-down menu.

Tip:
Nitro PDF is comprehensive in its features, but the installation process sometimes lets you down as it automatically crashes and asks you to retry again and again. Apart from that, Nitro PDF is a fantastic watermark remover for Windows.
The above-mentioned approaches to eliminating watermarks from PDFs are mainly for Windows users. The next part will talk about how to deal with watermarked PDF documents on Mac.
Remove Watermarks from PDFs on Mac
If you intend to delete PDF watermarks on Mac, the default PDF viewer Preview is not a real watermark remover. As a consequence, Mac users have to ask for outside help. The following content fills you in on how to remove watermarks from PDFs on Mac.
PDFelement
PDFelement by Wondershare is a versatile PDF program that enables users to create, view, edit, convert, and sign PDFs. It is available on both Windows and Mac. To take away watermarks from PDF on Mac, PDFelement is capable of erasing all marks on the pages with several clicks:
Step 1: Drag your watermarked PDF to the PDFelement;
Step 2: Select Tool and then choose Add or Edit Watermark;
Step 3: Click Edit Watermark and hit the Delete button on your right side;
Step 4: Choose Yes to remove all watermarks from PDFs.
This easy-to-use PDF program allows users to perform batch processing, such as batch removal of text, images, and watermarks. If you need to add watermarks in bulk, PDFelement is a trusted product.
Preview
If your PDF documents are standard ones created by any virtual printer or Microsoft Office Suite, you can give Preview a shot but don't have high expectations for it.
Preview is Apple's built-in PDF reader and image viewer. This application lets users view, edit, and print digital images and documents. As to PDF watermark remover, Preview can remove the background from an image:
Step 1: In Preview, open a watermarked PDF and select the Show Markup Toolbar option;
Step 2: Click Instant Alpha to drag over the selected area;
Step 3: Press the Delete button to delete the selected area;
This method applies to image files. Therefore, if you need to erase the watermark background from your PDFs, you need to convert your PDFs into images. This article may be helpful for converting PDF to image.
Solutions: How to Convert PDF to JPG on Windows [Online & Offline]
JPG is a universal image format and can be viewed on different devices. Do you know how to easily convert PDF to JPG? Find answers in this post.
READ MORE >
Remove Watermarks from PDFs Online
The author has selected seven commonly used web-based PDF tools to test how to easily remove watermarks from PDFs online, and it's surprising to find that most Internet-based applications don't allow users to DIRECTLY delete watermarks from PDFs. Most online PDF watermarks will erase both the mark and the text together. Luckily, we still have Google Drive to help remove PDF watermarks for free.
Google Drive
Google Drive is a cloud storage platform where users can store files. Users don't have to download any software to access and process documents. Concerning how to remove a watermark from a PDF, Google Drive relies on Google Docs to deal with watermarked PDFs:
Step 1: Upload the watermarked PDF to Google Drive from the local folder;
Step 2: Right-click the PDF and choose Google Docs in Open with;
Step 3: Click the watermark to remove it.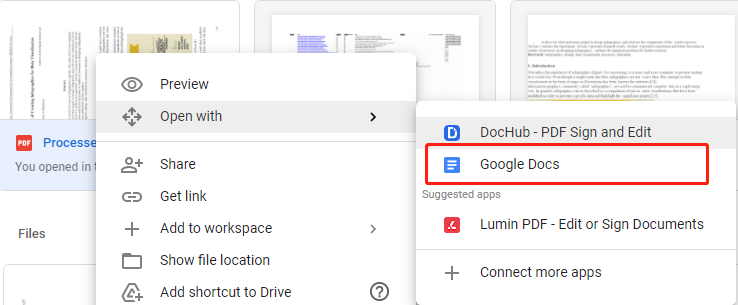 Although Google Drive (actually Google Docs) can remove watermarks from PDFs for free, Google Docs works by initially converting PDFs to an editable Word format so that users can make changes to the document.
The conversion result is far from satisfying because some images are lost and the original formatting is altered. Therefore, it is the least ideal solution to eliminate watermarks from PDFs.
Some watermarks are superimposed behind the existing text layer, and online watermark removers lack the ability to deal with multilayered PDF documents. That can well answer the question of why it is sophisticated to remove watermarks from PDFs online.
Conclusion
All things considered, watermark removal is not an easy job even if you have the right tools. desktop PDF programs can better assist in removing all watermarks from PDFs, without erasing the text behind the mark. Most online PDF watermark removers can add watermarks, but removing them from PDFs seems to be a tough task. Among all the desktop software, SwifDoo PDF is a reliable software program to remove a watermark, and it provides a longer free trial for registered users.