Introduction:
OCR may be a new concept, but you have likely received PDFs that cannot be copied or selected. One of the main reasons for this is that the PDF file in question is a scanned PDF created from scanned images of text, also known as an image-only PDF. Here comes the question: how do we
OCR PDF
and
make PDF editable
?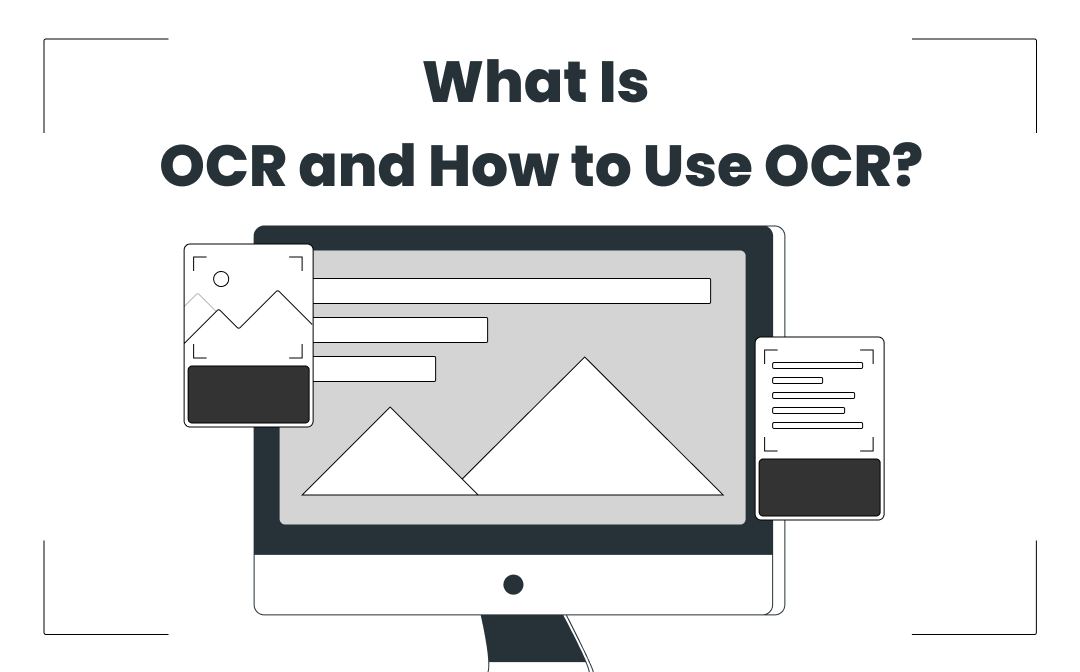 When confronted with the above question, the most straightforward and efficient method is to OCR a PDF with OCR tools. This post will revolve around how to convert PDF image to searchable text using PDF OCR software.
What Is PDF to OCR?
First things first, we need to straighten out what OCR technology is. OCR stands for Optical Character Recognition, which is a process where PDF programs transform images of text into a machine-readable format. This widespread technology identifies the unsearchable content and extracts the text from an image-only PDF or scanned PDF. Simply put, PDF to OCR is to convert PDF images to searchable text by identifying characters with PDF OCR software.
How to OCR Scanned PDFs with Desktop Software
SwifDoo PDF
SwifDoo PDF is a versatile OCR software on Windows OS. As a multitasker, it can help with PDF editing, annotating, password protecting, and converting. In the newest 2.0 version, SwifDoo PDF incorporates a brand-new feature - OCR (Optical Character Recognition) to assist users in managing digital documents. Let's take a look at how to OCR PDF with SwifDoo PDF:
Step 1: Download and install SwifDoo PDF from the official website or Microsoft AppSource;
Step 2: Launch the program and click on OCR in the tab Edit;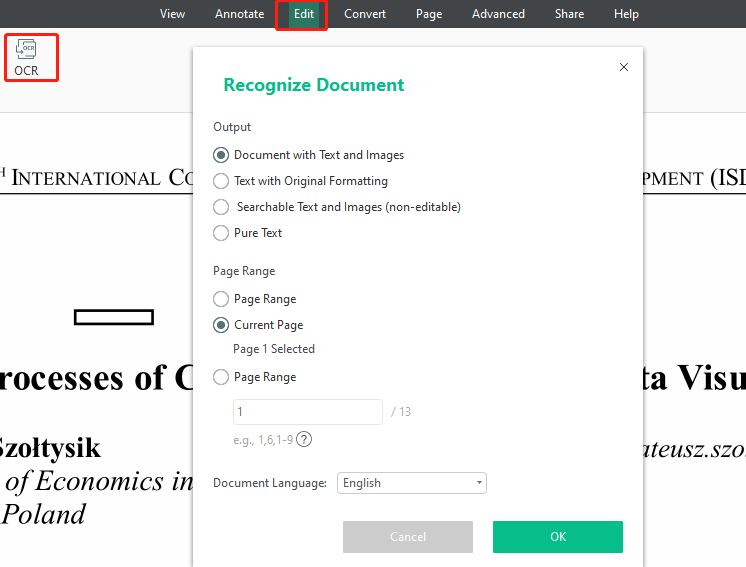 Step 3: In the Recognize Document window, users can choose how to OCR the current PDF document and convert the PDF into: a document with text and images; text with original formatting; searchable text and images but non-editable; or a pure text;
Step 4: When you decide on the output option, feel free to specify the page range to perform OCR if needed. Once ready, hit the OK button to start OCRing the PDF.
Some users may wonder how to tell whether a PDF file is a scanned PDF or image-only PDF and thus requiring OCR, here're two solutions:
Click "Edit". If there is a window showing no editable content with the PDF, it is a scanned PDF;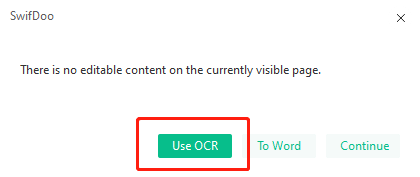 Or users can perform PDF conversion tasks by clicking "Convert", such as PDF to Word conversion. SwifDoo PDF will mark out the nature of the PDF next to the file name just as the screenshot demonstrates.

Tips:
For enhancing the accuracy of the OCR result even better, SwifDoo PDF allows users to choose the original document language.
If you need to convert a scanned PDF into an editable Word document or text file, the conversion results may disappoint you as the Word document after conversion is full of errors and wrong formatting. You can, however, optionally try OCRing the PDF and the OCRed PDF will be saved in the same local folder as that of the original PDF.
Soda PDF
Soda PDF is a powerful PDF tool that aims to make PDF-related tasks easier. This Windows-based PDF OCR program enables users to edit, reorder, annotate, and secure PDFs. Take a look at how to convert PDF images to searchable text in Soda PDF: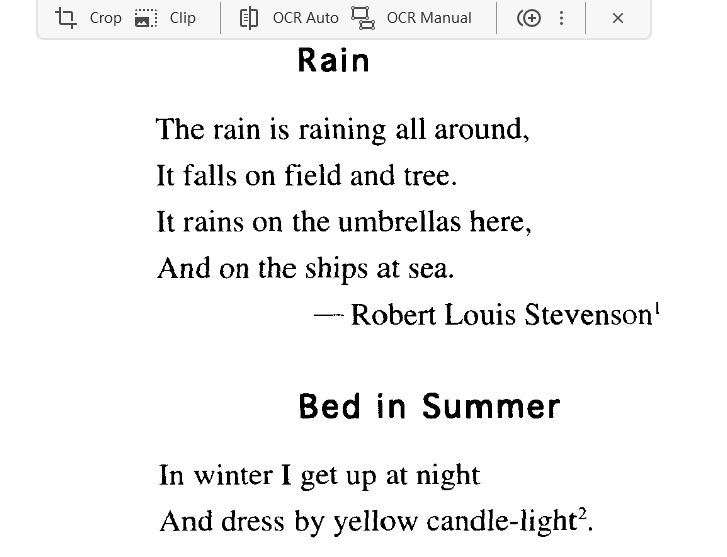 Step 1: Download and install Soda PDF on your PC;
Step 2: Start the program to open the scanned PDF;
Step 3: Select OCR or click on any page of the image-only PDF to activate OCR mode. When you see the hanging menu bar, choose OCR Auto and the PDF will be converted into the selectable and editable text from scanned images.
Soda PDF provides two OCR modes to convert PDF images to searchable text: OCR Auto and OCR Manual. The main difference between these two modes is that the latter one enables users to decide how the OCR engine interacts with their images while the auto mode will automatically look for and scan the next Image as well. Manual recognition is capable of detecting text, images, or tables. Any area inside this red box will be interpreted as text.
Since scanned PDF is made of layers of images, Soda PDF provides a "Crop" tool to allow for trimming of the PDF page. In the meantime, users can move or copy any page for personal use by right-clicking on the PDF image.
Soda PDF is available both on Windows OS and the web. These two versions share the same user interface and features without any other differences.
How to OCR a Scanned PDF on macOS
Cisdem PDF Converter OCR for Mac
For macOS users who need to perform OCR on PDF, things were more complicated until we found Cisdem. Cisdem and relevant products are created for Apple computers, including the center of this section - Cisdem PDF Converter OCR for Mac.
Cisdem PDF Converter OCR integrates a full set of useful tools to deal with PDF-related tasks, such as how to OCR a scanned PDF on macOS, how to combine PDF files, and how to batch convert PDF files. Without further description, let's get down to the business:
Step 1: Import the image-only PDF to the workstation by dragging or dropping the file on the interface, clicking + button, or selecting File > Add file;
Step 2: Select the language of the original PDF document for improved recognition accuracy. Cisdem now supports 27 languages which can meet the basic need of users;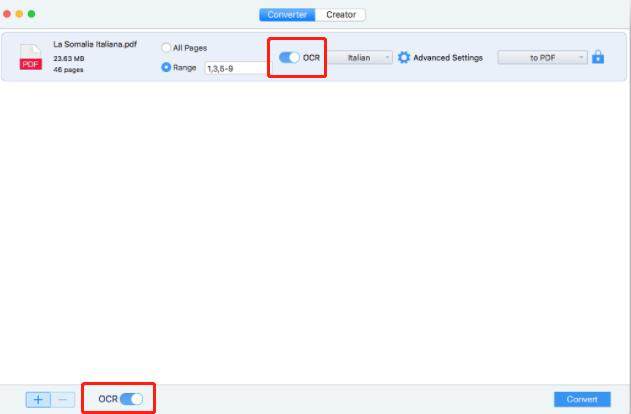 Step 3: At the Converter page, tick the OCR box to perform PDF to OCR on the current PDF. Please be aware that there are two OCR buttons. The one next to the Range is only for the selected PDF while the other one is to apply OCR on all PDFs.
Step 4: Select DOCX in the output format box and hit the Convert button. Then choose the output folder and click on the Save to finalize the process of OCRing a PDF to a Word file on Mac.
Additionally, users can choose "Advanced Settings" to manually adjust the recognized text, images, or tables.
How to OCR a Scanned PDF Online
Google Drive
For someone who prefers to apply OCR on PDF using free web-based PDF OCR software, this cloud storage platform may be a good option. It's hard to imagine Google Drive would be able to perform such a task. The truth is, from the Google Drive Help Center, this online application is capable of converting PDFs and photo files to text.
Step 1: Login your Google Drive account and click on the New button below the Drive icon;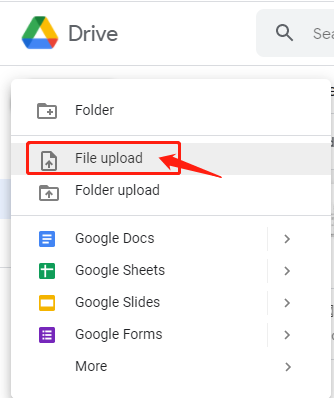 Step 2: In the drop-down menu, choose File upload to import a local PDF document to the workspace;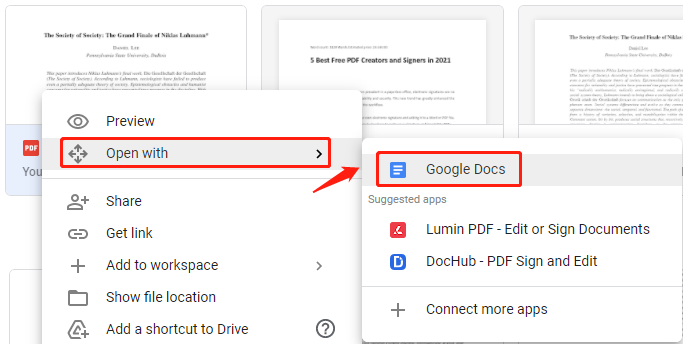 Step 3: Right-click on the uploaded PDF and choose Open with > Google Docs to convert the scanned PDF into an editable Word document. When you are directed to the Google Docs page, you are free to output the Word file locally.
The process of OCRing a PDF document with Google Drive is not complicated though, there are some limits of this free online OCR tool before you start:
File size: Your file (.jpg, .png, .gif, or PDF file) should be kept within 2 MB;
Resolution: Text should be at least 10 pixels;
Orientation: Documents should be right-side up.
Font styles: Make sure the font in your file is common, such as Arial or Times New Roman.
Note:
However, during our review, Google Drive failed to convert a scanned PDF document (which is a textbook) to a selectable and editable Word document with its OCR capability. All pages are presented in the image rather than copyable text. That's why we need another web-based OCR tool to cope with this type of PDF file.
OCR Space
OCR Space is an online OCR service provider free of charge. At the same time, this useful tool is an open-source program that provides a free OCR API key for developers. As a free tool, OCR Space simplifies the converting process and hence users only need to make a couple of clicks to run OCR on a PDF. Let's dive into the process of how to OCR a PDF document online:
Step 1: Enter the URL on the search bar and select Choose file to upload the PDF;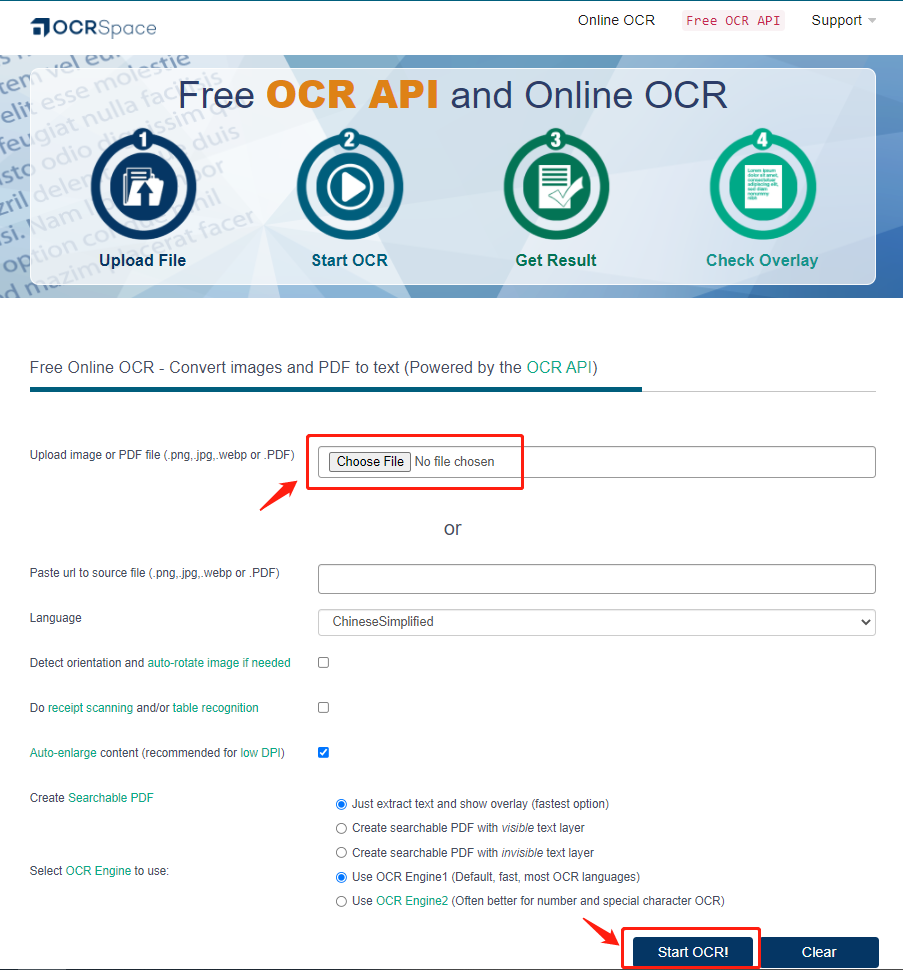 Step 2: Choose the language of the original PDF document and tick the recognition or orientation if needed. Besides, users are enabled to create searchable PDF by changing how the PDF is displayed in Create Searchable PDF;
Step 3: Once ready, press the Start OCR! button to output the scanned PDF into a selectable DOCX document.
Final Thoughts
In final words, online OCR tools are free to use but their OCR capabilities may be overshadowed by the desktop PDF OCR software, particularly when it comes to an image-only PDF written in multiple languages (textbook for instance). However, desktop PDF OCR programs only provide limited free trials while SwifDoo PDF can provide a longer 30-day free trial.