Introduction:
As digital documents become more prevalent in a paperless office, electronic signatures are no stranger to us because of their portability and security. This new trend has greatly enhanced efficiency and streamlined workflow. Do you have any idea of how a free electronic signature is created?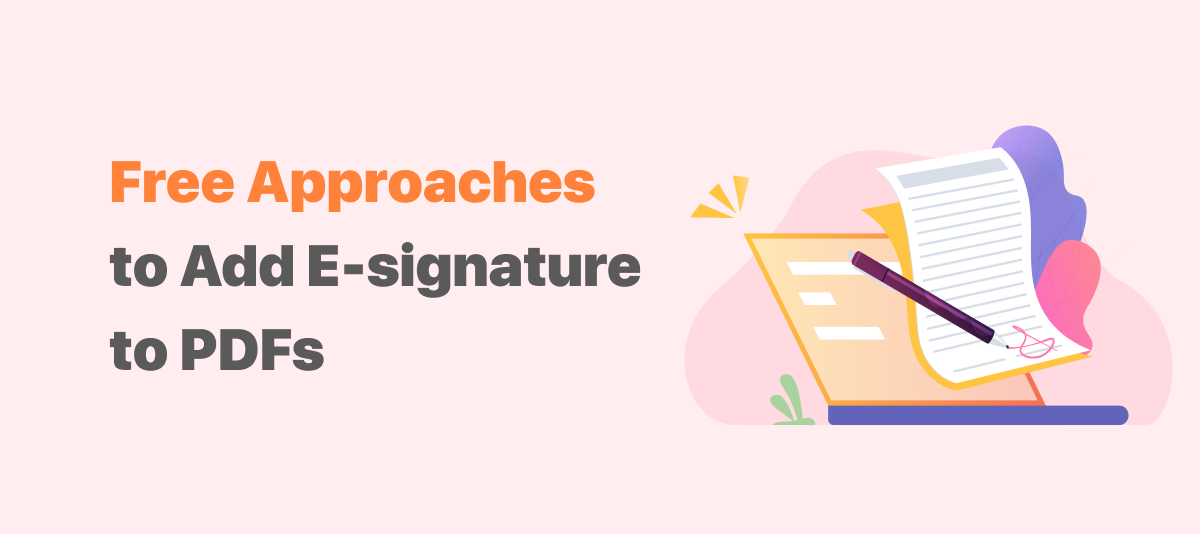 If you ever thought of creating your electronic signature and adding it to a Word or PDF file, this post will cover all your needs by explaining the way to create an electronic signature, and more importantly, add a signature to a PDF.
SwifDoo PDF
SwifDoo PDF comes as a versatile PDF program with a wide array of useful features, including creating e-signatures and adding signature blocks to a PDF. If you need a reliable PDF signer on Windows 10, 8, and 7, SwifDoo PDF may work for you.
This signature creator now supports making a new electronic signature by typing, handwriting, or uploading an image of an existing signature (.jpg, .png, .tif, and .bmp). Let's dive into how to create an electronic signature and sign a PDF with SwifDoo PDF:
Step 1: Download and install SwifDoo PDF from the official website or Microsoft AppSource;
Step 2: Launch the program and upload a PDF document;

Step 3: Once the PDF is opened, click Advanced > Signature to create an electronic signature using the three methods we introduced above;
Step 4: Select OK to insert this newly created e-signature into the PDF.
Note:
SwifDoo PDF is a Windows-based signature creator and signer. It does not allow users to add a digital signature block to a PDF, however.
Foxit PDF
When it comes to the document management industry, Foxit PDF is a feature-rich program that cannot be ignored. As for electronic signatures, Foxit PDF is much more helpful than the previously mentioned SwifDoo PDF as it provides more features to sign a PDF, such as allowing digital signatures and certificate signatures.
Here are guides to add a signature (both electronic and digital) to a PDF document respectively:
How to electronically sign a PDF
Step 1: Open a PDF file in Foxit PDF;
Step 2: Click Protect > Fill & Sign and then press the + button to create a new electronic signature. Foxit PDF enables users to draw a signature, import from files, and more;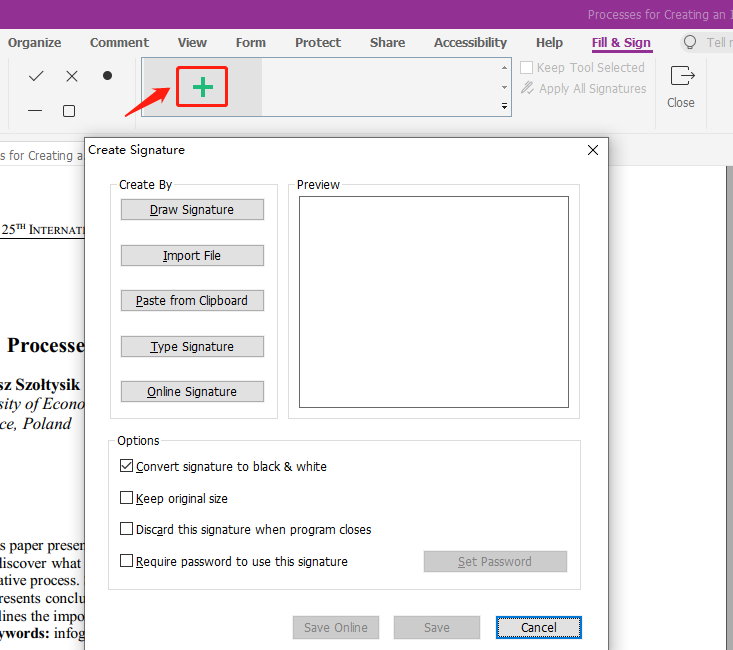 Step 3: After you create an electronic signature, click Save to apply and insert this signature into the PDF.
With Foxit PDF, users can add this e-signature to multiple pages by right-clicking on the signature and choosing "Place on Multiple Pages". This saves time when a PDF has many signature fields to fill in.
How to digitally sign a PDF
Since digital signatures enjoy higher confidentiality and security, the process of adding a digital signature to a PDF is more difficult:
Step 1: Click Protect > Sign & Certify > Place Signature;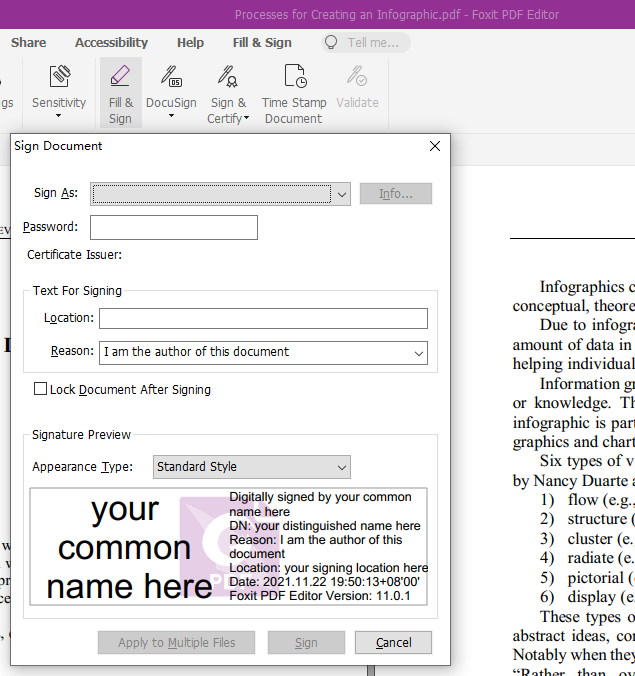 Step 2: Draw an area on the PDF and start creating a digital signature;
Step 3: Fill in the information as needed. When ready, click Sign to add this digital signature to the PDF.
Foxit PDF lets users add a date and location to fillable PDFs. Aside from that, users can also add a signature box, block, or line to the page. To reach a wider audience, it is now compatible with Mac, Windows, iPhone, and Android. If you need to add an electronic signature or digital one to your PDFs, Foxit PDF may be a good signature creator.
Tips:
If you want more similar recommendations on Mac or iPhone, Wondershare PDFelement, and Adobe Reader are professional signature tools that are worth a shot.
Signaturely
Signaturely is a dedicated Internet-based signature maker which strives to make the signing process super simple. If you don't already have your electronic signature, try this free signature creator to make a cool signature by typing your name, drawing (handwritten signature), or uploading an image without any difficulty.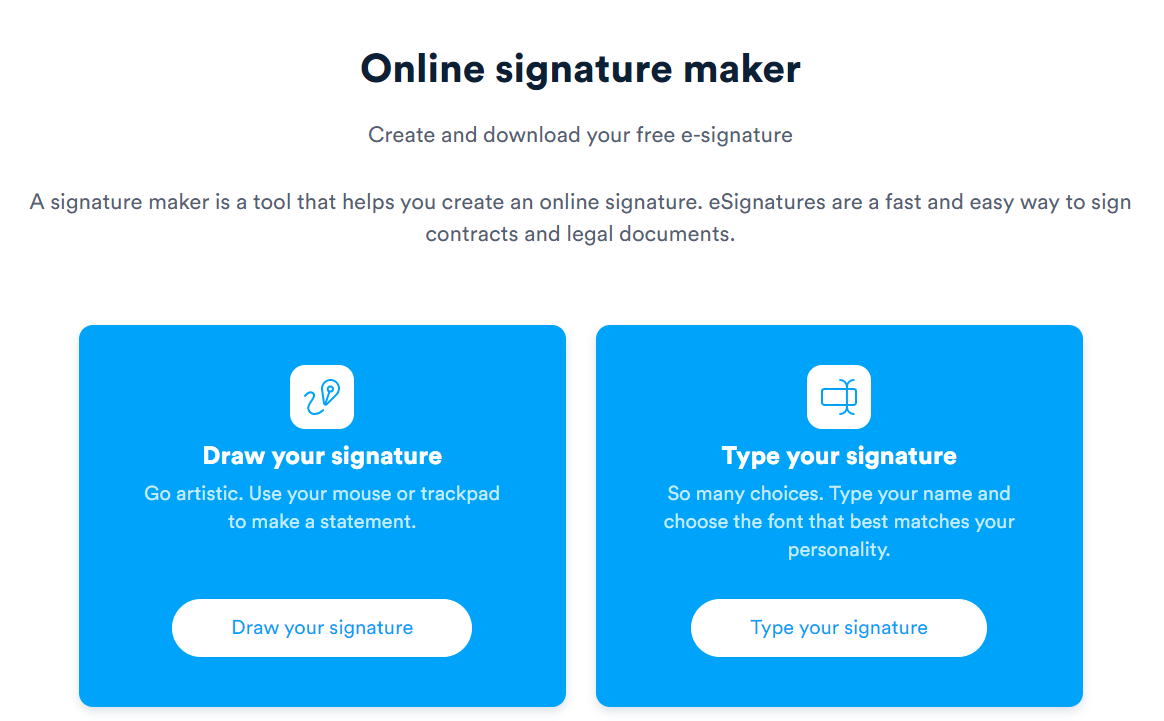 On top of being an online e-signature creator, Signaturely is a team collaboration platform that can create a signature block so that users can choose to whom to send this document.
Users only need to import a Word or PDF document into the platform and hit the "Send" button and the file that needs an e-signature will directly go to the signer's mailbox.
As a collaborative platform, Signaturely can grant admin- or member-level access for your teammates. If someone has signed the document or forgets to e-sign a document, Signaturely will push notifications to ask for signing a PDF.
For users who may need contract templates, this platform provides different types of free contracts, such as SEO proposals, payment agreements, and intellectual property agreements.
pdfFiller
Since most PDF signature creators are desktop programs, here we'd like to introduce an online application to help create and add e-signatures to PDFs: pdfFiller. This is a comprehensive PDF-related service provider, which enables users to convert & compress, split & merge, view & edit, and sign & protect PDFs.
As an online PDF signer, pdfFiller provides multiple options to create a new e-signature: type a signature (full name or initials), draw a signature, import an image of your signature from a local device, capture a signature, or add signature via QR code. Users can choose the method that works best for them.
Let's take a closer look at how to sign a PDF online with the support of pdfFiller:
Step 1: Enter the URL on the search bar, and then upload a PDF document from your device or other cloud storage platform (Dropbox, Box, OneDrive, Google Drive,);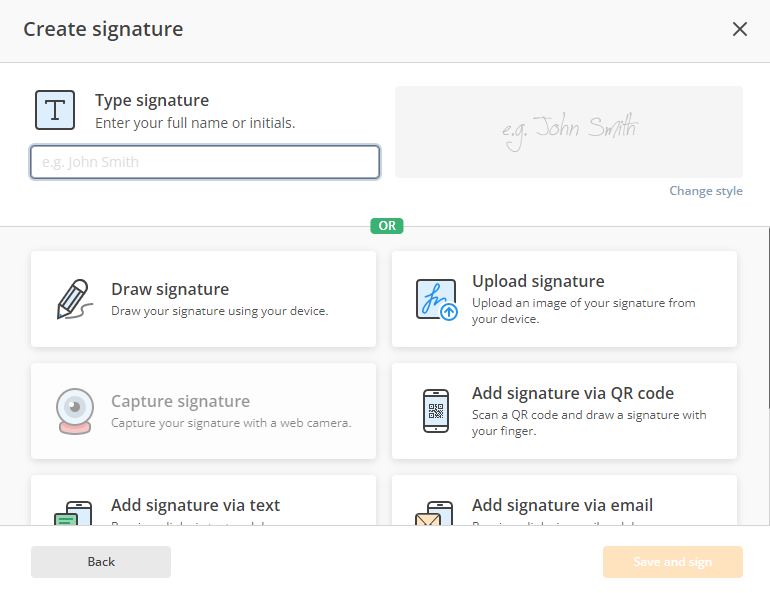 Step 2: When the PDF has been loaded, click Sign to process. If you already have a personal e-signature, just upload the image. Otherwise, create a new one as described above;
Step 3: Choose the electronic signature and insert it anywhere you need. If you need to add a date to the signature, choose Date and that's all.
If you need additional information about how to electronically sign a PDF, this post below is a supplement to this article.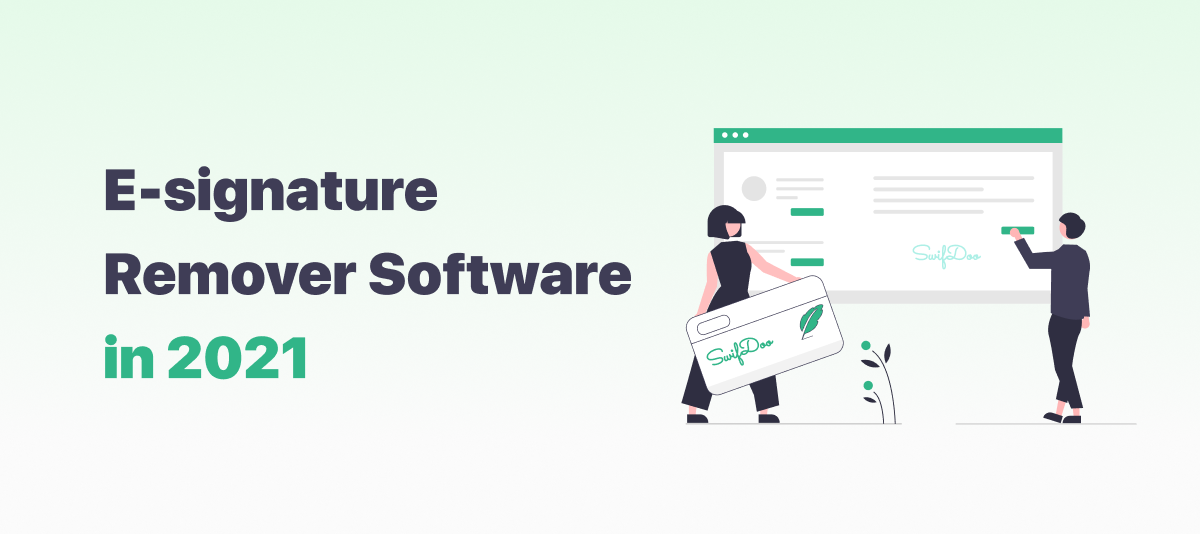 PDF Signature Remover: Approaches to Delete E-signature from PDF
PDF signatures can well protect PDFs from being modified or changed. But sometimes we need to delete these marks. See how to erase signatures from PDFs.
READ MORE >
In Closing
Indeed, electronic signatures are more convenient while remaining legally binding, so there is no wonder why this form of the signature has risen in popularity among businesses.
Desktop PDF signature creators enable users to add digital signatures of higher security to documents while most online platforms can only add an electronic signature to a PDF. However, the biggest strength of web-based tools is that users don't need any account to perform such signing tasks.