Introduction:
PDF format has gained in popularity in recent years. Whether you are distributing important archives, sharing confidential documents, invoicing clients, or just doing homework, PDF often comes to the forefront. Why? Because you are 100% certain that the person who views the PDF document will see the same content as it was expected to be.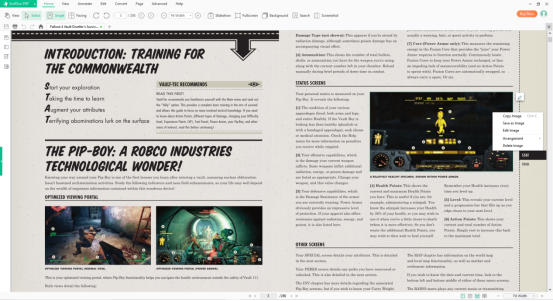 PDFs are open templates which may contain embedded scanned images, and these images are pieced together to create a digital document. Consequently, you can clearly see, but cannot do anything with it. That is to say, people cannot edit or paste any image from a PDF document for their own use.
For instance, I am a die-hard supporter of Fallout 4, and I'd like to save a glitzy graphic from its "Survival Guide" at times. In this case, what should I do? This article covers three options for extracting images from PDF documents.
3 Options for Extracting Images Out of a PDF
SwifDoo PDF
Adobe Acrobat DC
Adobe Photoshop
SwifDoo PDF
As a rising star in the document management industry, SwifDoo PDF has made itself stand out in respect of memory size and response time. I personally put this software in first place just because its FREE image extraction feature keeps amazing me.
As previously mentioned, I'm addicted to console games, and the "Fallout" series is one of my favorites. As a huge fan, its "Survival Guide" serves as a bible to me. However, when it comes to copying significant screenshots from the PDF "Survival Guide", I run into difficulties. Everything changed when I discovered SwifDoo PDF. All my worries have been dispelled by this powerful tool. Image extraction from a PDF document is a simple exercise once you have downloaded the software.
SwifDoo PDF enables you to export graphics with just a few clicks:
Step 1: Open a document full of images;
Step 2: Move your cursor to the picture you want to copy or export;
Step 3: Right-click the image and choose what you want to do with this picture, including editing, saving, deleting, and copying to clipboard.
In just a blink of an eye, the image is now in your clipboard. What's more, this feature does not even require an account. Its intuitive "Convert" function can even assist in exporting images to single or multiple PDF documents. Two thumbs up! By the way, please bear in mind, this feature is only for scanned images embedded in PDFs.
Adobe Acrobat DC
As to the founder of PDF, Adobe is established concerning editing and exporting of PDF files. Therefore, extracting images from a PDF document using Adobe is no problem. Adobe Acrobat lets you export an individual picture or a bunch of pictures in a few clicks:
Step 1: Open the PDF in Acrobat, and then click Tools to choose Export PDF;
Step 2: Left-click the format that you want to export images to.
What if you need to export all images? Don't forget to tick that option. Here is a friendly reminder: if you don't select that option, then all pages within the PDF are saved in the selected image file format.
However, this feature requires a professional version of Adobe Acrobat, which must be purchased. Speaking truthfully, Adobe Acrobat is the most comprehensive PDF tool integrated with many practical features, but it's complicated interface and slow operating speed may make you reconsider. Want more information? Adobe Acrobat Help Center can assist you.
Adobe PhotoShop
The next recommendation still goes to Adobe. However, unlike the two PDF tools previously mentioned, Adobe Photoshop is a distinctive option for exporting images. You just need to add your PDF document to Photoshop and a dialog box pops up. The whole process is relatively easy: select "Images" and move your cursor to the one you want to extract; then hit the OK button to finalize the image extraction. Using this method, users can export images from PDFs and paste them anywhere.
Still, this alternative may be difficult for beginners to start with, and your computer must meet the minimum system requirements, but it does help realize the goal of exporting images from PDFs. However, it would be the last recommendation in light of SwifDoo who offers this process for free.
Excluding the above listed software, there are a number of other tools that can be used to extract images from PDF's, but this depends on your requirements: why do you need to export images from PDFs and how often do you require this function? Do you have any other recommendations here to address this problem? Comments are welcomed.