There are countless PDF documents in a variety of languages that are created and shared every day. As a language learner or international trader, you may often receive PDF files in foreign languages. However, it's difficult to understand these PDFs thoroughly. When encountering these situations, a PDF translator is urgently needed.
Translation is vitally crucial for efficient communication between cultures. A PDF language translator can help translate a PDF document in a foreign language into the target language. It enables you to better understand the file and eliminate the language gap. Keep reading, to help you translate PDF documents, we've used and selected several best PDF translators that really work.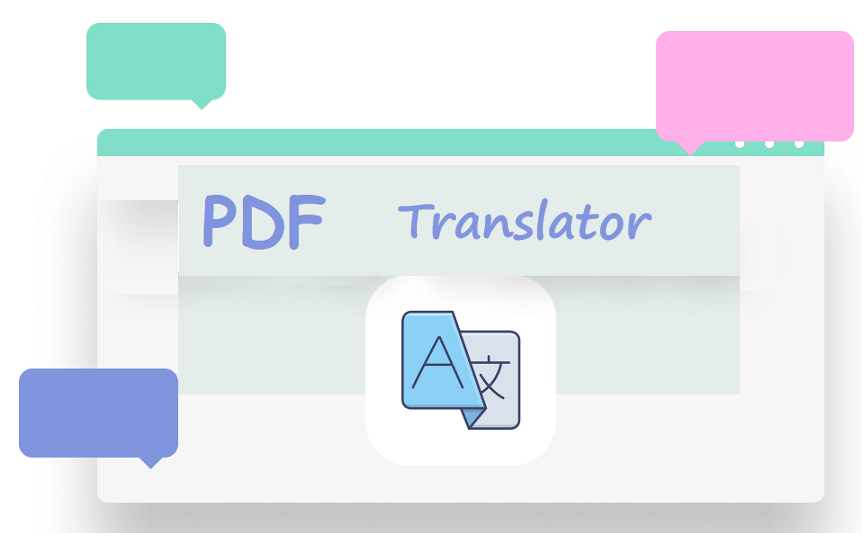 contents
A Comparison Table of the 7 Best PDF Translator Software
Here is a comparison chart for the top 7 best PDF translator software. You can choose any of these apps to get your PDF documents translated easily when reading.
| | | | | | |
| --- | --- | --- | --- | --- | --- |
| | Online/Offline | Human/Machine | Paid/Free | Security | Advertisements |
| SwifDoo PDF | Offline | Machine | Free | High | × |
| Google Translate | Online | Machine | Free | Medium | × |
| DocTranslator | Online | Machine | Free | Medium | √ |
| Steps | Online | Human | Paid | Low | × |
| DeftPDF | Online | Machine | Paid | Medium | √ |
| Fiverr | Online | Human | Paid | Low | × |
| Mate Translate | Both | Machine | Free | Medium | × |
#1. SwifDoo PDF: The Best PDF Translator Software
If you find difficulty reading a PDF file written in a foreign language, you can use SwifDoo PDF to translate it into your first language. SwifDoo PDF released a built-in feature: Quick Translation, which allows you to translate your PDF documents instantly when viewing them.
SwifDoo PDF is a comprehensive PDF tool that covers all the PDF-related features. It hasn't been long since SwifDoo PDF developed the Quick Translation feature. And many users have given positive reviews to this feature because SwifDoo PDF makes it easier to understand the content in their language.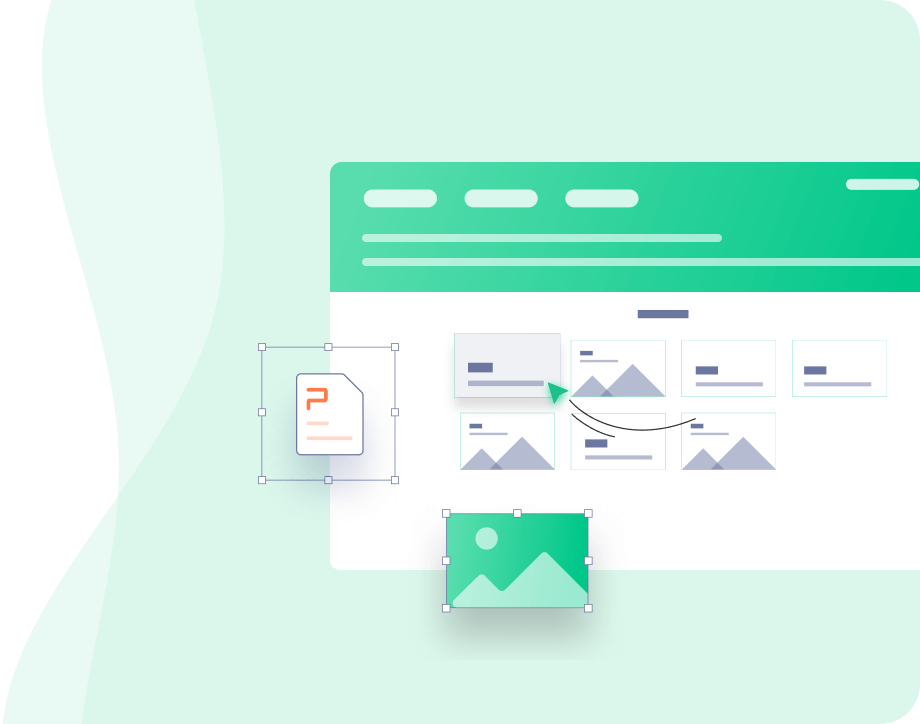 SwifDoo PDF: The Best PDF Translator Free
A real PDF document translator
Translate PDF files in any language for free
High-quality translation guarantee
Free Download
Windows 11/10/8.1/7/XP
More importantly, SwifDoo PDF is indeed the first professional PDF translator that allows you to translate PDF documents while reading. It's a unique feature that only SwifDoo PDF possesses so far. Usually, other online translators require uploading PDF files first, then outputting the translations. However, SwifDoo PDF allows you to select any sentence or word that you don't understand and tap to translate it into any language directly when reading.
Let's see how to use SwifDoo PDF to translate PDF documents:
Step 1. Free download SwifDoo PDF and open a PDF document with this PDF translator app.
Step 2. Click Home in the top navigation bar, then select Quick Translation.

Step 3. Tap on the translated text and select a target language. When finished, the translated content will be displayed in a dialogue box.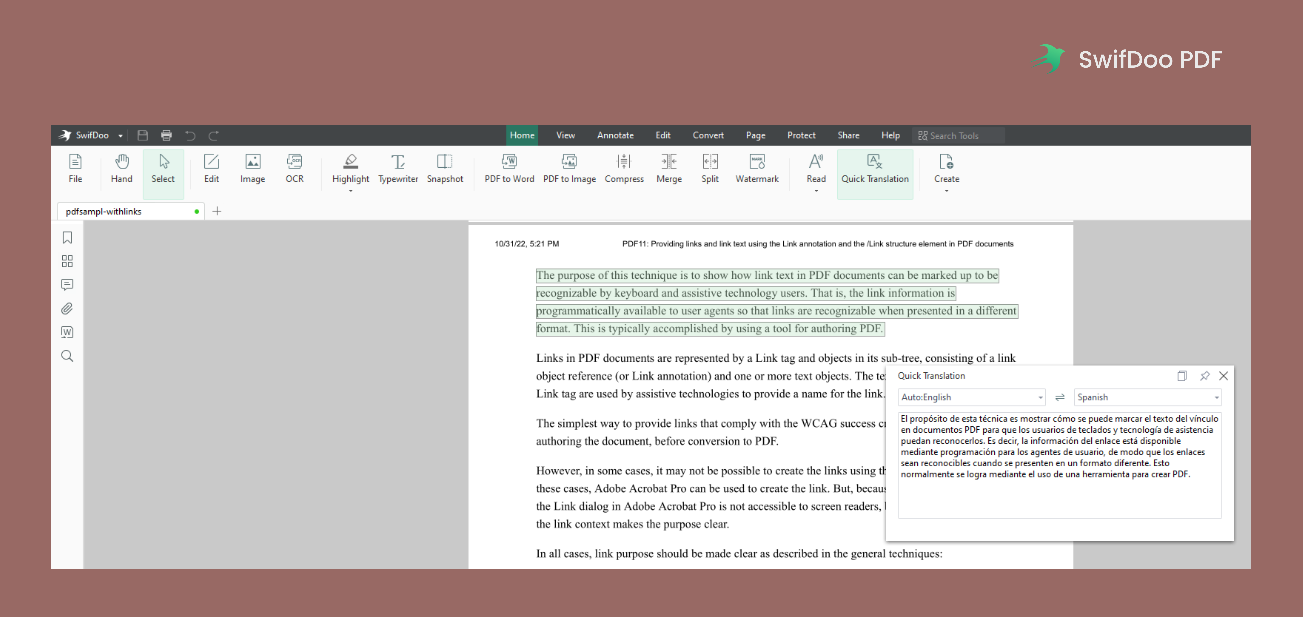 It only takes seconds for SwifDoo PDF to translate a PDF document. What's more, SwifDoo PDF cooperates with Google Translate, so the translation keeps pace with that of Google Translate, and it also supports all languages that Google Translate does. With this Quick Translation feature, readers won't have any language barriers when reading a PDF file that is written in an unfamiliar language.
#2. Google Translate: The Most Popular Online Translator
Google Translate is one of the most popular online translators that most people use daily. It was launched in April 2006 and developed for over a decade. Google Translate supports 133 languages in total. In addition, it served as a statistical machine translation site from April 2006 to November 2016, and now it's a neural machine translation site.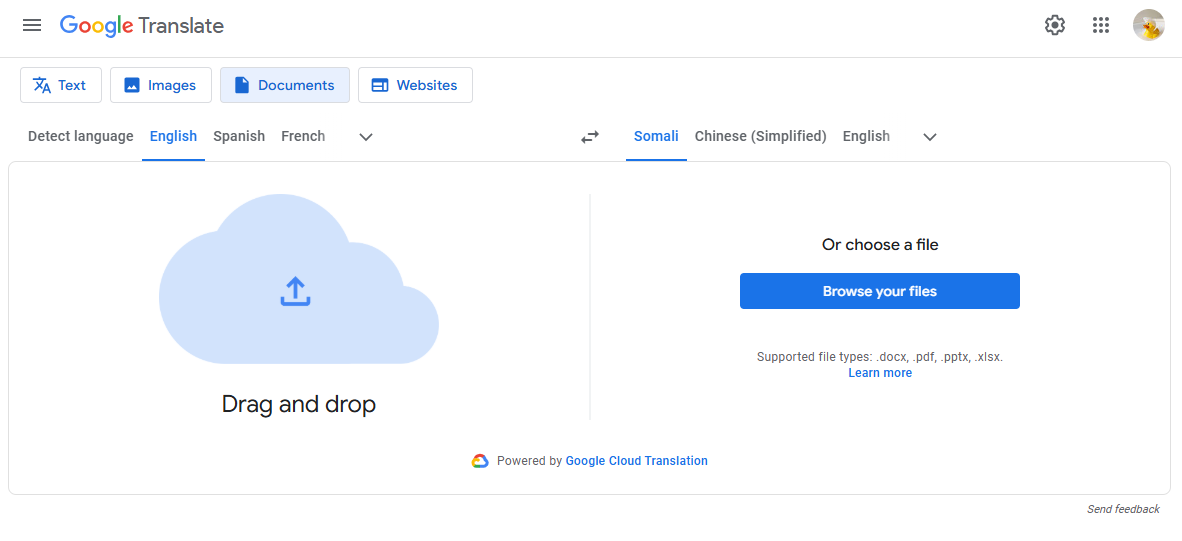 Google Translate supports translating multiple forms of text and media, including written words, websites, documents, speeches, images, handwritten texts (on mobile devices), bilingual conversations, and transcriptions.
More importantly, Google Translate serves as a totally free online PDF text translator. You don't have to pay for any services. It also offers mobile versions, with both Android and iOS devices covered. To translate PDFs, you can upload your PDFs to the source language area, and it will translate the document automatically.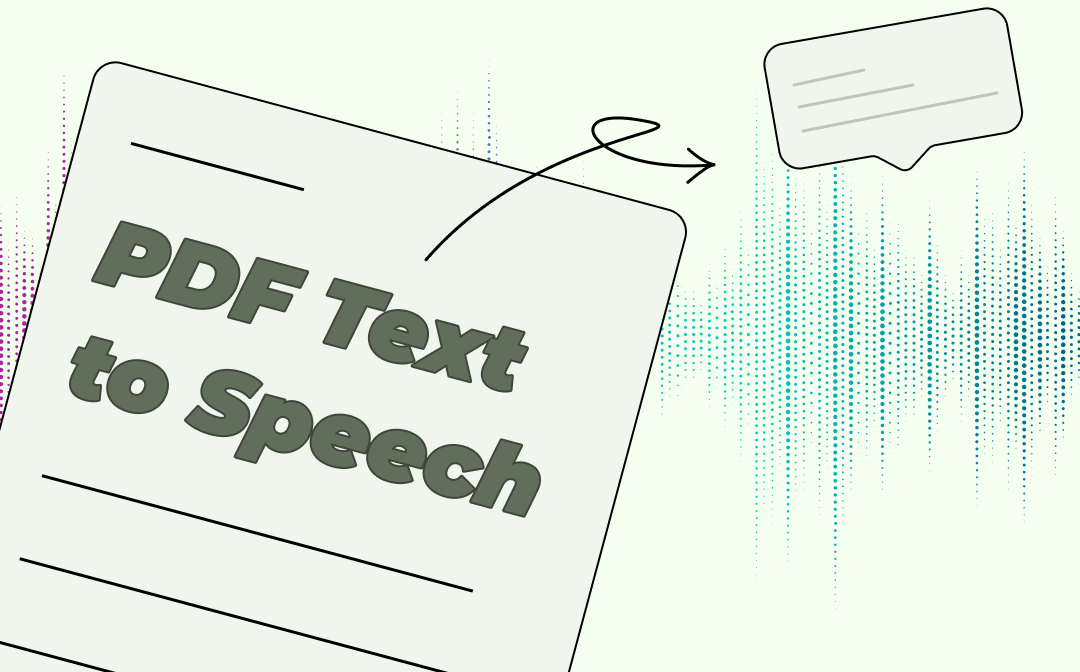 How to Convert PDF Text to Speech: Listen to PDF Text with Ease
Did you ever wonder how to have your PDF files read aloud to you? Some PDF editors enable you to convert PDF text to speech. Let's learn specific steps.
READ MORE >
#3. DocTranslator: A Dedicated File Translator
As its name suggests, DocTranslator was designed for translating documents. It supports translating almost all the major Office document formats, including .doc, .ppt, .xls, .odt, .pdf, .txt, etc. And all translate tasks can be finished without downloading a third-party program, making it one of the best PDF translator online.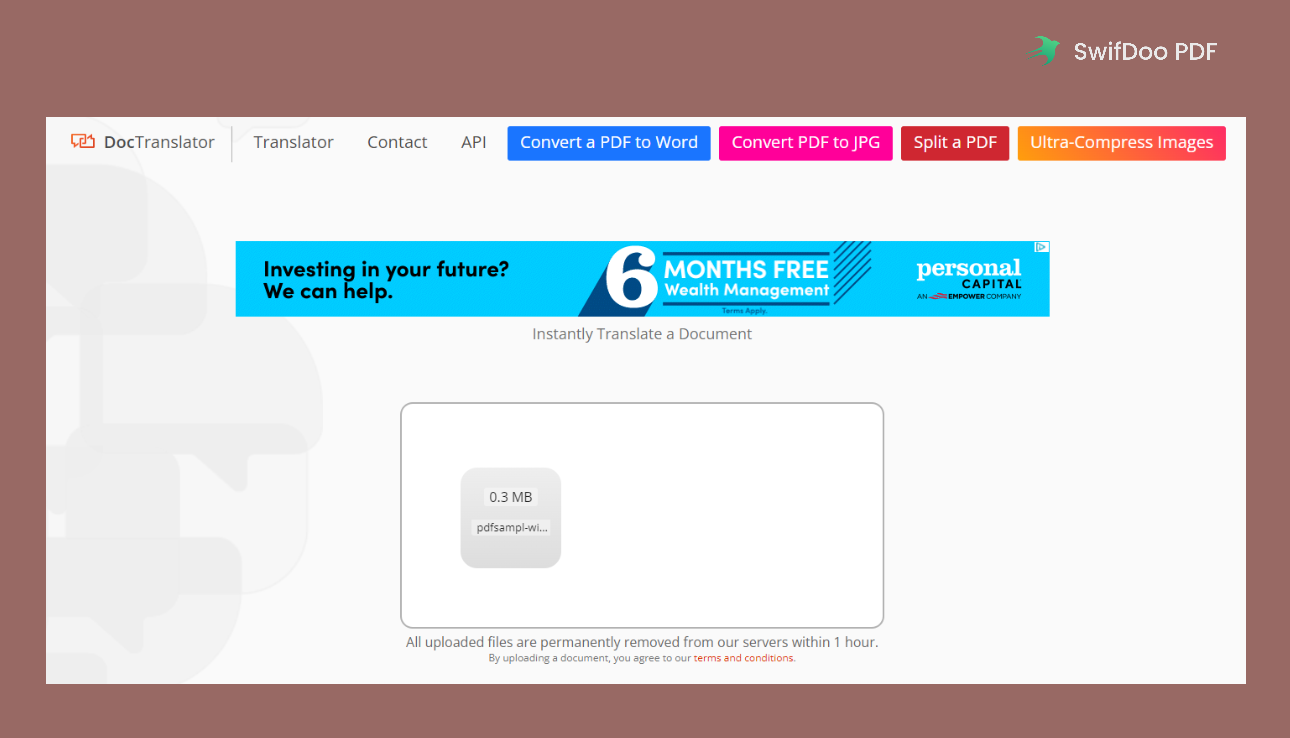 The DocTranslator won't change the delicate layout of your original document. All translated text will be re-inserted into the document to preserve its layout. In addition, it requires no copying or pasting operation because all the text content will be inserted exactly where it belongs.
DocTranslator supports 109 languages in total till now, and the number is growing gradually. Besides those common languages we often use daily, DocTranslator also supports right-to-left (RTL) languages, such as Arabic, Hebrew, Urdu, and more.
However, despite all its excellent qualities, DocTranslator has one flaw. That is, the website contains an excessive number of commercial ads, resulting in a less pleasant user experience.
Also Read: Free Ways to Do PDF Word Count >>
#4. Steps: Translate PDF Files with Native Translators
Steps is also a dedicated document translator that also serves as an app pdf translator, and it can be used to translate websites, videos, software, and eLearning. Steps doesn't use machine translation, but instead hire professional and native human translators in every local country to ensure the translation quality.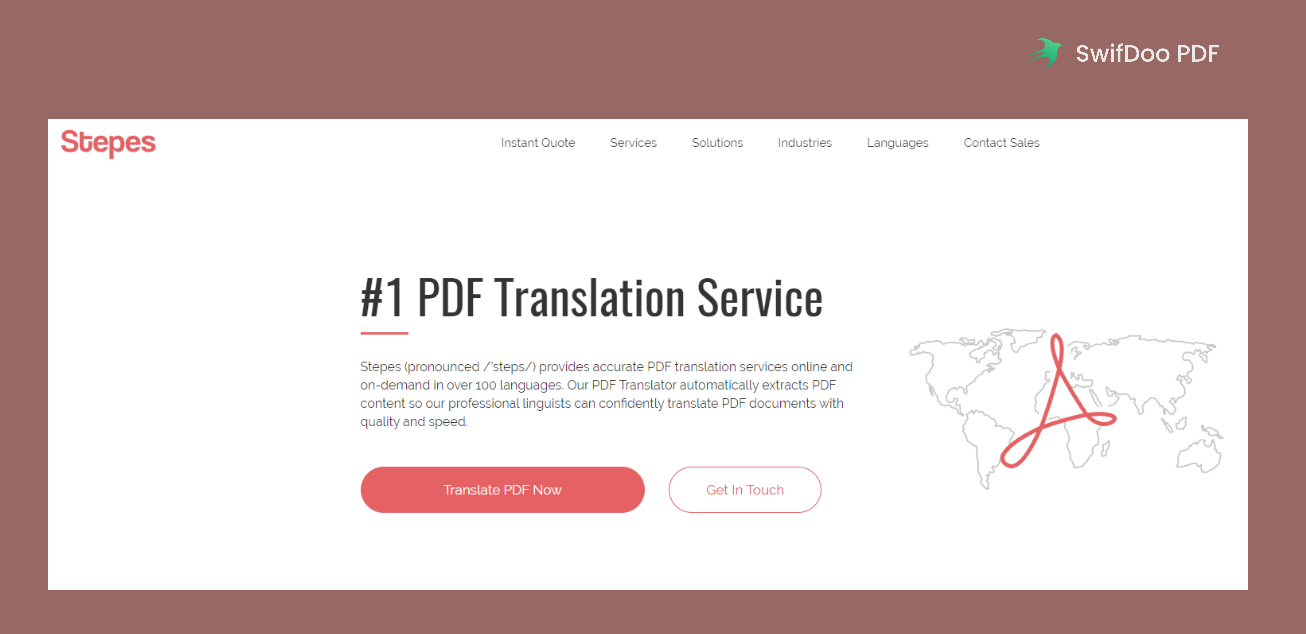 Unlike those three free PDF translator tools mentioned above, Steps requires payments when translating PDF files. Moreover, it's relatively expensive if you want to translate large PDF files. Steps offers two pricing plans. We will take translating 1,000 words as an example.
Standard: $90-$200 / 1,000 words
Marketing & Legal/Medical: $120-$240 / 1,000 words
Putting aside its price, the Steps app is indeed a reliable PDF translator when manipulating important documents. Steps sets high standards for hiring translators to ensure all translations are of high quality. If you need your PDF to be translated into a more professional and localized language, try Steps! It won't let you down!
#5. DeftPDF: An All-in-One PDF Tool
DeftPDF is an all-in-one online PDF tool, enabling you to edit, translate, combine, convert PDF files with ease, etc. over 40 solutions are available. What's more, you can also download DeftPDF on your mobile phone in Google Play (Android) and App Store (iOS) to gain the best PDF translator app.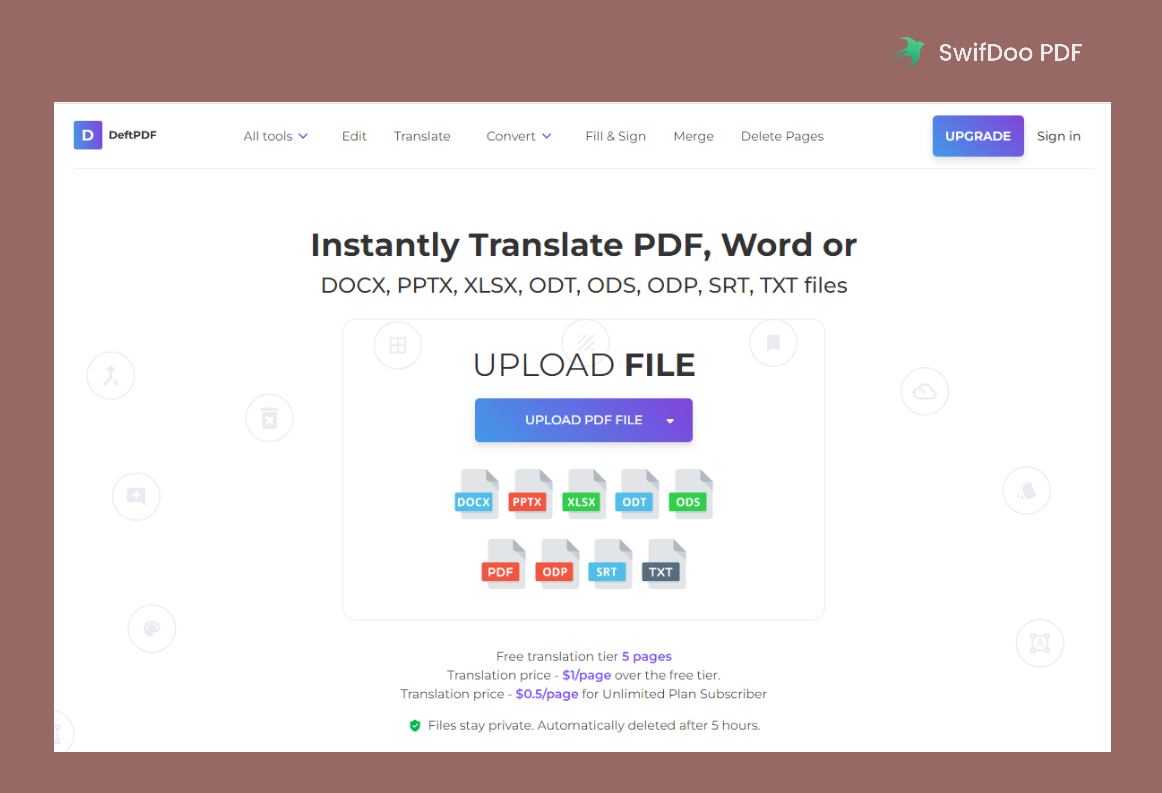 DeftPDF can instantly translate PDF, Word, PowerPoint, Excel, TXT, and many other files. Notice that DeftPDF isn't a free PDF translator. Users can translate files with up to five pages for free, but anything beyond that requires payment.
One positive aspect is that DeftPDF integrates with Dropbox and Google Drive, making it much easy to upload PDF files from these two services. Additionally, it supports a wide variety of languages, fully satisfying your needs. Furthermore, to protect your privacy, DeftPDF will delete all of your files 5 hours after editing.
Admittedly, DeftPDF, like DocTranslator, shows a lot of animated pop-up ads on its pages, which can be distracting, hinder your browsing, and occasionally be rather loud!
You may also like: Free Methods for Adding Hyperlink to Your PDF >>
#6. Fiverr: The Largest Marketplace for Translations
Fiverr is one of the largest online marketplaces for freelancers. You can find almost all the digital services and get solutions to your problems. Fiverr offers many job opportunities for people who are working at home.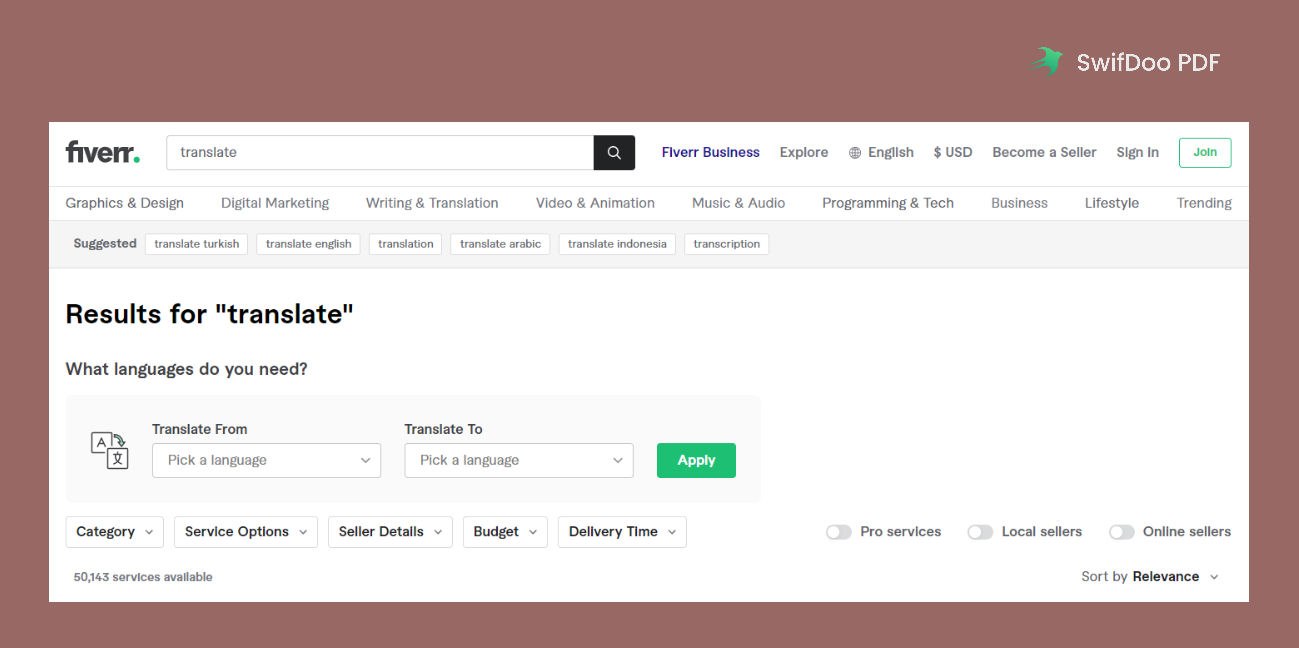 Meanwhile, Fiverr also serves as PDF translator software because you can always get an ideal translator to translate your PDF files. On Fiverr, all translators are real people, which is more reliable and flexible than machine translation. And the translation will be good enough for professional usage.
To translate PDF files on Fiverr, you can communicate with the translator directly to make sure he/she translates files according to your requirements. In addition, you can also require the translator to rehandle your files if you're not satisfied.
Despite all the positive aspects we've mentioned, there's also one flaw when using Fiverr. It's not a free PDF translator. All tasks on Fiverr are processed with payments. Usually, it charges by the word and starts at $5. The more words your PDFs contain, the more you'll pay.
#7. Mate Translate: Browser PDF Translator
Mate Translate is a dedicated file translator tool that is available on iPhone, iPad, macOS, and all major browsers. On Apple products, there are downloading apps prepared on the App Store. However, if you want to use Mate Translate on a browser, you need to install it from the extension store because it doesn't offer any online tool and only acts as an extension. The reason why we put Mate Translate into our best PDF translator list is that you can open PDF files on browsers and thus use this tool to translate them.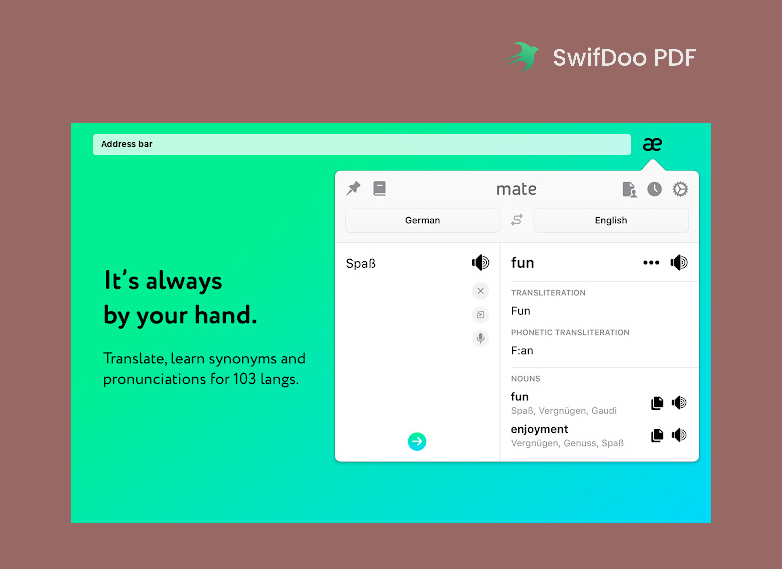 Mate Translate supports 103 languages in total, covering from English to Zulu even. In addition, what makes this PDF translator differ from others most is that it will speak all translations to you directly with perfect accent and pronunciation, thus you can make the PDF read aloud to you in a familiar language. And it also displays intuitive phonetics. With its aid, you can even learn foreign languages by yourself.
To translate PDF files with Mate Translate, simply install its extension and pin it to your extension bar, then open a PDF file in your browser, copy the text you're confused about and paste it to the translate area in Mate Translate, and then choose your targeted language. In fact, suppose that you are browsing a page and encountering a foreign language, you can also select it and ask for help from Mate Translate.
Final Words
A PDF document with important information covered but written in a foreign language is hard to read and may cause some misunderstandings. However, after reading this post, you can choose a PDF translator according to your requirements. These 7 best PDF translators mentioned above all have their unique features, and we've offered a thorough explanation of every tool for a comprehensive comparison. Go pick one and use it now! And don't forget SwifDoo PDF, the real PDF translator you can easily get by clicking the following download button.