Introduction:
Translators, proofreaders, writers, and people who submit their works in e-documents may frequently need to do a word count.
Word count
refers to the statistics or the total number of words in a given document or piece of text. Unlike Microsoft Word or other word processors, PDF readers mostly won't count or display the number of words in a PDF document. Then how do you do a
PDF word count
when needed?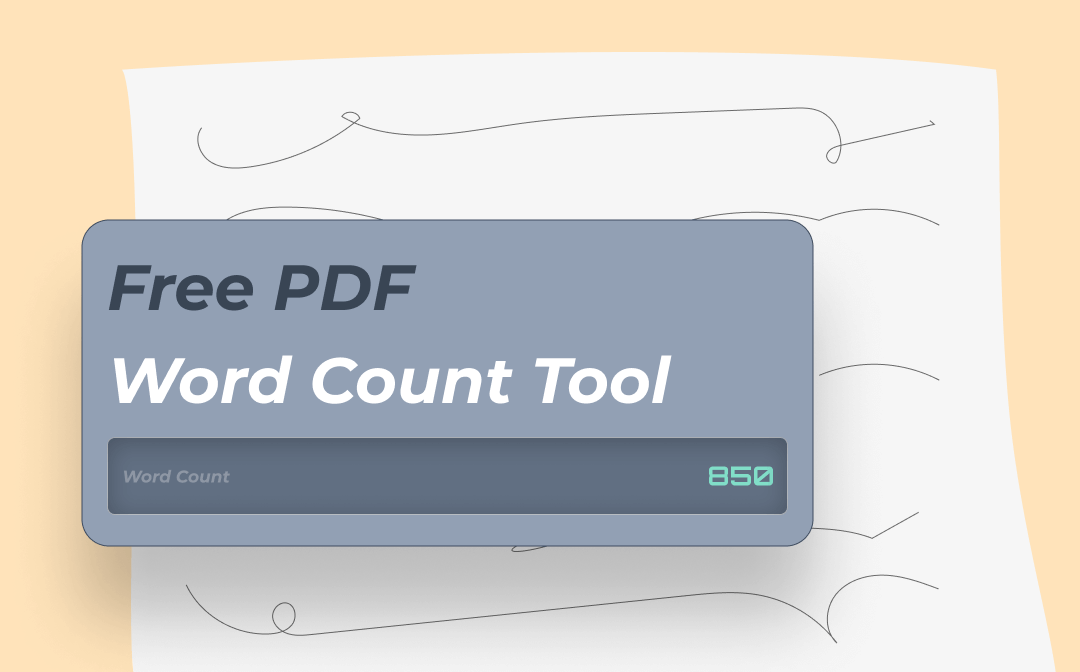 In the modern era, PDF software has shifted the way people handle PDF documents. Anyone can do PDF word count effortlessly to know how many words in their PDF file by using a PDF tool like SwifDoo PDF. Moreover, Word and online word counters are also here to make things easier. Read this post to find out several free ways to do word count in your PDF.
Do Word Count in PDF with SwifDoo PDF
SwifDoo PDF is a free PDF word counter for safe and fast download on Windows. It offers two methods to do PDF word count. You can count the words, characters with/without spaces, number of pages, and lines for an entire PDF file. The tiny and quick app also allows you to select only necessary content in the PDF for word count. The program has more tools to edit, convert, split, compress PDFs and do more if needed.
Let's dive into how to do a PDF word count with SwifDoo PDF. All is quick and easy.
Step 1: Free download, install, launch SwifDoo PDF, and open your PDF file with it;
Step 2: Tap the View tab on the top, and click Word Count on the right side of the sub-menu bar;

Step 3: The Word Count window comes out in a blink of an eye.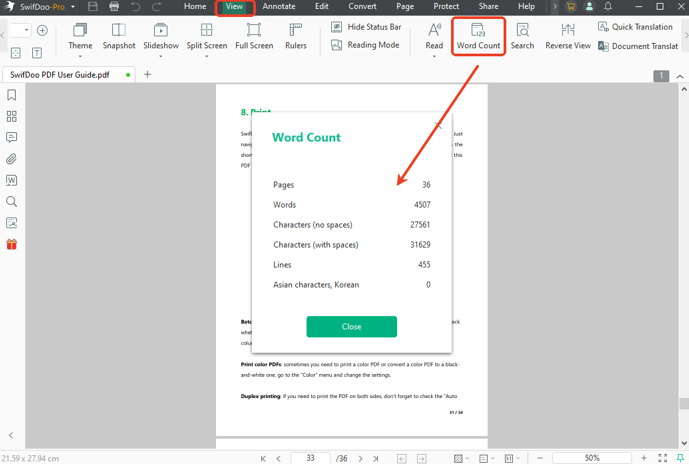 The "Word Count" window lists clearly how many pages, words, characters, and lines in the current PDF document. This is all about how to do a PDF word count using SwifDoo's PDF word count tool. The whole process is simple and takes no time. The software supports document languages in Chinese, Spanish, French, and dozens of other languages.
Tips:
To do word count of selected text in a PDF, select the text under the "View" tab, and click the "Word Count" tool in the top toolbar.
In addition to the straightforward way above, you can do a word count in a PDF by PDF to Word conversion. That is to say, you can convert a PDF to a Word document for showing the word numbers. This may be particularly the case for scanned copies which require OCR to recognize the text. SwifDoo PDF converter is here to get the job done. Check how to do PDF word count using this method.
Step 1: Open your PDF document in SwifDoo PDF and go to Convert > PDF to Word;

Step 2: Select where to save the Word file, and hit the Start button in the SwifDoo PDF Converter dialogue box to convert PDF to Word;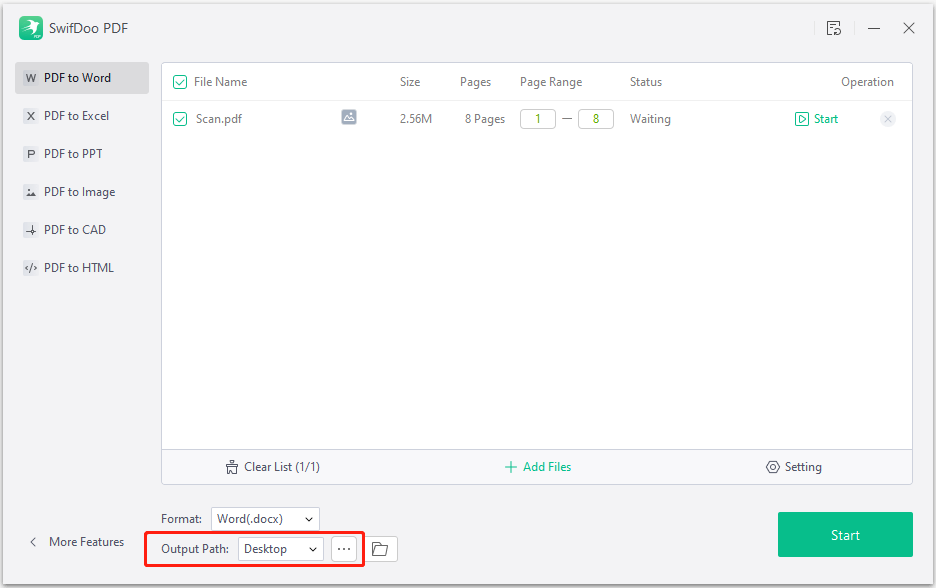 Step 3: Open the converted Word file to check the number of words in the PDF.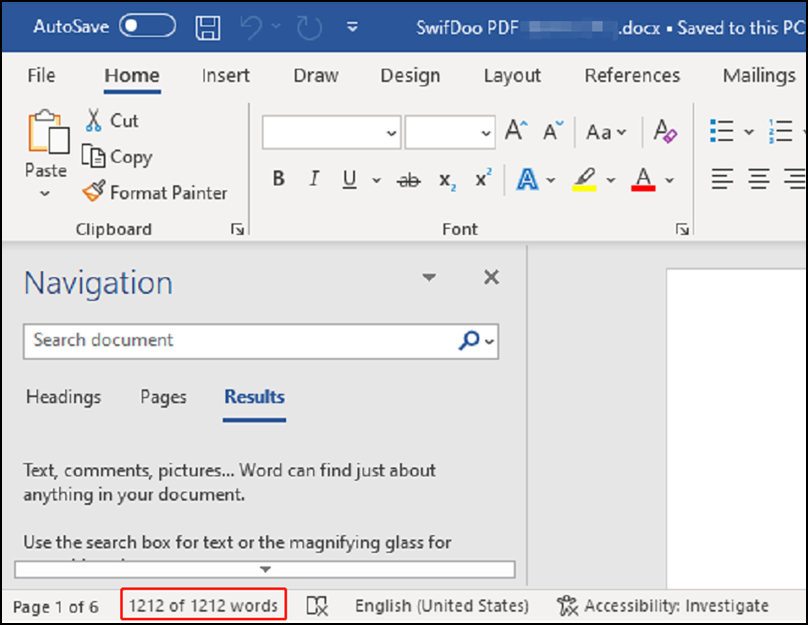 Tips:
If you use this method to do PDF word count, many word processors are available to count words, such as Google Docs, Microsoft Word, and the open-source and free OpenOffice Writer software. Once you have turned your PDF into a Word file, open the file in these word processors to view the word count. You can turn to
SwifDoo PDF online converter
to convert a PDF online for free.
It should be noted that converting PDF to Word is to calculate the approximate words' number. That's because the converted file is not 100% the same as the original, especially for an image-only or scanned copy. Therefore, if you do the word count of a PDF by converting the PDF, the count result may be inaccurate. But it is an effective method for scanned PDFs.
Those who need to do PDF word count may also want to search for a specific word or phrase in a PDF file. That's where SwifDoo PDF comes into play. It lets you search for and find a word in a PDF from the original text, annotations, and bookmarks, and shows the number of results.
Google Docs Word Counter
Anyone having a Google account can use Google Drive and Google Docs to complete a PDF word count online for free. Google Docs works in a similar manner to Word, with which you can compose your file by typing and formatting text. The Google Docs service enables you to open a PDF file in a browser and count the number of words in just a few clicks. More than a tool for PDF word count, it also functions as a page and character counter.
Here is the way to do the word count in a PDF using Google Docs.
Step 1: Log into your Google Drive account, go to My Drive > File upload to upload the PDF you wish to count the words in;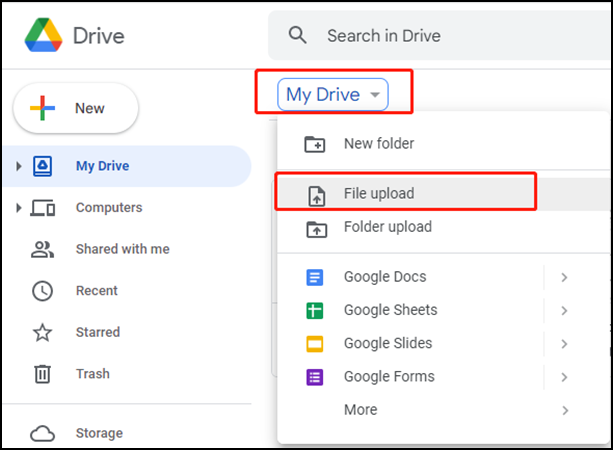 Step 2: Open the uploaded PDF, and tap the Open with drop-down menu to choose Google Docs;

Step 3: Once the PDF is opened in Google Docs, go to Tools and select Word count;

Step 4: The Word count window appears and you can view the total number of words, pages, and characters in your PDF.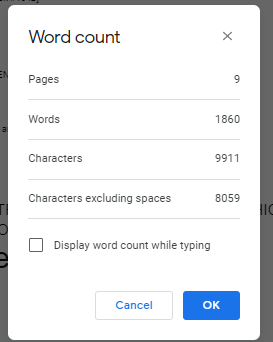 Google Docs works like a PDF converter here. It converts a PDF to a Google doc to help do the PDF word count. This is a rough count and not accurate. It's better to utilize a dedicated word counter for PDF files, SwifDoo PDF, for precise and convenient calculation.
Count Words of a PDF in Microsoft Word
Microsoft Word 2013 or a later version is a free PDF word counter for its users. The method to accomplishing a PDF word count in Word is similar to that in Google Docs. Word can open a PDF and automatically present the total number of words in the file in the status bar. The component of the Office suite also counts a string of text when you select them. Find out the quick method to do a word count of a PDF.
Step 1: Open Word on your computer, go to File > Open;
Step 2: Browse your computer to select the PDF you are to count words in and double click to open it;
Step 3: Click OK in the pop-up dialogue box, and then the PDF will be converted to a Word file with the number of words at the bottom left corner.

The PDF to Word conversion may take a while to complete, and the formatting and layout in the converted file will change some. Like Google Docs, Word is suitable for those who just want rough PDF word count or words' statistics on certain text.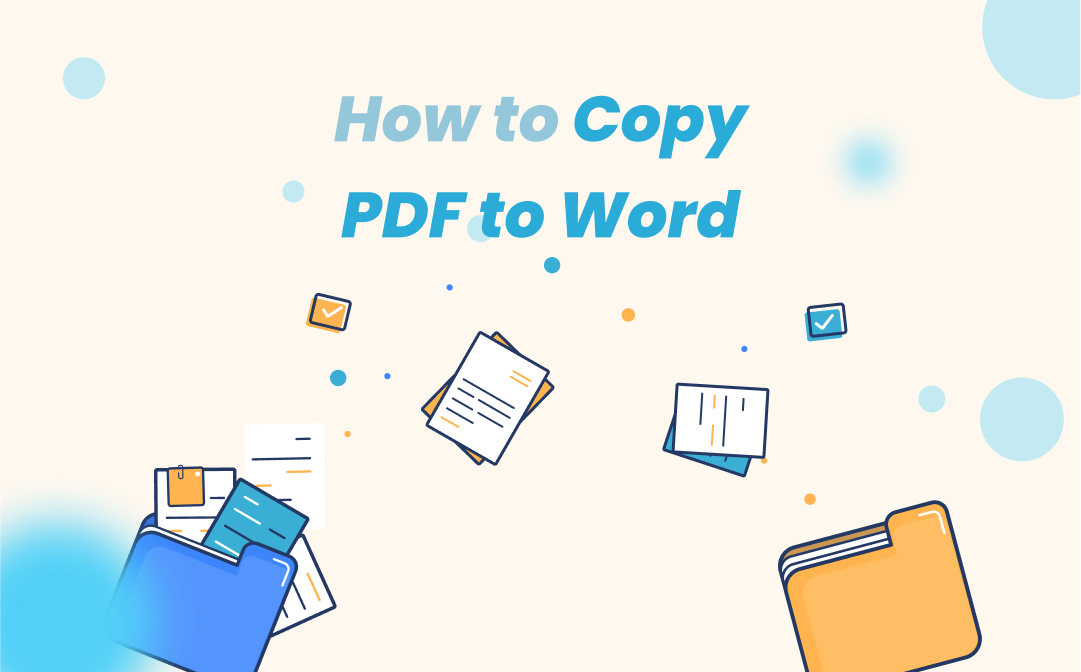 How to Copy and Paste from a PDF to Word Easily
Sometimes we need to copy PDF to Word to transfer the content. Check how to copy and paste from PDF to Word easily, whether it's image-based or protected.
READ MORE >
PDF Word Count Online
We would like to introduce another word count tool, Word Count for counting words in a PDF file. You can do PDF word count with the tool on all operating systems including Windows, Mac, and Linux. It calculates the number of words in your novels, cover letters, blog posts, and all your written documents online for free. The statistics report will display the frequency of the most used words in a PDF. That is particularly helpful for those content marketers to understand keywords' density and repetition rate.
Take a look at how to do a PDF word count using the online word counter.
Step 1: Right-click on your PDF document in File Explorer and choose Open with to open it in a web browser;
Step 2: Press Ctrl+A on your keyboard, right-click on the PDF, and choose Copy to copy all the text;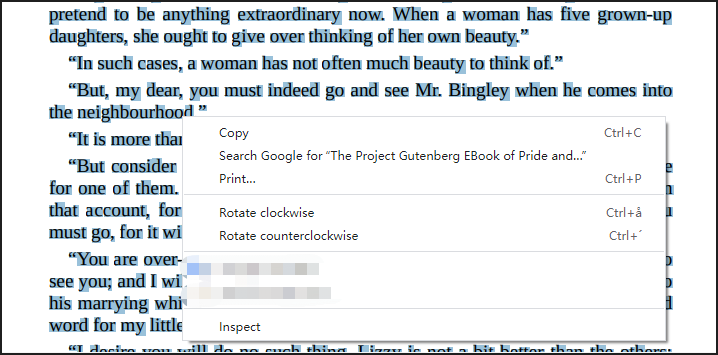 Step 3: Navigate to the word counter in your browser, and paste the text onto the text box to count the words from the PDF at once.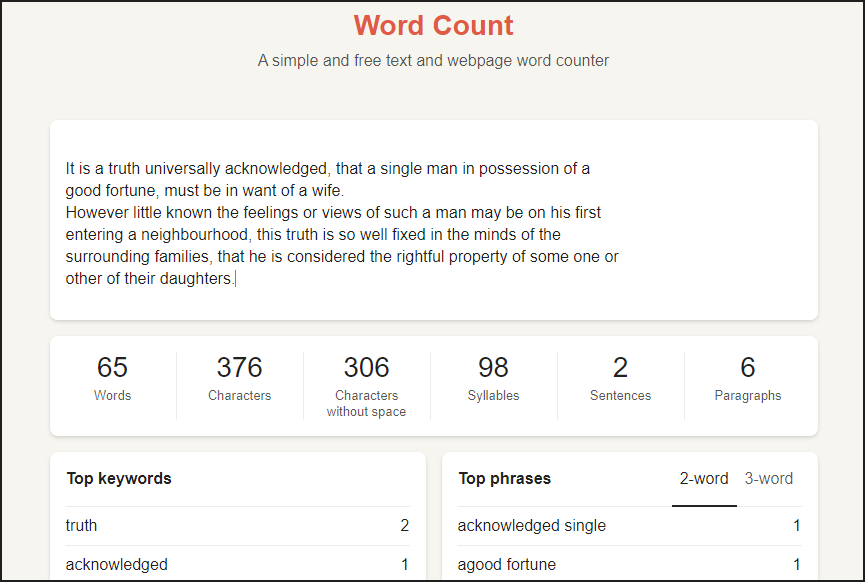 If a PDF is password protected from being copied, you will not be able to copy the text. In this case, a PDF password remover will be essential.
How to Do PDF Word Count with Chrome Extension
Chrome extensions or plugins are small programs that you can install from Chrome Web Store to add more functionalities to the browser. They are developed to run in Chrome but not on your local desktop or other locations. Word Counter Plus is one of the best Chrome extensions enabling you to do PDF word count. Additionally, it tells you the number of characters as well as the average word length.
Follow the 3 steps below to do a word count in a PDF document.
Step 1: Add the word counter or calculator to your Chrome;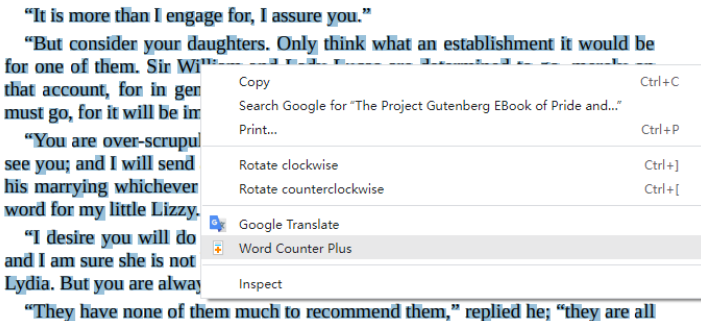 Step 2: Open a PDF file with the browser;
Step 3: Select all the text in the PDF by pressing the Ctrl+A shortcut key, right-click on the text and choose the extension from the pop-up menu;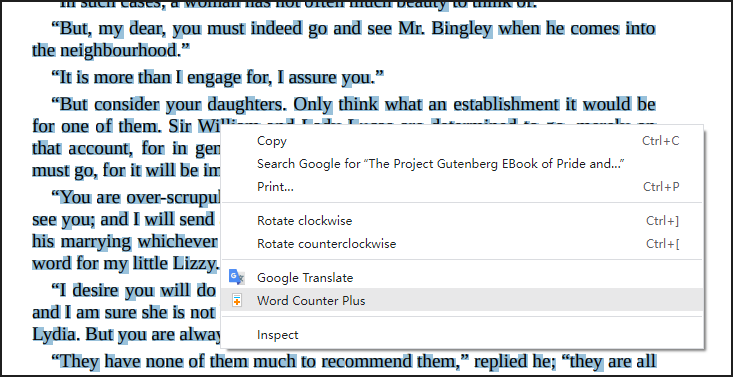 Step 4: Once you have hit the extension option, the small add-on will count the words in the PDF instantly. The word count and other statistics will together display on the screen.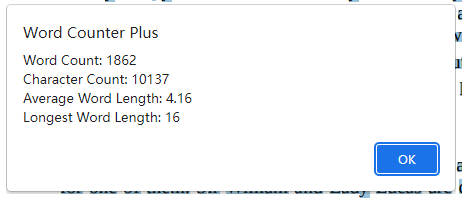 Summary
Counting words in a PDF is not as simple as in a Word file, but not frustrating anymore with a proper word calculator. A handy PDF word count tool such as SwifDoo PDF allows you to do PDF word count without breaking a sweat. You can count on selected text or a whole PDF in one click. It can also perform a series of related tasks to control over your PDF better. Get the mentioned methods to do the word count in your PDF in nearly all cases.