Introduction:
If you often use Chrome to view and edit PDF files, a Chrome PDF editor can be your best assistant. Why? Google Chrome add-ons usually ask for no investment, and users can easily edit a PDF document without any cost. In this post, we've reviewed several fully-fledged Google Chrome PDF editor extensions, and you can install and use them directly.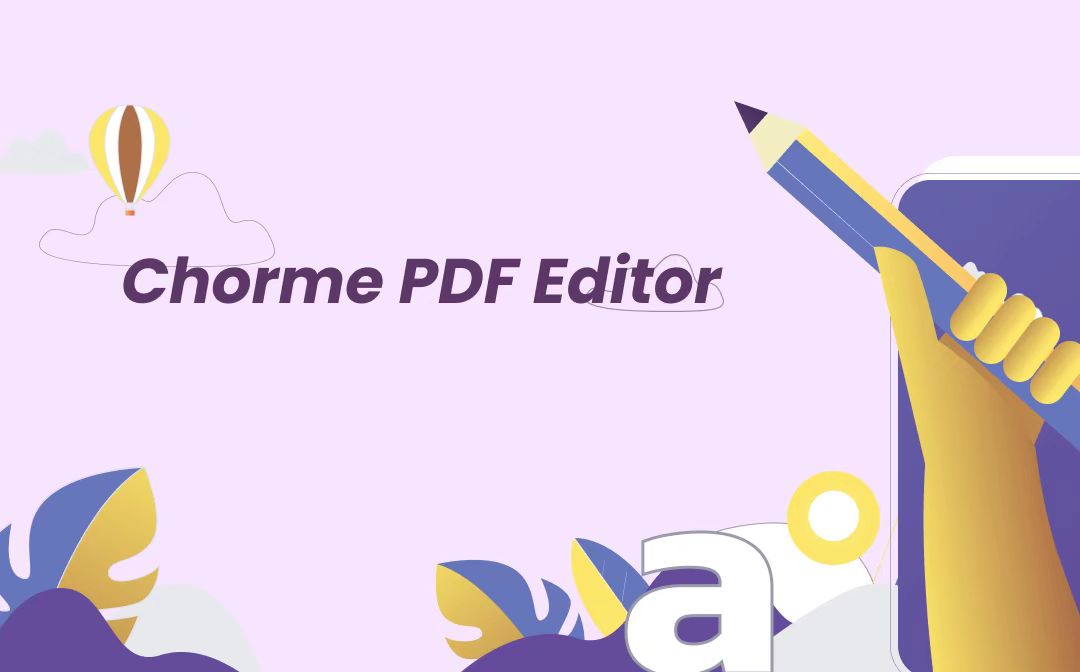 Chrome extensions are small software modules designed to customize your Chrome browser. There are over 137 thousand Chrome extensions on the Chrome Web Store that covers all aspects. Using extensions helps you get fast access to tools, avoid downloading programs for one-time use, and offer you more intuitive controls on your browsers.
If you are looking for a high-quality Chrome PDF editor to make changes to your PDFs, many PDF tools offer corresponding PDF editor extension add-ons, such as Adobe Acrobat, Smallpdf, PDFzorro, etc. And we have listed them in this post. Keep reading to learn more!
The Best Chrome PDF Editor: Adobe Acrobat
Adobe Acrobat has been one of the best PDF editor programs since its inception and has gained a good reputation with a long history in this market. With its outstanding performance, it's never too much to say that Adobe Acrobat can be your go-to tool when requiring a professional PDF editor Chrome extension.
The Adobe Acrobat extension allows you to convert, edit, compress, and sign PDF files on Chrome directly without downloading its desktop software. For example, if you want to convert PDF to JPG, you only need to upload a PDF document, then download the converted file manually.
More importantly, the Acrobat extension requires no fees from users. Therefore, you don't need to pay for any service when using this Chrome PDF editor. However, we have to point out that comparing to its desktop software, the Acrobat extension doesn't offer too many features, and you need to log in to an account to continue using.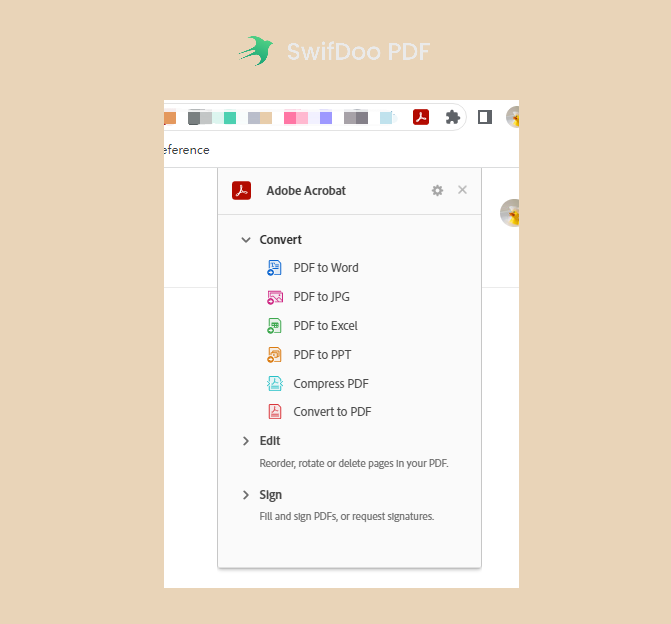 Smallpdf Chrome Extension
Smallpdf is also one of the most popular PDF add-ons in Google Chrome. This PDF extension possesses almost all the PDF-related features, including editing, compressing, signing, merging, converting, etc. The online tool has no difference from its desktop software, so any operations can be finished online without downloading the offline program.
All major web browsers, including Chrome, IE, Firefox, and Safari, have access to the Smallpdf Chrome extension without any limitations. In addition, it's compatible with Windows, macOS, and Linux operating systems, as well as all major mobile devices.
The Smallpdf PDF editor Chrome extension enables you to edit PDF files on the PDF editor extension directly. Once you installed the Smallpdf Chrome extension on your browser, you can click this add-on and select a feature to process your PDFs directly. However, the Smallpdf Chrome extension only allows you to use it for up to 2 tasks per day for free.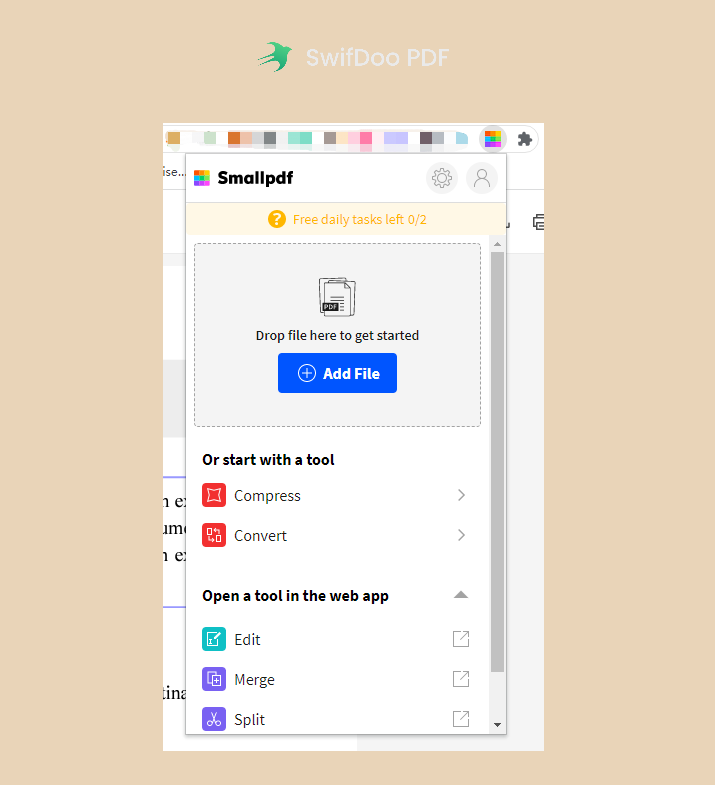 Online PDF Editor: PDF2GO
Like Smallpdf, PDF2GO is also an all-around PDF tool in Chrome. In addition, it provides both online and offline versions to meet different requirements. However, its uploading and conversion speeds are much slower than those of Smallpdf, which will definitely affect the user experience.
PDF2GO is compatible with almost all operating systems, end devices, and major web browsers. In addition, unlike Adobe Acrobat, PDF2GO requires no account registration, which is more convenient to use and protects users' privacy well.
For basic editing needs like compressing and converting PDF files, PDF2GO allows you to process within the Chrome PDF editor pop window, and it won't open PDF2GO online websites. However, after clicking on more complicated options like editing, merging, separating, sorting, and removing, you'll be taken to a separate page, which is easy to understand with different icons next to all tools' names.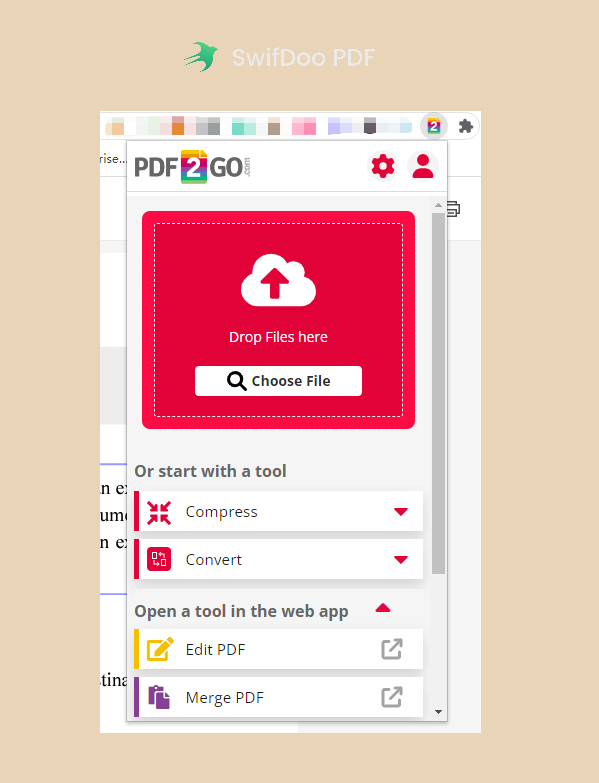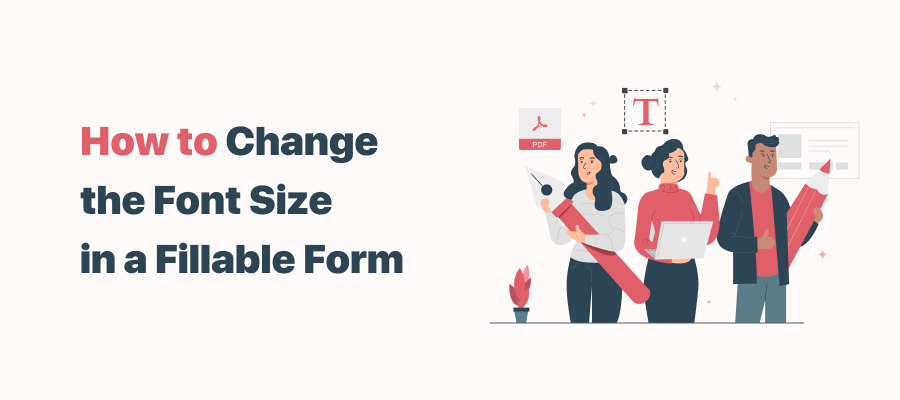 5 Approaches to Change the Font Size within a PDF Form Field
If you want to figure out how to edit or change the font size in a fillable PDF form to make the PDF look more consistent, this post can help.
READ MORE >
PDF Editor Chrome Extension – PDFzorro
PDFzorro is totally different from other PDF editor Chrome extensions mentioned in this article. This online editor focuses more on editing PDF documents. In other words, if you want to convert, compress, or use any other features, you should try other tools.
The way to open PDF files on PDFzorro is also distinguished from that of other tools. Usually, all Chrome PDF editors mentioned above ask you to upload files manually from local files or cloud services (like Google Drive or Dropbox). However, PDFzorro will download the PDF file to your browser automatically. Then you're asked to drop it off at a window.
For fundamental marking and annotation needs, PDFzorro offers many mini tools to highlight or erase the content of PDF documents. In addition, PDFzorro enables you to make changes to documents' pages, such as moving them up or down, rotating, duplicating, changing page format, and extracting one page.
Moreover, the PDFzorro offline version is only available on Android devices. If you're using a Windows, macOS, or iOS device, downloading an offline PDFzorro program isn't viable.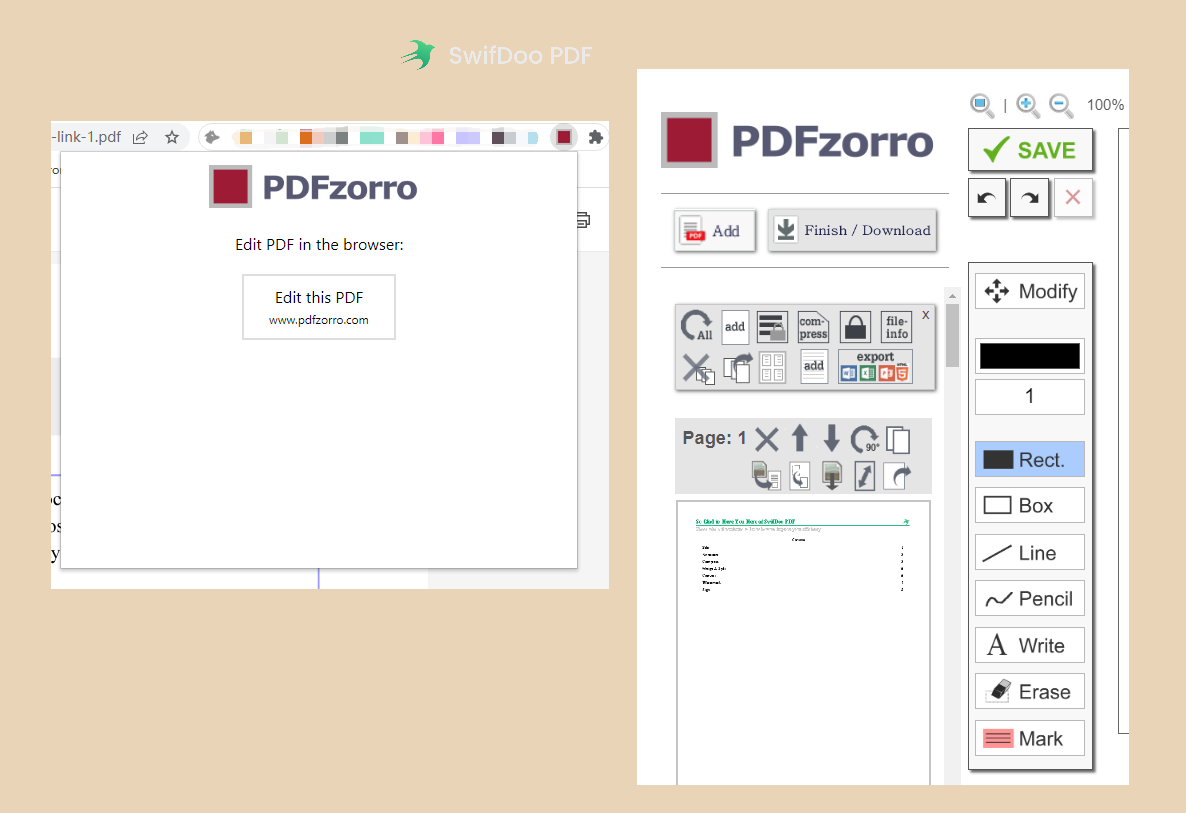 SwifDoo PDF
With the PDF add-ons installed on web browsers, time and effort are saved. And it's more convenient to open an online PDF editor. However, in case you will require desktop software, we also introduced you to a top-rated offline PDF program: SwifDoo PDF.
SwifDoo PDF haven't offered any browser plugins yet, but it makes the online converter and the desktop software perfect. SwifDoo PDF online converter allows you to convert PDF to Office, image, CAD, and vice versa. It's always helpful to install an offline PDF tool on your device.
Developed by an experienced team, SwifDoo PDF integrates all basic and advanced features to enable users to edit PDFs as easily as Word documents. Moreover, SwifDoo PDF gives priority to user experience. It takes very little disk space and always works smoothly. There are also no advertisement pop-ups or additional fees when using it.
The Bottom Line
The Chrome PDF editor brings great convenience for processing PDFs online. For users who don't want to download too many programs on their device, using PDF editor Chrome extensions is a good choice. PDF editor extensions offer almost all the fundamental functions, and it only takes seconds to get a PDF editor extension installed.
Of course, if you're willing to download a desktop program, you really should give SwifDoo PDF a try for a better experience!