Introduction:
If you just need to open and view a PDF file, almost all modern
PDF readers
allow you to do that without cost. But if you want to draw on PDF documents and do more with them, quality PDF editors are essential. A PDF editor for PDF drawing is called a
PDF drawing tool
. You can use them to draw charts, diagrams, mind maps, lines, circles, or other drawings.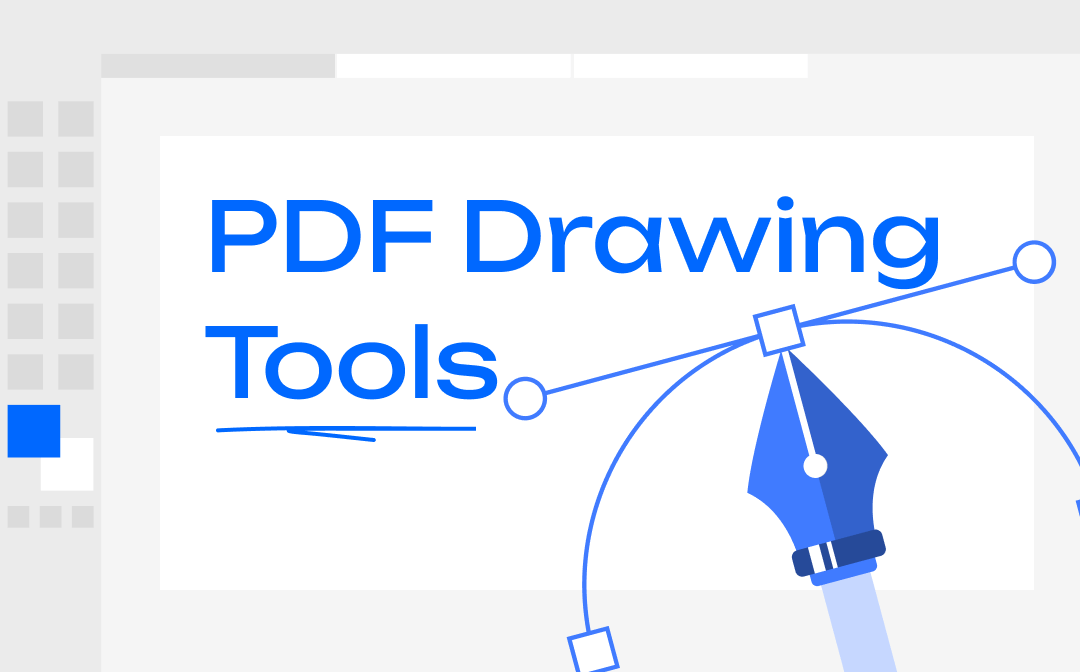 With tons of websites, software, or apps available to draw on PDFs, it can be difficult to know which are worth your time. To help you out, we've tested many of them and recommend the 6 best PDF drawing tools here. We test from several major aspects, such as features, performance, and cost.
1. SwifDoo PDF - Windows
SwifDoo PDF is a tiny and fast PDF drawing tool and PDF editor for Windows users. This tool makes it a breeze to draw on PDF documents with lines, circles, arrows, and other markings. You can perform freehand drawing or apply predefined shapes. The handy software allows you to change the color, thickness, and opacity of the drawing tool. Deleting or moving the drawings is simple when required.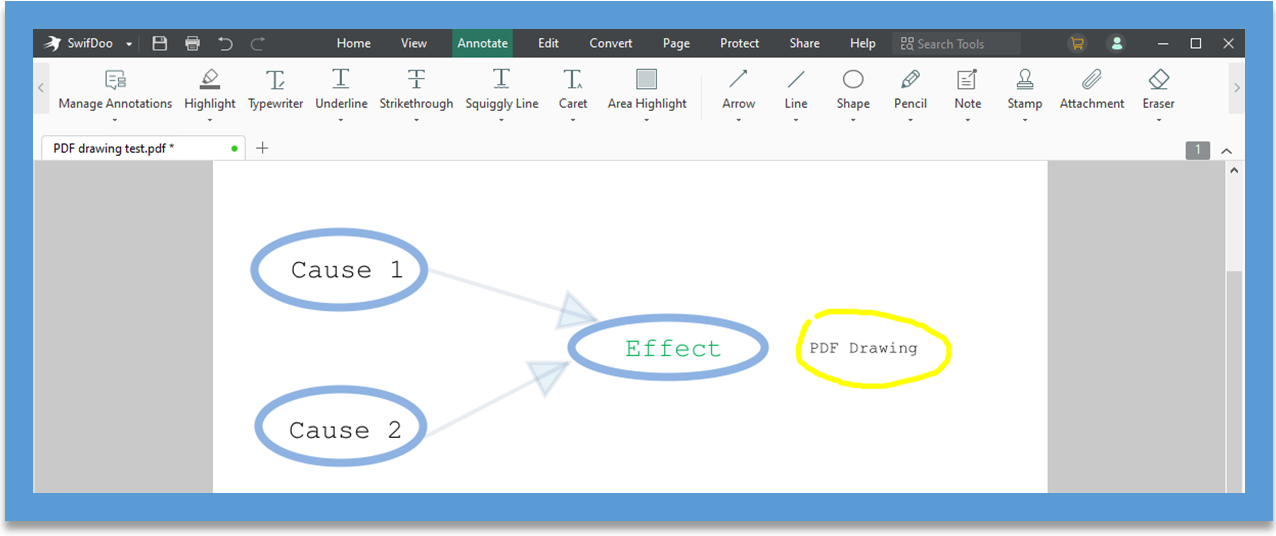 More than a PDF drawing tool, SwifDoo PDF has lots of other features. When you feel a PDF file is too heavy to send or upload, you can reduce the PDF file size with its PDF compressor. Here are some key features of SwifDoo PDF below.
It enables you to edit PDF images and text, add hyperlinks and backgrounds to PDFs, crop, OCR, and resize PDF pages.
Convert PDFs to Word, Excel, PowerPoint, TXT, HTML, images, and all the common files, and vice versa.
Add, delete, extract, replace, and rotate pages in a PDF.
Password protect, sign, and watermark PDF files.
Pros:
Come with rich, powerful and easy-to-use PDF drawing tools.
All the features you might need from the best PDF drawing tool and editor.
It's a lightweight application always working smoothly.
Cons:
You can only use it to draw on PDFs for Windows 11, Windows 10, 8, 7, and XP.
2. Drawboard PDF - Windows
The Drawboard PDF software is created for free PDF drawing and markup. All its essential tools are free to access. You can draw lines, shapes, arrows, and other drawings on your PDF with the PDF drawing tool. It allows you to draw on PDF documents with digital pens such as the Surface Pen and HP Elite Pen. Its free tools also let you quickly add notes, images, highlights, and other annotations in PDFs. You can download the best PDF drawing app on Windows.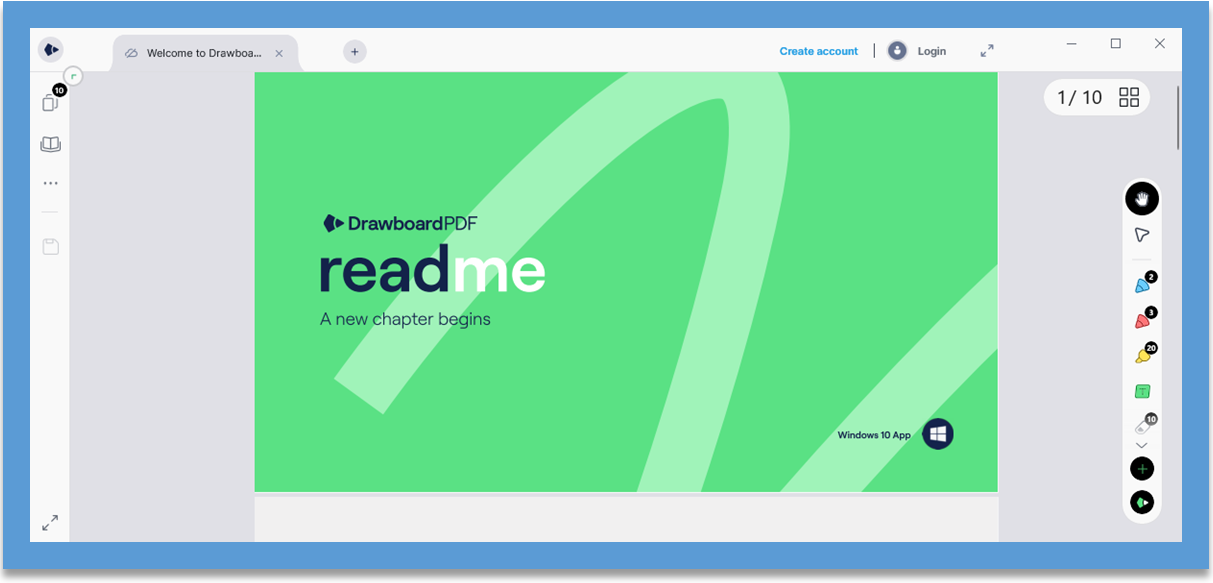 Pros:
Support drawing on PDFs on Windows for free.
One of the PDF drawing tools with a beautiful, modern and intuitive interface.
Advanced features such as merging and splitting PDFs can serve you in the premium version.
Cons:
The PDF drawing app's installation is too slow and it's unsmooth to use.
It only allows you to edit and save up to 10 documents.
3. Adobe Acrobat Reader DC - Windows/Mac
When it comes to the best free PDF drawing tool, Adobe Acrobat Reader DC must be on the list. Developed by the creator of the PDF format, the software program is equipped with excellent PDF drawing features. When you click "Comment" in its tools pane, you will see the drawing toolbar, including a pencil, eraser, connected lines, and more.

To draw a straight line in your Adobe PDF file, click the "Drawing Tools" drop-down button to pick the "Line" option. Hold down the Shift key to draw the line horizontally or vertically. As one of the top PDF drawing markup tools, it allows you to manage and categorize all the drawings and markups. You can remove or edit specific drawings from its comments panel. In addition to free PDF drawing, Adobe Reader also has a tool for adding text boxes to PDF files.
Pros:
Absolutely safe and reliable to install and use.
The ability to digitally sign, and draw on PDF documents for free.
It has various setting options for organizing and editing the drawings on PDFs.
Cons:
Take up much storage space with a big program size.
Its premium version is expensive. (Twice the annual subscription fee of SwifDoo PDF).
4. Okular - Windows/Mac/Linux
One of the best free PDF drawing tools to draw on PDFs is Okular. The software tool is a document viewer with regular PDF drawing functions. It's best for open-source and completely free service and multi-platform compatibility. The PDF drawing tool is compatible with Windows, Mac, Linux, and some other devices. Regarding its drawing options, you can choose the freehand line, straight line, rectangle, arrow, and other predefined shapes.

On top of free PDF drawing, the program allows for viewing comics, EPUB books, and images. You can also highlight text and add common annotations in these documents.
Pros:
Read and annotate multiple types of documents.
The program can bookmark, digitally sign, and read aloud a PDF.
Universal compatibility with various desktop operating systems.
Cons:
Out-dated user interface.
It doesn't have a place for users to manage all the PDF drawings and markups together.
5. Markup Hero - Online
If you want to draw on a PDF for free without downloading an app, turn to Markup Hero. This is a web-based screenshot and annotation tool. It is made to help you capture, annotate, edit, and share images, PDF files, and websites. The PDF drawing tool provides a free plan with basic tools and features. No credit card is required.

What's best is it can keep your drawings and other markups organized with collections, history and privacy settings. It allows you to store the annotations in the cloud and share them for collaborative work. The best PDF drawing software also works as one of the best extensions for Google Chrome.
Pros:
Draw on PDFs, images, and webpages, and duplicate and edit the drawings.
It has many editing tools to change drawings' color and text font size or add images to PDF pages.
Allow for drawing on a PDF file on any modern desktop, mobile, or tablet web browser.
Cons:
The web app to draw on PDFs loads PDF pages slowly.
You can only process 10 files per month and the maximum size of a single file cannot exceed 8MB.
6. Smallpdf - Online
Smallpdf is another tool to draw on PDF files online for free. The PDF drawing tool offers drawing markup features in a neat and tidy interface. It allows you to add text boxes, highlights, ellipses, and images to PDFs in a double of taps. Within the PDF drawing software, you can change the properties of any drawing online, including the color and thickness.

Besides PDF drawing, this online application is also capable of PDF page organizing and text editing.
Pros:
Free PDF editor with drawing tools and quick text and page editing ability.
Enable you to electronically sign a PDF file online.
No registration need.
Cons:
Its Pro version almost doubles the pricing of SwifDoo PDF.
The online free service only allows you to upload 2 files for PDF editing and drawing.
Conclusion
When you need to edit a PDF with a PDF drawing tool, this article is here to help you out. The task to draw on PDF documents can be done on Mac, Windows, Linux, or online without much effort.
SwifDoo PDF is recommended as the best app for drawing on PDFs on Windows. Adobe Reader is the free PDF drawing tool and editor you can get on Mac. The open-source PDF viewer, Okular, lets you draw the most basic drawings. In terms of the website where you can draw on PDFs, Markup Hero is worth trying. Choose a suitable program to draw on PDFs on your device easily. Get them to make PDF drawing and annotating as streamlined as possible.