Introduction:
Images can illustrate complicated process flows and make documents visually attractive, so many formal materials are embedded with rich images. Occasionally, you may need to modify these images to better fit the layout of pages, or replace them with new pictures. In this case, if you can find the original editable document, it's simple to make changes. But what if you only have a printed PDF?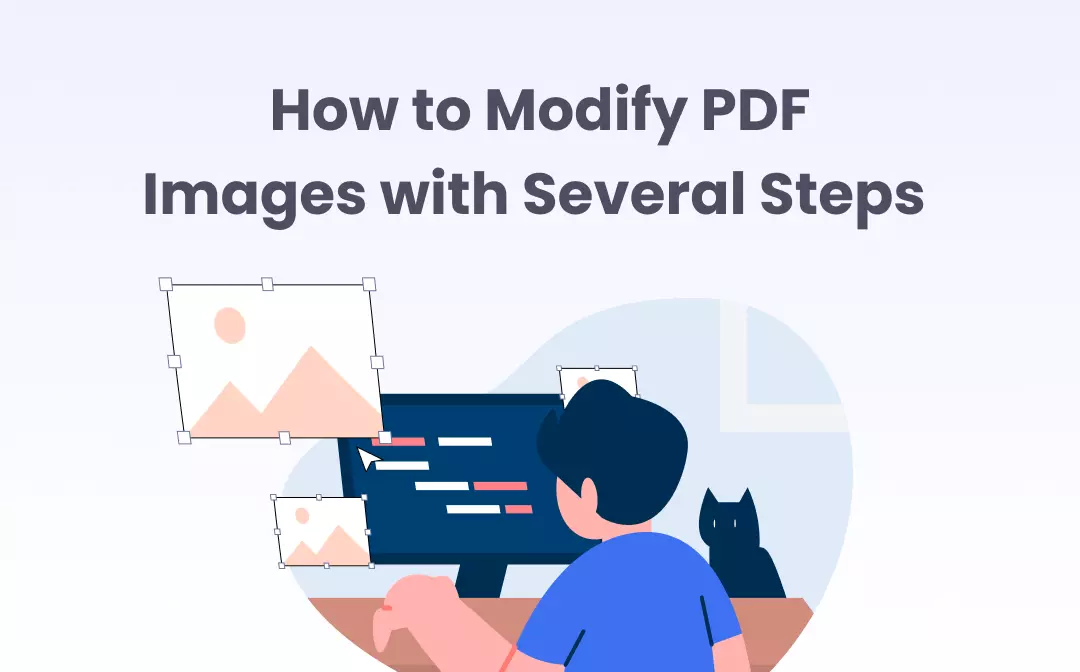 Don't worry, this post offers 3 efficient ways to edit images in PDF files.
Edit Images in a PDF File with SwifDoo PDF
When it comes to modifying a PDF file, a right PDF tool is needed. If you are a Windows user, then look no further than SwifDoo PDF editor. SwifDoo PDF is a lightweight but powerful PDF desktop application that enables users to swiftly convert, split, crop PDFs, and more. By using SwifDoo PDF software, you are able to edit the images in a PDF document within just a few steps.
The following guide explains how to edit images in a PDF using SwifDoo PDF editor.
Move, Resize Images in a PDF
Step 1: Free download SwifDoo PDF and open it. Drag and drop your PDF file into the program;
Step 2: Choose Edit in the top menu bar;
Step 3: Click the image that you wish to edit, then hit the pencil icon at the right side. Drag to move the image to your wanted position;

Step 4: To resize the image, drag a bounding box handle or corner to change the width or length;
Step 5: Go to SwifDoo in the upper left corner and choose Save as to save the modified PDF file.
Adjust the Transparency of Images in a PDF
After opening your PDF in SwifDoo PDF, choose Edit, then click an image and the pencil icon. Hit the Transparency icon to change the opacity of the selected image.

Rotate, Replace Images in a PDF
Step 1: Open your PDF file with SwifDoo PDF, then go to Edit;
Step 2: Click the image that you want to flip or replace with a new picture, then hit the pencil icon to open the toolbar. Choose:
Rotate image to flip the image 90°clockwise. Keep rotating till the orientation is proper.
Replace image to replace the current image with an external image that you can choose from your computer.

Tips:
To manually rotate an image to any angle, click and drag the rotation handle at the top of it to the right direction.
Move Images in Front or Behind Other Objects
Step 1: Import a PDF document that you want to edit into the SwifDoo PDF program;
Step 2: Right click on an image, select Arrangement, then Bring to Front or Send to Back to move it in front or behind other objects.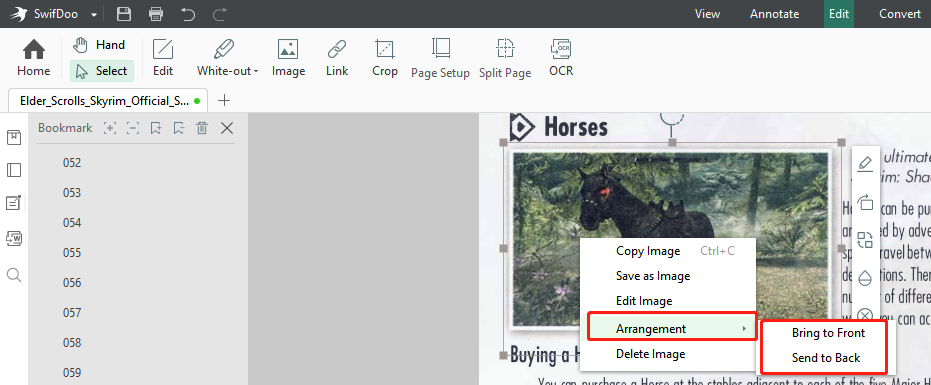 Copy, Save, Delete Images in a PDF
Step 1: Open your PDF in SwifDoo PDF and right click on an image;
Step 2: Within the context menu, you can choose Copy Image to copy and paste the selected image to another page or document. Save as Image will extract the image out of the PDF file. Once you don't want the image any more, hit Delete Image to remove it.

In a matter of minutes, the size, position, orientation and the opacity of the images will be modified. When you need to further manipulate the PDF file, just use SwifDoo PDF to simplify your work.
SwifDoo PDF can convert images to multiple individual PDF files, or merge them into a single PDF. Apart from editing images, SwifDoo PDF allows to edit text, add text boxes, erase unnecessary content, and more. It is also used to add watermarks, signatures, headers and footers to a PDF, convert scanned PDFs to searchable and editable documents. All in all, SwifDoo PDF is an all-in-one PDF application that you can rely on for daily work.
Edit Images in a PDF File With Wondershare PDFelement
While Preview (the native application) on Mac helps a lot in annotating, splitting, merging and protecting PDFs, it is not able to fulfill more complicated PDF tasks such as editing images. Thus you may need a third-party tool, PDFelement. It is an all-inclusive PDF software product that has abilities to comment, compress, rotate PDF documents. The handy application makes it easy to modify images in a PDF file.
Let's catch a glimpse at how to modify images in a PDF document with the PDFelement editor.
Step 1: Launch PDFelement on your Mac PC. Open the PDF file that you want to modify in PDFelement;
Step 2: Go to Edit main menu, then click the image you wish to edit;
Step 3: Drag the image to change its location on the page. To increase or decrease the image size, pull the bounding box handles and corners;
Step 4: Right click on the current image, then choose Rotate Left or Rotate Right to flip it 90°. In the pop-up menu, click Overturn Horizontally or Overturn Vertically to symmetrically flip the image. You also can choose Z Order to move the image in front or behind other elements. The Replace Image is able to substitute the current image with a different picture. Use the Alignment to align multiple images in the center, to the left or right;

Step 5: Go to File and choose Save As.
Tips:
By dragging the green dot on the top of the image, you can rotate it at any angle.
If needed, Wondershare PDFelement allows you to cut, copy, delete, extract images in a PDF document. Furthermore, this PDF software provides many other PDF related features, with which you can edit text in a PDF, convert, comment, protect your PDF files efficiently.
Edit Images in a PDF File with Adobe Acrobat
Adobe Acrobat might be the most famous PDF software. As a pioneer of the industry, it enables users to deal with PDF documents on any device. You can use it to edit, convert, sign PDFs with ease. Adobe Acrobat makes editing images in a PDF file no longer difficult. Here is how it works.
Step 1: Open your PDF file within Adobe Acrobat;
Step 2: Click Tools, Edit PDF, then Edit;
Step 3: Hit and drag the image to relocate it. Pull the bounding box handles to change the size of the image;
Tips:
To keep the ratio of width to height, hold the
Shift
key on your keyboard when dragging a handle.
Step 4: By choosing the options under Objects at your right hand, you can flip the image vertically or horizontally, rotate it clockwise or counterclockwise, crop it, and replace it with another image from your device;
Step 5: When needed, the Arrange feature will help move the selected image in front or behind other objects.
Like SwifDoo PDF, Acrobat also allows you to directly drag the images for rotation. You can use Acrobat to further edit other elements such as text, watermarks in the PDF. After finishing modifying your PDF file, remember to save the changes.
Wrapping Up
While these 3 mentioned PDF programs are all well compatible with Windows, SwifDoo PDF may stand out because of the listed 3 reasons:
Affordable subscription cost. With a perpetual license at $159, users can run SwifDoo PDF on 2 devices simultaneously. It is available at $99 during festival occasions.
Intuitive user interface. The ribbon menu makes it easy to find the right tool.
Fast response and high quality conversion with OCR.