Introduction:
It is quite common to read and edit PDF files with a proficient PDF reader. However, if you often work on a web browser, utilizing a PDF reader extension supported by browsers like Chrome can enhance your effectiveness. On the one hand, this little gimmick shares the same features as a professional PDF reader and takes up less disk space. On the other hand, a PDF extension for your browser removes the hassle to visit and upload your file to an online PDF program.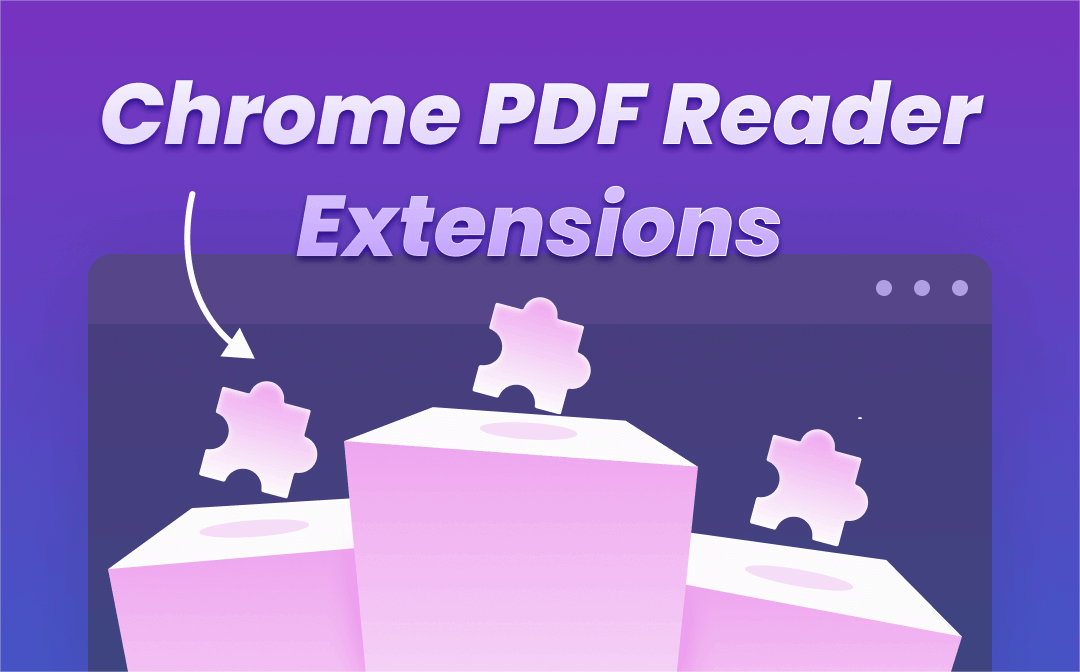 For users who prize efficiency and cost-effectiveness, a PDF extension for browsers is a better option. This browser extension has quick access and intuitive controls, not to mention most of these add-ons are free to use without limitations. This article highlights 7 feasible PDF reader extensions for Chrome and Firefox, as well as a lightweight PDF reader at a penny-wise price – SwifDoo PDF.
What Is A PDF Reader Extension
Before going deep into the article, it is better to explain what is a PDF reader extension in case some of you are strange with it.
A PDF browser extension is a plug-in that can be added to your web browser. With this mini PDF software, you can read, edit, convert, and manage your PDF files straightforwardly in a browser. It is equipped with most of the features a PDF reader has, and therefore no offline or online PDF program is needed. When you want to read a PDF file sent by email or stored in the cloud, this extension allows you to view the PDF content and make changes without downloading it.
Now, you've known the basics of a PDF viewer extension. In the next part, you will read some highly-rated PDF reader extensions for Chrome and Firefox.
Top 7 PDF Reader Extensions
Adobe Acrobat
Speaking of Adobe Acrobat, the sophisticated desktop PDF editor might come first to your mind. And surprise! It now offers a PDF reader extension on Chrome to facilitate your work with PDFs. Unlike the PC version, this free Adobe PDF reader Chrome extension even enables you to convert PDF to Word, Excel, JPG, and other formats without signup. Moreover, it synchronizes your PDF file to the cloud after signing in. You can process the same file across different devices.


Major features:
Customize the reading mode when viewing PDFs;
Add comments, highlight, or strikethrough text;
Read your PDF aloud when engaging in other activities.
Kami
Kami is one of the best PDF reader extensions for Chrome. Despite requiring registration for use, this extension provides fundamental PDF reading tools for free. It helps you to markup your PDF, insert comments, handwrite, and add shapes to PDFs without charge. This PDF reader extension auto-sync and save files to Google Drive and OneDrive, which allows you to open your PDFs directly from the two file storage services. Yet, you need to upgrade to a paid version to enjoy more reading and annotating tools.



Major features:
Check the definitions of new words while reading;
Advanced text-to-speech function;
Annotating PDFs by highlighting and underlining.
Awesome PDF Viewer, Reader
Awesome PDF Viewer, Reader is another useful PDF reader extension on Chrome. To use this PDF reader Chrome extension, just click "Extensions" and select the mini-program. Then tap "Open file" in the top right corner to upload your document. Also, it lets you import PDF files from Google Drive, Dropbox, etc. However, this PDF Chrome extension has ads, which contributes to a poor user experience.



Major features:
Read PDFs directly in high quality;
Rotate PDF pages;
PDF Reader
Do you want to read or display your PDF in presentation mode on Chrome? Then PDF reader is your top horse. It is a free PDF reader extension providing a pleasant reading experience. Besides, this PDF reader Chrome extension shows the table of contents, which makes you quickly navigate the section you like.



Major features:
Read PDFs in presentation mode;
Easily copy text from a PDF;
Manage all attachments with one click;
SmallPDF
As a reliable online PDF viewer, SmallPDF develops a PDF reader extension on Chrome to assist you while reading. You can zoom in and out of the page, highlight text, search words, etc. It shares the same quality service as its online version. However, it doesn't present the table of contents, making it difficult to jump to a specific page when you are reading a large file.



Major features:
Edit PDFs while reading;
Share your PDF online;
e-sign or protect your PDF.
PDF.online
If you prefer a PDF reader extension equipped with various PDF tools, PDF.online is optimal for viewing, cropping, and converting PDFs. And the way to utilize it is simple. Open your Chrome and click "Extensions". Choose "PDF.online" and tap "View and Edit". Then upload your file to read, handwrite, and annotate your PDF.



However, this PDF reader extension on Chrome only provides free service once a day.
Major features:
View your PDF in dark mode;
Fill and sign a file;
Add images and links.
BeeLine Reader PDF Viewer (Firefox)
BeeLine Reader PDF Viewer is a PDF reader extension for Chrome, Firefox, and Microsoft Edge. It offers basic PDF viewing tools to increase your reading efficiency. This PDF extension can also display a PDF in presentation mode which helps you get rid of irritating pop-ups and other interruptions during reading.

Major features:
Read PDFs in incognito mode;
Search and find specific words or text;
Show the table of contents to swiftly locate your desired text.
Bonus Part: An Entry-level PDF Reader for Windows
Despite the availability and convenience, a PDF reader extension still has several flaws, including the limited free features and insufficiency to defend against malware. If you frequently work with PDF files, a desktop PDF viewer is better for reading a downloaded or received PDF securely.
SwifDoo PDF is a full-featured Windows PDF editor and viewer to enhance your reading comprehension. It allows you to change the page background, split the screen to view different sections of the same file, and add different annotations to markup the text.


Final Words
With the listed 7 PDF reader extensions for Chrome and Firefox, we believe you can find an ideal one to make you read PDFs more quickly and conveniently. Most of them are free to use and have an intuitive interface for easy navigation. You can also utilize a Windows PDF reader like SwifDoo PDF to safely open and view your PDF files with more tools.