Introduction:
Despite the fact that users are accustomed to paying for commercial PDF editors like Adobe Acrobat, Foxit PDF, and
SwifDoo PDF
, this type of PDF editor allows you to edit a PDF at no cost:
open-source PDF editor
.
Akin to commercial PDF editors, open-source PDF editors enable users to add, convert, annotate, as well as password-protect PDF documents. If you have ever wondered what an open-source PDF editor is, take a look at this list of selected best open-source PDF editors available on Windows, Mac, and Linux. Enjoy!
Before we go any deeper, we have to figure out what the word "open source" refers to. Then see the reviewed five best open-source PDF editors and I'm sure you will find what you need.
What Is Open Source Software?
Generally, open-source software (OSS) is software that is released without the source code, which makes it open to everyone. Users can use, modify, and distribute open-source software under the same terms as commercial software. Even more, software programmers can make the best of the source code to edit and control how a program or application operates. Hence, it is possible for programmers to develop a brand new program based on the source code. OSS usually comes with a license that allows programmers to customize the software to their own needs and decide how it is disseminated.
If you are looking for a free PDF editor, don't go the extra mile to do searches on any search engine. The mentioned open-source PDF editors cut the mustard. Let's cut to the chase for the best open-source PDF editors (in no particular order).
LibreOffice (for Windows, Mac, Linux)
PDFSam Basic (for Windows, Mac, Linux)
PDFedit (for Windows)
Okular (for Windows, Mac, Linux)
Apache OpenOffice Draw (for Windows, Mac, Linux)
LibreOffice
Libre Office is a trustworthy open-source PDF reader and editor widely recommended by Reddit netizens and accepted by millions of users globally, including certain governmental sectors. This freeware comprises the most multi-functional Office suite: Writer (word processing), Calc (spreadsheets); Impress (presentations); Draw (vector graphics and flowcharts); Base (databases); and Math (formula editing). Consequently, many users may consider it a replacement for the MS Office suite.
With multiple tools available, it seeks to improve working efficiency. Being open-source means the suite works well with Windows, Mac, and Linux, with a file size of 298 MB. Let's explore how to edit a PDF with LibreOffice Draw.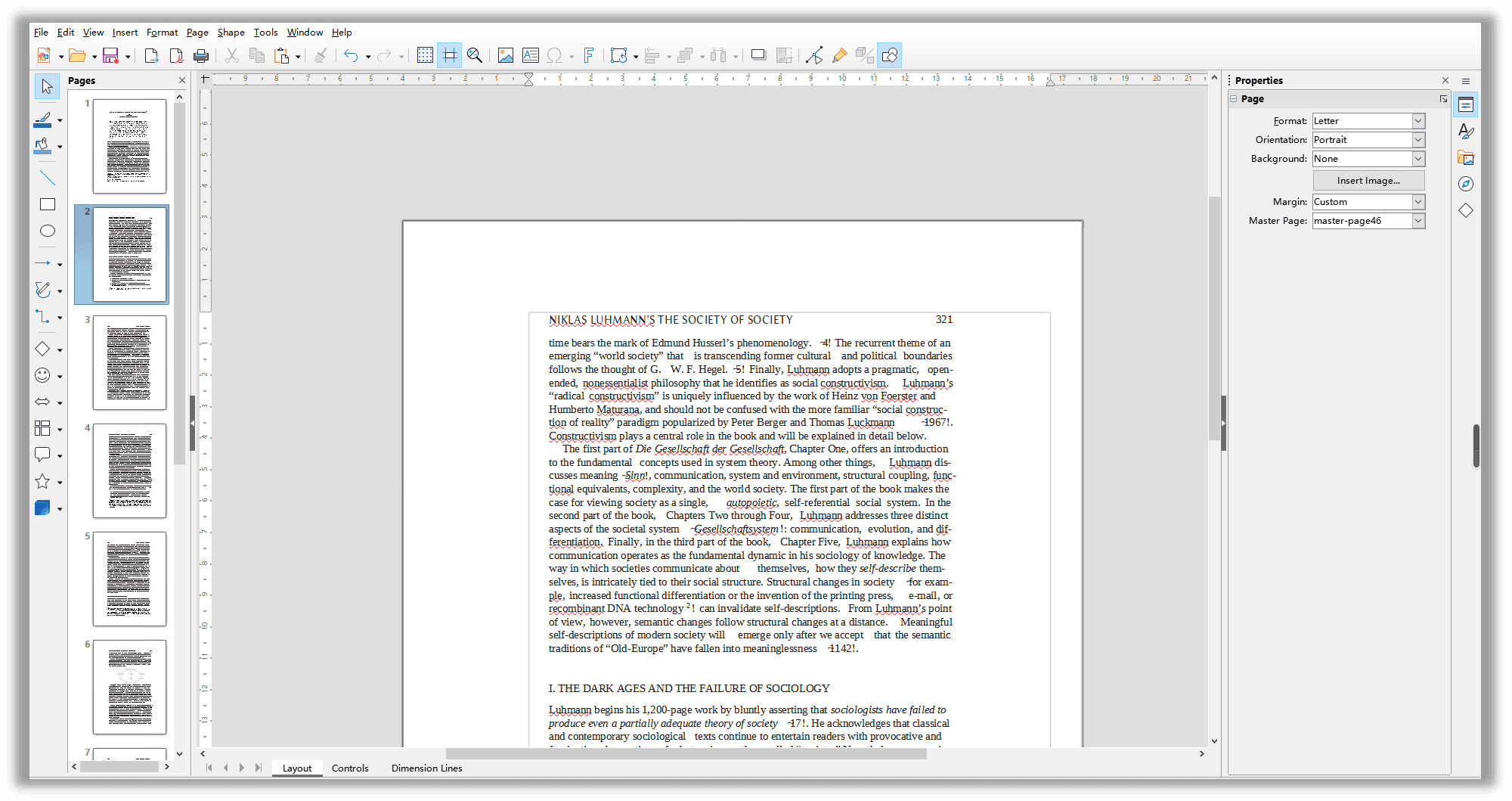 LibreOffice Draw enables the user to:
Add, copy, paste, and highlight PDF text;
Insert image, chart, table, and media into the PDF;
Adjust the alignment and spacing;
Change the page orientation, margin, indent, font size, and color;
Add multiple shapes to PDF pages;
Insert or delete pages from the PDF document.
The editor only lists the most impressive features, and LibreOffice is worth a try if you are looking for a free open-source PDF editor. Personally, when testing this freeware, it feels like I'm using Microsoft Word to apply certain changes to an editable file format rather than a hard-to-edit PDF document.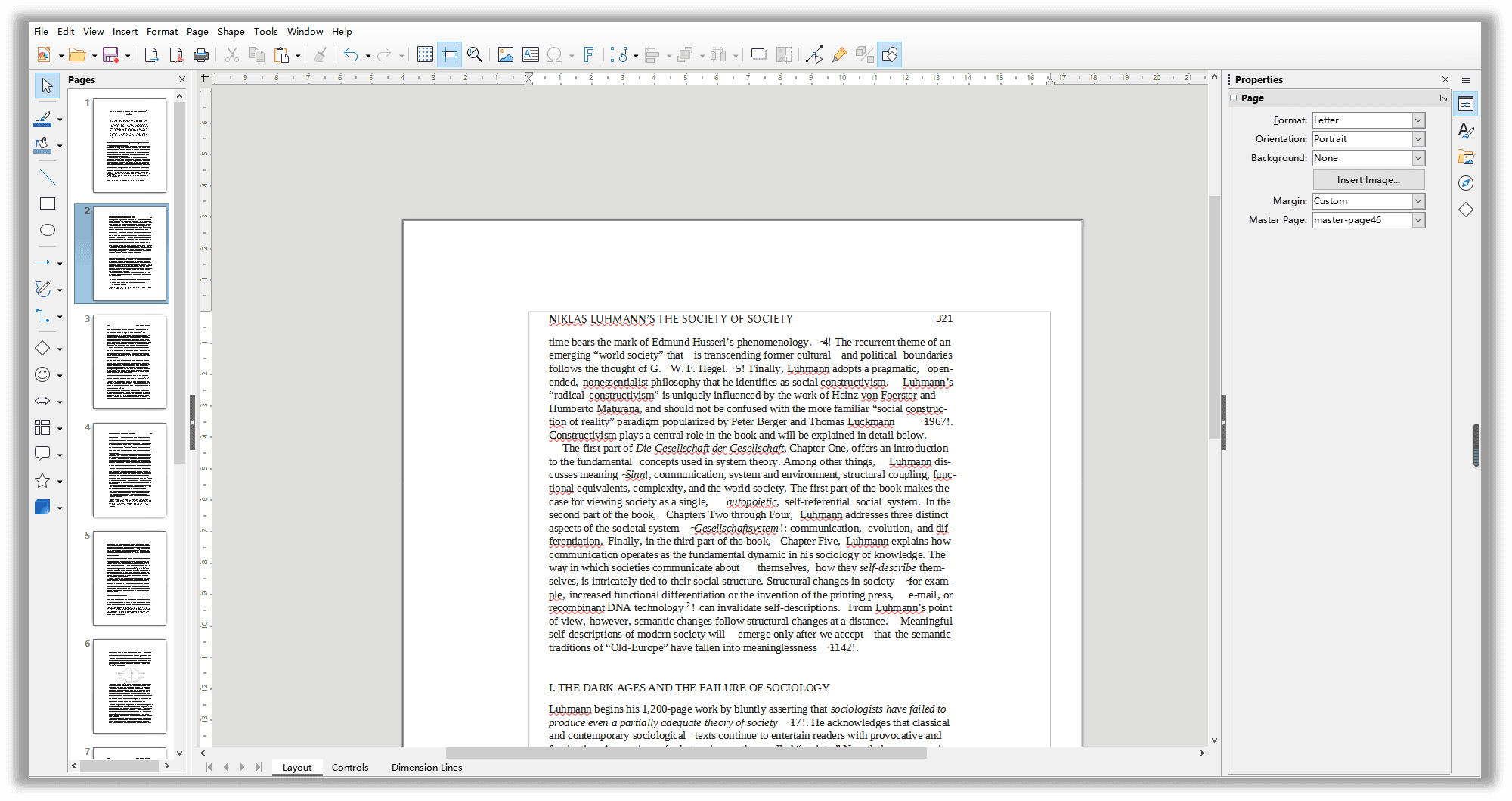 However, as someone on Reddit has mentioned, LibreOffice is an incredible free open source PDF editor, but it also corrupts the original formatting. According to our test results (see the above image), the text box slightly deviated from the center.
Pros
It can open multiple Microsoft Office formats, including Excel, PowerPoint, and Word;
Users can add annotations to a PDF file;
Automatic detection for existing PDF layouts and elements;
Feature-rich tools.
Cons
Limited exporting options available;
No cloud storage choice;
Complex user interface requiring a steep learning curve;
To sum it up, LibreOffice Draw can be regarded as an amazing PDF editor without registration or payment. Its open-source lets you maintain and upgrade the software anytime. On the condition that you may need an open-source PDF editor on your Android or iOS device, you can try Collabora, a professional PDF tool based on LibreOffice.
PDFsam Basic
Don't be fooled by the name "Basic", PDFsam is a powerful free open source PDF management tool. Different from LibreOffice Draw, PDFsam is a good PDF merger and splitter. PDFsam provides three different modules, namely Basic, Enhanced, and Visual. Every module has its features, and PDFsam Enhanced is its PDF editor. Let's take a closer look at how they differentiate from each other:

PDFsam Basic (free): Rotate; split (by file size or bookmarks); mix; extract (single page or specific page range); and merge PDF files (including bookmarks, forms, and table of contents);
PDFsam Enhanced (partially free): View (PDF, ePub, and .cbr/.cbz file); create PDF (from images, scanner, or MS Office files); convert (MS Office formats, HTML, RTF, images, and TXT); edit (add, cut, copy and paste text); add watermark, header, footer; annotate PDF; fillable PDF forms; secure PDF documents; and OCR (for recognizing characters)
PDFsam Visual (free for two weeks): Compress; reorganize and combine PDF pages; convert images to PDF; convert PDF to grayscale; delete pages; password protect PDF, and crop PDF documents.
Pros
Compatible with Windows, Mac, and Linux
Has a clean user interface;
Different versions for meeting different needs;
Multiple related features;
Cons
Long installation process;
It lacks customer support;
PDFedit
PDFedit is a free and lightweight open-source PDF editor for windows. To be honest, the first impression this PDF freeware gives is a rather old product, developed several years ago. Although the design does not follow trends, it is intuitive enough and users can easily navigate to what they may need.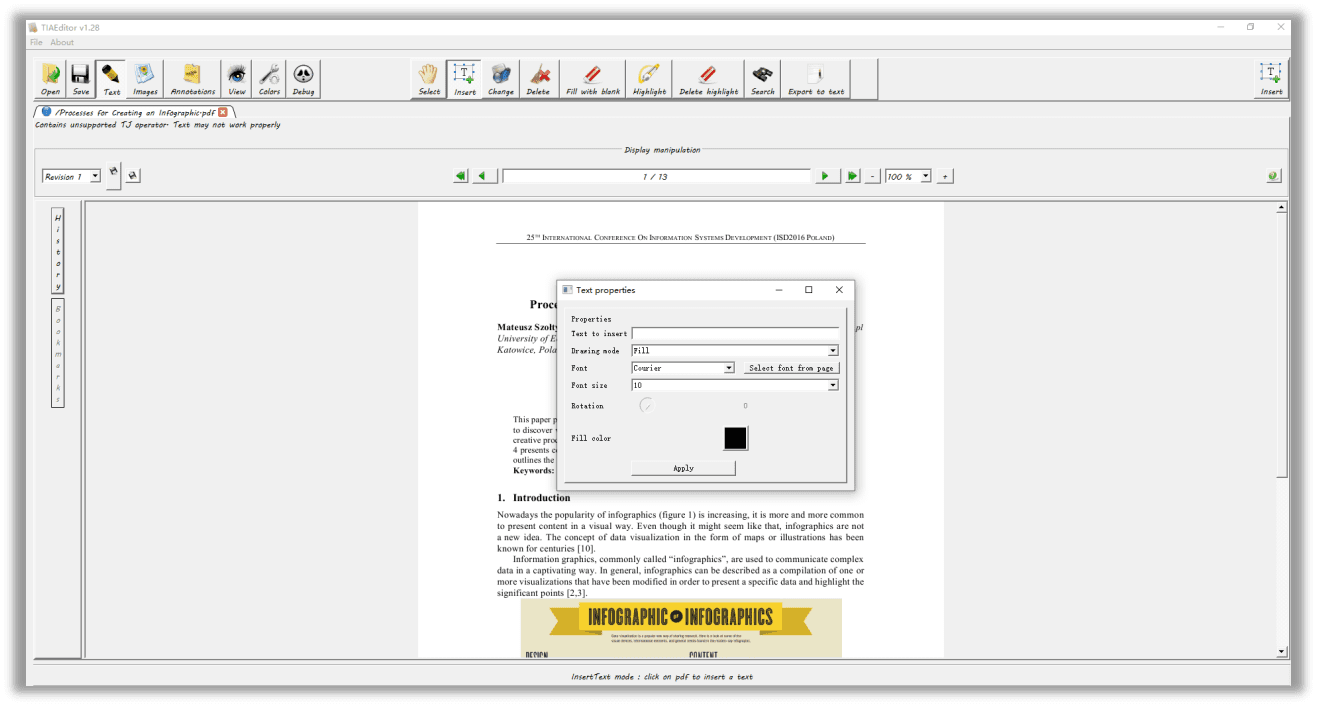 This PDF editor lets users read, change and extract information from a PDF file. In addition, this tool is fully compatible with Windows 7/8/10. With PDFedit, users can access the following features:
Insert text, link, and images;
Change the color, font, and font size of the inserted text, and how the inserted text displays;
Add and remove a highlight, and change the color of the highlighted area;
Convert the current PDF to a text file;
Search
Snapshot
Add bookmarks and comments to the PDF;
Pros
Small file size
Simple user interface and easy to navigate
Cons
Limited features
Occasional crashes for no reasons
No recent update as the latest version was released in 2014
Okular
Strongly recommended by Reddit netizens, we decided to give Okular a try, and the truth is that this free open-source PDF editor performs way better than I expected. This freeware is a universal PDF document viewer developed by KDE.
With a minimalist design style, Okular is compatible with Windows, Mac, and Linux, which is convenient for cross-platform users. Take a look at the following to see how Okular can benefit you:
Add bookmark;
Table/area selection;
Select text on the current page or the whole document for copying;
Speak selected text and the whole document;
Add and delete annotation;
Add sticky/pop-up note;
Overview view mode for continuous reading.
As described earlier, Okular is a PDF reader. Perhaps Okular isn't an eligible PDF editing program since users cannot edit text on the PDF, but personally, this freeware is an amazing and powerful open-source PDF reader and annotator. Even more so, Okular is safe to download because its stable release of it is available on Microsoft Store. If there is any problem using this open-source PDF reader, please refer to its instructional handbook.
Pros
Organized layout ;
Different view modes to meet diversified PDF reading needs
Cons
Apache OpenOffice Draw
Different from the above-mentioned open-source PDF editors, Apache enables users to edit presentations, spreadsheets, and Word documents. What's more, users can draw charts & graphs, add shapes, and edit databases with sits graphics-based editor.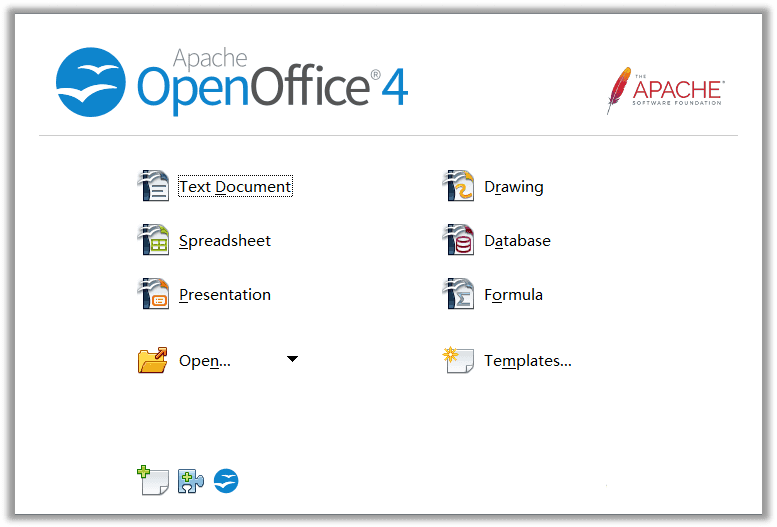 With Apache OpenOffice, you can easily edit PDF, DOCX, DOC, HTML, and TEXT documents. But before you open a PDF document using Apache OpenOffice, you need to download an extension PDF Import (for Apache OpenOffice) and add it to the software. That is to say, the open-source PDF editor cannot directly edit a PDF without the help of a plug-in. It can help users to:
Add text, and change style, line spacing as well as alignment;
Add images, shapes, and objects to the PDF;
Highlight text and reorder PDF pages;
Change the position and size of the PDF
Pros
Lots of options for editing PDF documents;
Ability to create diagrams;
Compatibility with different file formats;
Built-in spell-checker.
Cons
Difficulty in opening a PDF document;
Slow performance when it comes to large files.
Possibility of corrupting the original formatting
Well, here are all the product introductions. In case you can get the whole picture of the mentioned open-source PDF editors, we've summarized the highlights of each product.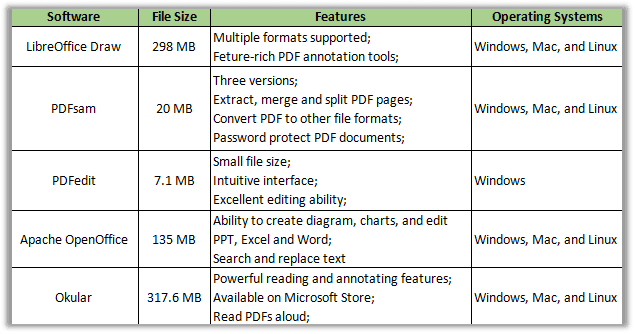 Wrapping Up
During our review, we screened out open-source PDF editors having less relevance to editing, such as InkScape, a vector graphics editor. Among all listed products, LibreOffice is the most comprehensive open-source PDF editor. But as we have said before, every open-source program has its unique features. Users should take into account their actual needs for a PDF editor.
If you need a commercial PDF editing program to change the text in a PDF, then the SwifDoo PDF editor can be your trusted partner. Don't just wait and see, enjoy the 15-day free trial offered by this comprehensive PDF software for your Windows computers.