In the face of heavy PDF paperwork, you may find it essential to employ specialized PDF management software. A PDF file manager is one that helps you edit, combine, split, and modify your PDF documents with ease. A handy PDF manager makes it much easier to manage PDFs as per your requirements.
In case you have no idea which is the best PDF file manager, we've reviewed several PDF management tools (with Microsoft PDF Manager in the list) and concluded with the handpick 6 best PDF managers. No judgment. Let's see how these PDF management tools work out for you.
1#. SwifDoo PDF
When you urgently need free PDF management, a lightweight PDF manager such as SwifDoo PDF comes to the rescue. The 30 MB installer is never a burden. We put SwifDoo PDF at the top not because of this, of the function calls.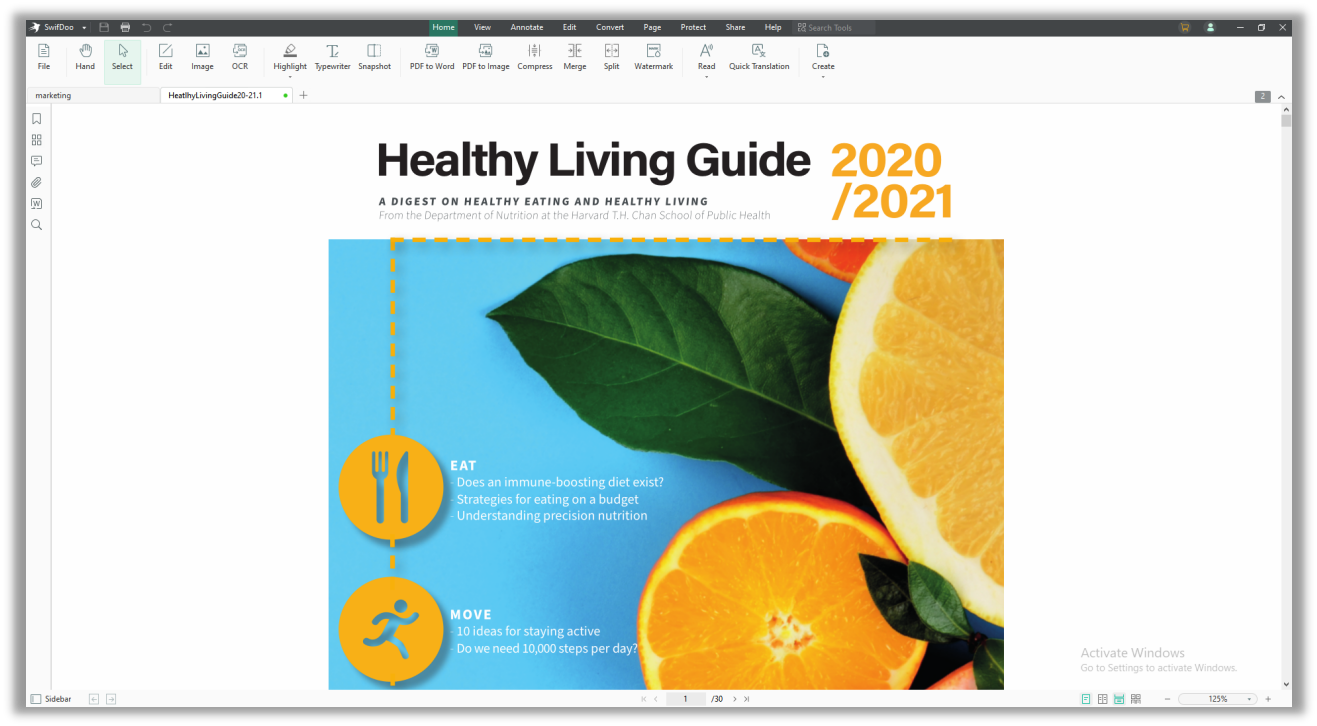 SwifDoo PDF is one of the best PDF file managers for Windows. It has outstanding performance when it comes to manipulating PDF pages, such as splitting, merging, and extracting. Aside from these features, SwifDoo PDF is more than meets the eye. This software is a single utility having the ability to create, edit, convert, and protect PDF documents.
All these most-used features are effortlessly accessible in this one-stop solution, especially with the help of an Office-like interface. Have a closer look at how this comprehensive PDF tool simplifies PDF management work.
Reasons to buy:
A user-friendly interface;
Powerful PDF management capabilities;
Full set of PDF-editing tools, including an OCR engine;
A 15-day free trial;
Reasons to reconsider:
Windows OS only;
No mobile or online version.
How to Manage PDF with SwifDoo PDF
Step 1: Download the latest version of SwifDoo PDF on your PC;
Step 2: Launch the program and navigate to the Page tab;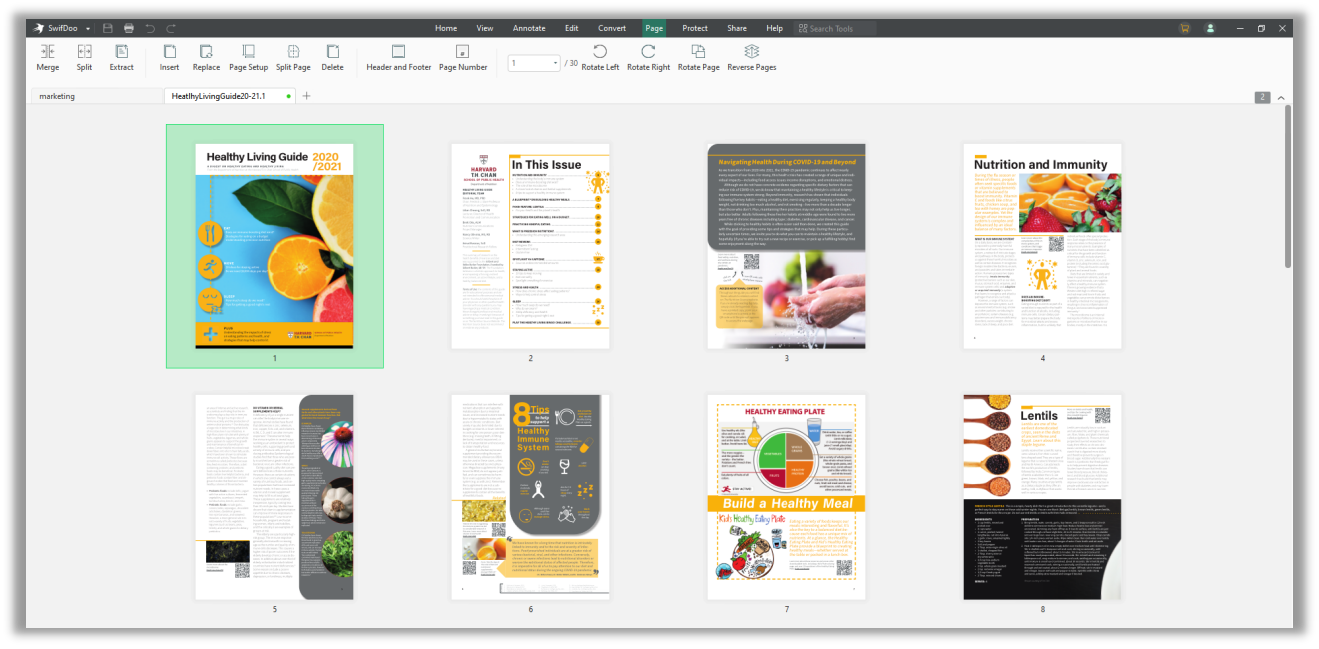 Step 3: Select Merge, Split, or other features to readily manage your PDF documents.
As opposed to other PDF programs, no watermarks will be added to the edited files during the free trial. Besides, SwifDoo PDF offers relatively reasonable subscription plans that most users can afford.
2#. Advanced PDF Manager
If you need to do more with PDFs like a pro, then Advanced PDF Manager can be the PDF management software you've been scouting for. The sleek UI requires no learning curve so no matter whether you are a heavy PDF user or not, it's a piece of cake when it comes to managing PDF pages or files.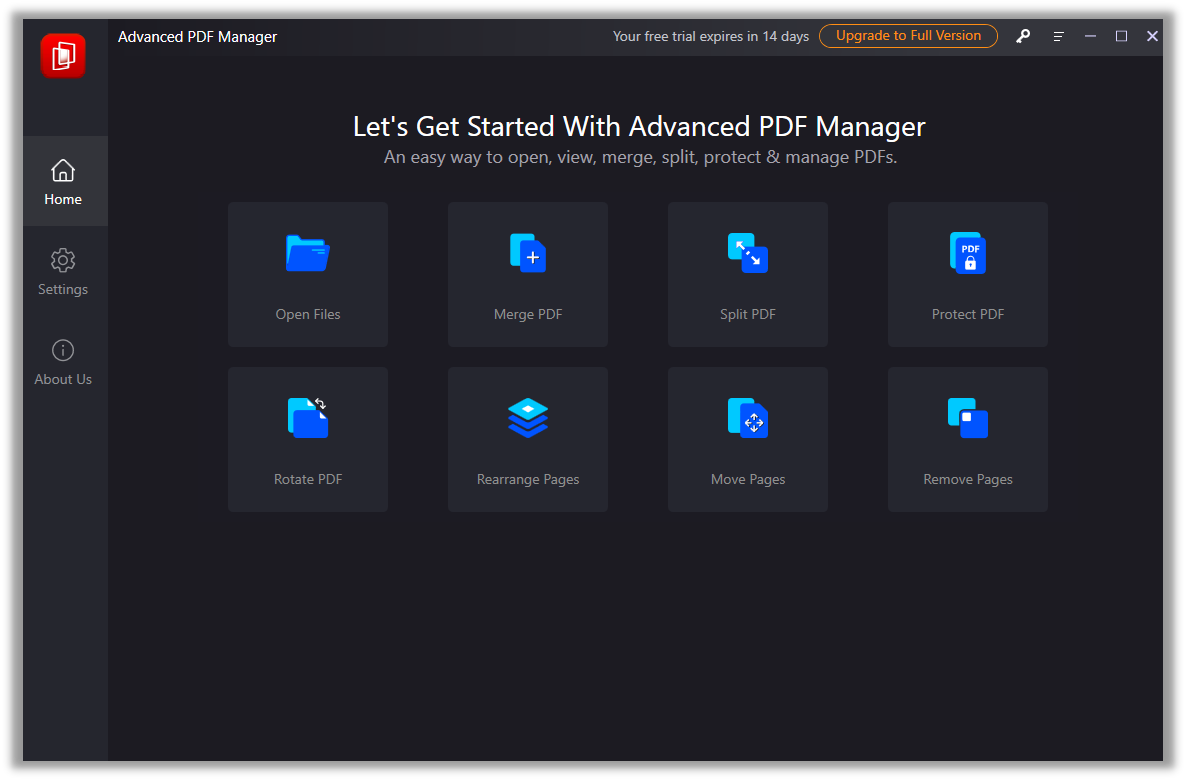 Reasons to buy
Clear UI design
Great PDF management capability
60 money-back guarantee
Reasons to reconsider
Limited features
Only available on Windows
3#. PDF Manager - Merge, Split, Trim
PDF Manager is a relatively easy-to-use PDF page manager and an "Essential App" selected by the Microsoft Store. It's a dedicated PDF management tool on Windows that enables users to merge, split, extract, and combine PDFs in seconds. The Microsoft PDF manager was designed especially to manage PDFs for better archiving and handling of multiple PDFs or large PDF files.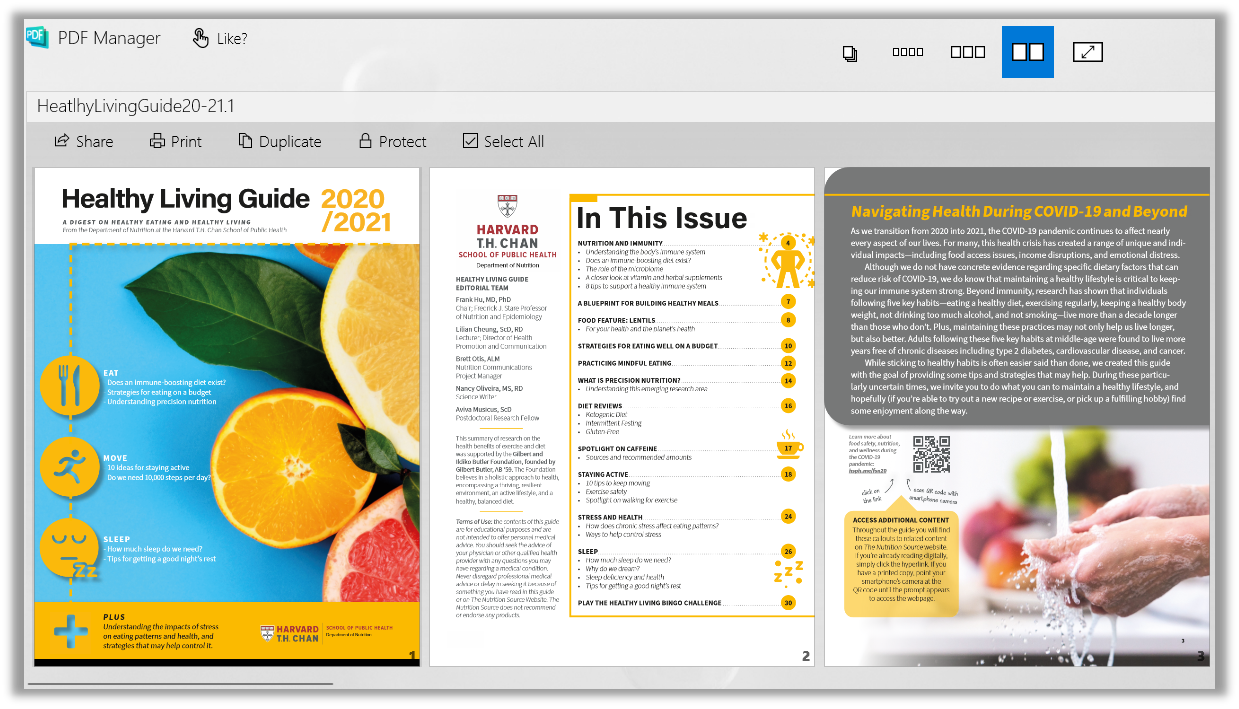 Reasons to buy
Creative design;
Affordable price;
No learning curve required.
Reasons to reconsider
Windows only;
Limited features.
Unstable pricing strategy
Indeed, we need to admit that this is an excellent PDF management tool. However, it is not an ideal option for PDF power users. Why? Compared to all the other PDF managers mentioned in this article, Microsoft PDF Manager seems less comprehensive and professional. This management program does not provide editing, annotating, or converting facilities to manipulate your PDFs.
In addition, this app is only available on the Microsoft Store, that is to say, users can solely download this document manager on Windows.
If you want to know how to choose between SwifDoo PDF and Microsoft PDF Manager, check out this post for more details.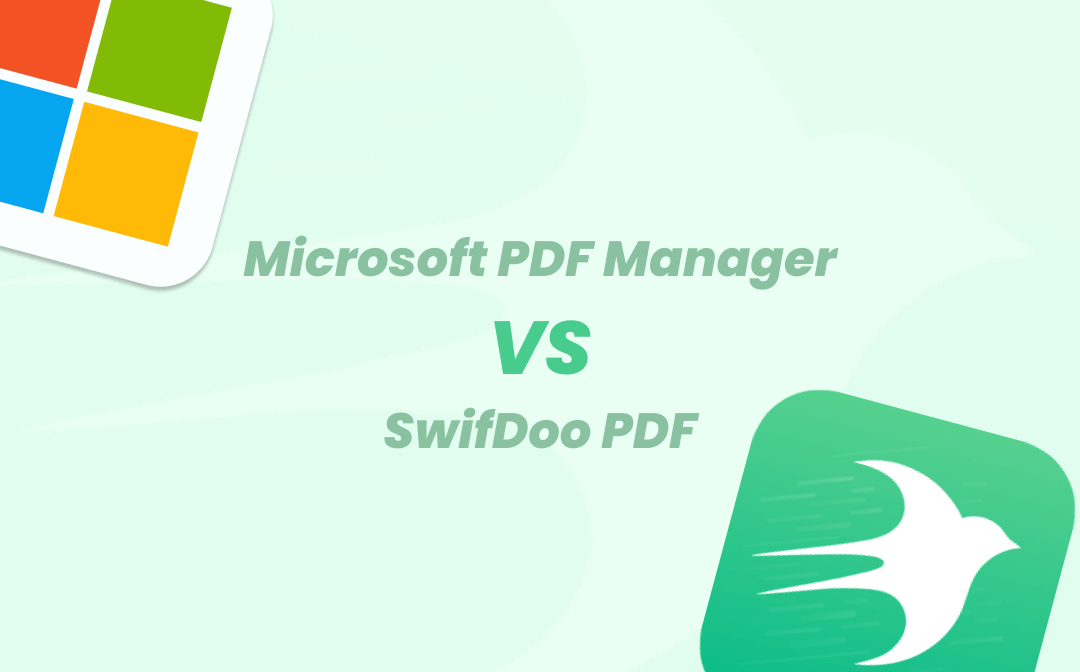 Microsoft PDF Manager VS SwifDoo PDF: Which One Suits You Best
A good PDF management tool can manage PDF pages easily. Which is a better PDF manager between Microsoft PDF Manager and SwifDoo PDF? Find answers in this post.
READ MORE >
4#. Wondershare PDFelement
Wondershare PDFelement is a full-featured PDF manager that offers a wide variety of tools to work on PDF files. You can make full use of it to perform all basic and advanced editing, including adding comments, editing, converting, compressing, OCR, combining PDFs, and more. All tabs and buttons are presented in a clean and direct interface in the top navigation bar. Let's see what this PDF management tool can do for you:

Reasons to buy
Offer a plugin for MS Office;
Fast customer service;
Available on Windows, Mac, and iOS.
Multi-language user interface, including English, German, French, Italian, Dutch, and more;
Reasons to reconsider
Watermarks added to the edited PDF in the free trial;
Limited three free tasks.
5#. Qoppa PDF Studio
If you are searching for a specialized tool to auto-manage PDFs on your PC, Qoppa PDF Studio PDF Editor may be worth mentioning. This software is designed to improve and automate the PDF document management process.
The chief reason why we include Qoppa PDF Studio in the list can be attributed to its powerful batch-process capability, including but not limited to performing PDF compression, conversion, editing, and cropping in bulk. Read on to find out what this software can do to help manage multiple PDF files at one time: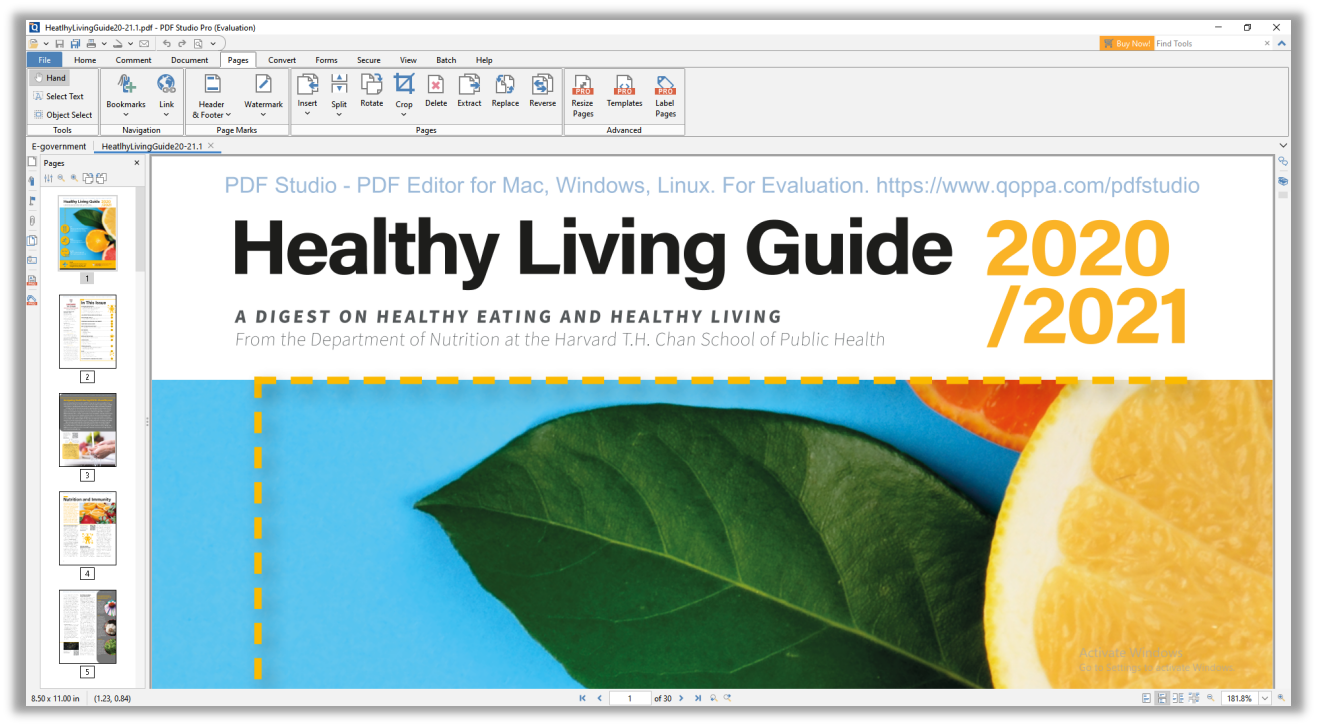 Reasons to buy
Equipped with an action wizard to automate repetitive PDF tasks;
Strong cross-platform compatibility;
Anonymize all the annotations made to the document;
Able to fill in PDF forms.
Reasons to reconsider
Relatively complex UI design
Higher subscription fees
6#. AvePDF
AvePDF is an online PDF file management app released by ORPALIS in 2017. This isn't a big name when compared with other competitors in this field, for instance, iLovePDF or SmallPDF, in particular. Nevertheless, we take into account the functionality and cost as well.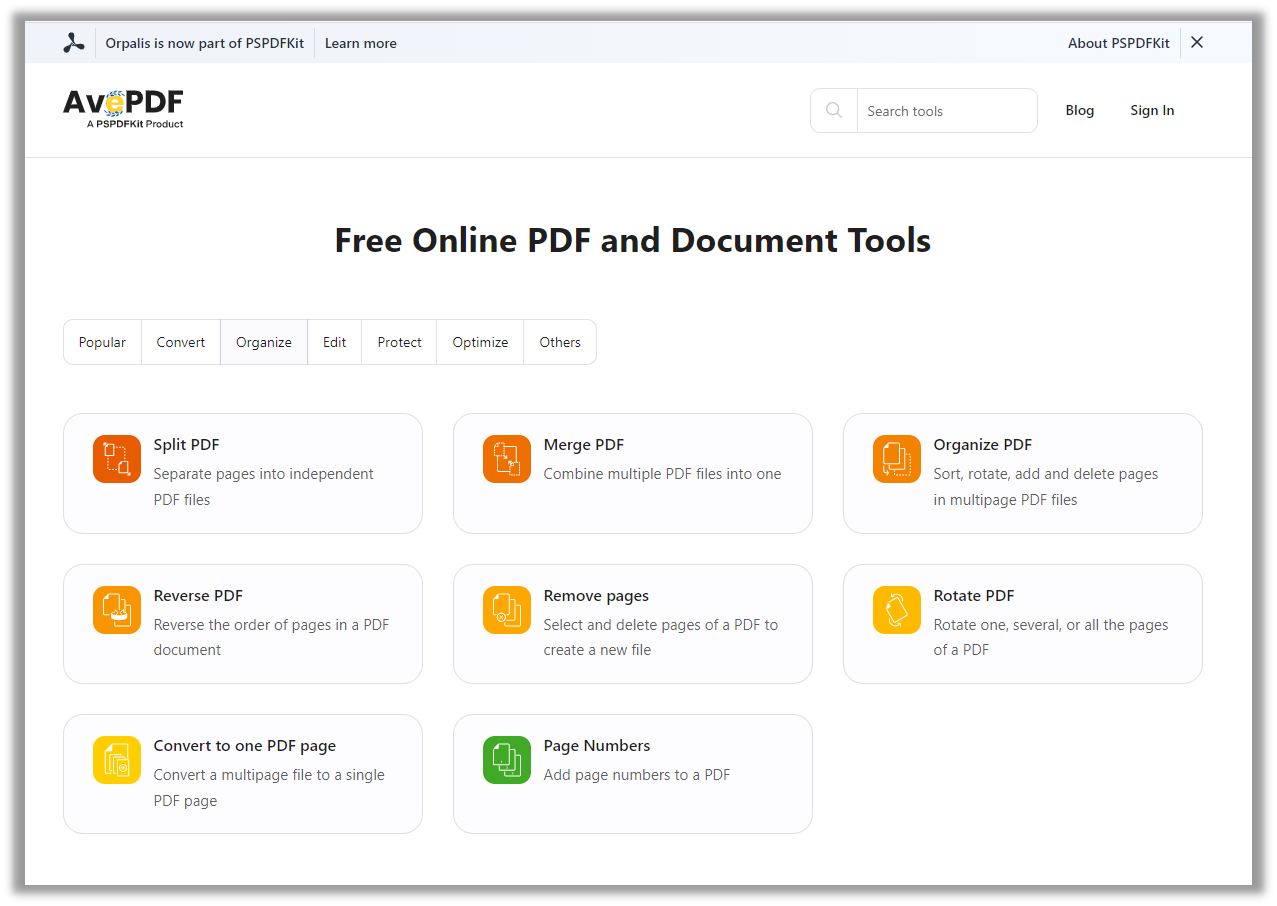 This web-based tool is a full-fledged free document manager. By equipping itself with multiple features regarding PDF management, AvePDF stands out from the crowd and catches our eyes. Have a glance at how to manage PDF files using this online free utility:
Reasons to buy
Free of cost;
Support Google Drive, Dropbox, and hyperlinks to upload files;
Provides SDKs for software development;
More than 30 features to meet diversified needs;
Reasons to reconsider
Online version only;
Max file size for each task (128 MB);
When you are in need of managing PDF files with an Internet-based program, AvePDF turns out to be an amazing PDF manager online. Together with a clear workstation, users can complete their PDF compression, splitting, or merging tasks in a few clicks.
Conclusion
With five PDF managers introduced in this article, you may have found the answer to how to efficiently manage your PDF files online or on another OS. Each of the five mentioned PDF management software has strengths and weaknesses, and this post has reviewed and listed their pros and cons for reference.
For those who are seeking a comprehensive and cost-effective PDF file manager, SwifDoo PDF is definitely worth a shot as it strikes a fine balance between cost and functionality.