In some specific situations, we may find it useful to save a color PDF as a document in grayscale or black and white. For instance, when the office is only equipped with a monochrome printer, and we want to make the PDF file size smaller and save the colored ink.
Converting a PDF to grayscale or black & white means to remove all color information and take on corresponding shades of gray to the PDF document, which mainly targets the color images, charts, graphs, and other imagery materials within. Now follow me to check out online and offline PDF to grayscale converter. We promise all of the mentioned are completely FREE solutions.
Convert PDF Document to Grayscale Offline
In this section, three PDF converters on Windows and Mac will be discussed to show how to save a color PDF into grayscale.
Convert PDF Document to Grayscale on Windows
SwifDoo PDF
SwifDoo PDF recently introduced a brand-new version to the public. The 2.0 version integrates more conversion options which makes this PDF converters a more powerful tool. It now supports conversions among multiple formats.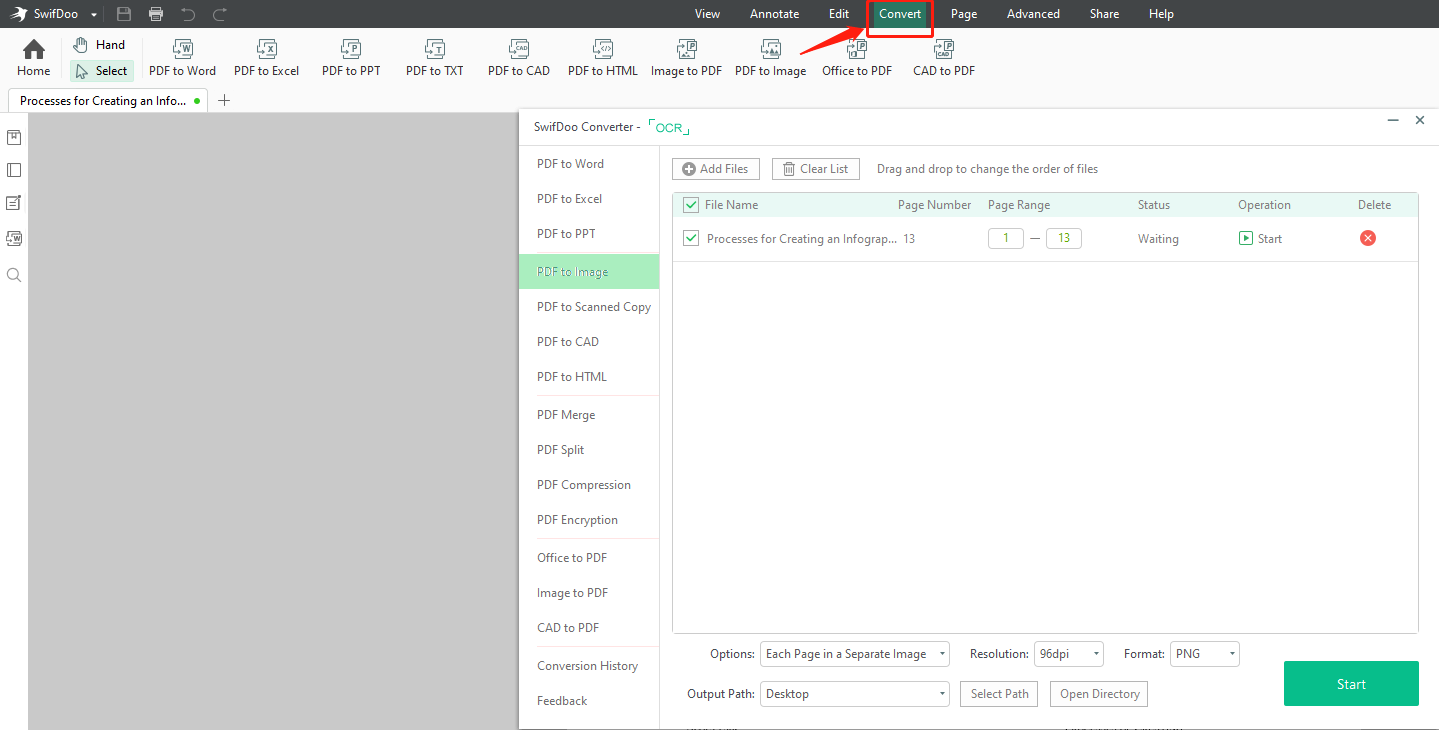 To convert a PDF document to grayscale or black and white, the developer of SwifDoo PDF has categorized this feature in Print. Let's have a look at how to perform the conversion task:
Step 1: Download and install the program;
Step 2: Open the software and click SwifDoo. When the drop-down menu shows up, choose Print;
Step 3: Change the printer if you need and then tick the Color box to change the output color into Grayscale. Click on the Print button to export the black and white PDF.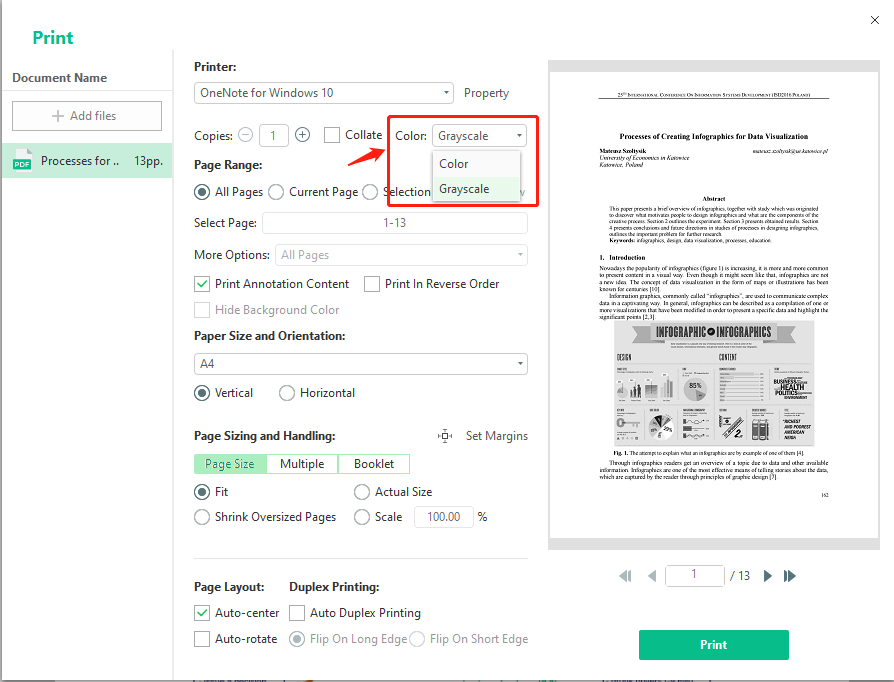 SwifDoo PDF offers a preview so that users can decide whether to print the grayscale PDF. Most PDF converters enable users to export color PDFs to black and white documents the same way, by changing printing color in printing settings. If you need to batch-process such conversion tasks, click "Add Files" on the left column to upload more PDF documents.
Sejda PDF
Sejda PDF may be a stranger to you, however, it is in fact a versatile PDF program. Different from SwifDoo PDF, Sejda PDF doesn't classify this feature into "Print" and its converter enables you to directly convert a PDF to grayscale. Therefore, the conversion process is comparably easier than the preview method.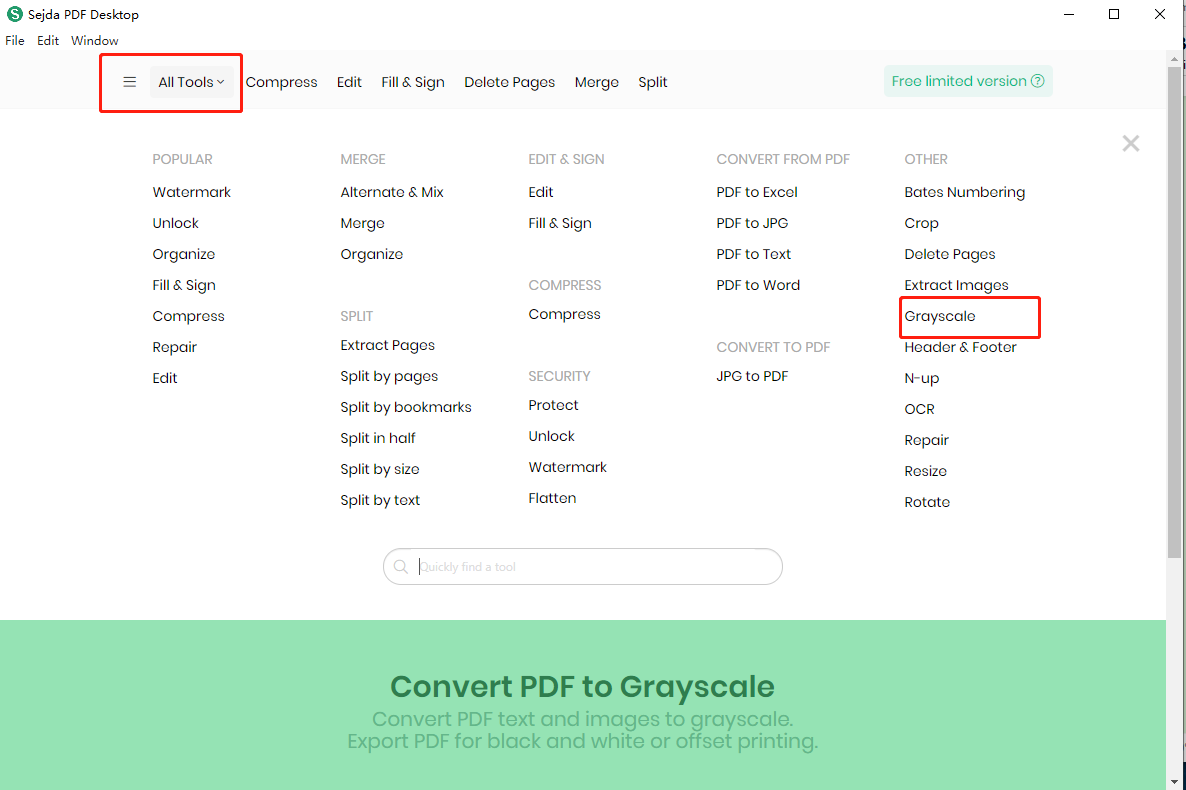 Step 1: Download and install Sejda PDF;
Step 2: Launch the PDF program;
Step 3: Click All Tools to choose Grayscale;
Step 3: Upload the PDF document and click Convert PDF to Grayscale.
If you need to specify which part to convert, click "More Options" to change the relevant conversion settings. As a comprehensive PDF program, Sejda PDF can help with multiple PDF tasks, such as merging, splitting, e-signing, protecting and converting.
In addition, Sejda PDF has an online version, so that users can enjoy their free online service. Please note that Sejda PDF offers 3 free conversion tasks per day. While for other PDF converters, such conversion is free of charge or any subscription plans simply because they save a PDF as grayscale by changing printing settings.
Convert PDF Document to Grayscale on Mac
Preview
Good for Mac users because of the built-in PDF editor and viewer, Preview. Without asking other third-party PDF products for help, Mac users can directly convert a PDF to black and white for free, which makes the whole conversion process much simpler. Here's how to export a color PDF into grayscale on Mac.
Step 1: Open a PDF document with Preview;
Step 2: Click File on the menu bar, then select Export;
Step 3: Type the file name in the box next to Export As;
Step 4: Click on the Quartz Filter to choose Black & White;
Step 5: Hit the Save to finalize the conversion.
Convert PDF Document to Grayscale Online
AvePDF
AvePDF is a new name to me as well. When I searched "how to convert a PDF to grayscale" on Google, this website jumps out and ranks third place. This converter incorporates a bunch of features to help with different conversion tasks, including PDF to Microsoft Office files, images, PDF/A, and grayscale.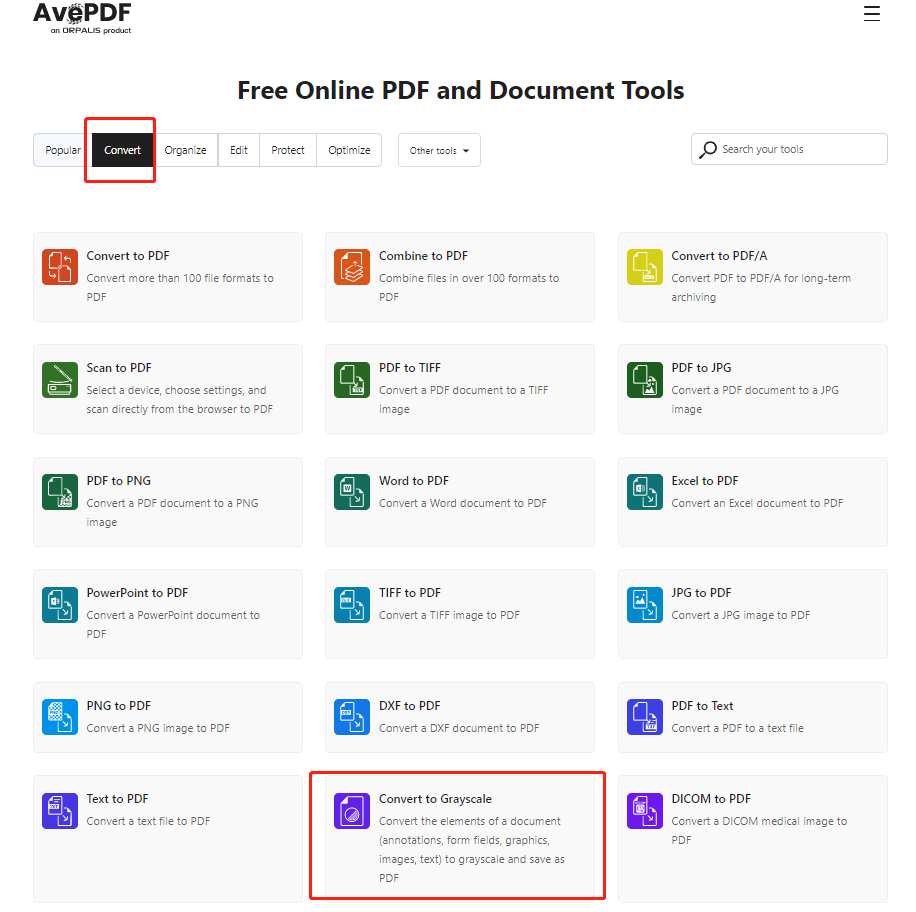 Step 1: Enter the URL on the search bar;
Step 2: Import your PDF document to AvePDF's workstation via local folder, Google Drive, Dropbox, or link;
Step 3: Tick the document elements (annotations, form fields, graphics, images, or text) that need to be converted to grayscale;
Step 4: Click Convert to grayscale to export the black and white PDF. Optionally, you can save the PDF document into the cloud storage platform.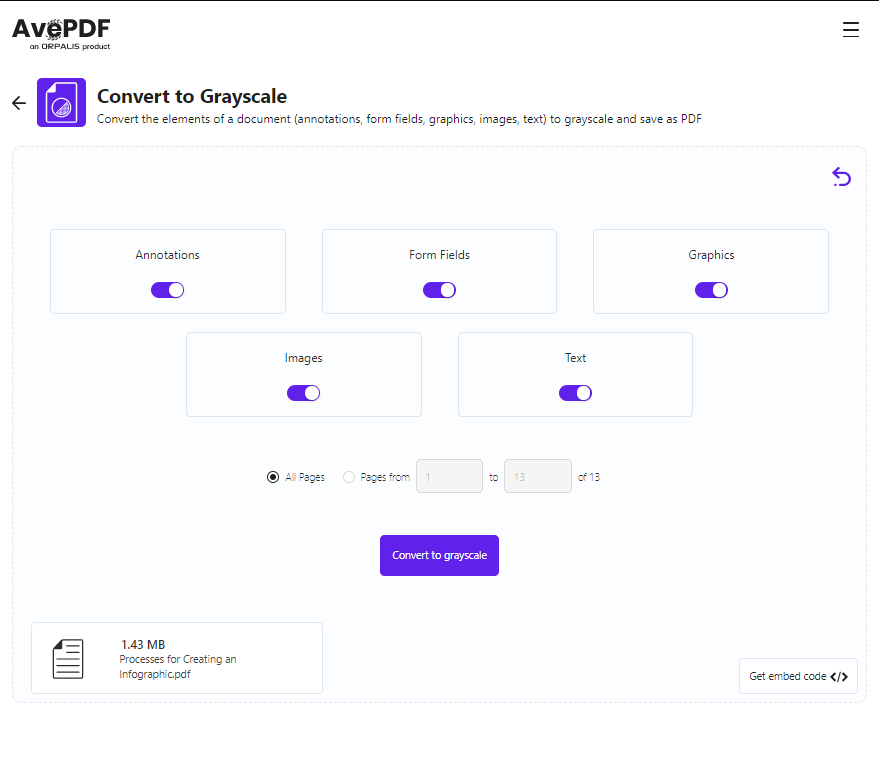 Online2PDF
Online2PDF is another web-based colored PDF to black and white converter. Though the website design may seem a bit out-of-date, we should not brush aside its functionality. This online tool has developed tools to convert several file formats, including MS Office (Word, PowerPoint, and Excel), OpenDocument (ODT, ODS, and ODP), text (ePub, MOBI, AZW3), and text (TXT, and RTF).
The conversion process is not difficult, which only requires several clicks:
Step 1: Open the official website and look for Convert to b/w feature;
Step 2: Upload the PDF document to the workstation;
Step 3: Tick Black-and-White (gray scale) under Preferences;
Step 4: Click Convert to export the new PDF.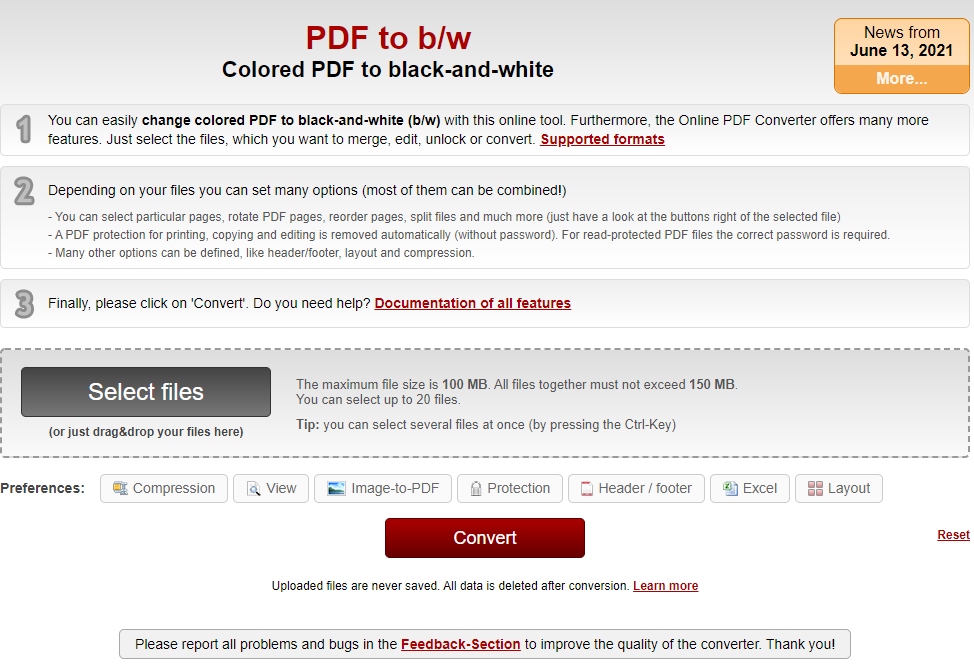 The features that this online converter amaze me are the choices for quality and resolution of images. With these features, users can decide whether to compress the current PDF, thus reducing the file size.
Wrapping Up
Most desktop PDF programs, irrespective of operating systems, can convert a PDF document to grayscale or black-and-white for free through changing printing color.
However, as for online PDF converters, they can directly perform free conversion, and the only precondition is you don't run out of the free limits. Otherwise, you need to go premium. Your files are safe in their hands as they use the best encryption methods to protect your data.
FAQs about Converting PDF to Grayscale
Q: How do i convert a PDF to grayscale with Adobe Acrobat?
A: If you are running Adobe Pro DC or Adobe Reader on your PC, you can save a PDF as grayscale by following the steps:
Click View, then choose Tools, and select Print Production;
Press the Preflight option and then choose Prepress, Color and Transparency;
Select Convert to grayscale in the drop-down menu;
Click on the Analyze and fix ribbon to complete the conversion.
Q: What are the differences among black-and-white, monochrome and grayscale?
A: These three concepts actually refer to the same thing in terms of photography and printing.
However, a black-and-white photo consists only two colors, black (ink or toner) and white (no ink or toner). While grayscale images are usually made of black, white, and the entire scale of shades of gray.
Monochrome, in fact, means single color, which has its origin from Latin. It is an image having exclusively shades of one color from the brightest end to the darkest. Not all monochrome images are grayscale as monochromatic images consist of any color.