Introduction:
Highlighting key words, phrases or sentences is a way of annotating text.
Highlights in a PDF document
make key text stand out, which helps readers quickly get the main idea of written content, but to some extent, a PDF file without them seems to be more clean and reader-friendly. Therefore, there may be times when you want to
remove highlight from PDF
. Then how can we make it?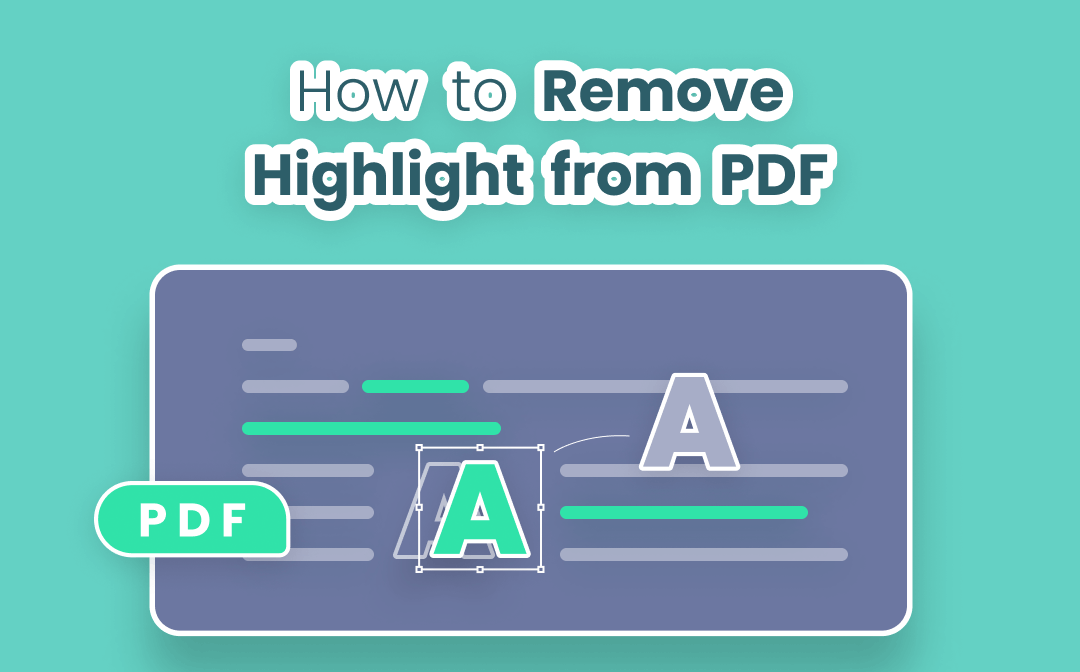 Using PDF software like SwifDoo PDF will get around the issue and we would like to offer some other free methods to remove highlight from PDF in this post.
What Program Can I Use to Remove Highlight from PDF?
If you ever tried to make changes to a PDF, you may be already aware that it is tough to remove highlight from PDF without the help of a dedicated PDF program. The good thing is if you search on the Internet, there are a number of results telling you which tools may be useful. All you need is to learn which one suits you best.
On Windows, irrespective of Windows 10, Windows 8, 7 or XP, SwifDoo PDF is your ideal choice. For macOS users, you have the built-in PDF viewer, Preview to help, or you can employ third-party software, Wondershare PDFelement. Regardless of Windows, macOS or Linux, the online PDF tools, PDF4me and Smallpdf have the ability to unhighlight PDF documents.
Remove Highlight from PDF on Windows
SwifDoo PDF
SwifDoo PDF is a feature-rich PDF management application enabling users to convert, edit, annotate, and delete annotations in a PDF, and more. It lets you remove one highlight from a PDF at a time and also remove all highlights from a PDF in one go. What's important, the removal of highlights in a PDF can be achieved at no cost. Now take a quick look at how to remove highlight in PDF with SwifDoo PDF on Windows.
How to Remove a Highlight in a PDF
Step 1: Free download and launch SwifDoo PDF, then drag and drop your PDF file into the program;
Step 2: Find the text or area that you want to unhighlight, right-click on it and choose Delete;

Step 3: Repeat the Step 2 to remove more highlights in the PDF. Go to SwifDoo and Save as to save the changes.
How to Remove All Highlights in a PDF
Step 1: Import your highlighted PDF file into SwifDoo PDF;
Step 2: Click Annotation icon in the sidebar;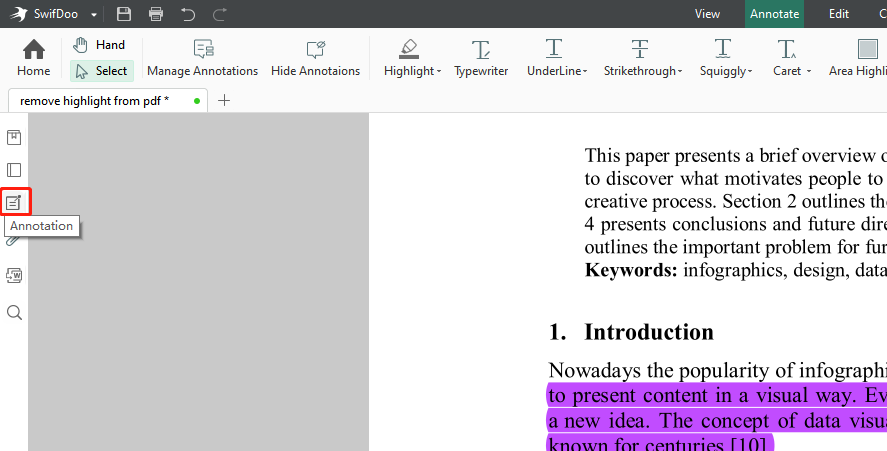 Step 3: Hit Delete all comments icon in the annotation panel to clear all annotations in the PDF.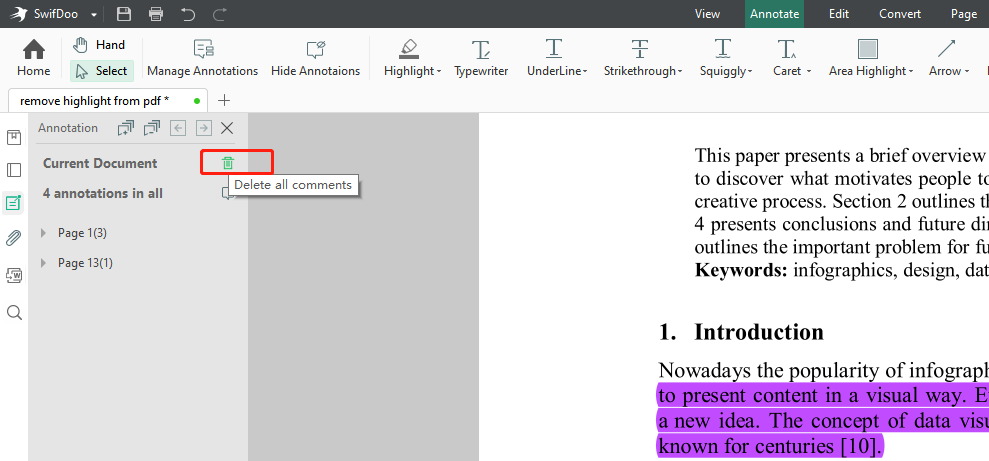 Tips:
Within the annotation panel, you can unfold all annotations, select and right click on a specific highlight to remove it.
Why Can't I Remove Highlight from PDF?
At times, you may be unable to remove any highlight in a PDF using either of the two methods above. This can happen to you even if you are running the industrial leading PDF software, Adobe Acrobat. How come? It is perhaps because the text in the PDF was highlighted through the original Word document but not the PDF. Therefore, you only can remove the highlights in the PDF by deleting them in the Word file and export the Word as PDF again.
What if you have no original editable document? This is where SwifDoo PDF converter comes in. Check the following guide to convert PDF to Word and to find out how to remove highlight in PDF this way.
Step 1: After opening up your PDF file with SwifDoo PDF, tap Convert and select PDF to Word;

Step 2: Within SwifDoo PDF Converter dialog box, choose an output path and press Start button to convert the PDF to a Word file;
Step 3: In the Word file, select unhighlighted text and choose Format Painter to format the highlighted text;
Step 4: Repeat the Step 3. When you're done, export the file as a PDF.
This is how to unhighlight text in a PDF when PDF software can not directly make it.
How Can I Highlight a PDF Again after Unhighlighting It?
SwifDoo PDF is a powerful PDF annotator that features a suite of PDF annotation tools including PDF highlighter. It allows you to highlight text as well as area in a PDF document. If you wish to learn how to highlight a PDF, please refer to the post below for details. When necessary, you can delete and change the highlight color in a PDF with ease.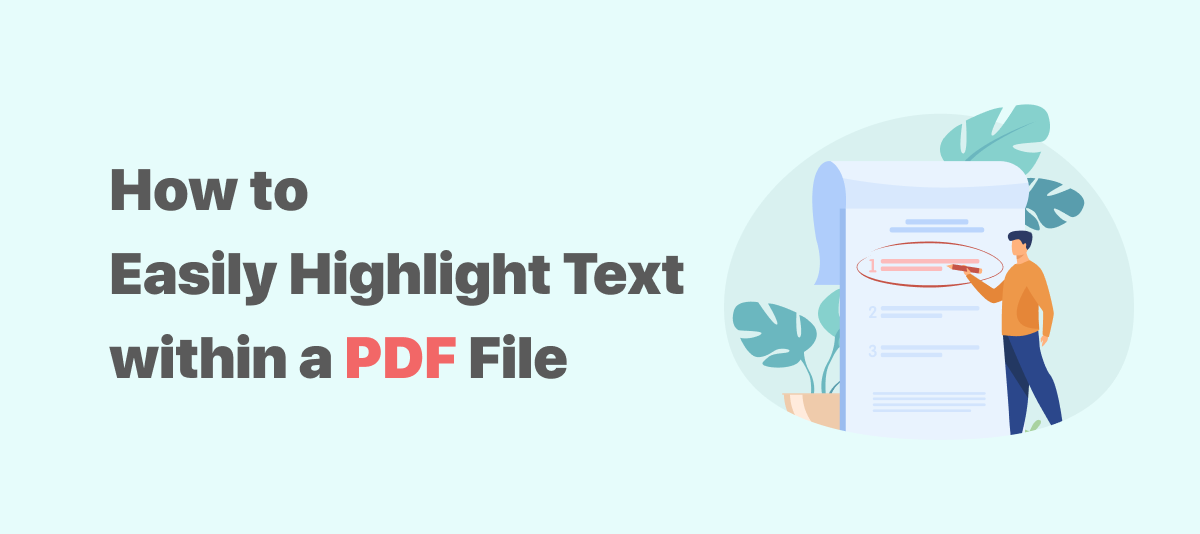 How to Highlight a PDF on Windows and Mac
Users may need to annotate PDFs, such as highlight, underline, and strikethrough, to mark out the text. How do we highlight a PDF? This post has the answer.
READ MORE >
At this point, you may already know how to remove a highlight or clear all highlights in a PDF file on Windows, what about on Mac? Keep reading.
Remove Highlight from PDF on Mac
Preview
If you are thinking about how to remove a highlight in a PDF on Mac, Preview, the pre-installed PDF program for macOS devices should be the first option. Preview lets you add or delete all types of annotations in a PDF document without paying anything.
Step 1: In Preview app, open up your PDF file;
Step 2: Find and double click the highlighted text or area, and choose Remove Highlight in the pop-up menu;
Step 3: Go to File, Save to export the changed PDF.
Wondershare PDFelement
For someone who intends to employ a third-party application to manage the annotations in a PDF on Mac, Wondershare PDFelement comes in handy. This software can remove only an annotation from a PDF at a time, and delete multiple annotations at once as needed. The following tutorial explains how to remove highlight in PDF with the program.
Step 1: Import your PDF into the software, and hit Comment icon in the sidebar;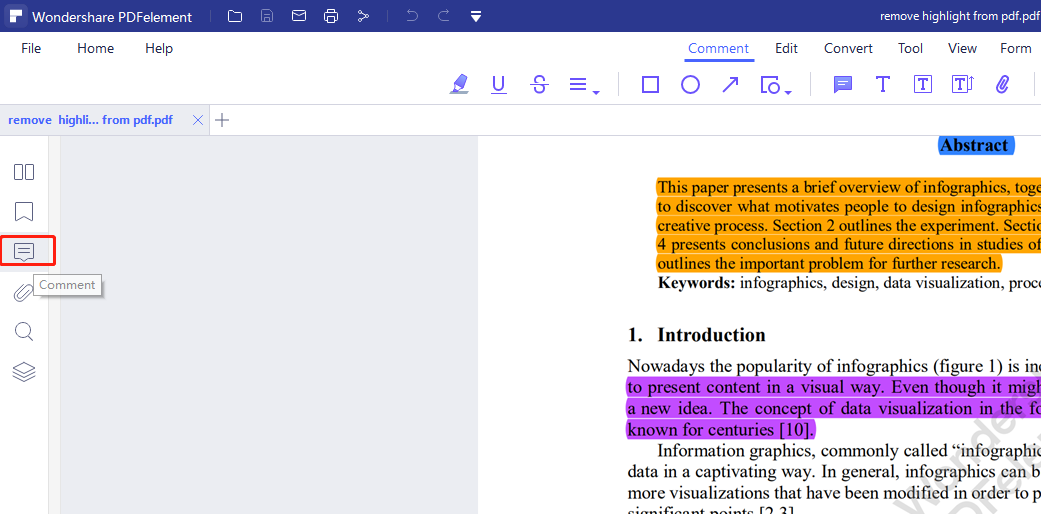 Step 2: In the comment panel, hold Ctrl or Shift key to select all the highlights you need to delete, and right-click on them;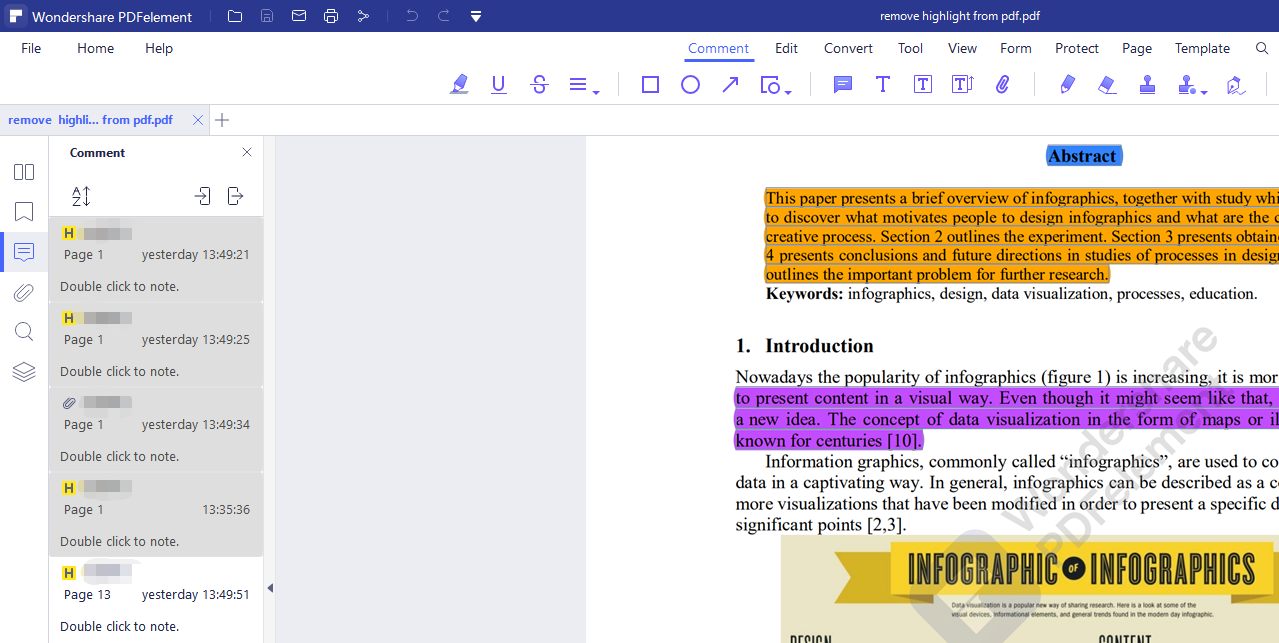 Step 3: Choose Delete in the context menu to unhighlight the text in the file.
Note:
This program allows you to remove highlights from PDF files for free but the saved PDFs will be watermarked with its logo. To
remove watermark
from a PDF without hassle, use SwifDoo PDF.
Remove Highlight from PDF Online
PDF4me
Not everyone likes to use a desktop application, and you may want to master the method to remove highlight from PDF online. Though there are not many web-based software that can do that, we've found one available, which is PDF4me. Let's see how to remove a highlight from a PDF online free with this tool.
Step 1: Search the online tool in browser and enter into its PDF Editor page;
Step 2: Click Select File to upload a PDF;
Step 3: Locate the highlighted text and hit trash icon (Delete annotation icon) from the pop-up menu;

Step 4: Choose Delete in the new dialog box to remove the highlight.
SmallPDF
Another web-based software for unhighlighting text in a PDF document is Smallpdf. This is a multi-purpose PDF tool that lets you add notes and shapes, highlight text in a PDF, edit, convert PDF files, and more. Using this tool, you can easily remove a highlight from a PDF file for free.
Step 1: Open the software website in a browser, choose Tools, and select Edit PDF on the home page;

Step 2: Select and upload your PDF document;
Step 3: Click on the highlighted text and choose trash icon to remove the highlight from the PDF.
Additionally, you can hold Ctrl key to select multiple highlights and remove them at once.
Final Words
When it comes to how to get rid of a highlight in a PDF, a boatload of offline and online tools may give you answer. However, if you have a PDF containing hundreds of pages with a lot of annotations, and need to quickly remove all highlights without deleting them one by one, it's essential to work with a professional desktop PDF application. Download and try SwifDoo PDF for free!