Windows, Mac, and Linux are the top three commonly used operating systems all over the world. We have introduced 6 free PDF editors for Windows and 7 best PDF editors for Mac. You may wonder: is there any guide for reviewing PDF editor tools that work on Linux? Yes, of course. And you really come to the right place to get a handy Linux PDF editor. Keep reading and learn more details.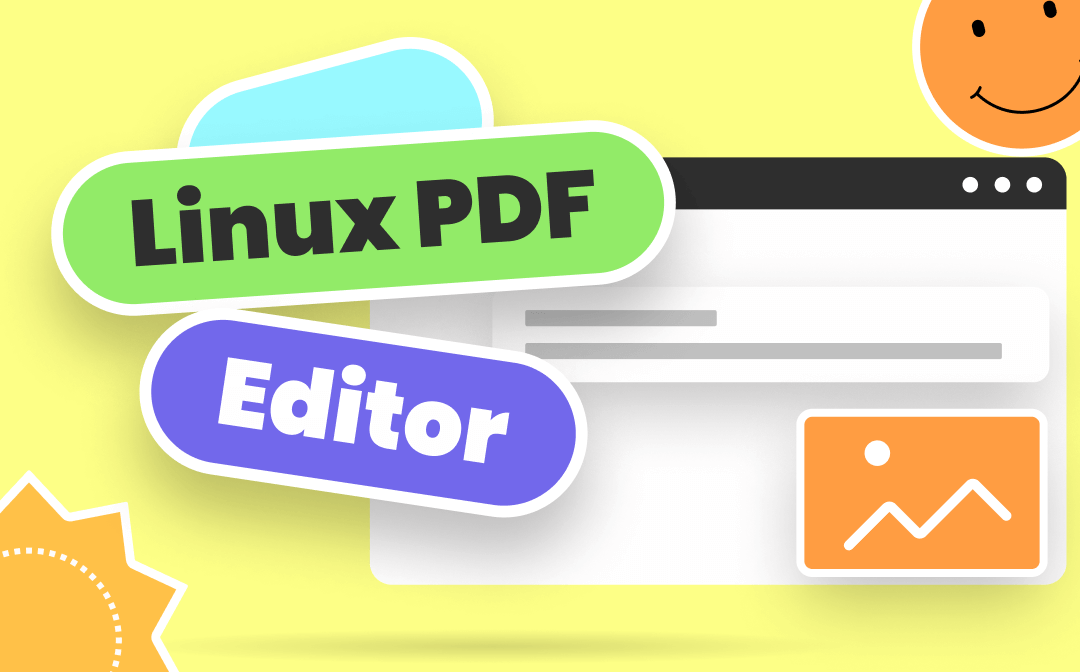 # 1. Adobe Acrobat Reader
No matter what PDF editors you are looking for, even for different operating systems, you cannot avoid Adobe Acrobat, a cross-platform and fully-fledged PDF editor that is available on all major OS. As you've already known, it is Adobe that created the PDF file format, and Acrobat has a very long history in this market for PDF editors, which makes it to be a professional.
Adobe Reader is a free PDF reader with some basic editing features. It allows you to view and edit PDFs for free. However, for the annoying aspects, many annoying pop-up windows are showing constantly during working and asking for downloading and paying for Acrobat DC.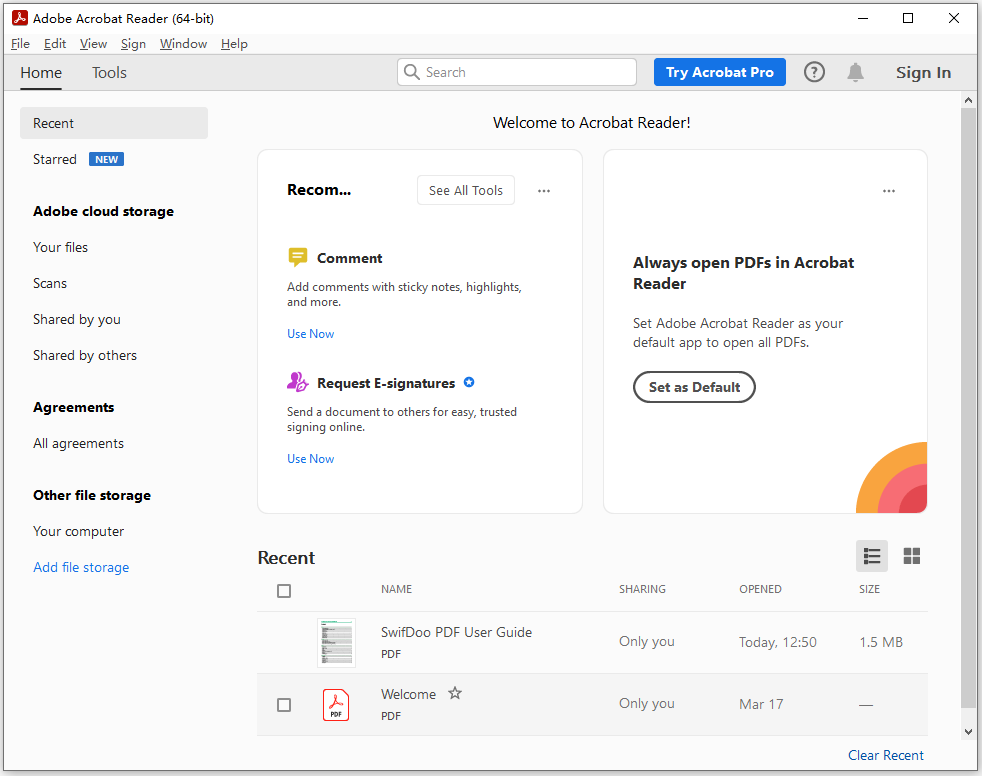 Key Features:
Open, read, print, and edit PDFs
Fill out PDF forms
Sign PDF files with e-signatures
Convert PDF to/from Microsoft Word, Excel, and more
Combine multiple PDF files into one
Add stamps to PDF files
# 2. LibreOffice Draw
LibreOffice Draw is a free and open-source vector graphics editor which also serves as one of the best PDF editors for Linux. LibreOffice Draw enables you to apply simple features to edit PDFs. For professional users, this Linux PDF editor may not the best choice. For casual users, on the other hand, LibreOffice Draw can help them work with PDF files smoothly. In addition, the Draw app also supports editing spreadsheets, slideshows, databases, diagrams, and drawings.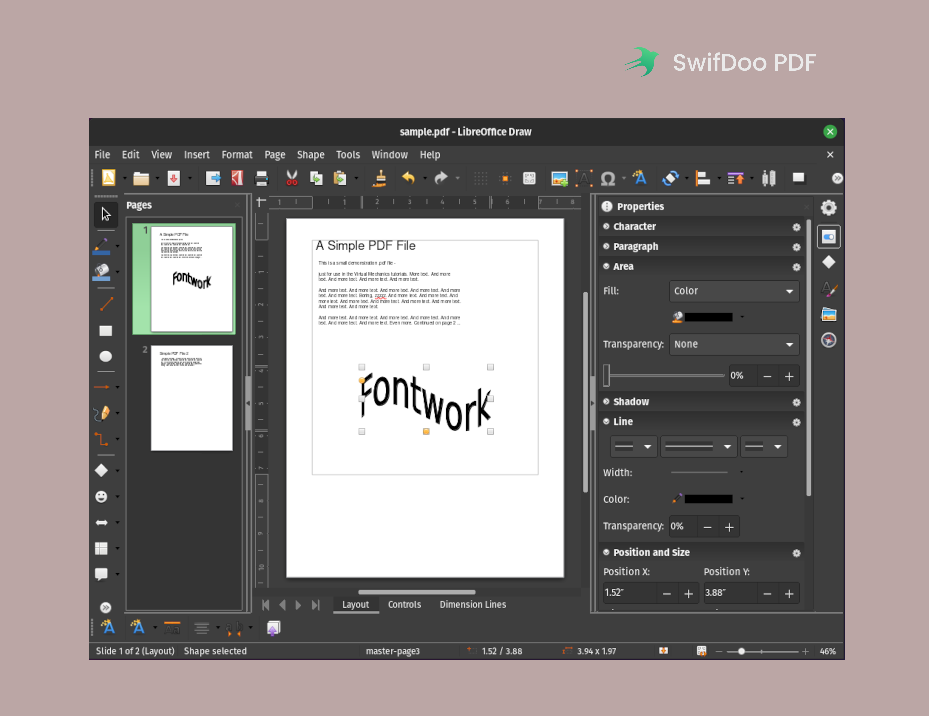 Key Features:
Edit, add, and modify PDF text
Insert and remove images in PDFs
Modify PDF page alignment
# 3. PDFsam
You will be familiar with this PDF editor if you have read our article on PDF mergers. PDFsam is a simple PDF editor with Windows, macOS, and Linux versions supported. PDFsam has released three different programs: PDFsam Basic, PDFsam Enhanced, and PDFsam Visual. The Basic tool is free, while the other two require paid plans. And surely, features in these three programs are also different. All three PDF editors are available on Linux operating systems.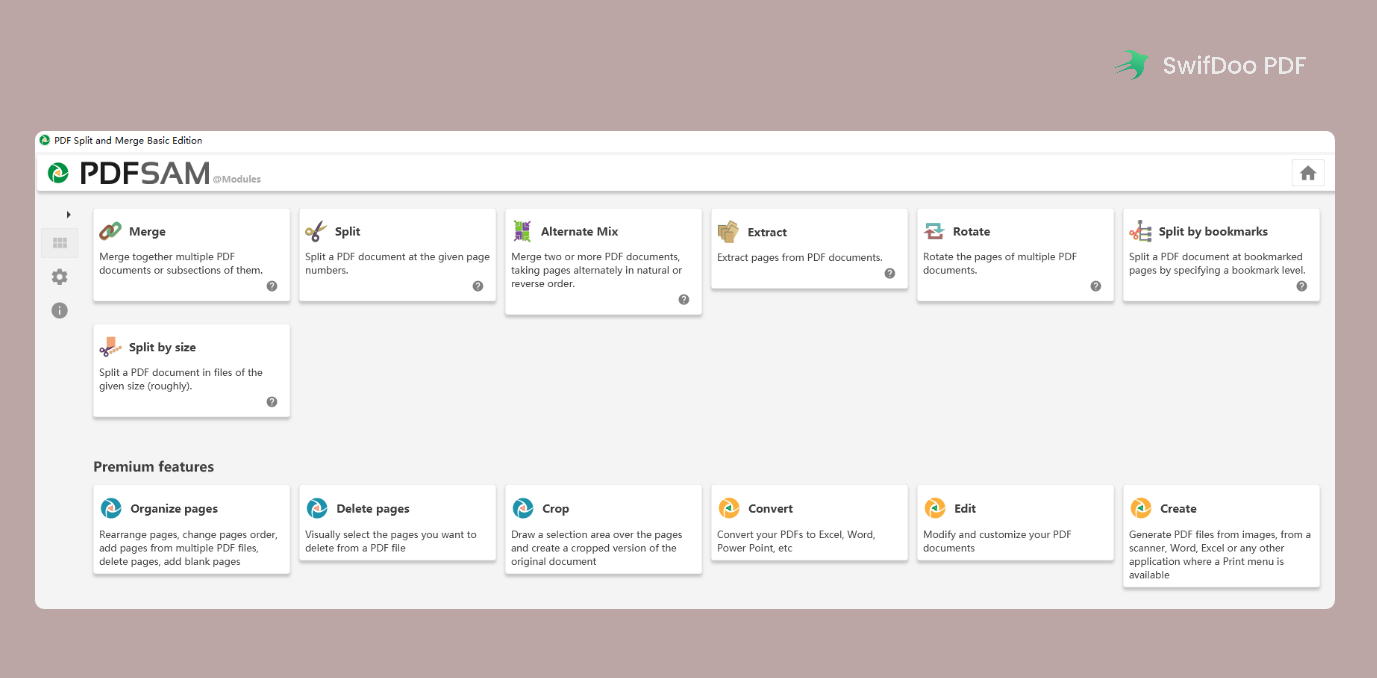 Key Features:
Split and merge PDFs (Basic features)
Extract pages from PDF documents (Basic features)
Rotate a PDF and save it (Basic features)
Organize and delete PDF pages (Premium features)
Convert PDF to other editable file formats and vice versa
Create, edit, and crop PDFs
# 4. Okular
Okular is a universal document viewer that works on Linux, Unix-like, and Windows. It supports opening many file formats, such as PDF, JPG, PNG, PostScript, DjVu, TIFF, ePub, etc. all becomes effortless. Okular enables you to annotate PDFs with many small tools. However, compared to others, this Linux PDF editor is limited in some aspects because it doesn't offer many features. If you want to edit or compress PDFs, Okular may not the ideal choice. Nonetheless, as a free PDF editor on Linux developed by KDE, Okular is worth a try.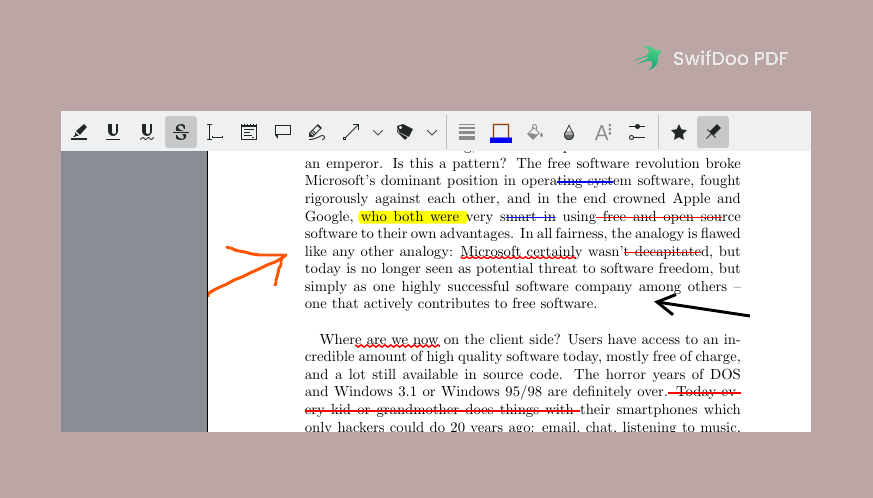 Key Features:
Annotate PDFs by adding new comments, highlighting and drawing lines, adding text boxes and stamps
Export PDFs to images
Copy text in PDFs
# 5. Sejda PDF Editor
Sejda PDF has both online and offline PDF tools, allowing you to edit PDFs without downloading a desktop program. It is fully compatible with Mac, Linux, and Windows. Both online and offline editors let you edit existing text, images, and links, as well as use OCR technology. There isn't much difference between these two versions, and they both work smoothly on Linux operating systems. Nevertheless, if you're running a free version of Sejda PDF editor, you're only allowed to process 3 tasks per day, and there are also limits on file sizes and pages.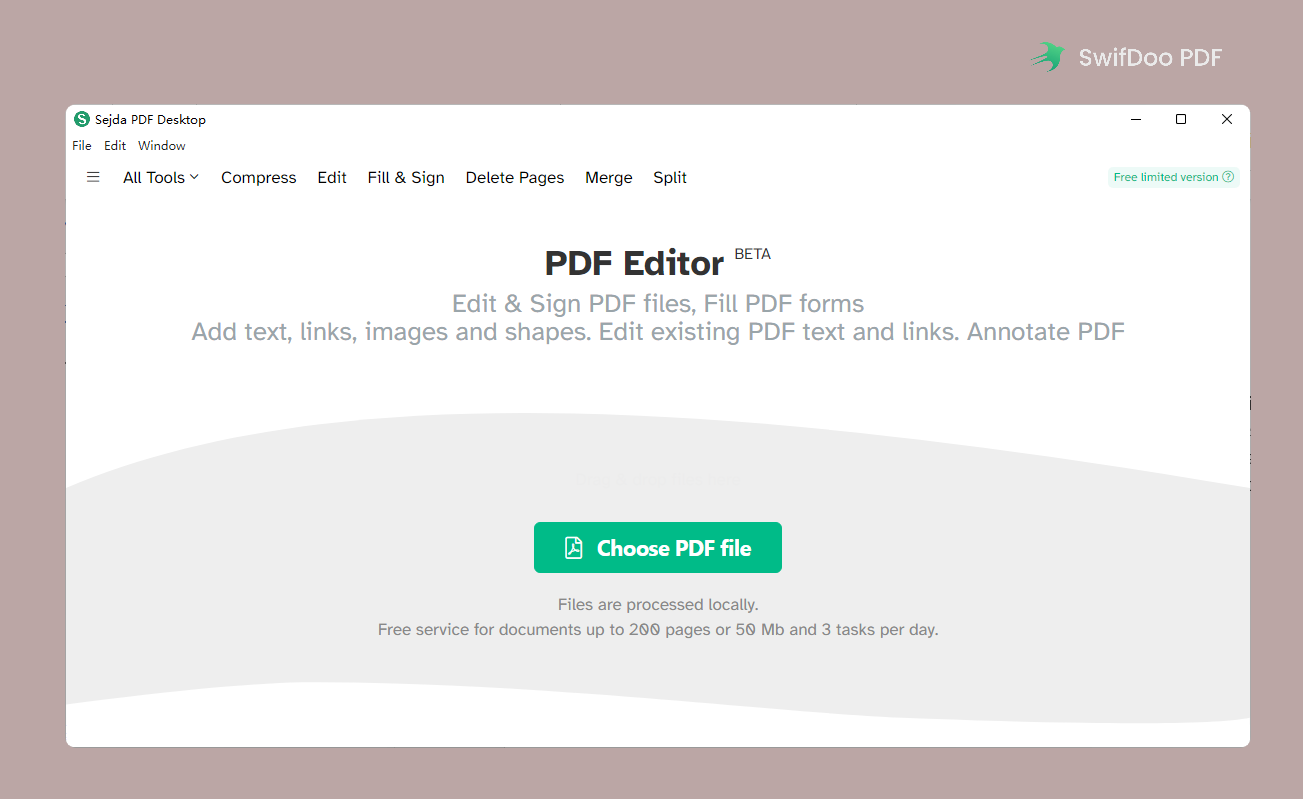 Key Features:
Online and offline versions are both available
The bates numbering feature is supported
# 6. Qoppa PDF Studio
Qoppa PDF Studio is another powerful PDF editor for Linux, Mac, and Windows. It is a fully-fledged PDF editor alternative to Adobe Acrobat on Linux. PDF Studio runs seamlessly on all computers, and its interface is intuitive. It allows you to conduct comprehensive features to edit, review, and create PDF files. However, Qoppa PDF Studio is a paid Linux PDF editor with subscription plans required.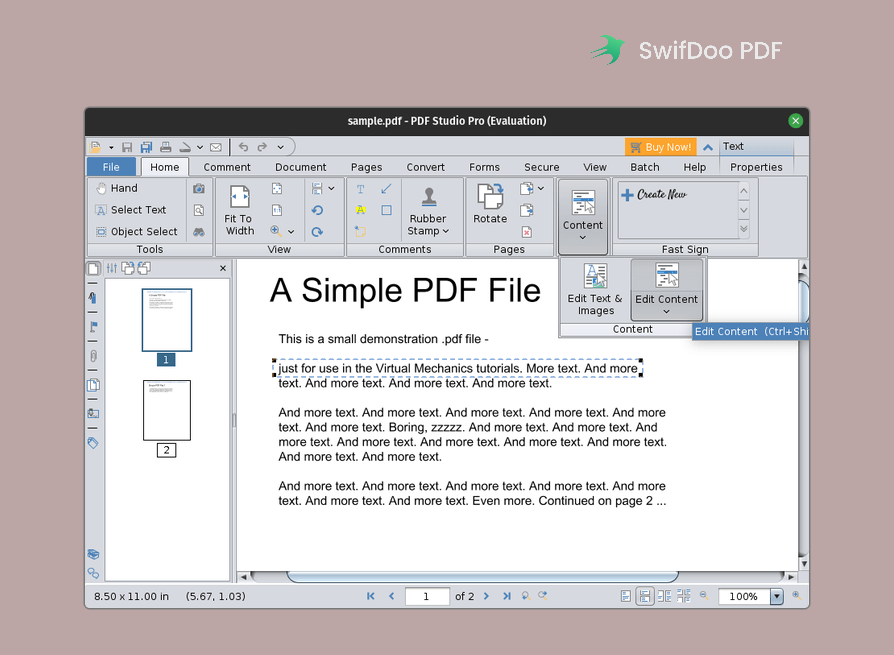 Key Features:
Reduce PDF file size to optimize it
Edit PDF text and images, as well as edit PDF metadata
Annotate PDFs with comments, shapes, highlighters, etc.
Bonus Part: Best PDF Editor for Windows
That's all about the 6 best Linux PDF editor programs. You may notice that some PDF editors can also be used on Windows and Mac, but we will introduce you to one of the best PDF editors for Windows operating systems: SwifDoo PDF.
SwifDoo PDF is a robust PDF editor available on Windows 11, 8.1, 7, and XP. It can help you edit PDF text, images, and links, compress and convert PDF files, sign PDFs, and so on. In addition, it also serves as a handy PDF translator, enabling you to translate PDF files straightforwardly when reading.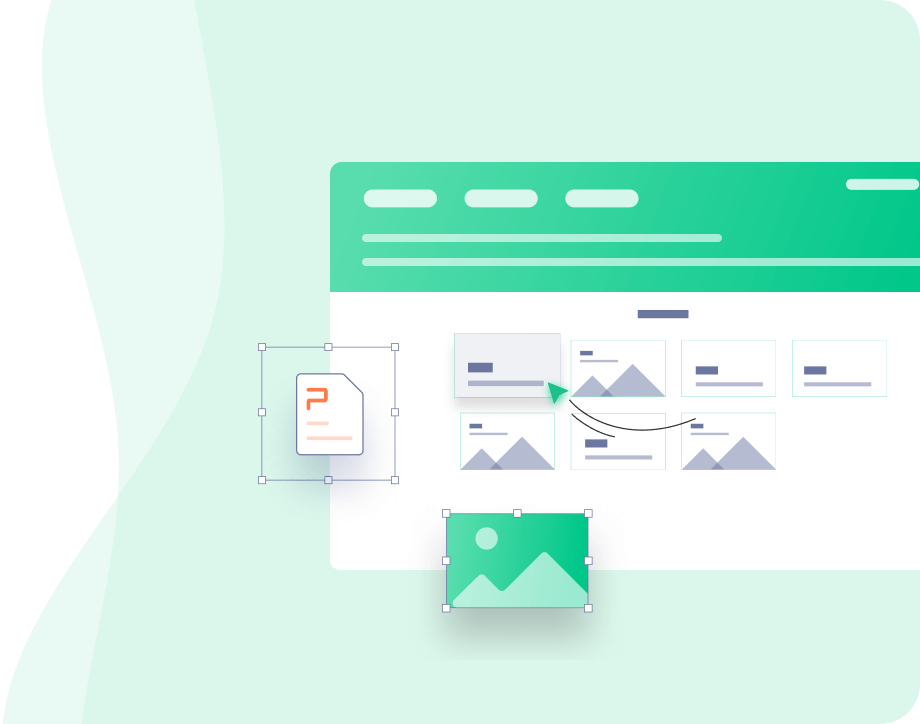 SwifDoo PDF - All-in-One PDF Software
Annotate PDFs by adding notes, bookmarks, etc.
Convert PDFs to Word, Excel, and other editable files
Edit, compress, organize, and split PDFs
Free Download
Windows 11/10/8.1/7/XP
What makes SwifDoo PDF stand out?
Free: SwifDoo PDF provides users with a 15-day free trial with all features released. During the trial period, you'll have a full experience of all its features and edit PDFs for free.
Comprehensive features: This PDF editor can help you address almost all PDF-related issues since it has released dozens of features covering all aspects.
Navigable interface: Though there are many features in SwifDoo PDF, you'll find all mini tools are well sorted. Therefore, its interface is very simple and clear, which is easy to navigate.
Advertisement-free: No matter whether you're browsing the SwifDoo PDF website or using the SwifDoo PDF desktop program, you'll notice that not even a piece of advertisement will be displayed on your screen.
…
Final Words
That's all about the 6 best Linux PDF editor tools, with their key features listed clearly. All of these apps are recommended by Linux users and have unique features to boost your productivity. You can use any of these applications that cater to all your needs to manipulate PDF files with ease. In addition, we also offered a Windows-based PDF editor in case you will have this requirement. It's also worth a try and has received many positive comments from its users. Download it now and start your free trial!