You may have seen Sejda PDF editor many times when searching for a handy PDF editor. However, do you know what Sejda PDF can do to assist you? What characterizes it most? What are its benefits and drawbacks? Is it the ideal solution you've been looking for? In this article, we've offered you a thorough introduction to Sejda PDF editor. Let's read on!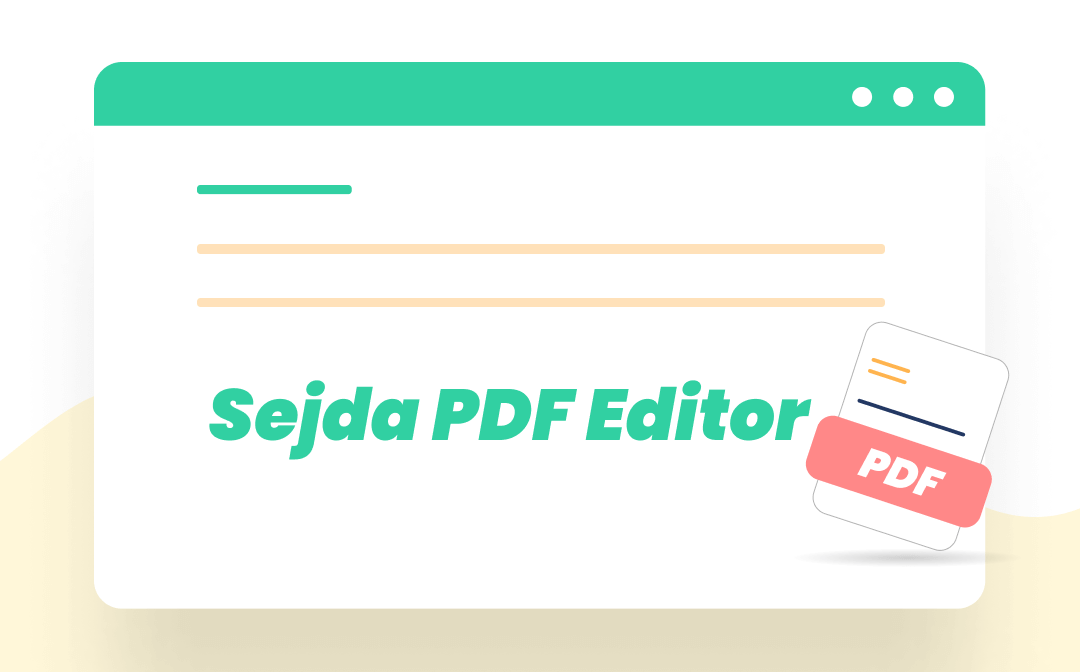 An All-Around Introduction of Sejda PDF Editor
In a word, the Sejda PDF editor is a comprehensive PDF editor that works smoothly on Windows, Mac, and Linux. It offers online and desktop editions, both for free and for a fee. All information about the Sejda PDF editor will be listed in the following part. Just keep reading.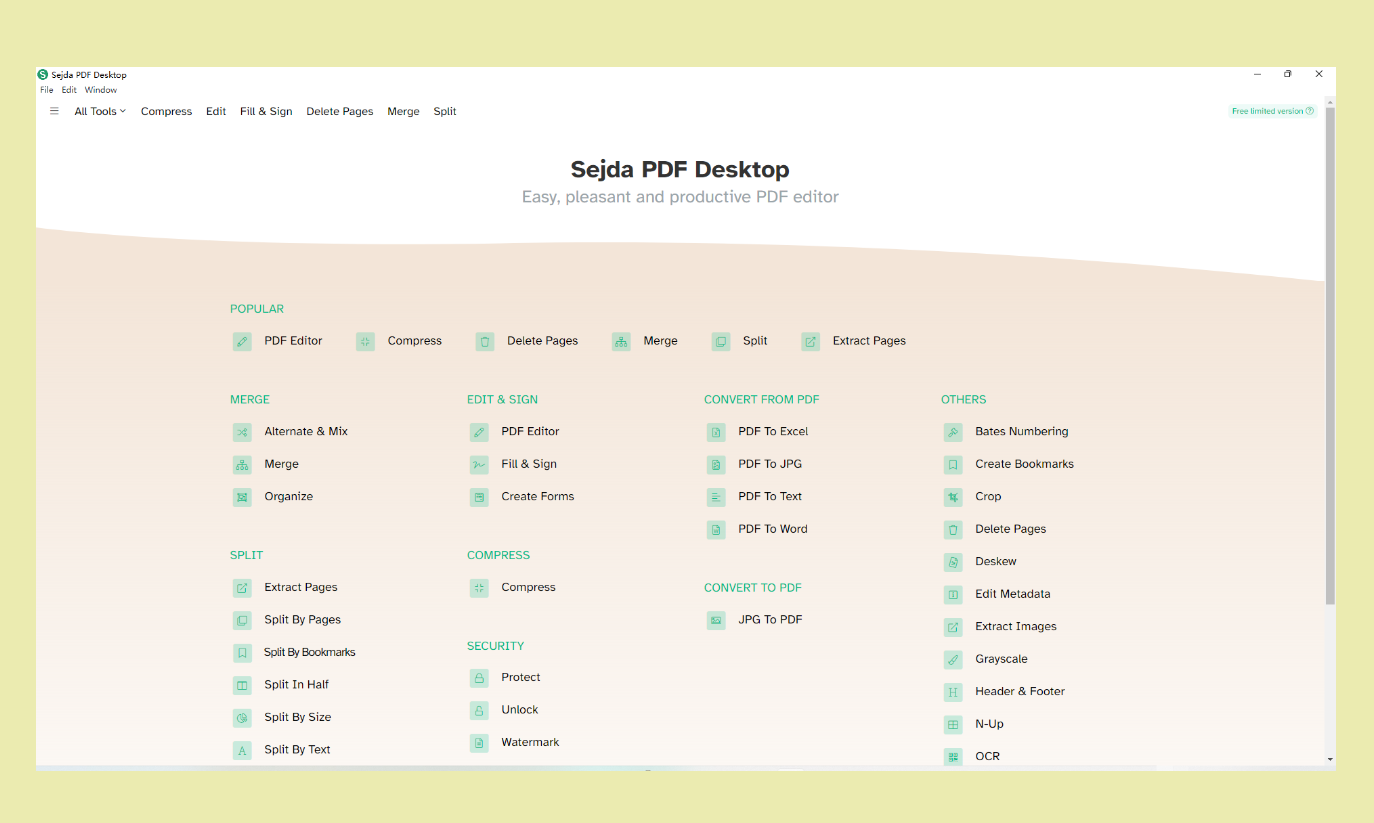 Features
Sejda PDF editor comes with variety of features to help you manipulate PDF files. And it also becomes very easy to edit, compress, convert, combine, split, and edit PDF files.
The edit feature of the Sejda PDF editor enables you to modify the text, links, forms, and images in your PDF files, as well as whiteout, annotate, sign, and add shapes to PDFs. It can meet almost all your editing requirements.
Sejda PDF editor enables you to compress PDF files with a single click. When compressing PDFs with this PDF editor, all you need to do is upload your PDF file and click the Compress button. Of course, Sejda PDF also gives you the option to alter image resolution and quality, allowing you to compress PDF files while maintaining the quality of the photos.
Sejda PDF editor supports converting PDF to Word, Excel, CSV, Text, and image formats, as well as turning JPG, PNG, TIFF, GIF, and BMP images into PDFs.
If you have a large PDF file that needs to be split or multiple PDF files waiting for combining, the Sejda PDF editor can also help you process them easily. It allows you to combine not just PDF files but also individual photos to create a single PDF file. Sejda PDF provides five choices for splitting PDFs: split by pages, bookmarks, size, text, and in half.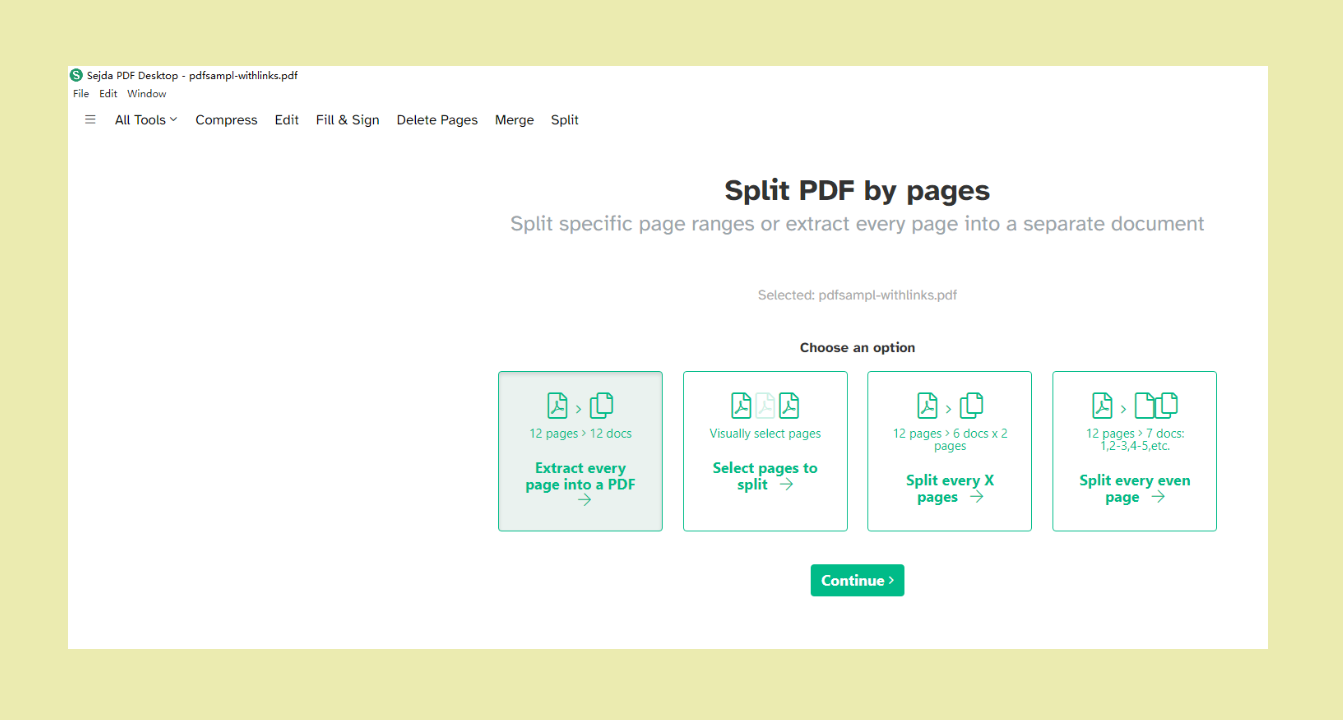 The Sejda PDF editor may also be used to password-protect and watermark PDF files. It allows you to add an opening password to PDF and a permission password to restrict editing from others. When adding watermarks to PDFs, you can edit the text randomly. Additionally, you can modify the watermark's opacity, rotation, and style to suit your needs.
In addition to all the main features introduced above, Sejda PDF editor also has dozens of functionalities supported, such as bates number, deskew, editing PDF metadata, extracting images, adding header and footer, OCR technology, resizing PDFs, etc. Most of your PDF-related issues can be addressed without breaking a sweat.
Interface
The interface of the Sejda PDF editor is very simple and navigable. All tools are sorted into several main tabs, enabling you to locate the feature you need in seconds. And the interface of Sejda PDF online and desktop are nearly the same.
Pricing Plans
Sejda PDF Editor has released four subscription options for personal usage:
Web Week Pass: $5 for 7 days / one-time payment
Web Monthly: $7.5 per month / recurring billing
Desktop + Web Week Pass: $7.95 for 7 days / one-time payment
Desktop + Web Annual: $63 per year / recurring billing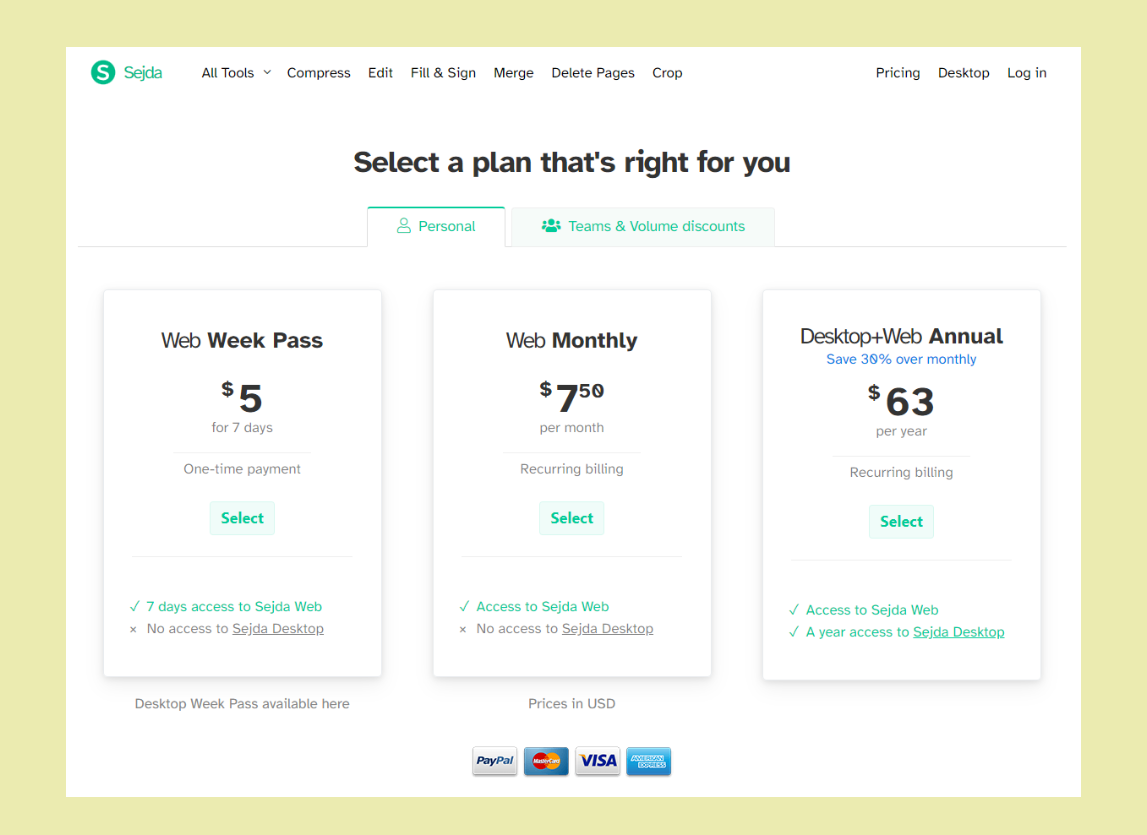 Sejda PDF editor offers two special orders for web users, and the prices are relatively reasonable. In addition, Sejda is also offered a free version that enables users to process 3 files and documents up to 200 pages or 50 Mb each day. And all its features are available even if you're running the free version.
Downsides
Admittedly, the Sejda PDF editor also has its downside. For example, there aren't many file formats supported when converting PDFs. Basically, this PDF editor only supports converting PDF to Excel, Word, Text, and some image formats. As to converting files to PDF, you're only allowed to convert JPG, PNG, GIF, TIFF, and BMP images to PDF.
In addition, the Sejda PDF editor does lack some practical features, making it less helpful when confronting some PDF-related issues. For example, Sejda PDF cannot manage PDF pages, translate PDF files, convert PDF to speech, print PDF files, etc. However, you cannot avoid requiring these features in daily life and work.
Moreover, this PDF editor pricing modules are not that convenient for people to choose. Only four preset subscription plans are offered, and you're not allowed to select a perfect one as per your own requirements.
Bonus Part: The Best Alternative of Sejda PDF Editor
SwifDoo PDF is one of the best alternatives to the Sejda PDF editor because it has more comprehensive features to help you work with PDFs smoothly. All features lacking in Sejda PDF can be found in SwifDoo PDF, and they are very easy to use. Besides, this PDF tool doesn't have any of the limits that the Sejda PDF editor has. Its interface is more navigable. No default watermarks were added to the PDF file. No advertisement pop-ups appear when editing PDFs. No file size limits or file number limits when compressing. No time limits when processing files.
It's never too much to say that SwifDoo PDF can address all your PDF-related issues and it really performs well. With a commitment to provide all the functions you'll require in all walks of life, SwifDoo PDF has supported dozens of features while also continuing to explore and develop new ones. The interface of SwifDoo PDF is also very intuitive and easy to navigate. All features are well sorted in eight main tabs, letting you locate every small function in seconds.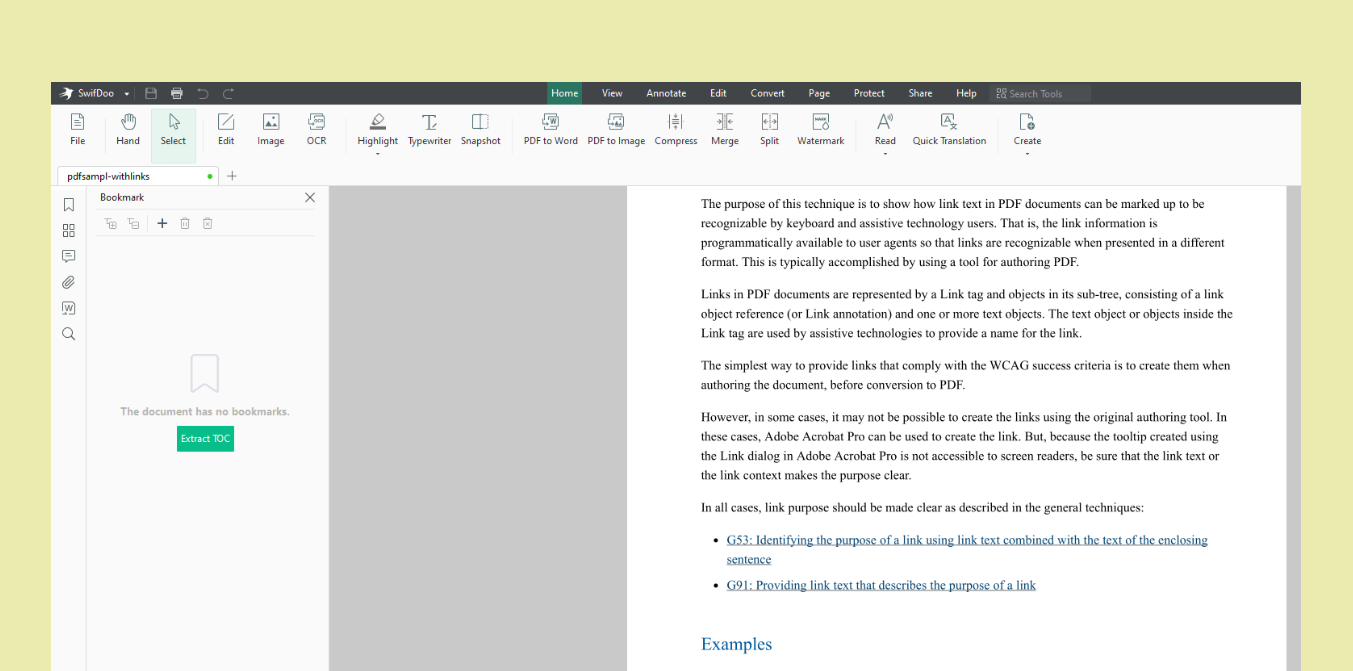 Additionally, SwifDoo PDF's pricing models are also very simple and practical. Only three subscription plans are offered on its official website: Monthly Plan, Yearly Plan, and Perpetual License, which are quite clear for users to differentiate them and choose a proper one.
Last but not least, though SwifDoo PDF has so many features, it is very lightweight. Having a small size PDF editor is very important because it won't affect the running speed of your computer. Much software is very heavy, leading pressure on your disk and computer. And using SwifDoo PDF can help avoid this problem easily.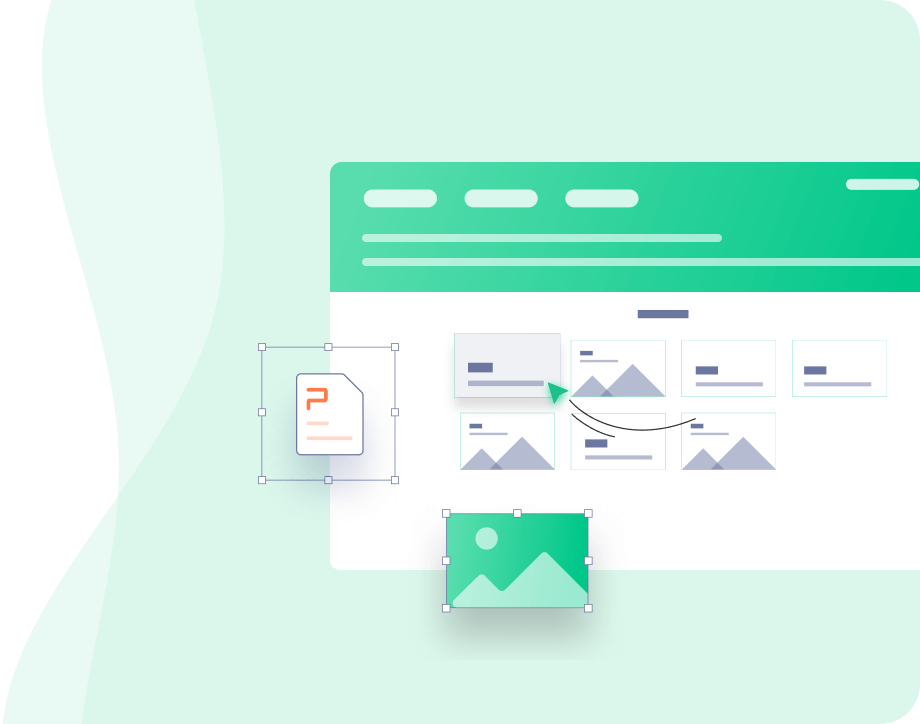 SwifDoo PDF: All-in-One Free PDF Software
Annotate PDFs by adding notes, bookmarks, etc
Convert PDFs to Word, Excel, and other editable files
Edit, compress, organize, and split PDFs
Free Download
Windows 11/10/8.1/7/XP
Conclusion
That's all about the Sejda PDF editor and its features, interface, pricing plans, and downsides. Admittedly, Sejda PDF editor is a good PDF editor and has its pros that help it gain a good reputation in this market. But it's undeniable that it has some drawbacks, which make it less helpful on some occasions. Thankfully, there exist many full-featured PDF tools and they can compensate for the cons that the Sejda PDF editor has. And SwifDoo PDF exactly to be an outstanding one that offers a great experience. Download and try SwifDoo PDF for free today!