Introduction:
When editing or proofreading PDF documents, we may occasionally need to delete unnecessary text from the current PDF without actually removing any paragraphs or words. What should we do? Can we just draw a horizontal line through the unneeded content? Similar to Microsoft Word, which allows users to redline the text, we can strikethrough in a PDF.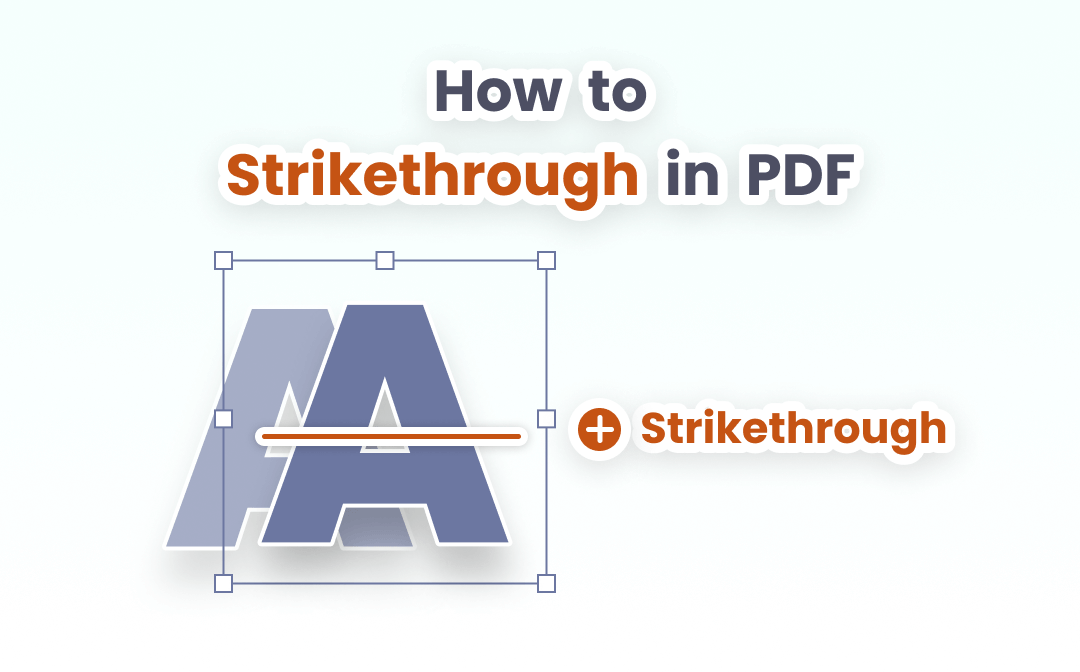 Strikethrough is a typographic technique for putting a horizontal red line through the middle of the selected text. The words are still legible, as opposed to content that has been removed or redacted.
This useful markup tool makes it convenient to correct the text with a red line or leave notes when modifying PDF documents. In this post, we will easily explain how to cross out text in a PDF with desktop software programs and online tools.
How to Strikethrough in PDF on Windows
In this section, we are going to recommend two eligible Windows PDF annotators to redline a PDF, namely SwifDoo PDF and Adobe Acrobat.
SwifDoo PDF
A qualified PDF annotator should be able to add various types of comments to a PDF file, including the ability to strikethrough text. SwifDoo PDF is such a PDF markup tool for Windows that enables highlighting text, adding text boxes, underlining, and inserting shapes into a PDF file. Here's how to cross out text in a PDF:
Step 1: Get SwifDoo PDF for free from the official website or Microsoft AppSource;
Step 2: Start the program and open a PDF, then click Annotate > Strikethrough on the toolbar;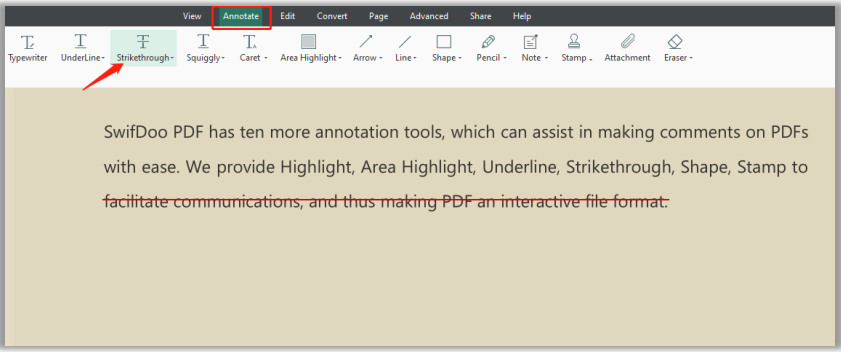 Step 3: Select the text that you need to strikethrough. When finished, remember to save the changes to the PDF.
The default strikethrough is a red line, but if you need to change its color, just click on the arrow button as the picture shows.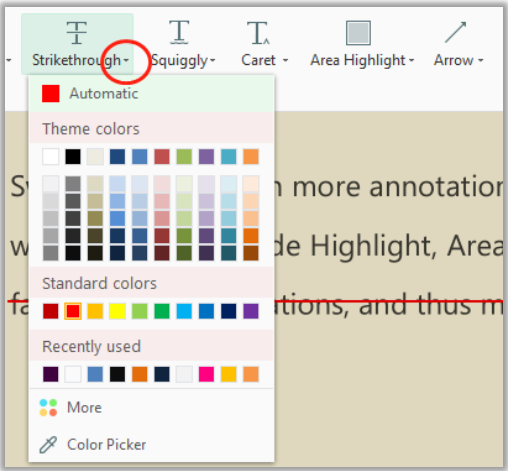 As we said earlier, SwifDoo PDF is a high-quality PDF annotator. If you need to remove the strikethrough made in a PDF, it's not so complicated in SwifDoo PDF either:
Step 1: Select Annotation from the left navigation bar;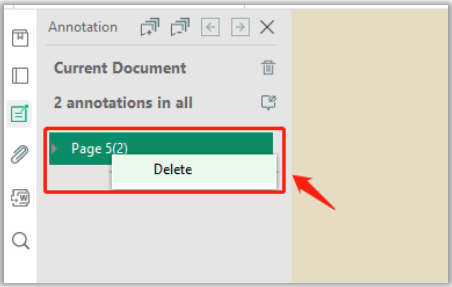 Step 2: Right-click on the item you need to remove by selecting Delete.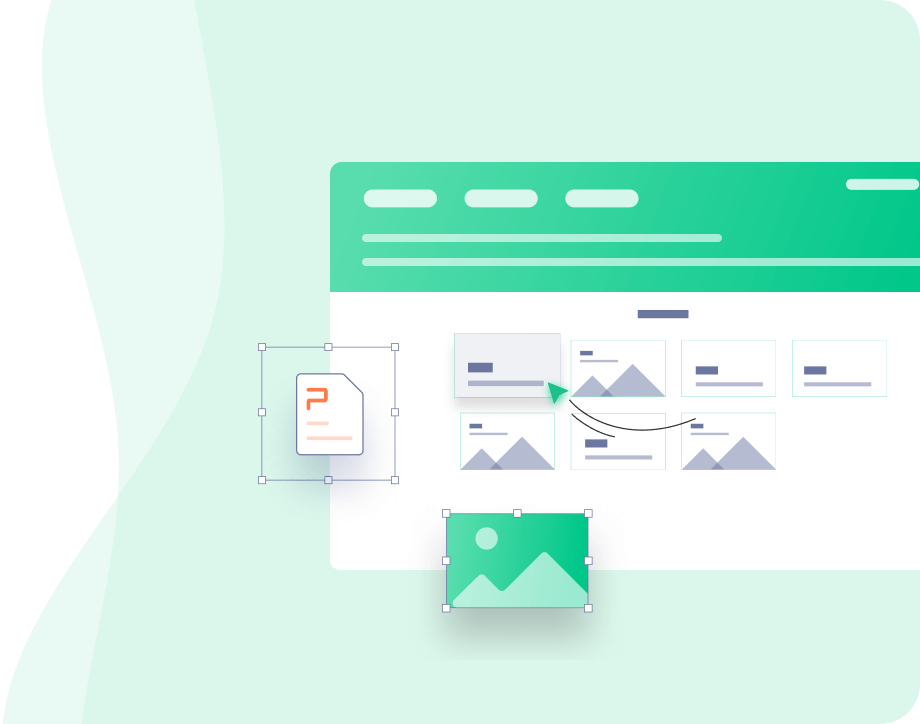 How to Strikethrough in PDF [Offline & Online]
A comprehensive PDF annotator to strikethrough, underline, and add shapes to a PDF;
Support Windows 11, 10, 8, 7, and Vista;
Easiest way to cross out text in a PDF.
Free Download
Windows 11/10/8.1/7/XP
For those who need an easier and quicker method of executing strikethrough commands, the keyboard shortcut for strikethrough is helpful. Just select the unnecessary content and press Ctrl and K. Right-click on the crossed-out text and choose "Delete" to remove the strikethrough from the current PDF.
However, please be noted that all the keyboard shortcuts are disabled by default. To change the settings, navigate to Settings > Shortcut Key > Disable All Shortcut Keys. Then all the shortcuts on your keyboard are activated.
Adobe Acrobat Reader DC
When discussing the topic of crossing out text in PDFs, Adobe Reader is a trustworthy PDF annotator able to strikethrough text in PDFs. Likewise, this software integrates multiple annotation tools to make PDF a more interactive file format, for instance, sticky notes, highlights, underlines, freehand drawing, and strikethrough text. Let's find out how to redline a PDF:
Step 1: Download Adobe Reader and start the program;
Step 2: Open a PDF document in Reader, then click Tools > Comment on the menu bar;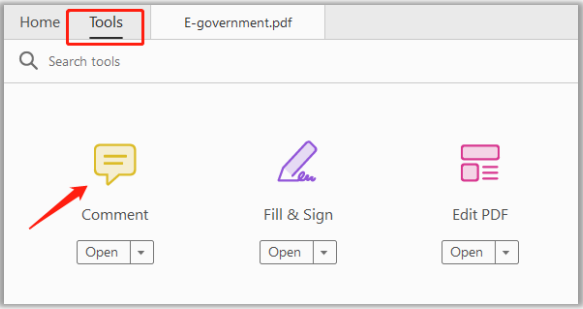 Step 3: Select the text you want to strikethrough.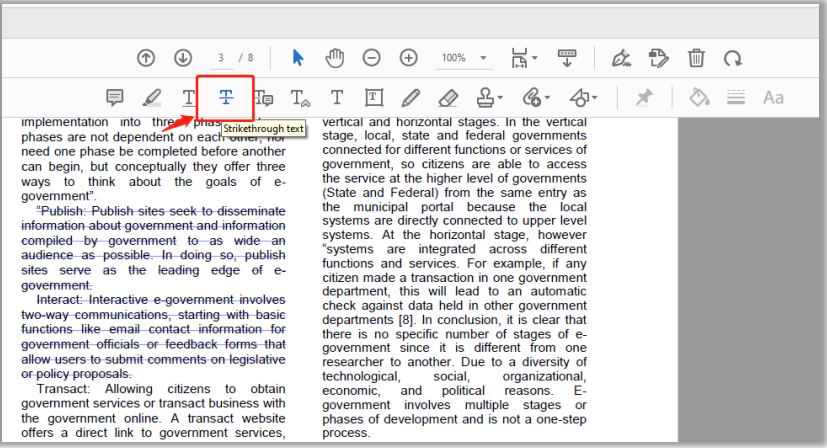 Adobe Reader allows users to change the color and opacity of the strikethrough area. In order to remove the strikethrough from the PDF, right-click on the marked area or the right-sided pop-up notification window to view all the comments made on the PDF. Users can set the status of the comment as rejected, accepted, canceled, or completed.

Unfortunately, there is no keyboard shortcut for strikethrough in Adobe Reader. Users cannot easily execute such commands as you do in SwifDoo PDF.
How to Strikethrough in PDF on macOS
Preview
It's not difficult for someone who needs to strikethrough in a PDF on macOS thanks to the built-in PDF viewer Preview. Preview is the default PDF annotator on Mac, which can redline a PDF, underline, and highlight the selected PDF text. See how to strikethrough in a PDF using Preview:
Step 1: Open a PDF document in Preview;
Step 2: Click the Markup icon (displayed as a pen icon), then choose Strikethrough in the drop-down PDF;
Step 3: Select the text you need to strikethrough and maintain the changes.
Once you need to remove a highlight, an underline, or a strikethrough from the current PDF, just control-click the text and remove it from the thumbnail menu. If you need to quickly strikethrough text in PDFs on macOS, that may be a real letdown because there's no shortcut for strikethrough.
Preview provides five basic colors of markup tools. If you need to change the color of the strikethrough areas, click the color you like ahead of crossing out the text. Preview is the easiest method to strikethrough text in a PDF on macOS, Mac users don't have to find any alternatives when in need of this feature.
How to Strikethrough in PDF Online
The rapid development of technology makes it possible to strikethrough in PDF online as well. Along with the emergence of web-based PDF annotators, users can put a line through PDF text without troublesome registration or download processes.
How to strikethrough on Google Docs
Google Docs, this rising collaboration platform, offers another new method to edit a PDF online. This is a web-based word processor similar to Microsoft Word. That is to say, users can cross out text in Google Docs. Therefore, this section will elaborate on how to do a strikethrough on Google Docs.
Step 1: Login and open your Google Drive;
Step 2: Click on a PDF document that you need to edit. Open this PDF in Google Docs from the top drop-down menu;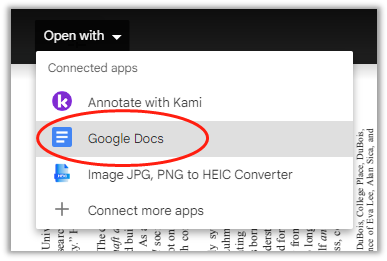 Step 3: When the PDF is normally presented before you, select the text that you need to redline, then click Format >Text > Strike-through to redline the selected content. Optionally, users can press the keyboard shortcut keys Alt + Shift + 5 to quickly access the strikethrough feature.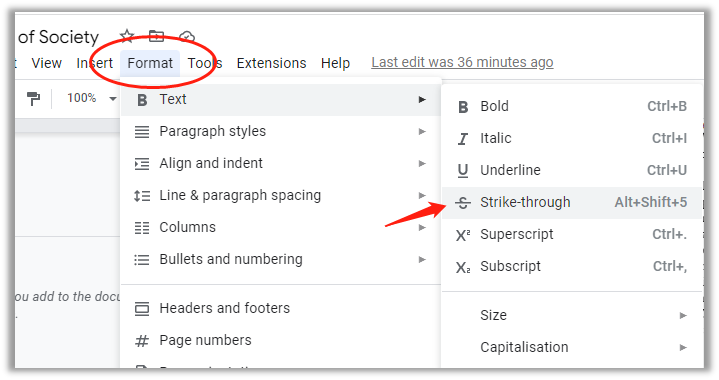 Notably, while Google Docs can strikethrough text in a PDF, it cannot cross out text in a scanned PDF or one with complex interactive content. After all, Google Docs is not a professional PDF editor. If your PDF is a standard PDF document created from Microsoft Office files, then you can do a strikethrough on Google Docs. Otherwise, choose the alternative approaches provided in this article.
DeftPDF
To be honest, this is the first time we put this online tool on the review list, but DeftPDF hasn't let me down. A comprehensive set of useful features is provided to help you simplify your work with PDF documents, including the ability to strikethrough text in a PDF. Without further description, let's take a look at how to cross out text in a PDF:
Step 1: Enter the URL in the address bar;
Step 2: Go find Edit in the toolbar, then upload a PDF to the workstation;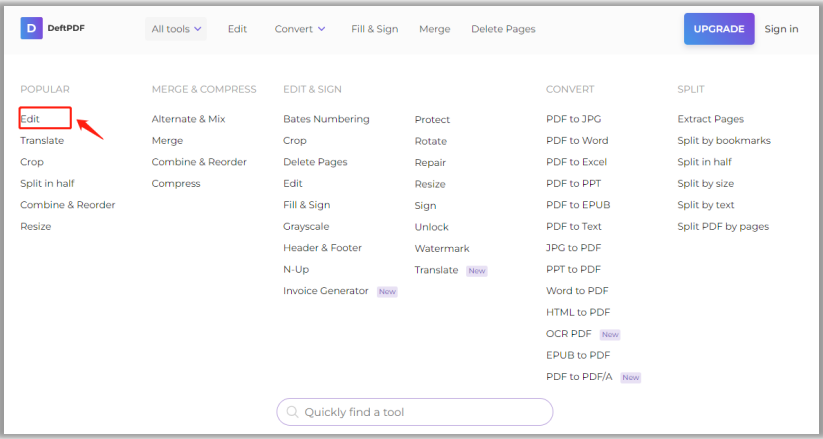 Step 3: Select Annotate > Strikethrough, and choose the text to cross out.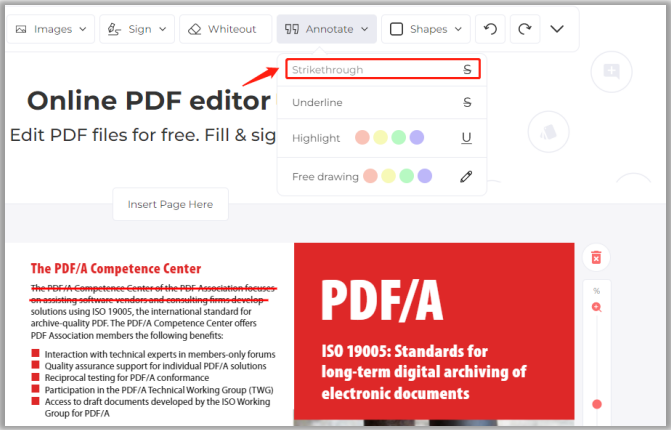 When needed, choose the strikethrough area to edit the comment, such as the title and description. Users can directly click on the Delete icon to remove the strikethrough in PDF.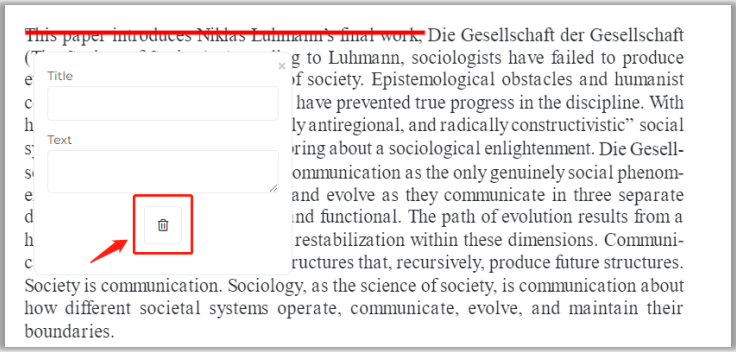 Why Strikethrough a PDF?
There are two meanings that this action might signify. On one side, the content should not be included or is rife with errors in written documents or other non-erasable material. On the other hand, the revisers may want to track changes and denote crossed-out information as made popular by Microsoft Word.
Conclusion
While most PDF annotators provide similar features to strikethrough text in PDF, how to strikethrough is no longer difficult. Users can select the appropriate program to easily cross out text and remove strikethroughs from PDF documents. If you have any suggestions for better ways to strikethrough text in PDF, please leave them in the comments section.