Introduction:
PDFs are intact and stable, and these two features contribute to why we save the draft as PDF. However, we sometimes need to revise or amend the content within a PDF. Finding the original Word document and converting it into PDF is too bothersome. Is it possible to directly remove text from PDF? If so, how?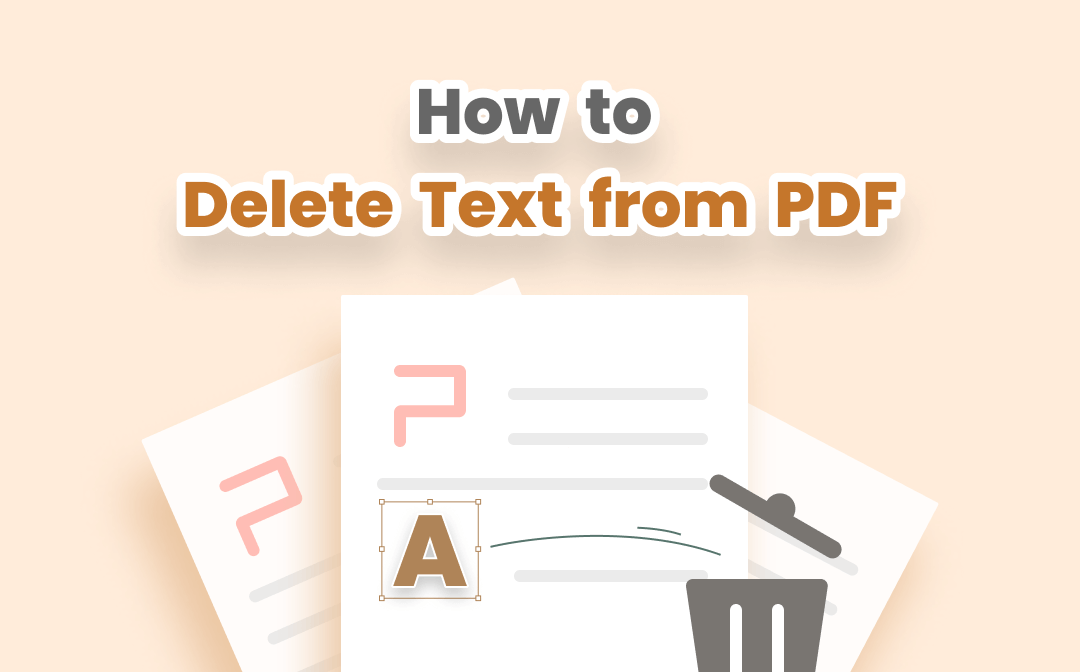 Fortunately for you, we have some applicable PDF erasers to easily get rid of the text. In this post, we have reviewed several useful solutions which enable deleting text from PDFs on Windows, macOS, and online.
How to Delete Text from PDFs on Windows
This section will mainly talk about erasing text in a PDF on two different operating systems, namely Windows and macOS. Unlike Microsoft Office formats, PDF (Portable Document Format) is not actually editable by default. In other words, if you need to modify or delete text in a PDF, you will fall flat in the end. In this case, dedicated PDF editors turn out to be helpful.
SwifDoo PDF
Probably you've never heard of this Windows-based PDF editor before, but now you do. SwifDoo PDF is a feature-rich PDF eraser that can add, replace, and remove text from PDFs. Users can change the font, color, and size at the same time. Provided below are several methods to delete text from a PDF:
Convert PDF to Word
One of the conventional methods is to convert it into an editable Word document with a PDF text remover. This approach may not be the most straightforward one though. Still, it offers an opportunity to delete PDF text for users accustomed to editing text in MS Word.
Step 1: Download SwifDoo PDF from the official website or Microsoft AppSource;
Step 2: Launch the program and click PDF to Word on the startup interface;

Step 3: Choose Add Files to upload the PDF from the local disk. When finished, select Start to output this PDF into an editable Word document;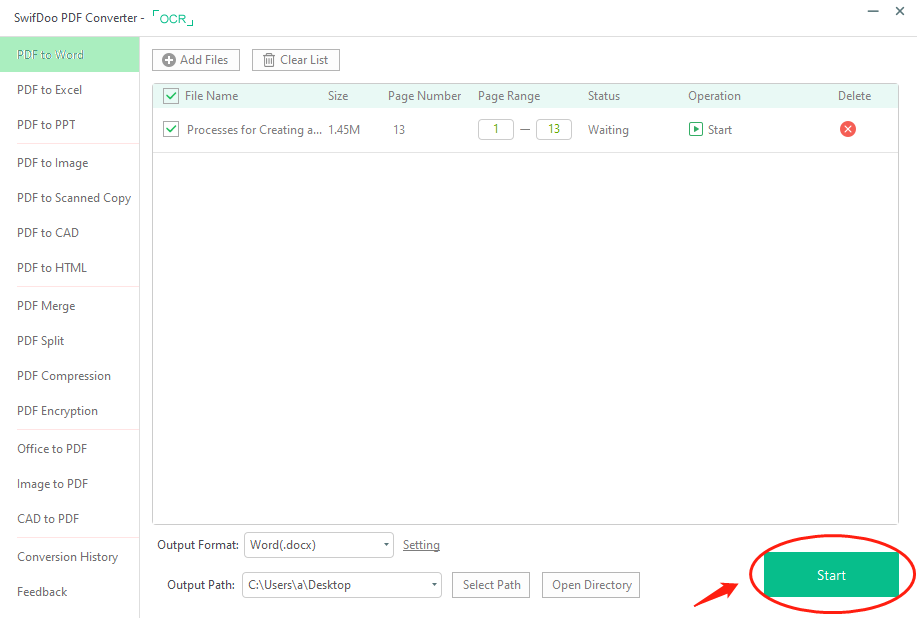 Step 4: Remove the unwanted text in Microsoft Word and save it as a PDF.
As we said earlier, this solution can erase unnecessary content from PDFs. I guess you don't want to go to the trouble. Honestly, deleting text on a PDF is made easier nowadays, especially with a usable PDF eraser.
Delete Text from PDF by Editing
Rapid development has been made in the PDF software industry. Now it's possible to make any edits to the document directly, including removing text from PDF directly. Follow the guide to get rid of undesired content.
Step 1: Open a PDF document in SwifDoo PDF;
Step 2: Navigate to the toolbar and choose Edit, then click Edit to make text boxes appear;

Step 3: Select the text you don't need, press Backspace on your keyboard, or right-click on the selected content to choose Delete;

Step 4: Save the changes to the PDF document.
That's the entire process of removing text from PDF. However, this method does not apply to scanned PDFs. Things get trickier when your PDF is a scanned copy or image-only PDF. We have published the tutorial to edit and remove text from scanned PDFs. Please read the following post to learn more.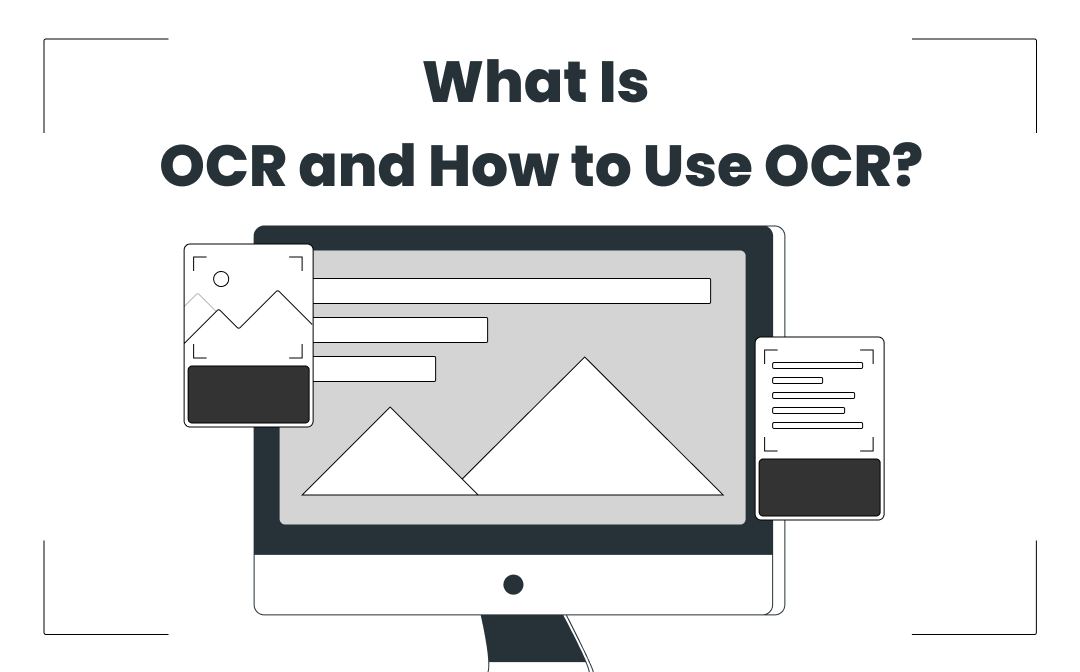 Best OCR Software: How to OCR a PDF and Convert It into Text
OCR is used to recognize text within image-based PDFs. This post introduces several best OCR software to convert scanned PDFs to editable and searchable PDFs.
READ MORE >
Some users may need to erase sensitive or confidential text from PDFs for good. What should they do? SwifDoo PDF offers the option to redact a PDF. By permanently deleting text from PDFs, they won't worry about information leaks. Let's take a look at how to whiteout text from PDF forever:
Step 1: Still, open a PDF in SwifDoo PDF and go to the Edit tab on the toolbar;
Step 2: Choose White-out and then place your cursor over the text you need to remove from the current PDF permanently;
Step 3: Draw an area over the selected text. Click Save to successfully delete text from this PDF.
Please bear in mind that redaction is an irretrievable action. Once you apply redactions on a PDF, the content vanishes entirely and cannot be recovered. Think twice before erasing a PDF permanently.
How to Delete Text from PDFs on Mac
When it comes to deleting text from PDF on Mac, Preview may escape your lips. The truth is, Mac users cannot remove text from PDF in Preview as this default PDF viewer is not a PDF eraser. Therefore, how do you delete text from PDF on macOS? PDF Expert comes into play.
PDF Expert
PDF Expert is a comprehensive PDF editor on Mac, iPhone, and iPad. With the ability to edit, view, annotate, and sign PDFs, this product is the top 1 paid app in the Mac App Store. Regarding how to edit PDF text, PDF Expert allows Mac users to change, add, replace, and delete text from the PDF. Let's dive into how it works:
Step 1: Download PDF Expert from the App Store;
Step 2: Open a PDF document in the app, select Edit in the top menu, and choose Text ribbon;
Step 3: Select the unwanted text and press Backspace on the keyboard.
Though easy to use, PDF Expert is not a free app. When the free trial expires, you still need to pay. The good news is that we have many online tools to remove text from PDFs.
After reading this section, you may have already known how to delete text from PDF, but do you have any idea about adding text boxes to a PDF? No hurry, this post will fill the gap: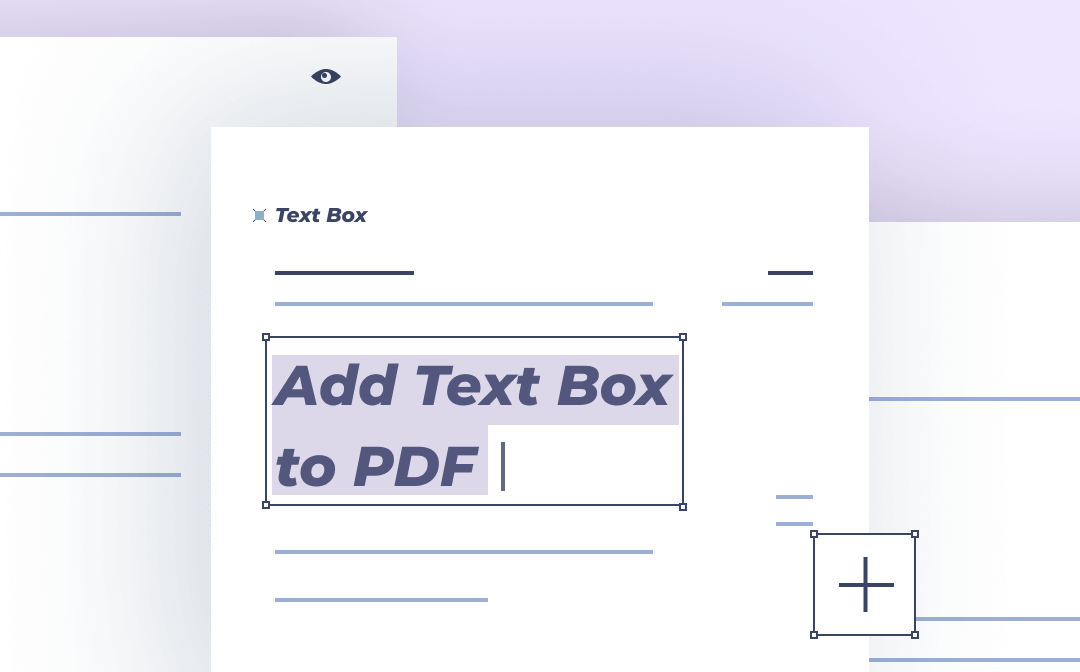 6 Go-to Methods to Add Text Box to PDF for Free
Adding new text to an existing PDF is not easy. Read this post to find out the 6 go-to methods to add text boxes to PDF for free so as to type text easily.
READ MORE >
How to Delete Text from PDF Online
Suppose you ever wonder how to delete text from a PDF with no download and registration process required. In that case, this section is of huge help as we will discuss how to delete text using an online PDF text remover.
AvePDF
It is a free web-based tool you cannot miss. If you need to remove the text from a PDF, you're here at the right place. AvePDF can remove the entire and partial text from the document. Check out how to remove text from PDF online:
Step 1: Open the official website and go to Edit > Remove Text;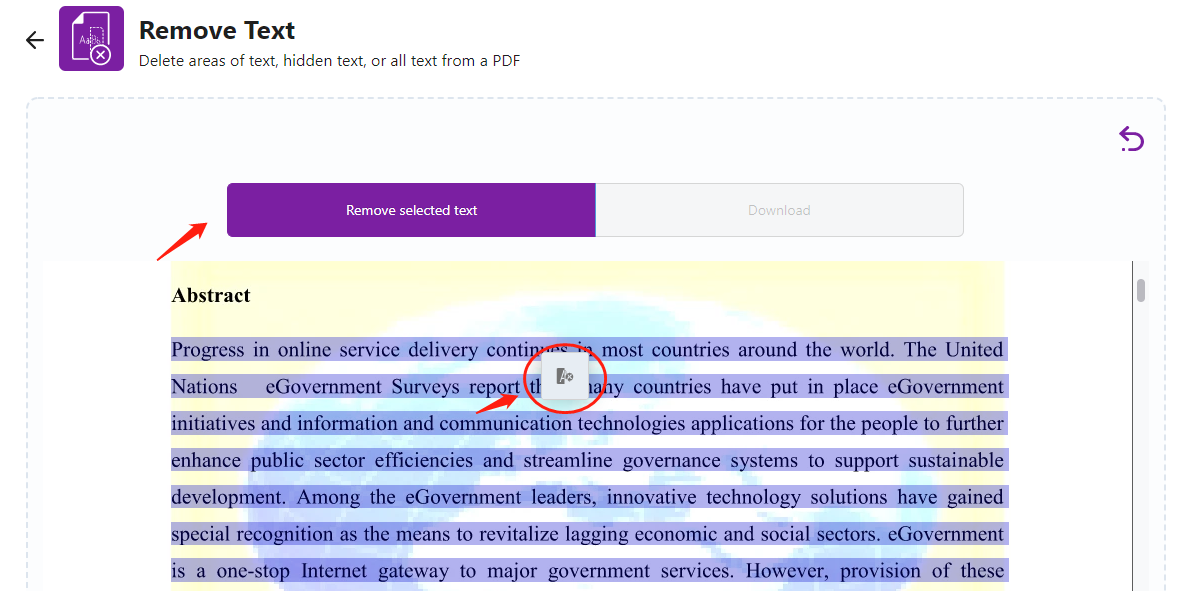 Step 2: Upload a PDF file from a local folder, Google Drive, Dropbox, or hyperlink;
Step 3: Choose a delete mode (full or targeted), and select the text you want to remove. When ready, hit the Download button.
The process of removing text requires no complicated operation, and it is a FREE online tool. Therefore, we'd like to give AvePDF a thumbs up. In addition, AvePDF is a versatile PDF tool that integrates the PDF converter, editor, and merger within its official website.
Why Cannot I Edit and Remove Text from a PDF?
Before it all, we must be clear about the nature and primary goal of creating a PDF document: for easier sharing and maintained formatting. That is to say, a professional PDF editor is needed if one wants to make any changes to the PDF text.
When users cannot delete text from a PDF, they must confirm whether a permission password secures this PDF. If that's the case, use a professional password remover to delete the permissions, for instance, SwifDoo PDF.
Otherwise, make sure this PDF is a scanned PDF document created by scanned software or not. If yes, try an OCR engine to recognize the document and edit the scanned document.
Final Thoughts
We hope you know how to delete text from PDF with desktop and online PDF text removers from the detailed description. If you need an all-in-one PDF software, SwifDoo PDF might be worth a try. If you don't need to edit PDFs regularly, online PDF editors can solve your need to erase text from a PDF.