Introduction:
As a component of Microsoft Office Suite, Word is widely accepted by people because of editability, there are many scenarios when you may go after converting them to PDFs since PDF is an ideal format for easier sharing and distributing.
In some cases, we may need to convert Word into PDF, but when the Word document contains fillable forms or multimedia content, the Save as method can be irritating because the files is far from your anticipation and displayed in a messed-up layout and organization. In this article, we'll cover how to export Word documents into PDFs.
Convert Word to PDF Offline
SwifDoo PDF
SwifDoo PDF is an offline Word to PDF converter, which can provide high-quality conversion results and perform batch converting. Take a look at how to convert Word to PDF without changing format:
Step 1: Download SwifDoo PDF from the official website;
Step 2: Launch the program and choose PDF to Word to trigger SwifDoo Converter;
Step 3: Choose Office to PDF and add your Word document to the workplace;
Step 4: Click Start to convert your file into PDF.
What needs to be mentioned is this PDF program can convert password protected PDF to Word and other formats, and it can convert Word to PDF with tracked changes. If your Word document has hyperlinks or annotations, SwifDoo PDF will also keep those changes after conversion.
Preview
Preview is a built-in image viewer and PDF converter of the macOS operating system. Therefore, Mac users don't have to worry about how to convert Word to PDF on Mac, and Preview can well resolve Word to PDF conversion:
Step 1: Click the Word document you want to export as a PDF;
Step 2: Select Print in the File tab;
Step 3: When you see the PDF pop-up menu, click it to choose Save as PDF;
Step 4: Press the Print
Word
Microsoft Word is a word processor program developed by Microsoft and was firstly released in 1983. As a flagship product of Microsoft Office Suite, Word allows users to create high-quality documents. What's more beneficial is that Word can check your grammatical errors, spelling mistakes, and word count.
If you have Microsoft Word 2007 installed on your PC or even later versions, such as Word 2010 and Word 2013, the simplest method to convert a Word document into a PDF is within Word itself:
In Word 2007
Step 1: Open the file you need to convert and then hit the File tab;
Step 2: Choose Select As in a drop-down menu, and then click PDF or XPS;
Step 3: When the Save As window pops up, select an expected location to store the converted document. Meanwhile, you are able to rename the document and change the file type if necessary.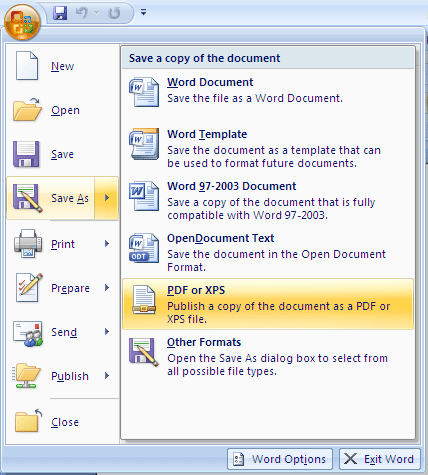 In Word 2010
The Save As setting in Word 2010 is slightly different from that of in Word 2007. Let's see how it goes:
Step 1: Click File on the menu bar;
Step 2: Hit the Save & Send button to choose Create PDF/XPS Document;
Step 3: After a Publish window pops up, enter the file name, choose the file type, and then press Publish to finalize Word to PDF conversion.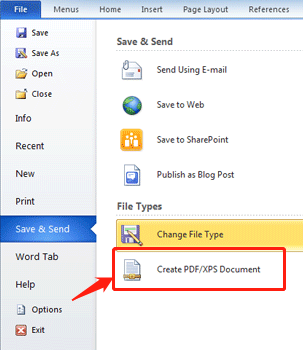 Unlike Word 2007 and 2010, Word 2003 has no native ability to create PDFs. In this case, you may need a third-party PDF product to import a Word file into a PDF with the "Print" option.
If you are not a user of Microsoft Office and you need to bulk or batch convert multiple documents, then you may need external assistance such as online and desktop PDF converters to convert Word to PDF without changing formatting.
Convert Word to PDF Online
Akin to desktop PDF software, web-based PDF applications can help with Word to PDF conversion as well. They are convenient to use since most of them usually don't require download or registration. The following is how to convert Word to PDF online with iLovePDF: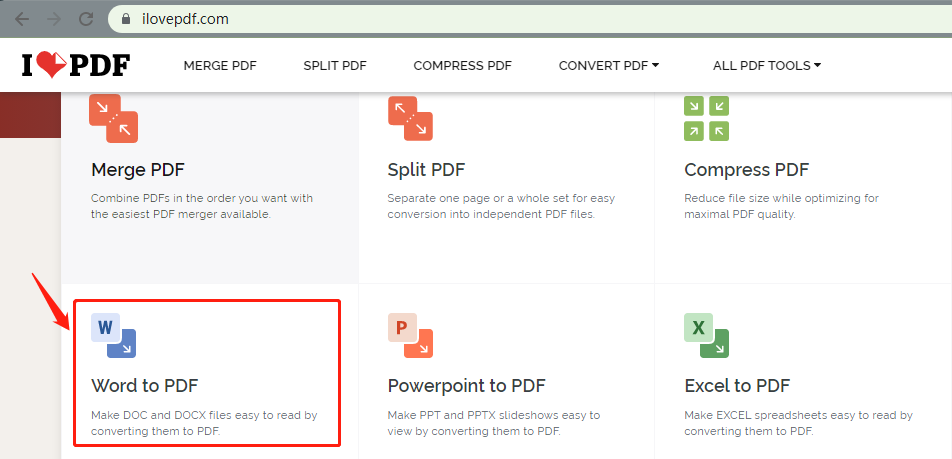 Step 1: Type iLovePDF's URL on the search bar;
Step 2: Choose Word to PDF and upload your Word documents from Google Drive, Dropbox, or local device;
Step 3: Click Convert to PDF to finishing converting.
Most free online PDF converters only allow users to convert files twice a day. If it reaches the maximum file limits, you may need to pay for it.
Since most Internet-based PDF tools share the same steps regarding Word to PDF conversion, therefore we will introduce another solution to save Word as a PDF.
Google Drive
Nowadays, many developers shift their attention to store data online rather than at local storage. In the array of cloud service providers, Google Drive needs to be mentioned.
This cloud-based storage solution enables users to save document online and access them from any device. One of its powerful functions is to support free file conversion:
Step 1: Log in Google Drive with your Google account;
Step 2: Upload your Word document in Google Drive and convert it into a Google Document;
Step 3: Export the document into a PDF. You can choose to download the document into the device or save into your Google Drive account.
However, Google Drive's editing, file conversion, and other PDF-related services are supported by built-in third-party applications. That means if you decide to utilize Google Drive to convert a file, make certain that the document doesn't contain any formatting that is hard to identify, such has graphics, forms, and multimedia content.
In a word, online tools can convert Word into PDF with only a few steps. But if you need to convert multiple Word documents to PDF at a time, you need to embrace offline PDF programs again. Batch processing requires a paid account for most web-based PDF converters.
Batch Convert Microsoft Word to PDF
Batch conversion has become a new trend since people don't want to spend time and energy waiting. This low-efficient workflow has been replaced by batch process. All you need to do is to select all files and drop them to the workplace. Keep reading to figure out how to convert multiple Word to PDF automatically.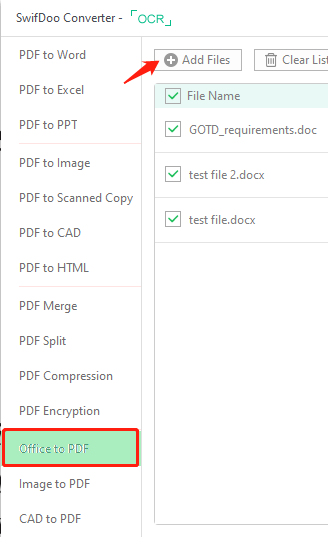 Step 1: Launch SwifDoo PDF and click Office to PDF in the Convert tab;
Step 2: When the SwifDoo Converter pops up, select Office to PDF;
Step 3: Click Add Files to drop multiple Word documents to the panel;
Step 4: Press the Start button to batch convert Word to PDF automatically.