Introduction:
A
PDF creator
is a program, app or software designed to make or create PDF documents. Since Portable Document Format (
PDF
) came into existence, document sharing and storing have been much easier. PDF also makes file exchange more secure. Because of the numerous benefits of the PDF format, PDF documents are widely used by people around the globe. As a result, many PDF creators have been developed to
create PDF documents
from images, Word, Excel, PowerPoint, TXT files, and many other types of files.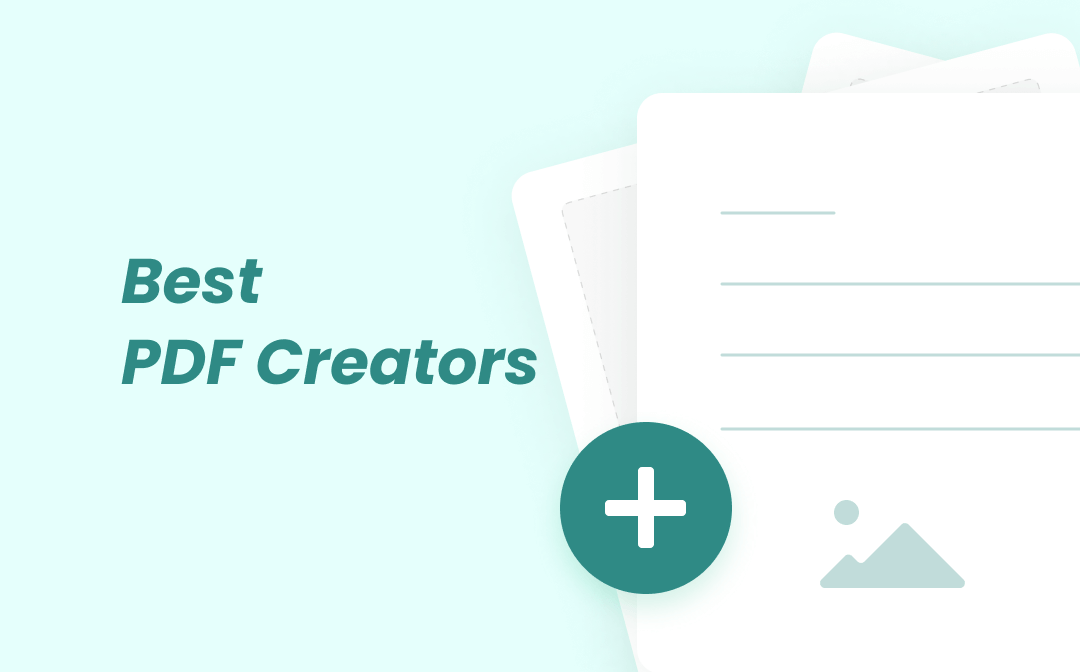 These creators work as standalone file converters or PDF printers. Depending on your needs, some run on desktop or online while others on smartphones. Read this post to get the 9 best free PDF creators for Windows, Mac, iOS, Android devices, and web usage.
SwifDoo PDF (Windows)
Adobe Acrobat Pro DC (Windows & Mac)
Wondershare PDFelement (Windows & Mac)
doPDF (Windows)
PDFCreator (Windows)
PrimoPDF (Windows)
PDFCandy (Online)
SwifDoo PDF Online Converter
iLovePDF (Android and iOS)
SwifDoo PDF
SwifDoo PDF is a compact, easy-to-use, and responsive PDF creator for Windows 11/10/8.1/7/XP devices. It allows you to create PDF files by converting printable documents. Specifically, you can turn Word, Excel, PowerPoint, TXT, CAD, and image files into PDFs using its powerful converter. The batch conversion ability makes the software one of the best solutions for PDF creation.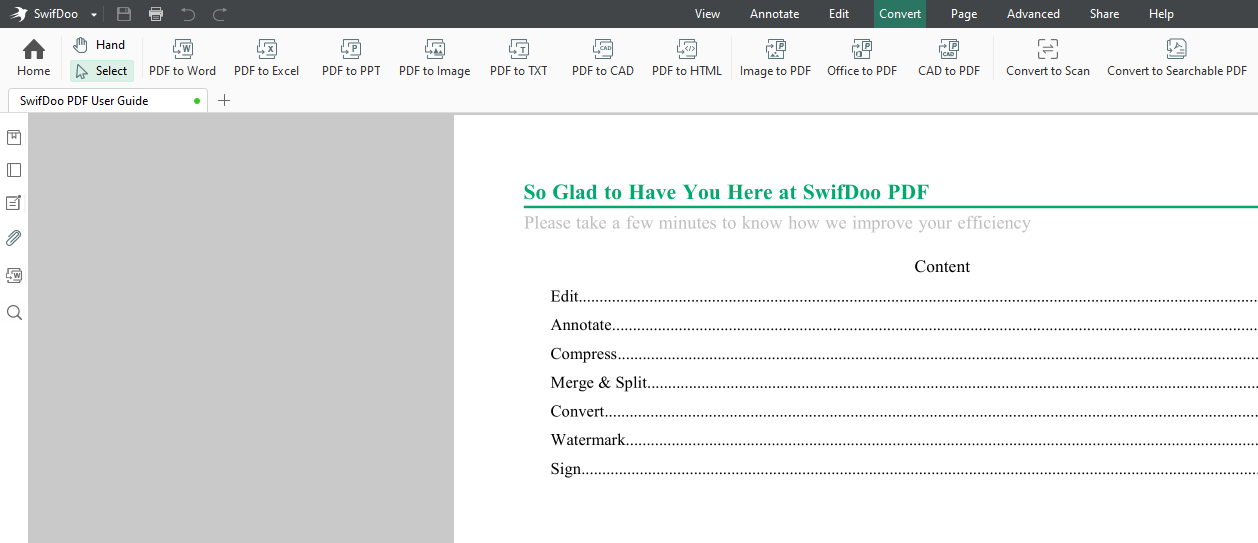 Besides, SwifDoo PDF enables you to create a blank PDF and type text, and add images and hyperlinks to it. You can also connect the downloadable PDF creator to a scanner to create a PDF from physical paper. It does an excellent job of scanning multiple pages into one PDF file and allows you to change the printer properties such as page size, color mode, and one-sided or two-sided printing.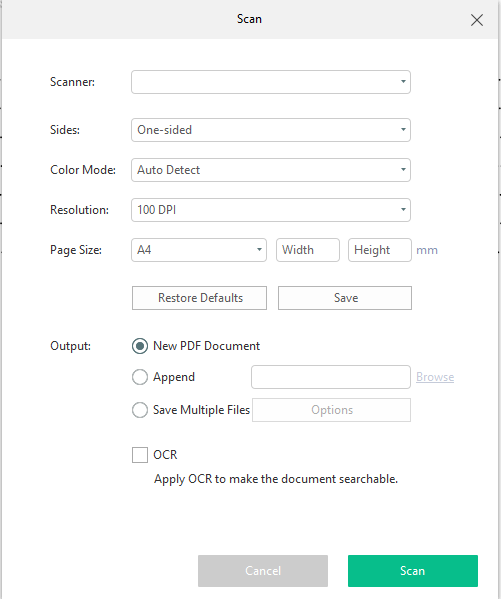 When needed, you can utilize SwifDoo PDF to convert PDF documents to editable Word, Excel files, etc. More than one of the best PDF creators, it is also an amazing PDF editor, splitter, compressor, signer, and annotator.
Adobe Acrobat Pro DC
Adobe Acrobat Pro DC is undoubtedly one of the best PDF creators with its accurate and fast conversion ability. It enables you to create PDFs from various files such as images, web pages, DOC/DOCX, XLSX/XLS, PPT/PPTX, and paper documents. You can also create a blank PDF to add text, images, links, and other objects in the Acrobat as easily as in Word.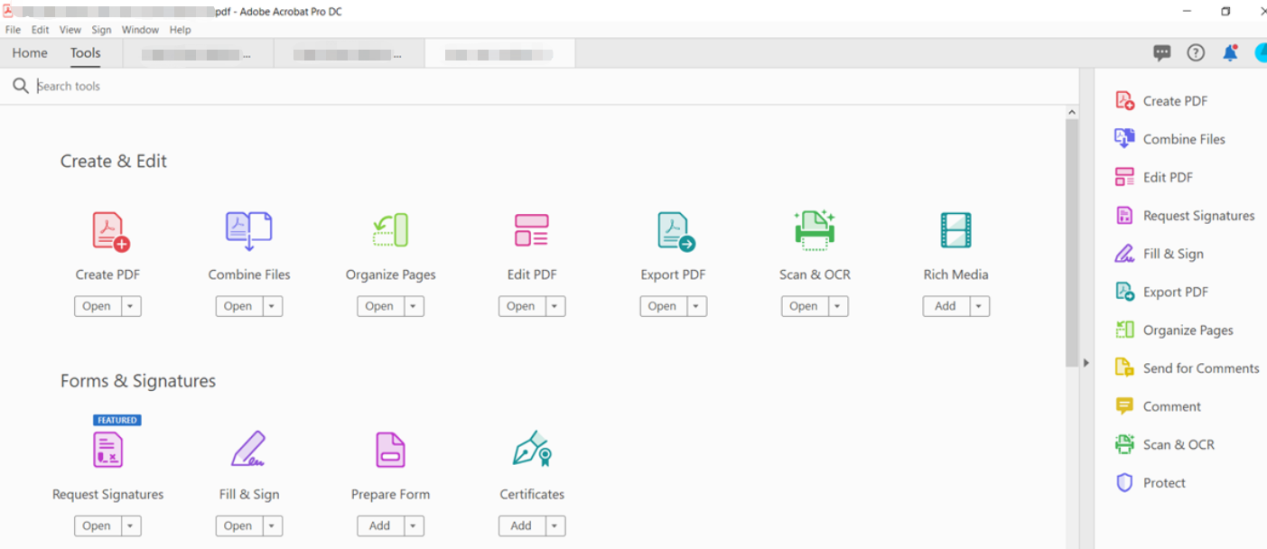 The Adobe PDF Creator is a famous PDF software application developed by the inventor of the PDF format, Adobe Inc. It comes with a wide range of features allowing you to view, create, comment, split, merge, and edit PDF files. You can try Adobe Acrobat Pro for free for seven days to create PDFs or access other features. The program runs on Windows and Mac.
Wondershare PDFelement
Wondershare PDFelement stands out from many PDF creators on the market with its user-friendly interface and excellent PDF conversion ability. The software can create PDF files from scanners, digital pictures, HTML pages, TXT and many other e-documents, and convert PDFs back to their original formats. It also allows you to create blank PDFs.

PDFelement is a free PDF creating program for Mac and Windows users. You can create, edit and save PDFs with it at no cost but the PDFs will be watermarked with its logo. The handy program also helps compare, combine, and organize PDF pages.
doPDF
One of the best free PDF creators worth trying is doPDF which works in two different ways. As a PDF printer, it allows you to create PDFs from printable documents in a web browser, image viewer, word processor, or something similar. In detail, once you've installed the program, open the file you need to convert to PDF, go to "File" > "Print", select the printer nd create a PDF.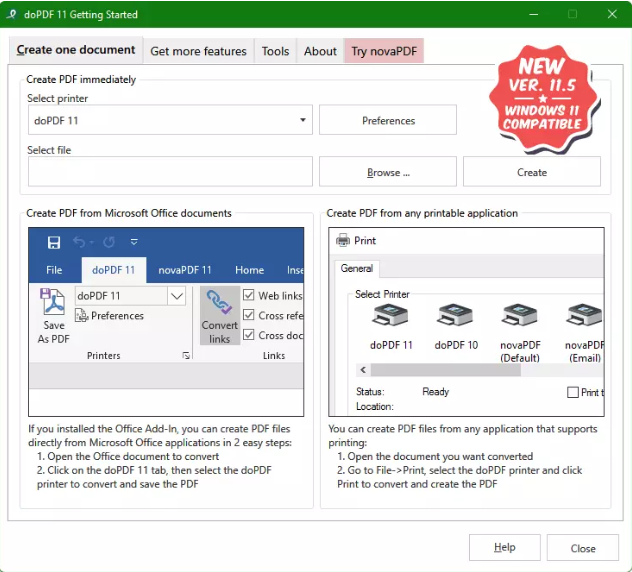 doPDF also installs itself as an independent PDF creator that lets you browse and choose a file from your device and then turn it into a PDF. The downside of the program is the inability to batch create PDFs from multiple files and the absence of other features such as editing, and annotating PDFs. The freeware supports Windows 11, 10, 8, 7, Vista, Server 2019, 2016, 2012, and 2008 R2.
PDFCreator
PDFCreator is an open-source and free PDF creator for Windows OS. The application installs itself as a virtual printer and can convert your PNG, JPEG, TIFF, and TXT documents to PDF files. All you have to do is enable the Print dialogue box in a web browser, spreadsheet software, or something similar, and select the printer once it's installed. The freeware also allows you to merge several files into one PDF and digitally sign PDF documents.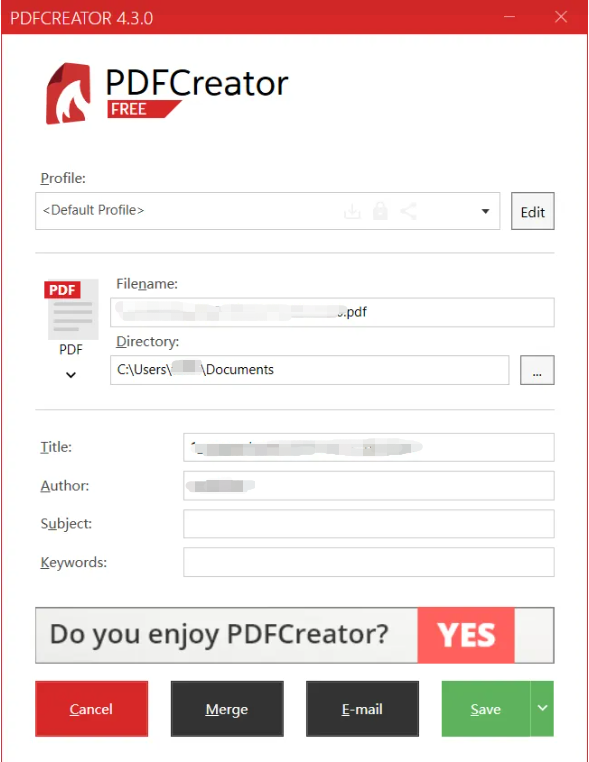 When making a PDF, you can email it to someone directly via the PDF creator. If you need additional features, there are three business editions of the program.
PrimoPDF
PrimoPDF is a freeware program offered by Nitro Software, Inc. which also developed the business-oriented Nitro PDF creator. The program is compatible with Windows devices and provides users with two ways to create PDF files. Similar to the last two software, it allows you to convert an Office document to a PDF by dragging and dropping the file into it and also works as a virtual printer in the other apps.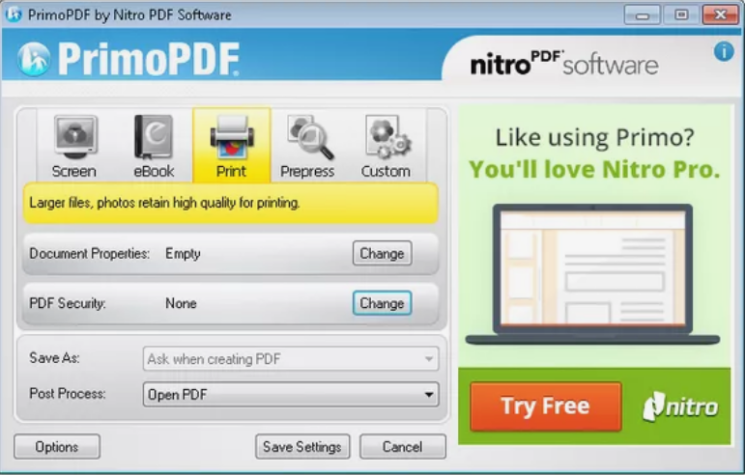 Using either of the methods, you can set the document properties such as the author, title, and keywords within the free PDF creator. The application also has the abilities to encrypt your PDF with strong passwords and combine multiple printed PDF files into one PDF. One thing you should note is that the freeware includes some ads.
PDF2Go
PDF2Go is one of the online PDF creators running via a browser. It lets you create PDFs without downloading or registering any program and offers a free service. Because of this, you just need to access the online converter and upload your file to its workspace. It converts Word, JPG, PowerPoint, Excel, and eBook files to PDFs and supports converting a batch of files in one go.

Unregistered users can upload up to 3 files with a total size of 50Mb in a single task for free and use all its tools. You will need a premium account of the PDF file creator to process more and larger files at a time.
SwifDoo PDF Online Converter
SwifDoo PDF online converter is one of the best free PDF creators available on all browsers and desktop devices. It allows you to create PDFs from Word, Excel, PPT, CAD, and image files. Each user can convert 2 documents in 24 hours and will get an extra chance by sharing the page on social media websites. All you need to do to create a PDF online is select a conversion tool and upload your original file.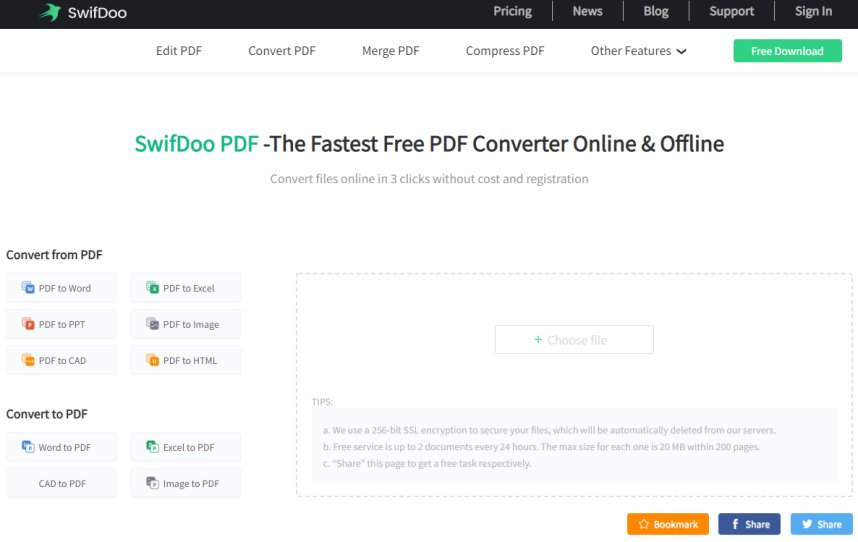 iLovePDF for Android and iPhone
Mobile apps for smartphones let us manage documents everywhere we go. iLovePDF is considered the best PDF creator and editor app on Android, iPhone, and iPad with its free service and rich features. It allows you to snap a photo of something and save it as a PDF, and change any scanned text or image into a PDF. Using the app, you can also make PDFs from Office documents and images.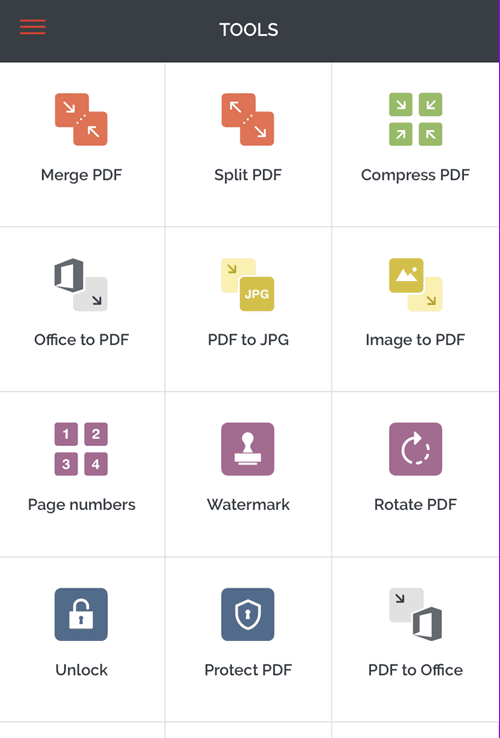 Moreover, the PDF software lets you read, annotate and sign PDF documents quickly and safely more than creating PDFs.
Final Thoughts
Which one should we choose among these 9 best PDF creators? It all depends on the operating system of your device and the capabilities you hope a program to have. If you need advanced features such as converting PDFs to other formats or editing PDFs, it's better to employ a desktop PDF maker or PDF document creator.
FAQs about Best Free PDF Creators in 2022
Does Windows 10 have a built-in PDF creator?
Windows 10 has a built-in PDF creating program, Microsoft Print to PDF. It can create PDFs from any file, including images, web pages, Word, Excel, and PowerPoint documents. The method is to right-click on a web page or a file in File Explorer, choose "Print", select the printer as "Microsoft Print to PDF" and change the printer settings as needed.