Introduction:
Are you fed up with sending a group of screenshots one by one or failing to upload the images to some platforms? If this is the case, making them a PDF file might be a good solution. Then do you know the easiest way to convert screenshots to a PDF?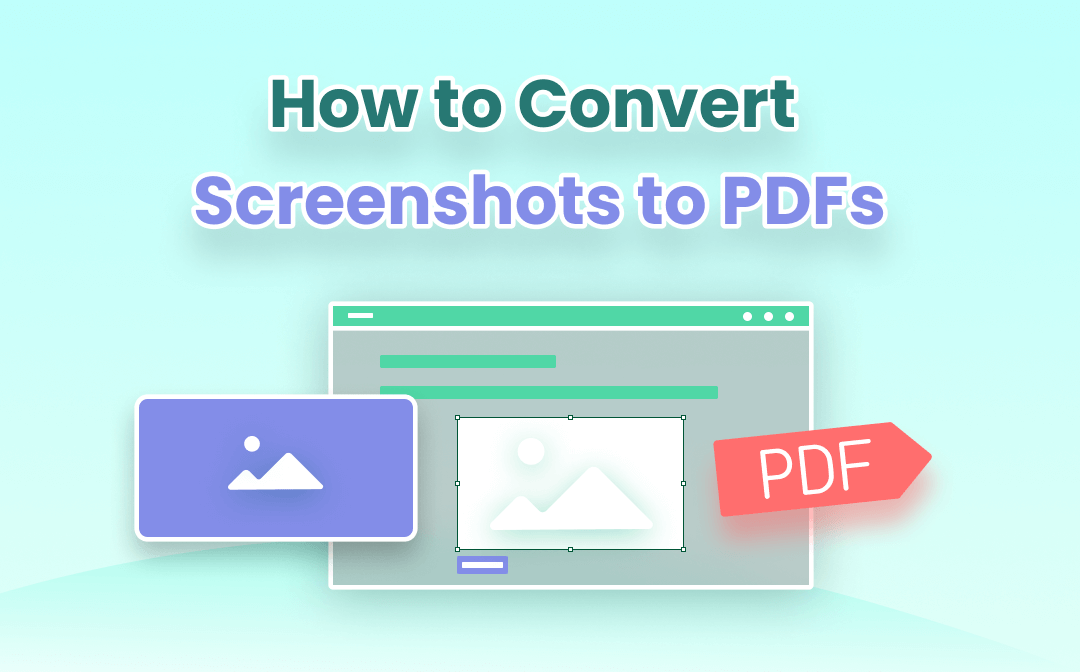 While you can insert the pictures into a Microsoft Word or Google Docs file and export the file as a PDF document, the method is a bit cumbersome and inefficient. Read this post if you intend to learn how to convert screenshots to a PDF without a hassle.
Why Convert Screenshot to PDF
According to the PDF Association and its executive director, Duff Johnson, there have been more than 338M PDF users and 19.5 billion PDF files opened in Adobe Reader in 2018. These two figures show that Portable Document Format (PDF) is one of the most extensively used file formats globally, and PDF files have many advantages over other format files.
Take a brief look at several benefits of converting screenshots to PDF:
Professionalism: PDF is believed as the most professional and formal file format by a number of people. As you may know, most patent, academic and government documents are in PDF format.
Consistency and compatibility: Unlike Word files, PDF documents are independent of operating systems and can be shared across different platforms or browsers without losing formatting and layout.
Multi-purpose use: After you turn screenshots into a PDF file, you can easily add text, shapes, signatures, insert hyperlinks to it, and more.
Small size: PDF documents are easily compressed to a smaller size so that you can save more storage space.
How to Convert Screenshot to PDF on Windows
SwifDoo PDF
File format conversion is a bit annoying, but a dedicated software product will make the thing much more effortless. SwifDoo PDF is designed to serve all PDF needs you may come across on Windows 10, Windows 8, and 7, which can swiftly convert images (PNG, JPG, TIF, BMP), Word, and Excel files to PDF documents and vice versa in just a few clicks. One of the advantages of using SwifDoo PDF to turn a screenshot into a PDF is the image resolution will remain the same.
Let's walk you through how to turn a screenshot (or a group of screenshots) into a PDF.
Step 1: Free download and launch SwifDoo PDF. Click PDF to Image in the Home interface to get into SwifDoo PDF Converter;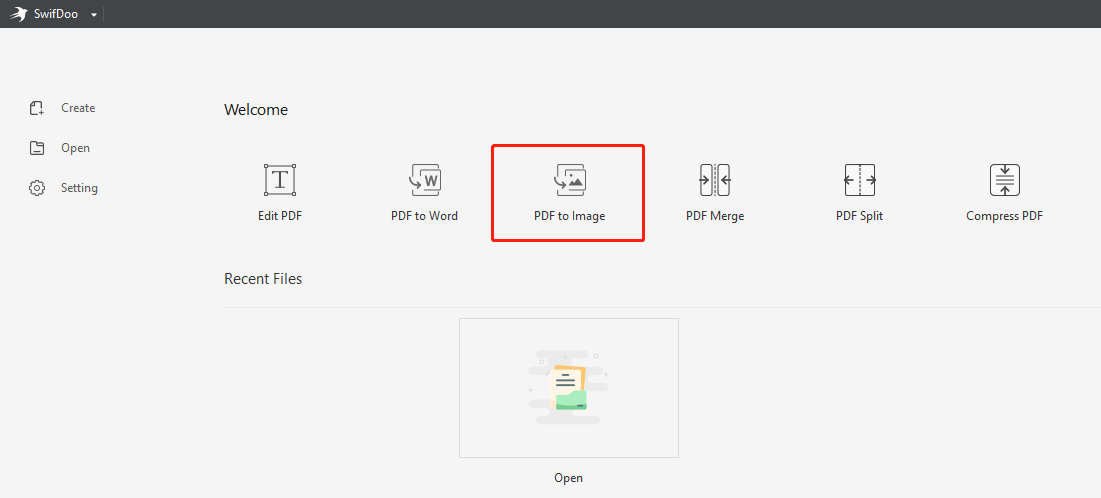 Step 2: Tap Image to PDF in the left pane of the converter window, then add the screenshots you need to convert to PDF onto the workspace;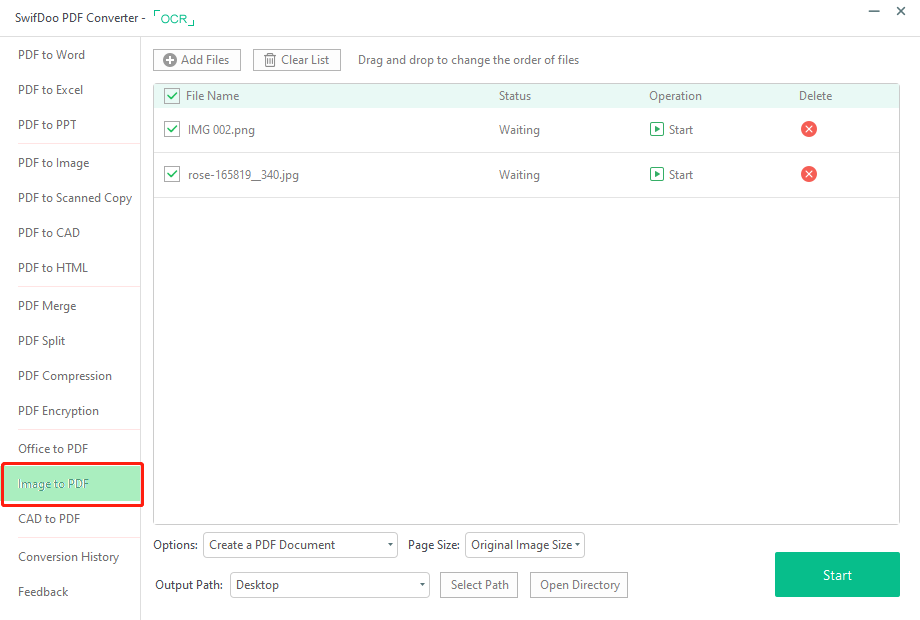 Step 3: Click the Options drop-down menu to select Create a PDF Document, which will save all screenshots as one PDF, choose page size, and output path;
Step 4: Tap Start to convert your screenshot(s) to PDF.
When necessary, you can choose "Create Multiple PDF Documents" in the "Options" menu to create individual PDF files from multiple screenshots.
Tips:
By selecting the page size as "Original Image Size", the PDF will look exactly the way the original image appears. You can also customize the page size, and set the page orientation (landscape or portrait) from "Page Size".
SwifDoo PDF also allows you to convert a screenshot file to a PDF online free. On the converter page, tap "IMAGE to PDF" > "Choose file" to upload your screenshot and SwifDoo PDF will convert it automatically.
The online screenshot to PDF converter provides the free service with a limit of up to 2 documents every 24 hours, but you can simply share the page to Facebook and Twitter to get more chances.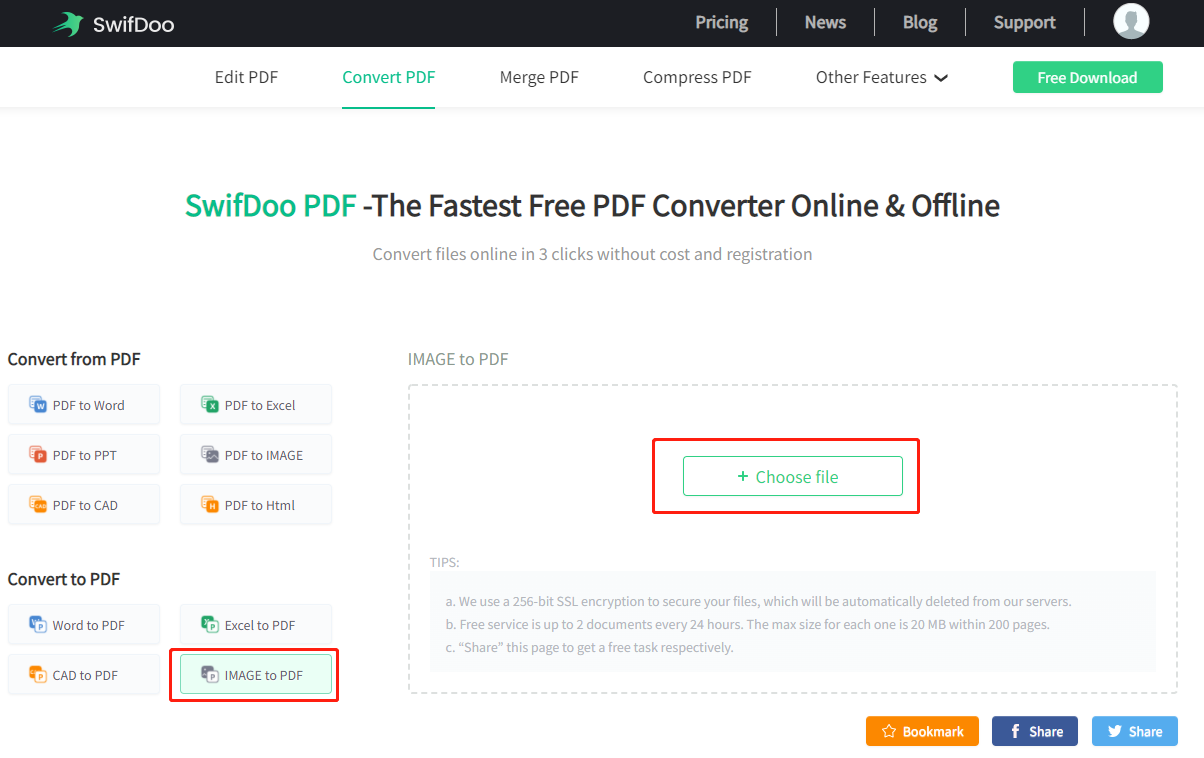 SwifDoo PDF is an all-inclusive application that lets you edit, annotate PDFs, and convert PDF to image format (such as PNG, JPG). When needed, you can combine a range of PDF pages into one image, or turn each PDF page into a separate image when needed. Check the following post to learn how-to.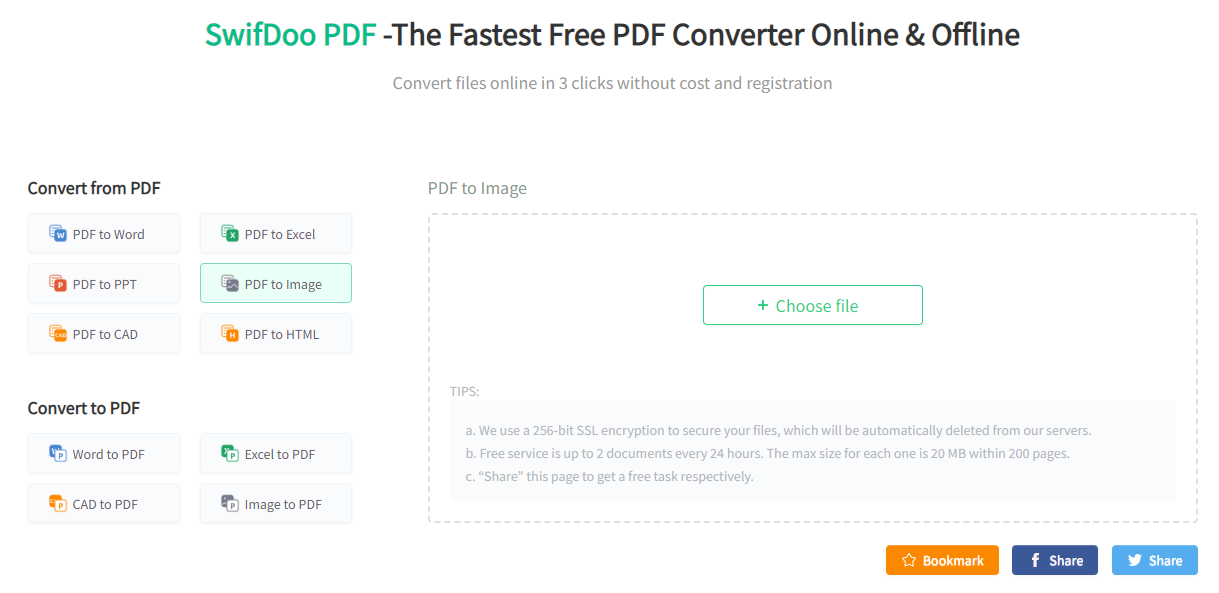 How to Convert PDF to Image [Offline & Online]
This post focuses on how to convert PDF to image format with offline and online software. Read to learn the step-by-step guides.
READ MORE >
Microsoft Print to PDF
If you wonder how to save a screenshot (or multiple screenshots) as a PDF document on Windows 10 without using an external PDF application, look no further than Microsoft Printer, the native support. It allows you to save multiple screenshots as one PDF or print each picture as a single PDF file.
Step 1: Hold Ctrl or Shift key to select the screenshot files you want to put into a PDF, right-click on them and choose Print;
Step 2: Within the Print Pictures dialog box, select Printer as Microsoft Print to PDF. Choose page size and whether to fit the pictures to frame;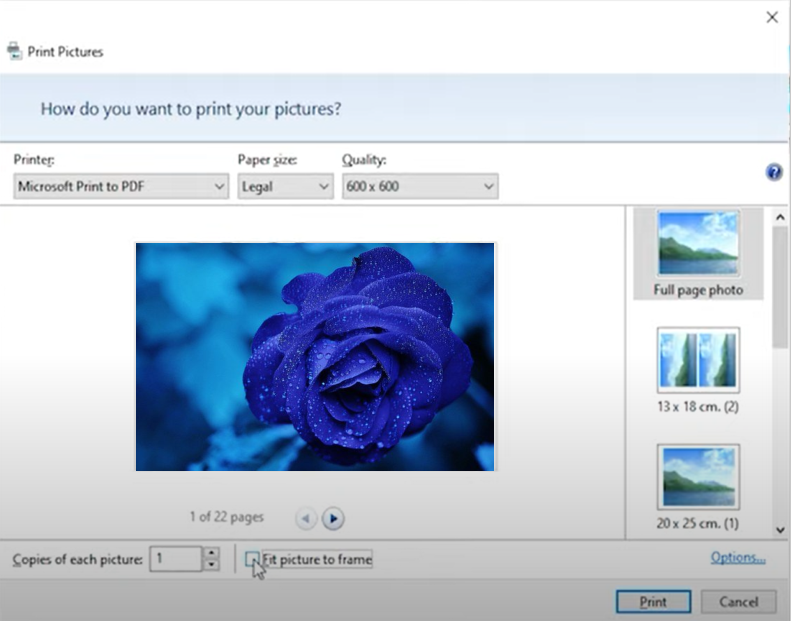 Step 3: Tap Options and then Printer Properties to change the page orientation to landscape or portrait;
Step 4: Hit Print to convert the photos to a PDF.
Tips:
If there is no "Microsoft Print to PDF" in the "Printer" drop-down menu, choose "Install Printer" and follow the prompts to install it.
How to Turn Screenshot into PDF on Mac
Preview
Mac users can resort to the built-in image and PDF viewer on their devices, Preview to convert screenshots to a PDF file without the need to install third-party software. The application is also developed to handle basic and standard PDF needs such as encrypting and annotating PDF files. Here is a quick look at how to turn screenshots into a PDF on macOS.
Step 1: Hold Ctrl key to select all the screenshots you wish to save as a PDF and right-click to choose Open with, Preview;
Step 2: Tap File, then Print;
Step 3: In the Print dialog box, hit Show Details and set page size, orientation, and other options;
Step 4: Click the PDF drop-down button to select Save as PDF, then save and print the pictures as a PDF document.
When required, Preview can export your screenshot to HEIC, JPEG, PNG and other formats. To fulfill these tasks, go to "File" > "Export", tap "Format" to select your desired format.
How to Turn a Screenshot into a PDF on iPhone
We don't bring a computer with us everywhere we go, thus there may be times when we need to convert screenshots to a PDF file on mobile. Fortunately, you can make it natively without installing any app. Take a look at the way to save a screenshot as a PDF on your iPhone.
Step 1: Open your photo album, then tap Select on the upper right to select the screenshots you want to convert to PDF;
Step 2: Hit the up arrow icon at the bottom corner, and scroll the pop-up page to choose Print;
Step 3: Select page size, then use your two fingers to zoom in a screenshot thumbnail to turn the images into a PDF;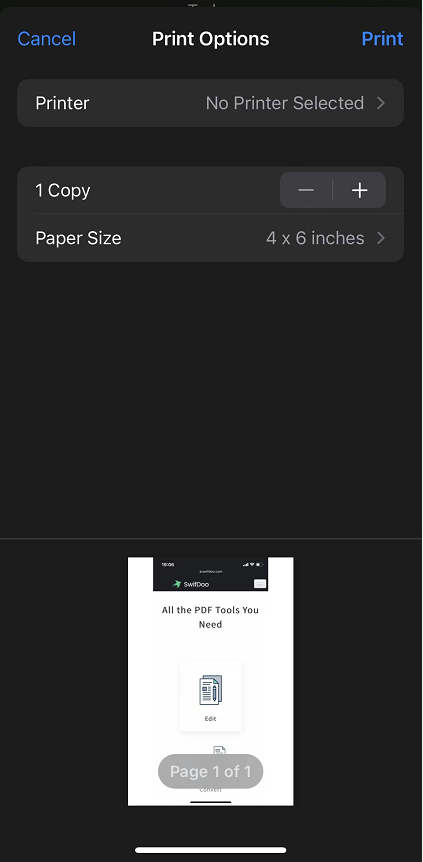 Step 4: Save the PDF to your folder or share it with somebody via an application.
How to Turn a Screenshot into a PDF on Android
The screenshot to PDF conversion on Android is also as easy as falling off a log. You can get it done without turning to any mobile app or network connection. The tutorial below shows how to make a screenshot a PDF with your Android phone.
Step 1: Open the screenshot album, tap and hold a screenshot to select it, tick other screenshots you wish to convert to PDF;
Step 2: Hit the More icon in the lower right corner to choose Print or export to PDF;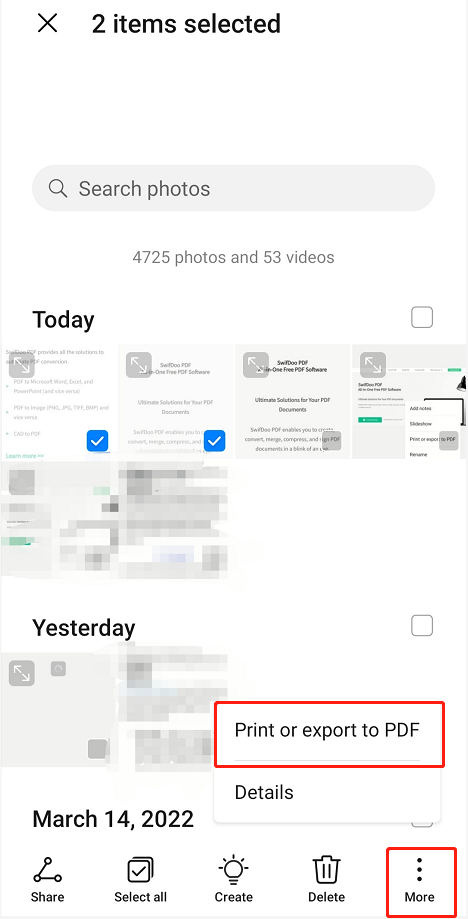 Step 3: Click the drop-down arrow to show all print options, select page size, and orientation. Tap the save icon to save the screenshots as a PDF.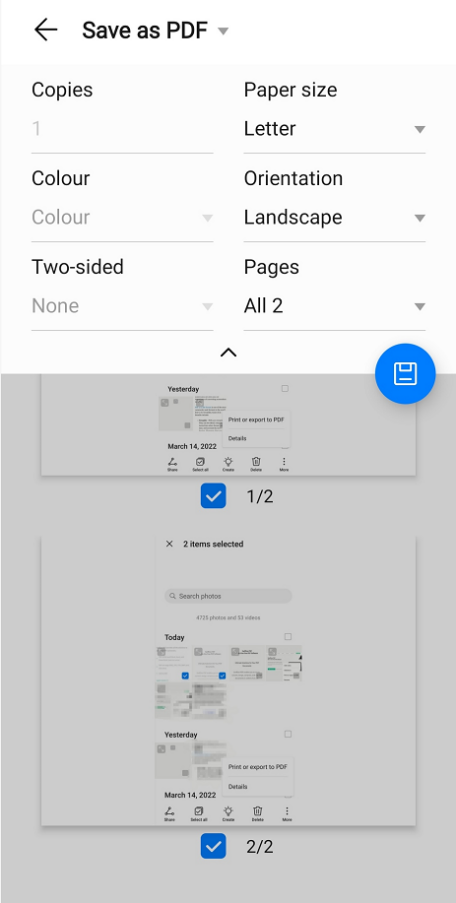 Final Thoughts
According to the forecast of International Data Corporation (IDC), the U.S. mobile workers will grow to 93.5 million, nearly 60% of its total workforce by 2024. That may indicate that more people will work remotely and use electronic documents more frequently.
To increase your document management and manipulation efficiency, investing in software like SwifDoo PDF is absolutely wise as it is more than just a PDF converter, but also a PDF editor and annotator, totally an all-in-one productivity tool.