Introduction:
Everybody may be familiar with how to export Microsoft Office documents as PDF files. However, many people possibly have no idea of the right way to
convert PDFs
to other formats. Actually, when it comes to PDF conversion, a professional and best-to-use PDF converter is necessary. It will help you efficiently turn PDF documents into editable Microsoft Word, Excel, PowerPoint, and documents like images, and vice versa.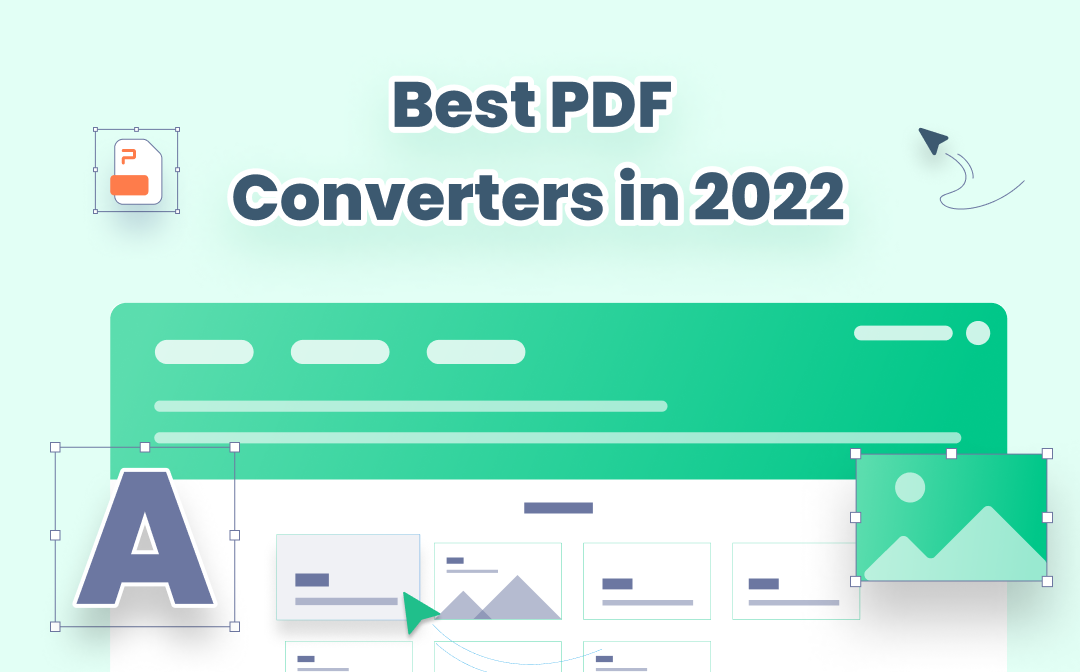 There are a ton of PDF conversion tools in the market. How do you choose? Based on some key factors, this article will introduce the 8 best PDF converters in 2023, including Windows, Mac, and online software.
SwifDoo PDF (Windows)
Soda PDF (Windows)
TalkHelper PDF Converter (Windows)
Wondershare PDFelement (Windows, Mac)
Adobe Acrobat Pro DC (Windows, Mac)
Nitro PDF Pro (Windows, Mac)
Zamzar (Online)
SwifDoo PDF Online Converter (Online)
How We Test the Best PDF Converters
The following lists the criteria for how we test the PDF converters in the post, including must-have features for converting PDF from and to another format, performance, etc. Take a look.
Supported file types.
Program running speed and conversion time.
Ability to perform batch conversion.

OCR engine for high-quality converted files.

User interface.
Free trial and price.
Best PDF Converters for Windows/Mac
A desktop converter is designed to convert PDF files in a professional manner. Offline PDF conversion software is commonly developed for Windows and Mac PCs. The following content will introduce SwifDoo PDF and 4 other PDF converter programs available on the two platforms.
SwifDoo PDF
If you are looking for the best PDF converter for Windows 10, 8.1, 7, XP, and the latest Windows 11, try SwifDoo PDF. It is an all-in-one PDF management software product that can act as a powerful converter. SwifDoo PDF enables you to convert PDFs to Word, Excel, PowerPoint, image, CAD, HTML documents, and vice versa, and it allows batch processing.
Thanks to the advanced conversion technology, the original layout and formatting after conversion will be preserved to the utmost extent. The software supports up to 15 formats. Here's what SwifDoo PDF has or can do:
Support file conversion among multiple types of files: Word (doc, docx, rtf, dot, dotx, docm), Excel (xls, xlsx, csv), PowerPoint (ppt, pptx, pptm), image (bmp, jpg, png, tiff), CAD (dwg), webpage (html), text files, etc.
Smooth program running and fast conversion.
Batch conversion feature.
OCR (Optical Character Recognition) This is a technology used to identify unrecognizable characters within a scanned PDF and convert a scanned PDF to an editable document. SwifDoo PDF's OCR can recognize 9 different languages.
A clean and easy-to-navigate interface.
Up to 30-day free trial for all features.
Affordable prices for monthly, yearly and perpetual subscription plans.
How to Convert PDF Files Using SwifDoo PDF on Windows
Here is how to convert documents from PDF to another format or vice versa using the best PDF converter.
Step 1: Free download the full version PDF converter on your Windows PC and launch it;
Step 2: Choose PDF to Word in the home interface to get into SwifDoo converter window;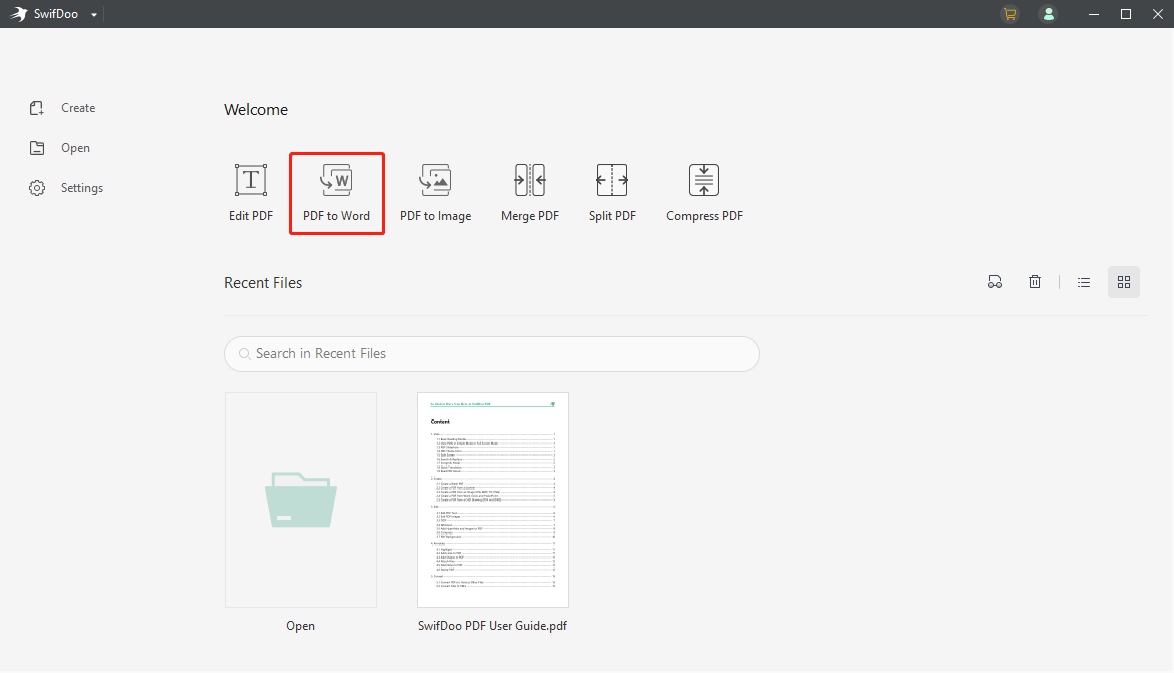 Step 3: Select a conversion option on the left side of the converter, for example, PDF to Word or PDF to Excel. Click Add Files to import the PDF files;
Or, click More Features to choose Convert to PDF, select a converter tool, and add the files;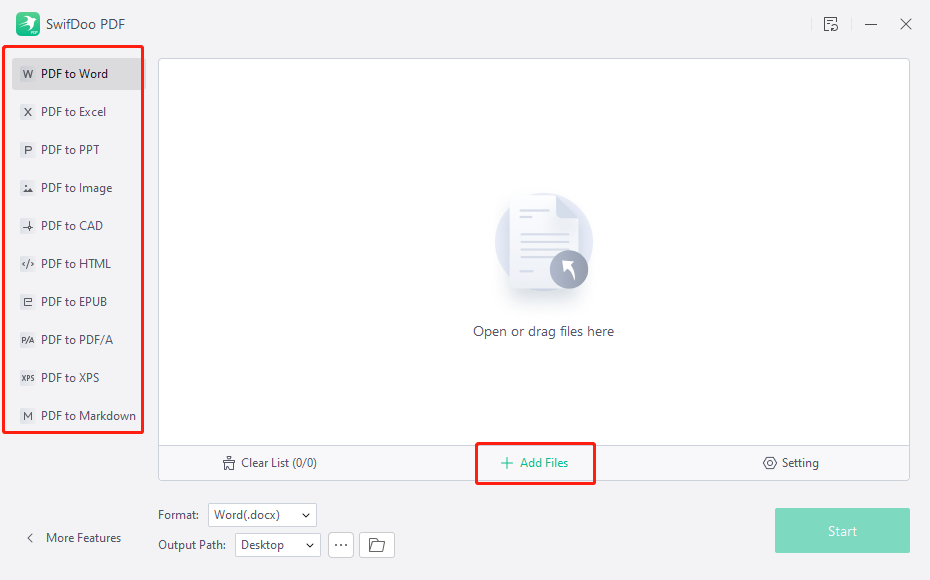 Step 4: Choose a location for saving the exported documents. Press the Start button.
The PDF converter software allows you to convert specific pages in a PDF by selecting the certain page range. In the converter window, SwifDoo PDF also provides "PDF Merge", "PDF Split", "PDF Compression", and "PDF Encryption" options. With these features, you are able to combine several PDFs into a single PDF file, split a PDF into multiple smaller files, optimize PDFs size, and protect PDFs with passwords.
As a multi-faceted PDF program, SwifDoo PDF integrates 30+ common PDF tools, and then it serves as a PDF annotator, PDF editor and PDF cropper. All in all, the software is one of the best PDF converters and document management application for Windows users.
Soda PDF
Soda PDF desktop application is a handy PDF converter for Windows platforms. It lets you convert PDFs to many other common formats such as Word, Excel, PowerPoint, TXT. The offline software also has the abilities to create PDF files from image, HTML, PPT documents and clipboard. Moreover, Soda PDF is able to batch convert multiple PDFs in just a few clicks.
Soda PDF is not only one of the best PDF converters, but also a PDF reader, editor and form filler. It is a comprehensive solution to a variety of PDF issues. If needed, it allows you to secure PDFs with passwords. You even can replace the background of a PDF with an image. In summary, Soda PDF is a good PDF converter and PDF management program for Windows platforms.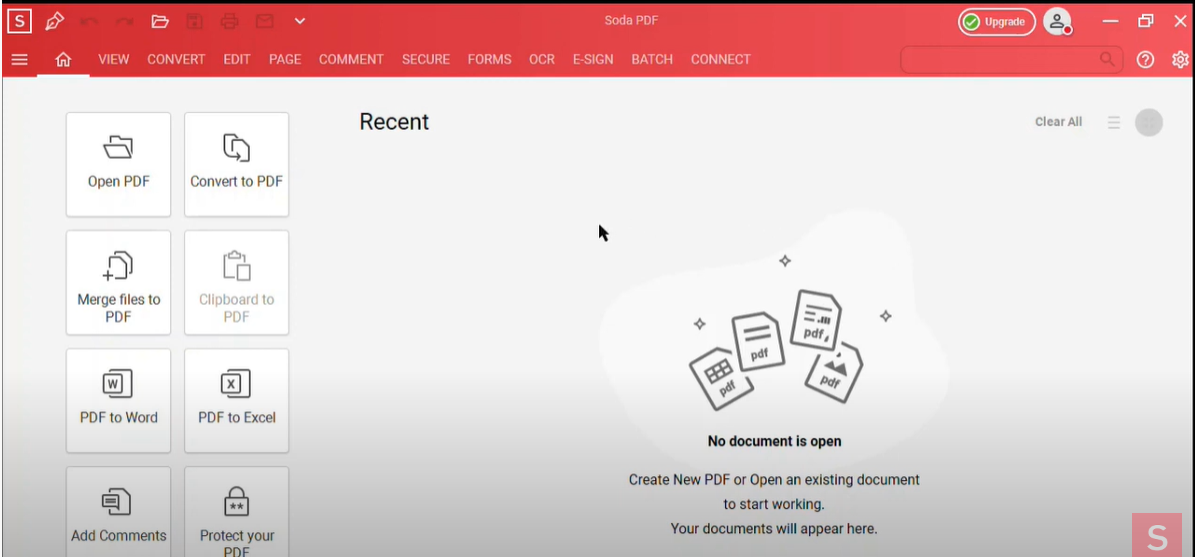 Pros:
Allow converting PDF to Word (doc, docx), Excel (xls, xlsx), PowerPoint (ppt, pptx), HTML, TXT, and vice versa. It can convert PDF to EPUB.
Rapid conversion.
Allow batch processing.
OCR feature that helps turn a scanned document into a searchable and editable file.
Simple-to-use interface.
Ability to fill forms.
Cons:
Slow installation process and launching.
Only 7-day free trial.
TalkHelper PDF Converter
TalkHelper PDF Converter derserves to be one of the best PDF converters with its built-in OCR function and multi-format conversion ability. The PDF conversion program can convert PDF to Word DOC/DOCX/ODT, Excel XLS/XLSX/ODS, JPG, PNG, TIFF, EPUB, HTML, PPT, and some other formats. It also turns the mentioned formats into PDFs. Batch conversion is supported by the software.
Its OCR engine ensures the reliable quality of output documents and helps convert scanned PDFs to editable documents. What's more, the downloadable software has tools to split, merge, and extract pages from PDF files. The multi-purpose software has a multi-lingual user interface and is compatible with Windows 10, 8.1, 8, 7, and Vista.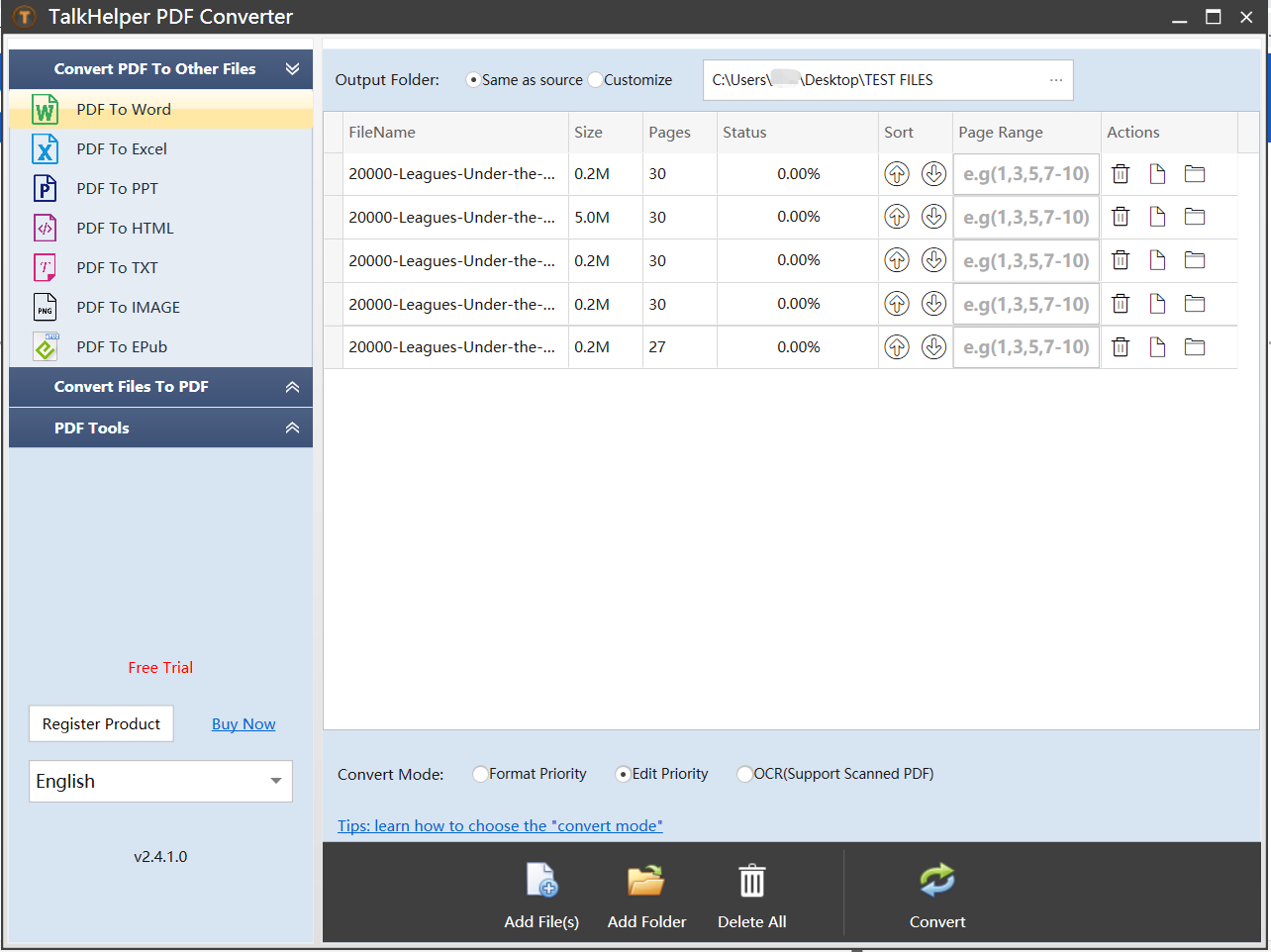 Pros:
Capability of saving PDFs as many different formats (Word, Excel, JPG, etc) and vice versa

OCR engine supporting 40+ languages

Batch conversion ability

Comprehensive software with PDF password removal, PDF compression, and other tools

Fast execution
Cons:
Out-dated interface

Only a few pages of a PDF can be converted in the free version
Wondeshare PDFelement
PDFelement is a practical solution to PDF conversion, which is available on Windows, macOS, and mobile device. Its desktop application can be free downloaded from Wondershare website. The top best PDF converter can batch convert Word, Excel, PowerPoint, image files to PDFs, and vice versa, but does not sacrifice the original quality. The entire conversion process is completed within a short time.
Pros:
Allow transforming PDF to Word (doc, docx), Excel (xls, xlsx), PowerPoint (ppt, pptx), TXT, JPG, and vice versa. It allows converting PDF to EPUB.
High speed conversion.
Batch conversion available.
OCR option that supports 20+ languages.
Clean interface.
Allow replacing page background with an image.
Cons:
Only 14-day free trial and no monthly subscription plan.
A little slow for converting PDF
Adobe Acrobat Pro DC
Adobe Acrobat Pro is a pioneer of the PDF software industry and on the list of the best PDF converters for Mac and Windows. The software is dedicated to dealing with various PDF tasks by providing a suite of productivity tools. This offline program works as a robust PDF converter, helping convert PDFs by retaining original layout and formatting. If you don't want to convert the entire file, Adobe Acrobat PDF converter allows you to specify the pages you need to process.
It has OCR engine for scanned documents conversion.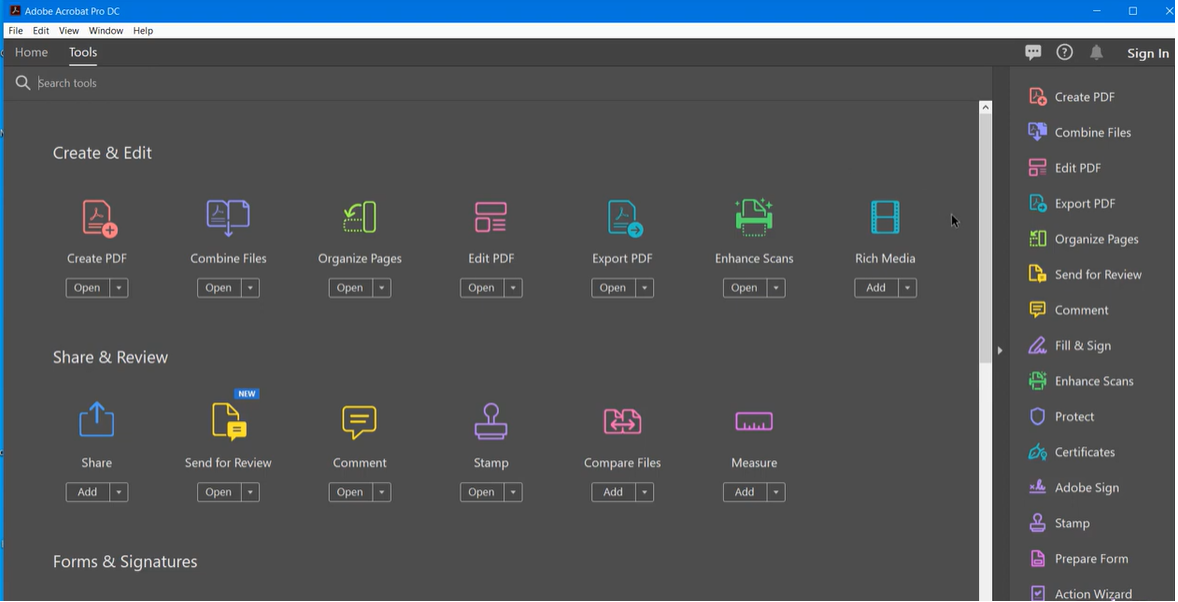 Pros:
Turn PDF to Word (doc, docx), Excel (xlsx, csv), PowerPoint (pptx), TXT, JPEG, HTML, PS, and vice versa.
High processing speed.
Allow batch converting files.
Built-in OCR feature.
Capability in filling forms.
Cons:
Complex user interface.
High subscription fees.
Nitro PDF Pro
Nitro PDF Pro is an all-inclusive PDF application that enables you to convert, edit, compress and protect PDF files with ease. It helps convert PDFs to Excel spreadsheets, Word documents and other types of files. You can also use the program to convert other formats to PDFs. It is undoubtedly one of the best PDF converters in 2022.
Nitro Pro is fully fledged PDF software among other PDF converter programs. It has not only the cutting-edge conversion technology but also some other professional features designed for business users. Since the desktop program is compatible with Mac OS. , Mac users can consider it as a top substitute for Preview PDF reader.

Pros:
Turn PDF to Excel (xlsx), PowerPoint (pptx), Word (docx), TXT, JPEG, and vice versa.
Speedy conversion.
Allow converting multiple files at the same time.
Powerful OCR feature.
Import and export comments to/from a PDF.
Cons:
Unintuitive user interface.
No short-term subscription option.
Best PDF Converters Online
An online PDF converter is convenient to use since it works through a web browser. Therefore, you don't need to download and install it on your computer. In addition, a web-based PDF converter is available on almost all the operating systems. Find out two best PDF conversion software working online.
Zamzar
Zamzar is a dedicated documents converter that can convert nearly all sorts of files including PDFs, spreadsheets, presentations, images, even audios and videos. With the ability to batch change Word, JPG, Excel, and other files to PDFs and vice versa, it is reputed as the best online PDF converter that is free to use.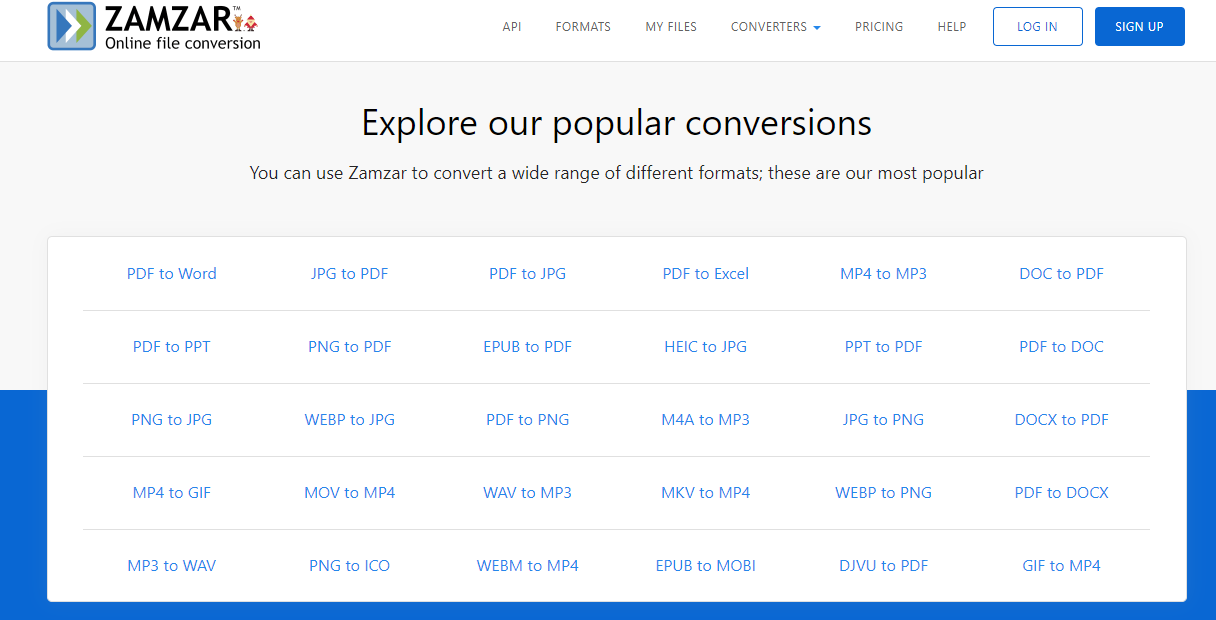 Pros:
Turn PDF files to Word (doc, docx), Excel (xls, xlsx), PowerPoint (ppt, pptx), PS, TXT, image, eBook, CAD, audio, web documents.
Swift conversion.
Allow uploading multiple files at the same time depending on the plan you choose.
Intuitive workplace.
Cons:
Only offer OCR for PDF to TXT, not for PDF to Word or PDF to Excel.
SwifDoo PDF Online Converter
SwifDoo PDF online converter might be one of the best PDF converters with its free service. It acts as a Word to PDF converter, JPG to PDF converter, and can be your best online PDF to Excel as well as PDF to Word converter. Other supported formats include PPT, and CAD. Every day you can use the online converter to process your files for free.
Pros:
Free file conversion between PDF and other formats such as Word, Excel, PPT, etc

Clean, safe, and simple interface
Cons:
Not working with a file larger than 20MB
How to Choose the Best PDF Converter
The best PDF converter is actually a relative concept. It should be the one that fills the bill. When comparing different software, you can take OS, compatibility, user-friendliness, cost performance, and other necessary aspects into consideration.
If you are looking for a converter applicable to Windows OS., SwifDoo PDF is a really good option. For new users, it provides a 15-day free trial without requiring email registration. For all the subscribers, you can enjoy free upgrading service in the future. So all things considered, SwifDoo PDF is one of the most ideal PDF converter and management programs for Windows platforms.
Conclusion
As digital documents, especially PDFs, are increasingly taking an important role in today's world, it becomes a necessity to convert PDF to or from another format in our work. You may also wish to do more with PDF files such as editing them. To keep you productive, we've sorted out the aforementioned 8 best PDF converters and programs that might deliver the best value for money. Hope this post is helpful.
Common FAQs about Best PDF Converters
What is the best free PDF converter ?
The best PDF converter to use for free should be an online tool, as PDF conversion is always an advanced feature in desktop programs. Therefore, SwifDoo PDF Online Converter might stand out from others with a clean interface and free service.
Is there an actual free PDF converter?
There are many PDF converters software allowing you to convert PDFs for free, but no one has no limits. The free converters may watermark your converted files or limit the number or size of the uploaded files.
What is the most accurate PDF to Word converter?
Offline PDF converters can output more accurate results than web software. For example, SwifDoo PDF is a PDF to Word converter that converts PDF files to Word documents without losing overall formatting and layout.
What is the safest PDF Converter?
A program that can be free downloaded and work offline is the safest PDF converter, because you don't have to upload your files to the internet. Also, there should be no ads in the application.