Introduction:
To piece together relevant PDFs into an individual document is conducive to file archival. No one wants to be tortured by a messed-up desktop full of unclassified files. In some cases, you may need to bundle together multiple PDFs for easier file transfer. If you do face the above situation,
a PDF merger
will be useful.
This post will elaborate on several useful PDF mergers on Windows and Mac to help merge multiple PDF files.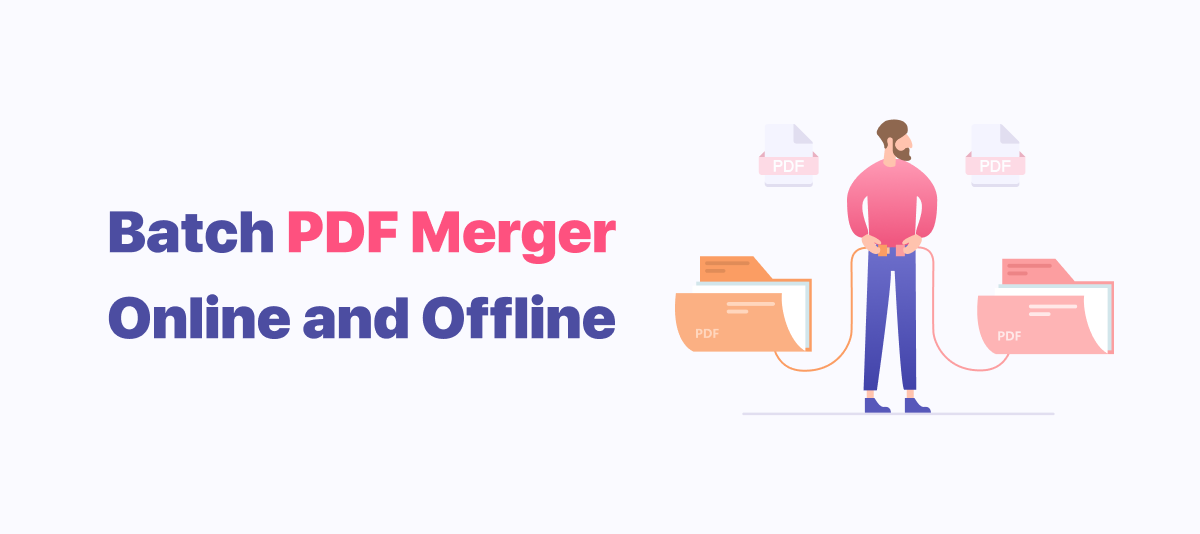 How to Merge Multiple PDFs with Desktop PDF Programs
For Windows users, to combine multiple PDFs into one requires a third-party PDF tool to accomplish this task. So far, there is no built-in tool with the ability to merge more than two PDF documents well on Windows.
How to Merge Multiple PDFs on Windows
SwifDoo PDF
With more than 30 features to address PDF-related problems, including how to merge several PDF documents, SwifDoo PDF is a full-featured PDF program on Windows 10, 8, and 7. This PDF merger doesn't have a steep learning curve so everyone can access the features without an effort. Here's how to combine multiple PDFs with SwifDoo PDF:
Step 1: Download SwifDoo PDF from the official website and install the software;
Step 2: Open the program and click Open on the homepage;
Step 3: Click Page to choose Merge. When the SwifDoo PDF Converter window pops up, select Add Files on the menu at the top to import multiple PDFs into the workstation;
Step 4: Specify the page rage if needed. Once ready, click Start to combine PDFs into a single document.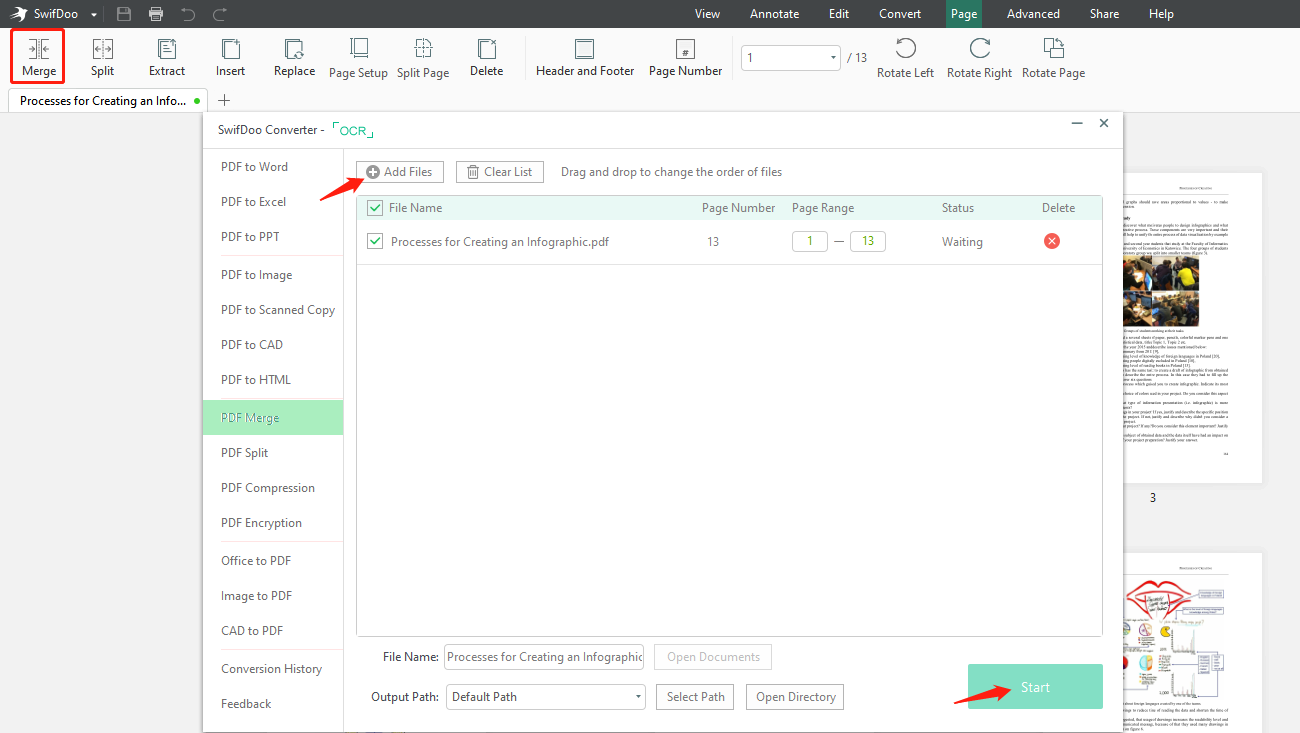 Note:

Besides being an effective PDF merger, SwifDoo PDF is also an eligible PDF page organizer, which allows users to merge, split, extract, insert, delete a page from a PDF. By doing so, SwifDoo PDF is a reliable PDF manager.
Foxit PDF Editor
As another Windows-based desktop PDF program, Foxit PDF also offers options for combining multiple PDFs. Foxit PDF supports adding PDFs from a folder, webpage, scanner or clipboard to the workplace. Take a look at how to combine PDF files with Foxit PDF:

Step 1: Download the software and install it on your PC;
Step 2: Launch Foxit PDF and click Merge PDF on the tab Tool Wizard;
Step 3: Choose Add Files to import more PDFs to the panel;
Step 4: When finished, click Combine Files to combine the selected PDFs.
Merging multiple PDFs into a single document is not difficult with Foxit PDF. In addition, this desktop PDF merger integrates more options to allow users to add PDFs from other sources, such as a local folder or scanner.
The abovementioned PDF mergers are good at combining multiple PDFs into one document on Windows. An open-source PDF merger on Windows should also be mentioned - PDFsam Basic. This is a desktop PDF merging and management tool which is free. Users can rely on this desktop merger to split, combine, extract, mix and rotate PDF pages.
How to Merge Multiple PDFs on Mac
If you are looking for a solution on how to merge PDFs on a Mac device, then this section may be helpful. The built-in PDF viewer is able to process different tasks, such as editing, annotating, and organizing.
Preview
No need for any external PDF software, Preview is an inbuilt PDF merger on Mac. Without needing to download or complete registration, users can easily combine multiple PDFs within a few steps:
Step 1: Open a PDF with Preview;
Step 2: Click on the View button and then select Thumbnails;
Step 3: Put your cursor on any page thumbnail where you need to insert a new PDF;
Step 4: Select Edit to choose Insert, and then press the Page from File;
Step 2: Choose Open to add a PDF to the current document. Once finished, choose File and then click Export as PDF to save it as a merged PDF.
Although there are some professional PDF mergers available on Mac, I'm pretty sure Preview is the easiest way to combine PDFs into one document. If you need to combine more than two PDFs at the same time, repeat the above steps and that's enough. Additionally, Preview can combine a portion of a PDF with another PDF; click this link for more information.
How to Merge Multiple PDFs Online
If you just need to get everything done without downloading any software, there are some PDF mergers online that can meet your needs for combining PDFs into one file. What's more, online PDF mergers usually allows users to upload PDF files from cloud storage platforms, such as OneDrive, Google Drive, and Dropbox. Check out our recommendations for you:
Sejda PDF
This web-based PDF merger allows users to switch between "Pages view" and "Files view". Users can decide what to add – from files or pages.
Step 1: Type the URL on the search bar;
Step 2: Choose Merge on the tab POPULAR;
Step 3: Upload PDF and image files as instructed. Sejda PDF allows you to import PDFs from Dropbox, Google Drive, OneDrive, and web address.
Step 4: In the next step, you can reorder the page so that the merged PDF is your preferred one by placing cursor on any page.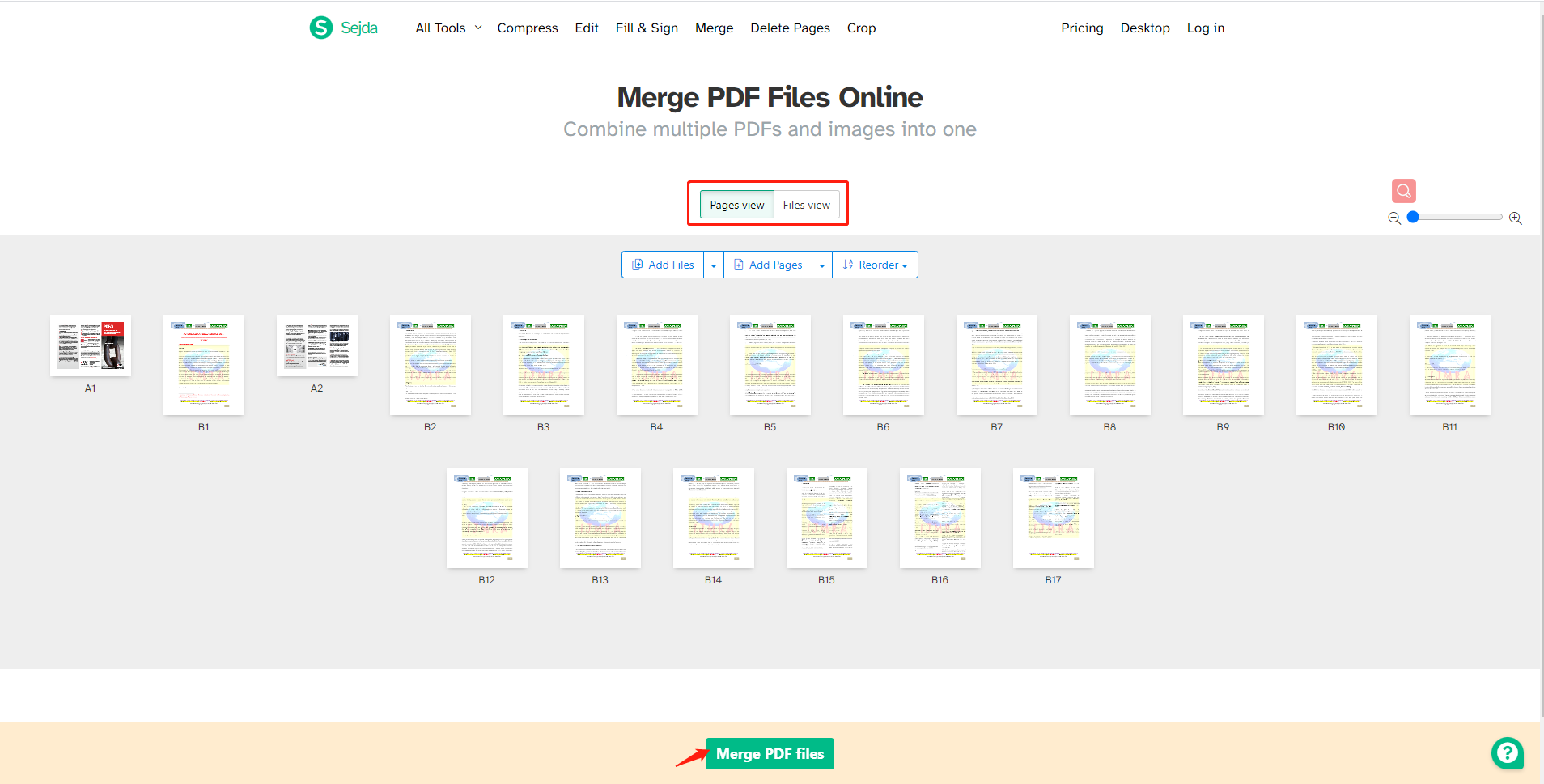 Tips:

Optionally, you can click "Reorder" to organize these pages by file name (A to Z or Z to A). Once you need to add a blank page to the PDF, click "Add Pages" and choose "Blank Page" in the drop-down menu.
PDFMerge
Just from this brand name, we can easily tell this online PDF tool does well in combining PDF files. PDFMerge is a decent image converter and PDF manager. It can resize, compress, merge PDFs. In addition, it supports converting different image formats to PDF and vice versa, for instance, HEIC to JPG, and WEBP to JPG.

Let's have a closer look at how to merge multiple PDFs using this tool:
Step 1: Open the website and choose Select PDF Files;
Step 2: Click the Merge PDF button to start combining;
Step 3: Choose Download Merged PDF to output the combined PDF.
To sum up, online PDF mergers are the most direct way to combine several PDFs into one document. If you need more online Internet-based PDF mergers, this post may be helpful.
Wrapping Up
To combine different PDFs together can save a lot of trouble during file transfer if these PDFs belong to the same type.
Relatively speaking, desktop PDF merging tools outmatch online PDF mergers, as the former can provide more merging options. For online PDF tools, users need to pay attention to the requirements of file size or number. Some tools might set a maximum of file number.