Introduction:
Though digital PDF documents are convenient for transferring, printed PDF files are still necessary for different reasons. Duplex printing for PDFs, or double-sided printing for PDFs, is a common option to print PDF files. If you want to learn how to print double-sided PDFs, then you're on the right page.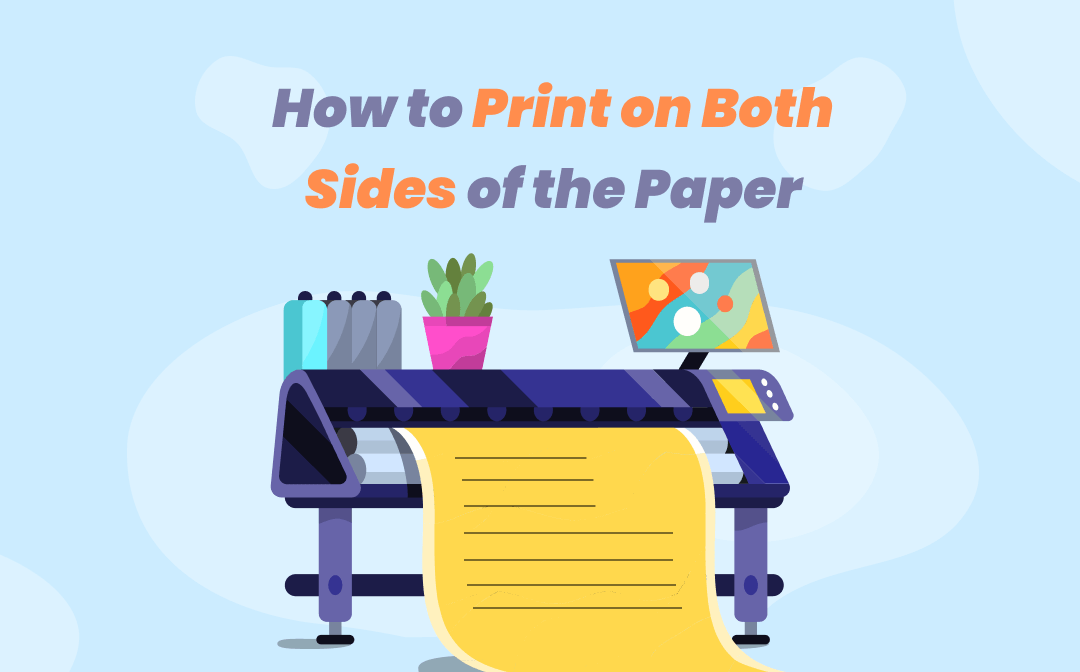 Not all programs or software can print the front and back of a PDF, and the instructions on printers might be confusing for new hands to follow. Don't worry! In this article, you will learn 4 simple methods for how to print double-sided PDF files with different PDF printers. Make certain your printer supports duplex printing. Let's get started!
Why Do We Need Double-sided Printing
Double-sided printing for PDF documents is printing the front and back of a PDF file, and it brings several advantages:
Environmental friendly: Printing double-sided PDF documents reduces paper waste and consumes less energy.
Money-saving: This benefit is closely related to the first one. Less paper consumption lowers the cost of a company.
Less physical space: Since duplex printing uses only half the amount of paper, the printed files take up less space in your office.
Hence, these benefits encourage more people to learn how to print double-sided PDF files to cut costs and protect the environment in the meantime.
How to Print Double-Sided PDFs on Windows
For computers running on Windows systems, including Windows 11 and 10, SwifDoo PDF is an optimal PDF printer other than Adobe Acrobat. This PDF application is equipped with a double-sided printing feature for PDFs, enabling you to print PDFs on both sides in landscape mode or portrait orientation. Besides, it offers various printing settings to meet users' requirements. You can customize the color, page range, paper size, and page layout to get your ideal results.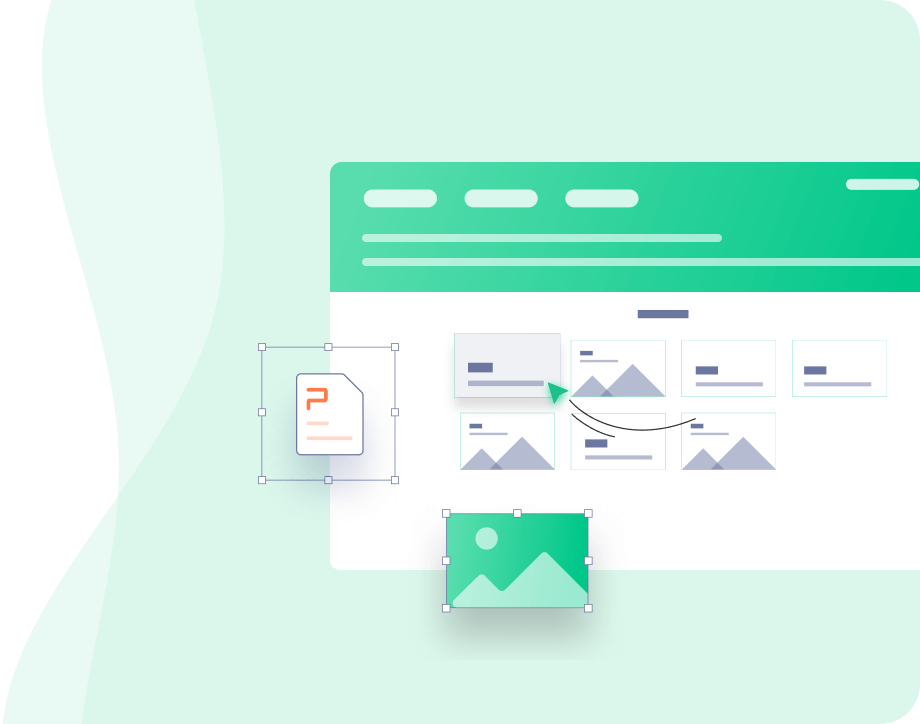 Print double-sided PDFs swiftly with a few clicks;
Multiple printing options are provided to set your printing preferences;
Batch printing lets you save more time.
Free Download
Windows 11/10/8.1/7/XP
Find out how to print double-sided PDFs on Windows in SwifDoo PDF:
Step 1: Download and install this program;
Step 2: Launch it, then click the file icon below to import your PDF file. You can also drag and drop your file anywhere on the main interface;
Step 3: Tap the Print button on the top task bar;
Step 4: In the Print window, tick the Auto Duplex Printing box, then select Flip on Long Edge or Flip on Short Edge as you like. Press Print.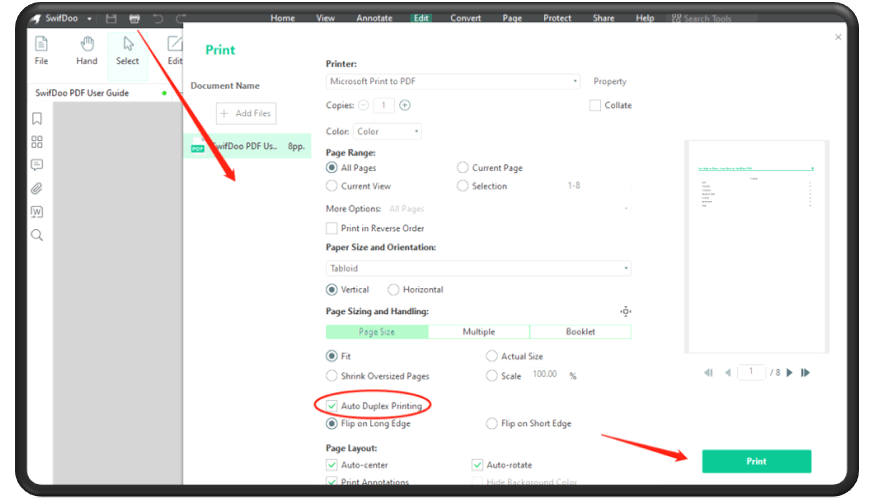 See! It's never been difficult to master this skill with the right tool. As an all-in-one PDF software solution, SwifDoo PDF can provide a batch printing service to let you process multiple PDF files with one click. You won't bother setting printing preferences repeatedly for each file anymore. What's more, you can easily remove PDF backgrounds or add a signature to your PDF file.
How to Print Double-Sided PDFs on Mac
If you want to print double-sided PDFs on Mac, Preview can be your first choice. As an inbuilt application of the macOS system, it is a professional PDF editor and viewer, as well as a good PDF printer. You don't need to install any new applications to use double-sided printing for PDF documents.
The following tutorial is on how to print double-sided PDFs on Mac:
Step 1: Right-click your file, choose Open with, and press Preview from the list;
Step 2: After the file is displayed, hit File and tap the Print button;
Step 3: When the Print dialog pops up, click the drop-down arrow to choose the Layout option below Orientation;
Step 4: Select Long-Edge binding or Short-Edge binding from the menu beside Two-Sided, then tap Print.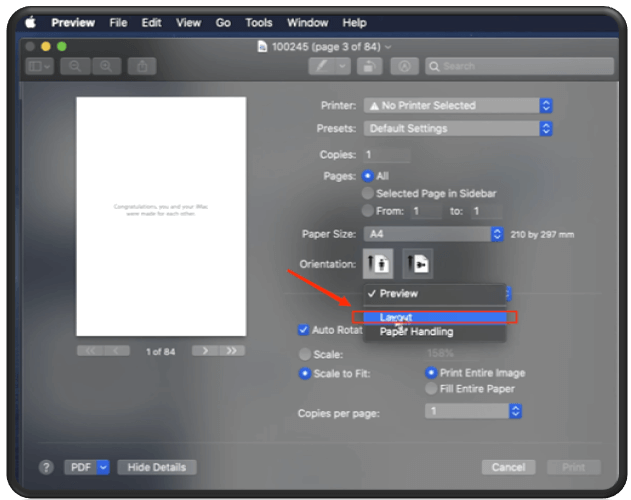 Then you will have your PDF printed double-sided. All features of Preview are free to use with stable performance. Despite printing the front and back of PDF files, editing and viewing are the meat and potatoes of this program. It supports various image file formats, including JPEG, BMP, and TIFF. Users can view their PDF or image files to add hyperlinks and annotations or edit them with basic editing tools.
Note: If the Two-Sided option is grayed off, close "Preview" > go to "System Preferences" > click "Printers & Scanners" > select "Options & Supplies" > click the "Options" tab > activate "Duplex Printing Units" > hit "OK". Then launch the app again to follow the above method.
How to Print Double-Sided PDFs Online
Online PDF printers are available via common web browsers to get a double-sided printed PDF paper wherever you need it, as long as you can use the Internet. One of the most popular free online PDF tools is Google Docs.
Check how to print double-sided PDFs online with Google Docs:
Step 1: Visit the website of this online PDF application and hit Open file picker;
Step 2: Hit Upload, then drop your file into the dialog;
Step 3: Click Print to be redirected to a new page. Press the Print icon again;
Step 4: Select the printer you use and choose More settings;
Step 5: In the drop-down menu, check the Print on both sides box. Click Print.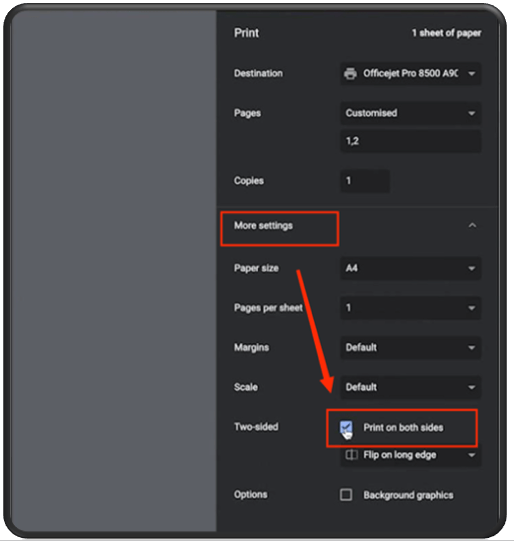 Google Docs allows your PDF document to be printed on both sides online, which improves efficiency and saves you a lot of time when you cannot use a computer. However, the potential danger of information leakage can be a problem. So remember to delete the file from the server on time after printing.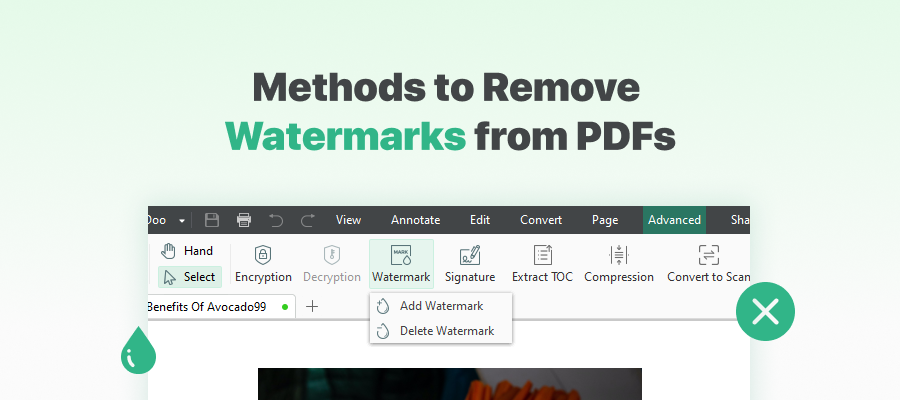 Top 6 PDF Watermark Removers in 2022
Watermarks can protect confidential PDF documents, but sometimes we need to remove them for easier viewing and editing. See how to remove watermarks from PDF.
READ MORE >
How to Print Double-Sided PDFs from Your Phone
The security risk of online PDF printers is a major concern. Then can you straightforwardly use your phone to print a PDF on both sides when you don't have a computer? Of course, you can! Connect your phone and printer to the same Wi-Fi network, then learn how to print double-sided PDF files on iPhone and Android.
How to print the front and back of PDFs on iPhone:
Here is the way to print double-sided PDFs on your iPhone:
Step 1: Click your file to open it and tap the Share icon;
Step 2: Find Print on the list, select the target printer, and switch on Double-sided;
Step 3: Set up other printing settings, then hit Print in the upper right corner.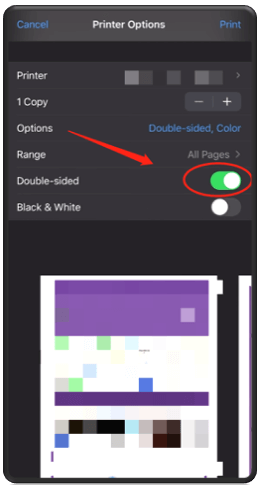 Remember to make sure your printer is compatible with the AirPrint feature.
How to print the front and back of PDFs on Android:
Step 1: Open your PDF file, click the three-dot tab in the upper right corner, and choose Print;
Step 2: Click Select a Printer, then tap your printer. Hit the drop-down arrow, enable the Two-sided feature, and press the Print button.

If the printer cannot be identified by your phone, try this way: go to "Settings" > select "CONNECTIONS" > hit "MORE CONNECTION SETTINGS" to find "Printing" > press "Add service" > choose the brand of your printer > download it. The steps vary for different Android devices, but the process is the same. You can just follow similar options to print the front and back of a PDF.
It's really simple to use your Android device or iPhone to print a double-sided PDF file while preventing document leakage. But sometimes your phone can't recognize the printer, and you may have to spend more time figuring out the reason. Of course, the use of mobile devices is more than PDF printing, you can use iPhone to edit PDFs as well.
Final Words
Whether using a desktop PDF printer, an online tool, or your phone, you will always find different but simple methods concerning how to print double-sided PDF documents. You can choose any of these tailor-made methods to use the double-sided printing feature for PDFs. For the Windows system, we recommend SwifDoo PDF which can flexibly deal with your PDF-related problems.