Introduction:
Do you know how to print comments in PDF files? Usually, all comments or annotations wouldn't be printed out due to some technical issues. However, with the development of technologies, you can easily print PDF with comments on Windows and Mac with special tools.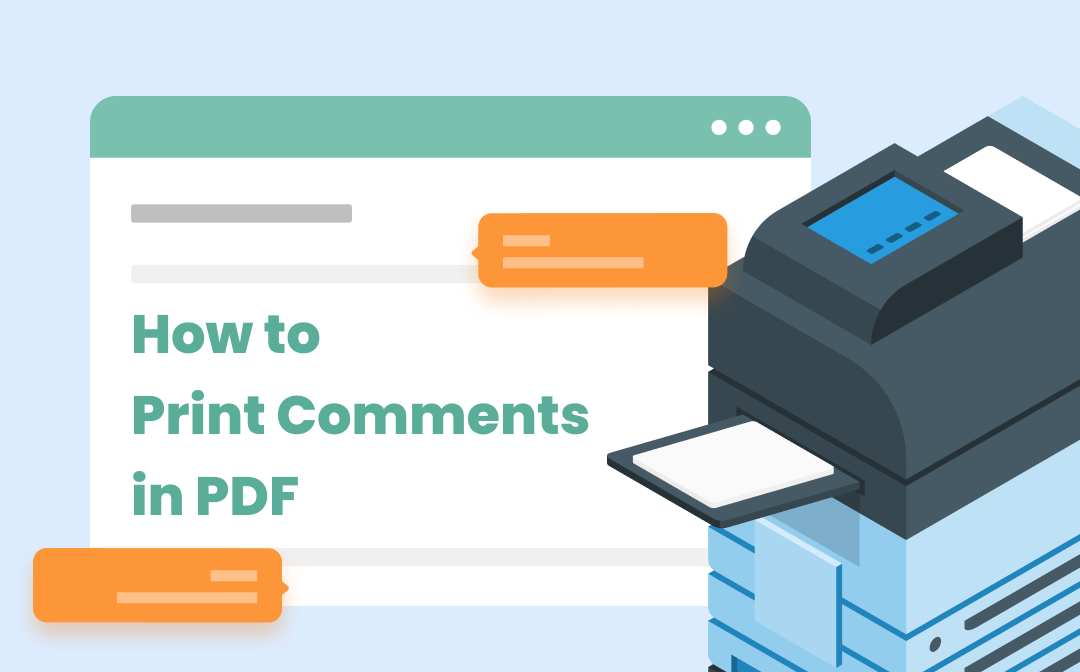 Comments or annotations in PDFs often help illustrate content for better understanding. It's necessary to print PDF files with these comments when sending files away. After reading this post, you'll learn how to print comments in PDF on different systems and with distinct tools. Let's read on.
How to Print Comments in PDF on Windows
SwifDoo PDF is a Windows-based PDF editor that offers comprehensive assistance to address all PDF-related issues. It also serves as one of the best PDF printers. When printing PDFs in SwifDoo PDF, it enables you to change the pager size and orientation, print PDFs in reverse order, print multiple PDF pages per sheet, and more. Of course, it also allows you to print comments in a PDF in seconds.
Here's how to print comments in PDF with SwifDoo PDF:
Step 1. Install SwifDoo PDF on your computer and open a PDF file;
Step 2. Click the printer icon in the top right corner;
Step 3. Check the Print Annotations option in Page Layout and click Print.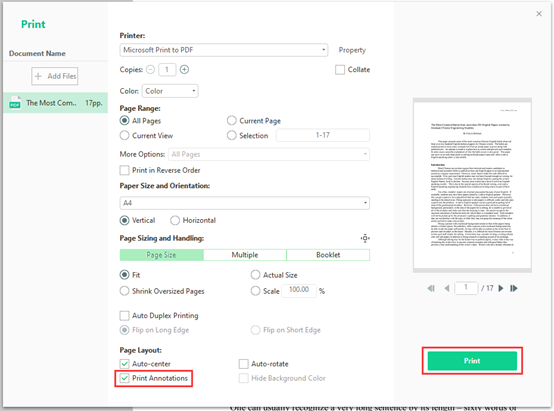 As you can see, SwifDoo PDF also offers many printing-related features to customize printing settings. In addition, you can also use SwifDoo PDF to print secured PDFs and images, with image formats like BMP, JPG, PNG, and TIF supported.
If you need to print PDFs with necessary annotations on Windows, make sure to download SwifDoo PDF and use it in your daily life and work.
How to Print Comments in PDF on Mac
It's much easier to print comments in PDF on Mac than on Windows, since you don't need to download a new program. With the help of Preview, the default PDF and image viewer on Mac devices, things get much easier.
Preview is far more than a PDF viewer, and it also serves as a PDF editor, annotator, printer, and more. Like SwifDoo PDF, Preview also provides users with many printing options, such as printing selected thumbnails, multiple pages per sheet, rotating pages or images automatically, and so on.
It takes only four steps to print comments in PDF with Preview:
Step 1. Launch the Preview app on your Mac and open the PDF file you want to print;
Step 2. Choose File in the top ribbon, then select Print;
Step 3. Click Show Details and select Show Notes to include any notes that are visible in a PDF file;
Step 4. Click Print to print comments in PDF.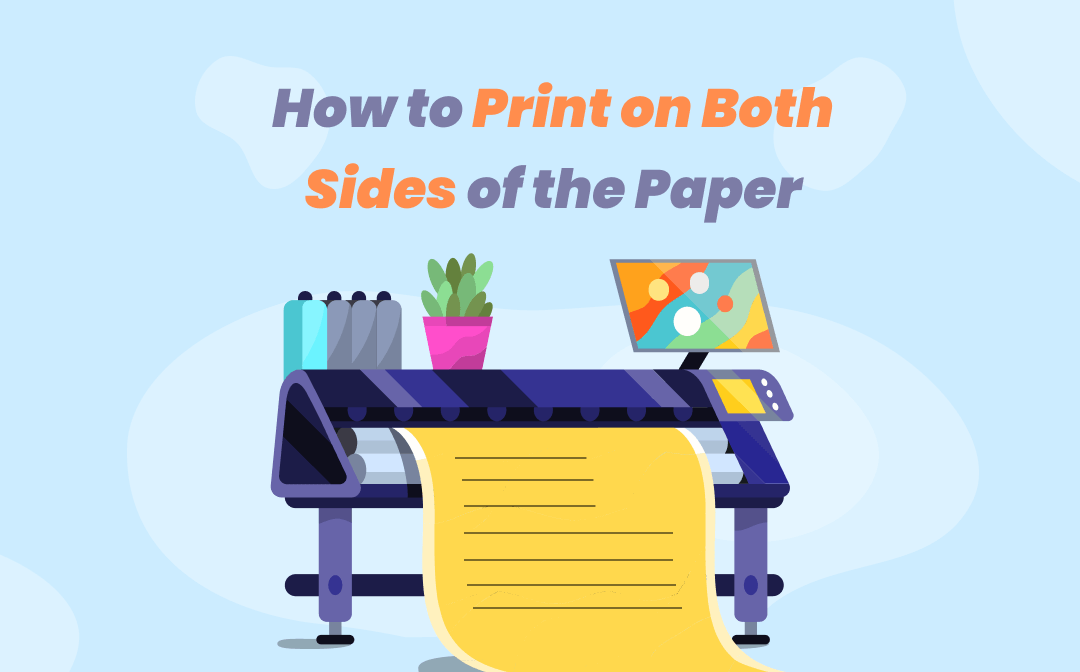 (Explained!) 4 Easy Ways for How to Print Double-Sided PDFs
How do you print both sides of a PDF? This article helps you learn how to print double-sided PDF files on Windows, Mac, online and other systems to complete the
READ MORE >
Bonus Part: How to Print Comments in PDF Adobe on Windows & Mac
Since Adobe Acrobat is compatible with both Windows and macOS, we include this tool as the bonus part to offer you an alternative to printing comments in PDF documents.
Adobe Acrobat has always been a popular way to address PDF-related issues. In fact, both Acrobat and Acrobat Reader can help you print comments in PDF files. Besides the common one-click printing, the printing options are a little different from those in SwifDoo PDF and Preview. Acrobat enables users to create a comment summary (a comment summary lists all the comments in your document.) so that users can better manage PDF annotations and notes.
Let's dive into the specific steps on how to print comments in PDF with Adobe Acrobat:
#Method 1. Printing pop-up comments in PDFs
Step 1. Open a PDF file with pop-up comments in Acrobat;
Step 2. Click Edit > Preferences (on Windows) or Acrobat > Preference (on macOS);
Step 3. Select Commenting under Categories;
Step 4. Select Print notes and pop-ups and unselect Hide comment pop-ups when Comments List is open, then click OK to confirm your changes;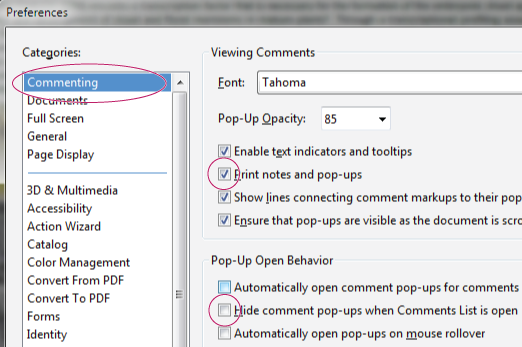 Step 5. Click the print icon or press Ctrl + P (on Windows) or Command + P (on Mac);
Step 6. Once the print dialog box shows up, make sure to select Document and Markups under Comments and Formats;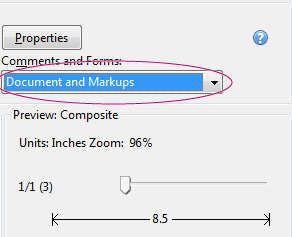 Step 7. Click Print to print your PDF files with comments.
Note: Remember to recheck the PDF file to make sure the original content isn't covered by any pop-up comments after you finish step 4.
#Method 2. Print a comment summary
A comment summary lists all comments and notes in your documents. When your comments are too many and overlap the document, creating a comment summary is very helpful since you can better handle all the annotations.
Step 1. Open a PDF document in Acrobat;
Step 2. Click File > Print;
Step 3. Hit the Summarize Comments button in the print dialog box;

Step 4. In the next pop-up window, you can choose one layout that you want the comment summary to display;
Step 5. Open the print dialog box again and click Print directly.
Why Choose Professional PDF Printers, Not Web Browsers
You may wonder that all browsers support PDF printing, so why would I have to download a third-party program? Actually, the reason is quite clear: browsers are often equipped with basic printing tools. And it's apparently an advanced feature to print comments in PDF files.
The Bottom Line
In this post, we only introduced dedicated PDF printers to help you print PDF files with comments. We're pretty sure that you've found them out about how to print comments in PDF with varieties tools after reading this article. Here on the SwifDoo PDF blog, you'll get almost all the solutions when confronting document-related issues. Follow this page directly and make sure to download the SwifDoo PDF and give it a shot.