Introduction:
A booklet is a small book considered an effective advertising tool in the business world. Many companies create their employee handbooks and tradeshow contributions in the form of booklets. Since booklets are so helpful, you may often need to print your PDF catalogs or other digital documents as booklets. So, do you know the go-to solution for PDF to Booklet printing?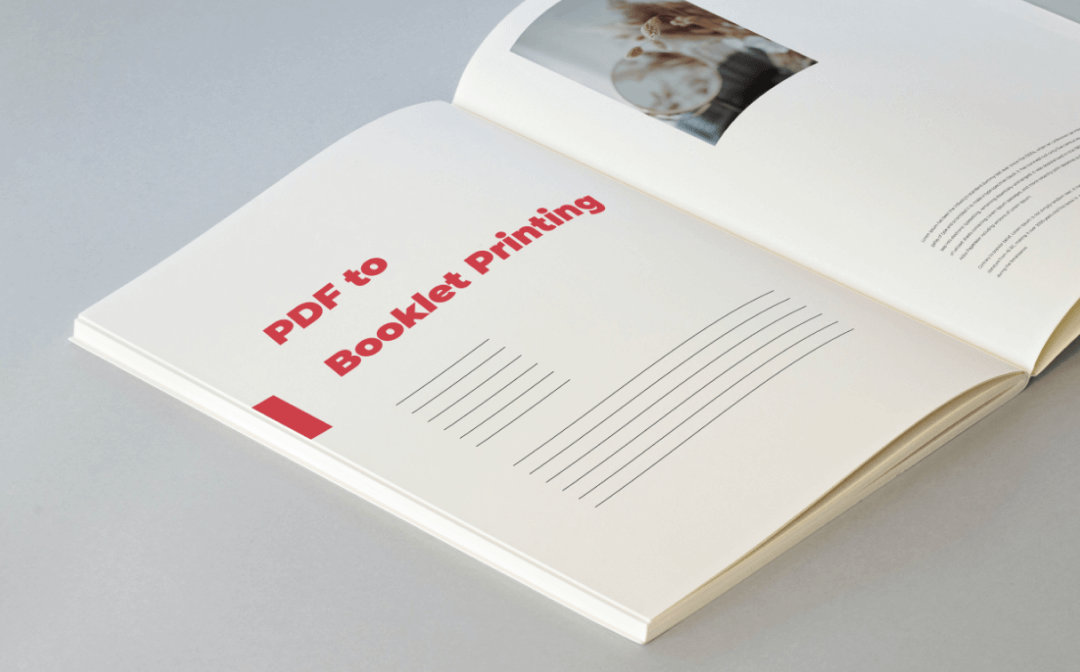 No matter what types of PDF files you have and what problems you are facing with them, a handy PDF software application can make things easier. This post will share three free methods to print PDF as booklet with PDF programs on Windows, Mac, and online. Read on to find out.
What Is the Structure of a Booklet?
A booklet consists of a paper cover and a few sheets of paper. Each sheet of paper is folded in half and contains four pages. All the sheets are bound together where they are folded to form such a small book. The commonly used paper sizes for printing a booklet are 8.5" x 11" and 5.5" x 8.5".
Normally, when printing a PDF as a booklet, you can design the layout by choosing the left-side or right-side binding modes. The PDF software introduced in this article allow you to decide whether to print all pages on the front side, the back side, or both sides. Now, let's dive into the solutions for the PDF-to-Booklet printing task.
Print PDF as Booklet on Windows
SwifDoo PDF
If you are looking for an easy way to print PDFs as booklets on Windows (Windows 10, 11, or the older Windows 7/8), try SwifDoo PDF. It is a tiny and lightweight PDF booklet printing program and also a PDF booklet creator. The software allows you to print either a single-sided or double-sided booklet. You can choose whether to print your booklet in PDF format with annotations or not, and specify certain pages for printing.
Here is the method to print PDF as booklet on Windows.
Step 1: Open a PDF file with the program, go to SwifDoo in the top left corner, and click Print in the drop-down list;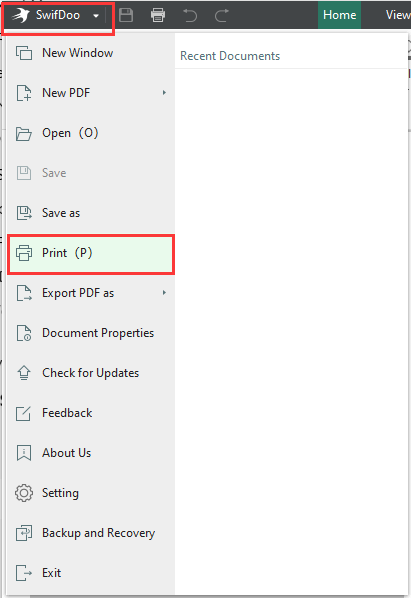 Step 2: In the pop-up printing setting dialogue box, select the printer you work with and tap the Booklet option under Page Sizing and Handling;
Step 3: Choose the binding method by picking an option from the Binding menu. Determine whether to print on single or both sides of paper by changing the Booklet Subset settings;
Step 4: Preview the booklet on the right side of the window. Hit Print at the bottom right to print your PDF as a booklet.
Tips:
To print your PDF as a booklet on both sides of paper, make sure your printer supports duplex printing. Or, you can print a booklet through two separate processes: printing on the front side of paper first and then turning the paper over to print the back side.
Once you've chosen an option from the "Booklet Subset" and "Binding" drop-down menus, SwifDoo PDF will automatically arrange the pages on each sheet of paper for PDF to Booklet printing. You don't need to manually reorder them to print. The "Multiple" option under "Page Sizing and Handling" makes it possible to print multiple pages per sheet of paper if required.
Note:
If you just need to create a PDF booklet but not print it out, select a PDF printer such as Microsoft Print to PDF from the "Printer" menu.
SwifDoo PDF can do a lot more than just convert PDFs to booklets. When the need arises, you can do a word search in your booklet PDF to look for special keywords in the file. It also enables you to edit, merge, split, and convert PDF files to other types of documents (including Word, Excel, etc.). Additionally, you are able to convert PDF files online on the software's website.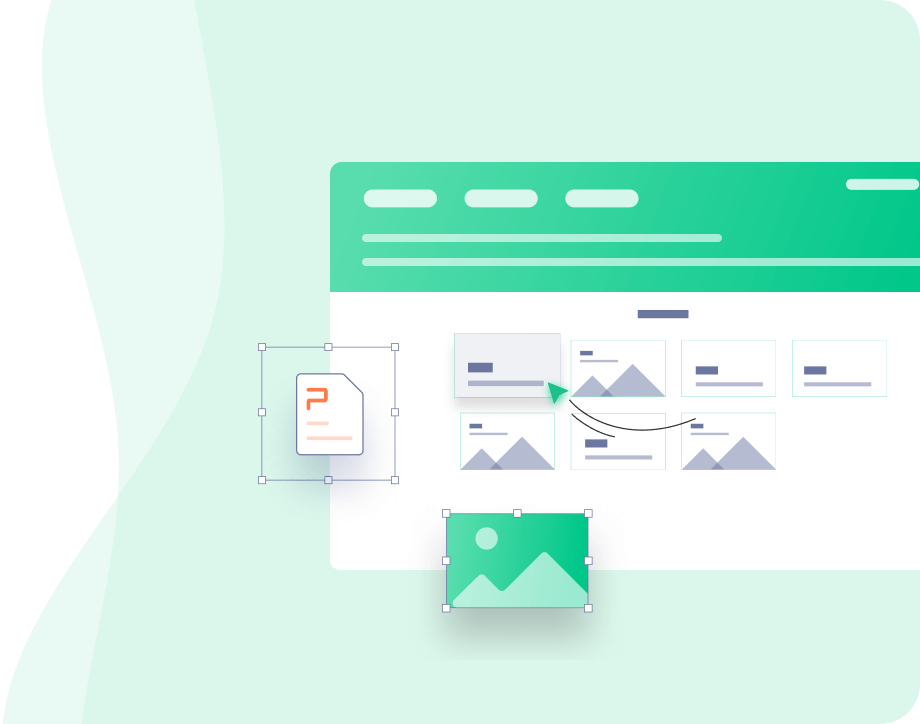 SwifDoo PDF - All-in-one PDF Software
Print PDFs as booklets on single or both sides with pages automatically arranged
Offer free service for users to print and create booklet PDF files
Tools for editing, compressing, annotating, and doing more with PDFs
Free Download
Windows 11/10/8.1/7/XP
Print PDF as Booklet on Mac
Adobe Acrobat Reader DC
Turning a PDF into a booklet with Adobe Acrobat Reader is easier than you might think on Mac. Just like its counterparts, Adobe Reader allows for both duplex and single-sided printing. Depending on how you wish pages to appear in a booklet, you are opened up to four binding method options: Left, Right, Left (Tall) and right (Tall). Take a look at how to print a PDF as a booklet on Mac for free.
Step 1: Drag and drop your PDF into Adobe Reader, then navigate to File and choose the Print option;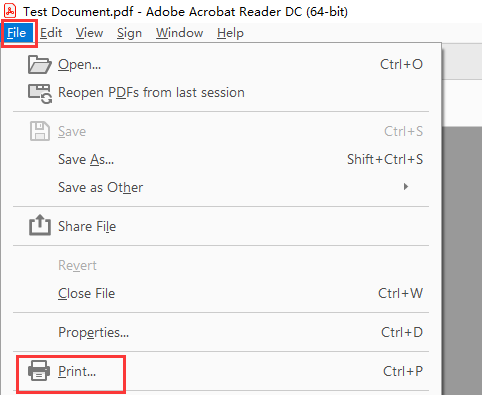 Step 2: Select a printer and change the setting to print a PDF booklet in the opened Print dialogue box;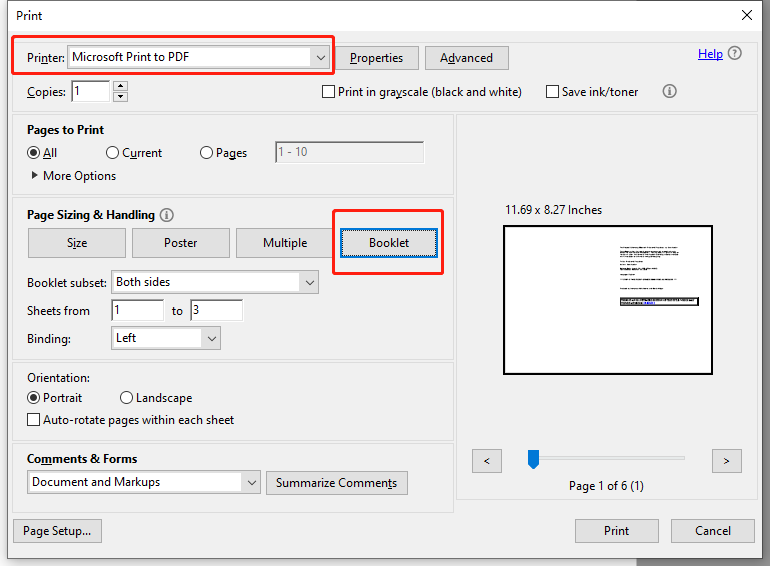 Step 3: Choose your preferred booklet binding method and the proper option for duplex or simplex printing. After you're done with all the necessary settings, click Print to start the PDF to Booklet printing.
Adobe Reader is a powerful PDF to booklet converter supporting free download and use. It can print your PDF as a booklet with or without all the markups, forms, and stamps. Even better, it is also a free PDF annotator and PDF locker. The downside of the software is that it eats up a lot of disk space on your computer.
PDF to Booklet Printing Online
Online2PDF
From the content above, you may have known how to create and print your booklet in PDF format on Mac and Windows. In this part, we will show you the way to do that online with Online2PDF. This tool allows you to set the page layout and many other common options for booklet printing. You can use it to convert your PDF to a printable booklet online first and then print the PDF booklet out with a physical printer.
Let's see how the online software contributes to the PDF to booklet printing.
Step 1: Click Select files on the homepage of the online free PDF to booklet converter to upload your PDF file;
Step 2: Choose Layout from the listed options after Preferences and select Booklet (in order to bind a book) in the PDF page layout drop-down menu;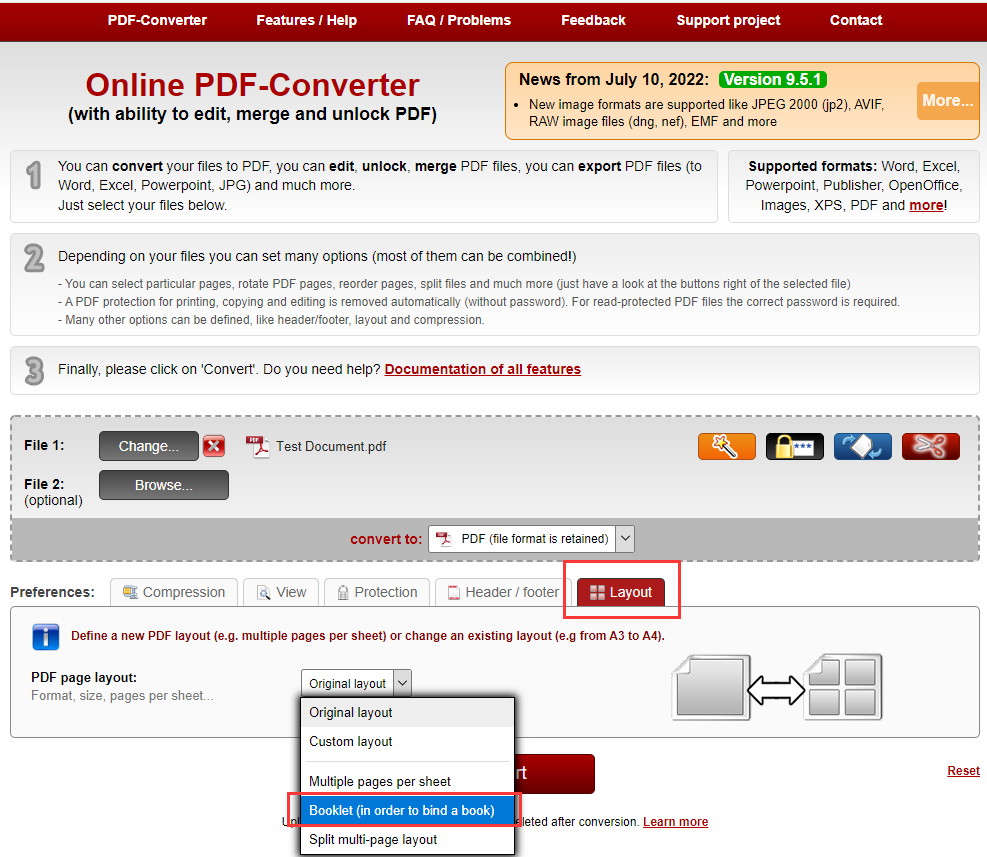 Step 3: Adjust the inner and outer margins, page layout and more printer settings. Press the Convert button to create a PDF booklet.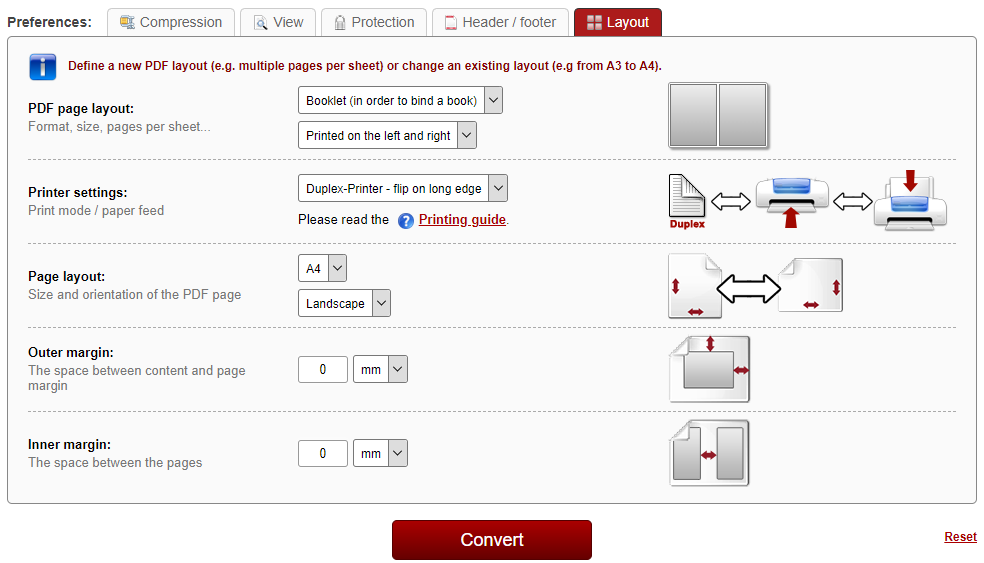 Through the steps above, you can print PDFs as booklets online with the free PDF tool. The even pages in the created PDF booklet will be upside down, but this helps print the booklet on sheets of paper with a correct layout and page orientation. In case you hope the pages of both digital and printed booklets to appear in the correct orientation, use dedicated PDF software like what we've talked about above.
Conclusion
This article puts an end to the hassle of looking for quality PDF-to-booklet printing software. With the three software introduced, you can effortlessly make a PDF a booklet for free on Windows, Mac, and most other operating systems. All of them enable you to convert a PDF to a digital booklet, but only the desktop programs can work with a physical printer to print booklets. Pick the one that best suits your needs.
Common FAQs
What is the best program to create a booklet?
Among a wealth of PDF-to-booklet printing software for Windows devices on the internet, SwifDoo PDF might be the optimal choice. It provides options for you to print and save a PDF as a booklet with an ideal page order and orientation. Even better, you can use it to rearrange and crop the original PDF pages to fit your needs. Importantly, the program has a small memory footprint and is much more economical than most competitors in the market.
How do I print a PDF booklet with two pages per sheet?
All the mentioned programs help print a PDF as a booklet with four pages per sheet and two pages per side back to back and side by side. If you just need to print a PDF booklet with two pages per sheet, do not choose the booklet printing option. Instead, click "Multiple" or a similar option in the "Print" dialogue box and set a value in the "Pages Per Sheet" field to print two pages per sheet.
Why does my PDF booklet print upside down?
When you print your PDF booklet upside down, try setting the page orientation to landscape or portrait before printing. Or, you should use a different PDF software application to print.
Why is my PDF not printing correctly?
There are many reasons why you can't print a PDF correctly. Corrupted PDF file, out-of-date PDF tool or printer driver, non-supported fonts in the file, etc. You can try printing different PDFs, printing PDFs as images by changing the printing settings, or updating your printer drive and PDF software.