Have you ever wished that your digital documents could have a personal touch, just like handwritten notes? With the increasing reliance on digital communication, it's easy to feel disconnected from our own handwriting. But what if there was a way to combine the convenience of digital documents with the uniqueness of handwriting? This is where a text to handwriting converter comes in. In this blog post, we'll explore what a text to handwriting converter is, its benefits, and how to use it to transform your digital documents into personalized and creative pieces of work.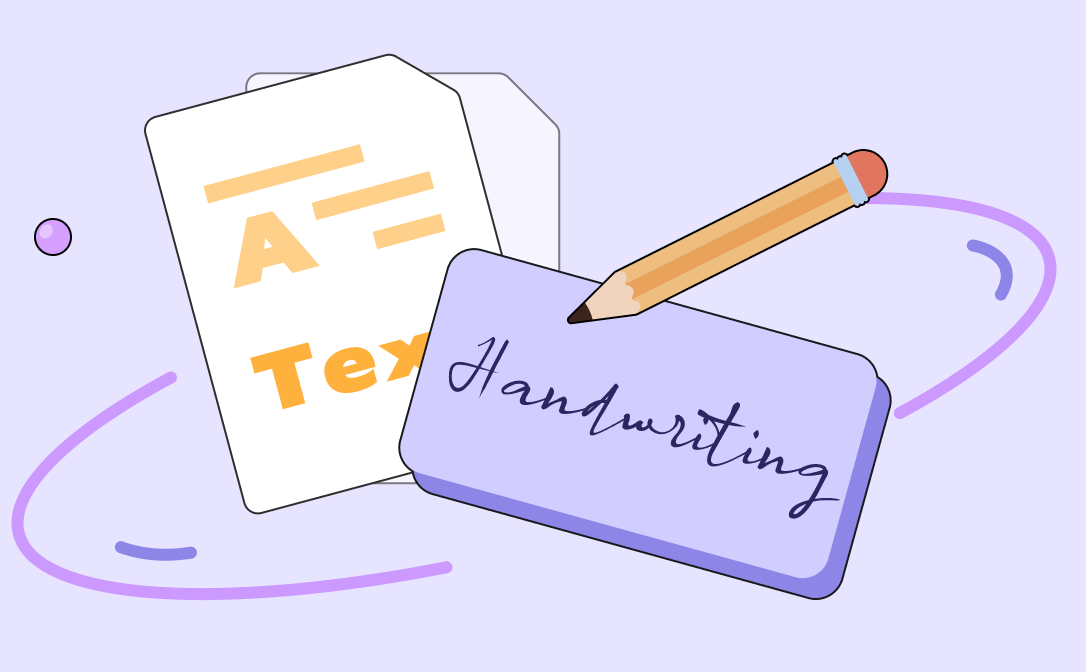 SwifDoo PDF
SwifDoo PDF is an all-around PDF editor, and it also serves as a handy text to handwriting converter. By using SwifDoo PDF, you can create PDFs from blank pages, and then customize the PDF background, font style, size, and colors as per your requirements, as well as add images anywhere in your PDFs. It provides as many fonts as Microsoft Office does, so you don't have to worry about not being able to choose an ideal one. Moreover, this program also allows you to share and print the handwriting file directly.
Here's how to use SwifDoo PDF to generate handwriting files from digital text contents:
Step 1. Free download and install SwifDoo PDF on your PC.
Step 2. Launch this PDF editor and click Create > Blank on its homepage.
Step 3. Select a destination and paper size in Create New Page window, then click on Confirm.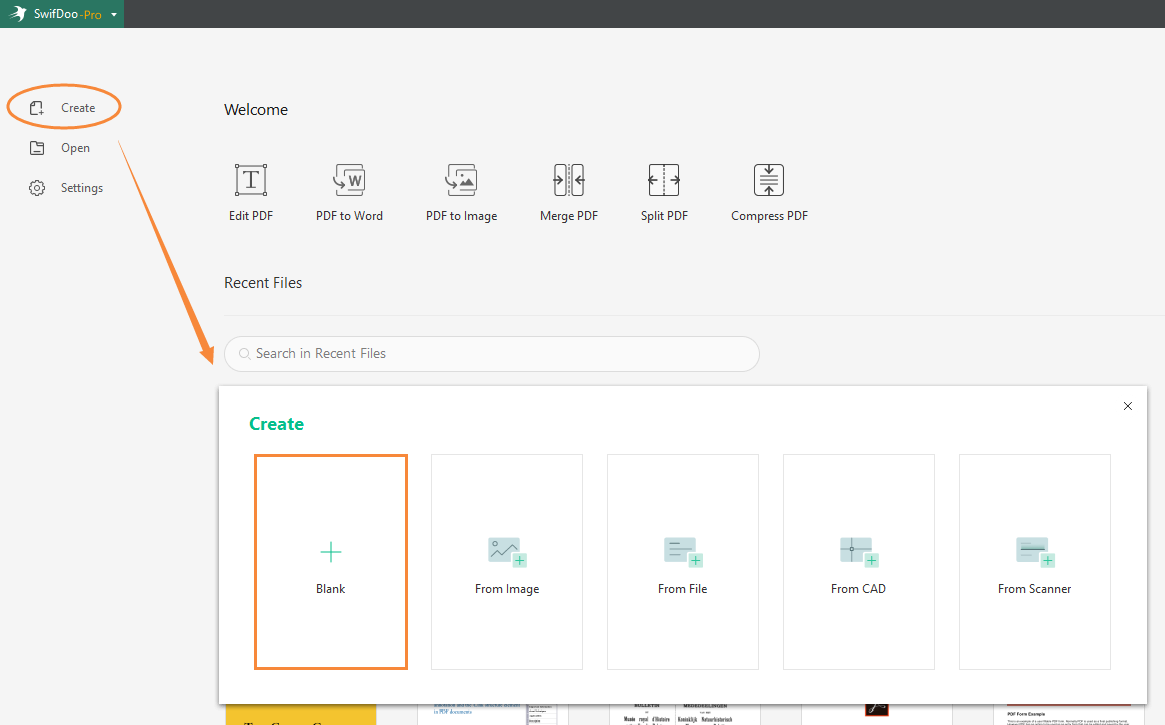 Step 4. Type any word on the blank PDF page. Remember to click Add Text when you need to type new text content in another place on the PDF.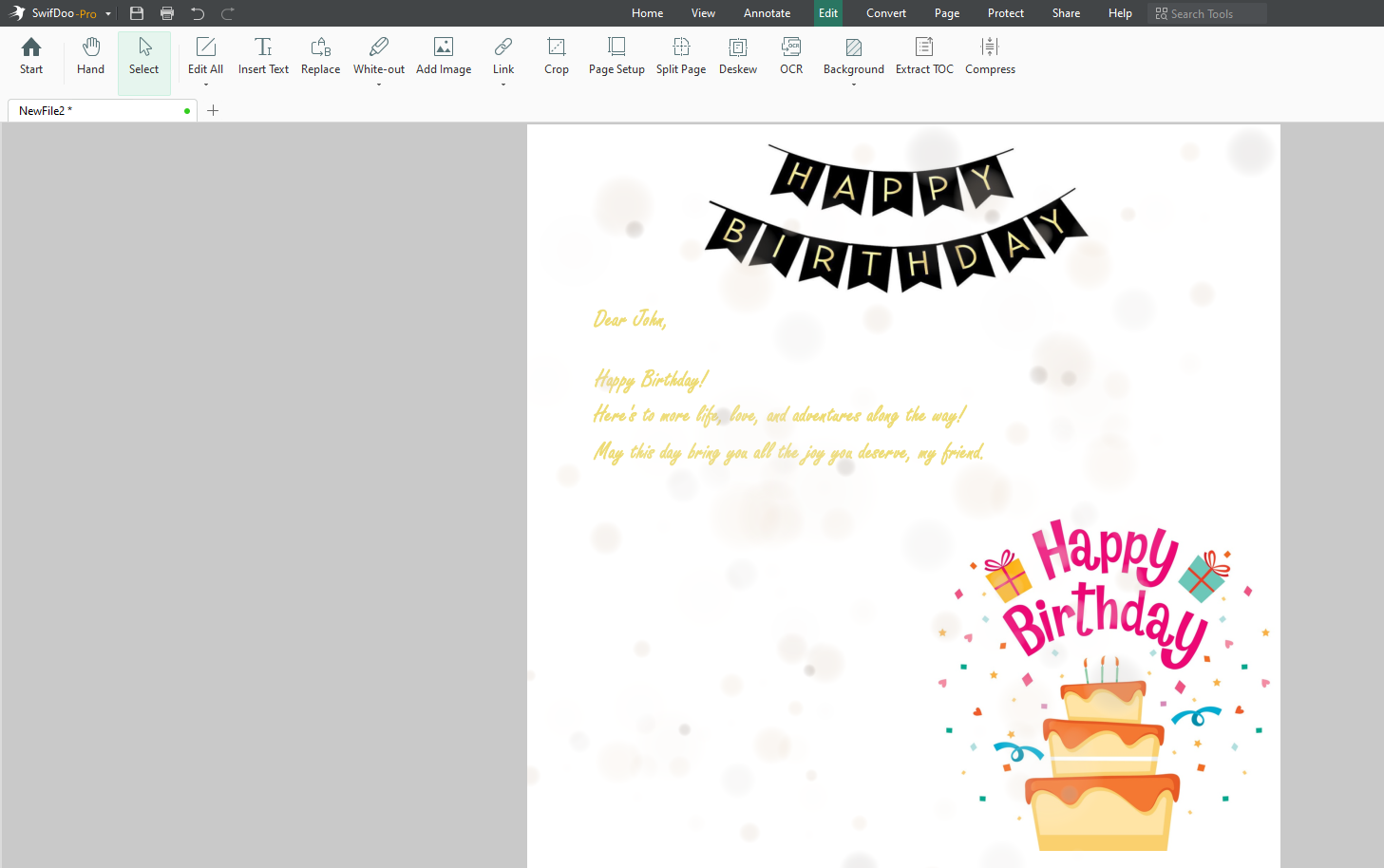 Step 5. After typing, click SwifDoo in the top left corner and select Save as to keep this handwriting PDF file offline. Or you can print it within this software directly.
Tips:
By clicking
Edit
>
Background
, you can upload any image as the handwriting background. And the
Add Image
feature enables you to import pictures to add more vivid elements to the handwriting file.
Pros:
Dozens of font styles offered
No Internet connection required
Comprehensive editing tools are available
Customizable handwriting paper background
Any ink color can be used with its color picker
Cons:
Only available on Windows operating systems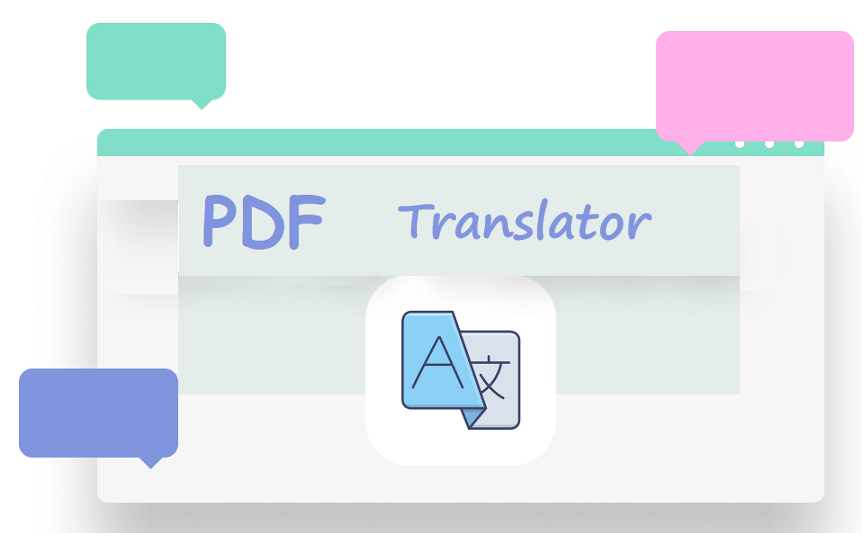 Top 7 Best PDF Translator That You Must Know in 2023
Check this post to find out the 7 best PDF translators in 2023. We've tested and selected them from different aspects to help you translate your PDF documents.
READ MORE >
10015 Tools
10015 Tools is a free online all-in-one toolbox that integrates text, image, CSS, coding, color, social media, and miscellaneous tools in one website, enabling you to edit any files online without breaking a sweat. In its text tools, you can easily get a text to handwriting converter, with which you may convert any text to handwriting with customizable paper type and ink color, and then download this handwriting file as a PDF.
By using the text to handwriting generator in 10015 Tools, you only need to type in the Text Area. Below the Text Area, there's a preview image that shows you what the paper and handwriting content would be like. You may adjust the text font style, size, color, and paper type below the Text Area, or go to Text Editor to customize the text content with advanced features. Moreover, this tool also supports uploading images in handwriting content. To get the handwriting file, you only need to click on the Export Handwriting button and select Download Image or Download PDF. Then with a printer installed on your device, you may print it with a piece of real paper.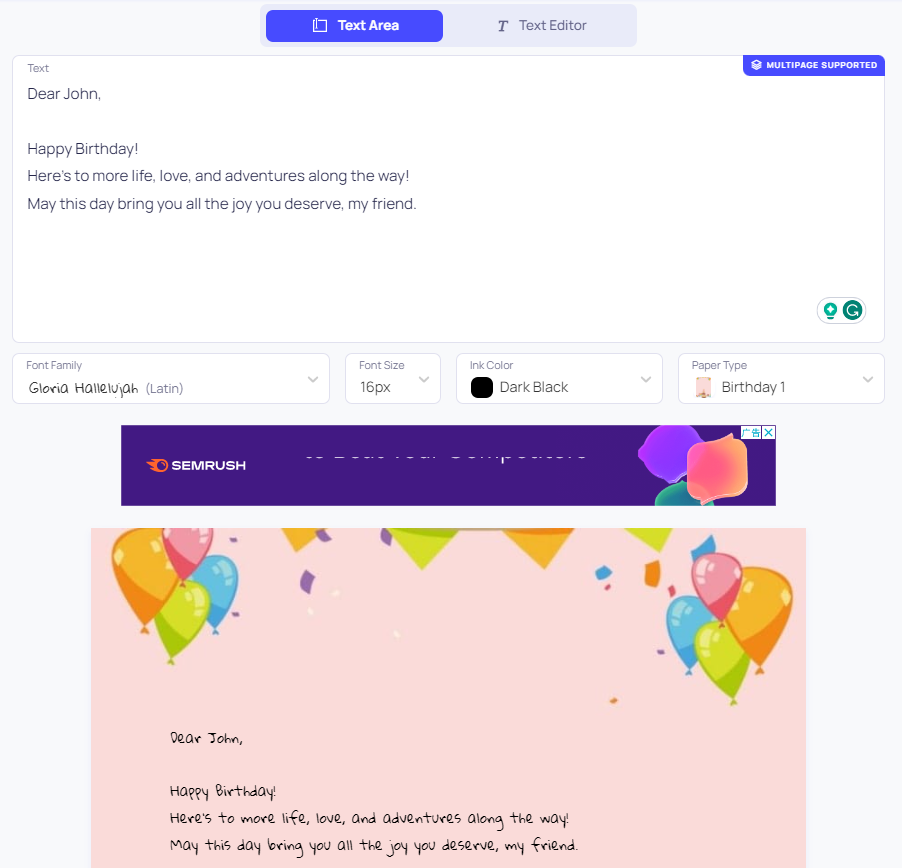 Pros:
Each font style has a preview image.
It allows you to add images to your handwriting text.
A dedicated text editor offers much convenience to create ideal handwriting text content.
Multiple paper types are offered, including different pieces of paper, gift cards, birthday cards, love letters, etc.
Cons:
Limited ink color.
Annoying advertisements pop up constantly.
The handwriting file cannot be printed directly.
You May Also Like: Free Methods for Adding Hyperlink to Your PDF >>
Editpad
Editpad is another popular tool that offers a handy text to handwriting converter, which also provides real-time service to help generate handwriting notes from digital text content. Editpad mainly serves as an online text editor for taking notes, much like Notepad on Windows. It has released many other practical online text-related tools, including text to handwriting converter, abstract generator, conclusion generator, rich text editor, text repeater, etc.
Similarly, to get a handwriting file, you only need to type the text in the white text area, and all the handwritten text will appear on the right side of the screen. One thing that differentiates Editpad from 10015 Tools is that Edipad enables you to upload files directly from your local folder, thus saving you much time on typing text word by word. Editpad only offers a Download PNG button below the handwriting screen. If you need to download it as a PDF, click the download icon in the bottom right corner of the handwriting screen.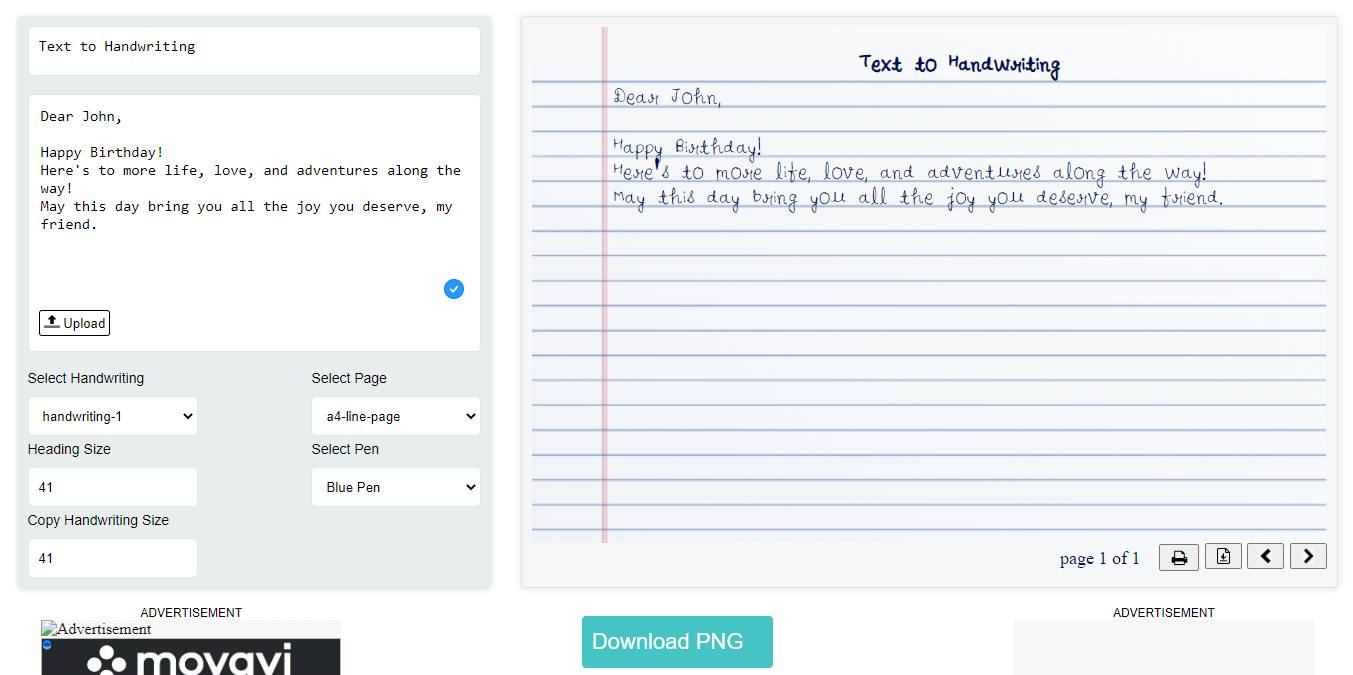 Pros:
A direct print button can be clicked.
You can upload files directly and thus save much time on typing.
Cons:
No font preview images are offered.
Limited font style, ink color, and page type.
Annoying advertisement pop up constantly.
Also Read: Free Ways to Do PDF Word Count >>
Code Beautify
Code Beautify enjoys multiple identities, such as code formatting, JSON beautifier, XML viewer, Hex converter, even image converter, GIF splitter, text to handwriting converter, and more. It's much alike a tool factory with both advanced and basic code-related solutions, as well as many other practical functions.
The text to handwriting converter on Code Beautify has a much cleaner interface than the above two tools. No disturbing advertisement pops up from time to time. And it well classifies all tools at the bottom of the website, helping you find the one you need in seconds. When you are typing in the text area, the handwriting text will appear on the bottom screen simultaneously. You can also select a preferred font style, paper type, and ink color for different purposes. Also, the letter size, font size, width, height, and margin can be adjusted within a few clicks.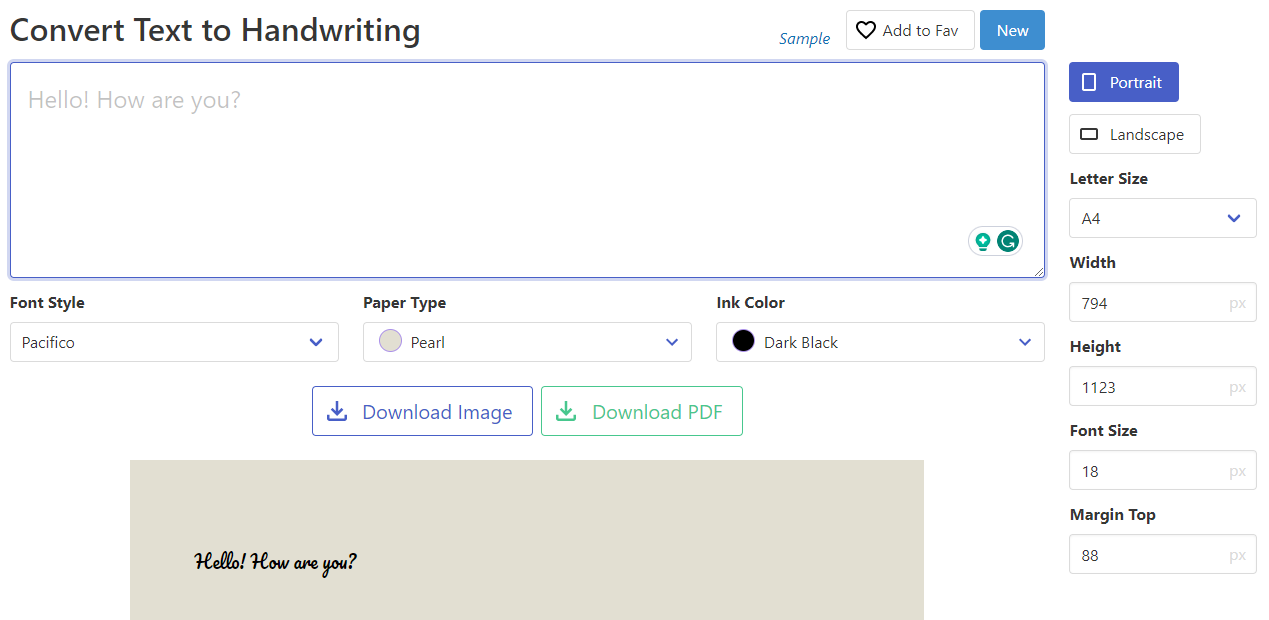 Pros:
No advertisement pops up.
Font preview images are offered.
Cons:
Limited font style and ink color.
The handwriting file cannot be printed directly.
It's difficult to get text to handwriting converters among the tool factories.
You May Want: The 9 Best Free YouTube to MP3 Converters in 2023 >>
Commontools.org
Commontools.org collects over 100 free online tools in one place for students, writers, developers, researchers, programmers, etc. to streamline their workflows and boost productivity. No matter who you are, you can always find a solution on this website to crack a real-life problem on a certain day. It not only provides clear categories for you to locate a small tool hassle-free, but also puts a search box at the top of the website, with which you may type a keyword and access the tool straightforwardly.
As for the text to handwriting maker in Commontools.org, it's free, powerful, and also easy-to-use. Two features in Commontools.org make its text to handwriting generator excellent. It allows users to upload a handwriting font and a page image to this platform and use them directly, offering users a more flexible way to generate a piece of ideal handwriting paper. And with this function supported, it's easier to create a personal and unique touch to digital documents.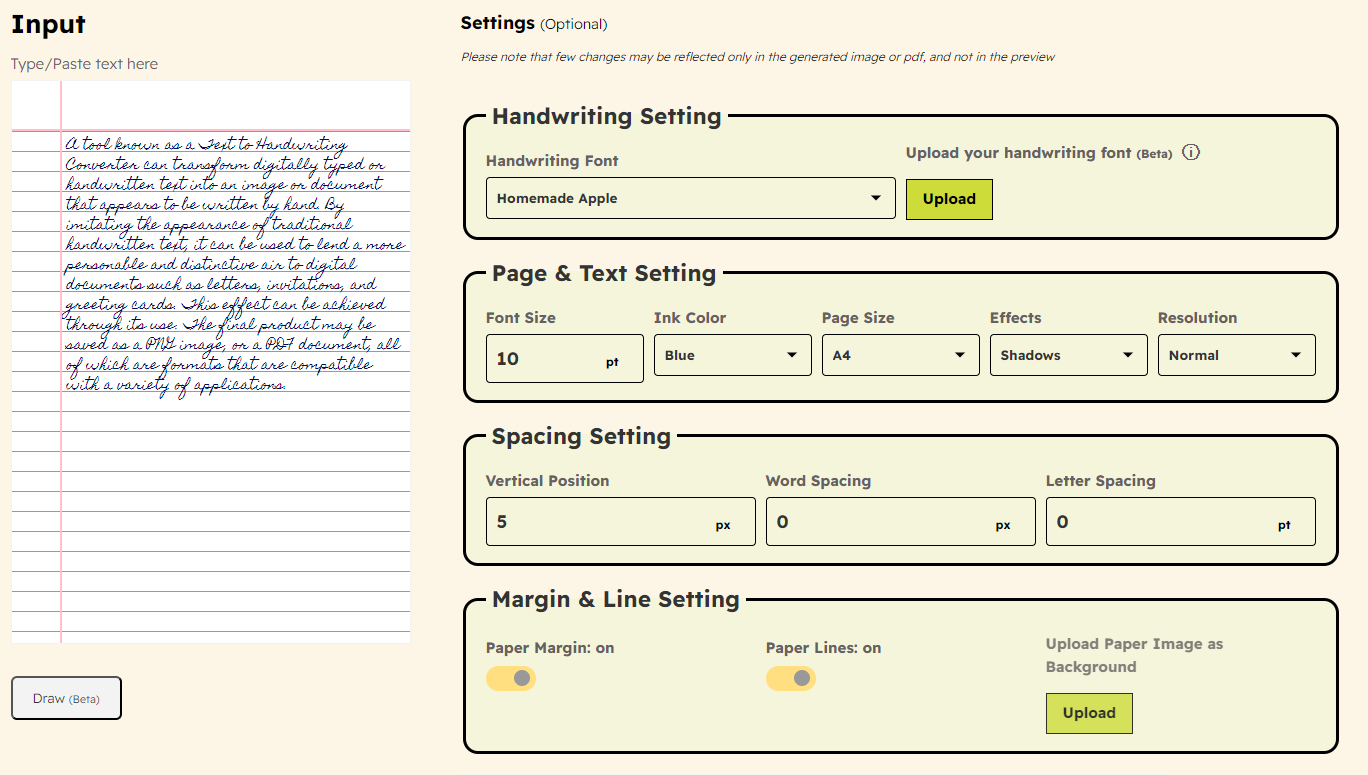 Pros:
Locating a certain tool can be very easy through the search box.
It offers a flexible way to create unique paper backgrounds and fonts.
Cons:
Annoying advertisements pop up constantly.
The handwriting file cannot be printed directly.
Limited handwriting fonts and paper types are offered.
Check More: 5 Approaches to Change the Font Size in a PDF Fillable Form >>
Benefits of Using a Text to Handwriting Converter
Personalization of digital documents: A text to handwriting converter allows you to add a personal touch to digital documents by converting typed text into a handwritten style of your choice. This can be especially useful for creating invitations, letters, or other documents that require a personal touch.
Improvement of handwriting skills: Using a text to handwriting converter can also improve your handwriting skills. By analyzing different handwriting styles and practicing writing in them, you can improve your own handwriting in the long run.
Enhancement of creativity: A text to handwriting converter can enhance your creativity by allowing you to experiment with different handwriting styles, fonts, and colors. You can create unique and personalized documents that stand out from the rest.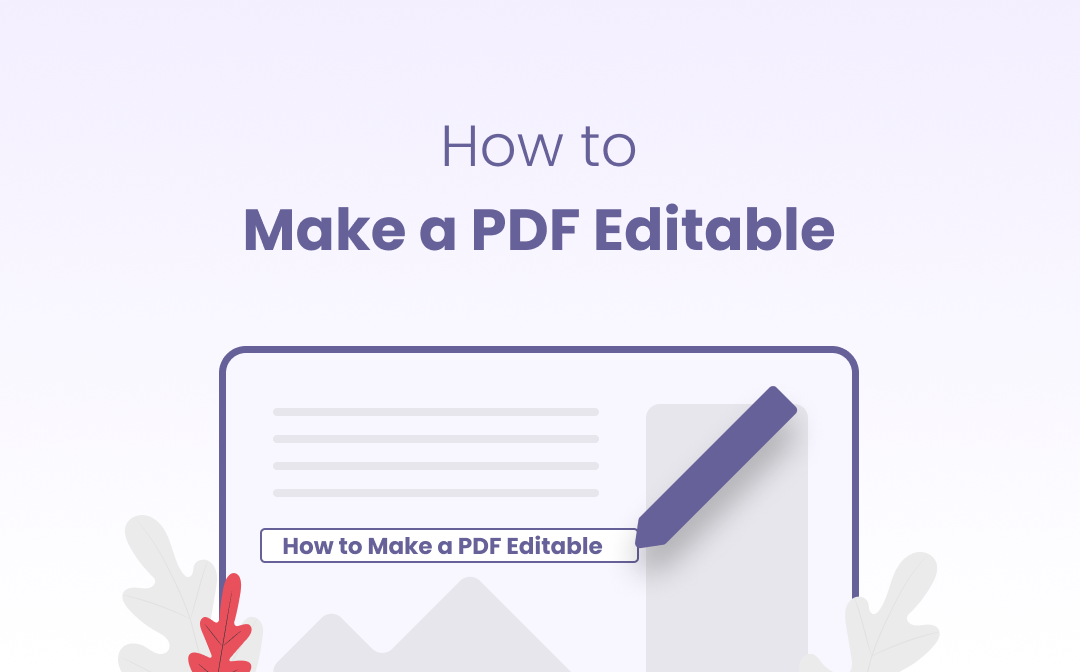 [3 Methods] How to Make a PDF Editable for Free
Users expect PDFs to be easily editable as PDF is a popular file format nowadays. Finding it hard to make a PDF editable? Explore the answers in this post!
READ MORE >
The Bottom Line
A text to handwriting converter is an excellent tool to add a personal touch to digital documents, improve handwriting skills, and enhance creativity. By following the steps outlined in this blog post, you can transform your digital documents into personalized and creative pieces of work.