Introduction:
You may often receive PDF files with unwanted hyperlinks. Wondering how to remove hyperlinks in PDF files? Actually, there are many ways to help you achieve this, and we have selected several top-rated PDF editors to illustrate this problem clearly. Just keep reading.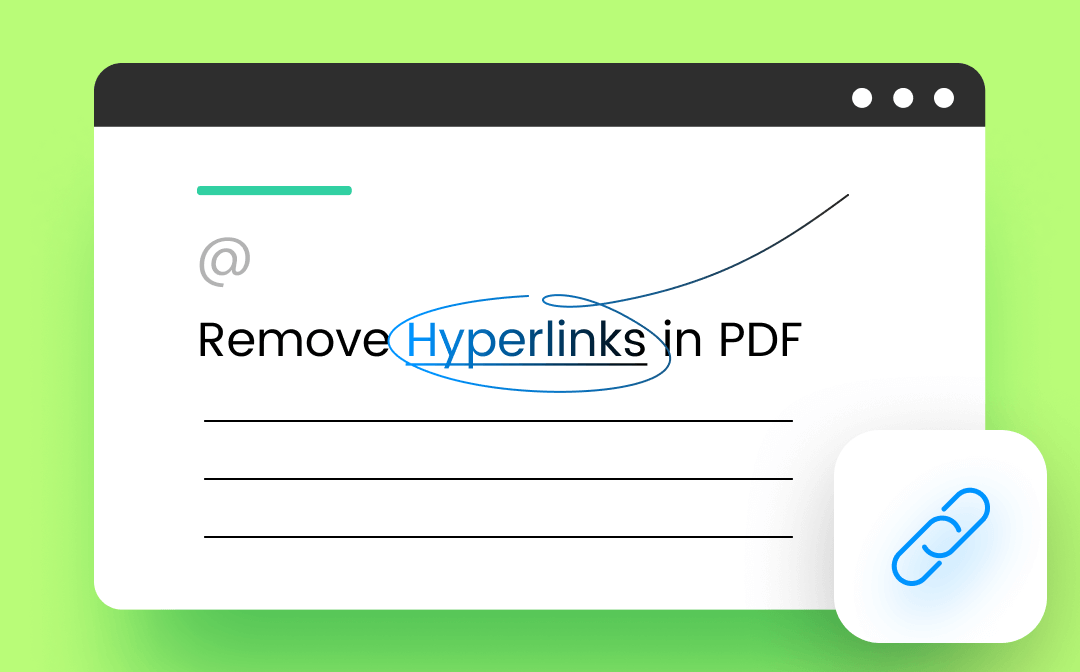 PDFs are designed to share files and are born to be uneditable, so editing PDF files can be such a pain in the neck. However, with so many handy PDF editors appearing on the market, it's very easy to make changes to PDF documents. In this article, we'll mainly discuss how to remove hyperlinks in PDF with different PDF tools on major operating systems. Let's find them out!
Remove Hyperlink from PDF Using SwifDoo PDF
SwifDoo PDF is a fully-fledged PDF editor that enables you to edit PDFs with a series of features. It's versatile, with the full ability to manipulate files in PDF format. Whether you want to add or remove hyperlinks in PDF files, SwifDoo PDF can help you a lot!
With SwifDoo PDF on hand, you can:
Create new PDFs with blank pages or from images, files, CAD documents, and scanners
Annotate PDFs
Edit all texts, images, and links in PDF files without limitations
Convert files among PDF, Office documents, CAD files, images, etc.
Password protect PDF files and add watermarks to prevent them from being stolen
Share PDFs to email, Dropbox, and Google Drive with one-click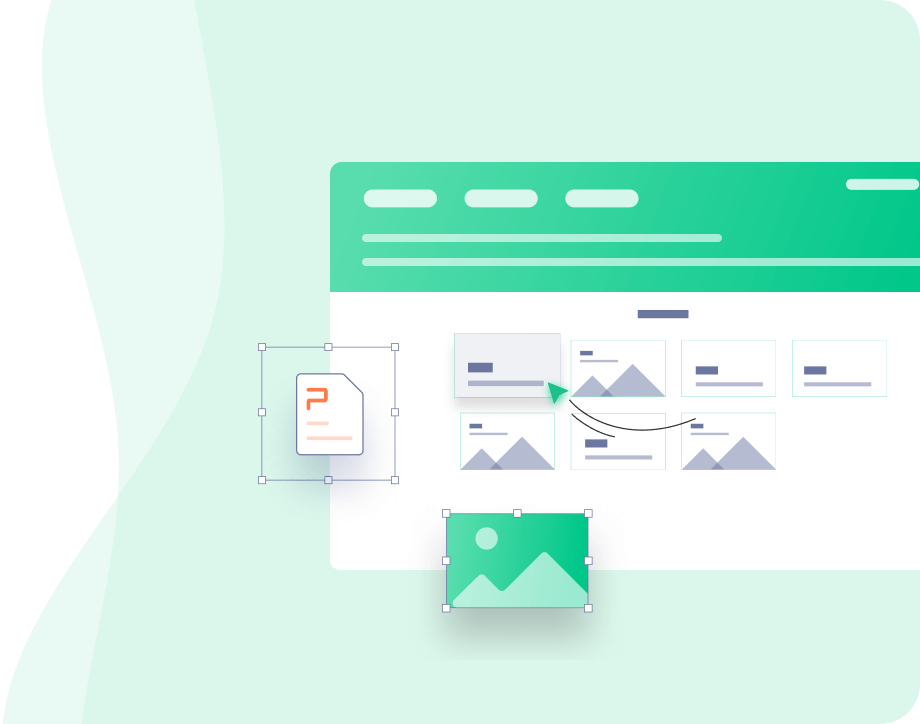 SwifDoo PDF: All-in-One Free PDF Software
Annotate PDFs by adding notes, bookmarks, etc
Convert PDFs to Word, Excel, and other editable files
Edit, compress, organize, and split PDFs
Free Download
Windows 11/10/8.1/7/XP
Let's see how to remove links from PDFs with SwifDoo PDF:
Step 1. Free download SwifDoo PDF on your Windows. It works well on all Windows operating systems;
Step 2. Open your PDF file with this program and click Edit;
Step 3. Click Link and select Add or edit link. Then right-click a hyperlink in your PDF file and hit Delete Link.

Tips:
If there are numerous hyperlinks in your PDF file, and you want to remove them all, SwifDoo PDF allows you to delete all links by clicking
Link
>
Delete all links
directly.
Simply by following three steps, you can easily remove hyperlinks from a PDF file. In addition, SwifDoo PDF also lets you edit links with different appearances, styles, line thicknesses, and colors, which helps readers distinguish hyperlinks easily. And you can change the link direction to another page, website, or file to illustrate your content.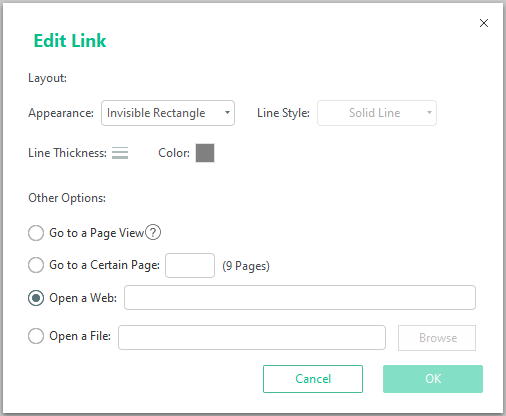 Remove Links from PDF for Free with Preview
SwifDoo PDF is a Windows-based PDF program, and it didn't release a Mac version. So, in this part, we introduce you to one of the best PDF editors on macOS: Preview. Preview is a pre-installed PDF reader and editor on almost all Mac OS X systems, enabling you to edit PDFs for free.
Compared to other professional PDF editors, Preview may not be that competitive since it was designed as an image reader at first. For basic editing needs, such as electronically signing PDF files, converting PDF to/from images, deleting links from PDFs, etc.
Steps for removing hyperlinks in PDF using Preview:
Step 1. Open your PDF file with Preview;
Step 2. Go to Tools and select Show Inspector;
Step 3. Click the pencil icon (Annotations Inspector), and you will see a list of all links in your PDF file;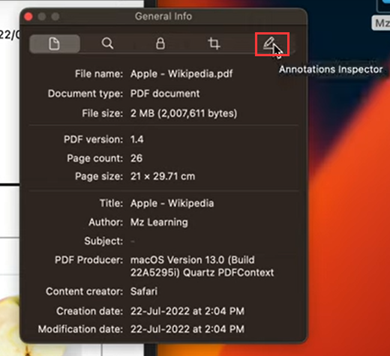 Step 4. Select the link you want to remove from your PDF file and press the delete key.
With Preview, you can easily remove links from PDF files on Mac for free. If there are numerous hyperlinks in your PDF files, and you want to erase them all, Preview can also help you do this in seconds. You can select all links from the link list and delete them with one click.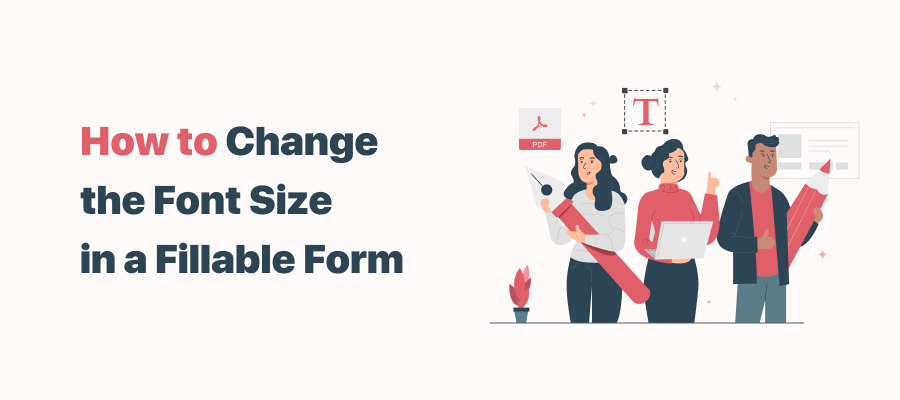 5 Approaches to Change the Font Size within a PDF Form Field
If you want to figure out how to edit or change the font size in a fillable PDF form to make the PDF look more consistent, this post can help.
READ MORE >
Remove Hyperlink from PDF in Adobe Acrobat
If you have an Adobe account with a subscription plan, Adobe Acrobat is definitely your first choice. It's never too much to say that Acrobat is the master of the PDF industry. It has been almost thirty years since Acrobat was initially released, and this software has grown to be unsurpassable.
Let's see how to remove hyperlinks in PDF with Acrobat Pro DC:
Step 1. Open a PDF file in Acrobat;
Step 2. Go to Tools and click Edit PDF;
Step 3. Click Link from the top menu bar and select Remove Web Links;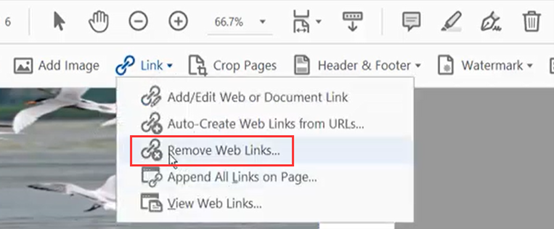 Step 4. In the Remove Web Links dialogue box, you can choose to remove all links in your PDF file or only links on one special page. In this step, select one option and click OK.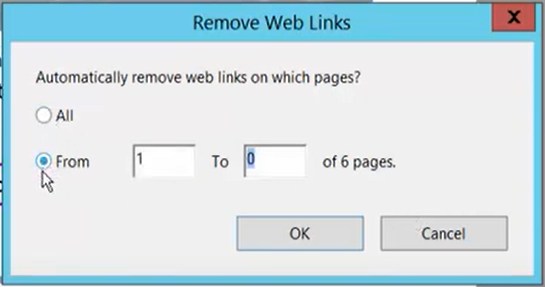 As you can see, Acrobat is a very powerful PDF editor that can help address all your issues with PDF files. However, there's also one flaw you cannot ignore: Acrobat's subscription plans are relatively expensive than most PDF editors.
Remove Links from PDF with An Online PDF Solution
If you're unwilling to spend too much money or download desktop programs on your computer, using online tools is a good choice. You can find a sea of online PDF editors by simply searching on any browser, and most of them are as powerful as offline software as well as offering free trial tasks every day.
PDFdu.com is a comprehensive online PDF solution that enables you to convert PDF files, merge/split PDFs, extract pages from PDF files, edit texts, etc. all PDF-related changes are supported.
It's very easy to use PDFdu.com to remove hyperlinks in PDF files. Check out the detailed guide below:
Step 1. Navigate to PDFdu.com and click PDF Converter on its homepage. Then select Remove/Replace Link under PDF Edit;
Step 2. Upload your PDF file by clicking on the Select File button;
Step 3. Select Remove all links from PDF and hit the Delete/Replace Link button;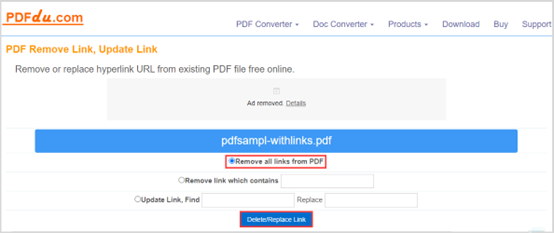 Step 4. Download the edited PDF file to your PC manually.
PDFdu.com can help remove all links in PDFs and delete specific links by entering corresponding words. However, unlike other PDF tools mentioned in this article, PDFdu.com doesn't offer you with any view page. If you only need to delete one link, it would be inconvenient. In addition, there are too many advertisement pop-ups on PDFdu.com website, and it isn't a free tool instead of charging by different features, which is annoying.
The End
In this article, we've introduced you to 4 fully-fledged PDF editors to remove hyperlinks in PDF files. All of them have proven to be helpful and easy-to-use. Nevertheless, we highly recommend using SwifDoo PDF and Preview on Windows and Mac, respectively. Download and use it right now to become more productive!