Are you looking for a way to protect your PDF documents from unauthorized copying or distribution? If so, you might want to consider using a PDF watermark creator. With a PDF watermark creator, you can easily add a custom watermark to your PDF files that identify them as belonging to you or your organization. In this article, we'll take a closer look at what PDF watermarks are, why they're important, and how you can use a PDF watermark creator to add them to your documents.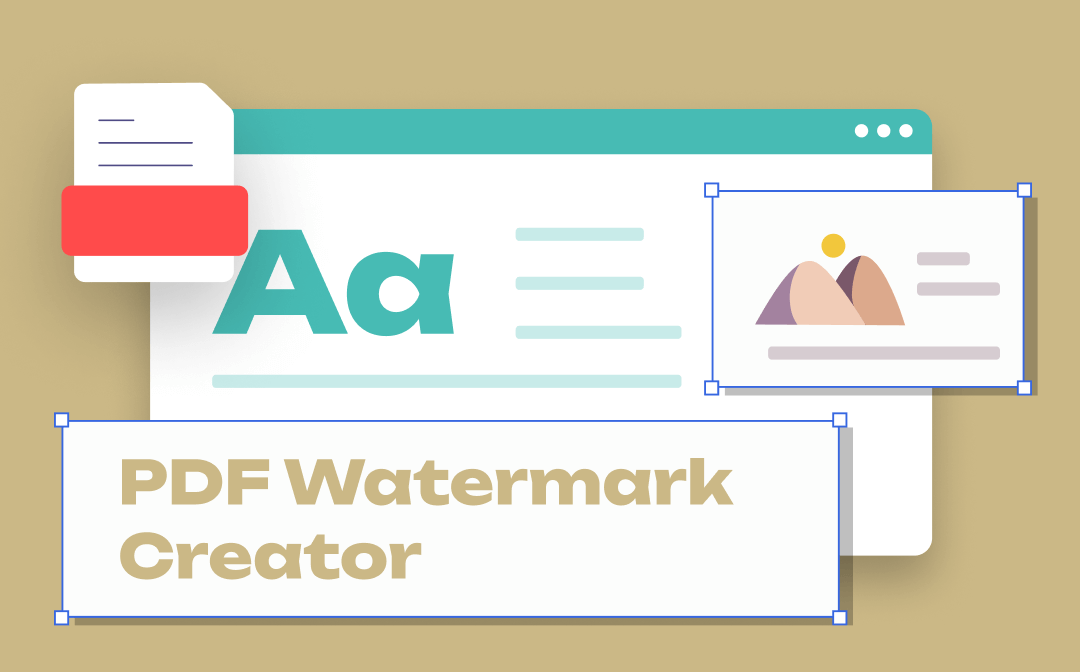 What Is a PDF Watermark?
A PDF watermark is an image or text that is added to a PDF document, usually to identify the document's owner or prevent unauthorized copying or distribution. Watermarks can be visible or invisible, and they can be placed on any part of the PDF document, including text, images, or background.
Best 5 PDF Watermark Creator Tools
Get a handy PDF watermark creator to streamline the process of designing and inserting watermarks into PDF files. In this part, we've selected the top 5 best PDF watermark creator tools that are compatible with different OS. By reading the content below, you'll get an ideal PDF watermark creator in minutes. Just read on!
A Comparison Chart of The Top 5 PDF Watermark Creators
The following chart listed the top 5 PDF watermark creators on this market with their basic information.
| | | | | |
| --- | --- | --- | --- | --- |
| | Price | Online/Offline | Supported OS | Level of Security |
| SwifDoo PDF | Free | Offline | Windows 11/10/8.1/7/XP | High |
| Adobe Acrobat | Paid | Offline | Windows, Mac | High |
| Sejda PDF | Free | Online | / | Medium |
| Preview | Free | Offline | Mac | High |
| WPS Office | Paid | Offline | Windows, Mac, Linux | High |
SwifDoo PDF: The Best Windows PDF Watermark Creator
SwifDoo PDF is a Windows-based PDF watermark creator with a user-friendly interface and a high level of security. It offers several most-used watermarks that you can use directly. In addition, it also enables you to customize PDF watermarks with pure text or images designed by yourself.
To create text PDF watermarks in SwifDoo PDF, simply type the text content, adjust related parameters such as font, size, color, appearance, location, etc., then tap the OK button to use this text watermark. To design an image PDF watermark, things would be much easier. You only need to upload a picture by clicking the Folder icon after checkbox File.
Here's how to use SwifDoo PDF to create and insert a text PDF watermark:
Step 1. Download and install SwifDoo PDF for free. It's fully compatible with Windows 11/10/8.1/7/XP.
Step 2. Open the PDF file you need to insert a watermark. Then click Protect > Watermark and hit the plus icon under Custom Watermark.

Step 3. Leave the Text box checked, type the watermark text, and tap OK to place this watermark into your PDF file.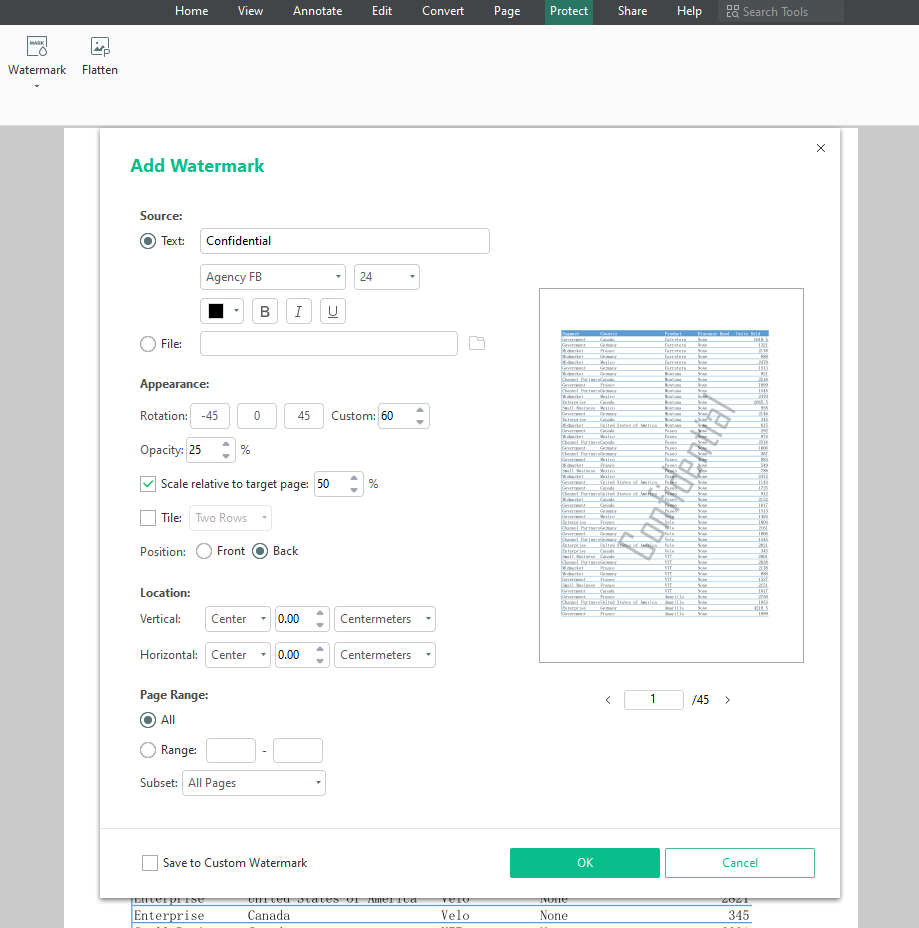 Tips:
Before
adding watermarks to your PDFs
, you may adjust your watermark with the help of the preview image in the
Add Watermark
window, with which you can check the watermark before confirming.
Adobe Acrobat: The Best Mac PDF Watermark Creator
For Mac users who're seeking a PDF watermark creator, Adobe Acrobat lies at the top of the list. Acrobat has covered both advanced and basic features to help users address PDF-related issues. You can also create both text and image watermarks in this PDF editor.
Adobe Acrobat is a paid PDF editor. Though its subscription plans are more expensive than many other PDF watermark creators, it does offer more comprehensive and powerful editing tools to help master your PDF across all platforms.
Let's see how to insert custom watermarks to PDF files using Adobe Acrobat Pro DC on your Mac:
Step 1. Install this program on your device. Then launch it and open the PDF you need to add watermarks to.
Step 2. Select Edit PDF in the Tools center and click Watermark > Add from the top navigation bar.

Step 3. Type any text or import an image from your folder. Adjust the appearance and position of the watermark.
Step 4. Click OK to apply your watermark.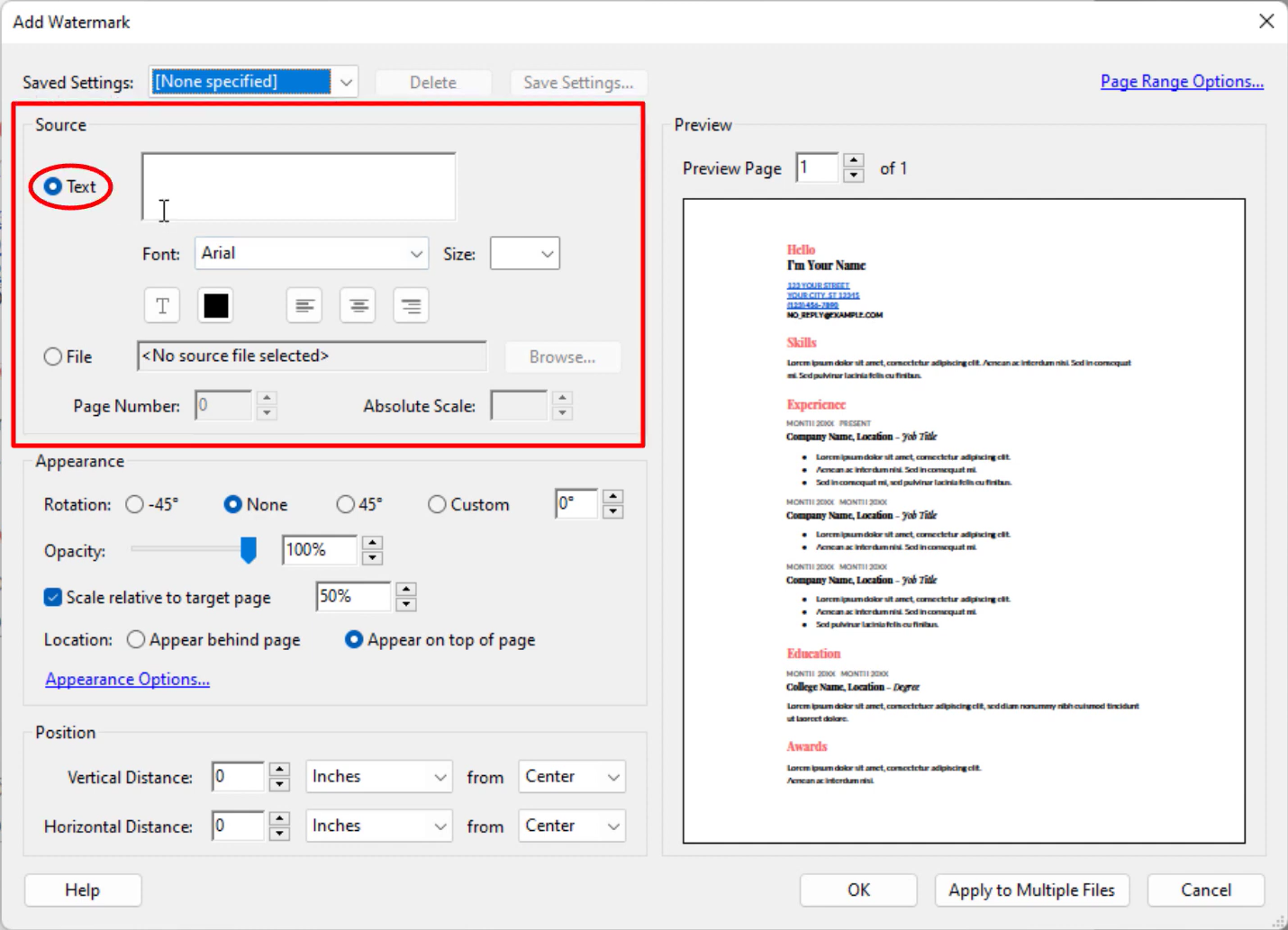 Tips:
Adobe Acrobat Pro DC also allows you to insert watermarks to PDFs in bulk by clicking
Apply to Multiple Files
(next to
OK
button in the
Add Watermark
window.)
You May Also Like: Free Methods for Adding Hyperlink to Your PDF >>
Sejda PDF: The Best Online PDF Watermark Creator
Online PDF watermark creator tools are warmly welcomed among people who haven't installed any desktop PDF editor and only manipulate PDFs from time to time. To use online tools, no matter what operating systems you're running, you only need to connect to the Internet.
Out of all online PDF watermark creators, we would introduce you to Sejda PDF editor. Sejda PDF is a simple but all-around PDF editor that includes all the standard features you'd expect from a PDF editor. It allows you to edit, compress, manage, merge, sign PDFs online effortlessly, etc., saving much trouble on downloading and installing software offline.
Follow the guide below to see how Sejda PDF helps add watermark to PDFs:
Step 1. Navigate to the Sejda PDF official website, hover your mouse over All Tools, and select Watermark.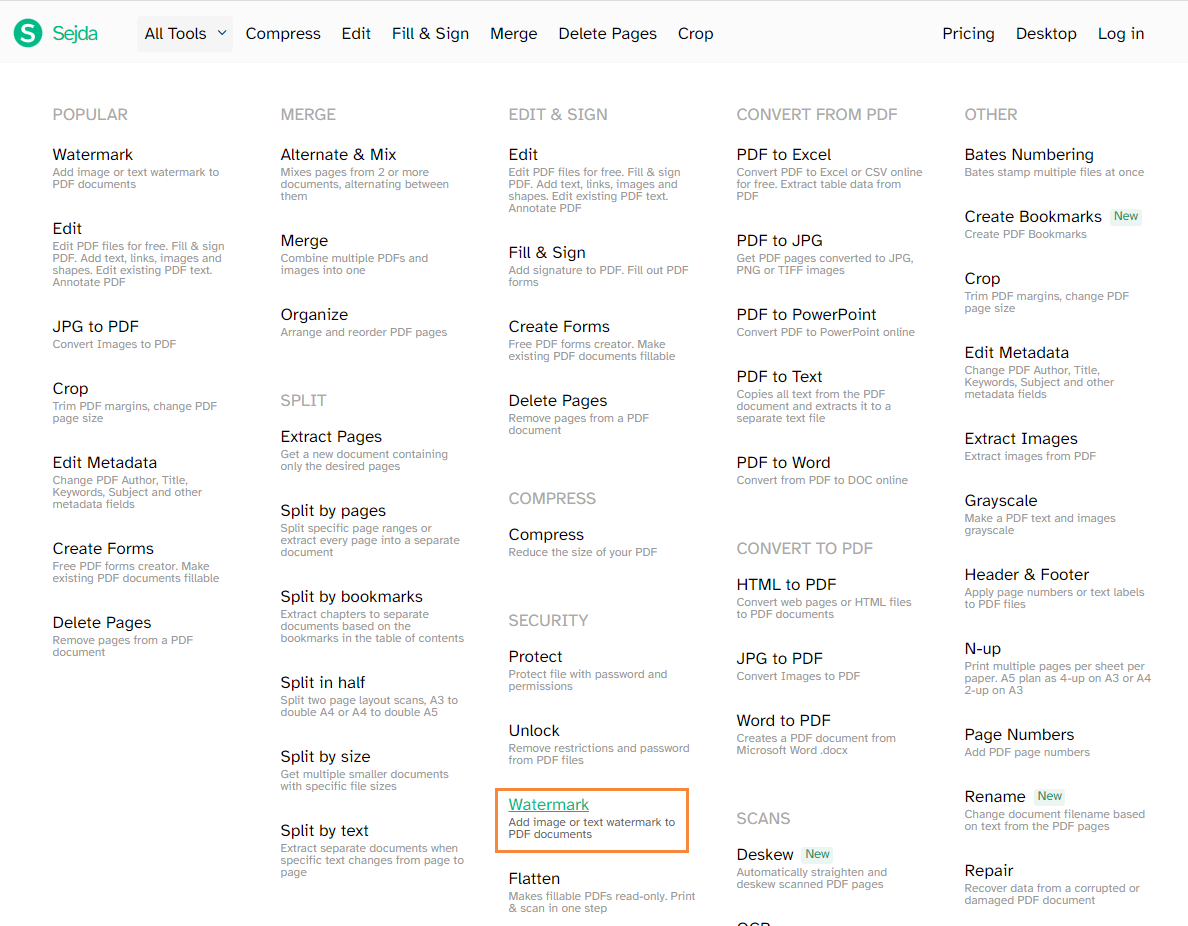 Step 2. Upload a PDF file. Replace "Click to edit" with any other text or upload an image watermark by clicking Add Image.
Step 3. Tap the Watermark PDF button and download the edited PDF manually.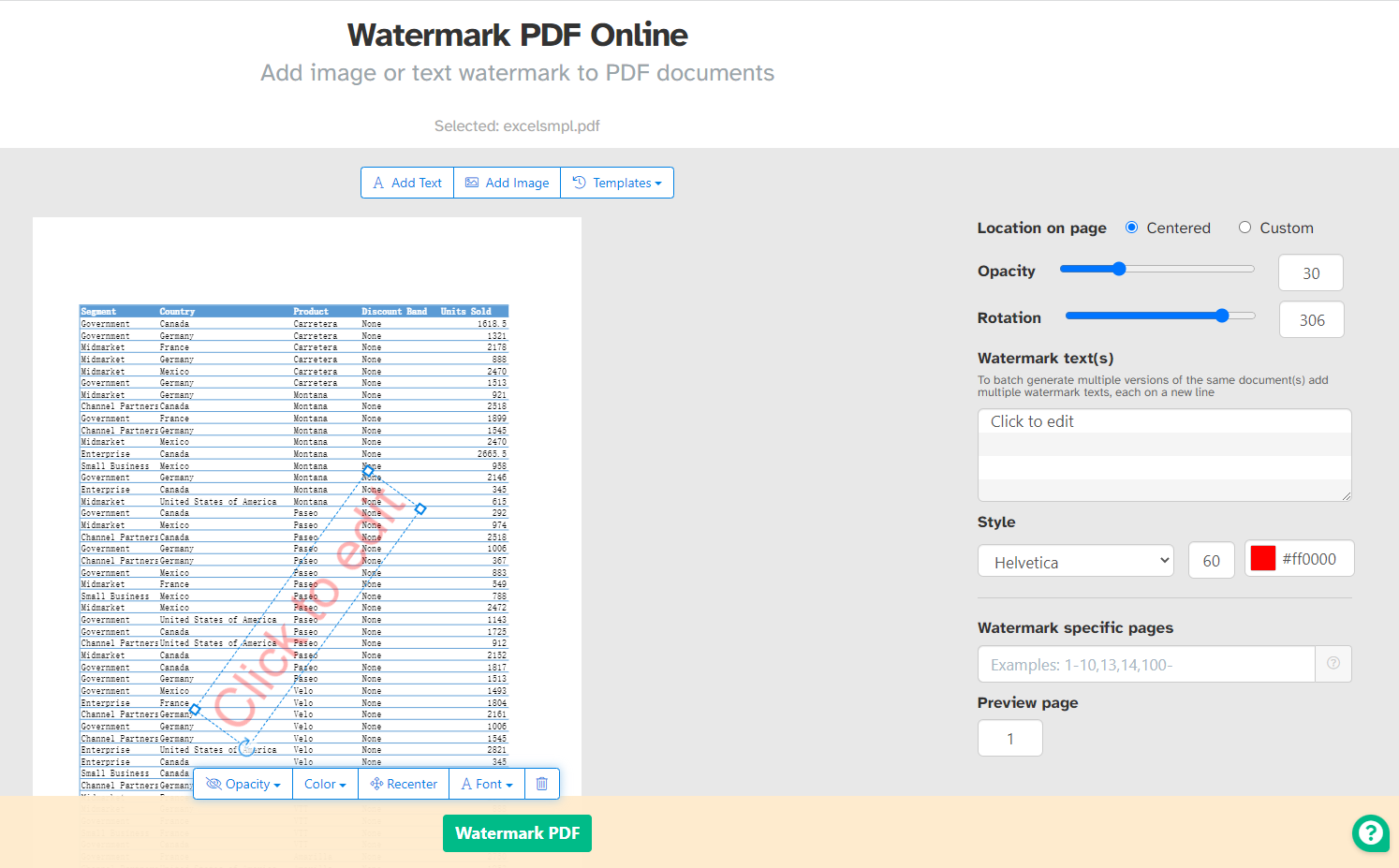 Also Read: 5 Approaches to Change the Font Size in a PDF Fillable Form >>
Why PDF Watermarks Are Important?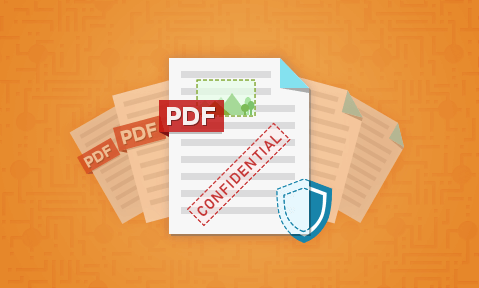 PDF watermarks are important for several reasons. Here are a few reasons why:
Protecting your intellectual property: You may want to protect a PDF document that contains valuable information, such as a confidential report or a copyrighted work, from unauthorized copying or distribution. Including a watermark in your PDF can deter people from sharing it without your permission while also protecting your intellectual property.
Establishing ownership: If you share a PDF document with others, a watermark can help establish that you are the document's owner. This is especially important if you are sharing an uncopyrighted draft version of a document or work-in-progress.
Enhancing your brand: When sharing a PDF document for business purposes, such as a proposal or a brochure, using your company logo or branding elements as a watermark can help reinforce your brand and make your document look more professional.
Preventing fraud: Watermarks can also aid in the prevention of fraud by making it more difficult for someone to create a forgery of your document. If your document contains sensitive information, such as a legal contract or financial report, a watermark can help deter fraudsters from copying or altering it.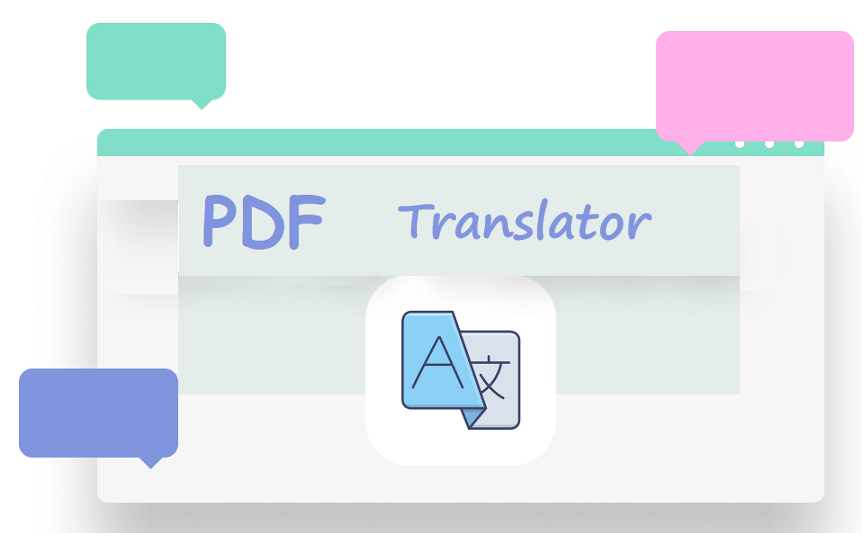 Top 7 Best PDF Translator That You Must Know in 2023
Check this post to find out the 7 best PDF translators in 2023. We've tested and selected them from different aspects to help you translate your PDF documents.
READ MORE >
The Bottom Line
Adding watermarks to PDFs is of great helpful for protecting your documents and ensuring that they are not shared without your permission. They can also be a helpful way to identify the source of leaked documents or verify the authenticity of a document. A PDF watermark creator plays an important role when protecting PDF files with watermarks. Download SwifDoo PDF right now and insert any watermark to your PDFs hassle-free!