Introduction:
What matters most to me as a content creator is asserting and ensuring ownership of my work. Under such a circumstance, how to watermark a PDF becomes imperative, but the question is: how do I add a watermark to a PDF for free? To label your work and protect the content, this post will talk about how to add watermark to PDF using a free PDF watermark maker.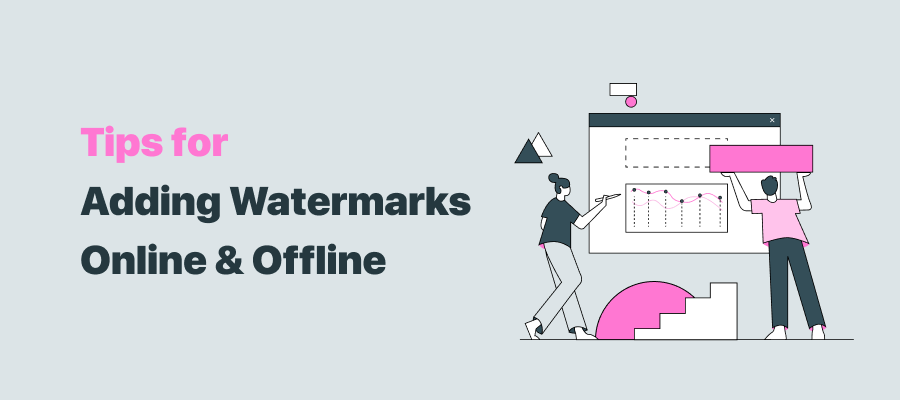 What Is a Watermark?
A watermark is an identifying image or pattern superimposed onto another image. It can be a logo, text, image, overlay, or pattern.
The use of a PDF watermark helps safeguard classified information from being stolen, which is important for designers or content creators who want to claim ownership of their own work. Especially in this digital age, when anybody may view your work and perhaps steal your ideas without you even realizing it. To watermark a PDF can both provide clarity and prevent unauthorized use of your work.
Check out the following paragraphs to figure out how to add watermark to PDF:
Add Watermark to PDF Offline
SwifDoo PDF
SwifDoo PDF is an all-in-one PDF watermark creator and annotator, a free PDF program that lets you insert a few commonly used draft watermarks in your PDF documents, such as "No Copying", "Confidential", and "Office Use Only". Furthermore, users can customize their watermarks with SwifDoo PDF. Here's how to watermark a PDF file:
Step 1: Download and install SwifDoo PDF on your Windows device;
Step 2: Open the software and add a PDF to its workstation;
Step 3: Click Watermark in the Advanced tab;
Step 4: Use a provided draft watermark or create a customized one to label the PDF.

If your required watermark is an image file, click "File" to upload and add the draft watermark to the PDF. Otherwise, type the text in the "Text" box. Moreover, on the condition you only want to watermark certain PDF pages, click "Page Range" to specify which pages to watermark.
In case you save the changes and need to remove watermarks from PDFs, please refer to this article.
Sejda PDF Desktop
Sejda PDF has incorporated more than 30 PDF capabilities, including adding a watermark to a PDF, to make itself an easy, pleasant, and productive PDF watermark creator. Similar to other PDF watermark creators, Sejda enables users to import both text and image files as templates. Let's take a look at adding a watermark to a PDF for free:
Step 1: Download and install Sejda PDF Desktop;
Step 2: Launch the PDF editor and upload the PDF document;
Step 3: Choose Watermark in the Security tab;
Step 4: Select Add Text or Add Image to create a new watermark.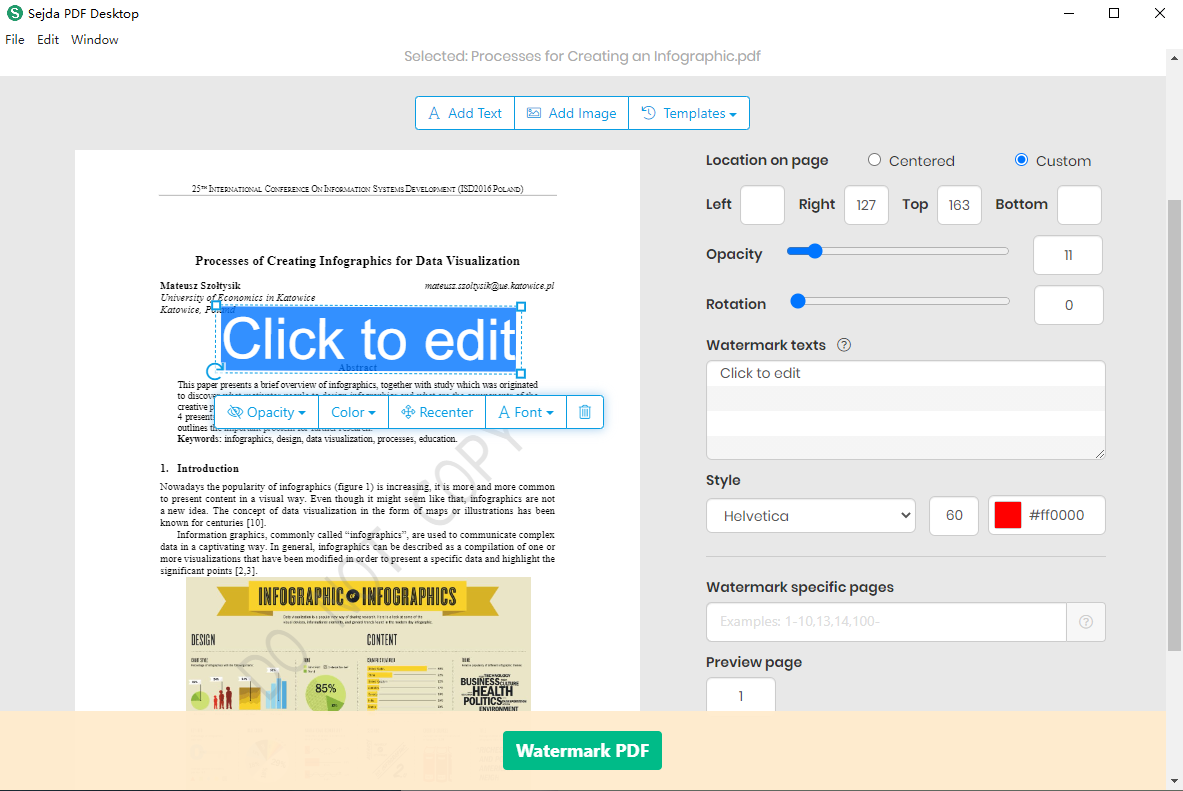 If you need to adjust the color, size, or appearance of the text watermark, change the settings in the boxes located on the right. Aside from its desktop version, Sejda PDF provides web-based PDF-related services. Users can access free online services to watermark a PDF without downloading or registering, which is very convenient for users.
Foxit PDF
Foxit PDF is a robust and comprehensive PDF editor with multiple features. It offers useful functions which are often favored by professional users. With an organized user interface similar to Microsoft Office, users may benefit from this design and easily find what they want. If they don't, search for the needed characteristics using the search bar.
This PDF editor enables users to view, convert, annotate, protect and watermark PDF documents. Check out how to use Foxit PDF to insert watermarks in PDFs:

Step 1: Download and install Foxit PDF on your computer. Foxit PDF has three different versions, just choose the version that best fits your needs;
Step 2: Open the program and upload the PDF to its workplace;
Step 3: Select Organize and click Watermark;
Step 4: Enter text or use image files as the watermark.
Note:
As a versatile PDF watermark adder, Foxit PDF allows users to change the appearance, position, and page range of the watermarked areas. If needed, click "Remove All" to delete watermarks from this PDF document.
The above three methods are based on desktop PDF programs for Windows users. Sejda PDF is a free watermark creator which allows users to perform three FREE tasks per day, and the remaining two PDF tools require registration to access a free trial before adhering to their features. For registered users, SwifDoo PDF offers a 30-day free trial, whereas Foxit PDF offers a 2-week free trial. Choose the one you'll need.
Add Watermark to PDF on Mac
Lucky Mac and iOS users have a built-in free watermark maker - otherwise known as Pages. This word processing and page layout application can help users add watermarks to their PDF documents. Take a look at how:
Step 1: Open a PDF document with Pages, then insert a text box by clicking Text at the top of the window;
Step 2: Move your cursor to draw a text box that fits the margin;
Step 3: Type the text within the box as a draft watermark, and use the formatting tools on the right side to change the text alignment, font, size, color, and opacity.
By doing so, you'll watermark a single page of a PDF document, but if users need to add watermarks to every page, here's what you have to know:
Step 1: Choose Section Masters in Arrange, and click Move Object to Section Master to add the watermark to other pages;
Step 2: Select Section Masters in the Arrange tab, then press Make Master Objects Selectable;
Step 3: Place your cursor on the watermark and move it anywhere on the pages.
The process of inserting a watermark in PDF on Mac seems a little overwhelming, does it not? Don't worry, you will find a few easier methods to simplify the process of watermarking a PDF in the following paragraphs.
Add Watermark to PDF Online
Thanks to the ever-advancing technology, many developers have brought out Internet-based free PDF watermark creators that enhance productivity. Such products include LightPDF and PDF24 Tools.
LightPDF
LightPDF is a web-based PDF service provider, including converting, editing, splitting, merging, and protecting. One of the reasons the editor recommends this online PDF to users is because there are no time or file size limits while using it.
When it comes to adding watermarks to PDF, LightPDF now allows users to type text or upload images as the draft watermark:
Step 1: Enter the URL in the search bar;
Step 2: Choose the file that requires watermarks;
Step 3: Select Watermark PDF in Other tools.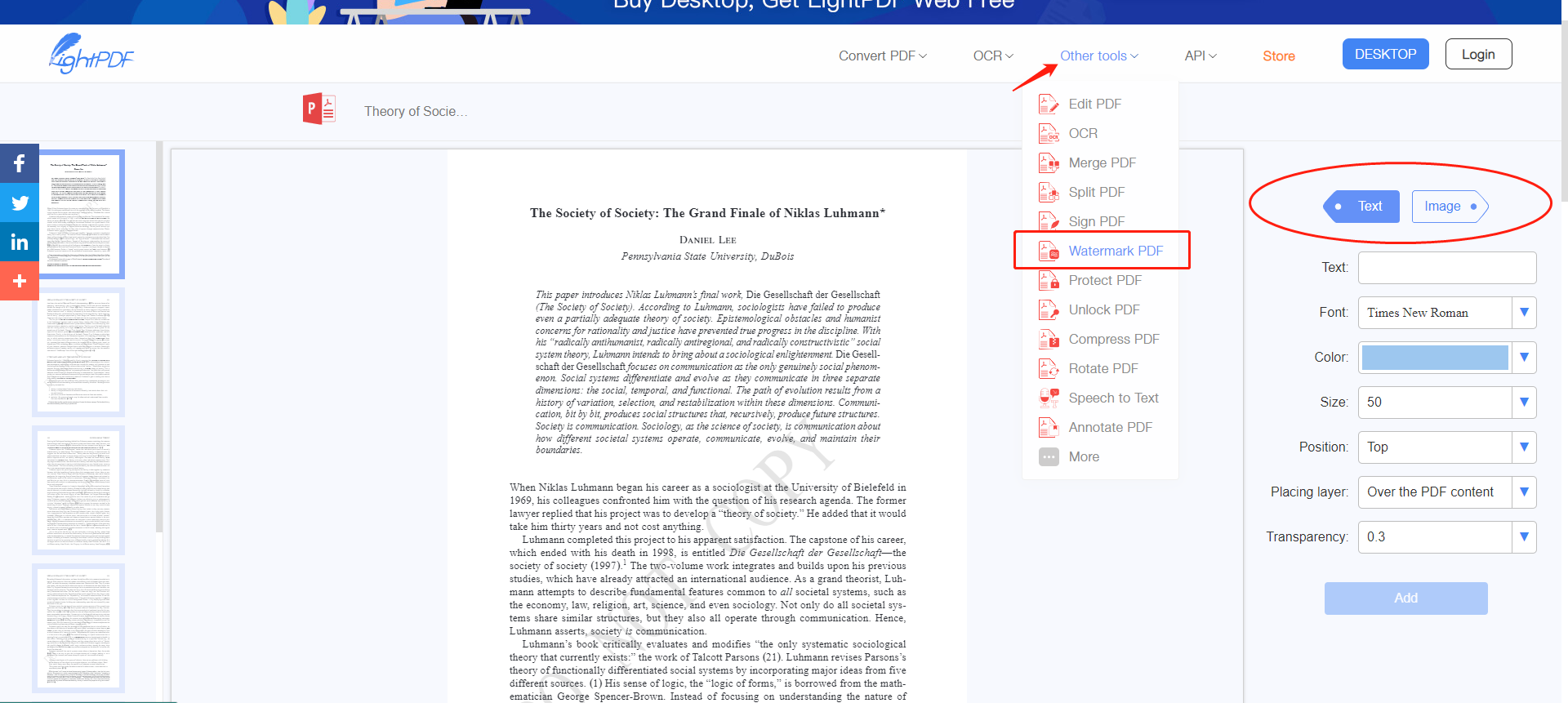 In the boxes on your right-hand side, you are capable of choosing the pattern of your draft watermark: text or image. If your watermark is in text, feel free to change the color, size, position, transparency, and placing layer. Aside from the online version, LightPDF equally has a desktop version, known as ApowerPDF.
PDF24 Tools
Developed in 2006, PDF24's functionality has served millions of people around the world. Though only a small team, PDF24 staff members are dedicated to helping resolve problems in the PDF sector. When it comes to how to watermark a PDF, PDF24 Tools only supports text watermark: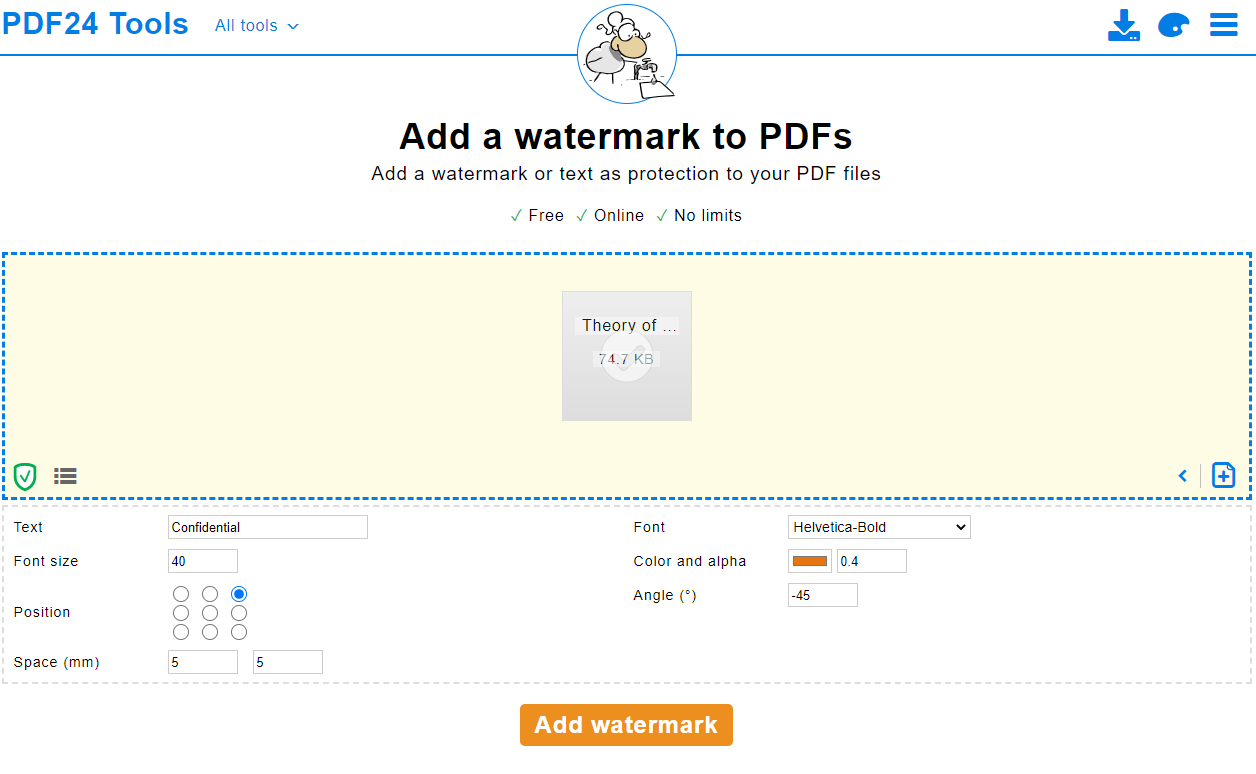 Step 1: Open the website and export your PDF document to the workstation from a local folder, Google Drive or Dropbox;
Step 2: Type the watermarked text in Text, and change the font, size, color, space, and position if you need;
Step 3: Click Add watermark to save the changes.
Compared to LightPDF, the ability of batch adding watermarks makes it stand out. PDF24 Tools doesn't support using an image file as the watermark, but it can assist in comparing PDFs, extracting PDFs, and creating PDFs from the camera.
Conclusion
Generally, adding a watermark to a PDF isn't a difficult task. Both online and desktop PDF watermark creators are reliable. However, think twice before you jump because once your PDFs are watermarked, it is hard to erase them from the files without the help of professional desktop PDF programs.