Introduction:
When we scan a physical paper document into a digital one, the order of this newly created PDF may be wrong. Consequently, we need tools to reorder the PDF pages so that the viewer of this document won't be puzzled by the arrangement.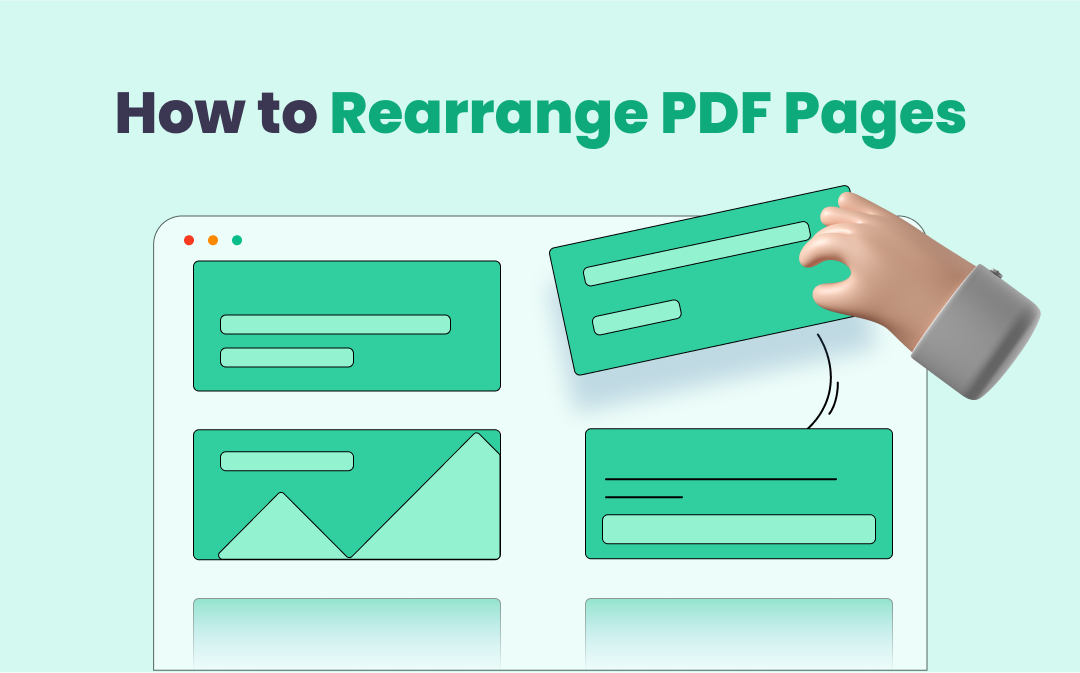 This post will cover several free PDF tools to help reorganize PDF files both offline and online: SwifDoo PDF, Sejda PDF, PDFelement, PDF Manager, and PDF Reader Pro.
How to Reorder PDF Pages with Desktop Software
This section will mainly recommend three PDF editors to rearrange pages in a PDF document, without Adobe Acrobat, to tackle this out-of-order issue.
How to Reorder PDF Pages on Windows
SwifDoo PDF
Although relatively new to the document management industry, SwifDoo PDF is able to compete with many similar PDF programs because of its functionality and simplicity. By integrating 30 + different features, SwifDoo PDF aims to make all tasks easier, including how to reorder pages in a PDF: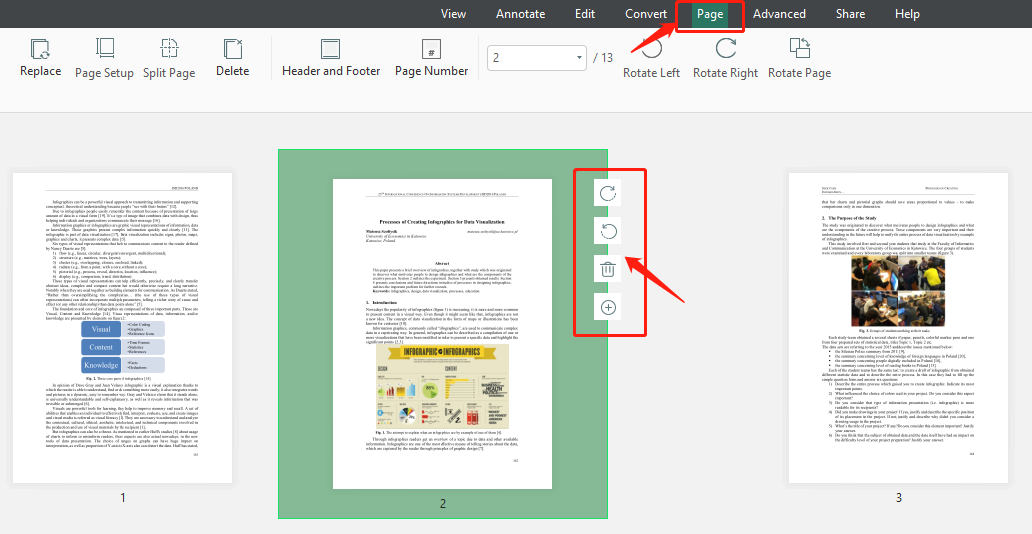 Step 1: Download and install SwifDoo PDF from the official website or Microsoft AppSource;
Step 2: Start the program and upload a PDF in the wrong order, and then click Page;
Step 3: All thumbnails will be laid out in front of users, then drag any thumbnail to move and change the page order.
Additionally, when you select a page, you can also rotate and delete this page. If you need to insert a new, blank page to this document, click the + icon to add a page. In the "Page" tab, users can merge, split, extract, replace, and delete PDF pages.
PDF Manager
If all you need is to rearrange pages in a PDF, PDF Manager developed by Microsoft is a good option. To expand the business, Microsoft has created this document management tool to take a share in this industry. This PDF tools incorporates features to merge, split, delete, and rearrange PDF pages.
Step 1: Pay for and download this app from the Microsoft Store (not free);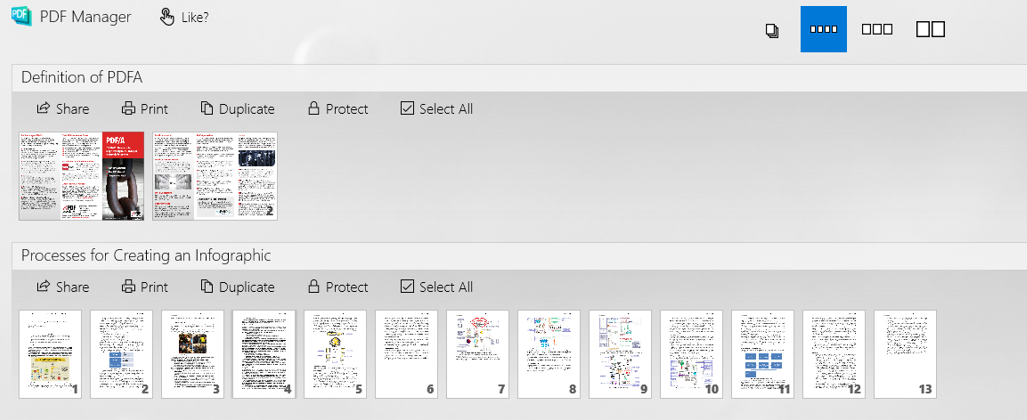 Step 2: Upload a PDF to the workplace and change the way this PDF document displays from fold to titled;
Step 3: Click on any page to move or reorder.
Note:
As we described previously, PDF Manager is good at managing a PDF document, and users can even rearrange PDF pages among multiple PDF files by clicking "Add PDF". However, PDF Manager is a document management tool rather than a versatile editor as it doesn't provide any tools to modify or edit the PDF.
PDF Reader Pro
This PDF editor may be new to some users, but it has earned a good reputation on Mac and iOS. PDF Reader Pro has released a Windows version so today we are going to try this PDF program to reorganize pages in a PDF:
Step 1: Drop or drag any PDF into the workstation;

Step 2: Choose Page Edit on the main menu;
Step 3: When you see the thumbnails of this PDF, rearrange the pages to the desired place.
PDF Reader Pro is a good PDF viewer and reader which is able to annotate, edit, reorganize, convert, fill & sign PDF. It is now available on Mac, Windows, iOS, and Android.
Tips:
Though this program is free to download, you need to fill in payment information once you need to enjoy the 7-day free trial. Otherwise, you are allowed to edit the PDF using a handful of tools.
How to Reorder PDF Pages on macOS
Preview
If you are looking for a feasible solution to reorganize PDF pages on macOS, you are in luck because the inbuilt PDF viewer on your MacBook - Preview saves you the trouble. This free native PDF reader on macOS integrates password protection, editing, extraction, page rearrangement. Take a look at how to reorder pages in a PDF on macOS.
Step 1: Open a PDF using Preview;
Step 2: Choose View and then select Thumbnails. Next, click on Contact Sheet;
Step 3: Reorganize the pages to new locations.
macOS users don't need third-party software to rearrange PDF pages. In spite of the fact Preview is capable of a number of different tasks, it falls short if you need to do more complicated job. In this case, a dedicated PDF tool is what you need, for instance PDFelement, PDF Expert, and Foxit PDF.
How to Reorder PDF Pages Online
Another option for users who need to reorder pages in a PDF is online PDF tools. Based on Internet, these tools cater to those hold a more cautious attitude toward unknown desktop applications or programs. As these tools are web based, they don't require download and installation. Let's take Sejda PDF for example to learn how to reorder PDF pages online:
Sejda PDF
Admittedly, this brand name may seem hard to pronounce, and from its "About Us" page we know it is pronounced /sai duh/. This web-based PDF tools aims to empower small businesses and individual users to improve productivity. It enables users to merge, split, edit & sign, secure, convert, and reorder PDFs.
Step 1: Enter the URL on the search bar;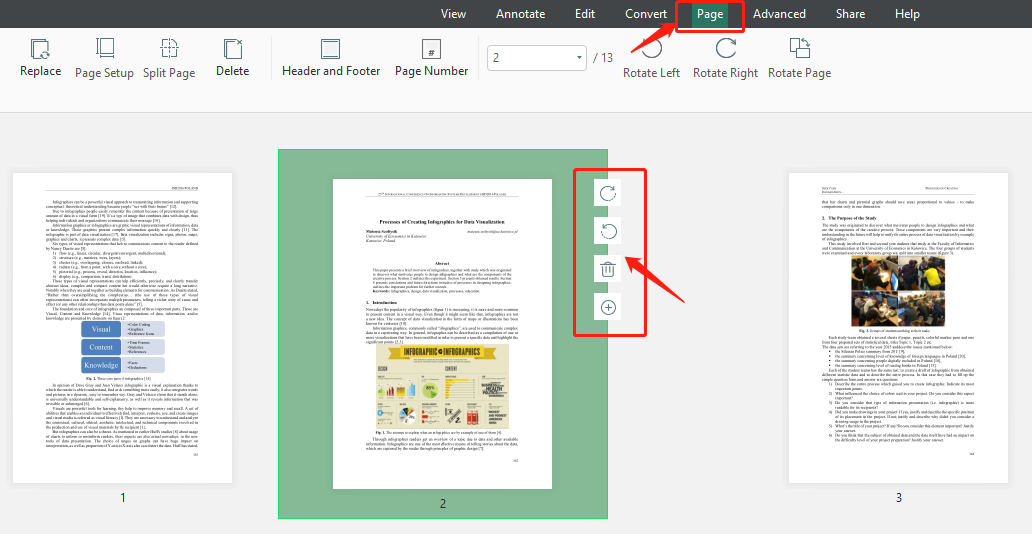 Step 2: Click All Tools to choose Organize in the tab MERGE;
Step 3: Import your PDF file(s) to the operation panel via Dropbox, Google Drive, OneDrive, or URL;
Step 4: Click on any page to change the order.
This free PDF application is available on both Windows and web, which provides three free tasks per day. If you run out of the free service, you can either upgrade your plan or choose another online tools.
How to Reorder PDF Pages on a Mobile Device
Mobile phones have become a must-need tool and therefore, it's helpful if we can manage PDF-related issues using our mobile phones, such as reordering PDF pages on Android and iPhone device. Wondershare PDFelement recognized this need and released Android and iOS versions to realize this goal. PDFelement is a comprehensive PDF program that can create, annotate, and rearrange PDF pages easily. Check how to change the order of your PDF pages:
Step 1: Download PDFelement from Google Play or App Store;
Step 2: Launch the application and add a PDF file to the app;
Step 3: When ready, click on the first icon on your right side to choose Page. Now you are in the page management mode and can reorder the PDF pages as you want.
In Closing
Changing the order of PDF pages is relatively an easy job irrespective of online or offline PDF tools you choose. Online tools will provide two or three free tasks with limited file size and page numbers. Desktop PDF programs are not free or charge but offer free trial, for example, SwifDoo PDF is software that has 30-day free trial for every registered users.