Introduction:
During reading, reviewing, or proofreading a document, you may often need to highlight some information to attract attention. To add highlights to the text, images, or specific other content in a PDF document, a powerful PDF highlighter is a must. It can mark selected parts with eye-catching colors, and may allow you to add shapes or lines, and do many more.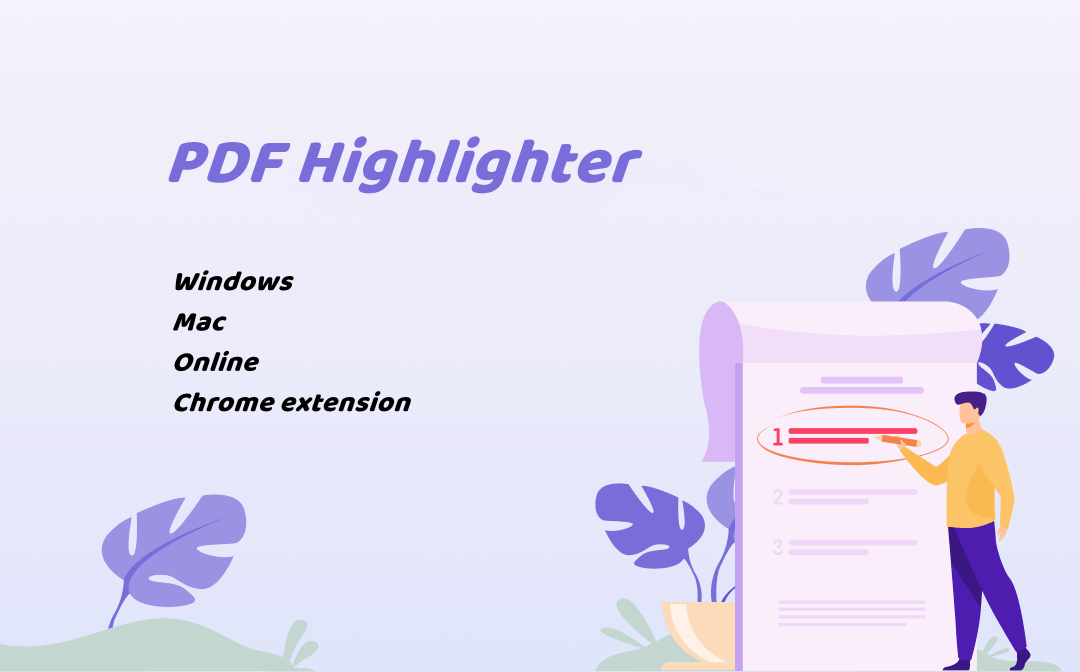 As different people work on different devices and there is a great number of PDF highlighting apps on the market, it might be hard for you to tell which one is secure and easy to use. Because of that, this post collects the 9 best free PDF highlighters you can get on almost all OS, including Windows and Mac. They contain desktop/online tools and chrome extensions.
PDF Highlighter for Windows PC
SwifDoo PDF - Small and Fast All-in-one PDF Software
SwifDoo PDF is a multi-function PDF highlighter with tools to highlight text or areas, and add sticky notes, shapes, and lines in a PDF file. The desktop app offers color palettes for its highlighter open. It allows you to easily change the color and opacity of highlights in PDFs. You can remove all the unwanted highlights from a PDF with a couple of clicks within the software. The PDF highlighting app is designed for Windows PC.

If needed, click the "Annotation" icon in the sidebar to view, delete, or edit each highlight. The versatile PDF highlighter can be used to annotate PDF documents by freehand drawing, and inserting text or attachments when necessary. Moreover, it integrates features to edit, convert, compress, merge, and split PDFs, etc. The SwifDoo PDF software is characterized by its small size and quick response.
Pros:
The app makes it effortless to add, change the color of and remove highlights
Equipped with a wide selection of annotation, PDF editing, conversion, and more tools
Lightweight and fast
Cons:
Only run on Windows 11/10/8.1/7/XP
Download the SwifDoo PDF app for free and highlight your PDF with the steps below.
Step 1: Launch the software and click Open on the first interface to open a PDF file;

Step 2: Tap on the top Annotate menu to choose the Highlight option;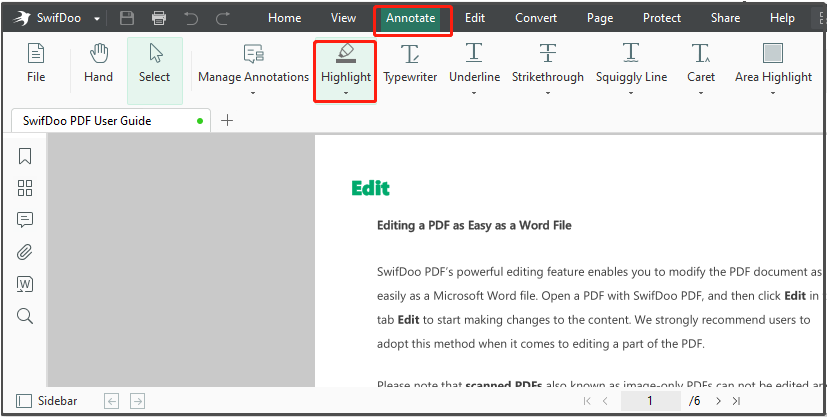 Step 3: Hit the drop-down arrow under the option to pick a highlight color, then drag to select and highlight text with the PDF highlighter;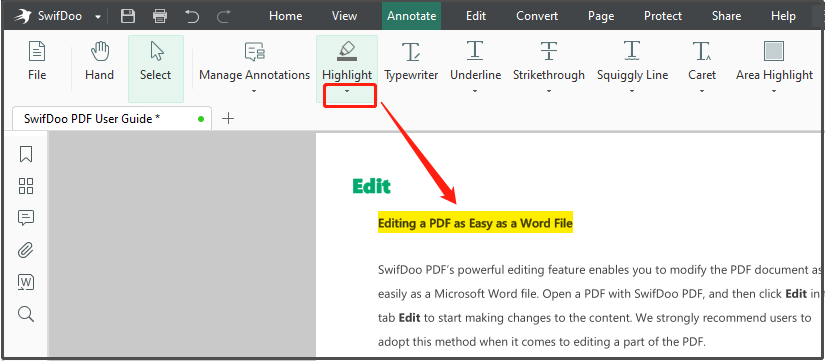 Step 4: Use the Area Highlight tool to highlight an image or any other space on a PDF page, go to SwifDoo > Save as to save the changes.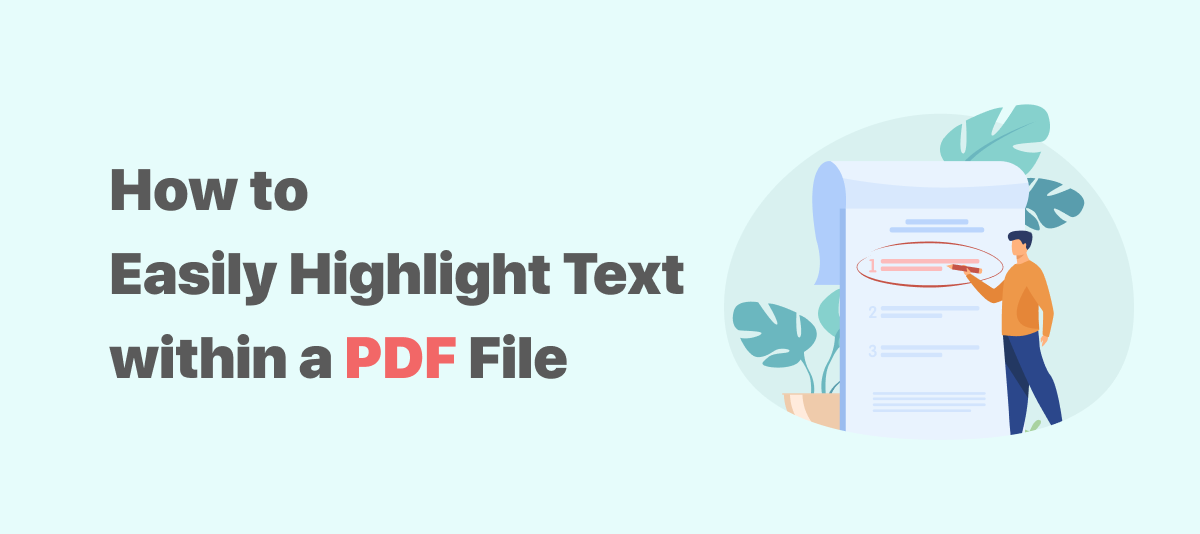 How to Highlight a PDF on Windows and Mac
Users may need to annotate PDFs, such as highlight, underline, and strikethrough, to mark out the text. How do we highlight a PDF? This post has the answer.
READ MORE >
PDF-XChange Editor
PDF-XChange Editor is a small and free PDF highlighter for free download on Windows PCs. The program can highlight and unhighlight text, add or remove text and text boxes, and add notes in PDF files. Select a highlight in your file, go to "Format", and you can change the highlight color and opacity. The app is both a free PDF reader and highlighter and has PDF creation, annotation, digitally signing, and other features.

Pros:
Rich annotation tools, such as the typewriter, highlighter pen, pencil, etc.
Functions for organizing, converting, and filling out forms in PDF files
OCR text recognition
Cons:
Only compatible with Windows
The free version outputs PDFs with watermarks after using some features
PDF Highlighter for Mac
PDF Expert
PDF Expert is a free downloadable PDF highlighter developed for Mac. It enables you to underline, strikeout, and highlight text in a PDF quickly. Once you've added necessary highlights to a PDF, a sidebar comes out to allow you to change the highlight color. The PDF highlighting app can also add notes, shapes, stamps, and other types of annotations to PDFs.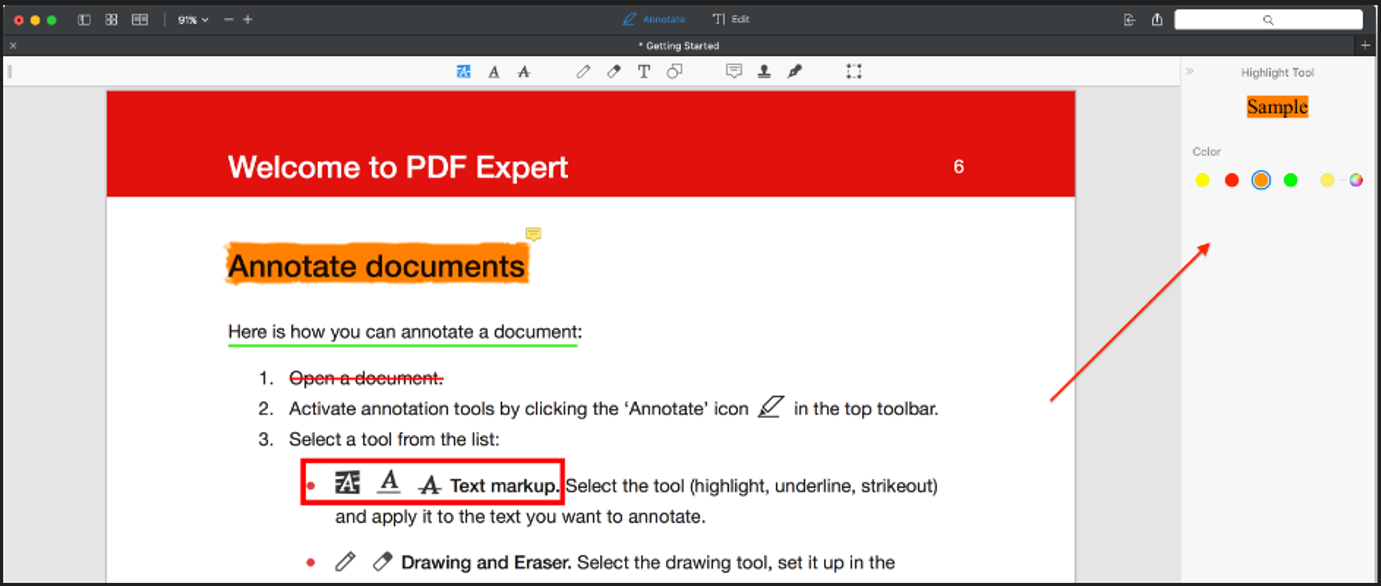 Pros:
The app is a one-stop solution for PDF-related needs, such as PDF viewing, reviewing, and conversion
Have the powerful form-filling feature
Touch bar support
Cons:
Only work on Apple devices
Less optional highlighting and annotation tools
Skim
Skim is an open-source and free PDF highlighter and reader for Mac OS X. You can use the application to annotate, and bookmark PDFs. It has options for users to highlight text or remove highlights in PDF, underline selectable text, and add or export notes as text, etc. As a PDF reader, it supports full-screen, slide show and split-screen reading modes.

Pros:
Completely free PDF highlighting and notes taking app
Small and secure program
Simple interface
Cons:
Limited features without more PDF editing tools
Preview
If you are a Mac user with basic needs for annotating PDFs, take advantage of Preview, the inbuilt application on your device. The native PDF highlighter for Mac lets you highlight text in a PDF with different colors and delete highlights by selecting them. It can also underline or strikethrough chosen text, and draw shapes or lines.

Pros:
Free and native PDF markup tool
Protect PDFs with passwords
The app can work as an image converter and a PDF converter
Cons:
Only available for Mac
Not ideal for performing complicated tasks on PDFs, such as editing existing text, etc
Adobe Acrobat Reader DC
Adobe Acrobat Reader DC might be the world's most famous PDF highlighter. It offers an array of features for commenting PDFs. You can remove or add highlights in a PDF at no cost. Regarding how to change the highlight color in the Adobe PDF highlighter, click the specific highlight, tap the "Change color" icon on the top and select a different color. The app can also underline or replace text, and add text boxes to PDF.

Pros:
Free PDF annotator for both Mac and Windows PC
Ability to digitally sign PDF documents
Fully-fledged software with reliable stability
Cons:
Expensive
Heavy program of hundreds of megabytes
Free Online PDF Highlighter
Sejda
Sejda is an online and free PDF highlighter and editor. To highlight a PDF, navigate to the PDF editor page on the software's website and upload it. To alter the color of an added highlight, click on the highlight, then select a color in the floating bar. Removing a highlight from a PDF is also simple with Sejda. Moreover, the web application can help insert images, links, and text to PDFs.

Pros:
Comprehensive PDF web application with nearly all tools on the market
Ease of access from any device via a browser, including Windows, Mac, and Linux
Process files at a fast speed
Cons:
Limitations on the uploaded file size for specific features
Not suitable for handling a batch of PDF files at a time
PDF Highlighter for Chrome Browser
Weava Highlighter
Weava Highlighter is one of the best PDF highlighting apps that's available as a Chrome extension. It's specially developed to help with your university homework, assignments, or research faster and wiser. With the PDF highlighter, you can highlight PDF files with a few standard colors and easily change the properties of highlights. It can highlight web pages as well.

Pros:
Offer unlimited file storage in the cloud
It's a handy tool to organize and annotate files online
Cons:
Only five free highlight colors
Hypothesis
Similar to the previous PDF highlighter, Hypothesis is a Google Chrome extension that you can install from Chrome Web Store. The app runs within the browser and enables you to view PDF files. With the PDF viewer and highlighter, you can instantly highlight PDFs and web pages while viewing. It also lets you add notes on PDFs.

Pros:
Convenient to access in the Chrome browser
Ability to annotate web pages
Cons:
Limited highlighting and annotation features
Conclusion
Professionals oftentimes working with PDFs, like teachers, students, researchers, and proofreaders, have to add highlights to PDF documents frequently. If you are one of them and haven't had the right tool to do the work, this post might be helpful with the 9 PDF highlighters we collected.
Answers to Frequently Asked Questions about PDF Highlighter
1. Where can I highlight PDFs for free?
SwifDoo PDF allows you to highlight PDF files for free for the first 15 days. You can also use the online tools or chrome extensions introduced in this article to achieve the goal.
2. Do you need Adobe Pro to highlight text in a PDF?
The free Adobe Reader allows you to highlight text in PDFs and add many other annotations, so Adobe Pro is unnecessary for this purpose.
3. Why won't my PDF let me highlight it?

The most possible reason why you can't highlight a PDF is the PDF file is protected with permission restriction. You need to unlock the PDF first.
4. How do you highlight in PDF if it is protected?
If your PDF is protected with an open password, enter the correct password to access and highlight it. If it's encrypted with a permission password, open it in a dedicated PDF reader, and enter the password to enable the editing or remove the password from the PDF.
5. How do I highlight text in a scanned PDF?
PDF software like SwifDoo PDF allows you to select a specific area to highlight, which helps highlight text in a scanned PDF. You can also use it to convert the PDF to a Word file to highlight and resave the file as a PDF.
6. How do you edit the highlights in PDFs?
Open your PDF with the SwifDoo PDF application, click the "Annotation" icon on the left side of the window to open the annotation pane, then you can edit each highlight.