If you regularly work with PDF documents, you may have seen or heard of Kofax Power PDF before. It is one of the most full-featured PDF software similar to Adobe Acrobat. People are attracted to the superior PDF solution for a variety of reasons, perhaps for its pricing or features. When you hesitate to use Kofax Power PDF to make edits to your PDF files, a complete introduction to it will be helpful.
This post organizes and summarizes Kofax Power PDF's features, versions, pricing, reviews, and the best alternative for your understanding. Here are also answers to some questions many users care about the Kofax Power PDF software. Let's have a look.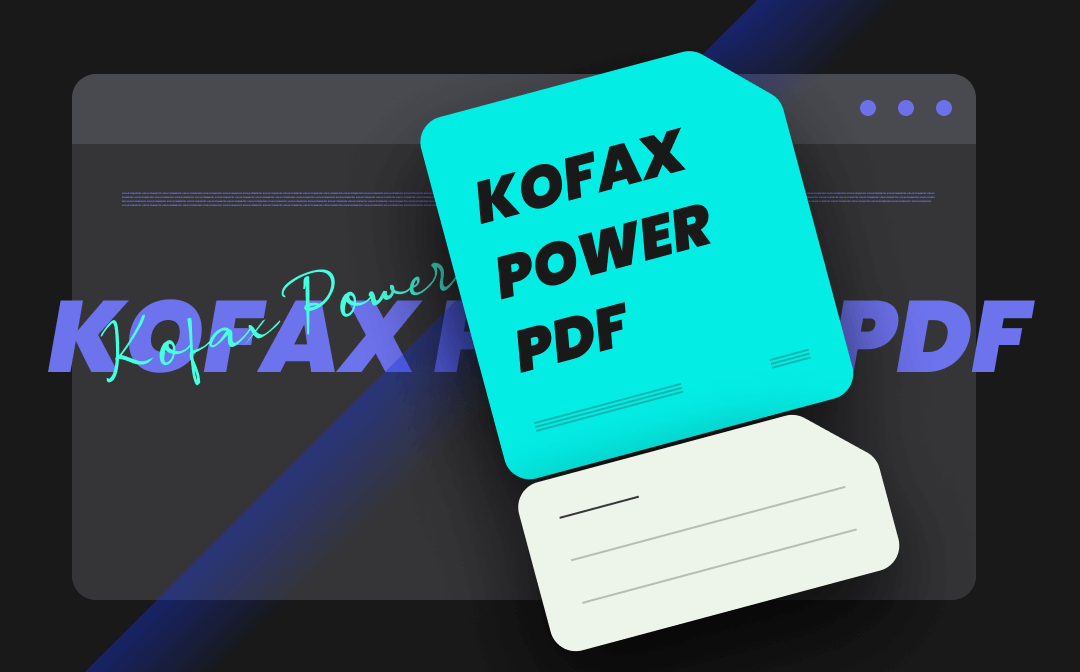 What Is Kofax Power PDF?
Kofax Power PDF is a PDF editor, PDF converter, PDF annotator, PDF organizer, and more. The software is designed to enable you to make alterations to existing PDFs and compile new PDFs. As you may know that Adobe Acrobat is the world's most famous PDF software, and Kofax Power PDF is one of the best Adobe Acrobat alternatives. Discover more details about it below.
Key Features
You will be more explicit about what Kofax Power PDF is used for from the list.
Create PDFs from office documents, web pages, or from a scanner
Convert PDFs to various formats such as Microsoft Word, Excel, and PowerPoint
You can redact text and images, add signatures, delete a page, and add page numbers in PDFs in Kofax Power PDF
Edit, delete, or add text, insert and edit images in a PDF file, highlight text, compress PDF to reduce file size, and resize PDF pages
Kofax Power PDF allows you to add or remove watermarks from PDFs, create fillable forms, rotate and save PDFs
User Interface
Kofax Power PDF has an Office-style interface. The familiar blue and concise menus enable you to quickly find the tools you need. You can directly search for a specific tool to use within the PDF software. With the clean, intuitive and modern user interface, working with documents becomes easier.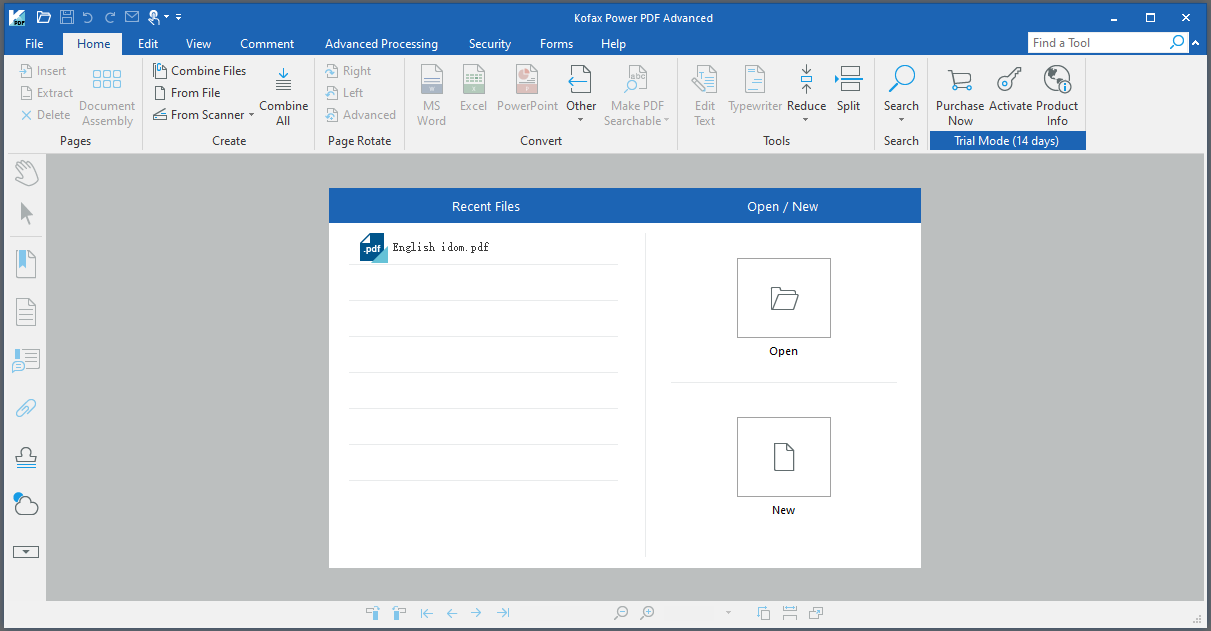 Is Kofax Power PDF free?
Kofax Power PDF is commercial software offering users a one-time purchase. It has no free version and no subscription plans.
Is Kofax the same as Adobe?
Kofax Power PDF contains the majority of Adobe Acrobat features and its own special functions, and it is not the same as Adobe. As mentioned, Kofax is one of the top alternatives to Adobe Acrobat with more affordable pricing and a similar ability to manage and edit PDFs. Adobe has monthly and annual plans while Kofax Power PDF only provides perpetual licenses.
Is Nuance Power PDF now Kofax?
Nuance Power PDF was bought by Kofax before and now it becomes Kofax Power PDF. That is to say, Kofax Power PDF is formerly known as Nuance Power PDF and they basically refer to the same thing now.
Free Trial, Editions, and Pricing
Free trial: Kofax Power PDF gives every new user a 15-day free trial without requiring credit card information. The trial has the same functionality and features as the full license. You can use it to edit, convert, and do something other to PDFs.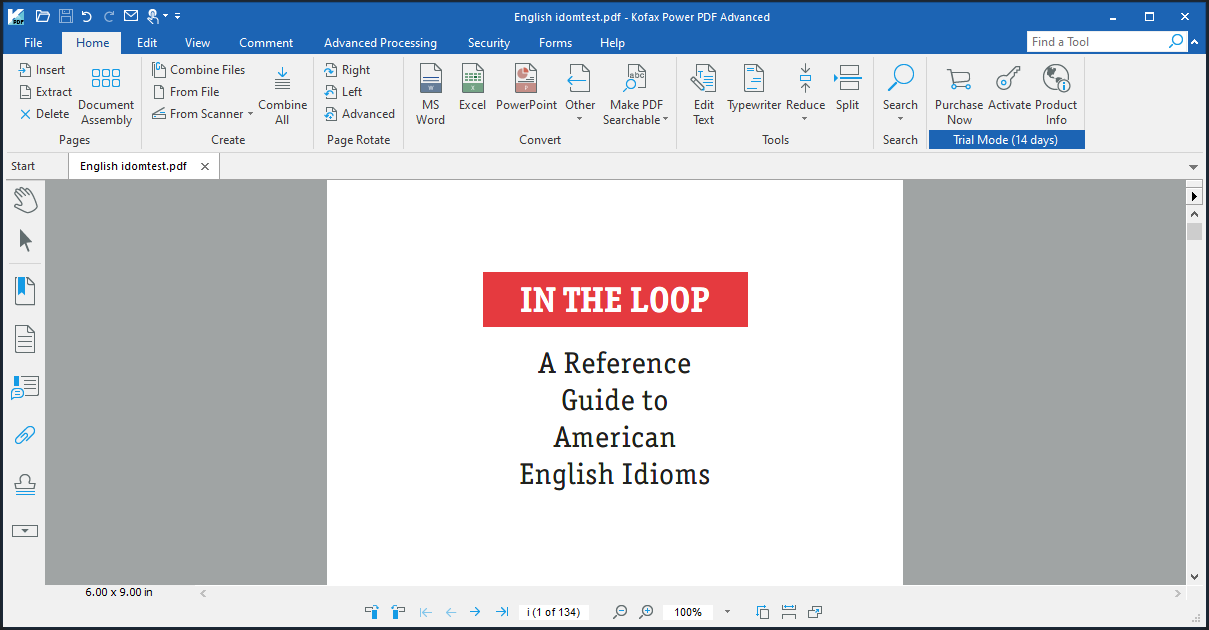 Download versions: The latest released versions of Kofax Power PDF are Kofax Power PDF 5.0, Kofax Power PDF 4.2, Kofax Power PDF 4.1, Kofax Power PDF 4.0, and Kofax Power PDF 3.x. The 5 versions are available for free download on Windows or Mac.
| | |
| --- | --- |
| Released version | Compatibility with Operating System |
| Kofax Power PDF 5.0 | Windows |
| Kofax Power PDF 4.2 | Mac |
| Kofax Power PDF 4.1 | Windows, Mac |
| Kofax Power PDF 4.0 | Windows, Mac |
| Kofax Power PDF 3.x | Windows, Mac |
Editions and Pricing: Kofax Power PDF has 3 main editions for sale, which are Power PDF 5 Standard, Power PDF 5 Advanced, and Power PDF 4.2 Standard. The former two editions are for Windows and the latter one is for Mac. Here is an overview of their prices and Kofax Power PDF Standard vs Advanced.
Kofax Power PDF 5 Standard (Windows): $129 per perpetual license
Kofax Power PDF 5 Advanced (Windows): $179 per perpetual license, Power PDF 5 Standard + PDF redaction, bates stamping, view protected PDF files and protect PDFs using Microsoft Active Directory or Azure Rights Management Services
Kofax Power PDF 4.2 Standard (Mac): $129 per perpetual license, Power PDF 5 Standard + PDF redaction, bates stamping
Kofax Power PDF Review
Kofax Power PDF is built for individuals and businesses and it has 10 million+ users. According to use tests, some advantages and disadvantages of the software are listed below.
Advantages
One-time fee without endless subscription fee
Microsoft Office-style ribbon user interface minimizes your learning curve
The Kofax Power PDF mobile app is available with the basic functionality of the desktop program
Downsides
Take up much space with 1.8G download and installation size
It lags a lot and takes a longer time to load. Respond slowly
Kafox Power PDF's batch converter only supports outputting several file types (TIFF, PDF, searchable PDF, Unicode text)
While Kofax Power PDF is much more cost-effective than many other PDF software, it still has its shortcomings. If you'd like to find another similar software without the mentioned flaws, read on to learn about the best alternative to Kofax Power PDF.
The Best Alternative to Kofax Power PDF
SwifDoo PDF is PDF software that is as powerful and easy to use as Kofax Power PDF without Kofax's annoying drawbacks. It is the ultimate solution to PDF-related needs and the optimal alternative to Kofax Power PDF and Adobe Acrobat.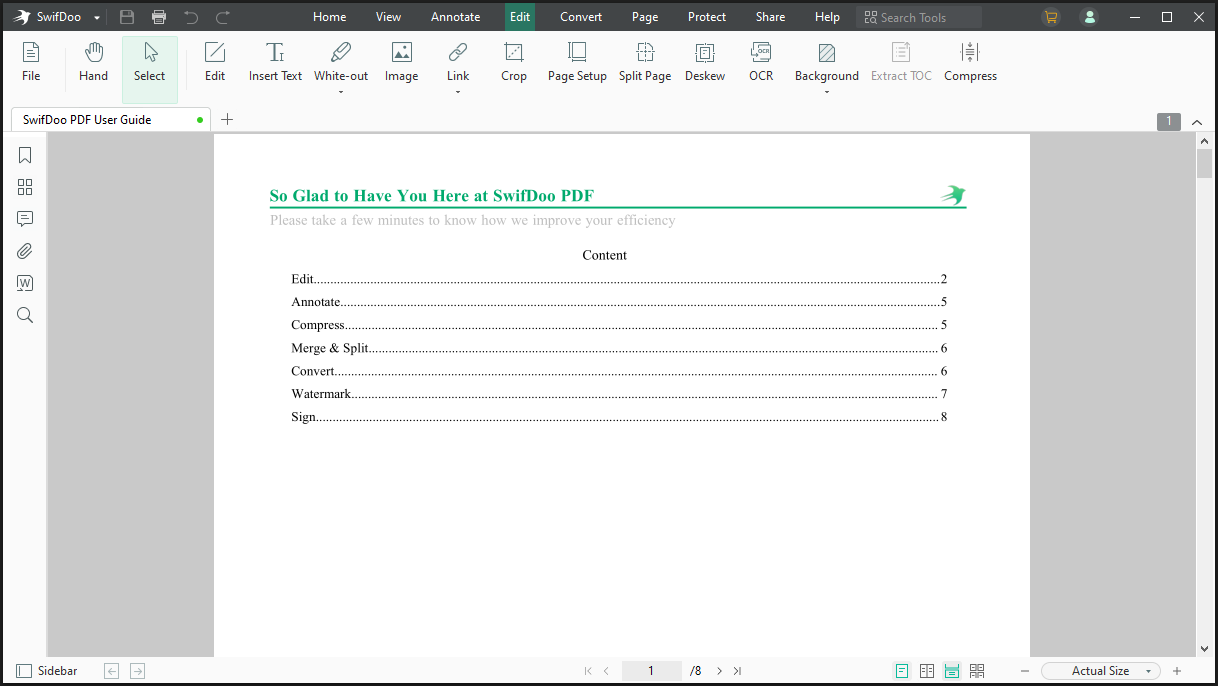 SwifDoo PDF major features
Edit text and images in PDFs, add hyperlinks to a PDF, crop, and resize PDF pages
Change backgrounds of PDFs, redact text and images, OCR, and compress PDF files
Add highlights, sticky notes, shapes, stamps, and attachments to PDF documents
Convert and create PDFs to and from office documents, drawings, scanned documents, searchable PDFs, images, EPUB, XPS, etc.
Like Kofax Power PDF, SwifDoo PDF lets you extract, delete, rotate, merge, and split PDF pages, and add pages to a PDF
Watermark, sign and protect PDFs with passwords
The exclusive ability that Kofax Power PDF doesn't have: compress Word, PowerPoint, and Excel, and convert between image formats
Highlights of the Kofax Power PDF alternative
Small in size (30MB), and have a small memory footprint, low CPU usage, and low usage of system resources
Load and run fast without lags, which is much better than Kofax Power PDF
Batch convert PDFs to a wider range of file types than Kofax Power PDF or vice versa, such as Word, Excel, JPG, PNG, CAD, HTML, and TXT
Simple and easy-to-navigate graphical user interface
Optional monthly and annual subscription plans as well as perpetual licenses meet your short-term and long-term needs
No functional differences under each purchase plan
Market-Leading cost/performance ratio
Instant and patient customer service
Conclusion
This post is a complete insight and introduction to Kofax Power PDF. All the detailed information is to help you understand the PDF editor from all aspects and choose the most suitable software to use. The Kofax Power PDF Advanced user guide is downloadable online if needed. If you can't live with Kofax Power PDF support or other downsides, go ahead and get SwifDoo PDF for free on Windows. You can test all the SwifDoo PDF features for 15 days without paying anything.