Introduction:
PDFs make it easier to send files without worrying about distorted formatting. However, it is time-consuming to share large PDFs directly or you need to ask your colleagues to sign a PDF document during remote working. Consequently, learning how to share a PDF has become necessary in the business world. After all, when your colleagues or customers need a PDF promptly, you can't let them wait too long.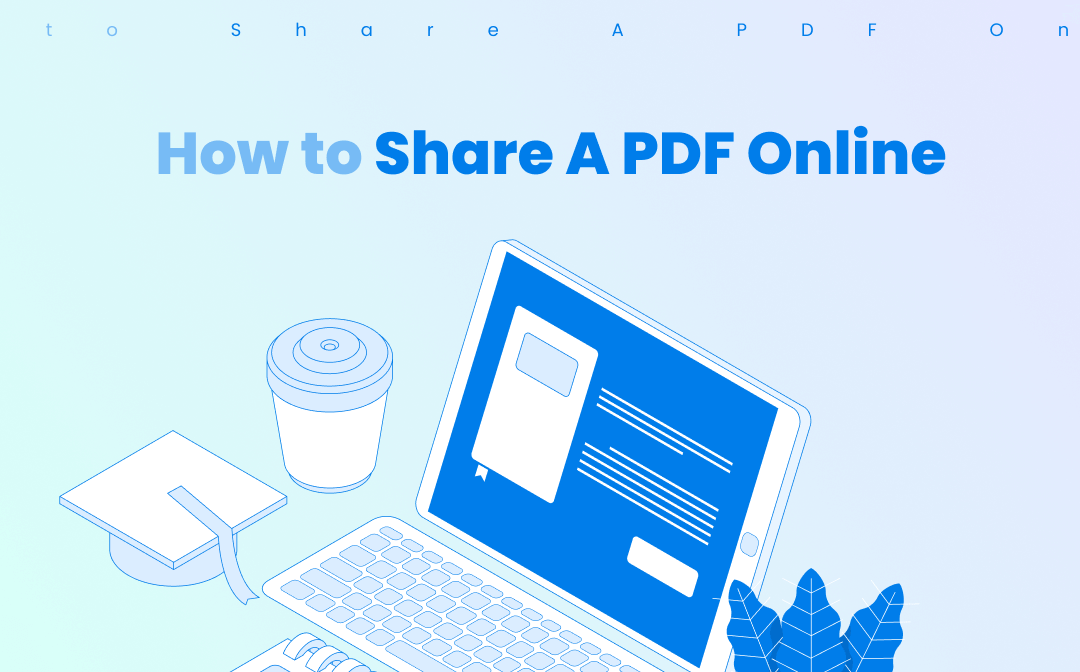 Thankfully, owing to the popularity of PDF files, PDF sharing online has become a basic feature of a PDF application. Many social media websites, for example, Facebook, support sharing PDFs online as well. This article walks you through how to share a PDF online with 5 simple methods.
How to Share A PDF through Email
Email is one of the most commonly used channels to share PDFs for it increases the efficiency of businesses. In the following part, we introduce 2 helpful tools to send PDFs to email.
How to Share a PDF with SwifDoo PDF
SwifDoo PDF is a reliable toolbox for all things related to PDF files. When it comes to how to share a PDF, Its PDF sharing option allows you to upload a PDF file and send it through email or share a PDF as a link directly without switching to an email client. And it is a great help when sending large PDF files. Moreover, this PDF editor lets you edit and annotate PDFs to revise or add comments to the content. Any updates or changes on a PDF file can be completed in a trice.
Its major features include:
Share PDFs online via email, Dropbox, and Google Drive with one click;
Protect your PDF files for secure sharing;
Convert Word, PPT, and other files to PDFs or vice versa with high quality;
Sign an electronic signature to your file and transfer it quickly;
Extensively compatible with Windows systems from 11 to XP.

Take sending PDFs to email as an example and here are the simple steps to share a PDF with this great PDF editor:
Step 1: Download and install this program;
Step 2: Right-click on your PDF file, choose the Open with option, and hit SwifDoo PDF;
Step 3: After your file is displayed, click Share on the top toolbar and hit Send to Email. Then log in to your email account;
Step 4: Choose the recipient and write the subject line. Click Insert, select Files from the taskbar to upload your file, and press Send.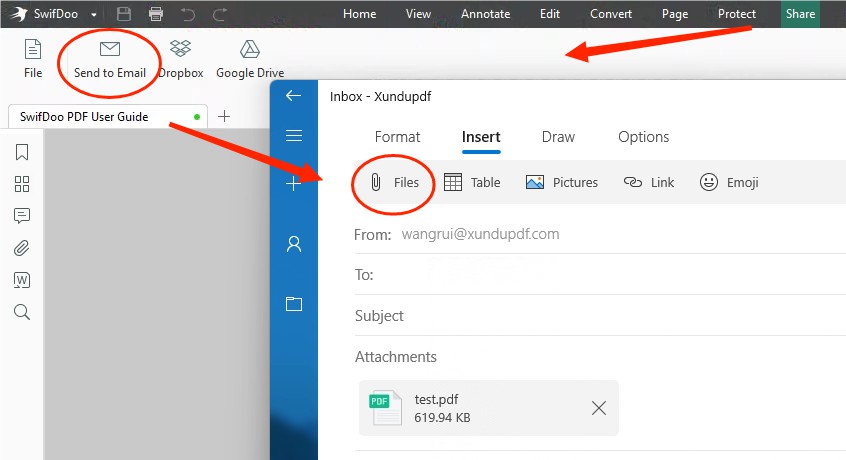 The PDF will be sent to the email box of your recipient immediately! In addition to sharing PDF files by email, you can share a PDF as a link via Google Drive or Dropbox in SwifDoo PDF. Besides, this wonderful PDF editor makes editing much easier. Changing the font size of a PDF form is just a piece of cake.
How to Share a PDF with Smallpdf
Smallpdf is a functional online PDF tool with an intuitive software interface. Users can use most of its online features to process one PDF file per day for free. And of course, PDF sharing online is not a big deal for it. This software helps you swiftly upload a PDF file and send the PDF to the email of your recipient. Any common Internet browser is available to access its services. However, it's worth noting that only pro users can send PDFs to email.
Let's find out how to share a PDF online with SmallPDF:
Step 1: Visit its website and log in to your account if you're using it for the first time;
Step 2: Choose Tools and click the PDF Reader tab under the View & Edit unit;
Step 3: Press CHOOSE FILES to upload your PDF document. You can also drag and drop your document to the indicated area;
Step 4: Tap the Share button on the taskbar, then hit the envelope icon. Enter the recipient's Gmail address and the subject to send the file. Or, you can click the link icon to share your PDF via the link.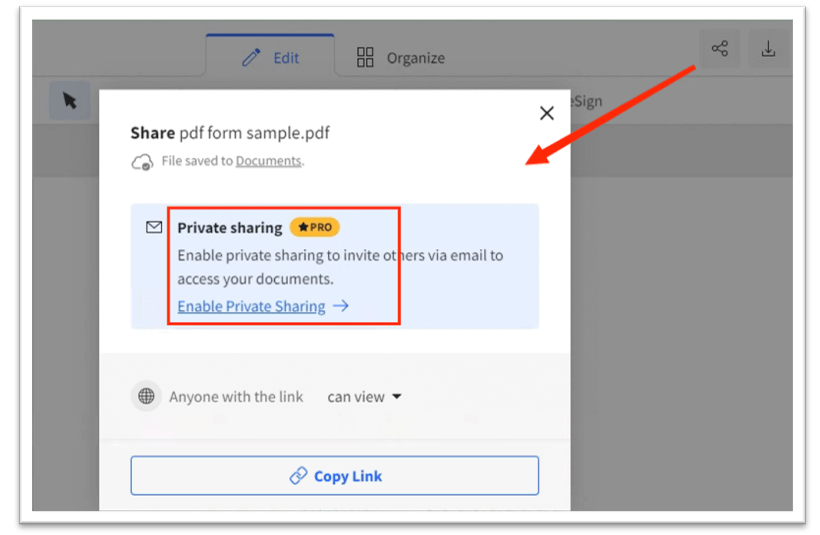 Your PDF document can be distributed securely and quickly. Free users are allowed to share a PDF as a link. You can create a URL for a PDF and send the link to any app or device. Additionally, this online PDF application enables you to, add hyperlinks to PDFs, e-sign a file, or perform other PDF-related tasks.
How to Share a PDF on Facebook
More users choose to post PDFs to Facebook due to the positive influence on business marketing. By doing so, organizations can attract the attention of a wider group of the target audience. We provide 2 tutorials for sharing a PDF on Facebook.
Google Drive
Google Drive is a file storage solution concerning how to upload a PDF file online. This cloud-based service has a powerful PDF-sharing feature that lets you create a URL for a PDF, in an attempt to post PDFs to Facebook. Apart from that, this platform is widely compatible with common web browsers and operating systems.
Learn how to share a PDF on Facebook with this file storage solution:
Step 1: Open your browser and go to Google Drive. Hit Go to Drive;
Step 2: Click New in the upper left corner, and choose File upload to add your PDF file;
Step 3: Right-click on your uploaded file, then select the Share option. In the pop-up window, press Copy link;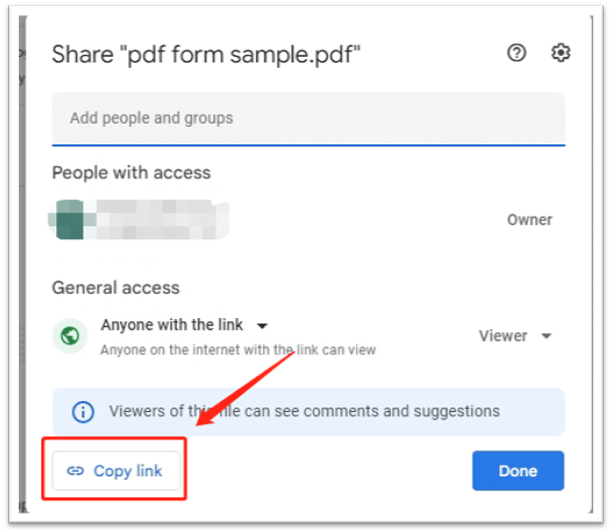 Step 4: Go back to Facebook, create your post, paste the copied link into the Create post window, and tap Post.
Then you can see a preview of your PDF file displayed on your Facebook page. People who click on the file preview can view the complete content. Google Drive makes sharing PDFs online easy and making a PDF link is time-saving when you want to send large PDF files.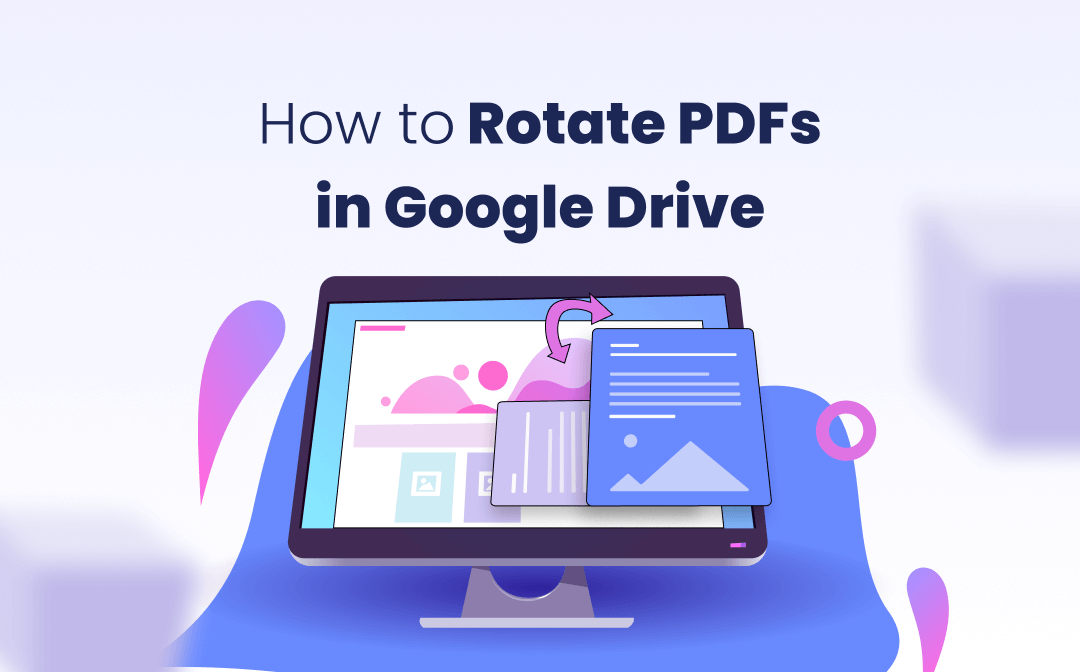 [FREE] How to Rotate a PDF in Google Drive
If you are looking for how to rotate a PDF in Google Drive for free, this post is the right one. Click to learn how to change the orientation of a PDF easily.
READ MORE >
Facebook Group
Another method for sharing a PDF on Facebook is to send it to a Facebook Group. In some cases, uploading PDFs to friends or other contacts on Facebook is quite common. Honestly, this kind of sharing involves no external programs.
Check how to share a PDF on Facebook to a group:
Step 1: Log into Facebook and find Groups in the left sidebar;
Step 2: Select the group to which you want to distribute the file, then simply click on the Write something box beside your profile;
Step 3: Write a post and hit the three-dot icon below. Then choose Add file;
Step 4: Hit Choose file to upload your PDF document from the file browser, then press Post.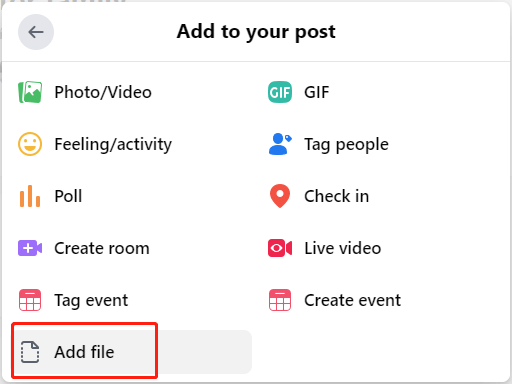 It's quite easy, right? All group members can view the file by clicking and downloading it, eliminating the need to send the files to them one by one.
How to Share a PDF with iCloud Drive
iCloud Drive enables Mac users to safely share PDFs online between different Apple devices. It is a cloud storage service that supports sending PDFs to email or creating a URL for a PDF file. Additionally, it can automatically back up data and settings in case any malfunction of your device occurs.
For how to share a PDF with iCloud Drive, please follow the easy steps below:
Step 1: Open iCloud Drive on your Mac;
Step 2: Right-click on your target PDF file, click Share, and choose Share File;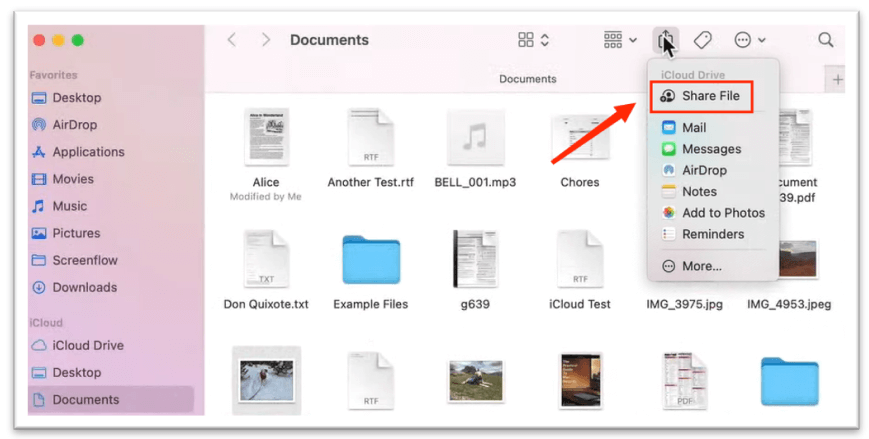 Step 3: Press Copy Link in the Share Folder window, and enter the recipient's Apple ID or email address;
Step 4: Set who can access the file and what the authorized person can do with it, then click Share.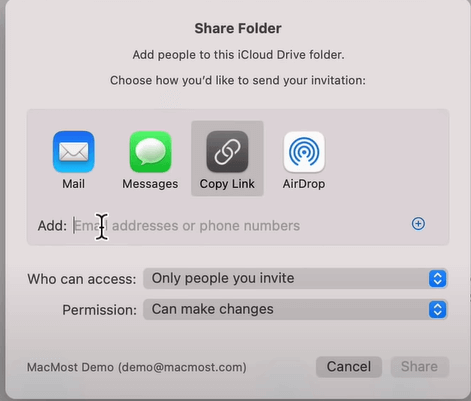 iCloud Drive offers various PDF-sharing options. Moreover, except for sharing a PDF as a link, you can upload a PDF to Messages or Airdrop as well to let your recipient add a signature to the PDF document quickly.
Tips for File Sharing
Password protects your sensitive file: One major risk of sharing PDFs online is the exposure of sensitive data. Unauthorized channels can easily access unencrypted files and steal important information.
Select a business-level security system: A business-grade application provides a higher level of data protection after you upload a PDF file to its server and can prevent security risks.
Set user permissions: It's an important step to protect your PDF and prevent data tampering by restricting file editing and annotating. This is especially common when sharing PDF as a link.
Conclusion
This post has summarized 5 ways to share a PDF online. Each tool we've mentioned above has good performance, and you can spend less time sharing your PDF files in the way you like. Hope you can find the one that suits you best to solve your problem.