Introduction:
On the one hand, the widespread use of electronic documents improves workflow efficiency and contributes to environmental protection. However, on the other hand, it brings about information security threats. In regard to this issue, password encryption is commonly adopted to protect files from unwanted access.
Generally, there are an open password to prevent unauthorized users from opening files, and a permission password that keeps others from printing or making changes to files. Since PDF is the most popular format for document transferring, this post will explain how to encrypt a PDF file with passwords using SwifDoo PDF and several free methods.
How to Encrypt a PDF File Using SwifDoo PDF
SwifDoo PDF is a cost-effective solution to common PDF problems. It is a desktop program available on Windows 10/8.1/7/XP, enabling users to easily password protect a PDF document. The program is lightweight but integrates a collection of PDF tools that allow you to edit, merge, convert and sign PDFs.
Let's see how SwifDoo PDF encrypts a PDF file with the 2 types of passwords.
Step 1: Launch SwifDoo PDF and open the PDF file in the program;
Step 2: Navigate to Advanced tab on the top and choose Encryption then;

Step 3: In the Encryption dialog box, select Open Password, Owner password, or both of them by ticking the appropriate box. Enter the passwords that you can remember. Choose which features to restrict under the Owner Password. Note: An owner password can also be called a permission password;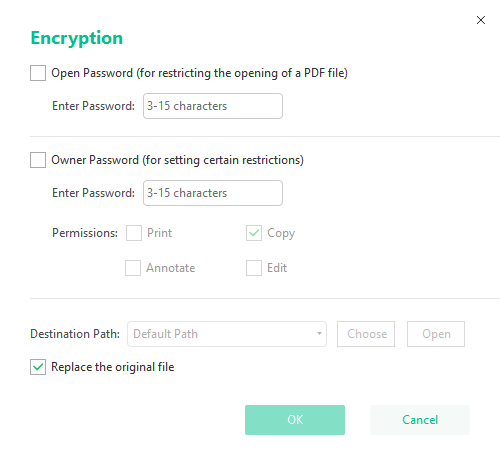 Step 4: Select a saving path and hit OK to apply the setting.
After encrypting a PDF file, you can share it to email, Google Drive and Dropbox through SwifDoo PDF. When you no longer need the passwords, SwifDoo PDF allows you to remove them. Choose "Advanced", "Decryption", then enter the open password or permission password in "PDF Decryption" dialog box to decrypt the PDF file.
If needed, SwifDoo PDF can add electronic signatures and watermarks to a PDF document for safeguarding your copyright. As a comprehensive PDF management program, SwifDoo PDF provides users with a full set of solutions.
How to Encrypt a PDF File Using PDF Toolbox in Google Drive
PDF Toolbox is a Google Drive add-on developed to encrypt and decrypt PDF files. It can password protect native Google Documents, Google Sheets and Google Slides by converting them into PDF files. The Google Drive connected app allows you to protect a file with an open password as well as a permission password. You can install the app from Google Workspace Marketplace by choosing "New", "More" and "Connect more apps" in Google Drive.
Check the instruction for encrypting a PDF using PDF Toolbox.
Step 1: Upload a PDF file from your local device or select a PDF in Google Drive;
Step 2: Click the PDF file and hit the pink PDF Toolbox icon in the right pane;
Step 3: Click AUTHORIZE to gain the access to the PDF file. Tap on the unfold icon under Encrypt PDF. Set the output file name and open password. Choose whether to allow unapproved printing or comments.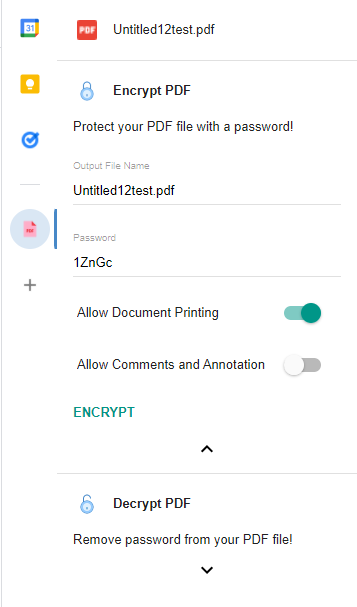 To get rid of the password protection from an encrypted PDF, you can choose "Decrypt" in PDF Toolbox. One thing to note here is that the file size cannot exceed 10Mb limit as specified by Google Drive.
PDF Toolbox has no other features except encryption and decryption. It cannot restrict copying and editing a PDF file. If you need to convert, compress, merge PDFs, you can turn to SwifDoo PDF, a multi-featured PDF program.
How to Encrypt a PDF File in Microsoft Word
Microsoft Office has the ability to password protect Excel, Word and other Office documents. Moreover, Microsoft Word enables you to export Word documents as encrypted PDFs. Therefore, if you already have Word, you don't have to use any third party software for encryption. Here is the guide to create a password protected PDF file in Microsoft Word.
Step 1: Go to File and choose Export;
Step 2: Click Create PDF/XPS Document and hit Options in the pop-up dialog box;
Step 3: Tick Encrypt the document with a password and press OK;
Step 4: Type in the password and click OK.
After setting the password, continue to export the Word document as a PDF. Then the output PDF file will be password protected. Next time you open the PDF file, you have to enter the password to view it. Be sure to remember and save the password as MS Word cannot help decrypt a PDF file. In case you need to remove a password from a PDF one day, SwifDoo PDF is always there to help.
How to Encrypt a PDF File in Preview
Preview, as the default viewer on Mac operating system, enables its users to encrypt a PDF document with an open password or a permission password. The built-in program also allows you to merge, split PDFs, and highlight the text in a PDF file. Check how to encrypt a PDF document using Preview on Mac.
Encrypt a PDF with an open password.
Step 1: Open Preview and import a PDF file;
Step 2: Go to File and select Export as PDF;
Step 3: Click Show Details and choose Encrypt;
Step 4: Enter the password that you want to encrypt the PDF with, then press Save.
Encrypt a PDF with a permission password.
Step 1: Choose File and select Edit Permissions;
Step 2: Enter the password and tick options to restrict the permissions for printing, annotating or other actions.
If you need to decrypt the password protected PDF file, uncheck the encryption option when exporting it in Preview again.
Tips for Password Protection
A weak password can be easily cracked by a hacker. It's vital to create a strong password to defend your PDF files against malicious attacks. Here are several tips for making your password strong.
* Longer than 8 characters, better including a special characterand a capital letter.
* Avoid using your name, phone number or other personal information.
* Non-consecutive numbers or letters.
* Do not use public Wi-Fi network to create the password.
* Regularly change the password.
Why SwifDoo PDF?
While Adobe Acrobat is the leading PDF software and is sure to let you secure a PDF file, it costs you at least US$12.99 each month for an annual subscription. There is no monthly plan provided. The high price has given rise to the emergence of Acrobat's alternatives.
Compared with similar products, SwifDoo PDF is much more competitive in subscription fee. It's worth mentioning that you can use the program on multiple computers with one account. A yearly or perpetual plan allows you to run SwifDoo PDF simultaneously on 2 devices. To help you better understand SwifDoo PDF, it offers a 30-day free trial. Within the period, users are able to access and test complete features.
Besides, SwifDoo PDF has an intuitive user interface and takes up a minimal disk space. On the whole, SwifDoo PDF can be your top choice for encrypting a PDF file and much more.