Introduction:
On the one hand, the widespread use of electronic documents improves workflow efficiency and contributes to environmental protection. However, on the other hand, it brings about information security threats. In regard to this issue, password encryption is commonly adopted to protect files from unwanted access. Since PDF files are often used for sharing information via email on the Internet and emails are easily hacked, knowing how to encrypt a PDF is becoming increasingly necessary.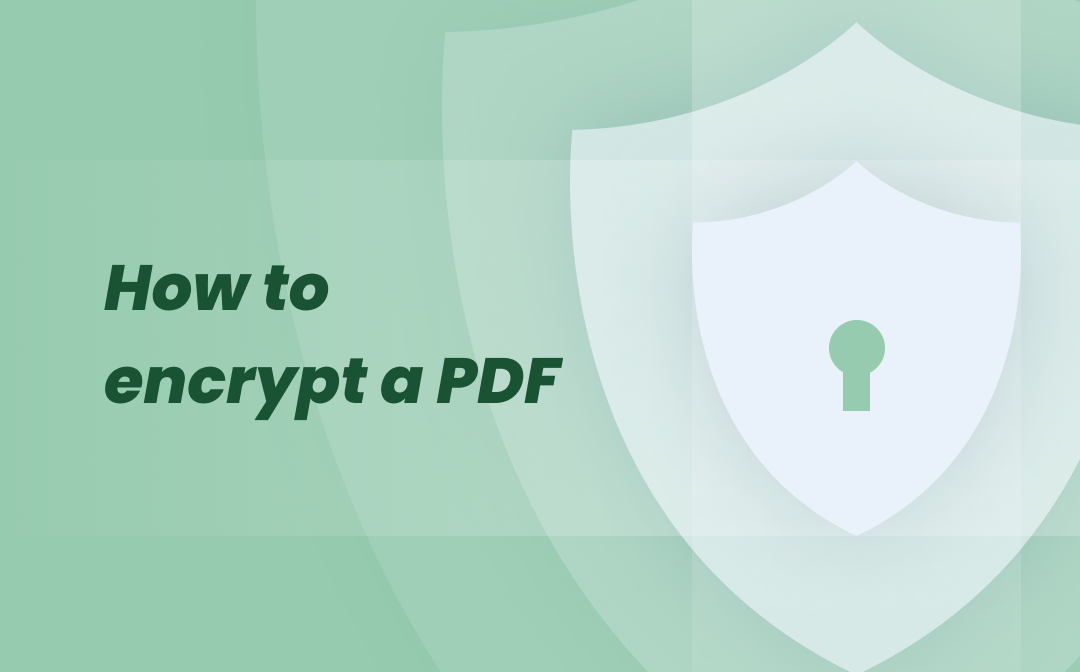 Generally, there are two types of passwords for file encryption, which are an open password and a permission password. The former is to prevent unauthorized users from opening files and the latter keeps others from printing or making changes to files. This post will walk you through 5 ways to encrypt a PDF with an open or permission password on Windows, Mac, and Online.
How to Encrypt a PDF with SwifDoo PDF
SwifDoo PDF is a desktop PDF program enabling you to encrypt PDF files with an open or permission password in a couple of clicks. It helps protect your PDF files from being opened, edited, printed, copied, or annotated. The program is available on Windows 7/8/10/11/XP. It is lightweight but integrates a collection of PDF tools that also allow you to edit, convert, sign, add watermarks to PDFs, etc.
How to Encrypt a PDF on Windows
Step 1: Launch the software and open your PDF file in it. Navigate to the Protect tab on the top and choose Encryption in the secondary toolbar;

Step 2: To encrypt your PDF with an open password, tick the Open Password checkbox and enter 3-15 characters into the Enter Password field in the pop-up dialogue box;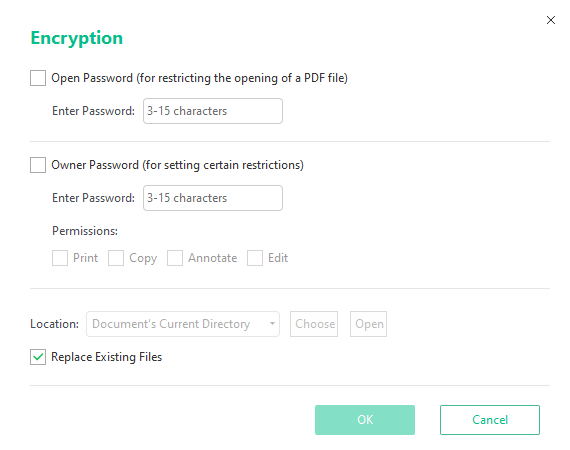 Step 3: To encrypt your PDF with a permission password, select Owner Password, type your password and check the options for permissions you want to restrict such as Print. Then choose an output path and hit OK.
Note:
If you wish to save the encrypted PDF without overwriting the original file, make sure the "Replace Existing Files" checkbox is unchecked and choose a folder to save it. Otherwise, the original PDF will be overwritten by default.
Depending on your requirements, you can encrypt a PDF with both a permission password and an open password or either of them. The characters in your password can be Arabic numerals, letters, or special symbols.
How to Tell If a PDF Is Encrypted
After going through how to encrypt a PDF, you may want to learn how to tell if a PDF is encrypted. Check the following instruction:
Once you have added an open password to your PDF file successfully, uncheck the "Remember Password" checkbox in the pop-up window and close the window to close the file, then re-open the file with any PDF reader and you will be asked to enter the password to view it. If you encrypt your PDF with a permission password, re-open the PDF and you will have to offer the correct password to print or make alterations to it.
How Do I Decrypt an Encrypted PDF File?
When you need to decrypt your PDF in the future, open it with PDF software by entering the open password if there is, choose "Protect" > "Decryption", type the open or permission password in the "PDF Decryption" dialog box to remove the passwords from the PDF.
If you haven't found how to encrypt a PDF file for email, try SwifDoo PDF. It not only encrypts your file with two types of passwords easily but also allows you to send your PDF to email, Google Drive and Dropbox right in the program after encryption.
How to Encrypt a PDF with Adobe Acrobat Pro DC
Perhaps you are wondering how to encrypt a PDF file in Adobe Reader as its user. The truth is you cannot do that with free Adobe. The pro version of Adobe Reader, Adobe Acrobat Pro DC allows you to password encrypt PDFs against unauthorized opening or editing on Windows and Mac. It also comes with PDF converting, commenting, signing, and other capabilities.
Here are the steps to encrypt your PDF on Mac or Windows.
Step 1: Navigate to Tools and choose Protect after opening your PDF with the software;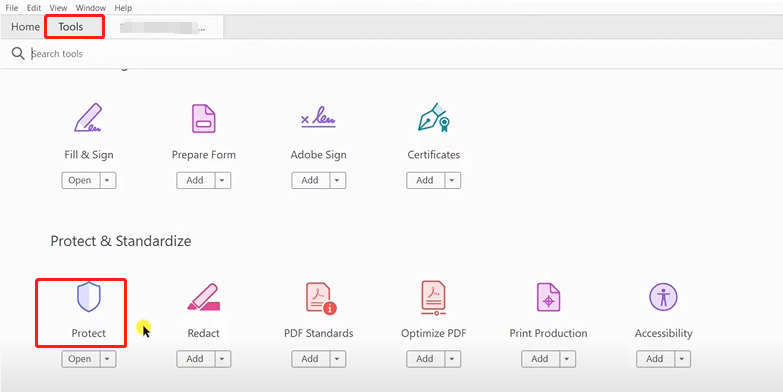 Step 2: Select Protect Using Password in the pop-up tab of sorts;
Step 3: Type your password to restrict others from viewing or editing your PDF and hit Apply.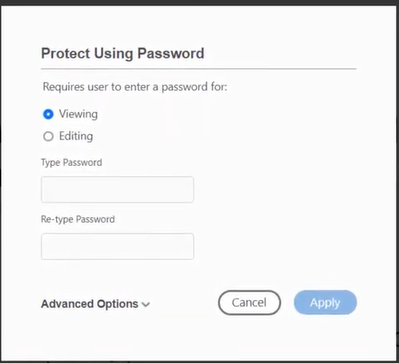 Close the PDF and re-open it to check whether it's encrypted successfully.
While Adobe Acrobat is the leading PDF software, it costs you US$14.99 each month for an annual subscription. There is no monthly plan provided. If you just encrypt PDFs occasionally, try its seven-day free trial. Regarding how to encrypt a PDF file without Adobe Acrobat on Mac, read on to find out the freeware included with Mac OS and the other introduced tools.
How to Encrypt a PDF with Preview
Preview, the pre-installed PDF viewer on Mac OS, makes PDF file encryption as simple as ABC. It enables users to encrypt PDF files with an open password or a permission password for free. The program also allows you to merge, split, and annotate PDFs.
Let's see how to encrypt a PDF file in Preview on Mac.
Step 1: Open your PDF with the built-in program, go to File and select Export;
Step 2: Click the Permissions button;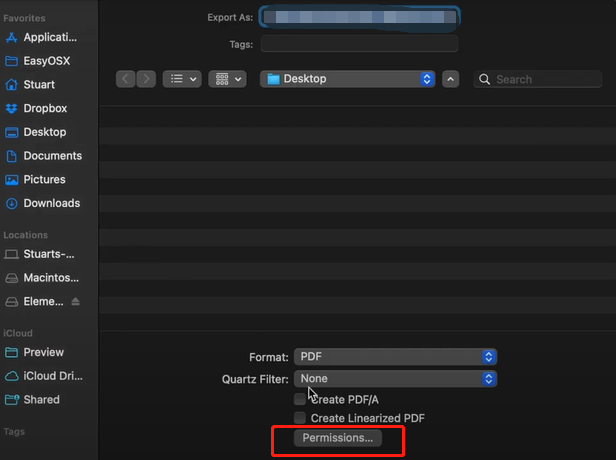 Step 3: Set an open or permission password for the PDF and tap Apply.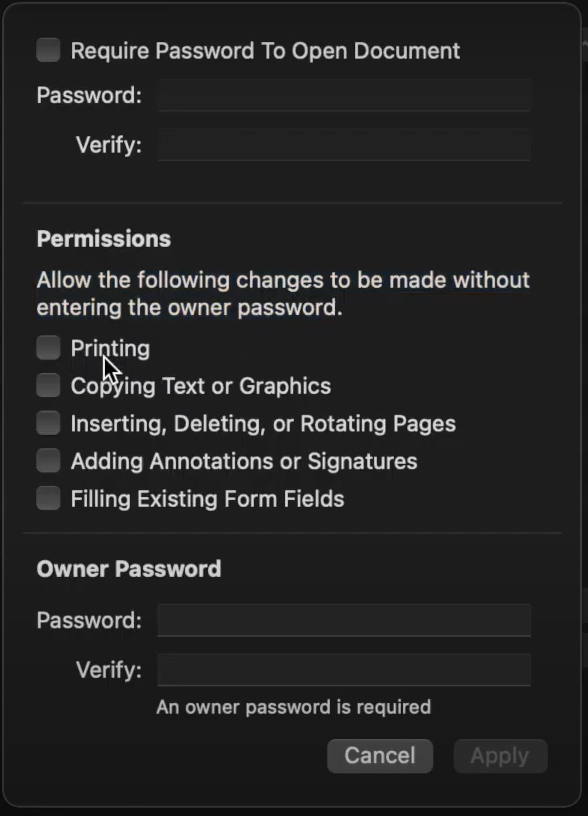 If you need to decrypt the password-protected PDF file, open and unlock it by entering the password in Preview, then go to "File" > "Export" and uncheck the encrypt option to export the PDF again.
How to Encrypt a PDF with Microsoft Word
Microsoft Word users can take advantage of the word processor to protect their PDF files from unexpected access on Windows or Mac. It enables you to secure a PDF by exporting the original Word document without any third-party software. When required, you can open the encrypted PDF by entering the correct opening password and converting it back to a Word file in the Word program.
Take a look at how to encrypt a PDF using Microsoft Word on Windows and Mac.
Step 1: Go to File and choose Export;
Step 2: Click Create PDF/XPS Document and hit Options in the pop-up dialog box;

Step 3: Tick the Encrypt the document with a password checkbox and press OK to type a password, then publish and encrypt your PDF.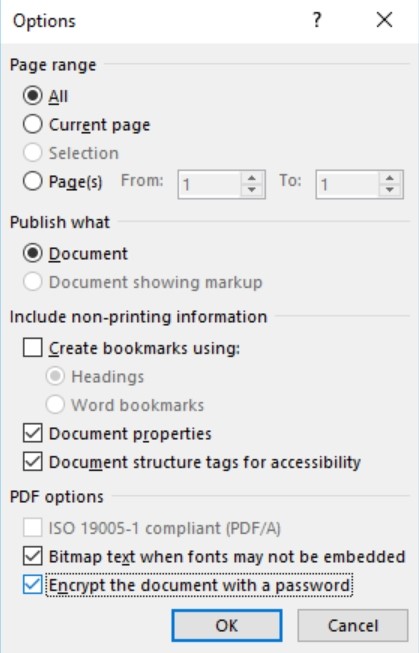 Next time when opening the PDF file after encryption, you have to enter the password to view it. Be sure to remember and well save the password as MS Word cannot help decrypt a PDF.
How to Encrypt a PDF with PDF Toolbox in Google Drive
PDF Toolbox is a free Google Drive add-on enabling you to decrypt and encrypt PDF files online. The app can convert native Google Documents, Google Sheets and Google Slides into PDF files and protect them with passwords. It also helps directly encrypt your PDF file with an open or a permission password. You can install the app from Google Workspace by choosing "New", "More" and "Connect more apps" in Drive.
Learn how to encrypt a PDF online for free in Google Drive via Chrome or other browsers.
Step 1: Upload a PDF file from your local device or select a PDF in Google Drive;
Step 2: Click the PDF file and hit the pink PDF Toolbox icon in the right pane;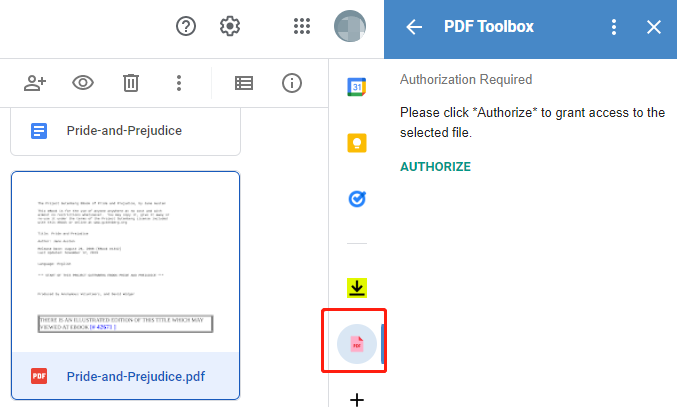 Step 3: Click AUTHORIZE to gain the access to the PDF file, tap on the unfold icon under Encrypt PDF to set the password and output file name, then choose whether to allow unapproved printing or comments.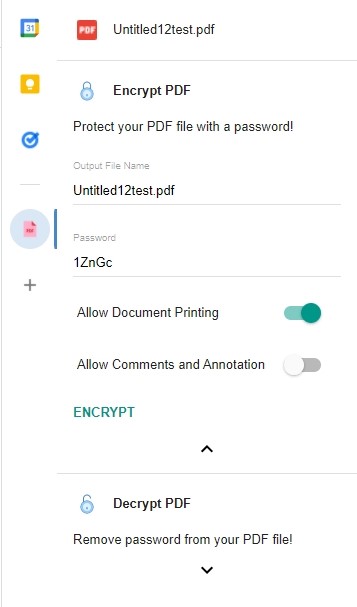 When it comes to how to encrypt a PDF file for email, you may want to turn to an online tool. The Google Drive connected app enables you to do that on the web without downloading software and send your encrypted PDF files via email without leaving Drive.
To get rid of the password protection from an encrypted PDF, you can choose "Decrypt" in PDF Toolbox. One thing to note here is that the file size cannot exceed the 10Mb limit as specified by Google Drive.
Tips for PDF File Encryption
A weak password can be easily cracked by a hacker. Here are several tips for encrypting your PDF files with a strong password.
Longer than 8 characters, better including a special character
Do not use your personal information such as name and phone number
Avoid consecutive numbers
Conclusion
Whenever you need to encrypt a PDF file for an email in Outlook or some other email service platform, the software and tools shared in this post can help. Compared with similar products, SwifDoo PDF is much more competitive in subscription fee and can be used on multiple computers with one account. The software offers a 16-day free trial. Within the period, users are able to access and test complete features.
Common FAQ
Can an encrypted PDF be hacked?
Password encryption can protect your PDF files largely but a skilled hacker can still crack it. You should set your password as strong as possible to make it harder or impossible for hackers to decrypt.
How can I encrypt a PDF file online for free without Google Drive?
Though Drive is free to register and use online, you may also wish to get some other handy tools to encrypt PDFs. Smallpdf is one of the great options.