Introduction:
According to the PDF Association, there are 2.6 trillion PDFs created each day. This figure convincingly demonstrates that PDFs are an essential file format. Even though, Microsoft Word documents still act as an important digital file in daily communication simply because of the editability.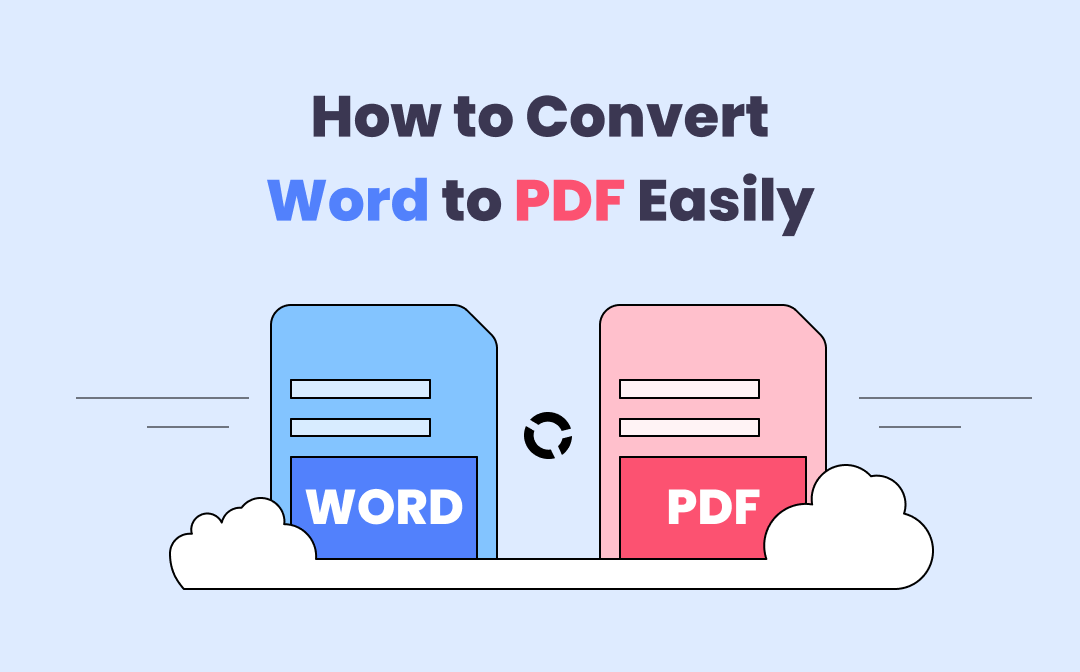 This post will revolve around several free PDF to Word converters on Windows and Mac to streamline the conversion process and thus improve working efficiency.
How to Convert PDF into Word File with Desktop Software
For users who may need to regularly work on PCs, professional PDF software on desktop is a good approach to convert PDFs into MS word documents. Let's dive into how to use SwifDoo PDF and Microsoft Office to output PDFs as Word files.
How to Convert PDFs into Word Files on Windows
In this digital era when most of us rely on PDFs to store information, an all-round PDF program proves to be useful to address all PDF-related issues, for instance, PDF to Word conversion.
SwifDoo PDF
SwifDoo PDF is a PDF converter that you can put into use daily on Windows 10, 8, and 7. Its lightweight design makes access to the program faster and easier. A clear user interface is presented so that it doesn't require a deep learning curve. Here's how to use this free software to convert PDFs into Word files: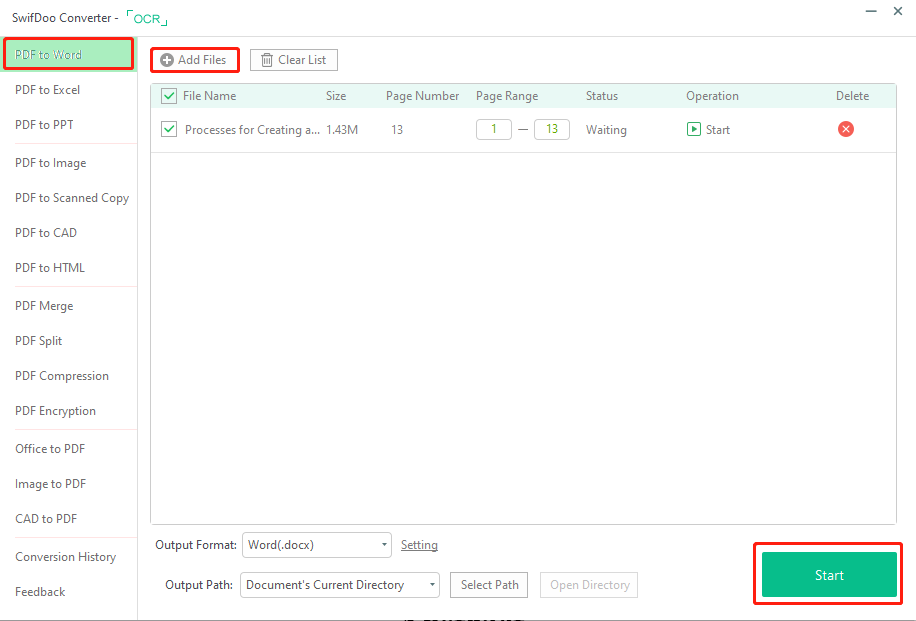 Step 1: Download and install SwifDoo PDF on your PC;
Step 2: Launch the software and click PDF to Word;
Step 3: Choose Add Files to upload your PDF files to the panel. SwifDoo PDF allows for batch converting. Users can therefore import multiple PDF documents to the workstation;
Step 4: Hit the Start button to convert your PDFs to Word files.
Tips:
To find or search for a word in a PDF, use the shortcut key Alt + F or click on "Search" in the tab "View" to trigger "Advanced Search".
If your PDF happens to be an image-only PDF, SwifDoo PDF's OCR features can identify the recognizable characters within the document. In this way, the PDF to Word conversion results will become much more accurate.
SwifDoo PDF is a free PDF to Word converter because every new user is eligible for a 7-day free trial. Meanwhile, users can also get a longer 30-day free trial by registering a new account.
Nitro PDF
Nitro PDF is another all-in-one PDF service provider on Windows and macOS. Unlike the previous SwifDoo PDF, Nitro PDF is more appropriate for businesses as it integrates features related to collaboration. Nitro PDF enables users to convert PDFs to MS Office formats (Word, PowerPoint, Excel), PDF/A, rich text, and plain text. Follow the guide to learn how to import PDFs to Word documents with Nitro PDF:

Step 1: Download and install Nitro PDF on your computers;
Step 2: Start the program and click Convert > To Word;
Step 3: Choose Add Files to load up your PDF documents to the workplace. When ready, select Convert to initiate the PDF to Word conversion process.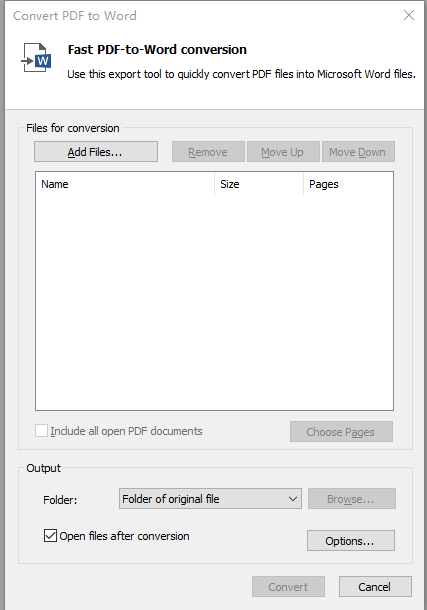 Generally, Nitro PDF is a comprehensive PDF converter with a fast and smooth user experience. New users get a 14-day free trial to see if it can meet your needs for a PDF tool. However, the installation process takes a long time, and it may crash occasionally which is the most inconvenient matter during review.
Microsoft Word
Microsoft Office may be the most used built-in office software. If you run MS Office 2007 or later versions on your PC, you are able to directly open a PDF in Word without using other PDF software. Even though it is not the most ideal "Open with" method, it seems to be the most straightforward way to convert a PDF into a Word document. Check out how to save PDFs as Word files for free:
During the test, we used Microsoft Office 365 so the provided screenshots were from this version.
Step 1: Launch Microsoft Word;
Step 2: Click on the File tab in Word and choose Open > Browse. Alternatively, users can press Ctrl + F12 to quickly launch the Open file dialogue;
Step 3: Find the PDF document from your local folder and then choose Open;
Step 4: Save the Word document locally by pressing F12 to open the Save As dialog box.
Note:
The moment you hit the button Open, you will immediately see a window popping up to notify you that Word will convert your PDF document into an editable Word document. All you need to do is click on the "OK" button to proceed.
We don't suggest users convert PDF to Word files using MS Word if PDF contains fillable forms, too many pictures, or more than two layers; or if the PDF was originally created from PowerPoint.
How to Convert PDFs into Word Files on Mac
Even if your MacBook has an excellent inbuilt PDF viewer, converting a PDF into a Word document seems tricky. The traditional copy-and-paste way proves to be out of date and riddled with errors because the original PDF may contain more than a text-based layer. Therefore, how do we convert a PDF to a Word document on Mac? Try Adobe Acrobat Pro DC for Mac.
Adobe Acrobat DC Reader
Step 1: Download and install Adobe Acrobat Reader from the App Store, and then open the PDF document that needs to be converted with Adobe. If you need to batch convert many PDFs at the same time, don't forget to select Add Files to Export;
Step 2: Click File > Convert to Word, Excel, or PowerPoint;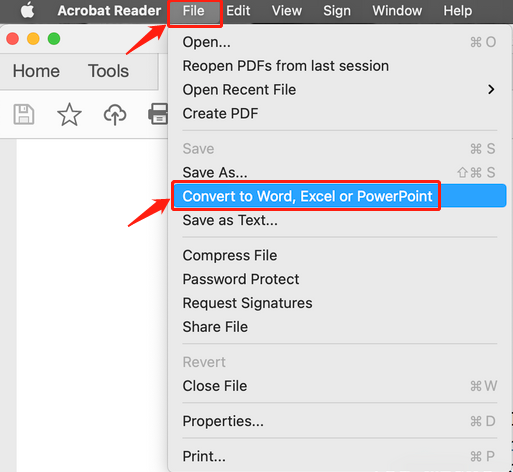 Step 3: Choose Microsoft Word Document (*.docx) or Microsoft Word 97-2003 Document (*.doc) in the Convert To drop-down menu. If necessary, users can click on the Document Language to enhance the text recognition.
Step 4: When ready, hit the Export to Word button to start the conversion.
Like we mentioned before, Adobe Acrobat is a comprehensive PDF program on Windows, macOS, and mobile. Users can expect this tool to address different PDF-related issues. Of course, the App Store has many amazing PDF converters that perform PDF to Word conversion, such as Microsoft Word, Foxit PDF, PDF Expert, and PDFelement.
Free Methods to Convert MS Word Files into PDFs [Online & Offline]
PDF is a stable and consistent file format. Read this article to learn how to convert Word documents into PDFs with ease.
READ MORE >
How to Convert PDFs into Word Files Online
For anyone who is reluctant to download unknown third-party software, online PDF to Word converters may be the best solution so far. Most web-based PDF converters provide limited free tasks (maybe two or three tasks), and require your file size and page number are kept within a certain range
Google Drive
If you are searching for freeware to help with PDF to Word conversion, Google Drive may worth a shot. First thing first, let me be clear, Google Drive is a cloud service provider rather than a dedicated PDF converter. It works as a PDF to Word converter mainly by integrating third-party extensions. In a word, don't be so hard when the conversion results may let you down, it is after all a free tool.
Let's get to know how to import PDFs as Word files with Google Drive:
Step 1: Log in Google Drive with your Google account;
Step 2: Open a PDF document directly and click on Open with Google Docs;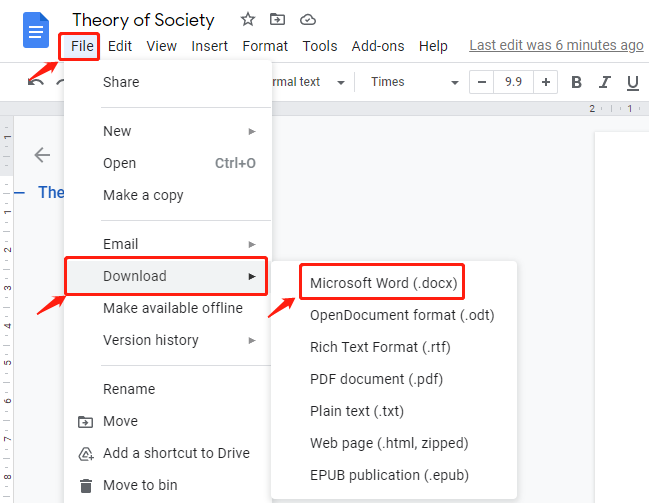 Step 3: When you are directed to a Google Docs page, your file has been successfully converted to PDF, but you still need to choose File > Download > Microsoft Word (. docx).
Even Google Drive or Google Docs is not a professional PDF program, the conversion result can meet our basic demand. Don't celebrate too early however, in some cases, the conversion results may fail when your PDF contains images and rich content.
If it does, the formatting of your converted Word document will be disorganized and unaligned. This is definitely not what you want, right? So be sure to check what's inside your document before you give Google Docs a try.
Zamzar
This name might sound strange, but Zamzar should be credited as a mighty file converter. This is more than a PDF to Word converter, it can be used to convert video, audio, images, and eBook formats. With Zamzar, you can easily convert your PDF documents to doc or docx.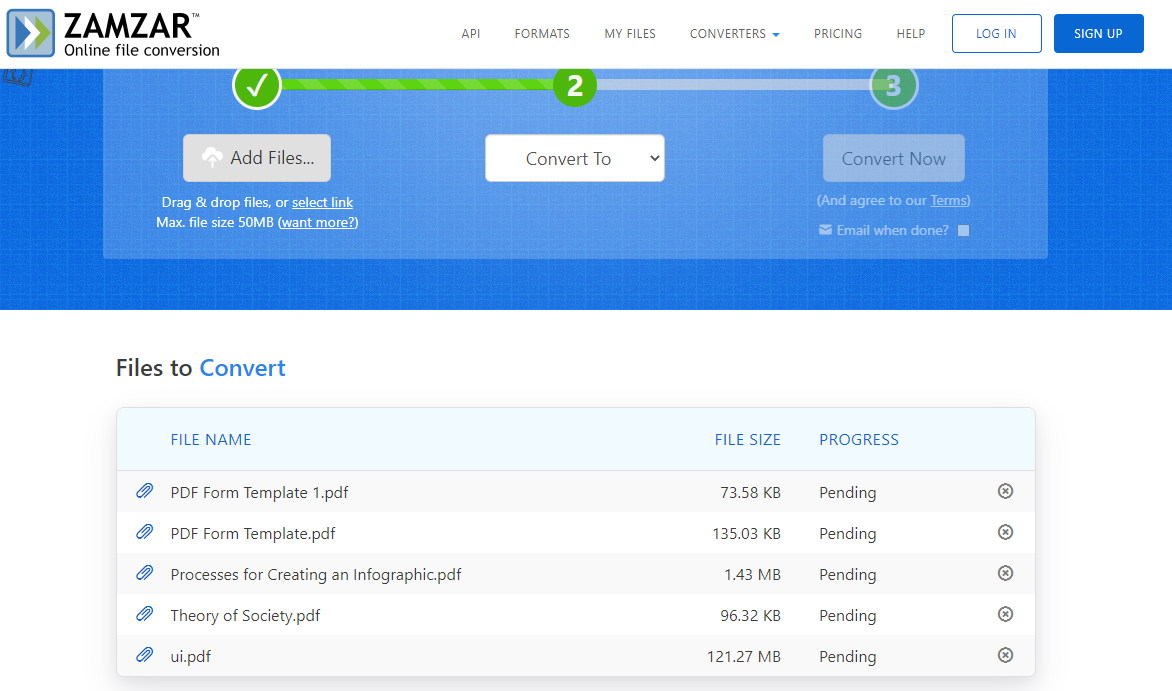 Step 1: Click Add Files to upload your local PDFs to the workstation;
Step 2: In the drop-down menu of Convert To, select doc or docx as the output format;
Step 3: Select Convert Now to finalize the conversion process.
Like we said, Zamzar is a powerful file converter, which enables users to convert PDF to Microsoft Office formats, such as Word (.doc, .docx), Excel (.xls, .xlsx), PowerPoint (. pps, .ppsx, .ppt, .pptx). What's more, it supports importing your PDFs as image formats (.jpg, .png, .tiff, .bmp).
To handle documents in batches, Zamzar allows for the maximum of 5 concurrent conversions and two free conversion tasks every 24 hours. Once you exceed the limits, you need to upgrade your subscription to increase the limit. If you don't regularly work with PDFs, two free tasks may be enough for you.
Given that it doesn't cost you anything at all, Zamzar is a good Internet-based free PDF to Word converter.
In Closing
Although dedicated PDF programs are developed to meet our needs for PDF editing, some users may be inclined to turn PDFs into editable Word documents for a smoother experience. We hope the mentioned PDF to Word converters are helpful to you. If you have any other good PDF tools, please feel free to share them below.