Introduction:
Are you tired of manually entering raw data into digital form? It's required when you want to avoid getting big bundles of paper documentation on your desk. In these sorts of cases, you will also need assistance from technology to make things easier and more convenient.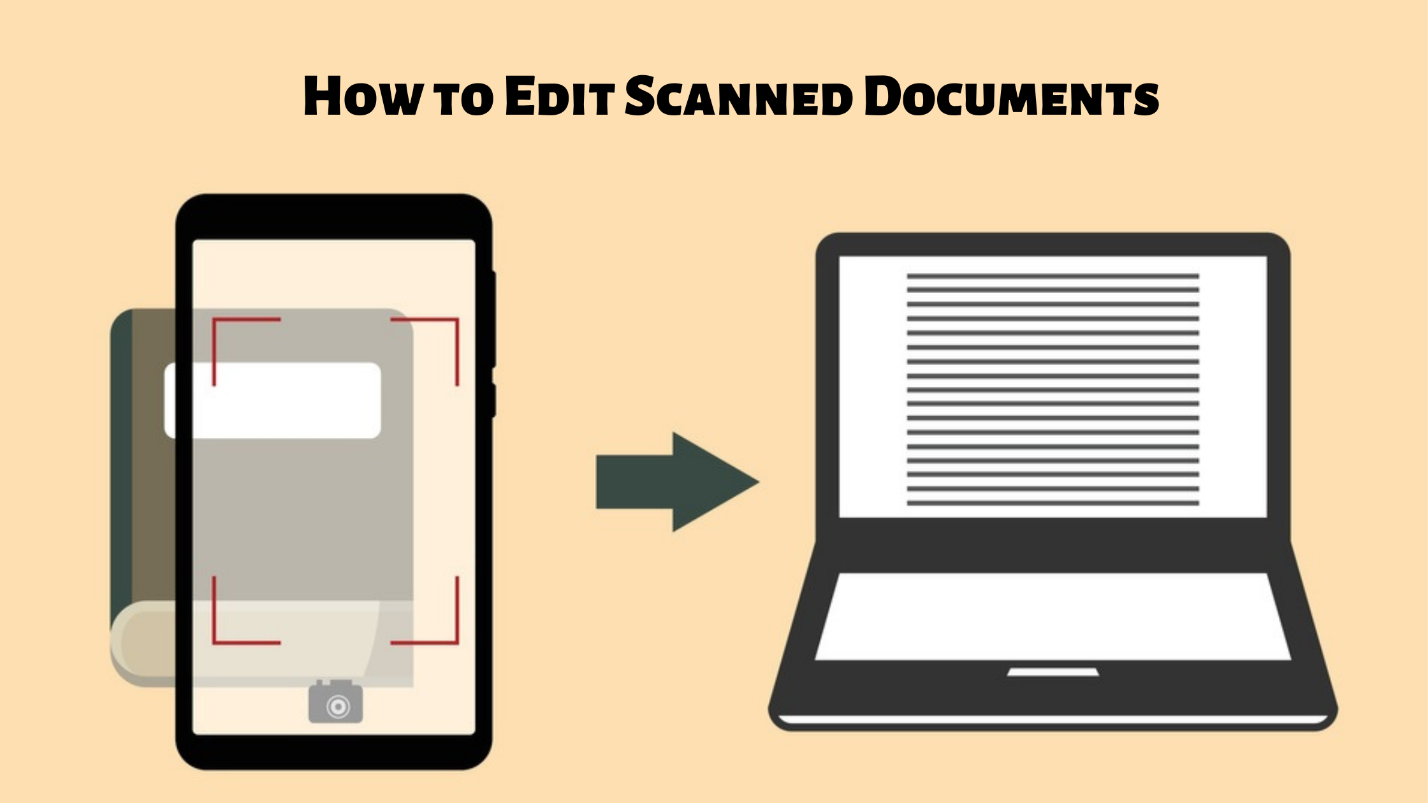 OCR technology provides an instant solution to scan paper documents and edit them as you want. All you need to do is upload the scanned document image on OCR and allow it to check for text. You can download the final output and edit it accordingly. This technology brings various benefits besides just converting the document into digital form. You can keep a modified version of a hard-form document as a digital copy.
In this guide, we will elaborate on how to edit scanned documents with the help of OCR technology. We will give you some useful information on the workings of OCR technology as online tools and mobile applications.
How Does OCR Technology Work?
The human eye may perceive everything on a document as a form of text. It is not a big deal to distinguish numbers, letters, or symbols as long as they are in a document file.
But for computers, scanning a document is much more different. Computers have to separate the structure of a document into elements that can be deciphered.
An OCR engine performs text scanning by comparing the captured patterns from an image with the text, letters, numbers, and symbols in its database.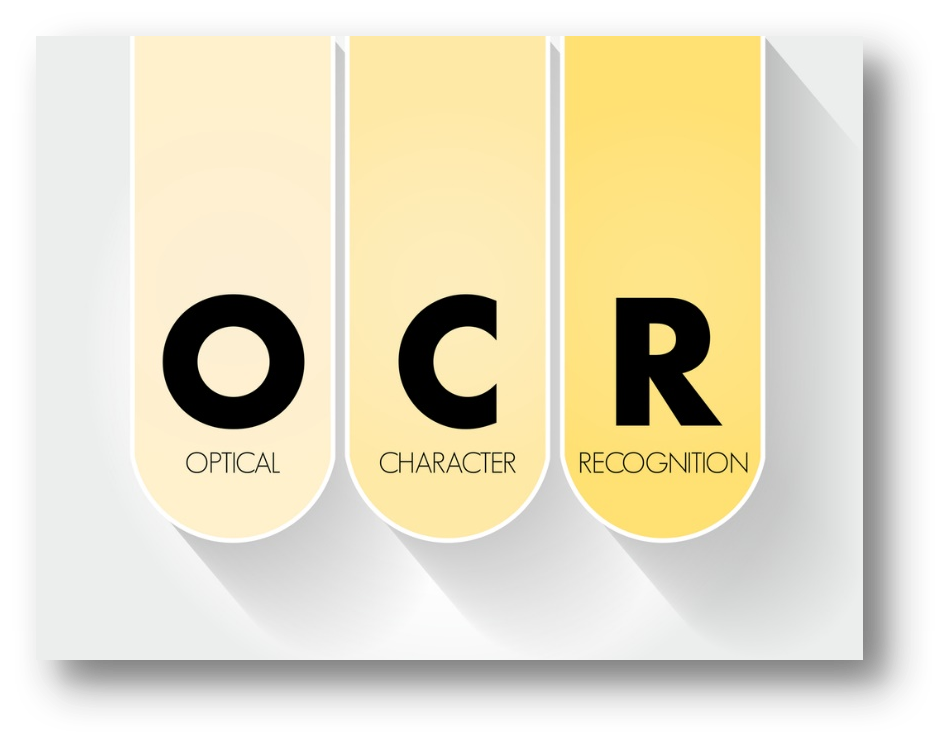 An algorithm performs the pattern matching and, in this way, the characters are recognized. Using this method, the OCR software extracts the text from an image and presents it as an editable document. Developers are working to enhance this technology so that the OCR can scan even the handwritten text from an image.
Use OCR Technology to Edit Scanned PDF Documents
When you fail to edit a PDF document in a PDF editor, your PDF is probably a scanned PDF, namely an image-only PDF. A feature-rich PDF editor with an OCR engine is much needed in this case. That's where SwifDoo PDF comes into play.
SwifDoo PDF is a comprehensive PDF editor on Windows, with the ability to edit the PDF text, add links, insert images, and recognize the non-editable elements within a PDF. The following instruction drills down how to make a PDF editable with OCR:

Step 1: Download and install SwiDoo PDF on your PC, then launch it;
Step 2: Load up your scanned PDF to the workstation. Click Edit > OCR;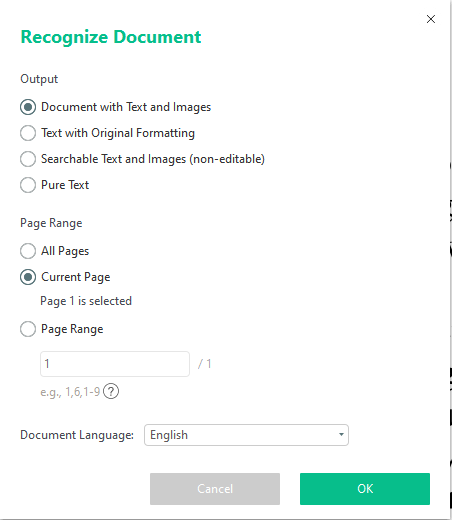 Step 3: When the OCR window pops up, choose an output method, page range, and document language to ensure higher accuracy.
Step 4: When ready, hit the OK button to start recognizing this scanned PDF using the OCR engine.
Tips:
The method you've chosen has a direct bearing on the results. Besides, SwifDoo PDF can provide high-quality recognition results if your original document is in English, Chinese, German, Spanish, Japanese, Korean, French, and Russian.
When your OCRed PDF is presented, just consider it a standard PDF and go on making edits to it.
The two screenshots below exemplified the OCR's effect on scanned PDFs. It's quite easy to edit a scanned PDF than you expected. If you have the need, SwifDoo PDF can help convert images to text files or any other editing-friendly formats. Just give it a shot and download it to bolster productivity:


Using OCR Technology to Edit Scanned Documents
Converting paper documents into editable form is pretty straightforward, and there are two approaches you can follow to achieve this task successfully. Now we will discuss how to use the OCR technology by following a step-by-step process.
1. Scanning Documents with Online OCR
The image to text conversion is pretty simple with the help of OCR technology, which can be accessed from an online source. These online tools bring you the convenience of accessibility from any web browser, whether it's a portable or desktop computer.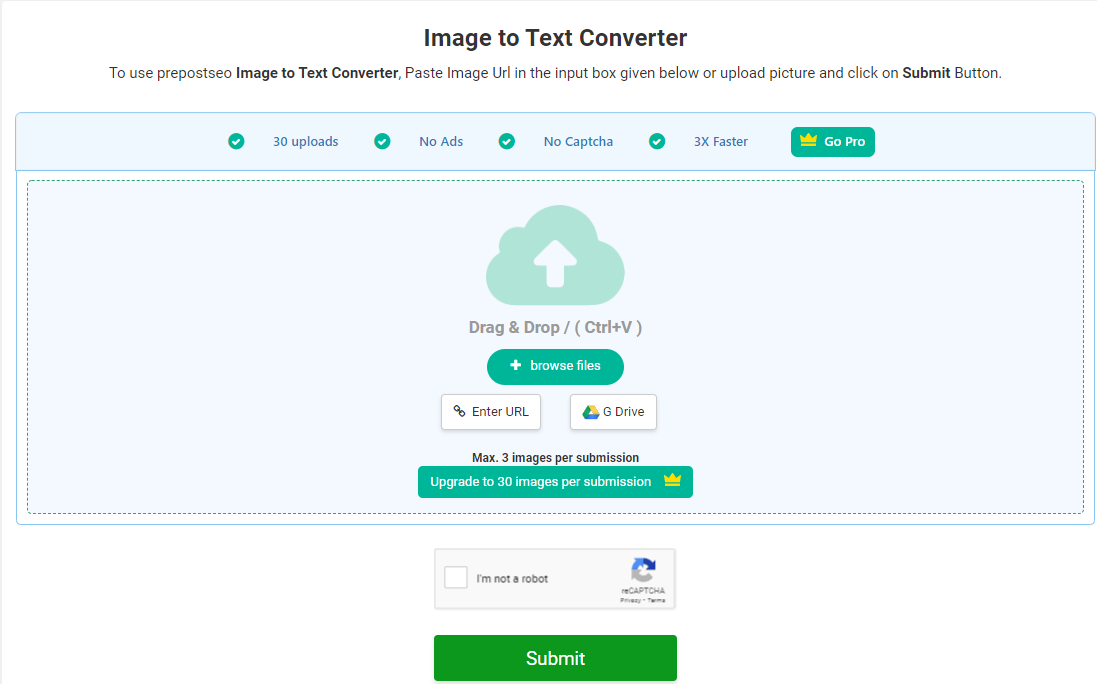 Here are the steps that you typically have to follow to convert an image to text using an online tool:
Upload the image by clicking the "Browser" button. You can also paste the image link if it's available on an online source or directly pastes a screenshot in the input section.
Check the reCAPTCHA.
Click the "Submit" button.
Within a few seconds, the image-to-text converter will provide the scanned text in editable form.
You can download the text in a document file or directly copy the text from the output box.
After downloading the file, you can edit the text any way you want. The tool shown and discussed above allows you to download the text file in various formats, like Word or TXT. These types of tools support many image formats, including JPG, JPEG, PNG, TIFF, and more.
2. Scanning Documents with the OCR Application
People rely more on handheld devices like smartphones and tablets in this fast-moving world. Users want instant results, and it becomes even better if offline support exists.
In this case, the OCR mobile applications are preferable to the web applications. Follow these steps for converting an image to text using an OCR mobile application.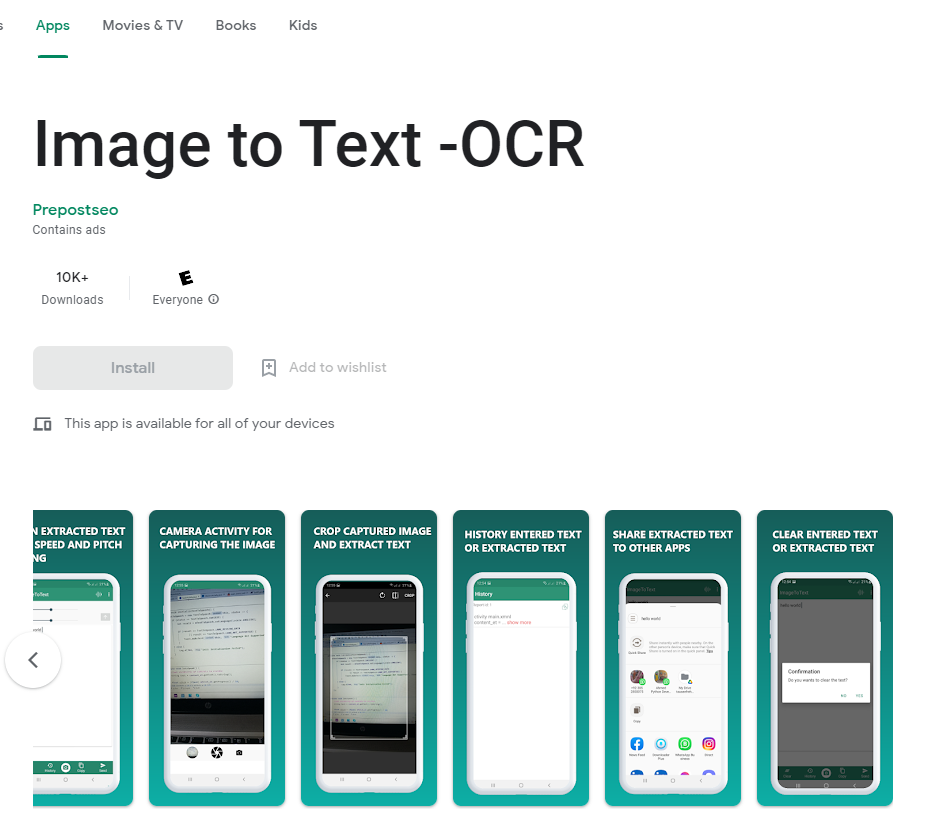 OCR mobile application allows two different options to convert images to text. You can take a picture directly or upload an image from the gallery to scan text.
The application would allow you to select the scanning area by adjusting the corner points around an image. Crop the image of the document from where you want to scthe the text.
Tap the next arrow icon to proceed with the scanning process.
Once the text is scanned, it will appear in the output box.
You can download the text or copy it directly.
Most OCR applications do not requiring-in or sign, so you get access to their features for free.
Reasons to Convert Physical Documentation into Digital Files
The primary goal of text scanning devices and software was to make documentation storage more convenient. Here are a few more reasons to use OCR technology:
· Accessibility of Data
Digital documentation is much more convenient to access as compared to papered documentation. You can access millions of documents from anywhere with the help of cloud storage.
You can just search the file's name to access its contents, and it will appear.
· Sufficient Space
Large bundles of paper documentation acquire more space than a single computer system or laptop carrying millions of documents.
So, with digital documents, you can always keep the records accessible with plenty of space at the workplace.
· Enhanced Security
Digital documentation is a lot safer than paper documentation. You can upload documents to cloud storage to keep them safe from accidental damage.
Moreover, it's only accessible to an authorized person with the proper credentials.
· Easier Sharing
There is always the challenge of sending and sharing documentation with stakeholders in an organization. Sending paper documentation by hand may require a lot of time and resources.
But with digital documents, it is a matter of seconds. You can provide shared access to a folder on cloud storage or send the document directly to someone.
Conclusion
In this article, we explained how you could edit a text document with the help of OCR technology. This technology does the work of making printed text or handwritten text into editable text.
We presented two different modes of using OCR technology. Users can access this service in whichever way they find it feasible.
We hope this article provided you with some valuable insight into the usage of OCR technology and its benefits.