Introduction:
When distributing PDF documents with sensitive information to others, the confidential content is the last thing we want to share. Nevertheless, if you're merely placing a rectangle shape on the sensitive content as an attempt to redact a PDF, then we're sorry to break it to you: many PDF programs can remove the so-called shape and we will fail to redact a PDF.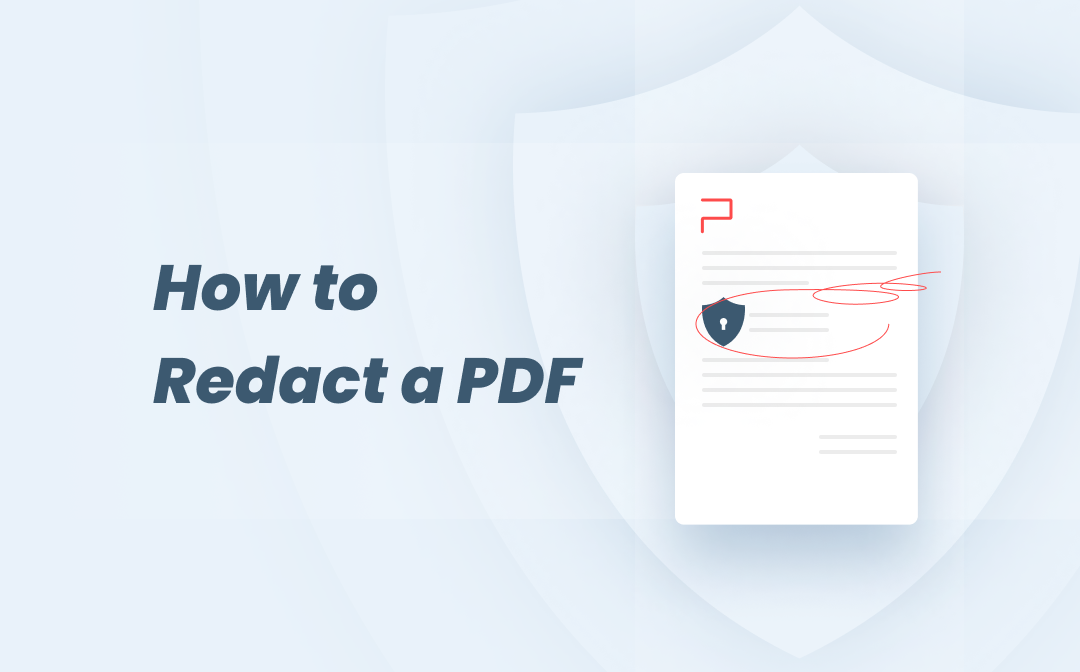 What should we do to remove classified text or data for good? Luckily, redaction exists to black out sensitive information while keeping the original format intact. Redaction refers to the process of permanently blacking out visible text in a PDF document. This post shares some thoughts about how to redact a PDF.
How to Redact a PDF on Windows
This section revolves around the solutions to black out text in PDF on Windows 7 to 11.
SwifDoo PDF
SwifDoo PDF offers a free redact tool for removing confidential content from a PDF file. The lightweight PDF software integrates a complete set of toolkits to protect your personal information, such as password protection, whiteout, and electronic signature. Take a look at how SwifDoo PDF redacts a PDF to black out text from your current PDF document:
Step 1: Download and install SwifDoo PDF from the official website or Microsoft AppSource;
Step 2: Open a PDF document using the program, then navigate to the taskbar to choose Edit;

Step 3: In the drop-down menu of the Edit tab, select Whiteout to start redacting the PDF document. Simply hover your cursor on the text or data you need to hide;

Step 4: Once finished, click on the Save icon to keep all the changes.
SwifDoo PDF enables users to choose the style and color of the whiteout block. For example, if you need to hide an entire paragraph, it's suggested to use "Area Whiteout". If you need to redact a figure, try "Line Whiteout" instead.
Tips:
Please note that redaction is an action that cannot be undone. In other words, once the information is hidden, it cannot be undone with any tools. Be careful when you apply any redaction on a PDF document.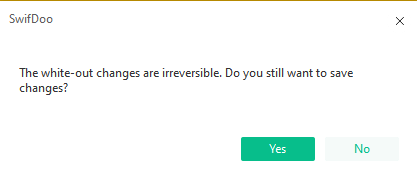 Foxit PDF
Regarding how to redact a PDF, Foxit PDF is the next program we are going to recommend. As a comprehensive PDF redact tool, Foxit has rendered more useful features to prevent any privacy from unwanted access, such as "Mark for Redaction", "Protect Redactions", and "Hidden Data". In general, your confidential information is 100% safe in Foxit's hands. Let's get down to business to see how to redact a PDF file using Foxit.
Step 1: Download and install Foxit PDF on your PC;
Step 2: Launch the software and upload a PDF document to the workstation;
Step 3: Go to Protect > Mark for Redaction > Text & Images or Pages. If the content you decide to redact is text or an image, choose Text & Images. For an entire page, select Pages;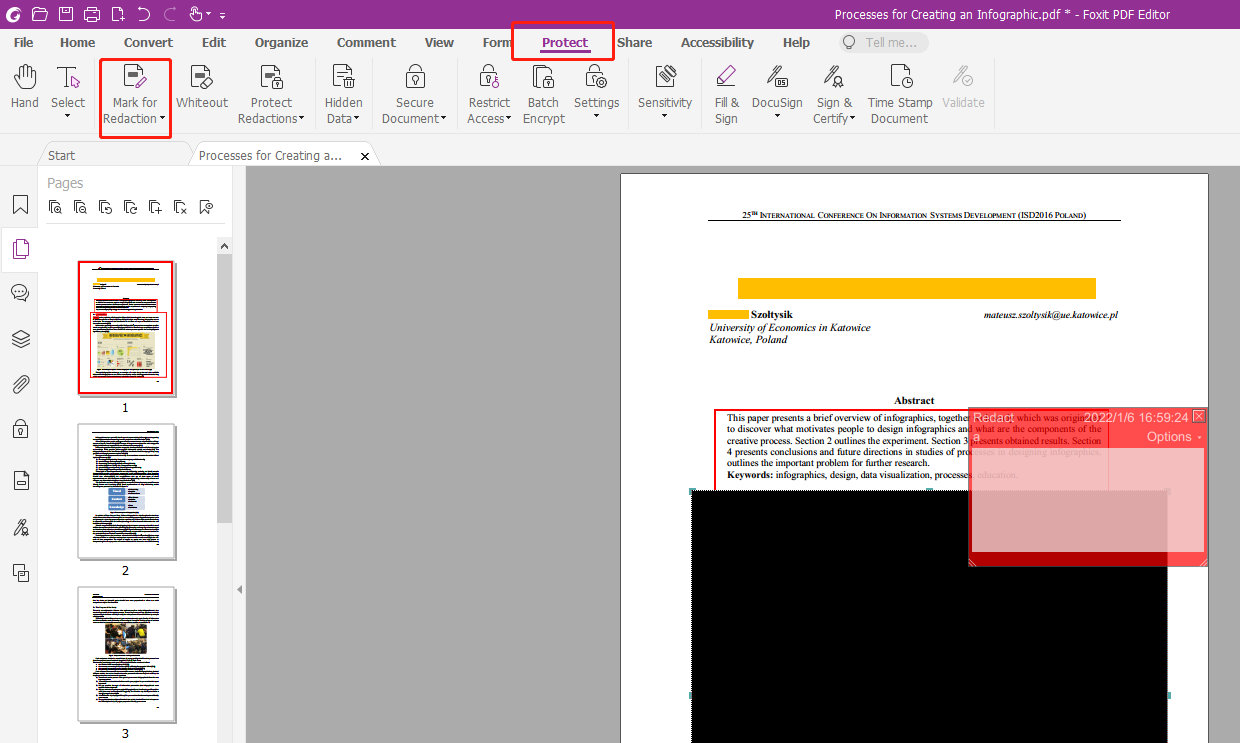 Step 4: Double click on a word or draw an area over the text that you need to black out.
If the redaction area is not centered, right-click on the text and select "Center". Users can then change the position of the hidden selection. If a pop-up note is needed to explain why redaction was applied, right-click on the redaction part to select "Open Popop Note".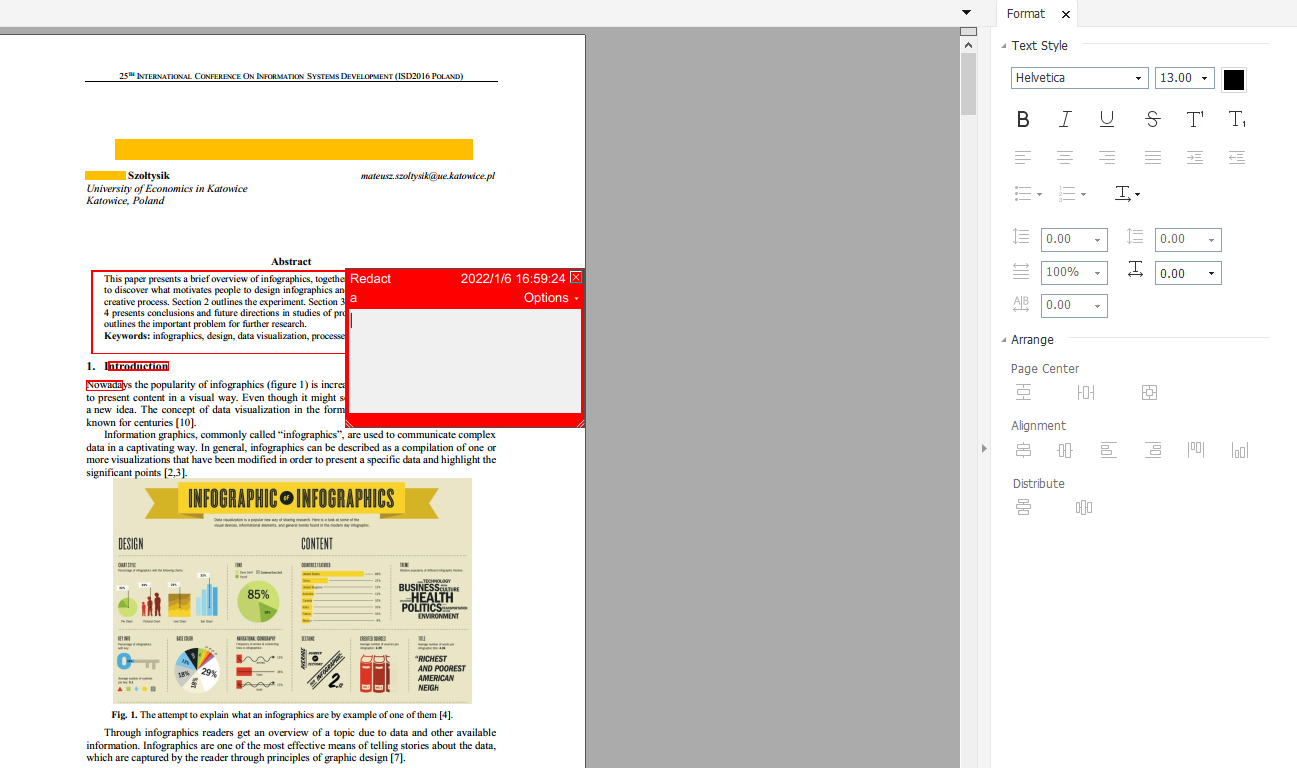 What's more, Foxit PDF offers the "Search & Redact" feature for users to find text that should be permanently blacked out from the PDF. This is perfect for those who need to redact statistics. The software helps you find all the matched items and apply multiple redactions in a single click.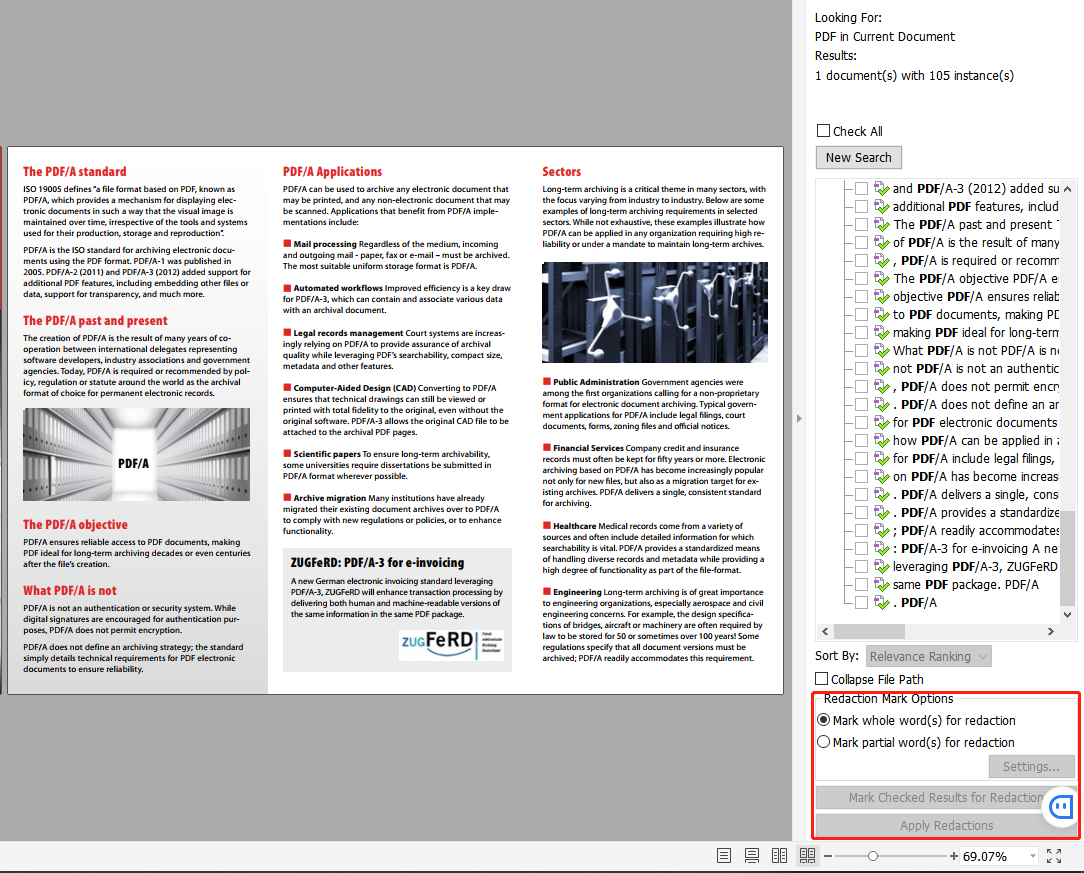 Free Methods to Redact a PDF Document on macOS
Now that we've introduced two useful redaction tools on Windows, macOS users may ask the same question: how do we redact a PDF on Mac?
The good news for macOS users is the default PDF viewer - Preview is able to black out text in a PDF with all necessary tools. The steps are detailed below:
Step 1: Open a PDF document in Preview;
Step 2: Access View on the toolbar, then choose Show Markup Toolbar;
Step 3: Click on the Redact icon to activate the redacting mode. The Redact icon is displayed as a square with a dashed border;
Step 4: Before redacting the PDF, Preview will pop up an alert to tell users that the redacted content cannot ever be recovered, click OK to proceed.
Step 5: If ready, it's time to save all the changes to the PDF file.
Note:
Searches for how to remove PDF redaction are on the increase. People complain a lot about the mistakenly blacked-out text. Once again, we need to emphasize PDF redaction is permanent which means users need to make a copy of the original PDF document before applying any redaction.
If you have successfully applied redactions on a PDF document and needed to remove these marks from the current PDF, this post is right up your alley.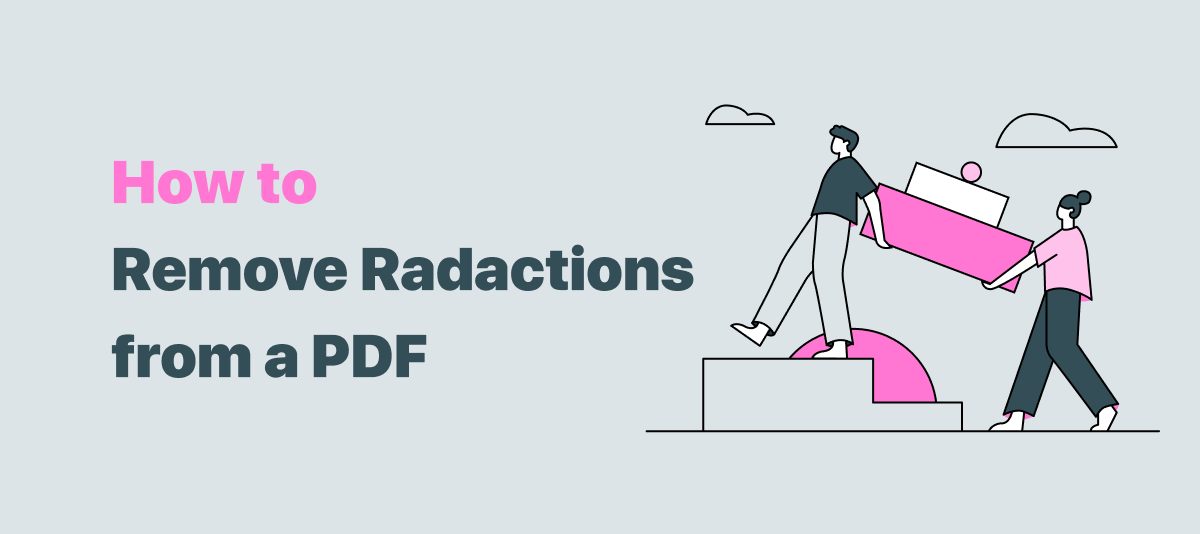 Guide to Remove Redaction from PDF Documents [2022 Newest]
Users may black out the text to protect the information, but how do they remove the redaction? Learn how to uncover the blacked-out text in a PDF.
READ MORE >
Redact a PDF Document for Free Online
Online PDF tools are gaining more popularity among people who don't need to deal with digital documents frequently. Without any third-party PDF applications, users can go directly online to redact a PDF; things have never been more convenient. Here, we will introduce trustworthy web-based PDF tools to black out sensitive text in a PDF document:
AvePDF
AvePDF is a free online tool to flexibly manage your PDF files. This web-based PDF product offers a wide spectrum of features such as PDF compression, OCR, format conversion, e-signature, and redaction. As an easy-to-use online redaction tool, AvePDF simplifies the whole redaction process. Let's go find out how to redact PDF for free:
Step 1: Enter the URL on the search bar. Click on the Protect tab and then Redact PDF on the taskbar;
Step 2: Select Choose File to upload a PDF document from a local folder, Google Drive, Dropbox, or link;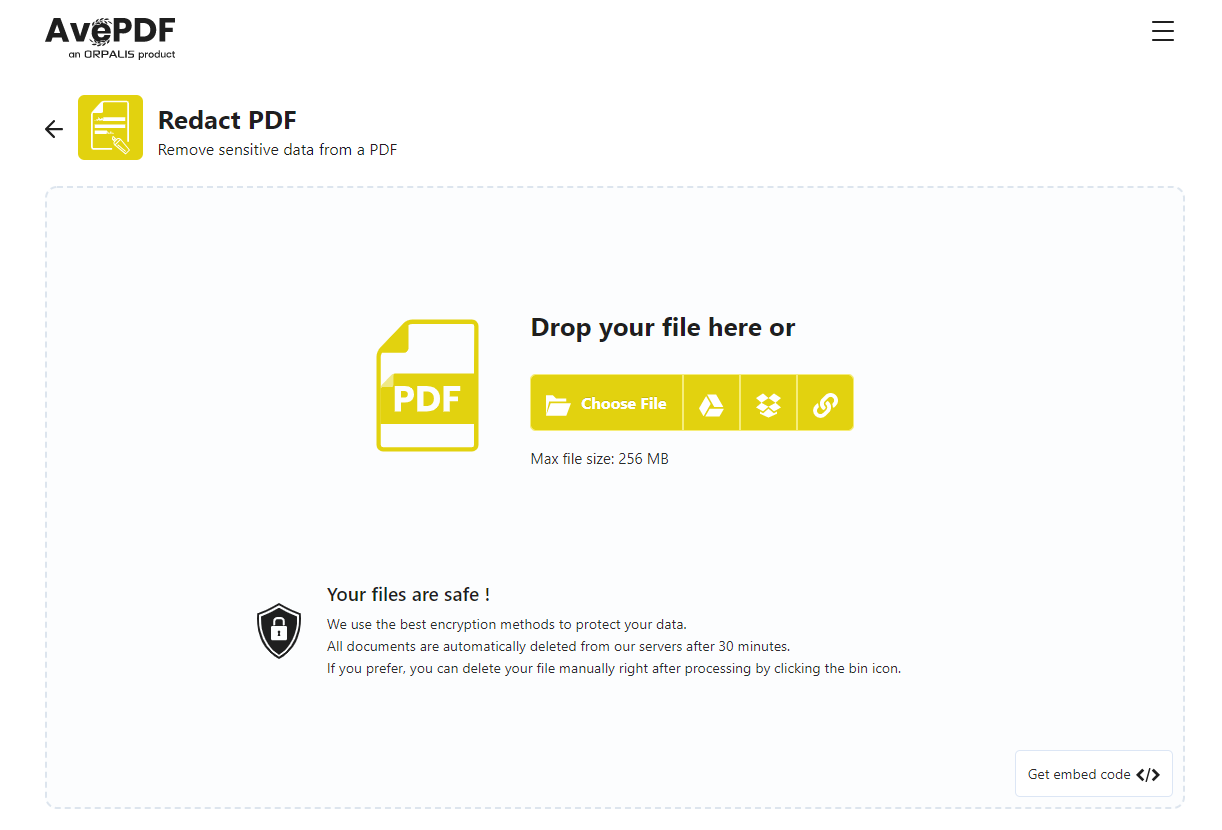 Step 3: When you are directed to the Redact PDF page, select Add redaction marks to blackout the content.
AvePDF enables users to change the fill color and edit the redaction mark. If you need to remove the redaction mark, just click on the blackened content to select "Remove". With the robust online tool, your sensitive data will be buried and nobody can retrieve the information. Comprehensively, AvePDF is a reliable tool to redact PDFs for free.
However, the max file size that AvePDF can process is 256 MB. When your PDF exceeds the max, you can consider splitting the document beforehand.
Wrapping Up
To sum up, redacting PDF to black out text in the document is easy with the help of professional PDF programs both on and offline. Again, let us reiterate, users should be cautious when applying redactions on PDF documents because the action is once-for-all.
Bonus: How do I redact a PDF document with Adobe Acrobat?
If you have Adobe Acrobat installed on your PC, the instruction is provided below:
Step 1: Launch the PDF software. Click Tools on the menu bar and then choose Redact;
Step 2: Double click to choose a word or image. When users want to remove an area, directly draw a rectangle on the definite part;
Step 3: When finished, save the PDF document and keep all the redaction marks.