Introduction:
A
PowerPoint
allows presenters to better visualize dynamic, vivid, and informational content. However, it integrates too many features on the menu bar. This may hinder learning or reading and may lead to a loss of interest when it contains distracting elements or pure text. Can we convert Powerpoint to PDF? If yes, how do we choose
PPT to PDF converter?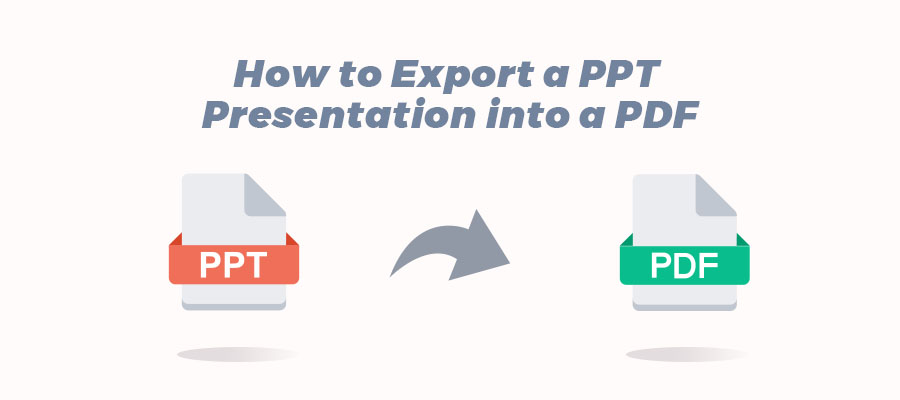 If you need a compatible, mobile-friendly, and universal format to replace PowerPoint, it is feasible to perform PPT to PDF conversion without compromising formatting and image quality. When the need to save a PowerPoint as a PDF arises, we may frequently need a high-quality PPT to PDF converter. This article will introduce three methods about how to convert PPT to PDF.
How to Convert PowerPoint to PDF on Windows
An active digital-file user may need (or have already downloaded) a high-quality PPT to PDF converter to enhance productivity. There are many reliable and stable types of software within reach in the document management industry, such as Nitro PDF, Soda PDF, Foxit Phantom PDF, and SwifDoo PDF.
SwifDoo PDF
Let's take SwifDoo PDF as an example to demonstrate how to convert PPT to PDF within just a few clicks:
Step 1: Download and install SwifDoo PDF on your device;
Step 2: Launch the application and click the Convert button;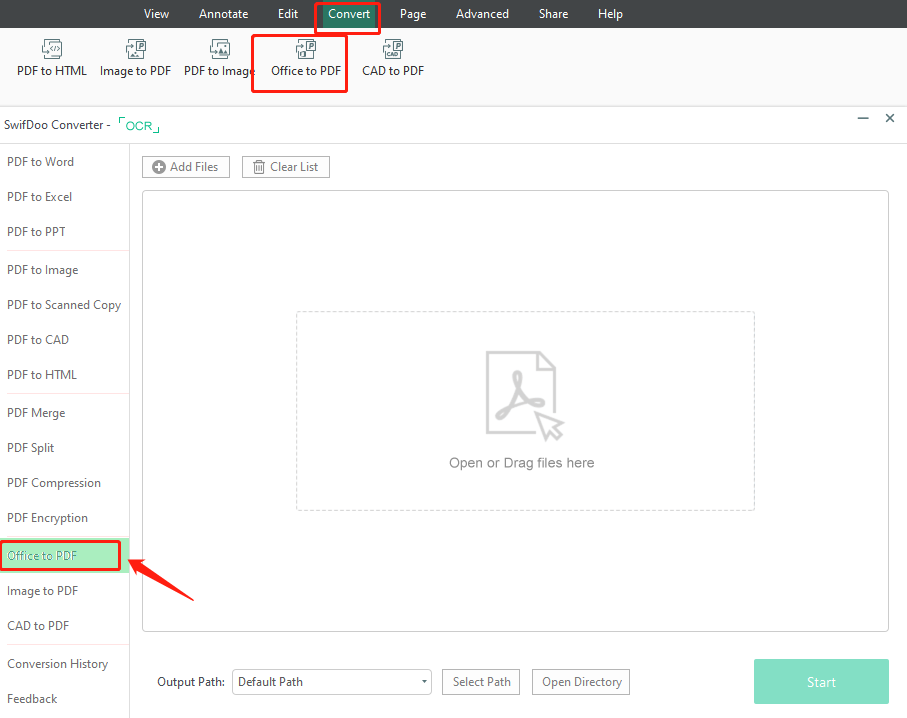 Step 3: Select Office to PDF;
Step 4: Follow the instructions for dragging your PowerPoint into the appropriate workspace. If needed, change the output path, and then click the Start button to start the PPT to PDF conversion.
SwifDoo PDF releases an online PPT to PDF converter to render free converting services, but it only allows for PDF to PPT conversion. That being said, if you need to convert PPT to PDF, the only way out is still the desktop SwifDoo PDF.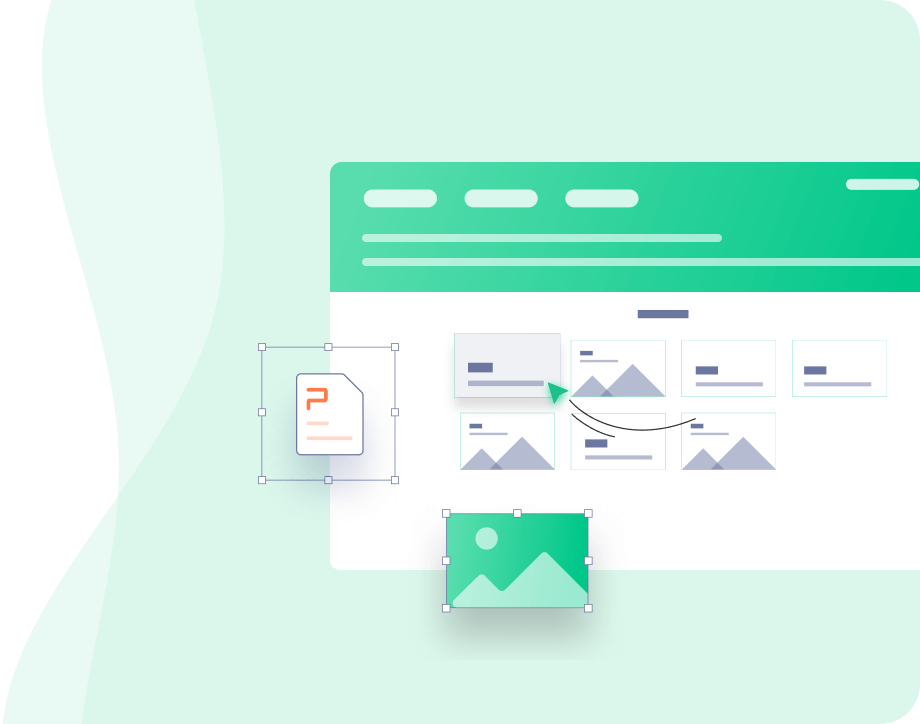 Step-by-step Guide to Convert PPT to PDF
An online and desktop PowerPoint to PDF converter;
Simplified conversion process and accurate results;
15-day free trial.
Free Download
Windows 11/10/8.1/7/XP
Microsoft PowerPoint
Microsoft PowerPoint is an indispensable module of Microsoft Office. Within Microsoft PowerPoint this presentation program, users are capable of converting PPT to PDF. Take a look at the following steps to see how to utilize this free PPT to PDF converter:
Step 1: When finished editing the document, click the Save icon before anything else; otherwise, your efforts will be in vain;
Step 2: Click on Save as under the File tab;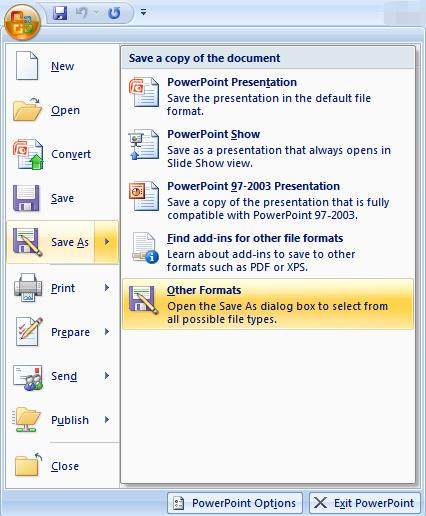 Step 3: When the window pops up, you can rename the newly saved PDF document and choose the exported file type. What's more, you can decide on the output location of this PDF document.
If you are running PowerPoint 2013, PowerPoint 2016, or any higher version on your computers, follow the guide below to convert PPT to PDF:
Step 1: Click the File button and choose the Export option in the left sidebar;
Step 2: Click on Create PDF/XPS Document;
Step 3: When the window pops up, choose where to store the new PDF document. Users can rename the file and select file type. Within this window, you can decide the file size by clicking on Optimize for;
Step 4: What's more, you can alter how the PDF appears by hitting the Options.
That's how a PowerPoint to PDF conversion is completed within Microsoft PowerPoint. The whole process takes less than several minutes and requires no external software at all.
How to Convert PowerPoint to PDF on Mac
Akin to the Windows system, Mac users can save a PowerPoint as a PDF by clicking Save As button within the software. You can go to File, select Print, and click Save As to finish the PPT to the PDF conversion process. This method applies to OS X and seems to be the easiest way. However, MS PowerPoint cannot batch convert PPT to PDF on Mac.
If Mac users need to batch process multiple PPT to PDF conversion tasks on macOS, there are many professional PDF programs to meet your complicated needs. Hence, we'd like to introduce a reliable desktop PPT to PDF converter for Mac users.
Foxit PDF
As an all-in-one PDF program, Foxit PDF is both available on Mac OS and Windows. By integrating multiple features, this converter enables users to convert Microsoft Office file formats into PDF or from PDF to Office files, images, HTML, and other rich text formats. Here comes the tutorial to convert PPT to PDF:
Step 1: Download Foxit PDF and install the program;

Step 2: Click From Files in the tab Convert;
Step 3: Choose From File in the drop-down menu and select the PowerPoint file;
Step 4: When the document is opened in a new window, click Save to finalize the PPT to PDF conversion on Mac.
With that being said, Foxit PDF is not a free PPT to PDF converter on macOS. When the 14-day free trial is over, users need to pay the subscription fee.
How to Convert PowerPoint to PDF Online
If you insist on converting a PowerPoint to a PDF online, asking PDF experts for help is also applicable. PDF2Go, PDFSimpli, PDFEscape, and PDF Expert are great PPT to PDF converters. The conversion from PowerPoint to PPT is provided below:
Smallpdf
Step 1: Upload a PowerPoint to the workspace from your computer, Google Drive, Dropbox, or via links;
Step 2: Depending on file size, the conversion may take several minutes. Once completed, you are prompted to download the new PDF document;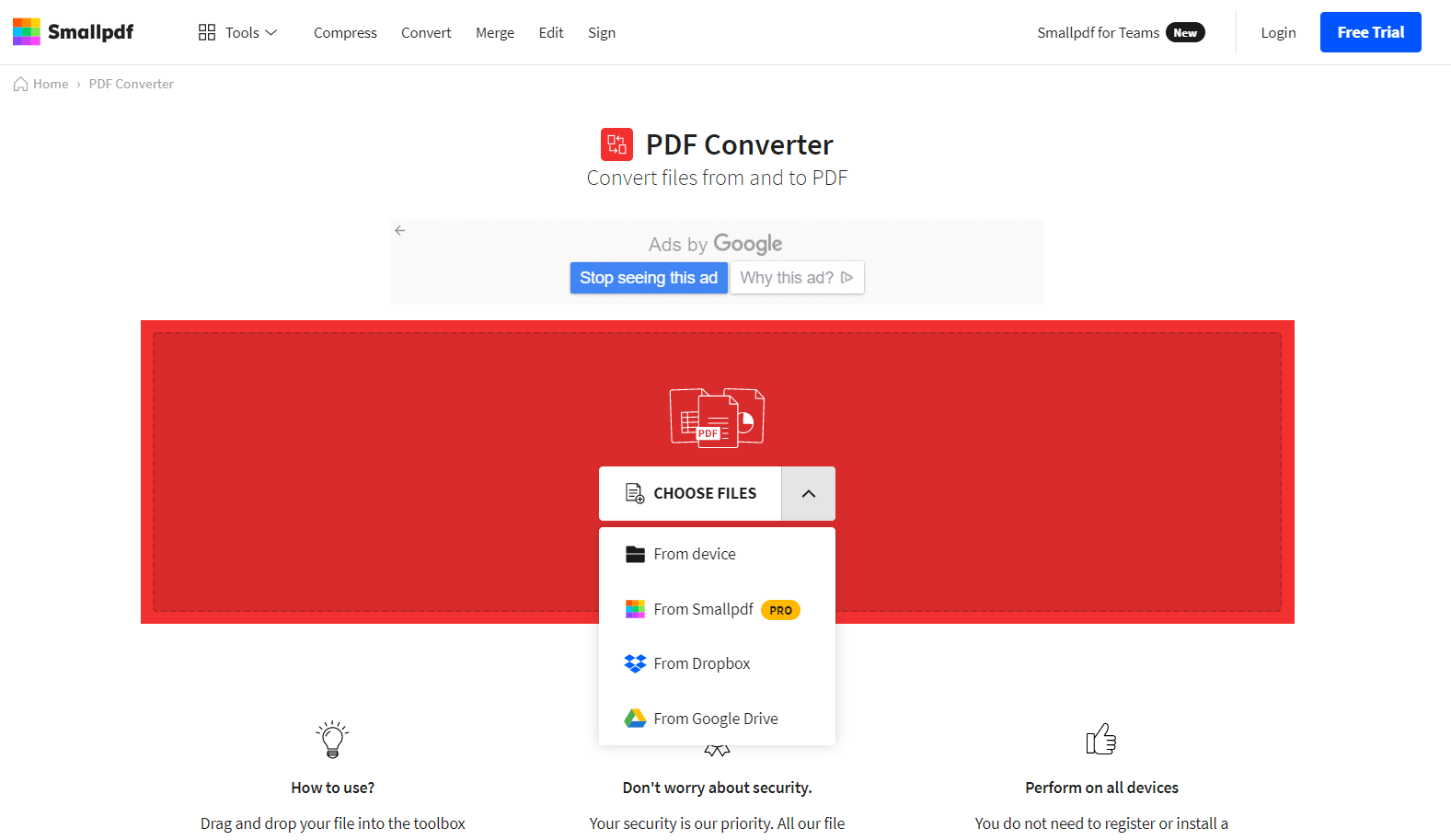 Step 3: Save the document to the specified location or directly into your cloud platforms such as Google Drive and Dropbox.
Though Smallpdf is an easy-to-use PPT to PDF converter with quick response, you can only access its free service twice a day. That is to say, you can perform free PPT to PDF conversion twice every 24 hours. In addition, free users have to stand the annoying ads on the website.
Google Docs
Many people may wonder how a word processor helps convert a PowerPoint to a PDF. Strictly speaking, when it comes to converting a PowerPoint to a PDF, the working of Google Docs is similar to Save As in Microsoft PowerPoint. It still needs to be mentioned this Internet-based platform is becoming much more useful in daily life owing to its portability. Here's how to convert PPT to PDF:
Step 1: Log into Google Docs with your Google account, and click on Open file picker;

Step 2: When you see an Open a file window jumps out, choose Upload;
Step 3: Click Download in the tab File, and then tap PDF Document to start automatic PPT to PDF conversion.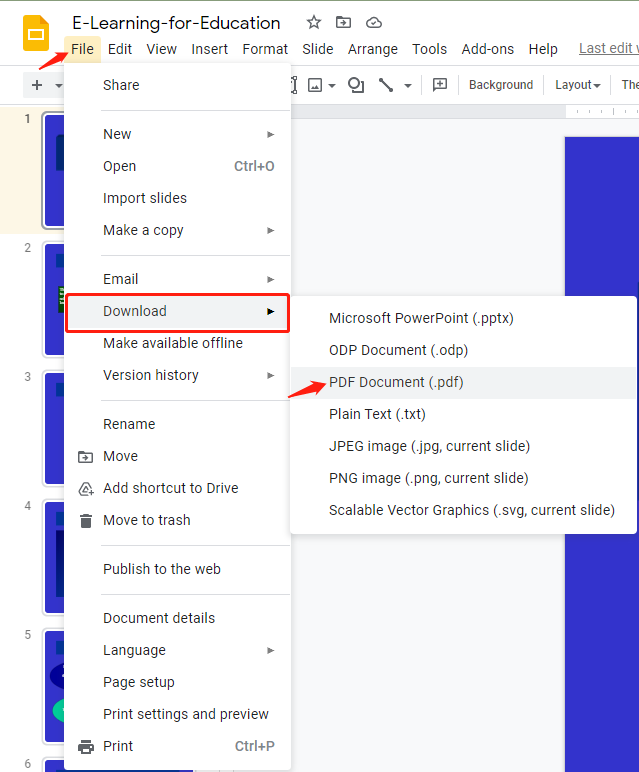 As we discussed before, Google Docs is a word processor but can be regarded as a free online PPT converter. That means users can create PDFs from PPTs or mainstream file formats (such as form, Word, spreadsheet, and drawing) if they need an online document for high-efficient collaboration and synchronization.
Conclusion
PDF is a friendly format when it comes to printing. When your presentation is static without any dynamic elements, such as animations, videos, or other multimedia content, it is wise to save a PowerPoint as a PDF for a better visual and printing experience. Otherwise, it isn't advisable to make such a decision because the newly converted document full of unidentifiable codes and altered font will undoubtedly let you down.
Frequently Asked Questions (FAQ)
Q: How do I convert PPT to PDF in Adobe?
A: Adobe released an online service to allow converting PPT to PDF online. Without downloading the large installer and complicated registration process, now it's much easier to save PPT to PDF with this online free tool:
Step 1: Type the URL in the address bar, and click Select a file for PPT to PDF conversion;
Step 2: When the PPT is uploaded to Adobe's working area, wait for automatical conversion;
Step 3: Short time later, your PPT will be converted to PDF. Feel free to download or share the PDF file.