Introduction:
Stamp in a PDF document may provide additional information whilst indicating the status of the PDF document. When a PDF document is labeled with a stamp, the reader or other recipients will know the document's status and/or sensitivity, such as approval or confidentiality. Therefore, this may pose a question: how to add stamp to PDF?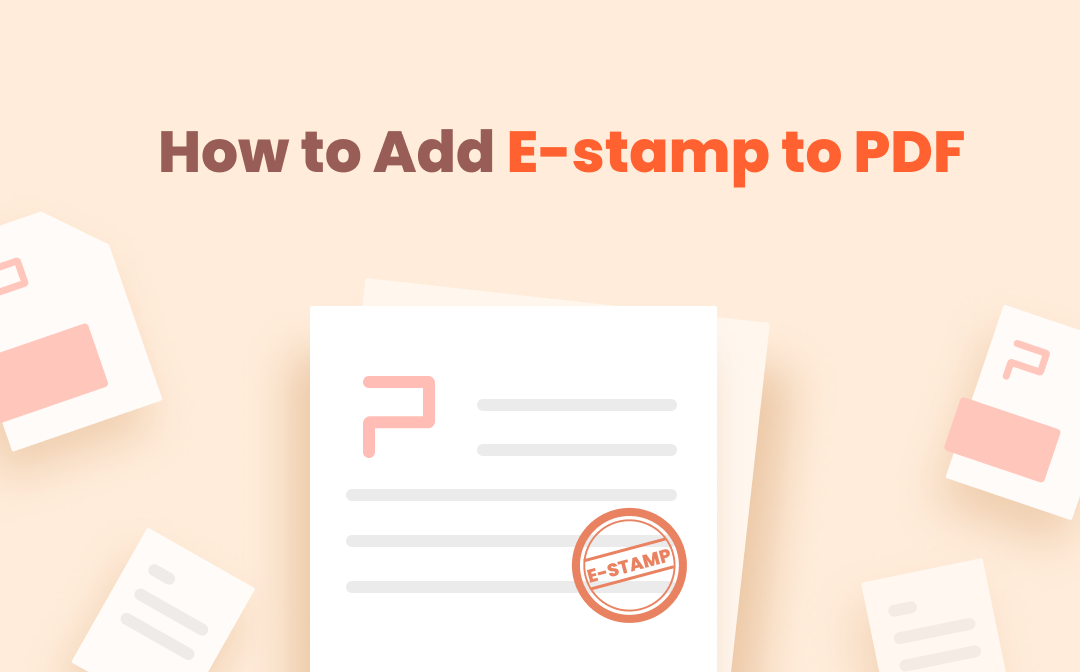 In the following tutorial, we will demonstrate how to add stamp to PDF using PDF stamp creators.
How to Add Stamp to PDF with Desktop Programs
When digital documents carry weight in document transfer, it has become a frequent user need to add stamps to a PDF, requesting, reviewing, or proofreading. Consequently, this section will mainly explain how PDF stamp creators add stamps to a PDF using desktop programs on both Windows and macOS devices.
How to Create and Add Custom Stamp to a PDF on Windows
SwifDoo PDF
If someone needs to download an easy-to-use PDF stamp creator for free on Windows OS, SwifDoo PDF may rank within the top 5 of my list. Its uncluttered user interface and wide range of useful PDF tools leave me with a deep impression. Concerning adding stamps to a PDF, SwifDoo PDF provides a variety of commonly-used stamps to label PDF documents. Follow the guide to see how to add a stamp to a PDF:
Step 1: Download and install SwifDoo PDF from Microsoft AppSource or official website;
Step 2: Run the program and open the PDF document which needs stamp(s);
Step 3: Click Annotate on the ribbon bar and choose Stamp;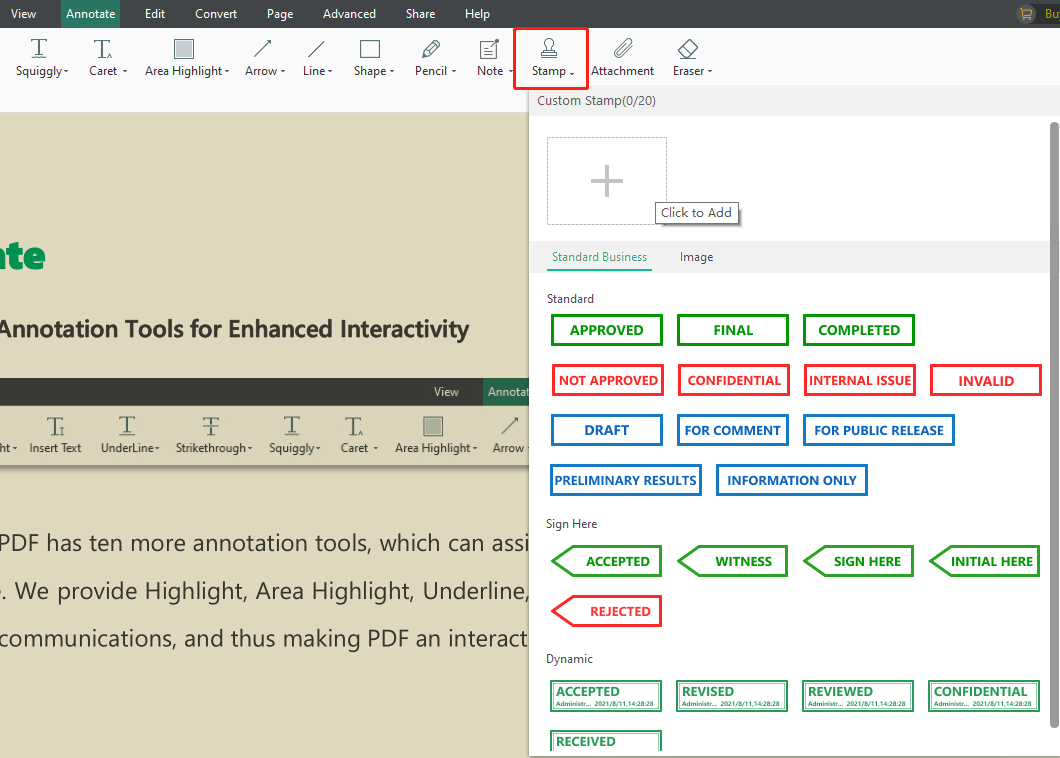 Step 4: Select the stamp you need, such as Approved, Draft, Confidential, and Final Draft.
Users can additionally edit the stamp by right-clicking the stamp and selecting "Edit". When a sticky note window pops up, leave the comments within the box.

In the latest version, SwifDoo PDF now enables users to add three types of stamps to the PDF, including standard stamps, Sign Here stamps, and dynamic stamps (date stamps). If these provided stamps cannot fill the bill, think about creating a custom stamp by clicking on "Custom Stamp". Now click on the "Free Download" button to access this amazing stamp creator.
PDFelement
PDFelement is an all-around PDF stamp creator with 35 different features. Likewise, standard, dynamic, and digital stamps are integrated within the drop-down menu of "Stamp". Users who desire to add a stamp to a PDF can resort to this Windows desktop software. Moreover, PDFelement is also available on macOS and mobile devices. Have a closer look at how to stamp a PDF easily:
Step 1: Download and install PDFelement from the official website;
Step 2: Load up a PDF to the workplace, then navigate to Comment > Stamp to add Standard Business, Sign Here, Dynamic, or Digital Stamp.

If users need to add a timestamp or Bates number stamp, PDFelement covers your needs. A dynamic stamp can be regarded as a timestamp as it contains the time you add the stamp. The Bates number stamp meanwhile can be found in the "Edit" section.
In case a user requires a personal, custom stamp, PDFelement can embed custom stamps, such as text stamps and image stamps, into a PDF page. A guide for this is provided below.
Step 1: Click on the Custom Stamp tab next to Stamp;
Step 2: In the Custom Stamp Form window, click Select Image to upload a local stamp. Hit the OK button to finalize the entire process.
Step 3: Once you have gone back to Stamp, you will see the custom stamp you added.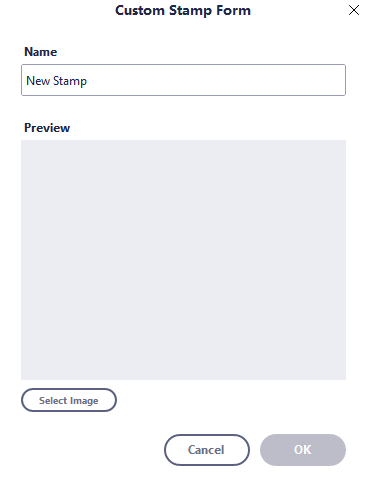 If you need the stamp added on multiple PDF pages, simply right-click on the stamp and select "Apply to multiple page" and the needed pages will be labeled with the stamp.
How to Create and Add Stamp to PDF on macOS
When processing PDF documents on macOS, the native Preview application may first come to our minds. Unfortunately, if you require adding stamps to PDFs, Preview is not an outstanding PDF stamp creator. Instead, it is only a basic PDF reader which fails to create or add stamps to PDFs. In this section, we recommend another easy-to-use PDF stamp creator for Mac users to add stamps to PDFs: PDF Expert.
PDF Expert
In the Mac App Store, PDF Expert won "the App of the Year" and "Top 1 Paid App". These titles alone may convince you that this stamp creator for MacBook is worth a shot.
Step 1: Download PDF Expert from App Store;
Step 2: Launch the program and open a PDF document;
Step 3: Navigate to the top menu bar to choose Annotations > Stamp. Feel free to add the standard stamps to the PDF.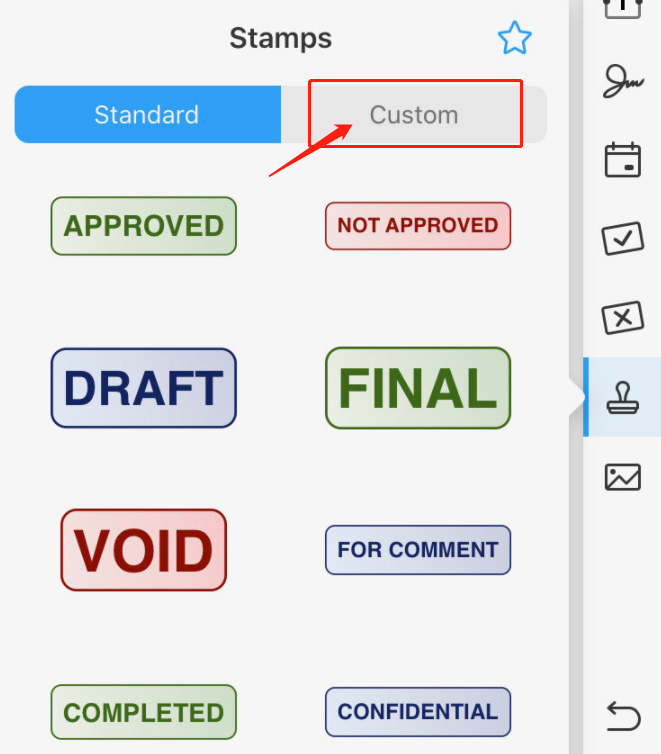 Furthermore, PDF Expert is a PDF stamp creator. Users need to click "Custom" in the Stamps window to create a custom PDF stamp.
PDF Expert is compatible with all Apple devices as well, which means this app is available on iOS, iPhone, iPad, and MacBook. If you need a multifaceted PDF application for an Apple device, PDF Expert is one you can trust.
How to Create and Add Stamp to PDF Online
If you are still searching for a PDF tool, a tool without annoying registration or installation process may be right up your alley. Two online PDF products to help add stamps to a PDF will be mentioned in the following paragraphs.
PDF4ME
PDF4ME is an online PDF stamp creator with 26 different features, from PDF conversion, editing, password protection, to PDF optimization. The reason we put PDF4ME in the first place, however, is its user-friendliness and intuitive UI design. No more wasting, let's get to know how it helps add PDF stamps to PDF for free:
Step 1: Firstly, open PDF4ME's website and go to the All Tools tab. Here, look for Watermark in Edit PDF;
Step 2: At Add Watermark to PDF page, import a PDF from local folder, Google Drive, or Dropbox;
Step 3: Choose the stamp type: either a text or an image stamp. Then specify the page range to add the e-stamp. When ready, PDF4ME will present the preview of the stamped PDF, page by page. If you are content with the results, click on the OK > Start adding watermark to complete the process.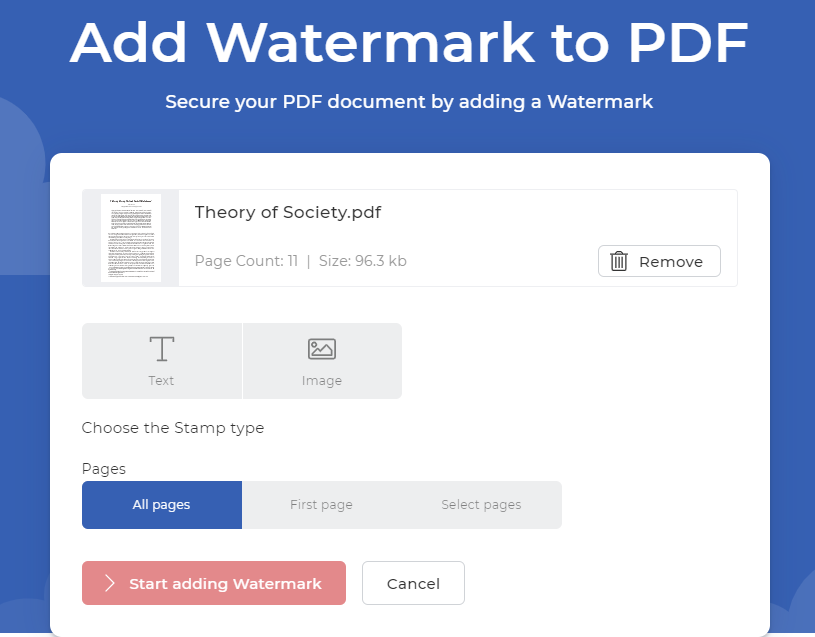 PDF4ME is a free online PDF product that provides 1 free task an hour. More tasks will require an upgraded plan: the basic and pro plans are 3 USD and 6 USD respectively. If you are looking for a mobile version, PDF4ME has developed Android and iOS versions too, for a wider userbase.
iLovePDF
iLovePDF is another online PDF tool and may be considered one of the most popular online PDF tools. Their secret sauce is more features alongside considerate customer support. iLovePDF has served and dealt with millions of users and PDF documents. The guide to stamp a PDF online is detailed below:
Step 1: Visit the official website of iLovePDF, go to ALL PDF TOOLS > Add Watermark;
Step 2: Drop or drag your PDF file to the workstation or from a cloud service provider, such as Google Drive or Dropbox;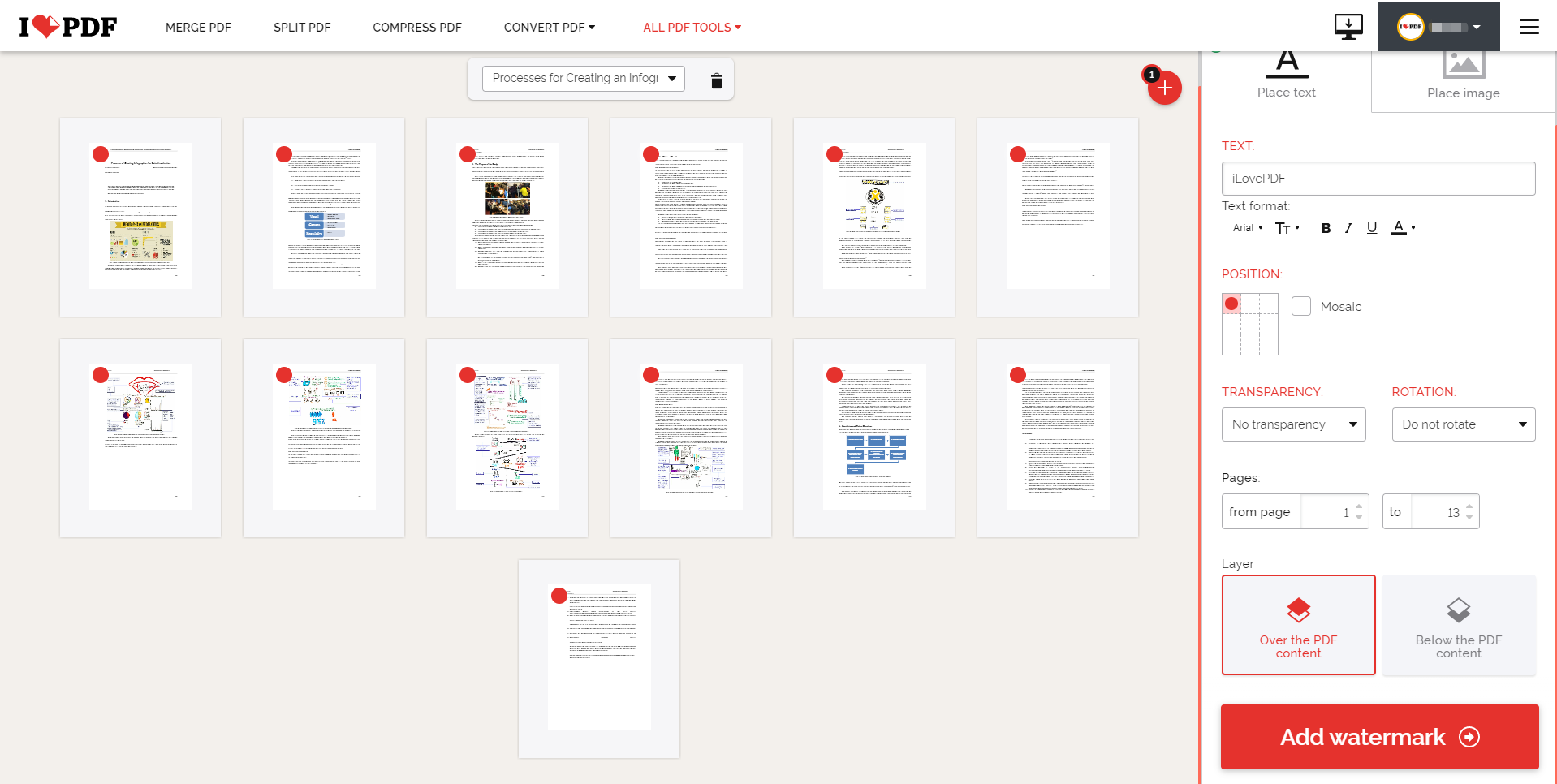 Step 3: Determine which type of e-stamp to add, the position, transparency, page range, and layer. Once ready, press the Add watermark to stamp the PDF.
These two Internet-based PDF products have different strengths: PDF4ME allows users to see the previews of the stamped PDF whereas iLovePDF has more modularity on the layers of stamps, opaqueness, and rotation degree. However, during the review, one thing that puzzles me is online PDF products would rather describe stamps as watermarks so watch out for that.
Conclusion
Comprehensively, desktop programs are preferable as they can create and add custom stamps, including timestamps, text stamps, or image stamps. Nothing comes for free. Adding stamps to a PDF requires a paid account. Online tools usually offer two or three free tasks every 24 hours. Users can choose what they need based on actual requirements.