It's always a bother to transfer large PDF files via emails or on social platforms. The most effective tactic is to employ a PDF optimizer. Once the PDF file size is reduced, file sharing and distribution are much less of a headache. Therefore, if you are scouting for a PDF optimizer to downsize the file size, you are bound to find one you need from this list.
SwifDoo PDF
Need a comprehensive PDF program to work out all your PDF-related problems? Put down your worries, SwifDoo PDF would be the ideal tool to optimize the PDF file size on your Windows OS.
By integrating a handy PDF compressor into the main module, it cannot be much easier to remove unnecessary data from the document and compress PDF images. Here's how to optimize the file size of a PDF document:
Step 1: Get SwifDoo PDF from the official website;
Step 2: Launch the program and click Compress PDF from the main interface;

Step 3: Click Add Files to upload the PDF documents that need to be optimized. Choose the compression level from the menu. When finished, hit the Start button to reduce the PDF file size.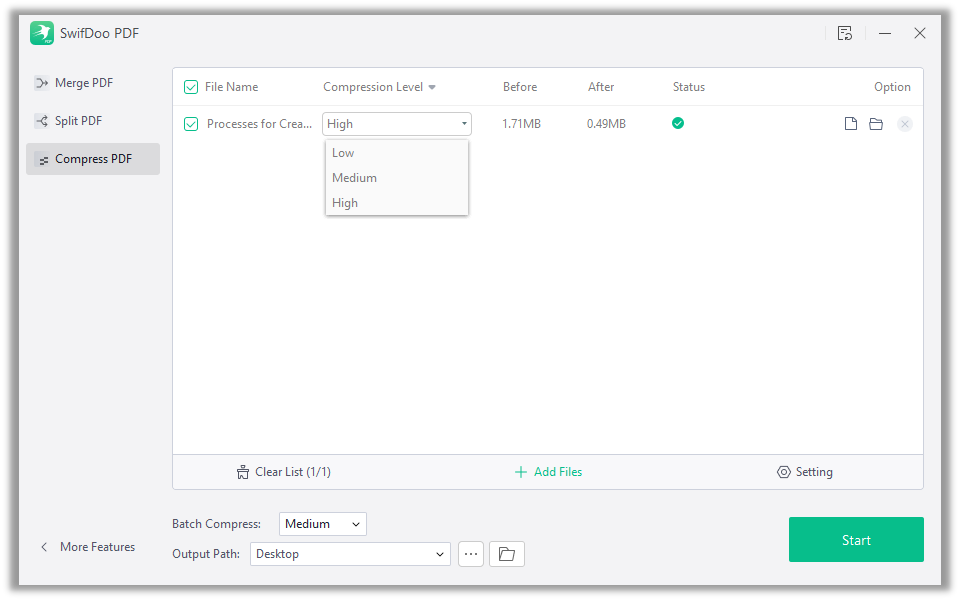 What if you have a bunch of PDF documents to optimize? SwifDoo PDF releases batch compression. Choose the "Batch Compress" at the left bottom to downsize the file size of multiple PDF documents.
Tips:
The higher the compression level, the smaller the optimized PDF. At the same time, the image quality will be affected as well. That is to say if you need to keep the original PDF image as clear as possible, choose the lowest compression level.
What else can SwifDoo PDF do?
Edit PDF by adding text, text boxes, images, and hyperlinks;
Add watermarks, stamps, or other marks to PDFs;
Merge, split, and extract PDF pages to manage documents;
Protect PDFs with passwords and e-signatures.
Pros:
Easy and lightweight to use;
Reasonable pricing strategy and rich features;
Clear UI design;
Cons:
Only available on Windows;
Lack of me advanced features to optimize PDFs.
Compatibility: Windows
Adobe Acrobat DC Pro
If you are a die-hard fan of Adobe products and searching for how to optimize a PDF document, then you've come to the right place. Adobe Acrobat is always the leader in the document management industry, which can provide features that cater to the needs of normal and heavy users. So does Adobe's PDF optimizer.
This PDF optimizer tool integrates much more advanced features to condense a PDF document, including PDF images and fonts. With the help of the Adobe Optimizer tool, images can be downsized and converted to grayscale or monochrome. Furthermore, for those who need to replace the current font, Adobe enables users to embed and unembed fonts for a smaller file size.
Note:
In reality, fonts in PDF documents can significantly increase the file size in some cases. That's why Adobe releases a toolkit to optimize the PDF font.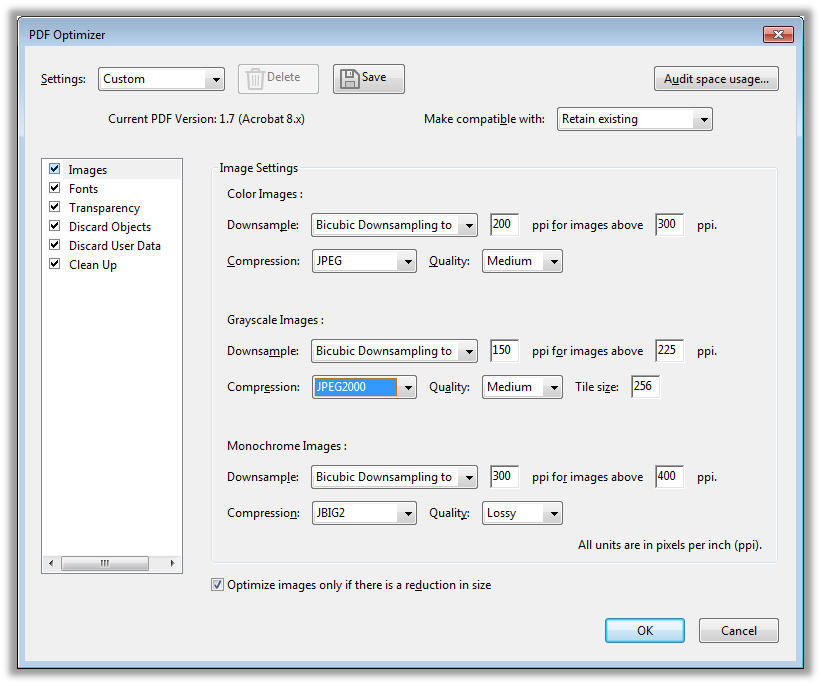 Pros:
Full-set and professional tool to optimize the PDF file size;
Effective and excellent customer support;
Cons:
High subscription fees.
Compatibility: Windows/macOS/Web
Cisdem PDF Compressor for Mac
When it comes to downsizing the PDF document, for macOS users, the inbuilt PDF reader Preview may be off the top of your head. Exactly, however, it is not a powerful PDF optimizer tool. Truth be told, tools to reduce the PDF file size are plentiful, and during reviews, a professional PDF optimizer stands out from the crowd-Cisdem. It doesn't matter whether you have ever heard of this tool, now you do.
PDF optimizer tools on macOS don't typically enable PDF compression in batches, with Cisdem PDF Compressor being the exception. Cisdem allows for batch-compressing PDFs in one fell swoop. Up to 50 PDF files can be condensed at the same time.
Moreover, it has developed four modes to cope with large PDF documents: "Minimal", "Small", "Medium", and "Large". For instance, if you need to decrease a PDF of 10 MB to 100 KB, go for the "Minimal File Size" mode.
Pros:
Simple user interface
Affordable prices
Ability to batch-optimize PDFs
Cons:
Lack of other related features
Compatibility: Windows/macOS
Sejda PDF
OK, here's another recommended PDF optimizer you cannot ignore in 2023. It's a cross-platform optimizer tool available on Windows, macOS, and the web. There are no major distinctions among these versions. For non-regular PDF users, the online version is unquestionably the most convenient channel to optimize the PDF file size.
Sejda PDF offers several options to downsize the file size: image quality, resolution, conversion, and multimedia files. In most cases, a large PDF contains fonts, images, and interactive elements. This PDF optimizer tool targets the images and multimedia files and provides the needed solution: reduce the image quality and discard the embedded files.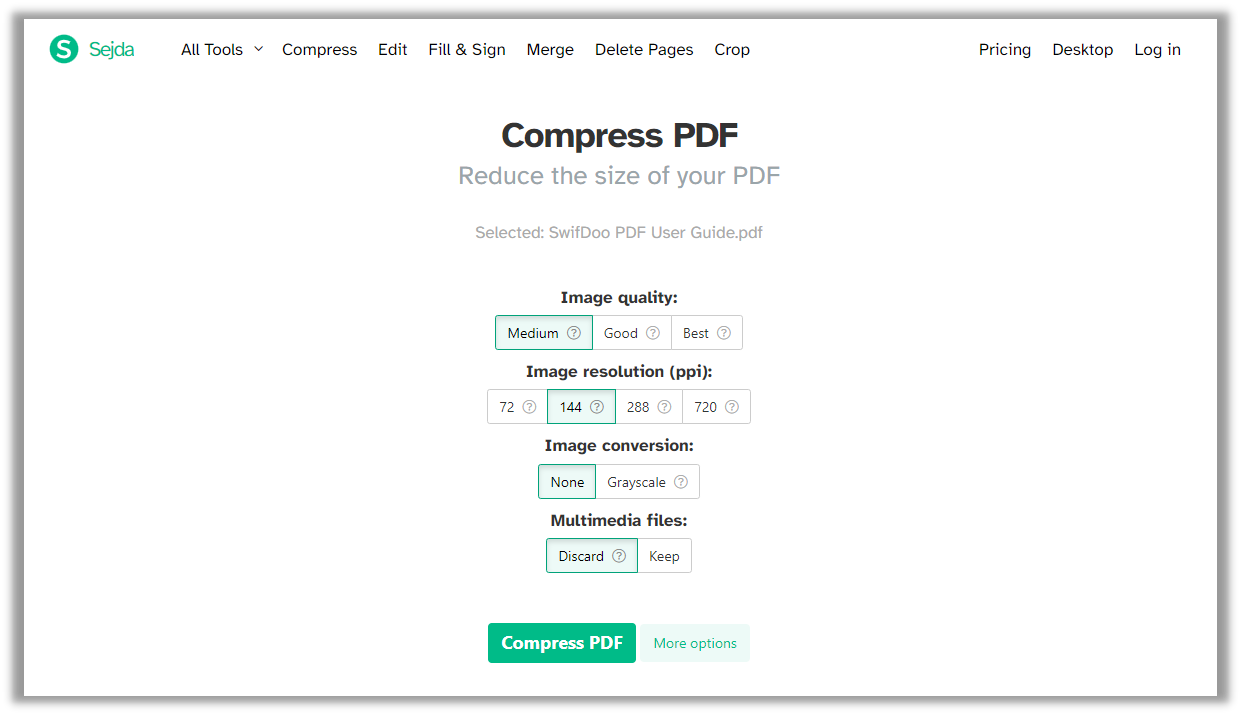 Pros:
Free to use;
Multi-platform supported
Ability to perform different PDF tasks
Cons
Limited free tasks
Maximum 100 MB for compression
Compatibility: Windows/macOS/Web/Linux
Compress2Go
Well, for the last PDF optimizer tool, we think it should go to the web-based Compress2Go. This is a completely web-based productivity tool in the list. Being free means everyone can access the service without the annoying login or registration process (except if you want to become a member of it).
Compress2Go, as its name suggests, can compress PDF, JPG, PNG, and videos. Concerning PDF documents, it has two different compression levels: basic and strong. Apart from this, this optimizer tool enables users to choose the image quality from a preset. As the image demonstrates, users can determine the DPI of PDF images as per the requirements.
Similar to other rivals, Compress2Go offers several limited free tasks and max file size. Nevertheless, the free service has an outstanding performance and can meet the demands of users whose jobs involve less Office-like work.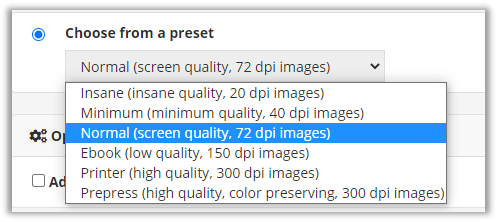 Pros:
Silk-smooth user experience
Batch processing
Automatic file deletion
Tiered options for PDF compression
Cons
Disturbing ads on the workstation
File size limits per task
Compatibility: Web
Final Thoughts
Large PDF documents are a burden to us in file sharing, in particular when most platforms set limits for attached files. If you are seeking a tool to optimize the PDF file size, look no further. We narrow down your choice and handpick five attention-worthy PDF optimizers you cannot miss out on. Just try them out to get a PDF of reduced size.