Introduction:
Usually, due to the non-editability of PDF, it's hard to copy an image from a PDF without dedicated PDF tools. While you cannot avoid that, on some occasions, you only need images with no text content included. To help you extract images from PDF files, we've selected several PDF tools and shown you specific steps.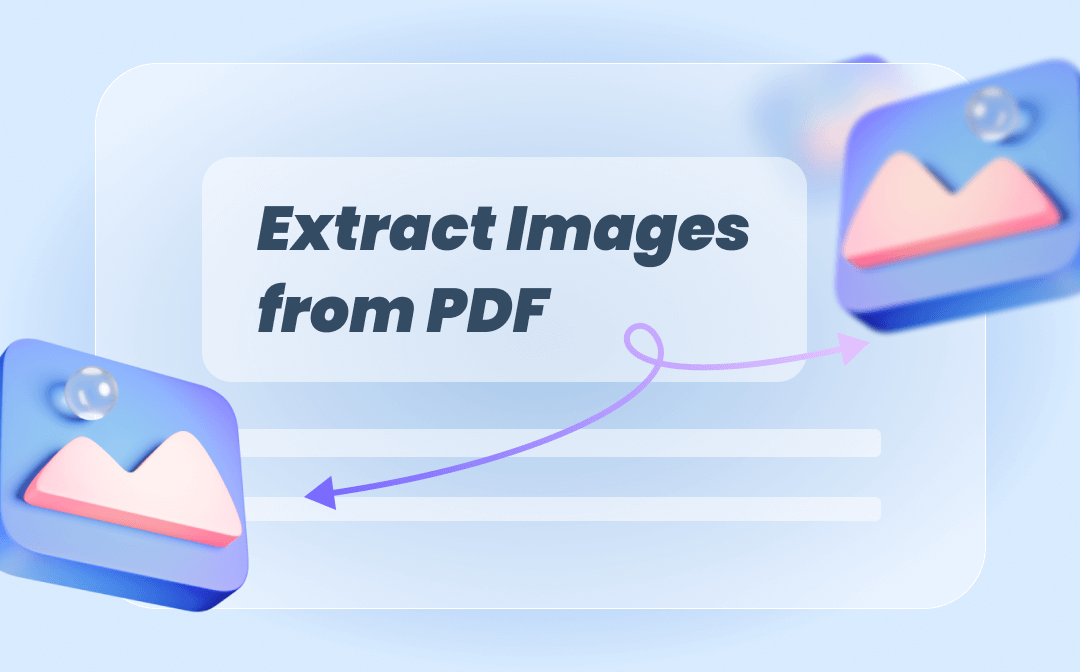 In this article, we'll introduce five PDF image extractors to help extract pictures from PDF, including Adobe Acrobat and Photoshop. In case they are too professional for general usage, we also offered two alternatives: Snipping Tool and SwifDoo PDF. Keep reading to check them out!
How to Extract Images from PDF Freeware
Albeit Acrobat and Photoshop are powerful and professional enough for many editing needs, users are still searching for free ways to extract photos from PDFs because there're many drop-in replacements.
In fact, there's indeed freeware that can help you extract images from PDF which named SwifDoo PDF. It offers a variety of features that are all packed into a clean and user-friendly interface.
More importantly, a 7-day free trial enables you to thoroughly test out SwifDoo PDF, during which you will have access to all its features and enjoy a comprehensive experience. Let's see how to extract images from PDF for free using SwifDoo PDF:
Step 1. Download SwifDoo PDF and open a PDF file in this software.
Step 2. Right-click the image in your PDF document and select Copy Image. You can also press Ctrl + C simultaneously to copy a PDF image.
Step 3. Paste the image into a folder.
That's all about how to copy an image from a PDF with SwifDoo PDF. Although this PDF editor doesn't have a specific tab to enable you to extract multiple images from PDF directly, it's indeed a good choice when you only need several images in a PDF file.
You May Also Like: Top 7 Best PDF Translator That You Must Know in 2023 >>
Export Images from PDF with Snipping Tool/Screenshot
Using Snipping Tool/Screenshot is the easiest way to export images from PDF since it serves as a built-in PDF image extractor in all operating systems you can access directly. Windows, Mac, and all mobile devices allow you to take a screenshot of any file that displays on the screen.
Let's see how to extract images from PDF with Snipping Tool (on Windows)/Screenshot (on Mac):
Step 1. Open a PDF document.
Step 2. Press Windows + Shift + S (on Windows) or Command + Shift + 4 (on Mac) to activate the Snipping Tool/Screenshot on your computer.


Step 3. Take a screenshot of the image that is currently displayed on your screen.
Step 4. Paste the screenshots wherever you need to use them.
By this means, you can extract images from PDF files in seconds. Using Snipping Tool/Screenshot asks for no payment or permission like other third-party programs. The whole process is easy to follow and saves much time. However, there's one flaw in extracting images by taking screenshots: the resolution of images are easily getting damaged, and you can only get low-quality pictures.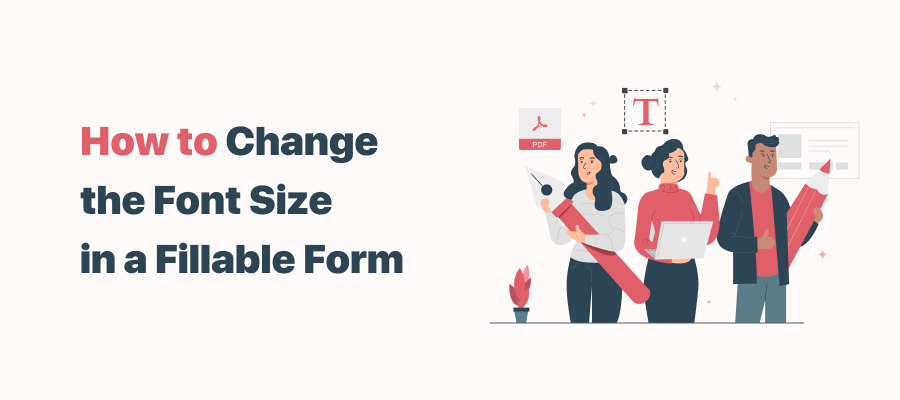 5 Approaches to Change the Font Size in a PDF Fillable Form
If you want to figure out how to edit or change the font size in a fillable PDF form to make the PDF look more consistent, this post can help.
READ MORE >
Extract Photos from PDF Adobe Acrobat
Adobe Acrobat is one of the most-welcomed PDF tools in the industry. It has been considered the most professional tool to edit PDF documents for many years, and with an outstanding performance, it has received countless positive comments.
Acrobat Pro DC is a complete PDF solution that can help address all PDF-related issues perfectly on all operating systems, including desktop (Windows & Mac), web, and mobile. It enables you to create, sign, edit, share, and convert PDFs without a hassle. In addition, it has a dedicated feature that allows you to pull images from PDF and paste them anywhere with a single click.
Follow the guide below to extract images from PDFs in Acrobat Pro DC:
Step 1. Open a PDF document in Acrobat Pro DC.
Step 2. In the right-side toolbar, click the Export PDF tab.
Step 3. There will be a new page about exporting PDFs. Select Image and then choose an output file type; remember to leave the Export all images box on if needed.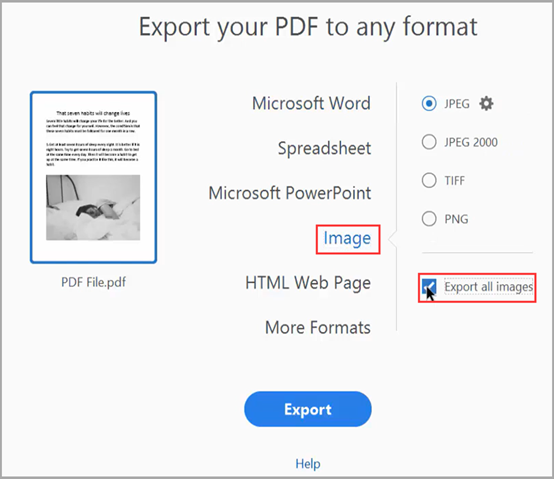 Step 4. Click Export and save all images to a folder on your device.
Acrobat Pro DC makes extracting images from a PDF easy enough. However, for a beginner, the interface and tabs aren't that intuitive. In addition, for general users, it's too expensive to get an Acrobat license key.
Also Read: How to Add Hyperlinks to PDF >>
How to Extract PDF Images in Photoshop
Photoshop is the most powerful and fully-fledged image editor so that users would even say "Photoshop an image". It has been hailed as the best photo editing software since its inception. Adobe Photoshop can process all images to make them look more fantastic.
Apart from those powerful features for editing images, you can also use Photoshop to extract images from PDFs. For people who are accustomed to using Photoshop, it's workable to use Photoshop rather than downloading a new program, which saves a lot of time. Photoshop offers two different methods to export images from PDF.
Method 1. Extract pages from PDF with the Pages feature:
Step 1. Launch Photoshop.
Step 2. Open a PDF document and select Pages in the Import PDF pop-up window.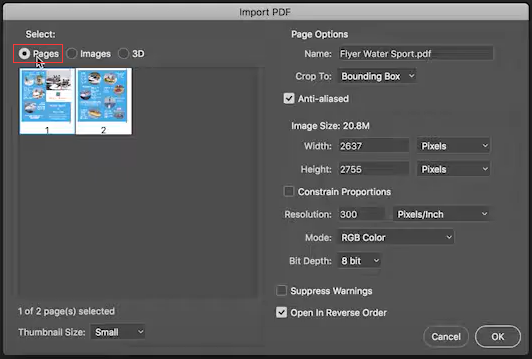 Step 3. Remember to set an appropriate resolution. Click OK when settings are done.
Step 4. Click File > Save as, and select an image format, then save your images.
Method 2. Extract pages from PDF with the Images feature:
Step 1. Open a PDF document in Photoshop and select Images when the Import PDF window pops up.
Step 2. Select Images at this step. Photoshop will start searching for all the images in your file and then display them in order.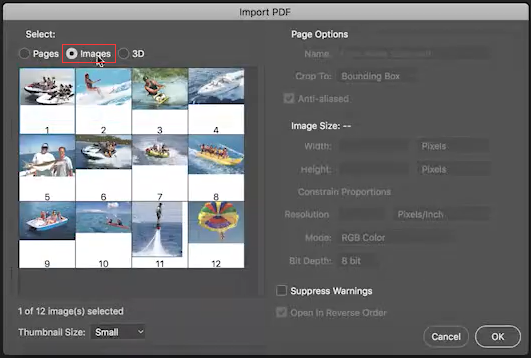 Step 3. Select images and click OK.
Step 4. Click File > Save as to extract images from the PDF document.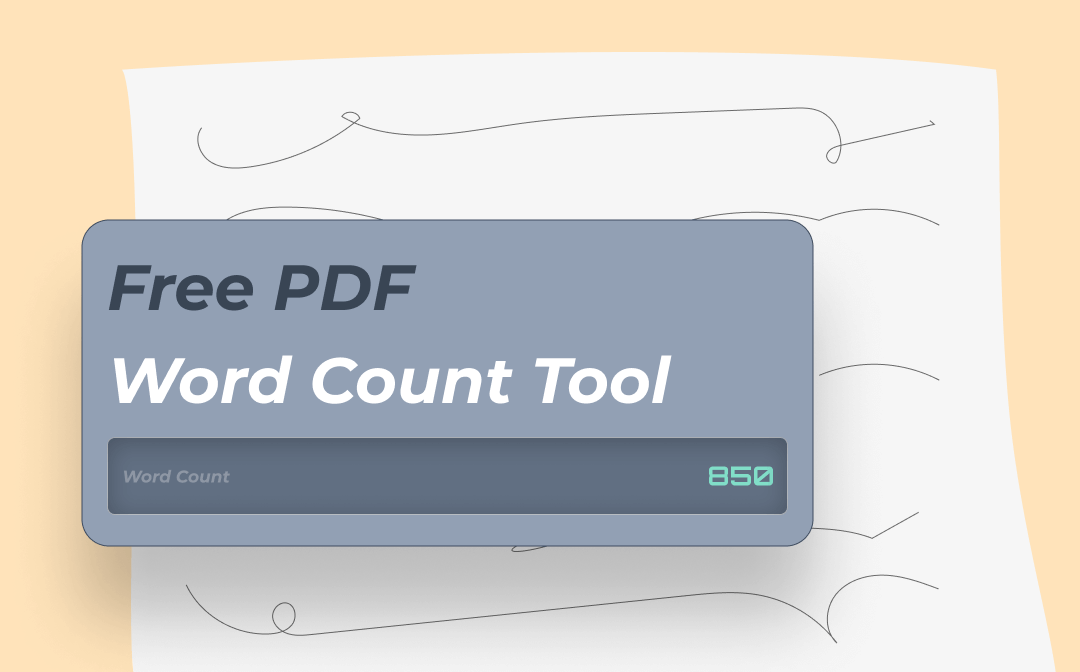 Free Ways to Do PDF Word Count
This article introduces free ways to do PDF word count. Check how to use PDF software, Google Docs, and other word counters to easily do word count in any PDF.
READ MORE >
PDF Extract Images Online
Using online tools is always one of the ideal choices when in an emergency because you don't need to download any software on your computer or pay for it. Online tools now perform as powerfully as desktop programs. They enable you to edit and annotate PDF files as easily as using offline software.
Here, we'll show you how to extract images from PDFs online with PDFCandy:
Step 1. Open the PDFCady website and click Extract images on the homepage.
Step 2. Upload your PDF file by clicking ADD FILE.
Step 3. It will start extracting images automatically. You can download the zip file to get all the images in your PDF file or save them one by one.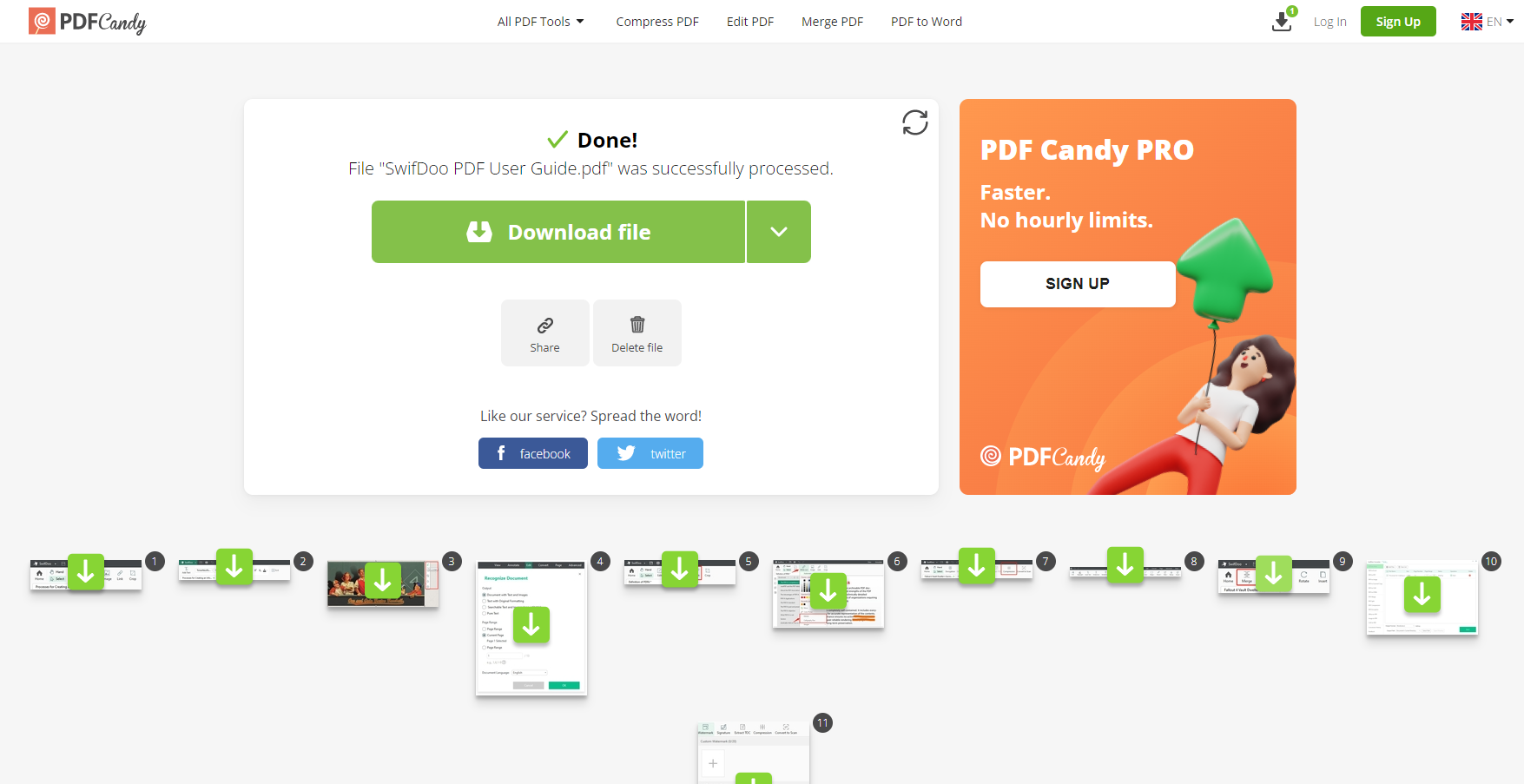 The PDF photo extraction process takes only seconds. PDFCandy offers over 40 online tools that allow you to edit PDF files. In addition, the online PDF image extractor offers a chrome PDF editor, which you can add to the browser to help streamline the workflow.
Final Words
We've introduced 5 tools programs to demonstrate how to extract images from PDFs in detail. For money-saving concerns, you can try on SwifDoo PDF, which is much more affordable than Adobe's product. And it's neither as professional as Adobe's products nor just a simple PDF tool. SwifDoo PDF makes all the advanced features easy to use. It's very helpful to install a PDF editor like this!