Can't open links in PDF? Are you frustrated about hyperlinks not working in PDF? Sometimes, links in a PDF file may break for all kinds of reasons, and the most common scene is that the link address is wrongly spelled without intention. Usually, modifying links can help solve your problems and redirect you to the right webpages. But how? As you know, PDFs are born to be uneditable. Editing links in PDF also can be tricky but it's also possible. Let's find out more.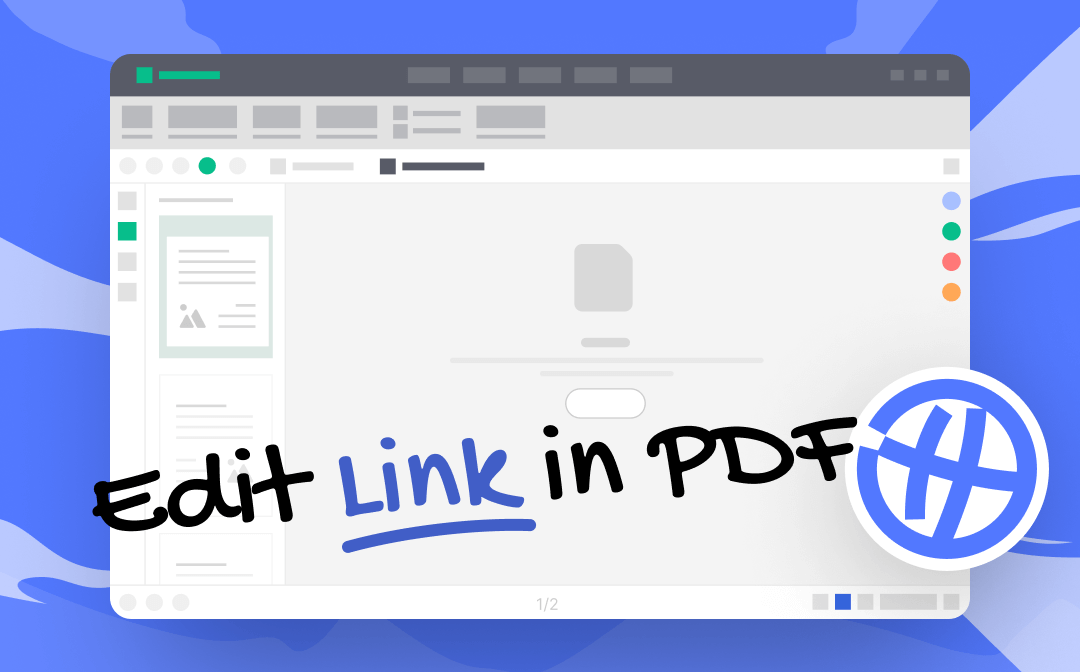 How to Edit Link in PDF for Free on Windows
The most effortless method to edit link in PDF on Windows would be to use SwifDoo PDF. It's a comprehensive PDF editor that enables you to modify PDF files seamlessly on Windows operating systems, such as editing, converting, compressing, protecting PDFs, etc.
Steps to edit link in PDF with SwifDoo PDF are available below:
Step 1. Free download SwifDoo PDF and install it on your Windows PC.
Step 2. Open the PDF file you need to modify and click Edit on the top navigation bar.
Step 3. Select Link > Add or edit link. Then locate the link you need to modify.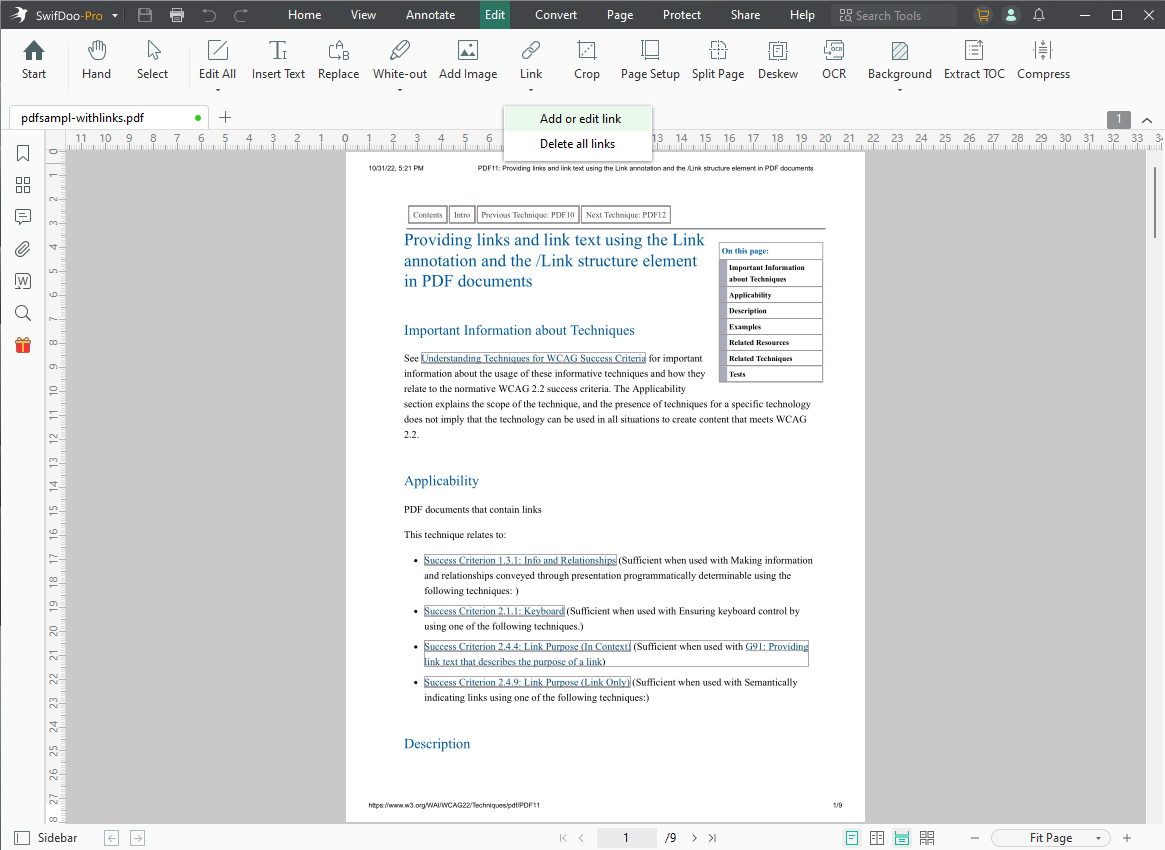 Step 4. Right-click the link and choose Edit Link. Then edit this PDF hyperlink.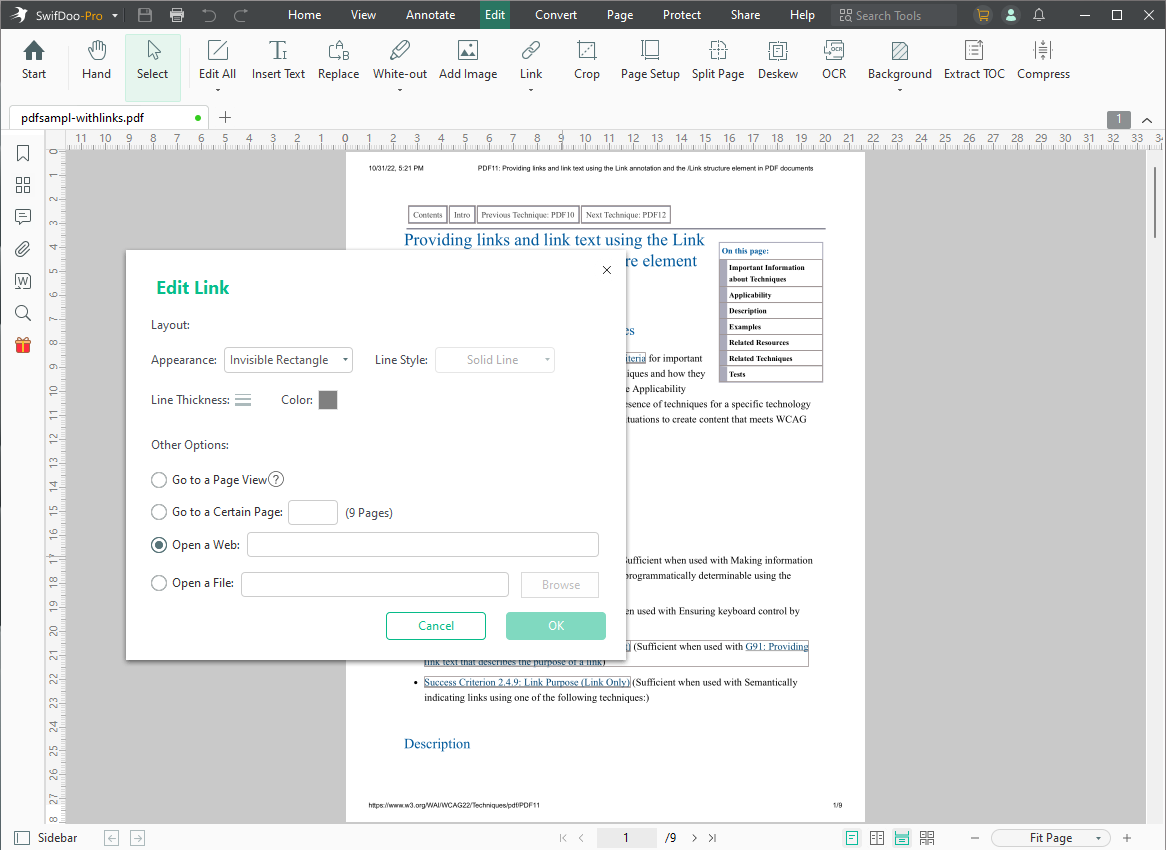 Step 5. Click OK to confirm your changes and save this edited PDF.
SwifDoo PDF has made the process of editing links easy to follow. With comprehensive features and a navigable interface, editing links in PDF becomes effortless and efficient.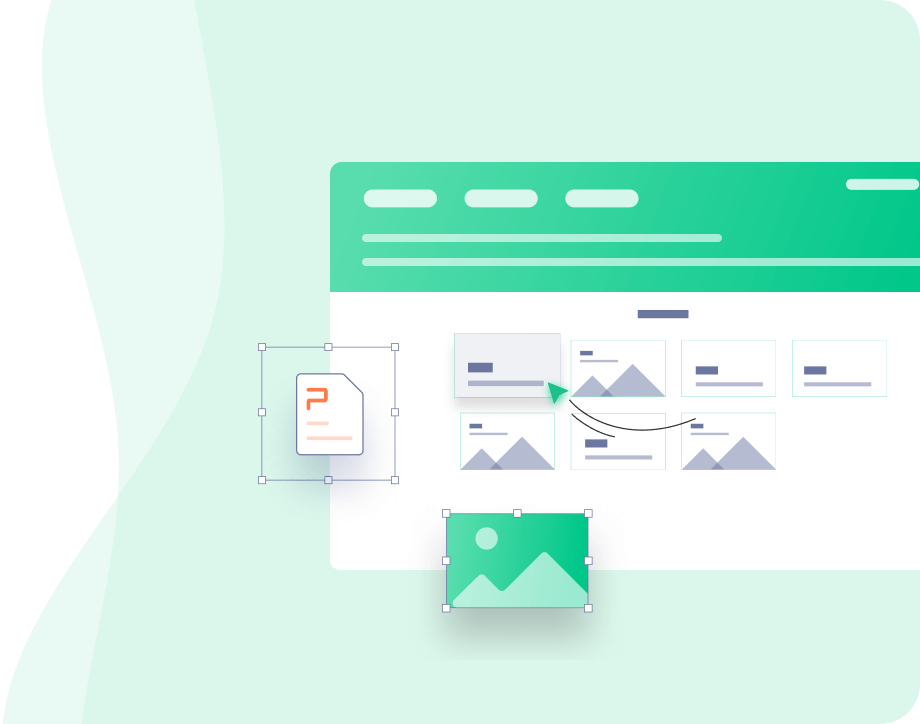 SwifDoo PDF: All-in-One Free PDF Editor
Annotate PDFs by adding notes, bookmarks, etc.
Convert PDFs to Word, Excel, and other editable files
Edit, compress, organize, and split PDFs
Free Download
Windows 11/10/8.1/7/XP
In addition to simply editing link addresses, SwifDoo PDF also grants you more abilities to adjust links' appearance, such as line style, thickness, color, etc. If you want to remove hyperlinks from PDF or add new links, this PDF editor also offers you a way to go. Let's see what SwifDoo PDF can help you do when working with PDFs:
Edit scanned PDF with OCR technology seamlessly
As you may know, a scanned PDF doesn't contain any searchable or editable layers, which makes it impossible to edit without dedicated tools. However, SwifDoo PDF provides with powerful OCR features, enabling you to make PDFs editable without breaking a sweat.
Convert PDF to other editable formats efficiently
You may need to convert PDF to Microsoft Office, images, TXT, and many other file formats for all kinds of reasons. SwifDoo PDF is such a comprehensive PDF converter that allows you to convert PDFs online and offline safely and efficiently. Converting PDFs with SwifDoo PDF means you don't need to spend much time, and all formatting and font styles will be well-conserved during the process.
Easily protect PDF files and your data
When protecting PDFs, you may get many options in SwifDoo PDF, such as encrypting PDFs with passwords, adding e-signatures, inserting watermarks, and converting PDFs to flattened files. All these three methods can add strong protection to your PDF files and efficiently safeguard your data.
How to Edit Link in PDF on Mac
For Mac users who are looking for solutions to edit hyperlinks in PDF, SwifDoo PDF may not be an ideal tool because it hasn't released a macOS version yet. So, we'll guide you through how to edit links in PDF on Mac with Adobe Acrobat, one of the best PDF editors across all platforms.
Acrobat is the best solution to edit PDF links on a Mac. Though it was reputed as a powerful PDF editor that is too professional for casual users, and its pricing plans are more expensive than many others, it's also considered the best PDF editor ever, with both advanced and basic functions provided.
Here's how you can edit hyperlinks in a PDF file using Adobe Acrobat Pro DC:
Step 1. Open the PDF file you need to modify links in Adobe Acrobat.
Step 2. Select Edit PDF in the Tools center.
Step 3. Click Link on the top navigation bar and choose Add/Edit Web or Document Link.
Step 4. Double-click the hyperlink you want to edit and modify it in Actions.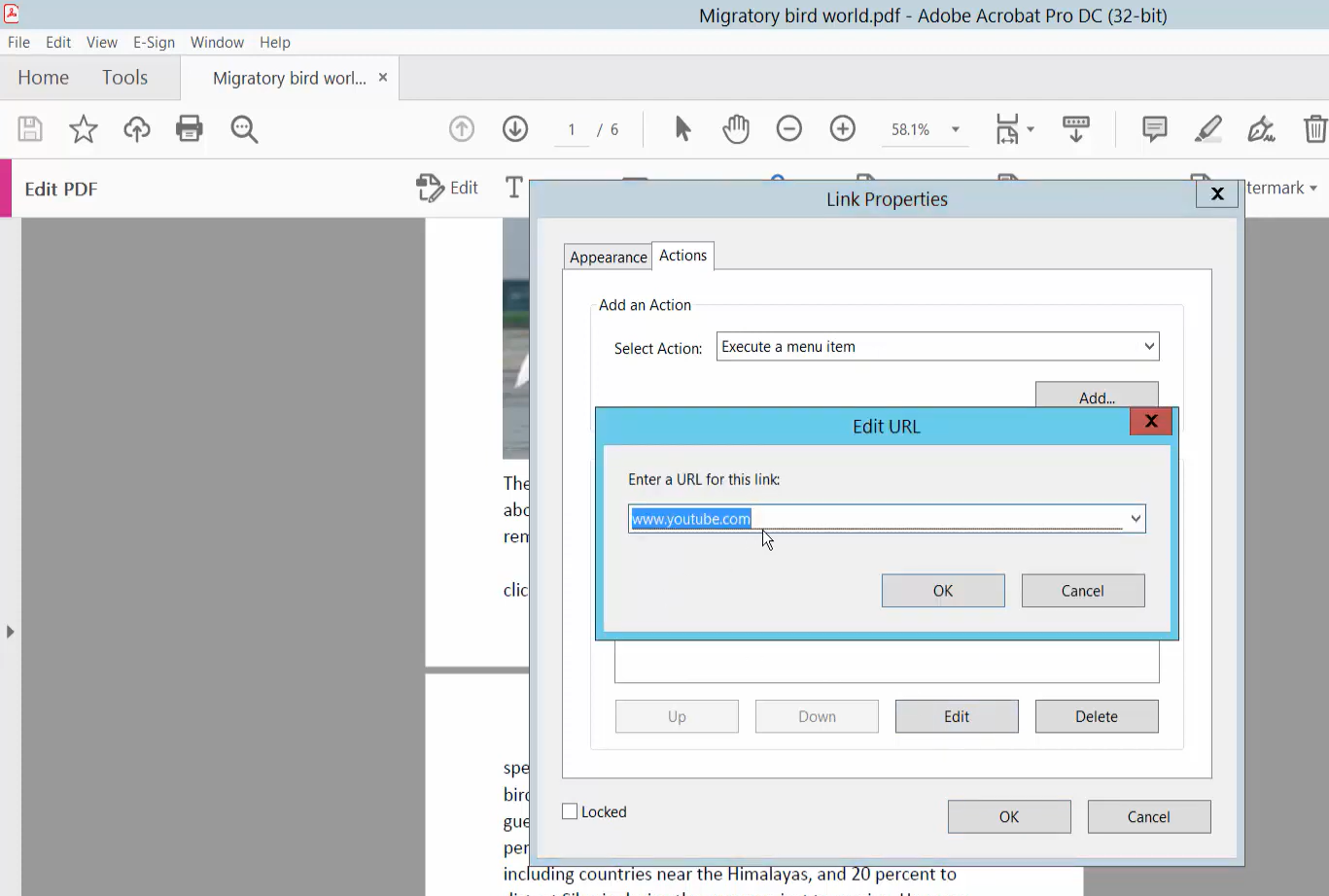 Step 5. Click OK to confirm your new URL. Then save the edited PDF.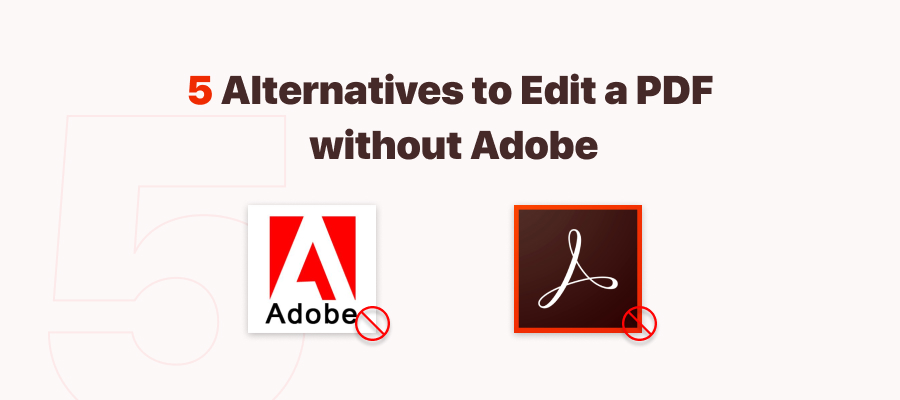 How to Edit a PDF Without Adobe Acrobat: 6 Alternative PDF Editors
As to how to edit a PDF, many people would think of Adobe. Are there any Adobe Acrobat alternatives? Keep reading to know how to edit a PDF without Adobe.
READ MORE >
How to Edit Link in PDF With Online Tool
Both Adobe Acrobat and SwifDoo PDF offer you desktop options to edit hyperlinks in a PDF, but how can I modify PDF links online effortlessly? Online PDF editors may give you an answer.
Online PDF tools become a popular trend when users only need to edit files occasionally. Eliminating the process of downloading and installing desktop programs saves much time and effort. Moreover, using online tools means you don't need to spend effort on getting familiar with a program, redirecting to a specialized page directly.
Let's find out how to edit link in PDF online with Sejda PDF:
Step 1. Go to https://www.sejda.com/pdf-editor and upload the PDF file you need to edit.
Step 2. Click Links on the top toolbar.
Step 3. Tap the link you want to modify in the PDF file. Then edit the link in the Link properties dialog box.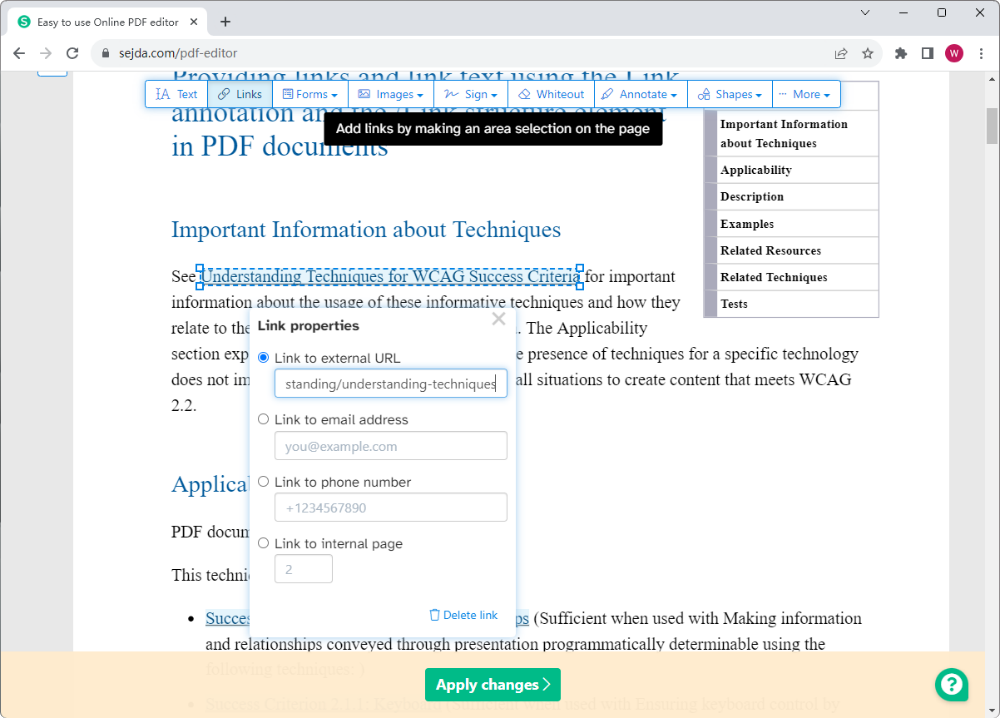 Step 4. Click Apply changes and download the edited PDF manually.
Tips:
Before downloading, you may check your PDF file in the preview window. If it doesn't look good, you may continue editing by clicking
Back to editing
.
Sejda PDF editor is just used as an example in the blog. You may use any online PDF tool you like to edit hyperlinks in a PDF online. Alternatively, searching for any other PDF editors on Google is also a good way to go.
Final Words
It's easy to edit link in PDF with a specialized PDF editor. Though PDFs are born to be uneditable, PDF editors make it possible. Emerging tools are becoming more user-friendly and easier to follow. SwifDoo PDF is such an illusion. Its lightweight file size, comprehensive functionalities, clean interface, etc., has gained lots of daily users and positive comments on this market. Free download it and edit PDFs with ease more than ever!